Key Features
Healthy Hooves Molasses Free is a nutritionally-balanced, low-sugar and starch feed for promoting healthy hooves. Ideal for those prone to laminitis.
A blend of soft cereal straw with chopped and pelleted nutrient-rich alfalfa
Contains no added sugar (2.5%) and low in starch (1.5%)
Healthy Hooves Molasses Free is low in calories, providing 8.5MJ/kg of Digestible Energy
A light rapeseed oil coating provides slow-release energy and coat shine
Includes garlic to tempt fussy horses and ponies
Healthy Hooves Molasses Free is packed with B vitamins including biotin at levels that research has shown to improve hoof quality
Ideal for horses in light work, good do-ers and laminitis prone horses
When fed at the recommend rate (500g per 100kg bodyweight) Healthy Hooves Molasses Free will provide your horse with a balanced diet
Proven nutrients for healthy hooves
Several studies have been conducted into how much biotin a horse requires. A study published in the Equine Vet Journal (1992), found that greater growth rates and hardness of hooves was achieved at a daily feeding rate of 15mg of biotin than at 7.5mg in horses' diets. The level of biotin included in Dengie Healthy Hooves Molasses Free has been formulated accordingly and thus when fed at the recommended rates will provide a 500kg horse with 15mg of biotin per day.
Research published in the Vet Record (1987) demonstrated that alfalfa increases the quality and quantity of horn growth which was attributed to the highly available calcium and essential amino acids found naturally in alfalfa.
Ingredients & Nutritional Information
Typical analysis (%) 'as fed'
| Digestible Energy | 8.5MJ/kg |
| --- | --- |
| Protein | 9 |
| Oil | 5 |
| Ash Mineral | 9.5 |
| Fibre | 27 |
| Copper | 12mg/kg |
| Selenium | 0.25mg/kg |
| Zinc | 64mg/kg |
| Biotin | 6mg/kg |
| Naturally Occurring Sugar | 2.5 |
| Starch | 1.5 |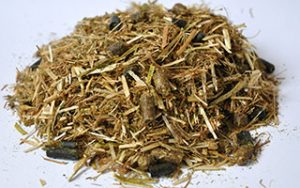 Ingredients
Cereal straw, alfalfa pellets, dried alfalfa, rape seed oil, garlic, vitamin and mineral premix.
Feeding Guidelines
How much to feed?
Small Pony (eg: Welsh Pony, Exmoor)
Size Guide (hh)
9 – 13
Approx Weight (kg)
200
Bucket Feed per Day
1kg or 2 scoops
Large Pony (eg: Fell)
Size Guide (hh)
13.1 – 14.2
Approx Weight (kg)
300
Bucket Feed per Day
1.5kg or 3 scoops
Small Horse (eg: Arab)
Size Guide (hh)
14.3 – 15.2
Approx Weight (kg)
400
Bucket Feed per Day
2kg or 4 scoops
Medium Horse (eg: Thoroughbred)
Size Guide (hh)
15.3 – 16.2
Approx Weight (kg)
500
Bucket Feed per Day
2.5kg or 5 scoops
Large Horse (eg: Warmblood)
Size Guide (hh)
Over 16.3
Approx Weight (kg)
600
Bucket Feed per Day
3kg or 6 scoops
Top tips for managing horse and ponies prone to Laminitis
Soaking hay reduces the sugar content
Use small holed nets to make hay last longer
Use low calorie fibre feeds such as Hi-Fi Lite alongside hay to provide more variety in your horse or pony's ration
Use late cut hay that is stalky as it will have a lower calorie content
Use a grazing muzzle – research has shown it can reduce grass intake by around 75%
Increase exercise – even if it doesn't promote weight loss it helps to reduce the risk of insulin resistance which is a contributing factor to laminitis
Avoid cereal mixes or cubes – only half a scoop of low energy mix provides enough energy for 20 minutes schooling
For more information on managing horses and ponies prone to laminitis see Feeding Horses or Ponies prone to laminitis and our Laminitis Guide
Working out the best feed for a horse or pony that is prone to Laminitis can be very worrying and stressful, but our team of highly experienced and qualified nutritionists are here to help. Call the Dengie Feedline on 0845 345 5115 or email [email protected]
Click here to read more about assessing your horse's workload.
How To get The Most Out Of Feeding Healthy Hooves Molasses Free
Healthy Hooves Molasses Free is designed to be fed as the sole bucket feed alongside your horse's normal hay/haylage ration. It is important that it is fed at the recommended quantities in order to provide the levels of nutrients your horse or pony requires; feeding less may affect condition and performance. If using less than recommended quantities, a broad spectrum vitamin and mineral supplement should be used alongside. Healthy Hooves Molasses Free is intended for horses and ponies at rest or in light work if fed as the sole bucket feed.
Case Studies
A happy and healthy miniature horse
Shane O'Connor first got in contact with the Dengie feedline back in June 2020 for some feeding advice for his 30inch Falabella Shammy who needed to lose some weight. Shane was concerned Shammy may get laminitis if he didn't do something to get her weight and diet under control.
Read the case study
Paddy's Weight Loss Success Story
When Lauren brought Paddy, he weighed more than the weigh tape would allow her to measure – around 710kg on the weighbridge.
Read the case study
Jake loses 99kg!
Emma Williams got in touch to arrange a diet clinic after her horse, Jake, was diagnosed with EMS. "I keep him on a cattle farm" explained Emma, "where the grazing is fantastic but not ideal for a 15hh Connemara who's a good-doer! He gradually piled on the pounds and before I knew it he was very round!"
Read the case study
Harry's Weight Loss Success
Unfortunately it is true that you can have too much of a good thing. 10-year-old Irish Draught Highgrove Harry (aka Harry) piled on the pounds when the grazing at his yard was just too good to resist. Owner, Donna King arranged for her vet to visit who diagnosed laminitis and Equine Metabolic Syndrome (EMS) plus a review of his diet and day-to-day management.
Read the case study
Customer Reviews