Key Features
Alfa-Beet is a high-fibre feed combining alfalfa and unmolassed sugar beet, two sources of highly digestible fibre. Ideal for promoting weight gain and aiding hydration. Must be soaked before feeding to horses.
The combination of alfalfa and unmolassed sugar beet pulp provides 'slow-release' energy in the form of highly digestible fibre
Alfa-Beet promotes weight gain and condition without excitability
Provides 10.5MJ/kg of Digestible Energy – comparable to a cool mix or cube, but with much lower levels of starch
Alfa-Beet aids hydration and is ideal for horses and ponies with dental issues, such as diastemas
Naturally low in starch (2%), with no added sugar (5%)
Sugar beet pulp is the fibrous part of the beet that is left once the sugar has been extracted which means it is a low sugar ingredient
Convenient 15-minute hot soak or 2-hour cold soak
Free from molasses and preservatives 100% natural
Ingredients & Nutritional Information
Typical analysis (%) 'as fed'
| Digestible Energy | 10.5MJ/kg |
| --- | --- |
| Protein | 14 |
| Oil | 3 |
| Ash (mineral) | 10 |
| Fibre | 32 |
| Naturally Occurring Sugar | 5 |
| Starch | 2 |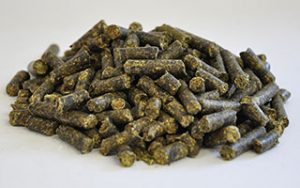 Ingredients
Alfalfa, unmolassed sugar beet.
Feeding Guidelines
How to soak Alfa-Beet!
Alfa-Beet is easy to use as it soaks to a mash much more quickly than conventional sugar beet pellets – when soaking in hot water it is ready in 15 mins, alternatively in cold water it takes 2 hours or can be left through the day or night to soak – whichever is more convenient! For soaking, we recommend one part product to three parts water.
One large Stubbs scoop of dry Alfa Beet pellets = 1.6Kg
One large Stubbs scoop of soaked Alfa-Beet holds 0.5kg of dry matter if soaked at a 1 part Alfa-Beet to 3 parts water ratio.
Case Studies
31-year-old pony with numerous health conditions that affect her diet and management
Kizzy is a 31-year-old ex-riding school pony who has numerous health conditions that affect her diet and management.
Read the case study
Ex-racehorse struggling to maintain condition
Leah Grange was concerned about giving her ex-racehorse Colin too much sugar in his diet and it "blowing his brains". After a chat with the Dengie nutrition team she realised that his current ration was completely wrong for him in other ways too.
Read the case study
Easy to Chew Soaked Mash
Miranda Gray has had her 41 year old Thoroughbred x  'Billy' for 34 years.  He now has very few teeth left and those that he does have are very worn, meaning he struggles to chew most things including grass.
Read the case study
Maintaining Winter Condition
19-year-old Welsh cob, Carys has always struggled to maintain weight in the winter months and can often go off her feed, her owner Helen Johns was in despair with what to feed her until she was recommended Dengie Alfa-Beet.
Read the case study
Customer Reviews