Well, how thrilled am I?! My new boy, Knock Out arrived last week and the following day, the sun was shining so I got on and he was so lovely and not silly at all!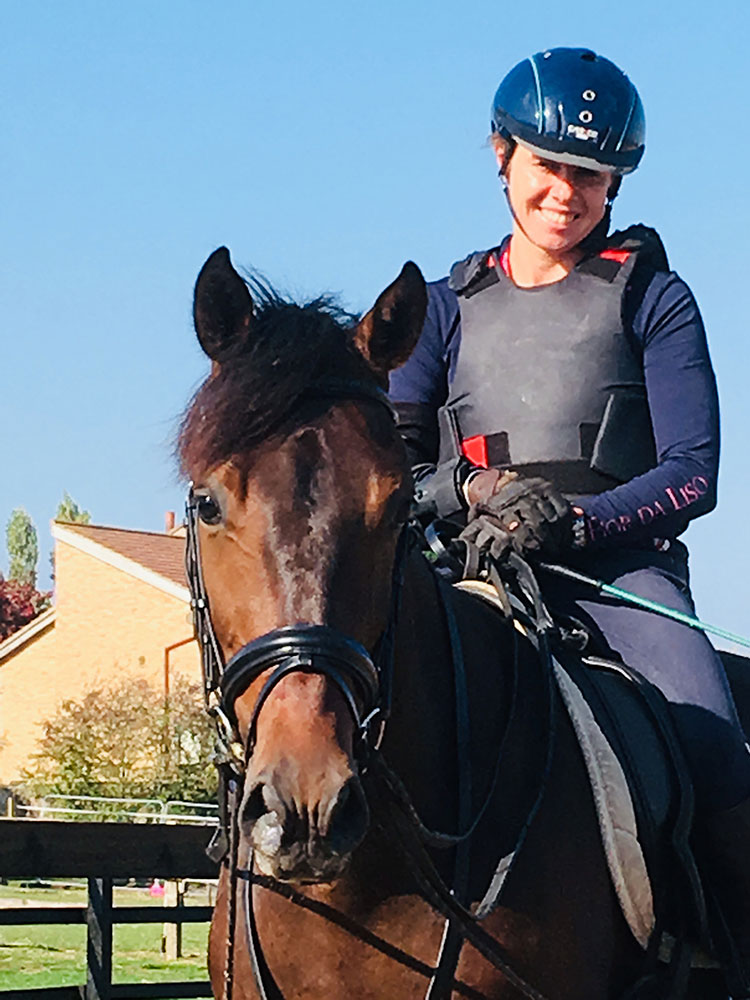 He looked around at his new surroundings but we just got on with gently working. I did not want to over tire him as he had had a long journey.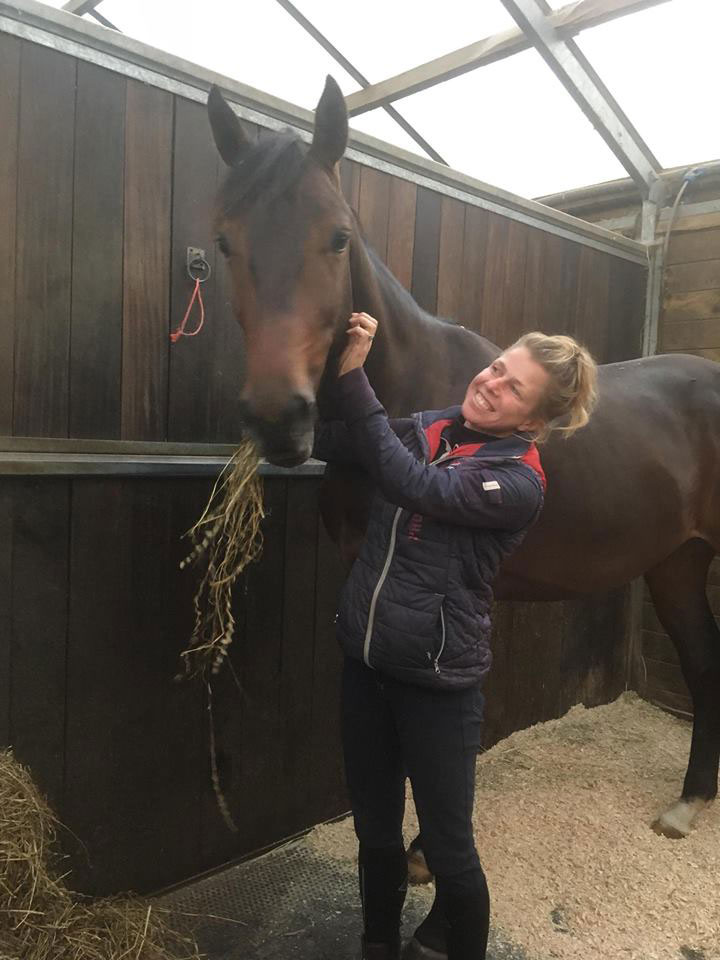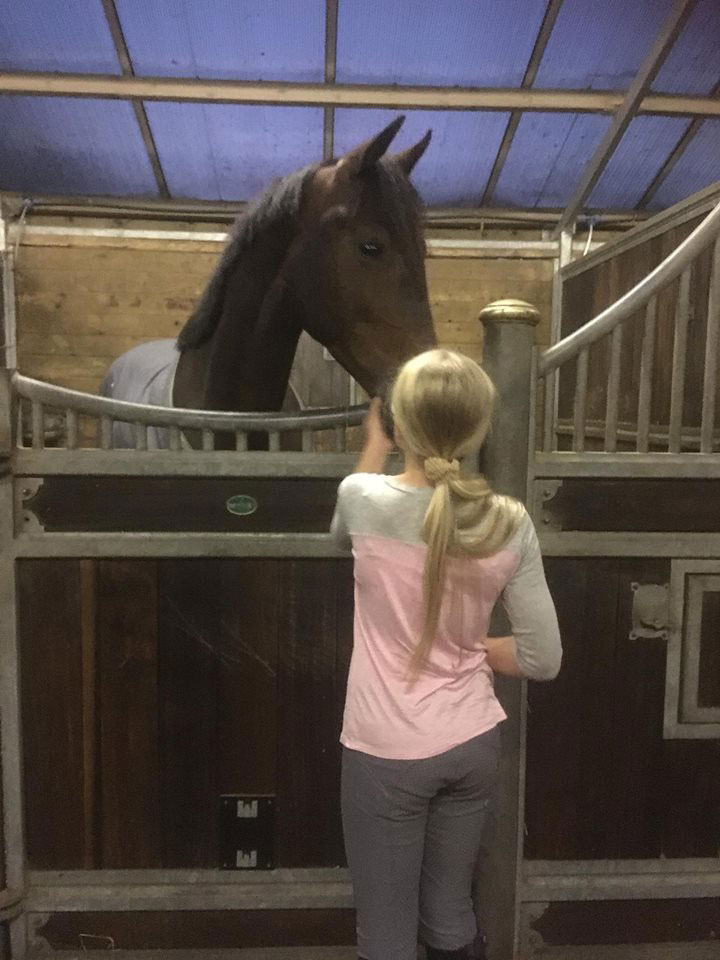 He loves his Dengie diet. Molly got in there too having a chat about maybe being her junior horse …I will have to watch her!
Hannah x
So this season has been a real roller coaster of emotions, winning my first International on Candy at my first event of the season, moving her up to Advanced and then jumping double-clear around her first 3* at Burgham International, to then going to Blenheim full of excitement for a good result and having an over-excited horse on my hands; let's just say Candy pulled out all the moves in the dressage, sadly none of them were required for the test! Needless to say the score reflected how bad the test was, but that's horses and why we love them; when they're good they are great and when they play up they really play up!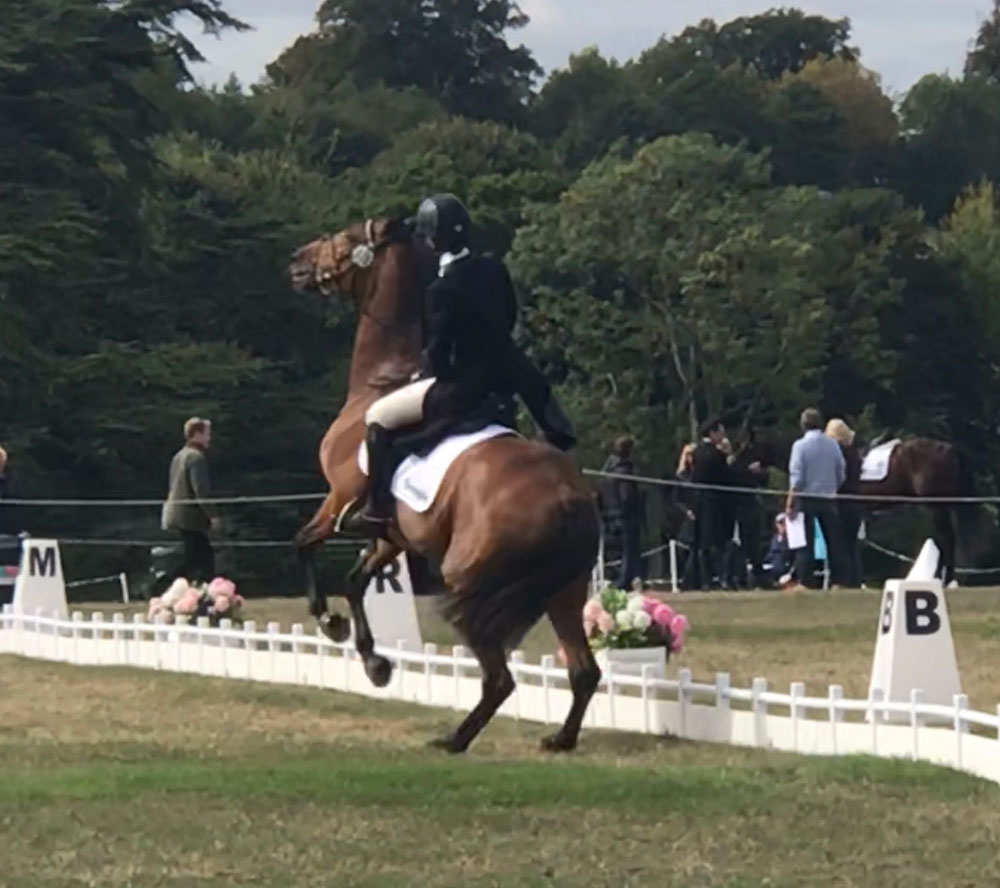 Obviously we didn't run xc after the poor dressage. However, we did go to a BD outing the following week and she won the Medium by some 5% and was second in the Advanced Medium, so it's reassuring to know she can still do a lovely dressage test! I would have been really upset with how the week went at Blenheim had I not had an awful build up to it the few weeks before; very sadly Skip collapsed and died at home when I was riding him. To say I'm devastated is a total understatement and I have to say the following few weeks were just rubbish with my eventing results reflecting this. He was an exceptional jumping horse and the truly devastating thing is that he never got the chance to prove to everyone just how good he could be.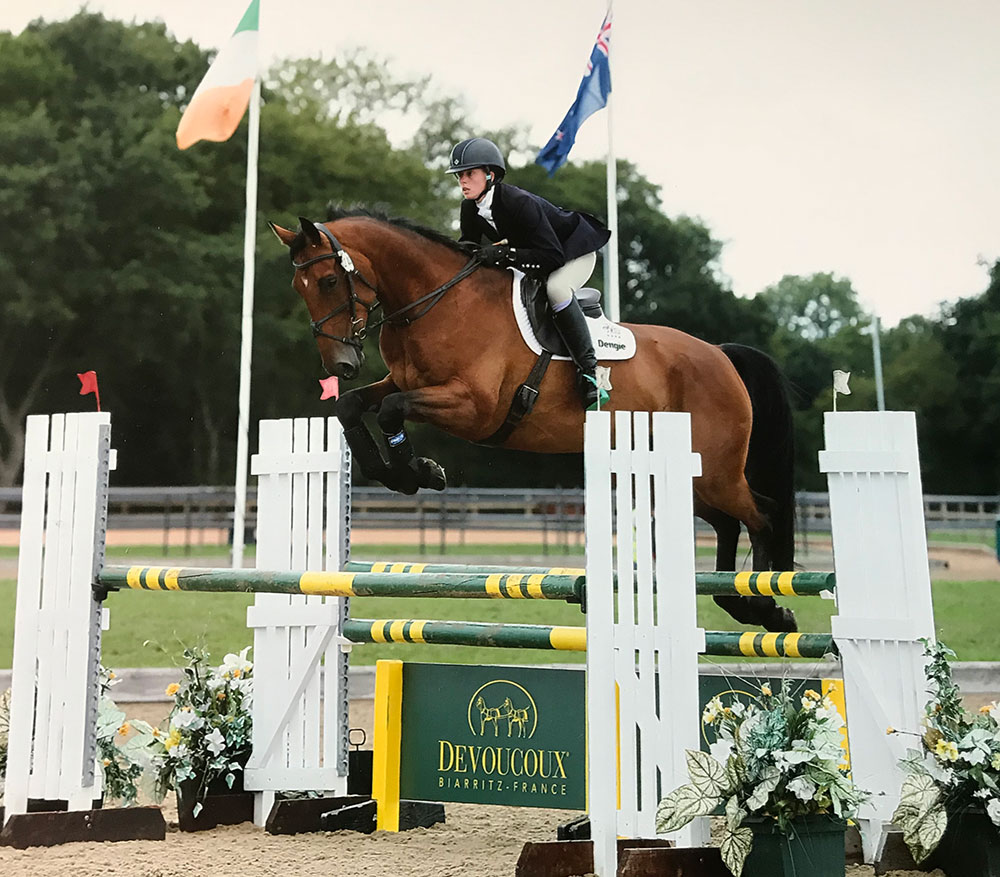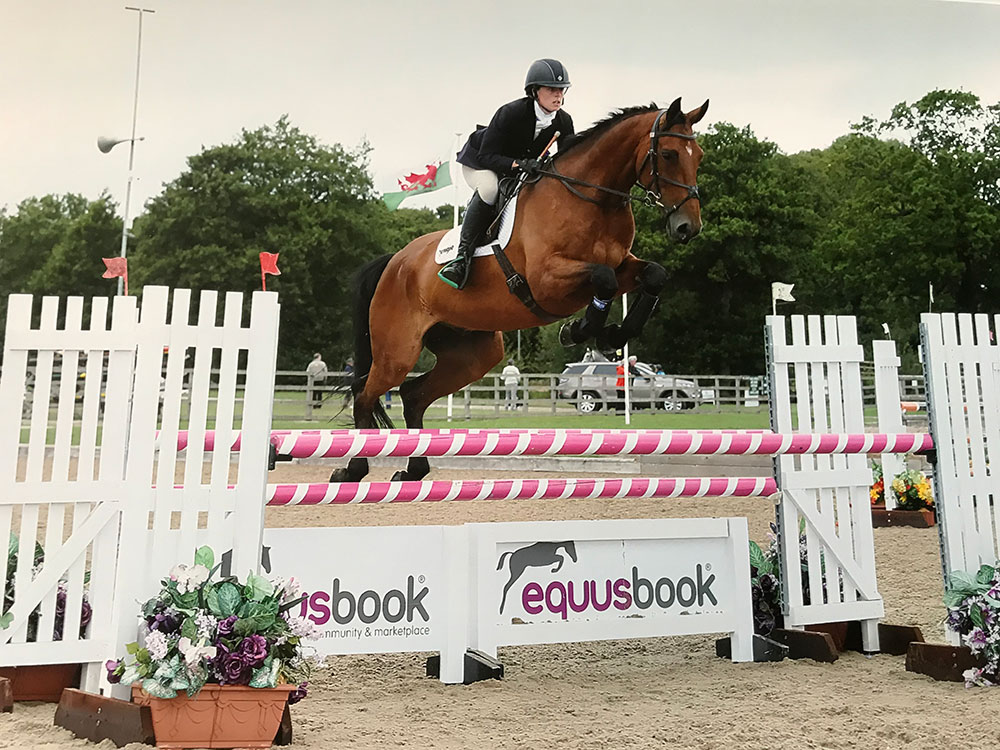 Snip and Edna finally made their eventing debuts at the last 3 events of the season and both have learnt a lot from these runs; I'm excited to have them for next year. Stan is back in work after having a sort holiday post his last run.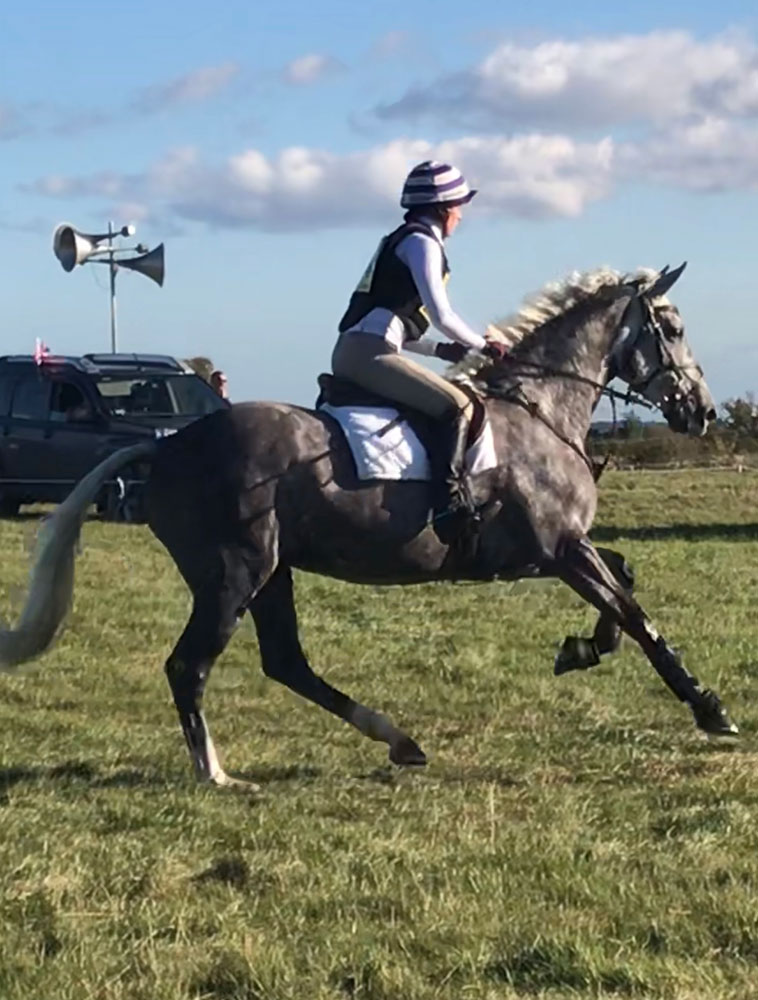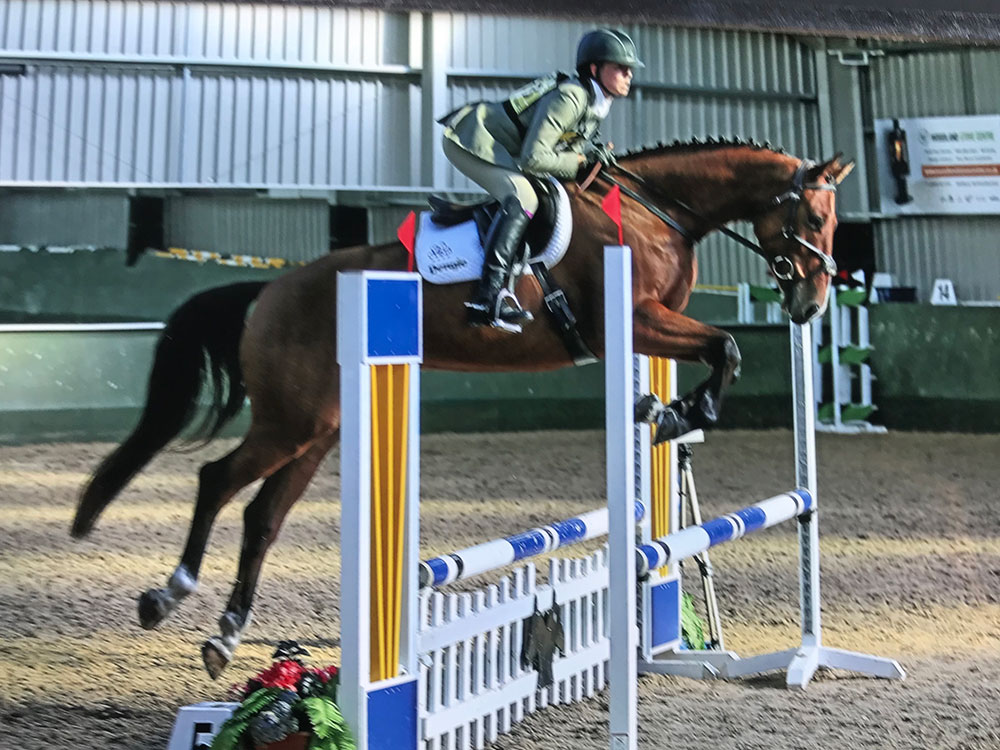 During the winter I'll be focused on training, dressage and jumping plus the odd days hunting. I want to take this opportunity to say a huge thank you to Dengie for all of their support! The horses have all looked amazing on their Dengie diets and I'm so lucky to be supported by such a great feed company! I'm looking forward to the 2019 eventing season already!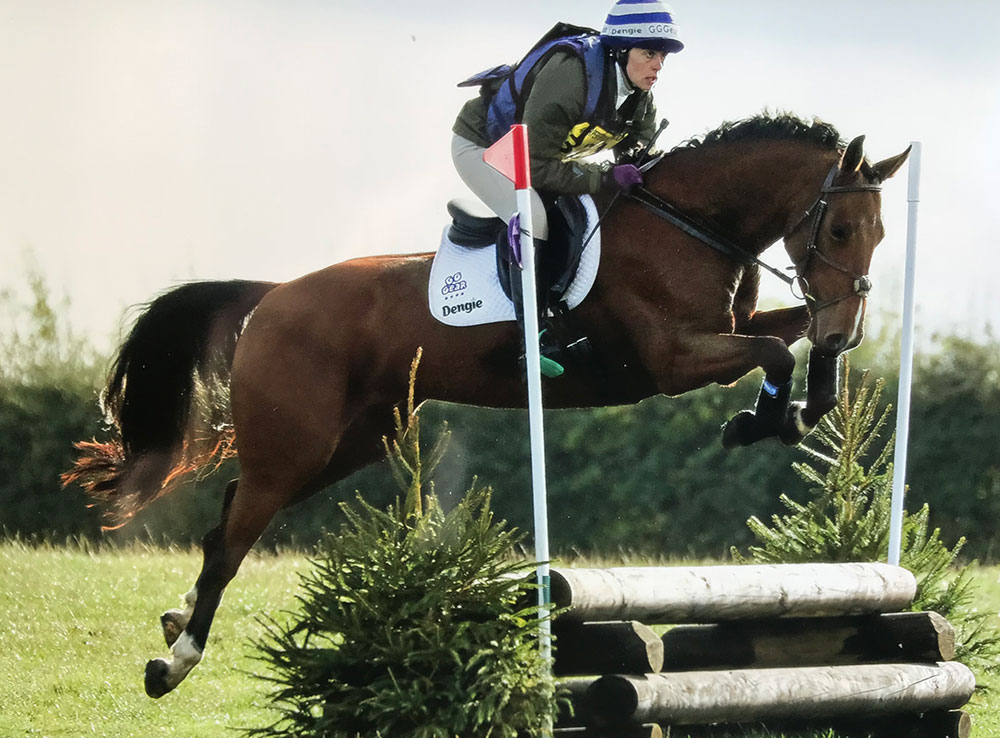 Hi,
I'm Maisie and this is my first blog and I'm very excited to be writing it as an ambassador for Dengie! I hope you enjoy following me and my 2 ponies, Felix and Chico.
Felix has had a busy summer doing Pony Club Area competitions. At the Area eventing competition we finished on our dressage score which is always my main aim and we were 2nd individually plus the team came 4th so we qualified for the Regional finals. I love competing as part of a team as although there is a bit more pressure to not let everyone else down, it's great fun celebrating together!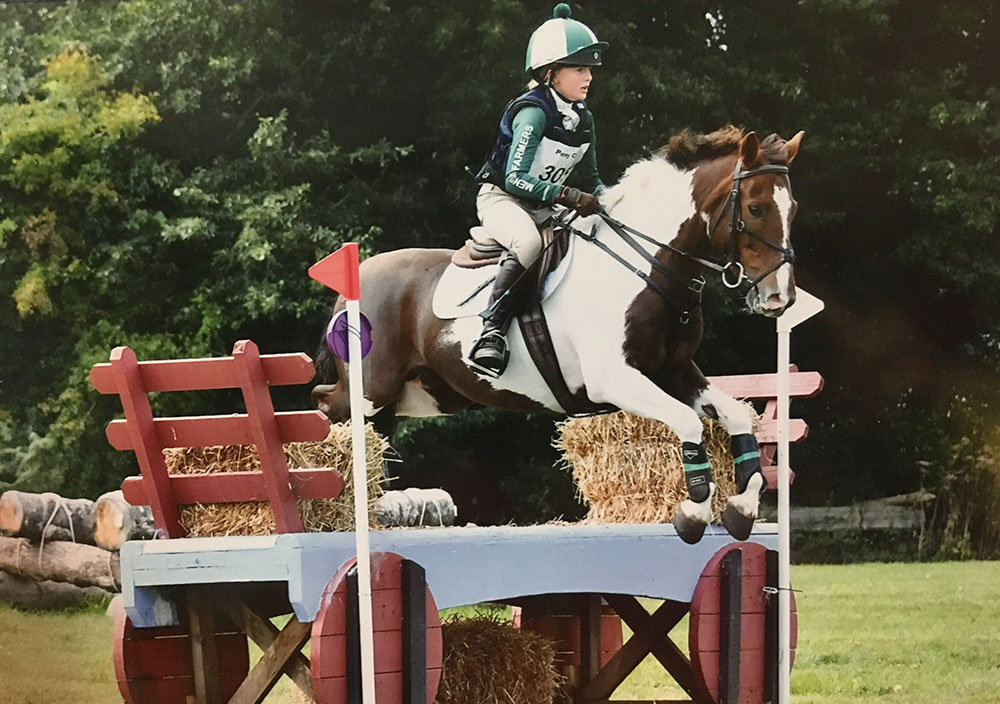 We then went to Area Dressage and Felix was a very good boy again although he misses not going cross-country when we're doing just dressage as the jumping is what he loves best. We came 4th in the Novice with a score of 72.6 and I was really pleased with him! Our team finished 4th again but this time it wasn't quite enough and we just missed out on qualifying for the Championships. We found out we were one of the youngest teams doing the Novice class so maybe next year it will be our turn!
Our last competition of the summer holidays was the Pony Club Regional Eventing Champs where we did a nice dressage test and a clear round show jumping. Unfortunately though, we had a run out on the cross country which was a really big and technical course so although disappointing at the time, when I look back on it, he did really well and we will both learn from the experience. I am very excited about doing some BE80s with him next year as he just loves jumping and so do I! After such a busy summer, Felix is going to have some fun doing some pairs Hunter Trials before doing some Dengie Winter League Pony Club Dressage qualifiers in the Autumn. I hope I can qualify for the Dengie championships again next year.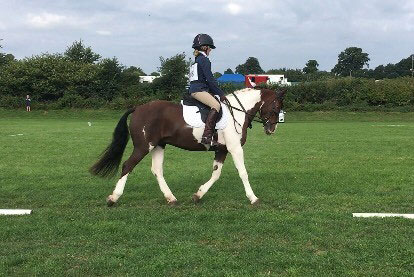 Chico has spent most of the summer holidays out in the field having some time off and thinking about all he has learnt over the past year! He needed some time out as he is only young and so he's now coming back into work and and because he is prone to tying-up I have to do this very gradually. Over the next few weeks I will work on his fitness and flatwork ready to do some Dengie Dressage competitions in the autumn and hopefully get out to do some cross-country schooling as well.
Both Felix and Chico are looking and feeling very well on their Dengie diets!
It was my first Scottish Championships this year, despite qualifying on many different occasions, but it was certainly worth the wait!
We did the Novice Gold section, despite Arlo being quite green away from home (he spent much of the first few hours at 21hh!). Arlo's behaviour was exemplary for his experience and didn't put a hoof wrong in either test. We won the warm up test, which was consistent and provided a confident boost to produce a second, very consistent championship test.
We came sixth on a 65% amongst a very talented professional class. What a good boy!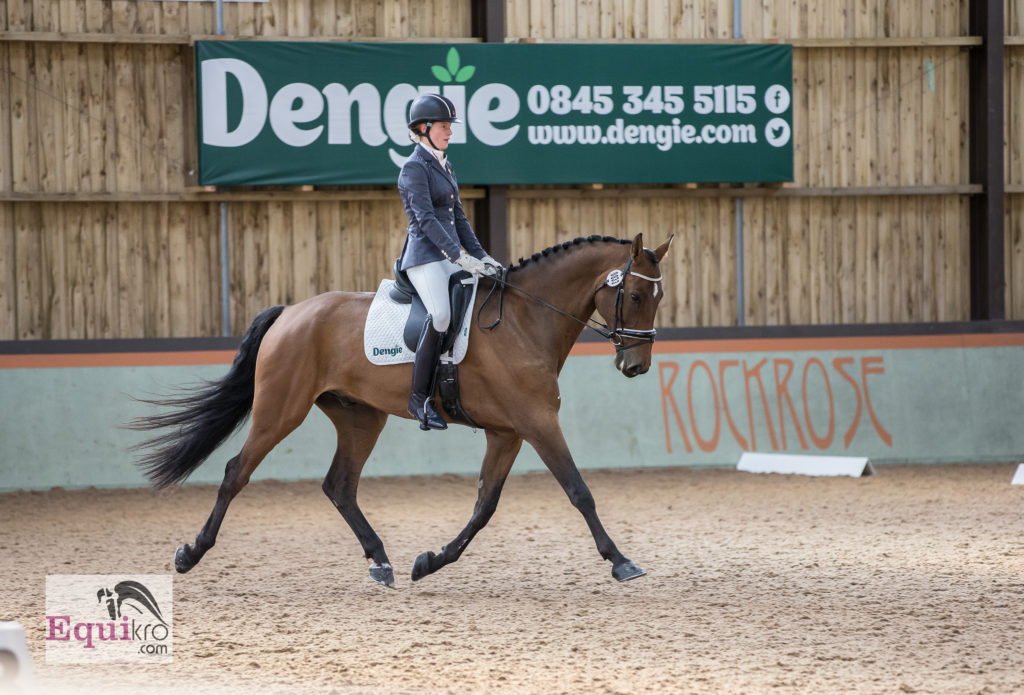 They always say that horses are great at keeping you grounded, and Corey has given us a worrisome few weeks to make sure we don't get too complacent. After my run at Skipton we turned our attention to preparing him for his second CIC*, at our local event Somerford Park. I went off on holiday to visit family in Finland – quite a challenge with two children, but a good break to refresh us all – and Mum worked with Nicki to keep Corey progressing. However, things started to go awry when Corey got bitten by a horsefly and had a big swelling on his side, meaning he couldn't be ridden for a few days and missed out on a fitness session.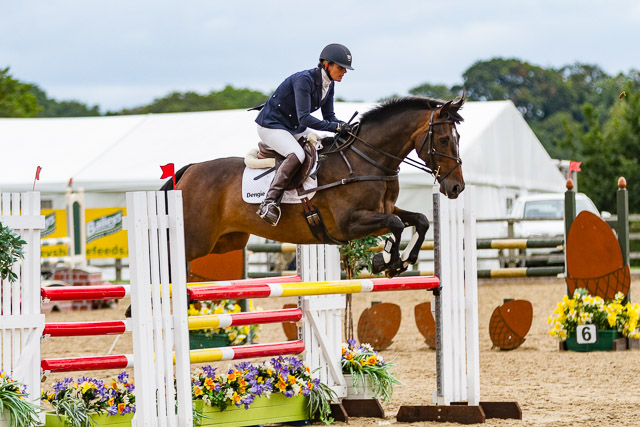 On my return I managed a couple of light schooling sessions at home but couldn't ask much because our field was so hard. We are lucky to have ground that is good to ride on most of the year, but with the extended dry spell even our field was struggling and the other field with better grass cover had a herd of cows in it so I didn't fancy practicing in there! I did get out to Kelsall for a pull up their gallops, and Nicki had a show jump practice on him just before she went to do the intermediate novice at Frickley Park. Nicki felt he wasn't quite himself in that practice, which at the time we put down to the heat, but in hindsight it was the first red flag that something was wrong.
Mum and Dad took Corey to Frickley a day in advance, combining it with a camping adventure with Floss; we do like how our sport gives us these extra opportunities for fun, even in the pouring rain. Corey had a reasonable first attempt at an intermediate test, but again was possibly not quite himself… warmed up well for the show jumping and started the course well, but halfway round started to show discomfort and eventually slid into a halt at the second part of the treble. Nicki put him to the treble again but when he refused to even jump in, she quite rightly retired. We took him back to the stable scratching our heads and worried, trying to work out what went wrong.
Over the next two weeks we consulted with the vet, physio and saddler, hoping we could get him back on track. I'm not looking forward to my monthly budget review after all those visits, especially as I keep telling Al he can't buy more tools whilst I'm on maternity pay. It was worth it though. The physio found and treated some tightness in his back, then we set to work doing carrot stretches and some light gridwork to help him realise it didn't hurt any more. I think he might be 3 inches longer with the amount of stretching I did in that week. With a week to go, I was happy that he was back to his usual self and after jumping a great double clear to take his first British Showjumping win in a Discovery class, followed by a confident run in the Newcomers for just one pole, Nicki agreed. We got in a quick cross country schooling session and a flatwork lesson, and we were on to finishing polishes for Somerford.
Mum and I went to spectate (or rather, fangirl haha) on the Friday at Somerford as the number of world class combinations in the open intermediate was just outstanding. Walking the CIC* course that afternoon, I began to worry whether we were asking too much of Corey as it was a serious track with an especially serious and intense middle third. First we had to strut our stuff in the dressage on Saturday morning. Corey loves the surface that the international classes run on at Somerford, but competing on it means he doesn't have his usual advantage over other horses that he gets from being primarily schooled on grass, and we weren't sure what to expect given that he was up against a lot of professionals. As usual, he didn't disappoint, pulling out a solid test and just squeaking into the 20s (just, 29.9!) to lie in the top 25%. I still think back occasionally to when we bought him, and how we had no expectations for his flatwork as we just wanted a horse that wanted to jump, so his ability in the boards is a much appreciated bonus even if it does put the pressure on for the rest of the event.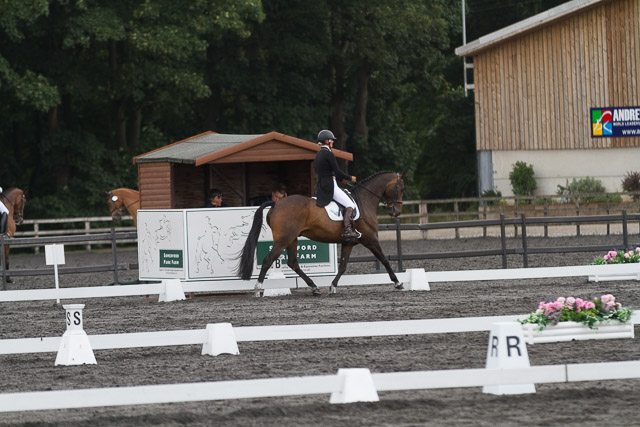 We had a long, long wait on Sunday until we got to jump in the afternoon and we were all itching to get going. Warming up for the show jumping Corey looked great and our only concern was that we couldn't make him touch a single practice fence. He looked happy and confident, but was he perhaps enjoying it too much? His sharp knees deserted him once in the ring, leaving three poles on the floor, but after his issue at Frickley it was lovely to see him back pinging round. It was even more lovely to watch him storming round the cross country. I heard on the commentary that they'd cleared the first tough question, then watched as Nicki steered him confidently through that intense middle third. The last big question, a big hedge to a corner, had not worried me when I walked the course but Corey through in a curveball. Nicki felt he just didn't quite lock on as normal and he skipped out the side door. Maybe the previous challenges had taken more out of him than we realised, maybe the line off the hedge was tougher than it looked, we don't know. What we do know, and what I tried to focus on as we drank prosecco celebrating another international completion, was that with Nicki's help he had bossed 95% of the toughest track of his career and possibly the toughest he'll ever face.
As we packed up the trailer to head home, prosecco and five months of sleep deprivation took hold of my emotions. I hugged Nicki, I hugged Corey and I cried. I have absolutely loved watching Nicki and Corey together, and I was sad that Somerford was their last event together. At the same time, although I am quite anxious that I won't be able to do Corey justice, I really really want to be the one riding him round these international tracks. With that in mind, we are planning to have a little play at a couple more events this year, taking the pressure off both Corey and myself (especially given that aforementioned sleep deprivation), before coming out fighting in 2019. Thank you Nicki, you've done us proud.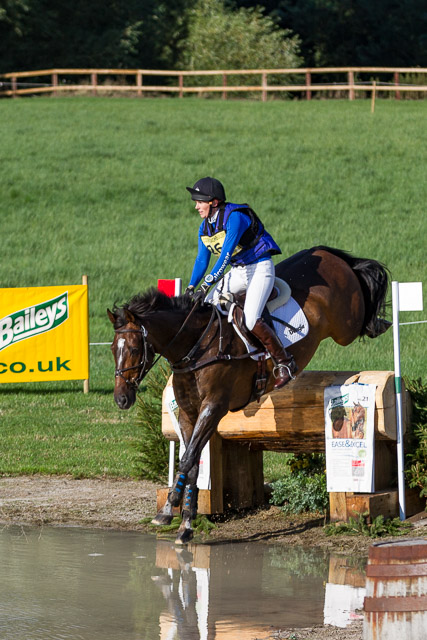 It's been pretty busy this summer, and Pooh has been on flying form as always!
Our first event was rather unfortunate as Pooh was too bold jumping through a sunken road and tried to bounce the one stride distance. Unfortunately I nose dived into the mud!
We then went training and have had three fantastic runs since then with a 9th and 10th. We then had a fantastic trip to Ireland to compete in the CCI2* at Tattersalls. We finished 14th with a qualifying score, so we are one step closer to Blenheim CCI3*!!! That would be the dream goal for Pooh this year as we had such a awesome time there last year.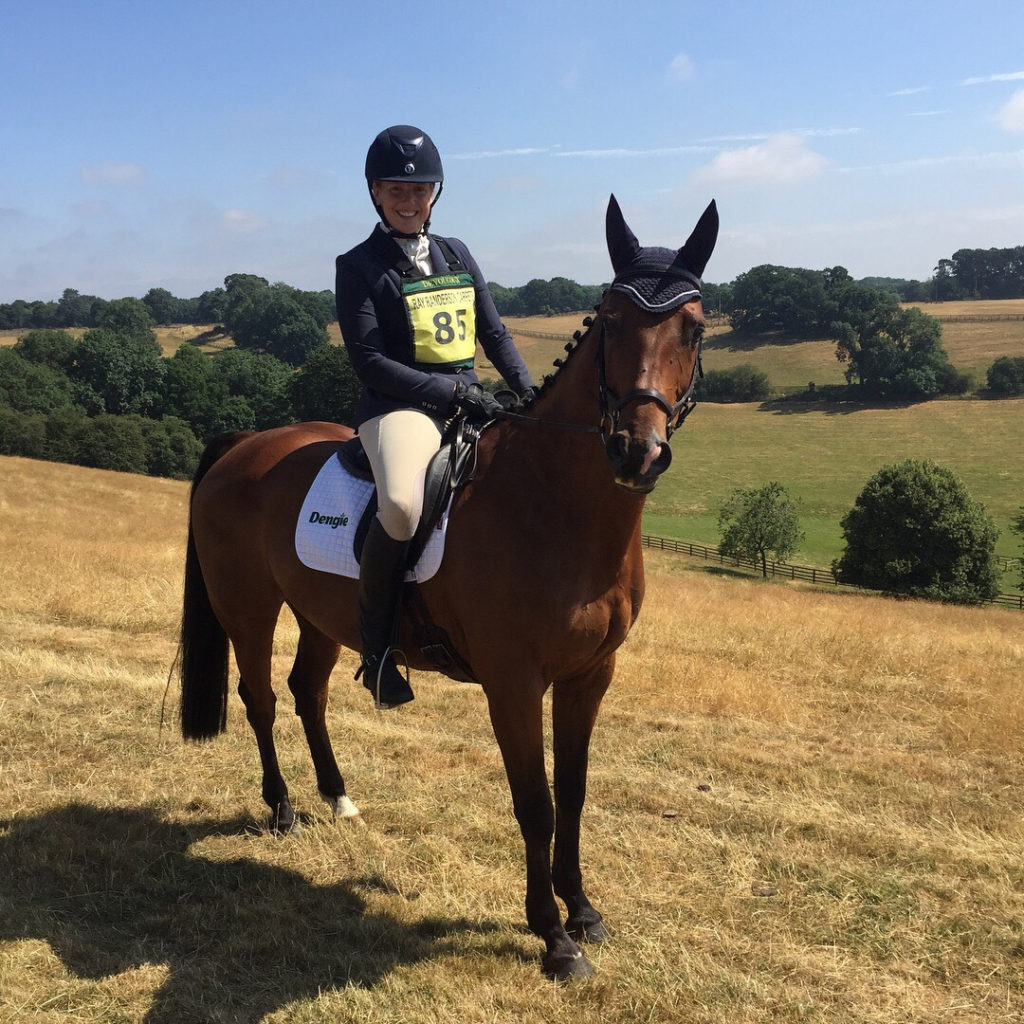 Googie is with me at Judy Harveys and she is really coming on which is super. She did her first event last weekend and it could not have come sooner. I forgot how awesome she is cross country. Googie was slightly over excited in the dressage test…she gave the judge a little wave half way through! However she made up for it with an immaculate double clear. She went slowly cross country as I was trying to keep her excitement levels down haha.
Ziggy is so cool. He has done a couple of Burghley Young Event Horse (BYEH) qualifiers, but sadly has not qualified for Burghley. He has however qualified for the Petplan Area Festival for British Dressage, which is exciting. All the girls at the yard keep telling me he is a dressage horse! But if I tell him he will be an event horse enough times I am sure it will come true!!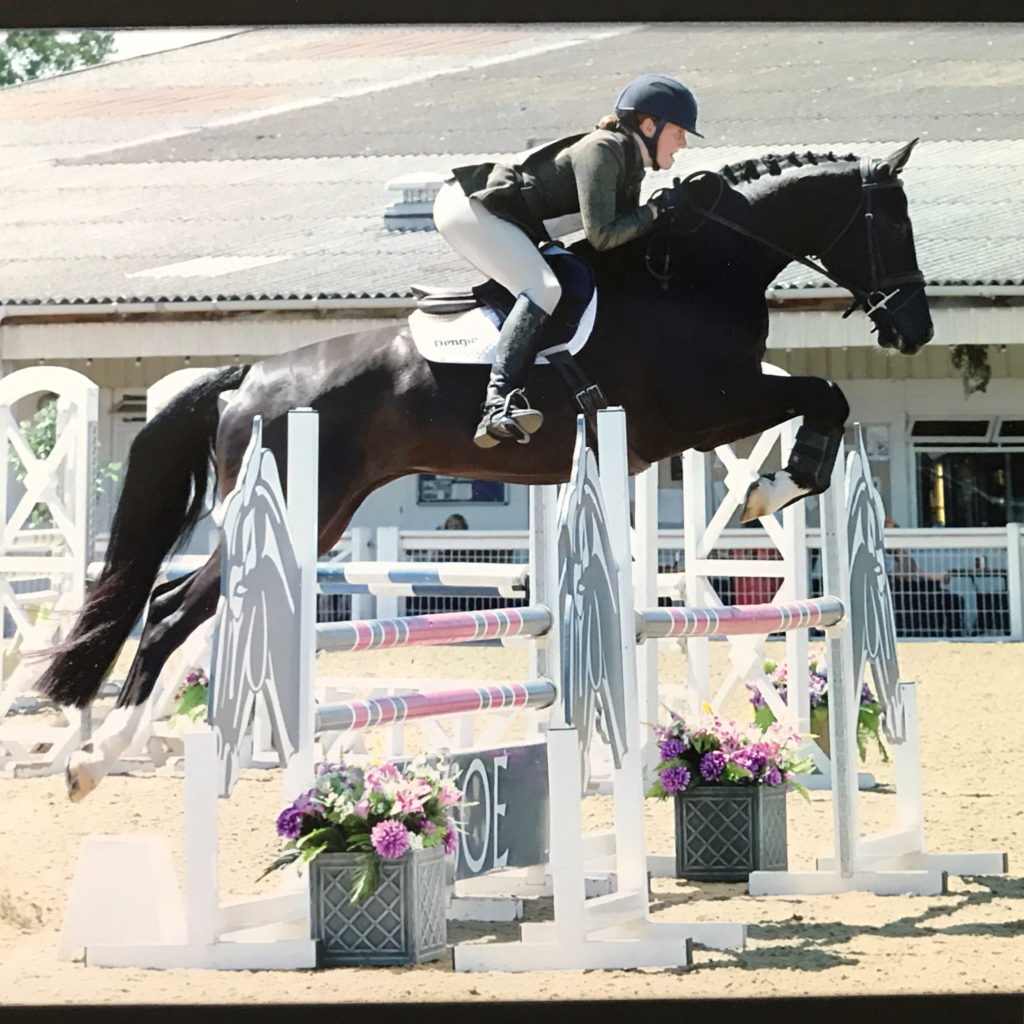 All three horses are off to Burgham International Horse Trials next week which I cannot wait for. I love staying away at shows and even more exciting is that I have three horse with me! Pooh is doing the CIC3*…eek! Googie is doing another ON and Ziggy is doing the BYEH class. It is a beautiful event, I went there a few years ago and have longed to go back.
Pogo has come home from our friends field as he sadly got infected with red worm and had lost a lot of weight. We have him home now to keep a watchful eye on him and thanks to Dengie Healthy Tummy he is back to his bright beautiful self.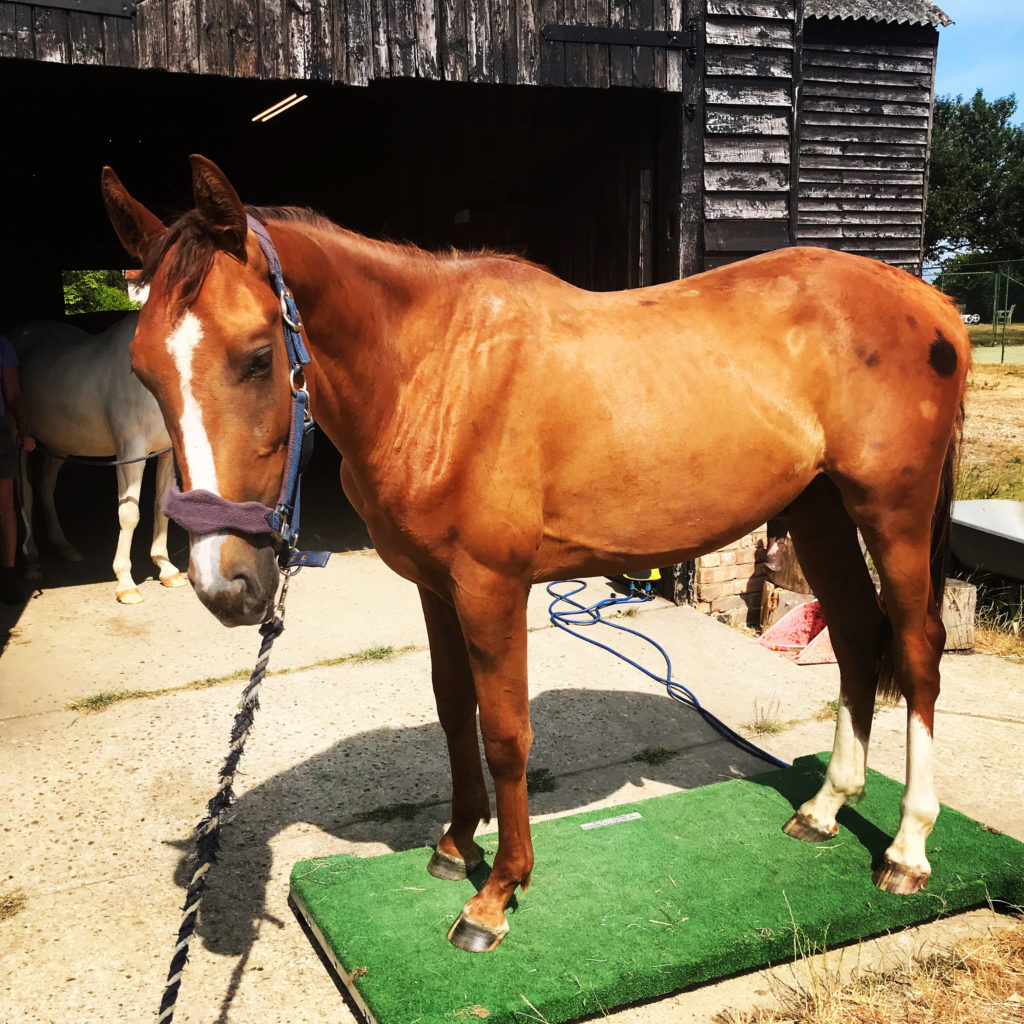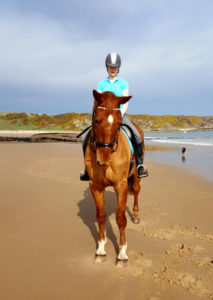 Well it's been rather quiet round here recently, but the roller-coaster ride that is horses hasn't stopped! Due to exams, the first half of May was very quiet, but all exams went very well, and it is only one more month until results day. June saw me take Larry (Mum's horse) to Pony Club Senior Camp in preparation for my B Test. We had an amazing time, and Larry took amazing care of me over fences, as I am most definitely a dressage diva who likes to pop the occasional fence or two. Swapping horses was very amusing as, being the only dressage rider amongst tetrathletes, eventers and show-jumpers, my way of riding was slightly different. Larry, who is 18.2hh, was quite daunting for many when they first got on him, but he looked after them so well, to the point that he had his own fan club by the end of camp.
I recently undertook my B test Horse & Pony Care Test, which I passed! Rather ironically, when I looked at my feedback sheet, my strongest sections were feeding and travelling, despite them not asking me a single question on fibre! It's still a good sign though, especially after the exceptionally detailed breakdown of everything in Arlo's diet by Tracy! However, as is typical of Pony Club, or so I found, I was given linseed in seeded form and bran, both of which are relatively old-fashioned, to which I mentioned that linseed could be bought micronized from the shop!
Sadly you can't have ups without downs, and the downs have been hitting us hard recently. I believe in being totally honest and open; it can be hard but it happens to everyone, and I should try and portray reality as much as I can. So here we go.
It is fair to say that the 'honeymoon period' with Arlo is over. Not long after my last blog, Arlo started playing up. To begin with he was just swishing his tail, backing up and throwing his head around, but this slowly became worse to the point that he was kicking out and spinning. When he did this quite dramatically in a lesson, the trainer mentioned ulcers. So we treated him and put him on a gut balancer, but we needed to scope him just to make sure. So off we went to the vets to have him scoped. The abnormalities were so minor that they were graded 0, but we wouldn't be surprised if he did have them and they were treated before the scope. One problem down, the vet started performing all sorts of lameness checks, which all seemed horribly familiar after Gari, but he was, thankfully, totally sound.
The vet only found some sensitivity in his back. He suggested having physio and saddle checked (which we do every six months regardless) before taking further action. When his physio came, she found the same sensitivity and more tightness in one side than the other. An hour later, the saddler arrived and located the problem straight away as well. The saddle, to put it politely, didn't fit at all, and had caused minor asymmetry in his muscle development. Thankfully mum's old jumping saddle (yes, proud daughter moment, mum has jumped in the past!) fits him which means I can ride at least. The problems are not solved, so we are having teeth checked, but he is a 'teenager' and we do believe that there are some behavioural problems going on possibly caused by my signals not being exact enough, but we must eliminate the prospect of pain before we face this head on.
He is a lot happier now and I cannot thank Dengie and especially Tracy enough who was always at the end of the phone in recent months. I think I can see the light at the end of the tunnel, but I know that many more hardships are to come; such is the nature of having horses! The good sessions are amazing, the bad ones are getting better and better, and once again I'm starting to get that amazing feeling that we have a great future together, we just had to take a small detour on our road to success.
Now the difficult part to write is out of the way, back to the future. I have been given the opportunity of spending most of my summer holidays at my long-term trainer's yard, Cathy Burrell, as one of her grooms has broken a bone in her foot. As I wish to take a Gap Year on a professional dressage yard, I am sure this opportunity will provide me with great experience. I am expecting to be exhausted, with riding and a long day of chores, but I'm still looking forward to it! The yard has plenty to keep me occupied with livery and competition horses. They also have a dog day care centre, so I will be in my element amongst horses and dogs. I don't know whether I'm crazy or a little stupid (probably both!) but Cathy has a wonderful habit of working me hard, but getting some exciting results. This year is going to be relatively quiet on the competing front; we are aiming for a couple of bigger competitions, but I am willing to give myself and Arlo the time we need. He's 7, I'm 17; time is on our side and even when everything gets tipped upside down, we will continue to both reach for the stars, even if it's going to take longer to capture the moon.
It's been a busy couple of weeks, thankfully exams are now over and somehow I managed to survive and complete my Duke of Edinburgh expedition – 26 miles of walking over the hottest days of June!
So we have been doing lots of training and we had a quick trip over to Sheepgate Premier League for the day. It was well worth the early start, with Leo and I taking a double win in both the FEI Pony Team And FEI Pony Individual tests. There were a few mistakes and there is still lots to work on, but I'm super proud of my boy – can you believe it, Leo a double Premier League winner 🎉🎉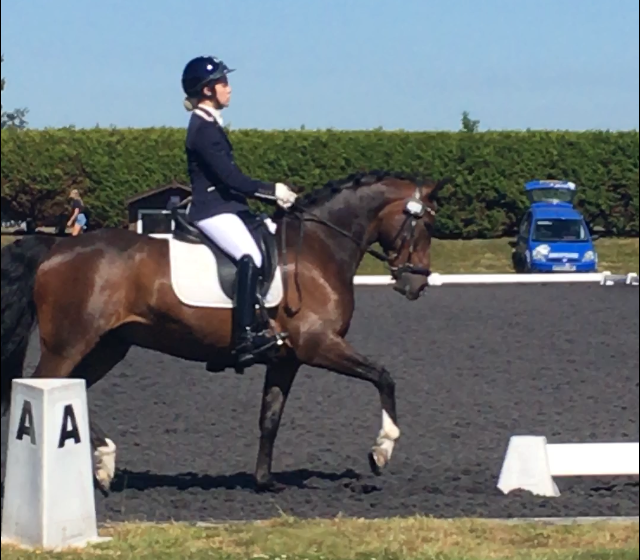 I am excited to also update you that Leo and I have been selected to represent GB at the forthcoming CDI at Hickstead in late July. We have had our regional qualification come through too so suffice to say it's going to be a very busy month!! Leo is going brilliantly and taking our time with him post his injury rehabilitation has really paid off as he is feeling so so good, which is just so exciting for 2019.
Over the last few months there has been lots of eventing, a yard move and scorching weather!
The horses have so far (touch wood) all been on very good form this season! Candy (Obos Impressive) has had two runs since winning the international at Great Whitchingham. She had done two lovely double clears at Floors CIC** and Houghton CCI**, and has completed her 3 star qualification. As I write this I'm sat in the lorry at a boiling Barbury where she's having her last run before going advanced at Aston and then Burgham CIC***…exciting times!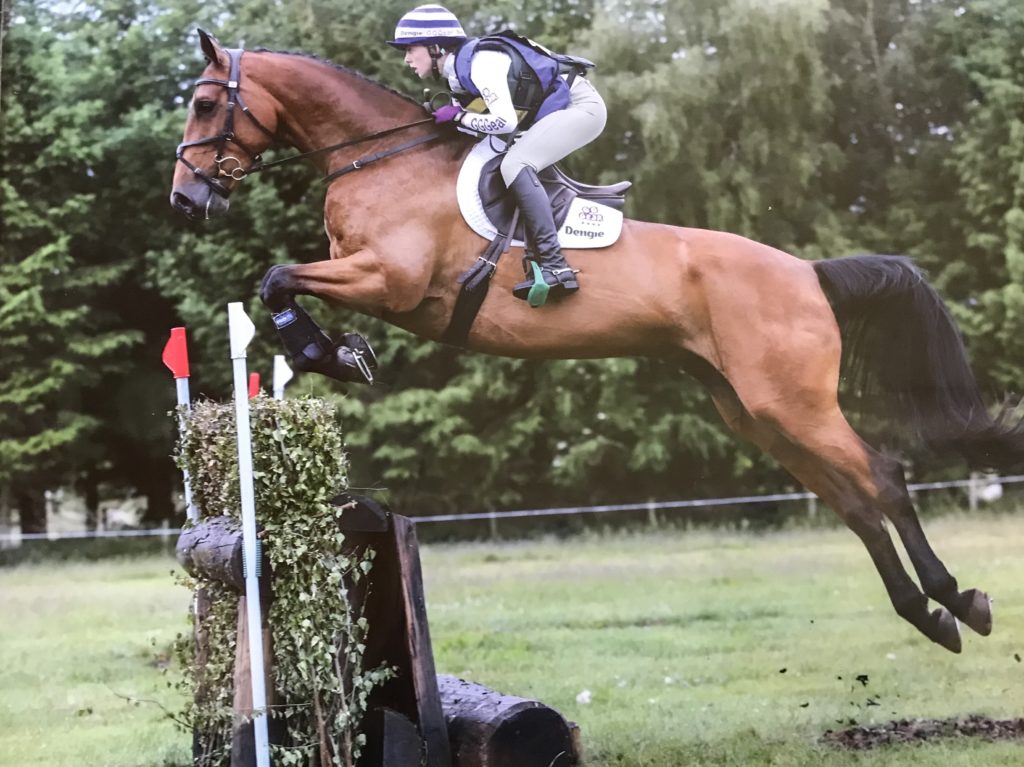 The Burnlea Brothers, Stan and Skip, have both made the step up to novice and coped well posting double clears and Skip having two 4th placings. Their younger brother Snip is also coming on well and hopefully we will get him out eventing at some point this year. Callie is going really well and Edna is almost calm enough to make an appearance in the next month or so (she's a feisty little mare!)
I moved yards a few weeks ago…it was a little chaotic having horses on two different yards for a while, but the new yard has a great set up and is much closer to our house! The first day there we had a yard visit from some of my lovely sponsors, Millbry Hill, Dengie and Claire Hirst photography. We spent the morning reviewing the horses and talking about plans for the year. Claire also managed to get some lovely photos of the day!
It's always good to catch up with the Dengie team and it helps that my horses love the Dengie products! They all look amazing at the minute and feel fantastic…the feed is obviously helping them go well…I can't take all the credit!
Still basking in the glory of his success at Chatsworth, Corey had a few quiet days but then I could wait no longer. I had deliberately not jumped him before Chatsworth, in order to sustain the partnership Nicki had with him, but it was time to have a pop and he didn't disappoint. Mum and I both agreed that the main aim was to focus on my riding and try to sit quiet; we were aiming for a couple of easy runs for me to get back into the swing of competing so there was no pressure on Corey. Nicki had shown us how much he could be trusted and I'd had a long enough break that I should be able to shake the old bad habits.
There was a satirical piece on social media recently that the FEI would soon ban women from having children because it clearly gave them a massive advantage, and whilst I'm no Jonelle Price, I do find I'm doing better than expected. I'm not saying there isn't a lot to work on still, but I am really encouraged by what I'm achieving.
The first place we put this into practice in earnest was at Berriewood, in the 100+ class. A bad traffic accident delayed us significantly and my dressage warm up was cut short, but I stuck to my plan of just trying to keep him calm throughout. It wasn't world beating but it was solid enough. Similarly, despite mistiming my show jumping warm up and not even knowing the full course as I entered the ring, I threw caution to the wind and didn't hook or drive once. We kept a lovely steady rhythm and Corey kept the poles up. We added time penalties but that just confirmed that we'd not been rushing round. The cross country was causing a few issues but again I set off with the intention of just having a steady and confident round. I had a huge smile on my face as I cantered along, grateful for having such a fab horse and a fantastic support team to help me ride. We picked up time penalties again but jumped a very confident clear. It felt SO good.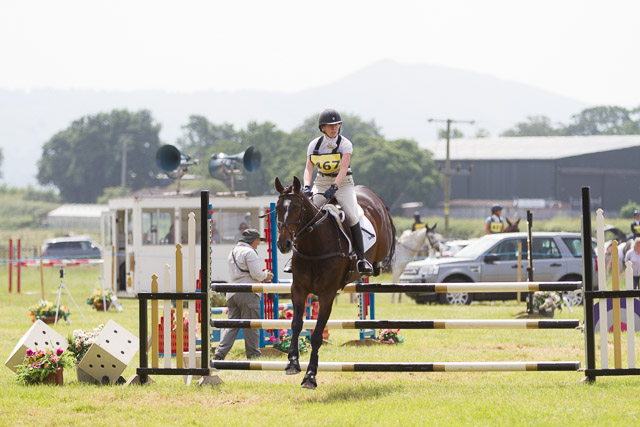 After a quick show jump at Cheshire Show, where we continued to jump calmly and with trust, our next outing was to Skipton for the novice. This has been a good event for us in the past – it was the last place I'd run on him before I got pregnant with Art and the scene of my best ever novice result. It wasn't my best day out, but it was a great set of lessons for me. For no obvious reason, I was late to get on again and had a short warm up for the dressage, plus Corey was a bit wired, so it was a very different test to the one at Berriewood. I trotted over to the arena conscious that I needed to try and keep a lid on his exuberance, and promptly turned the wrong way off the centre line! We did a reasonable test and luckily had one of those judges that likes to give away 8s, so scored high for 11th place.
In the show jumping warm up I struggled to get the canter I wanted, and in hindsight I think we had the wrong studs in, because once in the arena, we slipped badly on a very tight turn between fences two and three. I made the decision not to ask Corey to jump from such an unbalanced stride, then picked up a further 8 penalties for knockdowns. I should probably have kicked on to the third and trusted that he could pick up, but I was otherwise relatively good and didn't panic despite that early hiccup.
For the cross country, I had every intention of going steady and keeping a calm pace like Berriewood, and like Skipton last year, but Corey went out the start box with different ideas. I managed to keep him reasonably steady but he was pulling and loving it all the way round. Other than a sticky moment when we edged so low and slow over the brush drop into water that my toe went through the hedge, it was a fantastic clear. I was absolutely pooped, so I clearly need to work on my own fitness again, but it was the sort of tiredness that comes with a great feeling of satisfaction too.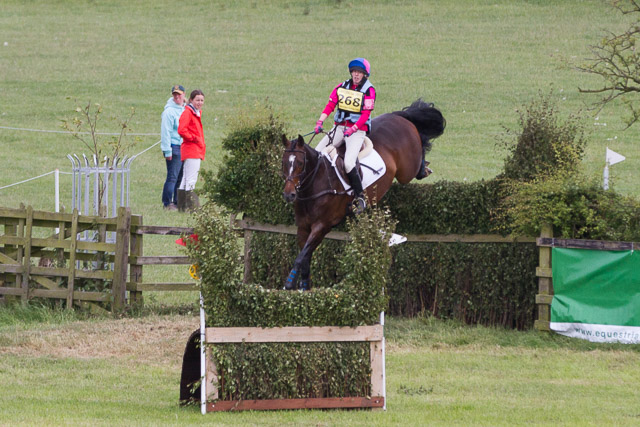 Corey is now having a little rest (well timed since this heat is unbearable!!!) and I'm going to take Art to meet the family in a hopefully slightly cooler Finland. We have a couple of runs lined up for Nicki to have a bit more fun with him, then provided I can get fit enough but also rested enough in between feeding Art every five seconds (he's a boy, what can I say), I will take over again for the end of the season.
One last thought. Just before the cross country at Skipton, I'd questioned the wisdom of running. I felt like I wasn't riding as well as I wanted, like the day wasn't going to plan, and I didn't want to make a mistake I would later regret. I was thinking of Jonty and the implications for my family. Mum pointed out that mistakes can happen on the best of days and also commented that she didn't think the day was going that badly. Al gave me a hug and told me to go do what we'd driven all the way to Skipton to do. It's easy to look back and think it was the right decision to ride because I didn't fall, but actually it was Sam Watson's words later that weekend that reassured me most; "Jonty, while you sleep, I have learned two things from you. The first; in this sport you never know when you won't get up. The second; you live once, you have to try. You may fail, you may succeed. Others might snigger at your optimism or laugh at your defeats, but YOU have to live with the burden of not trying." I know we're all thinking of Jonty and I'm hoping one day I get to meet him and tell him how much he has inspired me to keep enjoying this sport. Get well soon Jonty.