Well the eventing season has begun!!! It kicks off in a few weeks in Ireland, but I have loved looking up all of the UK results. Googie and Ziggy are here with me in Ireland,  whilst Pooh is at home with my Mum.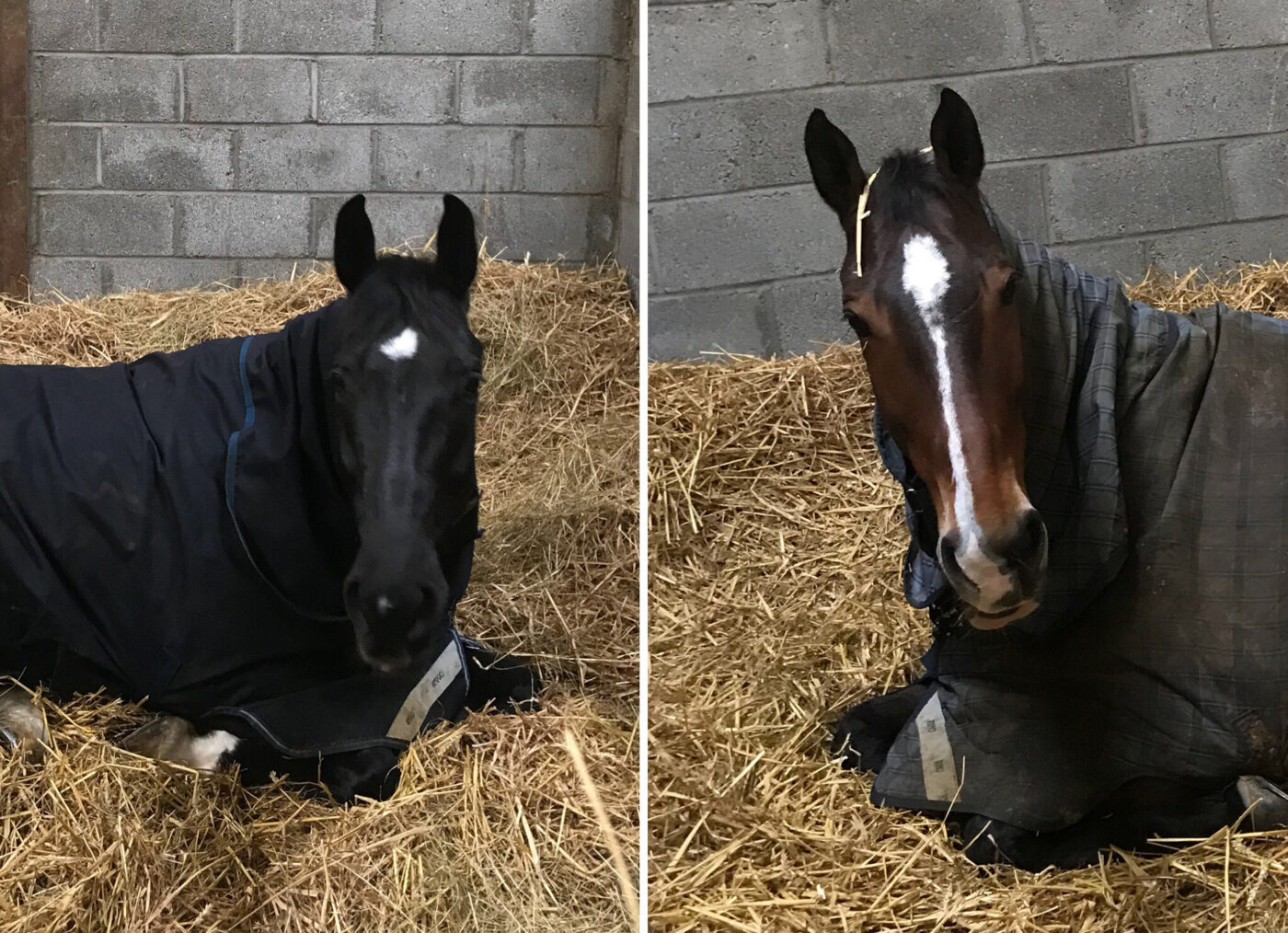 I am now into my fifth month here working at Sam Watson's yard. I struggled a bit at the beginning because every yard is different and coming from a dressage yard it was even more so! But since I have got into a routine everything has been great. I ride 7 horses a day, but also do a lot of mucking out! So it's very tiring, but I am loving it.
Sam is a fantastic trainer and I have learnt so much and cannot wait to get Googie out eventing, she is feeling world class.
I have been very fortunate that my parents bought me a 3.5 tonne lorry which I have with me, so since then I have taken both Googie and Ziggy on a few outings to combined training and cross country schooling.
Ziggy is being great as usual and we qualified for the British Dressage Petplan Festival Final, unfortunately it wasn't cost effective to drive back to the UK so sadly we wont be going! Ziggy is now set to do a number of hunter trials to hopefully establish himself in cross country. Annoyingly last year he had a scare at a ditch where the gravel around the ditch moved and it really unnerved him, so since then he has been very weary of them! One forgets how long it takes with young horses and how quickly they can loose a bit of confidence. It's easy to get disheartened, but hard work does pay off!
My first event with Googie is on the 23rd March at Tyrella, which will be my first experience of an Irish National event – wish us luck!
I took Harry out to Port Royal Equestrian to see how he coped with the whole competition scene and he didn't disappoint!
He travelled really well, so beautifully quiet we nearly forgot that he was there! I have been training him for FEI pony tests, but Molly's just not quite ready for him yet. So for this year I have loaned him to a lovely local girl who will have some fun and do the British Dressage Youth training and squads with him. Generally, he's quiet and easy to do, but seeing as he'd only been out once before, I thought it would be best to get another outing under his belt before I handed the reins over.
The conditions at Port Royal were horrendous, the rain was pouring down, we were both shivering after our test, but the judges liked us; he got a red ribbon and 70% at Elementary.
I'm thrilled with him – exciting times ahead!
2019 arrived with stealth in our household. We celebrated new year's eve with an even earlier night than expected since we'd all picked up a cold and were feeling sorry for ourselves. I heard the fireworks at midnight thanks to Art getting the munchies, but otherwise it passed without drama.
Thankfully, we've had little drama with Corey either so far, which is exactly how I like early pre-season training to go. He's done all of his walking and started schooling in the field, including having a couple of little jumps and his first interval training. I can feel how much he wants to go belting round as fast as possible – if he could shout "wheeee" you'd hear it in the next county – but he has been trying his absolute utmost to stay calm and steady. He has almost remembered how to put his energy and enthusiasm into sitting behind, and is making a good attempt at what must be hard work after his break. Mum is taking on her role of chief training planner with her usual gusto and analytical approach, setting up all sorts of polework exercises inspired by a Caroline Moore demo we attended for her birthday (next year I'm buying her some socks).
We're gearing up to start him at Lincoln in mid-March, with a view to entering the international at Chatsworth. It's a daunting prospect but after Nicki's excellent work last year I know Corey is well up for the challenge and as Tracee Ellis Ross says "I am learning everyday to allow the space between where I am and where I want to be inspire me and not terrify me". So I'm going to stop being scared that I might not be a good enough rider and focus on making sure I become a good enough rider. I was very proud of the way I rode at the end of the year – double clear at Kelsall and then a good effort in the riding club 1.20m combined training (winning the class but only by virtue of being the only ones in it again!). I've come out of the winter a bit rusty, but knowing I've done it once means knowing I can do it again. I've even got my tailcoat ready!
Last year I had an extra obstacle to overcome and whilst I'm still battling it I hope it will be defeated this year. Ever since I had Floss nearly four years ago, I've not been shy about expressing my view of motherhood – which is to say that I find it tough and not always as rewarding as I'd expected it to be. It took me a long time to bond with her and come to terms with being a Mum. This time around I bonded with Art almost immediately, and felt like I was going to boss being a Mum. A few weeks later, I felt the complete opposite. I wasn't coping, I had lost my bond again, and I felt lost and helpless. Thankfully my health visitor could see that it was more than just new baby exhaustion (though that certainly didn't help) and referred me to get help for post-natal depression. I had fantastic support from everyone – including the NHS and a local support charity called Smile – but especially from Al and my family who recognised that as tired as I was, getting out on Corey was more important to my mental health than taking a nap. I have joked about It for years but it quite literally kept me sane.
I spent most of the summer in a bit of a fog, with even the best of days eventing feeling like there was a cloud hanging over them. On top of that I had a lot of anxiety, and felt terribly conflicted and guilty about the fact that to do pretty much anything required someone else to look after the children. I couldn't even feel ok about Al looking after them so I could take a shower. Making even simple decisions was such a strain on my sleep-deprived brain that I missed out on several opportunities. I was back in the saddle but I didn't have many lessons because the idea of trying to schedule them in around Floss and Art seemed so complicated that I often couldn't even try. One particular day I remember, I planned to go show jumping with the riding club. It is all entries on the day so there are no times in advance and it is a skill in itself trying to gauge when to arrive. Trying to calculate that, fit it around Art's lunch, Floss's lunch, everything else… it was too much. I could feel my brain shutting down and couldn't face the idea of trying to jump in public. I literally went and cried in bed (much to Floss's bemusement). In the end Al helped me muster the energy to get out the house to see Corey, Mum helped me have a little no pressure jump in the field and Floss had a sit on Corey too. The day ended on a comparative high but it was bittersweet knowing that I missed the fun of jumping with my friends.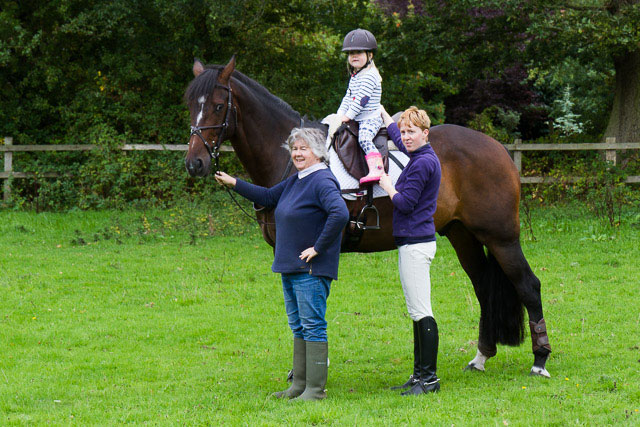 However, although I hope I've still got more recovery to make and that my current state of mind isn't my final state of mind, I'm optimistic about 2019: I've already managed to have three lessons (high five to me!), I have gained a lot of skills from CBT sessions that I can use to straighten my head out both on and off a horse; Art occasionally sleeps through an entire night (rarely, but at least we know he's trying out the idea); Floss is showing a distinct interest in horses, mostly asking when she can start jumping Corey; and I'm already riding with a confidence and focus that puts me in good stead for achieving my goals.
So I'm starting the year with no particular resolutions except 'be kind to yourself', because even that is still harder than it should be some days. And I have a few goals for what I want to achieve with Corey this year. Two points in a day, complete an international, double clear at newcomers, and establish (or maybe just start learning) flying changes. None of them terrifying, all of them inspiring me to try.
So, seeing as Maisies ponies have had a quiet month or so over Xmas and into the new year, I thought I (Maisie's Mum) would have a go at this blogging thing!……
Beginning of December was the last competitive outing until January for Chico and Felix and a chance to qualify for the next round of the Dengie Intermediate Dressage.  For once the weather wasn't too bad and there was no sign of the low flying geese that had upset Chico on his previous visit here!! Chico did his test first, he always has to go first, he is far too inpatient to wait around and his constant whinnying and crashing about in the box is enough to drive me mad!! Felix on the other hand is far too cool to be distracted by his friends antics so having Chico go first is more for my sanity than anything else.  He performed a nice test considering he probably isn't quite ready for Intermediate level just yet and Maisie was very pleased with him.  Felix also did a very nice test and enjoyed showing off his recently learned medium trot!  Having watched some of the other tests I was unsure as to whether either Chico or Felix would be placed sufficiently high enough to qualify. Their tests are quite different, Felix is very obedient and accurate and will do a very safe test, Chico on the other hand is far more flamboyant and expressive in his movement and although it can look very flashy he isn't quite as reliable and safe as Felix, but hopefully this will improve as he matures.  We were very happy to see that both ponies got placed with Felix 2nd and Chico 3rd so both now qualified for the next round, the Area finals!  Now the hard work begins!!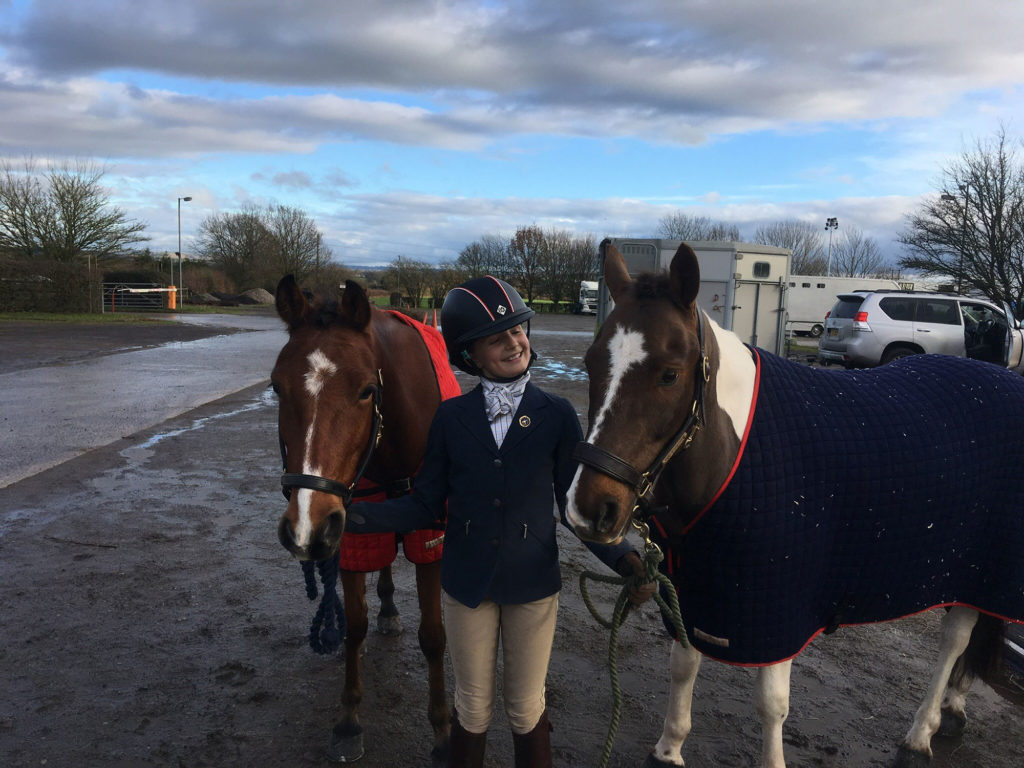 So, what is life like on our yard with a pony obsessed 11-year-old??  Maisie is very fortunate to have parents who both share her passion,  I have 2 horses, Cougar, a retired show jumper enjoying a slightly easier life and Jonny, my hunter/dressage diva cob!  We have also bred two WBxTB foals this year, which will hopefully be Maisie's stars of the future.  Maisie has visions of Badminton glory on Luna and Lupin!!  But if she wants to reach such dizzy heights then she has to put the work in herself and she certainly isn't put off by that.  Ever since she has been able to pick up a shavings fork and broom she has always mucked out her own ponies and sweeping the yard has become her speciality!!  I've always considered my standards of tidiness on the yard to be pretty high but Maisie takes it to a whole new level! She can spot a loose strand of hay on the yard at 50 paces and is on it quicker than Usain Bolt.  I must admit I do like having a tidy swept yard but it does add a certain amount of pressure to my daily mucking out if Maisie has already been through the yard with her broom!  I feel her eyes bearing into me as I cautiously push my over-filled wheelbarrow towards the muck heap or try and creep back to the stables with a full haynet praying that nothing falls off onto the immaculately swept concrete!!  This is where empty Dengie feed sacks have been my life-saver……by simply cutting down one side of an Alfa-A bag I can easily transport several flaps of hay across the yard without spilling a single strand!  Cue smug look as I proudly flounce across to my stables! However, I am still regularly reprimanded for failing to meet standards in other areas of yard life…..grooming, failing to put things away where they should be, leaving rugs on the floor etc etc…..Maisie has got her work cut out!!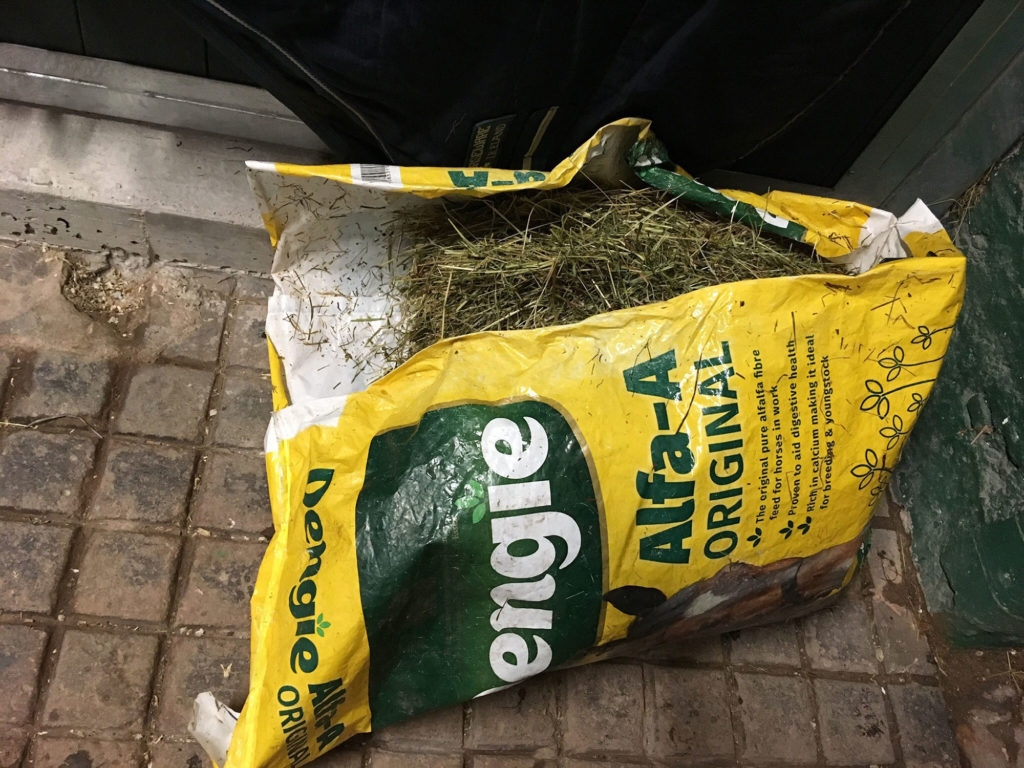 So although December was a quiet month for competing, the ponies have been doing plenty of schooling, especially Chico and this is really starting to pay off now.  Chico has been going through a bit of a teenage phase and being a rebel but hopefully now he is starting to come through this and realises that life is much more fun when he joins in with Maisie rather than fights against her.  Felix finished off the Xmas holidays with a 2nd place and qualification for the Dengie Debut 80 Area final.  'Fantastic Mr Fee' has now qualified at 80 and 90 show jumping and Novice and Intermediate Dressage – the Area finals in March are going to be very nerve wracking for this groom!!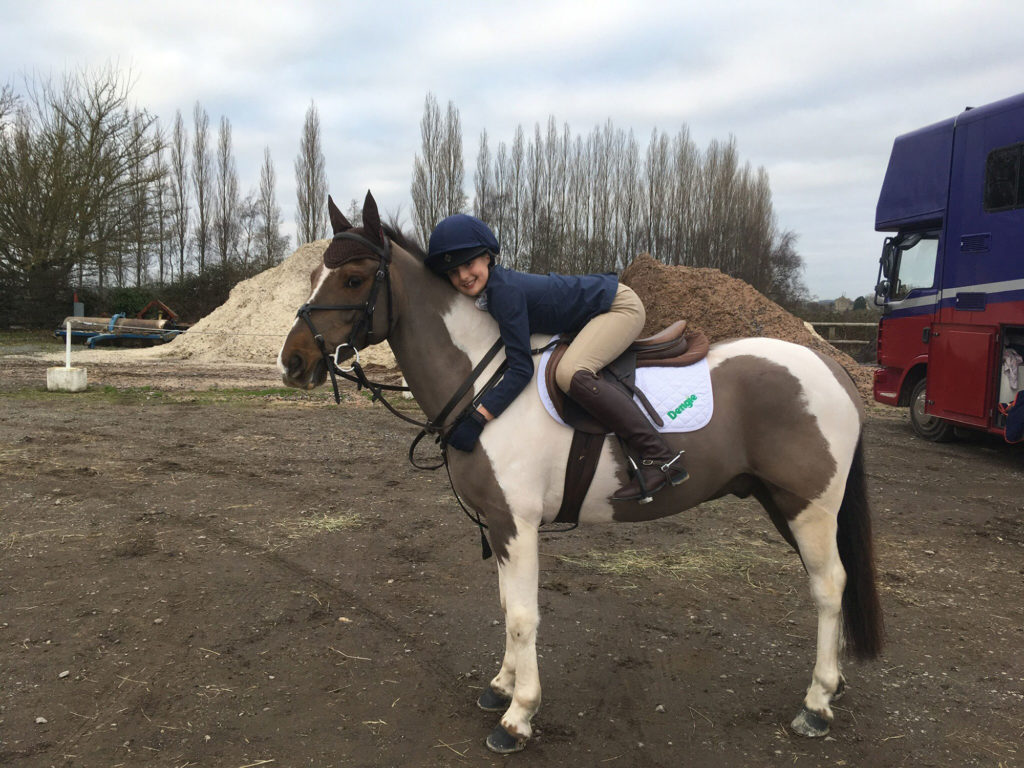 The last few weeks of 2018 were lovely and calm for us, as we enjoyed the festive season. We have been spending much of the last few months training, and had a fantastic lesson on lateral work, which gave us a great confidence boost. We are mainly focusing on Arlo's lateral moves right now and have seen a significant improvement; he is stepping under more correctly and my trainer and I are looking towards the ground cover to go with this.
The mild weather has had many advantages for us, most notably how Arlo is staying in good condition and how much easier training is when the snow is not packed up in his hooves. He's still on his Dengie Fibre Diet and has the most glossy coat and bright eyes.
We have been putting together our Elementary FSM for the Winter Regionals, which I am very excited about. It is the first time I have done my own music and floorplan so it was a refreshing change to have total control over my music. I wrote the floorplan after watching the Olympia Freestyle in December and when I revisited it in the morning, realised that I am a fair way off being Charlotte! After moving a few movements here and there, we now have a floorplan that is possible, and music that fits it very well, if I do say so myself!
As with training any horse we have had one or two 'interesting' sessions where either myself or Arlo rolled out of the wrong side of bed, but thankfully mum has been spending some time in the arena with me, and this has made a massive difference. Sometimes all you need is someone on the ground with a lunge whip to gently encourage him to move laterally correctly. We have also been paying attention to his shoulder-in, and he is proving to pick this up much faster than some of the other lateral work.
We have set some high goals for 2019, but there is no harm in dreaming big! We have qualified for the BD Winter Regionals at Morris Equestrian Centre near Glasgow in February for Elementary and the Freestyle. We are hoping for a top five place in both, and believe this is achievable as long as we keep up heads – collectively! We then hope to start moving up to Medium level, which will be a big jump for Arlo with regards to the increase in lateral work, we then hope to qualify for the U21's Area Festival at Medium. Arlo's changes are very much established, and he finds them so easy (that if I move a muscle slightly he obliges me with a clean change, whether I want it or not!). So as long as the transition to Medium is successful, we may be bringing home a few Advanced Medium sheets later in the year.
Our main goals however are set for the summer. I was last able to go to the BD Youth Home International in 2015, and we hope that this year we might be selected for a place on the team. Whether this will be at Elementary or Medium depends on how successfully we progress to Medium at home, and of course our competition results. Our dream for this year however, is a rather big one; I am aiming to wear a tailcoat at Sheepgate in August in our FEI Junior Team Test debut. We came painfully close to this milestone on Gari (Watch Me!) in 2017 for the Scottish BD Youth Home International; we had even entered the competition, but that will only make this goal all the more rewarding if it is reached. Last time I rode at Sheepgate was 2016, so I would be on Cloud Nine if we competed there at Elementary, Medium and maybe at FEI Junior level you just never know what the year will bring!
2019 is getting off to a busy start for me both inside the dressage boards and out of them. Today I passed my Practical Driving Test (Hurrah!), massive thanks to mum and dad again for their support with this and endless hours of driving round country lanes and local towns with them beside me. Now I'm into two weeks of Advanced Higher Prelims (A Level Mock equivalent for those in England!) which are demanding but fascinating. After seeing on social media several riders postpone their dream for academics, I hope to prove that you can do both at the same time, and still have time to live life to the fullest!
Wishing you all a great 2019 whatever your riding brings.
Sometimes all is not quite as it seems…
So Leo has been training hard all winter, but Jan 1st has come along which can only mean one thing … our new PFEI season has started. Later this month we have our first review with the GB Pony Selectors, where invited pony riders compete against each other under show conditions, and all scores at key competitions start to count.
Some of you may remember that the timing of winter coming into spring with all the time in the Stable is always a challenge with Leo as he gets a little full of himself and last year at the selectors test riding he was just so excited to be out competing that he lost concentration, so this year we figured we needed a plan to get Leo past the 'whoopee this is exciting stage'  at the Spring competitions.
Today therefore Leo and I went to a local unaffiliated competition to ride through a medium test. We were plaited and dressed in show gear, warming up with other genuine Dressage competition entries, but little did Leo know we were only pretending – for him it wasn't quite as real as it seemed!!
I had contacted the Show organisers and they had kindly agreed to let me ride a test in the arena in the judges break between classes. Leo found the whole thing hugely exciting and we were very definitely not lacking in being 'forward'. Hopefully the plan has worked and we will have taken some of the edge off his excitement level at being back out competing. He got lots of treats and pats and of course in true Leo fashion he piaffed his way on the hack home thinking he had performed brilliantly. Only time will tell if our plan has worked, so keep your fingers crossed for us later this month.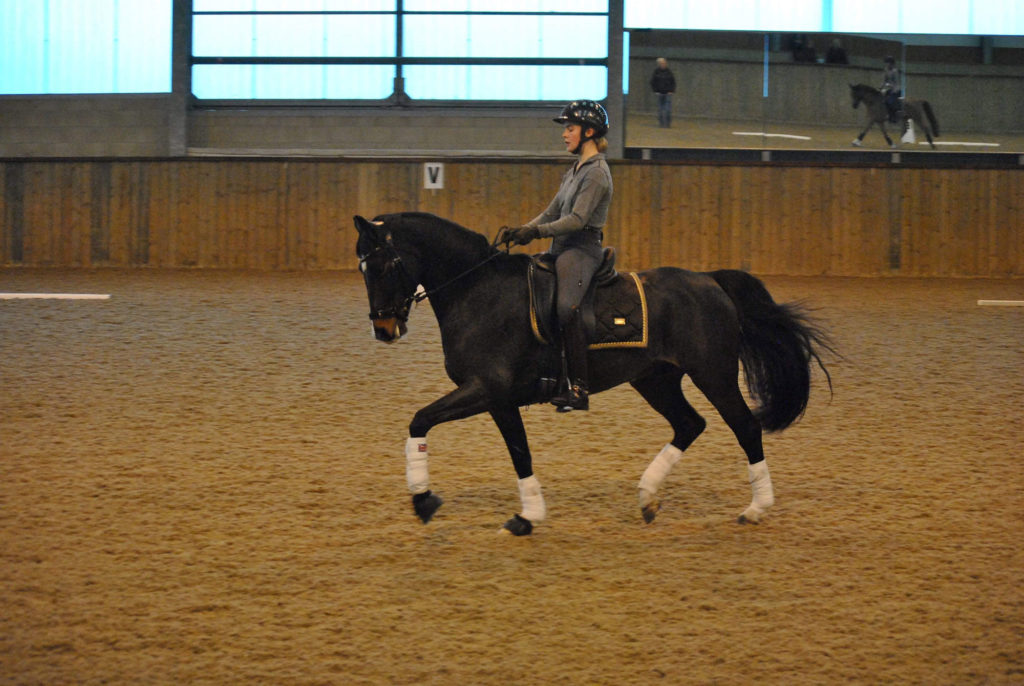 2018 was a mixed year with some good results…Candy stepped up to 3star and the younger horses all started off well. However, sadly near the end of the season Skip died whilst I was riding him at home. It really affected me and my riding so the end of the season was pretty mixed with the horses at competitions.
Therefore my first resolution is to try to box up any negative thoughts and remain positive throughout the whole eventing season. My 2nd resolution is to continue to try and progress up the levels with the horses and my own coaching skills. My 3rd goal is to continue to try and represent my fantastic sponsors in the best way possible…and finally to get fit again after a lovely Christmas break!!! It's not only fat Stan that needs to go on a strict diet!!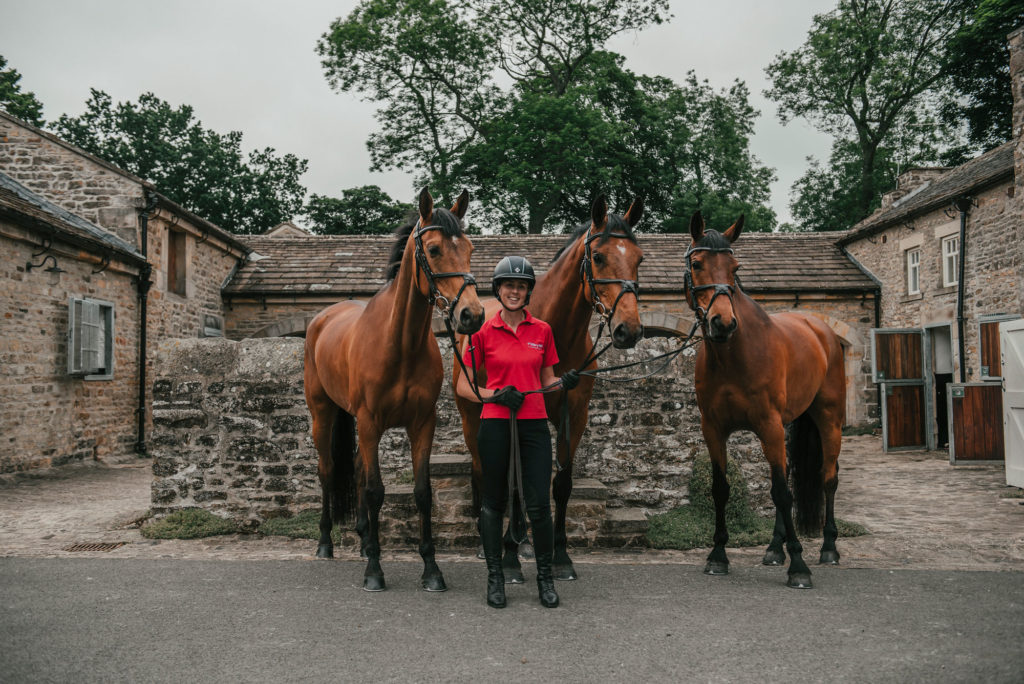 Happy New Year!!!
We are very excited to be heading into the 2019 with lots of big plans. We will be expanding our premises as well as welcoming new arrivals, so excited to keep you updated.
At the end of 2018, we sadly waved goodbye to Delilah, who has been with us for 15 years. Fortunately, she has fantastic new owners and we are so excited to see her progress and her competing on the circuit this year. STOP PRESS… Delilah's's new rider Annabelle has just won her first four BD this weekend!!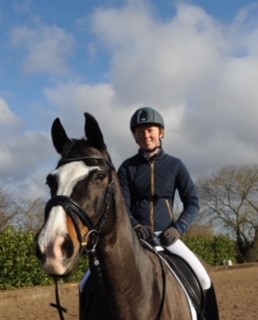 We have lots of exciting young horses coming through which will be fun to see how they turn out in competition in the next few months.
My New Years Resolution? To be more active with Facebook and Instagram to keep people updated with what's happening!
We finished the year on a high, with all the horses going well and competing successfully and I hope to do the same next year.
Elspeth Day
My aim for October was to try and qualify both ponies for the Area finals of The Pony Club Dengie Winter League Novice Dressage. The first qualifier was at West Wilts Equestrian Centre and it was a very wet and cold day!! Chico warmed up really nicely and was feeling very relaxed, but just before we went in to do our test a flock of Canada geese flew low over the arena which really upset him. I managed to calm him and was just about to start the test when the flock flew back over the arena, this was just too much for Chico and although we completed the test it was very tense and he didn't score very well. Felix was Mr.Cool and even though he doesn't like wind and rain he did a lovely test to come 3rd with a score of 70% and qualify for the next round.
Before we went to the next qualifier I was lucky enough to have a lesson with Olivia Towers (one of my idols!!) I took Chico and he was a superstar! Olivia helped us out loads and Chico felt amazing! So I went to the next competition feeling like we could really improve on our previous outing and Chico didn't disappoint me….he did a super calm test to come 3rd and qualify with 66%, so that was Mission Accomplished for October!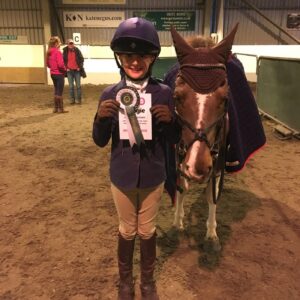 Having achieved what I wanted to do in the dressage we then concentrated on show jumping, we took Felix back to West Wilts for The Pony Club Dengie Show Jumping qualifier competitions and my aim was to try and qualify for the 80cm Debut class. Felix jumped a super clear round to come 5th but just missed out on qualifying. As he was jumping really well I thought I would have a go at the 90cm class. This was our first 90cm course and Felix jumped a lovely round with just one pole down, but we qualified for the next round!! I was over the moon with him!!
Chico has been doing lots of jumping practice at home and will hopefully soon be ready to go out and do a SJ competition. He tends to get a bit keen with his jumping and can get very fast and strong, so we have been doing lots of grids which does seem to be helping so watch this space!
October was also an exciting month because the ponies moved in to their new stables and I am very grateful to Dengie for the lovely drawstring bags which I keep the ponies grooming kits in outside their stables. Now that the clocks have gone back it's getting much harder to ride both ponies everyday, I try and ride one of them before school and one after. They are both looking and feeling really well thanks to their Dengie diets. We have added Dengie's Digestive Health Plus supplement to Chico's feed as now they are in the stables more he can get a bit wound up at times and the prebiotics will help to keep his tummy healthy.
Over the next few weeks I am hoping to take both ponies arena XC schooling and we may also have a go at some intermediate dressage for the Pony Club Dengie Winter League, as well as hopefully taking 'pocket-rocket Chico' show jumping!
I had a great training session at Carl Hester's this week! He loved my new boy AJ (Knock out…hence boxer AJ). Carl even said he would have bought him..yippee! He also loved what I had done with Larry.
I must say Larry has such a great attitude, although at present he tries his luck when you handle him on the ground and when standing on the lorry, however as soon as you get on his back, he says 'what do you want to do' – it's just lovely. He offers this big trot and I have to keep saying not yet, lets get stronger in our balance first.
AJ was an angel, he looked at nothing and there is plenty at Carl's to spook at; peacocks, dogs, doves (although we are dove numb with Dad's flock at home). It's all so exciting for the next season.