A Busy, Busy Week!
---
Well, the week started with some training and lessons with Hannah Esberger. We were working on getting Tiff 'test-ready' for this weekend's Pony Progress Squad FEI Team Test run-through and Leo was working on his balance through transitions. Both boys worked really hard and Hannah was pleased… phew!
Then it was off to London for a couple of days, primarily to Olympia to watch the Dressage Freestyle to Music, which was completely amazing. It was so inspirational to watch some of the British riders and of course seeing Carl Hester is always a major treat – it was great to be there to see him win.
At the weekend, it was off to Pony Progress squad with Tiff. Tiff loves his new diet of Alfa-A Molasses Free and Performance+ Balancer – he's far more forward going, which delighted the squad trainer, and he looks stunning with such a shine on his coat. In our lesson, we worked on trying to help Tiff maintain his balance through his medium trot, as he throws so much at it that he often loses balance. After discussions between the team selector and squad trainer, they felt we should back off in our tests when asking for medium trot – in essence 'less may be more' as the points lost by losing balance are outweighing the benefit of his flashy medium trot.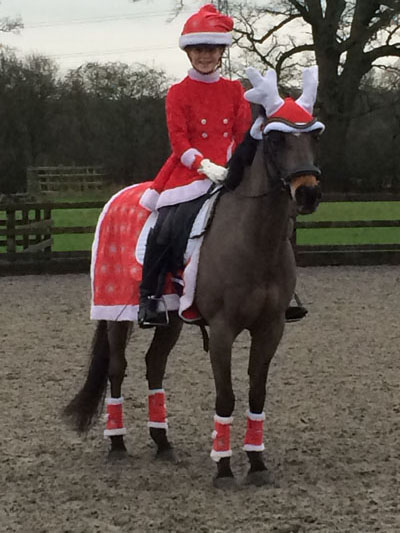 On Sunday, we had a formal run through of the FEI Pony Team test in front of the selector, who then gave us feedback. I am pleased to say that Tiff was excellent and he really tried his heart out. His increased forwardness from changing his diet really helped to keep a lovely rhythm throughout and he delivered one of his best ever tests. Then, to top off a great weekend, we won the fancy dress competition!
We now have a short break from traveling over Christmas, but we have the first of two FEI Team Test training weekends in front of international judges on the 2nd January, so Tiff and I will be hard at work during the holiday to ensure we are both ready.
I hope you all have a really great holiday break with your families and horses or ponies. Thanks to Dengie for all their wonderful support this year.