A Crazy Month
---
It's been such a crazy month here everyone, so much to tell you all.
Firstly Leo and I had a simply brilliant week at the Sheepgate Under 25 British Dressage Championship. Leo handled such a big show environment, with some tricky weather conditions at times, but we made our 2016 objective come true in that I competed him in his first competitive Pony FEI tests. I'm so excited to report that not only did he manage to handle the class at this level, but he went and won one of the classes and came 2nd overall in the pony FEI championship only 0.5% behind the winner! There were some talented combinations taking part so I was delighted!
The week was a great success – out of our 8 classes he was a star and went and won 5! With some Pokemon hiding in the flower arrangements we had some spooky moments, but our lowest score of the week was still over 67% and our highest was an amazing 75.77%. Leo kept his energy all week so his feed combination is doing a great job, the Performance+ Balancer has made such a difference.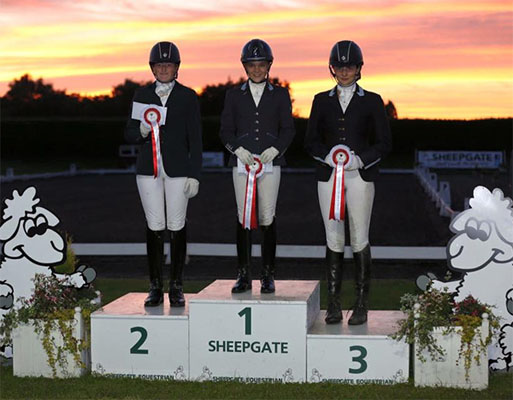 I'm super proud of Claudia Davis who bought Tiff from us, she rides him so beautifully and to see them as a combination go out and convincingly win both the Elementary team classes and therefore win overall as the leading elementary individual rider, was just so great to see.
I have now started year 9 at school and my GCSE's, our teachers certainly are giving us plenty of homework to try to fit in too!!
Earlier in the month Leo and I attended his first ever BD Pony Squad viewing day. It's an annual event where selected combinations are reviewed and assessed by the three Team GB Pony Selectors for consideration for the 2016/17 pony squads. For a young pony he handled the event really well, our feedback was fantastic and I am so excited by his potential and he's literally growing stronger at the more complex FEI work by the week. I am delighted to tell you that following this assessment we have been invited to be a Pony Prime Squad Reserve Combination, so we are now looking forward to a very exciting winter ahead.
Leo has just had a short break and holiday as he's been working so hard, but it's now back to the grindstone with lots of training planned and a trip to the Petplan Area Festival rapidly approaching in the calendar early in October too.