A Place on the Podium
---
I have just got back from the BYRDS Home International 2015. In case you are new to dressage, BYRDS is the division of British Dressage that provides training, camps and competitions for those of us under 25-years-old. Every year, BYRDS run two major competitions – the Inter-Regionals and the Home International – and competitors are selected to represent their region based upon their results at affiliated dressage competitions. Selection for the Home International is even more special as riders are entitled to wear the flag for their representative country on their jacket, be that England, Ireland, Scotland or Wales. Around one hundred and forty riders are selected by the regions across Novice, Elementary or Medium levels and each level is then broken down into pony, junior or young rider age group sections. Tiff and I had been selected to represent the Northern Region and England at Medium level and Pony FEI level and we had to compete at each level over two days.
Despite lots of rain and Tiff making an unauthorised exit from his stable, leading to him having a highly entertaining gallop around the horse grazing area of the lorry park which required forty people to catch him – naughty pony! – I am delighted to tell you that we came away with rosettes and a place on the podium. We came third overall in the Pony Medium section – the riders above me had both represented Team GB at dressage this year, so it was amazing to be on the podium with them. In the Pony FEI competition we came first on day one and second on day two, reversing the previous day's top two positions. This meant that we were joint Pony FEI champions over the two days, as placings are decided based on your place in the class as opposed to your percentage score.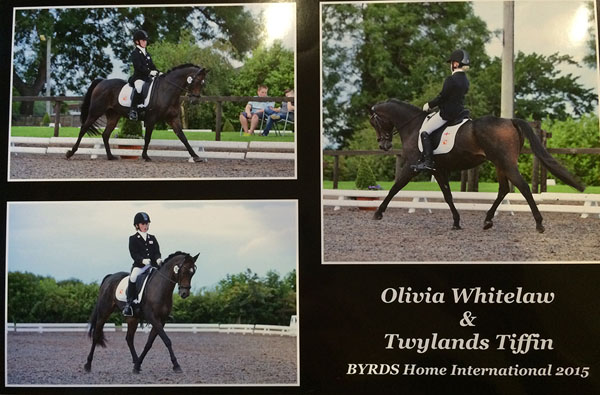 I am so delighted with Tiff. It was a huge atmosphere but, despite three hours of travel and three days of temporary stabling, he never tired and was so consistent with his work. He's feeling really full of life from his Healthy Hooves Molasses Free diet and, ever the showman, he loved the large crowds of spectators and was really focused and attentive when warming up and competing in the tests.
Next week we have our British Dressage Regionals, so he gets a few days off this weekend and then it's back to practice, practice, practice for us.