A Rosette Or Two…
---
Well, I am just back home from the Dressage Under-21's UK Spring Championships – the first major competition of the year – and I am very proud of the boys as they did brilliantly and worked really hard. The championships are run at Bury Farm in Buckinghamshire and we woke up on the competition morning to snow. We had been scheduled to do an outside arena walk at 7am but, after deciding that the sight of snow would make Leo more excited than we needed, we decided to miss this morning arena walk and hope for a later one as our classes were all in the afternoon.
Tiff was a superstar! He was feeling very hot – it was his and Leo's first competition away together and Tiff's first competition for a number of weeks. He charged up the ramp when we loaded him and then promptly spent the next 36 hours neighing on average every ten minutes to anyone who wanted to listen to him. Tiff delivered three excellent tests, but his highlight was the Pony FEI Championship, where he won the class against many very talented riders and ponies who have previously represented Team GB.
Leo was such a good boy too. We struggled to keep a consistent way of going and contact at times, as he is very strong and just loves the excitement of being around lots of other ponies. However, in the main arena he coped with the atmosphere brilliantly. In his first test, he was battling hard against me in the warm-up so I was worried he may let the excitement bubble over, but he was a star as soon as he went up that centre line. He really listened to me and did some really great work, promptly winning the class on a huge score of 74%! His second test started with a few baby moments as we entered the arena. The test itself was okay, but with too much tension. Overall, however, I was delighted with him. The great news was that he did enough to come second overall in the Elementary Championship and his score was also part of the winning overall Open team.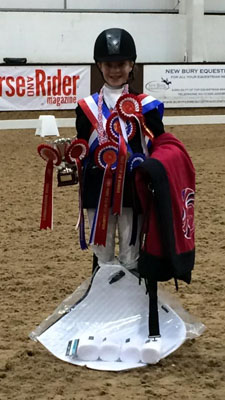 I was also delighted to receive the Mornington Crescent Trophy from Dressage Under-21's – the award for 'Talented Pony Rider of 2015'. This award is very special as the trophy is named after the pony that my trainer Hannah Esberger used to ride during her time competing internationally for the GB pony teams. How special is that!
Anyway, no rest for the wicked! Next week, Tiff and I are competing in the Pony FEI class at the British Dressage High Profile Under-25 show at Keysoe in Bedfordshire, so let's hope he stays working as well as he did this week.