A Super Somerford by Olivia Whitelaw
---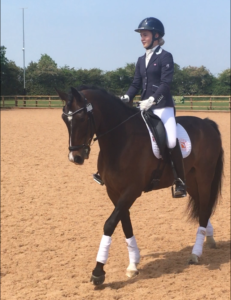 Leo and I are just back from a simply brilliant Somerford Premier League. It's a huge show with brilliant facilities, but with a massive atmosphere, galleried seating, flapping marquees, lots of shopping and catering stands and more feather flags than a feather flag factory! So I have to be honest we went not really knowing how Leo would handle it all.
We arrived on Friday to give him a couple of days to get used to it all. Arriving post the arena walk I had to hope that Leo had put his big boy shoes on… not to worry he did us so very proud. Taking 5th place in a medium class of 29 and the class was won by Michael Eilberg! Eek was I really riding in a class alongside Michael!
Moving to Sunday, Pony FEI Team Test day in front of the GB Selectors .. suffice to say Leo was amazing at handling the atmosphere and behaved really well in very windy conditions. A few mistakes from us both, but so chuffed as despite this he scored his first ever 9's at PFEI level and with an average score of 69.66% he came 7th and got himself into another prize giving (these are definitely his favourite things..far more fun than tests).
The class was full of the majority of our PFEI long listed European pony combinations, so to get into the top 8 makes me so very proud of him. Equally exciting, ok probably even more exciting for me, as he is my idol…yes…the legend that is Carl Hester only went and asked me how Leo had gone today, the fact he asked felt like winning the lottery!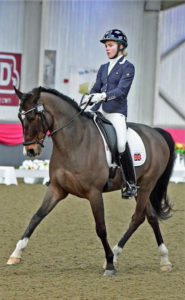 The weekend has been so inspirational, to be warming up alongside legends such as Carl, and to watch and learn from the warming up routines and to get to watch the amazing dressage tests by some of the leading UK riders including Carl, Charlotte and my friend and fellow Dengie Ambassador, Hannah Esberger-Hancock.
Leo as always is thriving on his Dengie diet, hopefully you can see how well he looks on his diet from the pictures.
Our Keysoe CDI pictures have also arrived, so I thought I would share them with you!