Amigo's Trip to the Regionals
---
Well it's been a busy few weeks and all the boys are going great.
The six-year-old pony stallion Cyden Oostings Amigo and I had an outing to the Regionals to do our Elementary Freestyle. With only a week to go, we had a real challenge as we realised the current music was not working with Amigo's paces now his way of going has developed so much, so a quick change of music and some last minute floor plan adjustments were needed.
The good news is that at times in our test I felt Amigo and I were working at our best together. The Pony Progress Squad training over the winter has really helped us and the feedback from the judges was absolutely backing this up. There were many truly lovely comments! However, Amigo thought that going out to compete for the first time in several months was the most fun he had been allowed in ages, which when added to a very hot atmosphere with several hundred people watching, led to several sticky moments.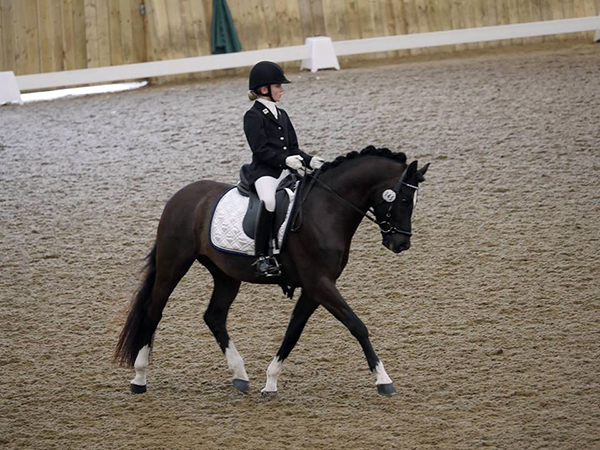 Despite this, we completed our test, learnt lots together, had fun and I think showed real glimpses of magic and super quality, which makes me really excited about this year when we are planning on competing at Pony FEI level. It was also fantastic to be able to watch one of my trainers (and fellow Dengie ambassador) also competing at the Regionals, Hannah Esberger-Hancock, who did amazingly and qualified for the National Championships. You can learn so much just from watching and seeing how other people ride and handle these pressure situations, I would really recommend it when you have the chance.
Leo has also been out training. We worked with him in both indoor and outdoor arenas to try and help get him past his excitement with outdoor arenas. It worked, although being young he decided there were definitely a few monsters hiding in the arena flower arrangements, which was a great situation for me to work through under my trainer Darryl's eye. I now know I need to ride him forward more firmly when he gets baby moments like this.
Tiff is going brilliantly, I am so delighted with his way of going since we started adding the Dengie Performance+ Balancer to his feed – it's made such a difference, it's amazing. We have a quiet remainder of February training the boys with Darryl and Hannah, but then March is busy. Tiff and Amigo will be focusing on preparing for the Keysoe High Profile Under-21 show, then Leo and possibly Tiff have the Dressage Under-21s Championships and before we know it, the Premier League season will be here.