An Emotional Visit to India
---
To finish off an unusually hectic October I accompanied Charlotte Dujardin to India to see the work that the charity, The Brooke have been doing out there as Charlotte is now an ambassador for them. As you can imagine both Char and I were a bit apprehensive about what we were going to see in India.
We started off with a visit to the Qalenders, a nomadic community who breed the horses and mules that end up as working horses. We were surprised to see a real mixture of horses, many of them looked very well but there were some who were in very poor condition and also a couple with deformities. It is incredibly difficult for The Brooke team to gain the trust of these communities, who are naturally suspicious, as they are never normally offered help. After seeing the animals and speaking to the owner, we found out that they had travelled nearly 300km on foot to move the horses, so that they had adequate grazing. It's amazing what they will do for their animals! We were then invited into their homes where they had drawn a chart to explain to us what a difference The Brooke had made. Before they had help from The Brooke 8 out of 10 of their animals were dying, but now 8 out of 10 survive!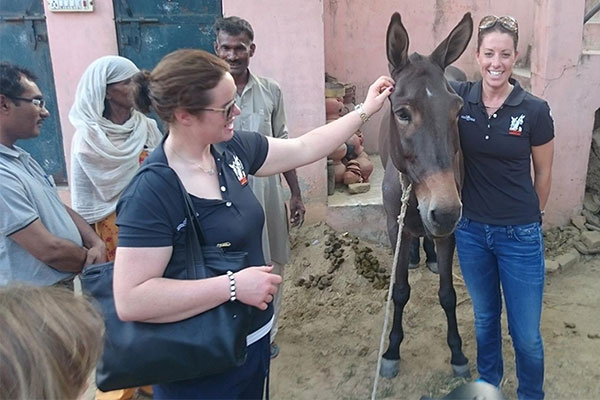 That afternoon we visited one of the Women's community groups. This is an initiative where women from different villages come together to help each other look after their working animals. Since working with The Brooke they now have access to some incredible resources and have started a bit of friendly competition where they mark each other on things, such as the cleanliness of the animal's eyes, hooves and also if they have any wounds. This has been a fabulous idea, as it encourages some friendly rivalry to improve the care of their horses, donkeys and mules. We had a question and answer session where it became evident of the amount of love and compassion they had for their animals. They said that they love them like they love their children, which was so lovely to hear. The women then took great pride in showing us a couple of their mules, both of whom looked very well. Overall it was a very positive first day and a privilege to see what fantastic work The Brooke do up close and personal.
The second day 'in the field' started early as we headed to a vegetable market. The market finishes by 6.30am, so we left the hotel at 5am to get a good feel for it. Apparently that was a lie in compared to the vegetable sellers, who would have left at approx 3am to travel over 7 miles just to get to the market on time. When we initially arrived we saw some horrible sights, there were some very lame, thin horses and also some that were working despite clearly being very young.
The Brooke team were able to offer some assistance to the horses and mules who had sore eyes or sores on their backs from the carts. What really hit home for us is that the owners are doing the absolute best they can for their horses and mules, with the resources they have. You could see their attempts to pad out the harnesses so they didn't rub and trying to make the horses and mules as comfortable as possible, but they have to carry up to 300kg of vegetables over 12 miles a day to make a living. All that work would earn them just between £4 and £5 per day!
Again what was evident was the work that The Brooke have been doing to help. One horse had a sore on his back from the harness rubbing, so the owner had moved the harness to allow it to heal well, whereas before they wouldn't have known to do anything and the sore would have simply got worse. My favourite story from the market was one man who we went over to see as his horse looked so well. The horse had a small sore on his chest that had been caused during the monsoon season when it was wet, but it was clearly healing and he had such a soft silky coat. The horse's owner told us that he bathed his horse every 10 days and that he had been treating the wound, all due to the advice from The Brooke team. He showed such love and gratitude towards his horse, saying that he owes his life to his horse, and without the horse he would not be able to earn a living and look after his family. It was so touching to hear!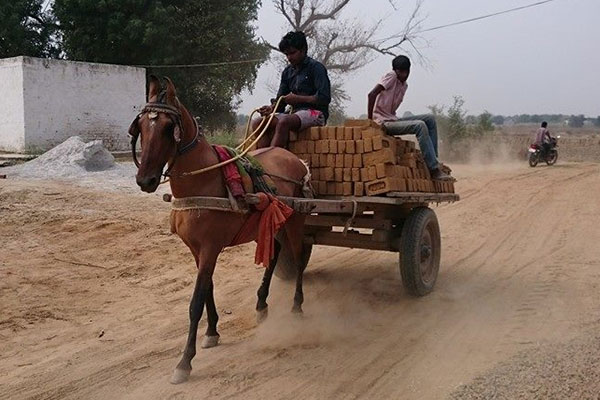 That afternoon we visited the brick kilns, where the majority of horses, donkeys and mules work due to such a high demand for bricks in India at the moment. Once again we were welcomed by the community before heading over to see how they transport the bricks to the chimney for firing. The animals have to lug loads of about 1200kg to transport the wet bricks to the chimney. Although it wasn't fully brick kiln season you could see the effort the horses had to put in to move such a load. Seeing all the wet bricks was breathtaking, there was just rows and rows of bricks, and I was also taken aback by how little the horses and mules were that were pulling these loads, many of them were less than 15hh! Sady these people have no choice, entire families, from children as young as 6, work all day  – 1000 bricks will earn them £1. I got quite emotional at one point as there was a buckskin mule who reminded me of Finn (Headmore Diffinity) and I couldn't help but think how awful it would be if I had to work my horses that hard in order to simply survive. We finished off on a celebratory note as we were asked to give out prizes to the members of the community who had won some equitation awards, it was a lovely way to finish the day. That evening we flew to Lucknow as we were visiting the equine fair the next day.
Both Charlotte and I were really quite nervous about what we were going to see at the equine fair, which is essentially a massive sales where people travel miles to buy and sell equines. When we arrived our first glimpse of the fair was of row upon row of animals tethered, in a scale that you can't even begin to imagine. We started our visit in The Brooke tent where people can bring their animals if they are worried about their welfare. They had treated 67 horses the previous day and in the short time we were in the tent we saw about 6 – 7 horses being treated for various things, ranging from sore eyes and swollen legs to full blown colic. The majority of horses at the fair looked well, but there were a number in an absolute terrible condition where you could see every bone sticking out. We also saw some horrific scarring from poor hobbling and rubs from working. The most shocking sight was the actual handling of the animals, some of the owners were downright brutal. We saw a 'dancing horse' which had one strong man holding him and the other whipping him to try and get him to piaffe. The poor horse was dripping in sweat, had blood pouring out of his mouth and was covered in whip marks. Members of The Brooke team rushed over to intervene and the two men got a stern reprimand! The issue is they don't know how to handle the animals, and therefore use force and brutality. One of the projects The Brooke are aiming to do is handling clinics to teach the owners, but they need more funding for this. It was heartbreaking to see how every grown animal you approached flinched at your touch, whereas the foals were still friendly, as they hadn't yet learnt that humans could be cruel.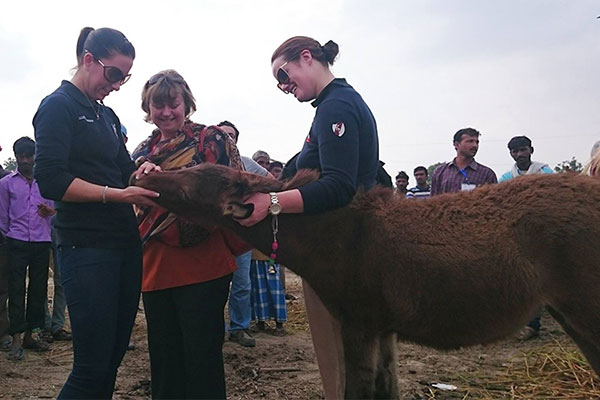 We also saw 20 young horses that had been transported to the fair packed together like sardines in one truck for 2 days. They had stopped for a couple of breaks, but they have no loading ramps, so the horses had been jumping up and down to get in and out of the truck. The Brooke have helped put in loading ramps at the fair venues, so the horses can go down gently when they arrive. We also saw a donkey stallion who had really long feet. Whilst we were waiting for The Brooke team to find a farrier I started giving him a good scratch, which he loved! The Brooke team explained to the crowd watching that the animals enjoy being stroked and that they should do it too. When I left the donkey it was being cuddled by 4-5 people, with some really small children. I don't think the donkey had every had so much attention and I hope that the owners who were there will go away to their animals and give them some love and affection too!
Those incredible highs were followed by an unimaginable low when we went to see a foal that had been born at the fair. The mare who we were told was her mother looked so poor we were worried she wouldn't be able to look after her foal. It was clear the foal was very weak, as her front legs went back at the knee. We carried the foal to the nearest medical tent, which happened to be The Donkey Sanctuary. Here it became clear that she was very sick and weak, she was running a high fever and was clearly dehydrated. She was taken to The Brooke tent where the team took over treating her. Unfortunately we had to leave the fair but found out later on that the foal was looking a lot stronger and now standing on her own. Charlotte named the foal Hope.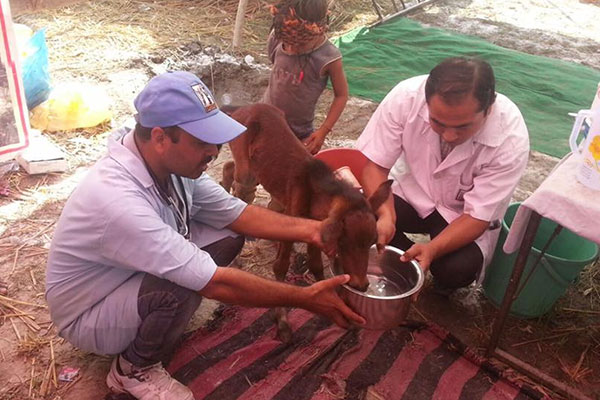 There were a few things that I really noticed being 'out in the field'. Firstly, I hadn't realised how much these people rely on their working animals to survive and they do really care about them. They are really doing the best with what they have. Secondly I was taken aback by the work The Brooke team have been doing and I was amazed by the improvements that have clearly been made. Finally it was so evident how well respected The Brooke team are within the communities. These people rely on The Brooke team and I dread to think what would happen to these horses, donkeys and mules without them!
We finished off our trip with a relaxing visit to watch the FEI world dressage challenge at the Army Equitation Centre and a lovely dinner. After a very full on and exhausting week we enjoyed having a relaxing day before we headed home!
Overall it was an incredible trip and The Brooke is an incredible charity that really does save lives, not only equine but human as well through their work with the equines. I'm so grateful to Charlotte for allowing me to accompany her on this trip and The Brooke for looking after us so well. I would urge anyone who can spare anything, no matter how small, to make a donation to allow them to continue this incredible work!
For more information on The Brook, click here to visit their website.