Change of Discipline
---
As Leo has been working and trying so hard with his training I thought it was important to give him a break and have a little bit of fun.
So last weekend we nervously booked ourselves into novice show jumping training session being run by BHS Nottinghamshire, under the top BE trainer Sam York. At home Leo has jumped the odd cross pole but this was to be his first ever real attempt at show jumping and his first ever course – I wasn't sure how he would react but thought even if it's a disaster he would probably enjoy the change of experience.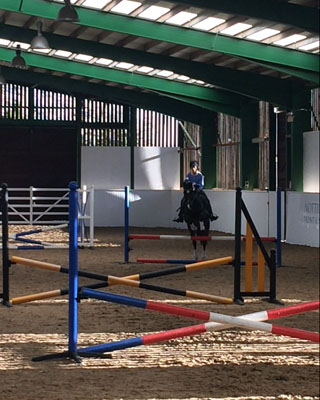 Well Leo loved every minute! My biggest problem was that he seemed to think it was so exciting that everything needed to be taken at a speed over 100mph, and when waiting for his turn he found this very exciting resulting in our first strides of passage!!
Here's a few pictures and a short video, do excuse my position, jumping in a dressage saddle is not easy but we certainly survived the experience and Leo seemed to love it, so I can imagine some more sessions becoming a regular part of his work.
We have training next week with Darryl, more work on our trot development awaits us.. I will keep you updated on our progress.