After some downs, there's the ups!
---
Sometimes horses can just let you down and sometimes they are just super stars!!
7 minutes in the whole of January that was all he really had to behave for… 7 minutes… sadly Leo picked those 7 minutes to show everyone his moves none of which were in the test sheet!
Suffice to say in January we went to see the GB selectors for a weekend of Pony Team Test Riding, and it was our first opportunity for them to see him post his operation and rehab. Leo was going better than ever so suffice to say I was full of high hopes.
I really hope this doesn't come across as negative, however in January I established that Leo does NOT care if:
You all take a weekend out of already busy lives and my exam revision to go show the selectors his work.
Money does not grow on trees.
That your support team , including our saddle sponsor and trainer had given up their evenings during the week just to make sure we were ready to show ourselves off to the best of our ability.
That you don't want to look a muppet especially in front of the Selectors and your fellow pony riders.
Not only does he not care, he does not know. And I think even if Leo did, he would probably still have carried on, as he was having the best most entertaining time of his life in those specific 7 minutes!
Leo had an easy nice time over Christmas as he had a cough we were struggling to get sorted out. Maybe the lack of competitions during this time was the issue as he had warmed up beautifully, I felt on our A game…right up until we entered the competition test arena. Where Leo then decided he was TERRIFIED of the three spare white boards that had been left at different places around the edge of the outer arena walls (useful when you're a dressage pony and supposed to be used to such things! ) and so he then did everything in his power to evade going anywhere within 30 yards of any of them. We had 180 degree spins, mini gallops in the opposite direction, and even a few rears…completely lost the plot resulting in my having to retire during the test as he was just being a complete idiot, in his eyes though he was having simply the best time ever!
The judge was truly lovely in her de-brief and said it's happened at some point in their lives to all top riders, giving me an example of when she had travelled and entered an international test at C, for her horse to then reverse out of the arena and point blank refuse to go back in!! The judges advice was to not do anything any differently, forget about the day and move forward from tomorrow. On the positive Leo worked really hard in the following days lesson with the selectors watching on the Sunday, and they were very understanding and supportive.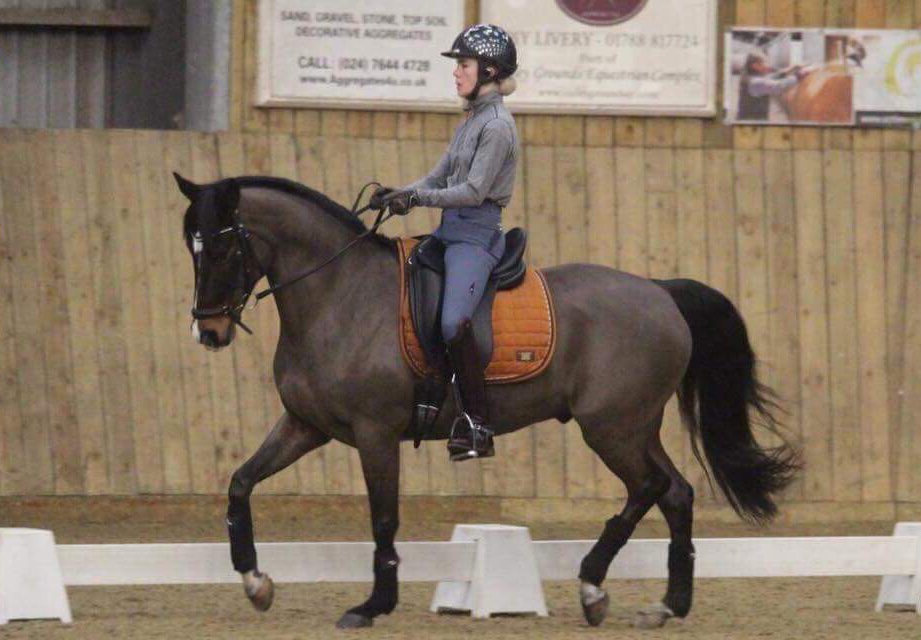 Leo continued back in full work and training and all was going well, so last weekend we were back off to see the selectors again, and in between we tried competing him both weekends to try and get his brain focused that going competing wasn't quite so exciting as he had thought!
So at last weekends test riding our key objective was to hold it together, so whilst between us we made a few too many errors in our test, I was still truly delighted by how he held his excitement at bay and behaved, and all our hard work in training was showing progress.
As usual the Dengie Nutrition team, especially Claire Akers have been brilliant, because of his cough we have spent the last few weeks tweaking his diet quantities. It's tough as I love Leo 'hot' but getting the balance that he's not so 'hot' he's looking for personal entertainment and simultaneously holds his weight on is a challenge!
So, for my latest news I am hugely proud to announce that this week I heard that Leo and I have been selected to represent Great Britain at the CDIP at Keysoe in March!
Two and a half years ago we were starting out together, he was just 6 and I was 12-years-old and we were riding at novice level. It's been a rollercoaster journey coupled with last year out following his injury and operation, but for him to have come back even stronger and to now be selected to represent his country so quickly since being back at PFEI level is amazing and it's an opportunity that I am very grateful for.
So anyway a big thanks to my trainer Andrew Fletcher for his permanent support and advice, it's been a tough learning curve the last few weeks, but hey what doesn't break you makes you stronger, and for all you guys out there, if your having issues right now, keep believing yourself, keep working with your trainer, and keep believing in yourselves as our journey over the last month just goes to prove if you keep working at it, keep doing what your doing, it will pay off for you at some time very soon.
We will keep you updated how it goes, in the meantime keep your fingers crossed for us at Keysoe in March!