Dreaming Big: Aiming for 2028 LA Olympics
---
It's been a crazy busy few months here. As you know due to me turning 16 this year, 2019 was to be my last year competing ponies Internationally under the FEI rules, this meant that I have had to find a new home for Leo to continue to progress his International Dressage career. I am delighted to tell you that we were able to find him a home within GB so he is now forming a new partnership with a lovely young pony rider called Evie Daniel. Leo has settled in his new home, and I am sure that their partnership will be one to watch in 2020.
I have taken some time to review my own thoughts and plans, my ultimate personal dream is to ride at Olympic level and I greatly enjoyed the journey we went on with Leo of taking a baby through the levels and up to Pony FEI. Unfortunately we can only afford to run one horse at a time for me so I had to make a choice between buying something young to develop up the levels myself or buying an older proven horse to do International Juniors and Young rider levels on that would be fine at this level, but would not have the quality to go higher.
We all know that with horses it's a gamble – anything could happen. I have loved my time and been truly proud of riding for GB, but I decided that I would gain more personally from taking the young horse route as there is so much for me to learn in developing a young horse through the levels and I have always been told there is nothing wrong with 'Dreaming Big' so the dream of the 2028 LA Olympics lives on. The challenge then was to find a quality young horse, and I am delighted to introduce you to Lordswood Sir Victorious (aka Lordy), half brother of Victoria's Secret who some of you will remember was a recent winner of the Bundeschampion Championships in Germany. Lordy will be leaving his breeders in the Spring to be broken in by Warwick Maclean and then travelling over to me around May. I will be travelling over to Germany in April to spend some time with Lordy and Warwick as we work through the process.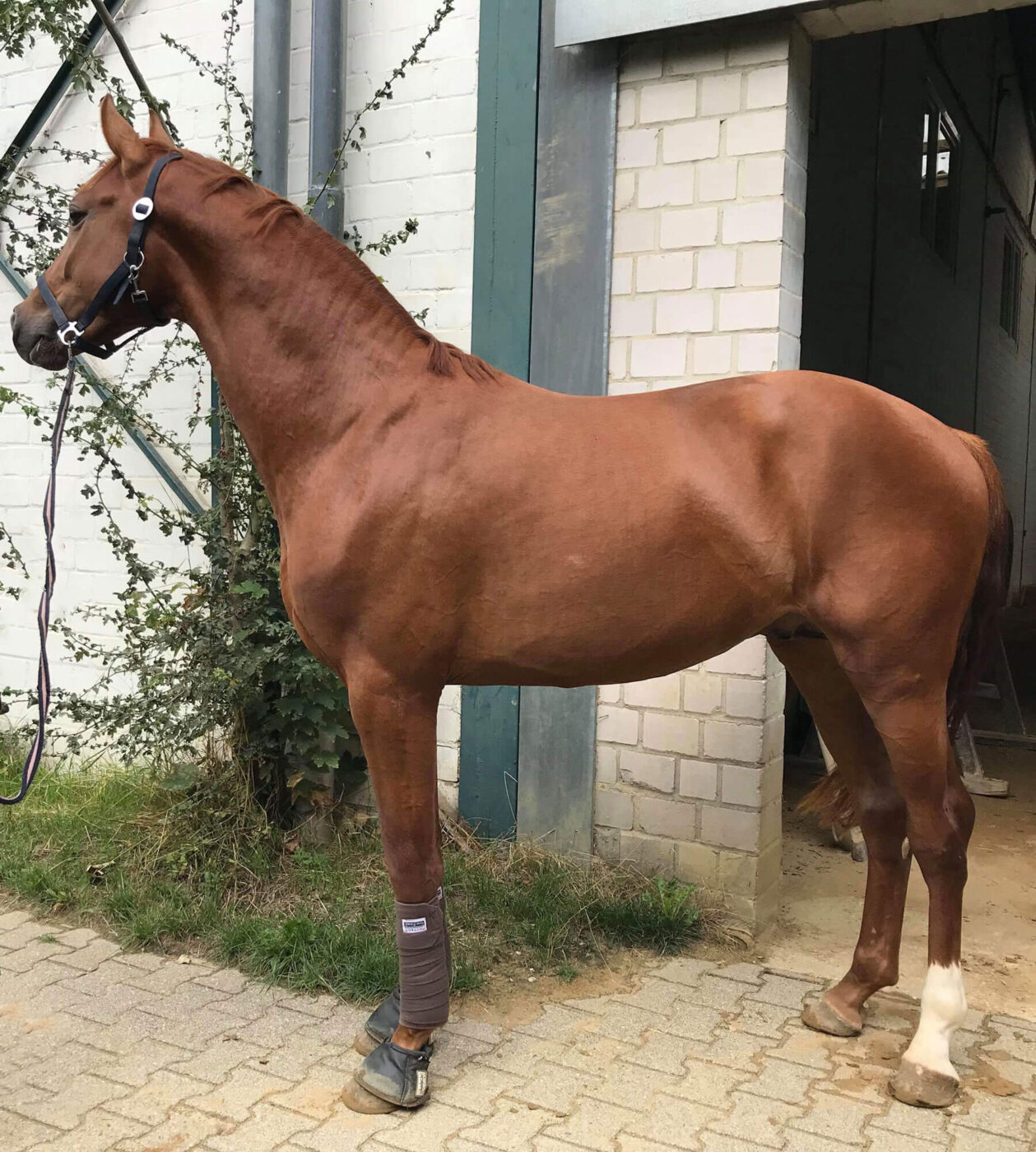 In the meantime a friend has asked me to help with their up and coming novice level eventer, Bentley and give him a winter of focused dressage training. Bentley loves eventing and anything that involves jumping, he's less of a fan of Dressage so I am trying to convince him that Dressage can be fun and give him confidence in his own abilities. Bentley's favourite time of day is dinner time, and he has moved over to a 100% Dengie fibre diet and already looks fantastic on it! We have found a great balance of energy for him with Alfa-A Molasses Free and Dengie Performance+ Balancer. He has also become a big fan of Dengie Meadow Grass with Herbs for his lunch time snack.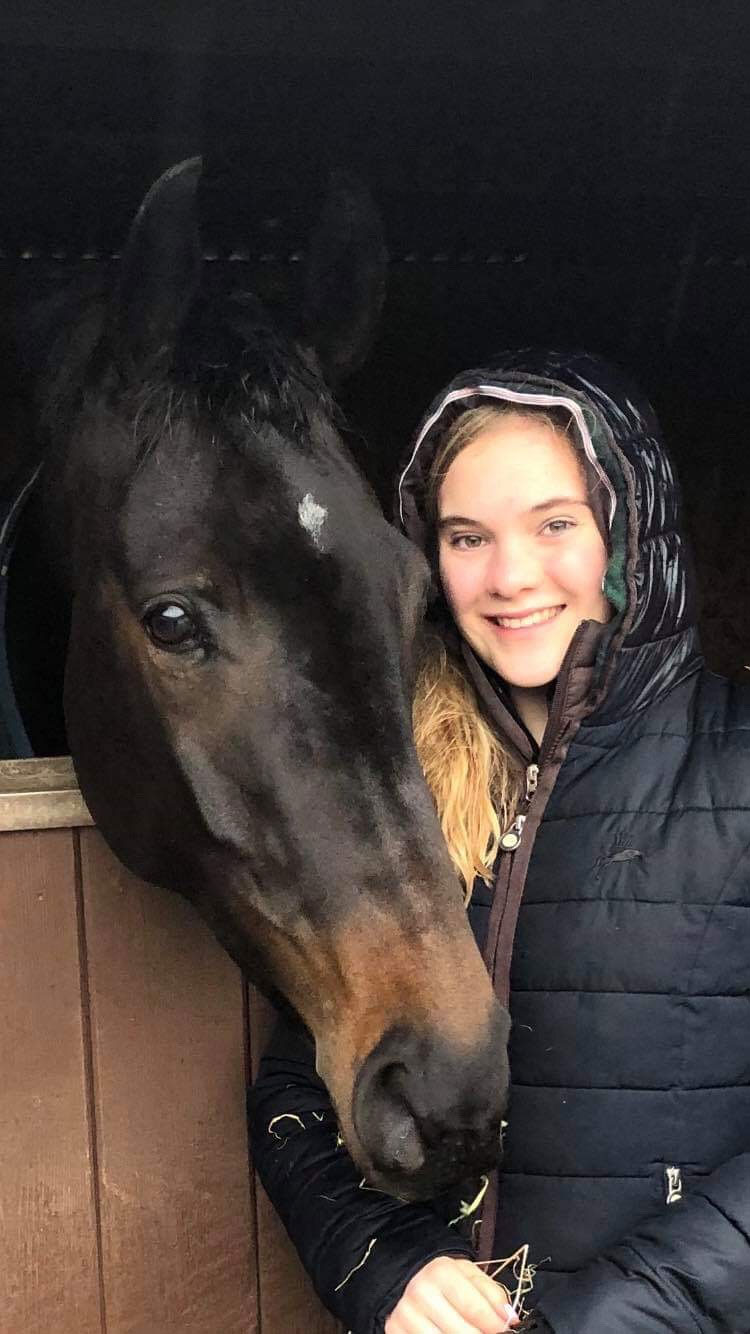 Alongside Bentley and studying for my A-Levels, I have also been selected by British Dressage to complete a program for selected elite youth rider development called the Diploma in Sporting Excellence at Hartpury College. So far I have attended a couple of training camps and a ridden assessment back at home with my trainer. We have been studying nutrition of both horse and rider elite athletes, so it has been great to have all my knowledge spent from my time with Dengie. I have some Christmas homework of producing a full years budget of the running costs for a performance competition animal, which I am sure will be interesting and scary in itself, given we have personal experience of the £3000 cost of attending each overseas international. I know there are many of you out there who are also sharing my journey, who have youngsters or who have horses who find dressage a challenge, so I plan on doing a Dengie Diary over 2020 where we look at specific challenges and training items, hopefully some of the tips I have been given that I can share with you all will be helpful for you too on your own personal journeys.
For now, may I wish you all a very Merry Christmas and thank you and Dengie for all their support in 2019, its been a great year and I am looking forward to sharing 2020 with you all too.