Extra Special Celebrations on Birthday
---
So my 14th birthday was made extra special as on the day I heard that the GB Pony Squad selectors had selected Albi and I to compete at the CDI Deipenbeek in Belgium in early July!
Since the news it's all been a little bit crazy , as both Albi and I had to be registered at an FEI level  and Albi needed an FEI Passport applying for.  In parallel the lorry needed to be checked over to prepare its lashing points for ferry travel and we even had to apply for a Belgian Satellite system something that is required to automatically collect the road tolls as we travel across Belgium – so so much to organise…who knew!!
It is such an honour to have this opportunity and I know Albi and I will both try our very best to make the Dengie team and our followers all proud. Albi is looking and feeling fantastic on his Dengie diet and it's great to know that his diet is in good hands.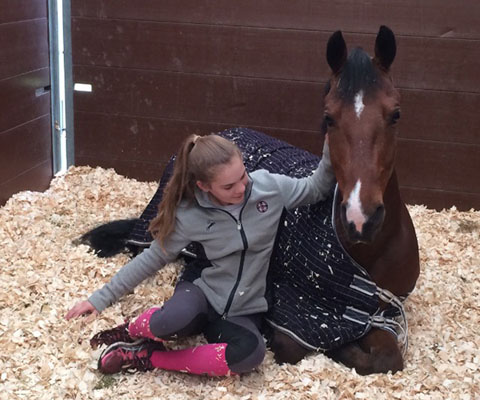 I am so grateful to Molly and Edi Smockum Owen for giving me the ride on the wonderful Albi – he is such a lovely pony to be around and I really do feel his best is yet to come.
Some other really exciting news, Leo has been on a trip to Newmarket and had a number of scans and a review with his surgeon, the super amazing Ian Wright. I am so so pleased to tell you all that his field trauma injury has healed itself brilliantly and so he's now enjoying being allowed time in a paddock in the field again and our ridden work is moving on too. Newmarket feel we should be back out and working at PFEI level in the Autumn completely as planned which is just great news.
School exams have now finished so it's a little easier trying to balance the non-stop juggle of riding and schoolwork, however I am really lucky as my school are simply so supportive in trying to help me have time for everything.
The wonderful charity Wilberry Wonder Pony that raise so many much needed funds for the Teenage Cancer Trust are sending Raceberry to travel with us to Belgium to hopefully bring us luck!