First Overseas International and Hickstead CDIP
---
After I finally finished my GCSEs on June 17th we started packing for our first abroad international to Exloo in the Netherlands.
We began our trip to Dover and had a stop over at Parkers on the way, where we met with Maddy Frewin who was also going to compete in Exloo. Leo was very happy to spend some time in a field which is one of his favourite things and stretch his legs before we got the 2am ferry which was a cooler time of day to travel as it was so hot. Leo coped really well on the long journey and as we struggle to get him to drink whilst travelling, we gave him soaked Dengie Grass Pellets – the perfect mash to keep him hydrated. Leo isn't the tidiest eater so the lorry was soon covered in green slop! When we arrived I gave Leo a walk in-hand and he had a good rest in his stable. The venue was lovely and was right next to a golf course so he had something new to watch. Trot up was first and Leo looked super shiny and healthy thanks to his Dengie fibre feed and later we had the arena familiarisation. As there were 35 combinations in the pony class, the arenas were very busy. In the team test I was so pleased as Leo really tried for me and produced some great work to get a solid score against such strong competition from the Dutch riders. In the individual test I rode Leo forward with more power to try and score higher marks which we did, but having 2 mistakes is so costly at internationals so we ended up with a very similar score to the day before. Even though we didn't make it through to the freestyle I was so proud of Leo's attitude at his first international abroad and the improvements in our scores and the quality of our work throughout the competition. We then began our journey home and this time stopped over at a lovely little yard in France near the Calais ferry so Leo could have a rest. It was a lovely surprise to meet Caitlin Clancy there who was on her overnight stop on the way to the CDIP in Leudelange, so Leo got to have a nice rest with his GB buddy Jacob.
We soon arrived home and Leo had a little break in the field before we started our training for Hickstead CDIP at the end of July.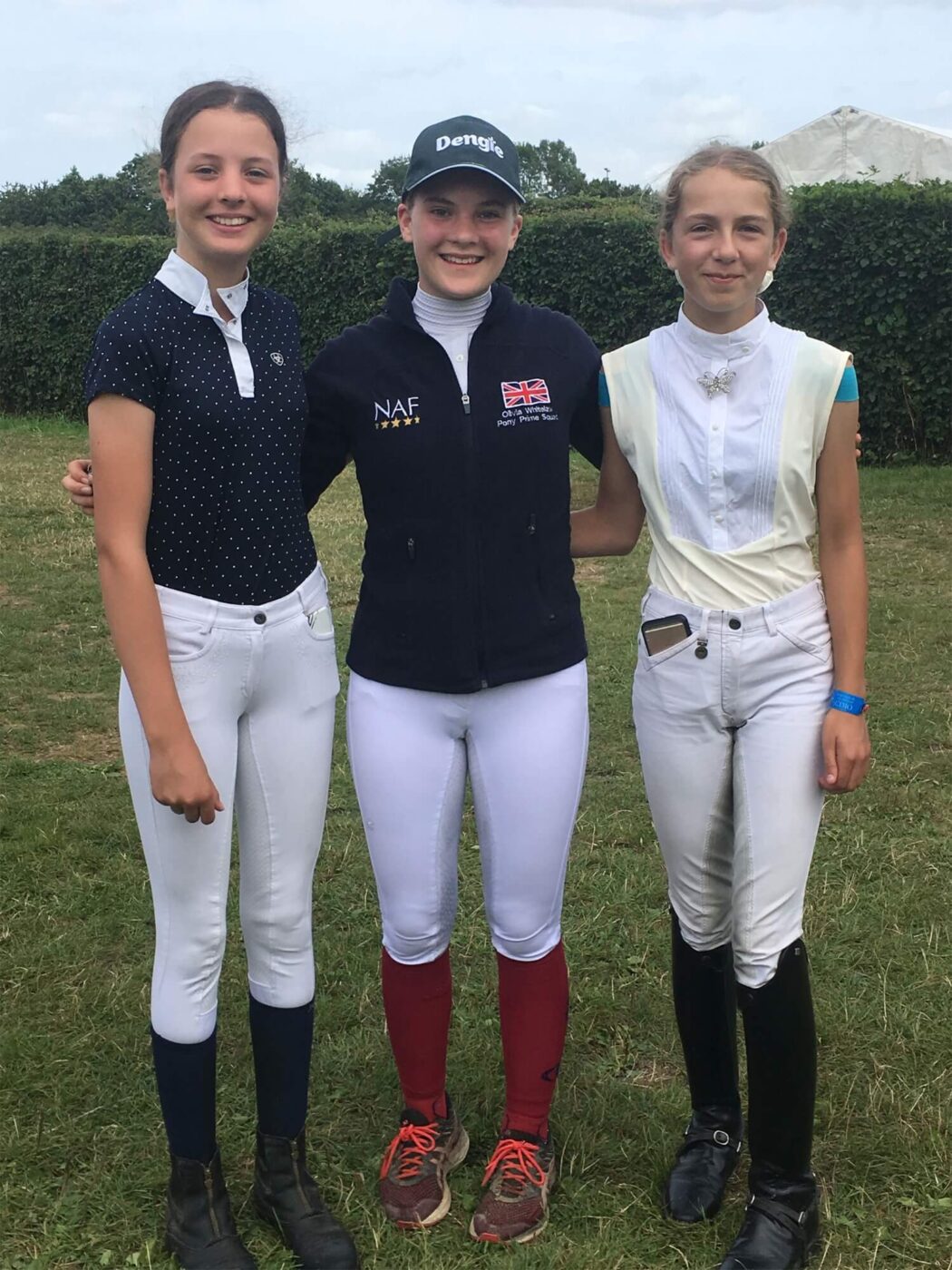 It was soon time for our next adventure to Hickstead CDIP which I was very excited about as so many of our friends were going to be there. Leo was a good boy for trot up as well as the arena familiarisation and in the heat he was so glad to have fans on his stable to keep him cool. He was stabled opposite a fellow dutch pony so I think he enjoyed his company! On the team test day we didn't have the best test as Leo was spooked by someone ruffling their nappy bags, losing his focus and relaxation towards the end of our test. What would have been a great test sheet was soon accompanied by three movements being scored 2's which with three judges was very expensive, so we didn't have the best score! Next was the individual test and I was so pleased with the quality of work we produced in the arena and even with a few small mistakes we scored 69.14% to win!!
Prizegivings are Leo's favourite, but unfortunately it wasn't mounted so he had to listen to the national anthem from his stable whilst I ran around the arena as our lap of honour which was fun even though I may have looked a little crazy! As we were walking to the stables I saw Carl Hester by the warm-up arena so I had an even greater prize which was to have a chat with my idol who was also very pleased with our result. That evening was amazing as Caitlin and I sat by the main arena and got to watch the Grand Prix horses in their arena familiarisation and I have to say I rather fell in love with Laura Tomlinson's black stallion Capri Sonne Junior, who was simply stunning to watch. We were on last for the freestyle – I absolutely love our music from Julie at Equivisions and was ready to have some fun with Leo. I was really pleased with our test in the international arena and to achieve an international personal best in the freestyle of 71.60% was amazing. To win the freestyle as well as the individual test was incredible and Leo was even happier as this time it was mounted prize giving so he got to have a canter round in his rug and was very intrigued with the prizes in the bag he had won. This was the best end to our pony career together and I am so so proud of everything Leo and I have achieved.
Next we will be travelling to Sheepgate U25's Championships to support everyone and then I receive my GCSE results on the 22nd August, so we have an exciting couple of weeks ahead.