Flying High
---
Well, to be honest I don't really know where to start this month, it's just been incredible from start to finish!
This was the first time that I'd ever flown before so I was quite apprehensive about it all, but it was lovely that I got to share the experience with Hayley Watson-Greaves and her horse Squeaky. As we were both in the same position we could look after each other! We left Headmore at 10pm on the Thursday evening and travelled overnight to Brussels where we stabled during the day to give the boys, and us, a rest before we travelled to Liege Airport. Both Hayley and I got to fly with the horses and on the way out our boys essentially had a 'private jet'! Well, they were the only two horses, but we had to share the flight with some lobsters and wine glasses!
Both boys flew very well and we all safely arrived in Doha and settled in. It was an incredible experience, we were collected at the airport in a brand new chauffeur driven Mercedes and taken to the show ground so we could wait for the boys. As we were walking around the show ground I felt like I kept having to pick my chin up off the floor! It was an incredible place and everywhere you looked was simply breath taking! We couldn't wait to get riding.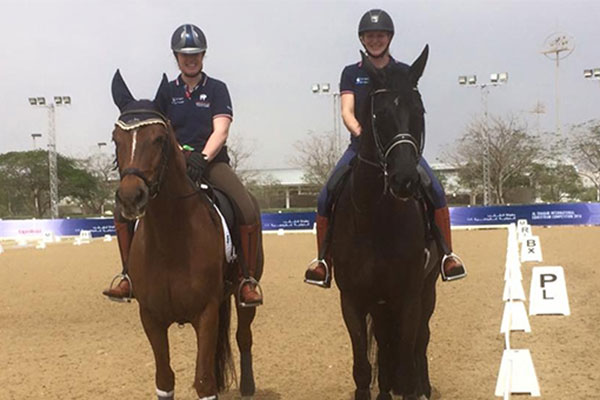 Once the boys were settled in, we headed to our hotel, once again in a chauffeur driven Mercedes! The hotel was on the coast and, like everything else, was astounding! It even had a pillow menu! The next few days were spent letting the boys recover from the journey and prepare from competition. Although I think both Del and Squeaky travelled fine, they were rather fresh when we hacked on the first day. Our competition arena was just beautiful and I couldn't wait together going.
I'd like to thank Dengie for organising and overseeing the safe delivery of Del's feed to Doha, as it was a bit of a headache!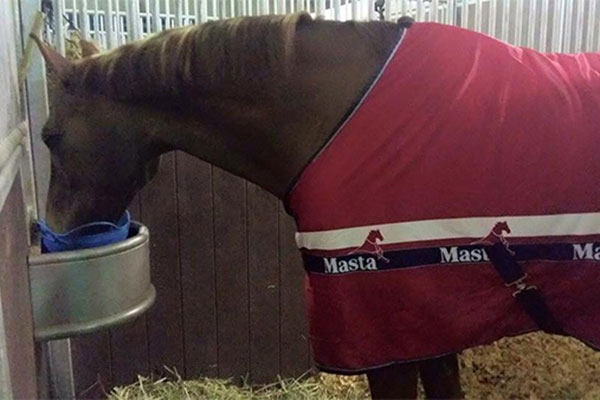 The day of the Grand Prix finally arrived and I was feeling confident as Del had been working really well. Unfortunately he found the arena rather terrifying, so we had some uncharacteristic mistakes which kept our score down. I was very dissapointed as he'd been going so well, but that's horses. This meant that we qualified for the special instead of the freestyle, but I was actually quite relieved as Del isn't a big fan of his music anyway, let alone in that scary arena!
The following day I was just hoping for a more relaxed test so I decided to just ride a very easy test on low power to give Del confidence. He was amazing and produced a lovely and soft, mistake free test to win the special by 5% on a personal best score of 72.43%. What a difference a day makes!
Then it was time for the mammoth journey home. Once again Hayley and I were able to fly with the boys, which was an amazing experience. It was a bit of a shock arriving back to Liege at 3am in temperatures of -2 having been in sunny Doha for 10 days! It was an amazing experience and I feel so priveledged to have been able to take part and experience something like that. I'd definitely do it again!
We arrived home and hit the ground running as we had lots of qualifying to do! We took Finn (Headmore Diffinity) and Billy (Sir Rusticolous) to Merrist Wood to start their novice qualifying campaign. It was Finn's first show so I was just hoping for him to have a nice experience. He was a complete pro from start to finish and won both classes with 72 and 76%, not bad for his first show! Billy also started his novice campaign off well finishing 2nd to Finn in both classes with +70% scores.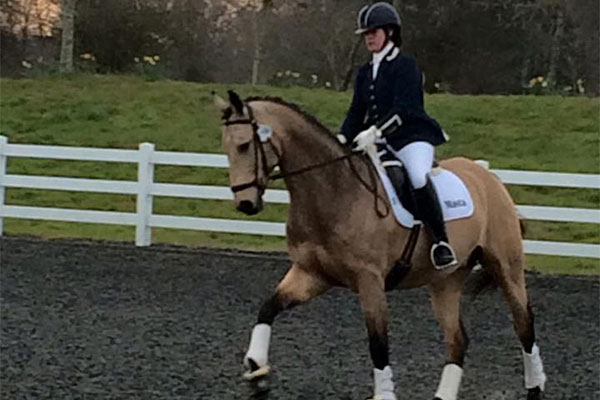 The following day we headed up to Tyne and Wear for a Helen Langehanenberg clinic at Leamside Equestrian. We had a bit of a nightmare journey getting there, but it was worth it once we arrived. I had great sessions with Robin (Headmore Dirubinio) and Tank (Headmore Wimoweh) with some lovely comments from Helen. It was very enjoyable and I feel very lucky to have been able to have an insight into her training methods. It was also lovely as Tank's owner was able to come and watch him, she hadn't seen him for nearly two years so it was a win for everyone!
We headed off to another show with Finn and Davina (Headmore Davina) at Cholderton. This was Davina's first show and only Finn's second. The weather was foul, but both horses coped fantastically in really difficult conditions. Finn won the novice and finished 2nd in his first elementary with scores just under 70%, completing his novice qualification in only three tests! Davina was also fab at her first show and scored +70% in both elementaries, so another good start to a qualifying campaign!
We finished off a manic month with a trip to Lottery Funded UK Sport World Class Programme squad training. I had fantastic sessions with Dr. Bechtolsheimer on both Robin and Bracks (Headmore Boadicia). Dr. B is so knowledgable and has such amazing experience – it was an honour to be able to benefit from it. We also got to see all of the practitioners and ensure that we are fighting fit for the season ahead!
I also would like to mention my sister, Kate, who has qualified her horse Lulu (SOS Sealpoint) for the prelim regionals already, she's well ahead of me. Well done Kate as Lulu is only a young horse and Kate fits riding in around her job as a vet. I'd better get cracking!