Going from strength to strength!
---
Wow! We have had a great start to 2019. Arlo is just going from strength to strength! His lateral work is unrecognisable compared to sixth months ago and sometimes when in a test, I think, 'That felt just like it did when I was nailing it with Gari'. It turns out that blood, sweat and tears do pay off, as I was starting to doubt this mid-summer last year. I spent the majority of my Christmas Holidays putting together my first 'homemade' freestyle floorplan and music when I should have been revising (I've got my priorities straight!) and we have taken it out three times. As of yet, we have not scored below 70% with it, and our straight test scores are in hot pursuit of these marks at Elementary level.
We were all excited for the regionals, and I felt truly ready, but it was not meant to be. Driving down the A90 (which is proving a cursed road for us) a small car decided it was fair game for our fully-loaded 7.5 tonne lorry, and drove straight up the back of us, with enough force to push us 5mph over the limiter! Thankfully, humans, horses and dogs alike remained totally unharmed, but we ended up turning around. ARGH!
I found myself saying one of my key mantras; you are destined for bigger things. It's not arrogance, but so many times I have been within touching distance of a goal only to have it snatched away at the last conceivable moment. That phrase has helped me out of a few horrible slumps, and it pulled me out of this one. So while poor Arlo escaped with only an extended journey, the lorry was rushed off to 'A&E'. I am sometimes sceptical of social media (the lack of honesty about hard times on a lot of pages can make me believe I'm not good enough), so I went 'cold turkey' on it for the regionals. I love seeing my friends succeed, but it was hard not being with them for the second year running.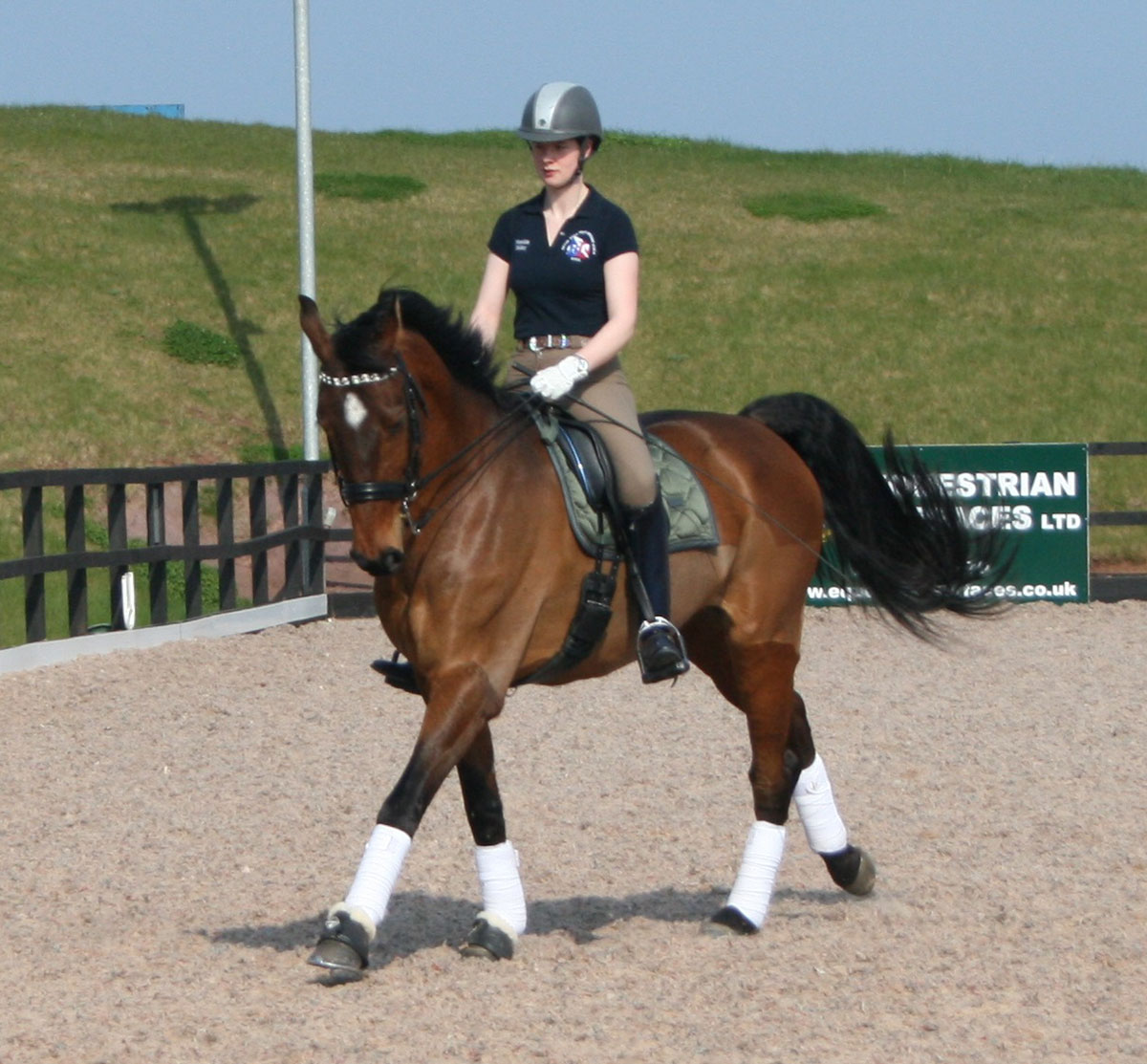 Despite mechanical difficulties and annoying drivers, I feel like I am getting my mojo back. I have now finished school and need only return for my exams now. I only have three exams, four papers, this year, and I am fairly confident, but at least I have an unconditional offer in the bag for university, meaning the only pressure is that which I put on myself. My coursework is fairly strong so now I'm in the final sprint. The only downside to Advanced Highers is the length of the papers, with my History being 3 hours and 45 minutes long, I just hope I can still write at the end of it! Thankfully Physics and English are shorter, but not by much. I feel weird leaving school; I know I am well and truly ready to leave school behind, but it has been routine for 13 years, that's around 85% of my life. After exams, I only have prom; yes that means high heels and dresses… hmm, we'll see!
Arlo is really keeping me going right now. I'm supposed to be studying as I write this, but I can't get horses out of my head! Sometimes it's easier to let it take over, for a little while anyway. We recently attended BD Scotland Youth Camp at Rockrose Equestrian and it was very weird to be one of the oldest riders now. I had my first lesson on canter pirouettes and tempi changes throughout which I was grinning from ear to ear and Arlo's face just says I'm such a good boy, and my mummy loves me! Big shout out to all the organisers, it was very enjoyable. The final day saw us compete and attempt our first medium test in a year. Trust us to favour the deep end as we chose the hardest medium test and rode in front of a List 1 judge! We still managed to achieve a respectable 65% in challenging weather conditions and it's fair to say I am very happy with that result and Arlo is happy with how many sweeties he got for it. The little monkey then proceeded to be a fire-breathing dragon for our last test, so it was a good thing the judge liked forward-going horses and we still pulled off 72%. The other major achievement of the weekend was re-riding the A-Squad test, and pulling off a significantly higher score than a few months ago.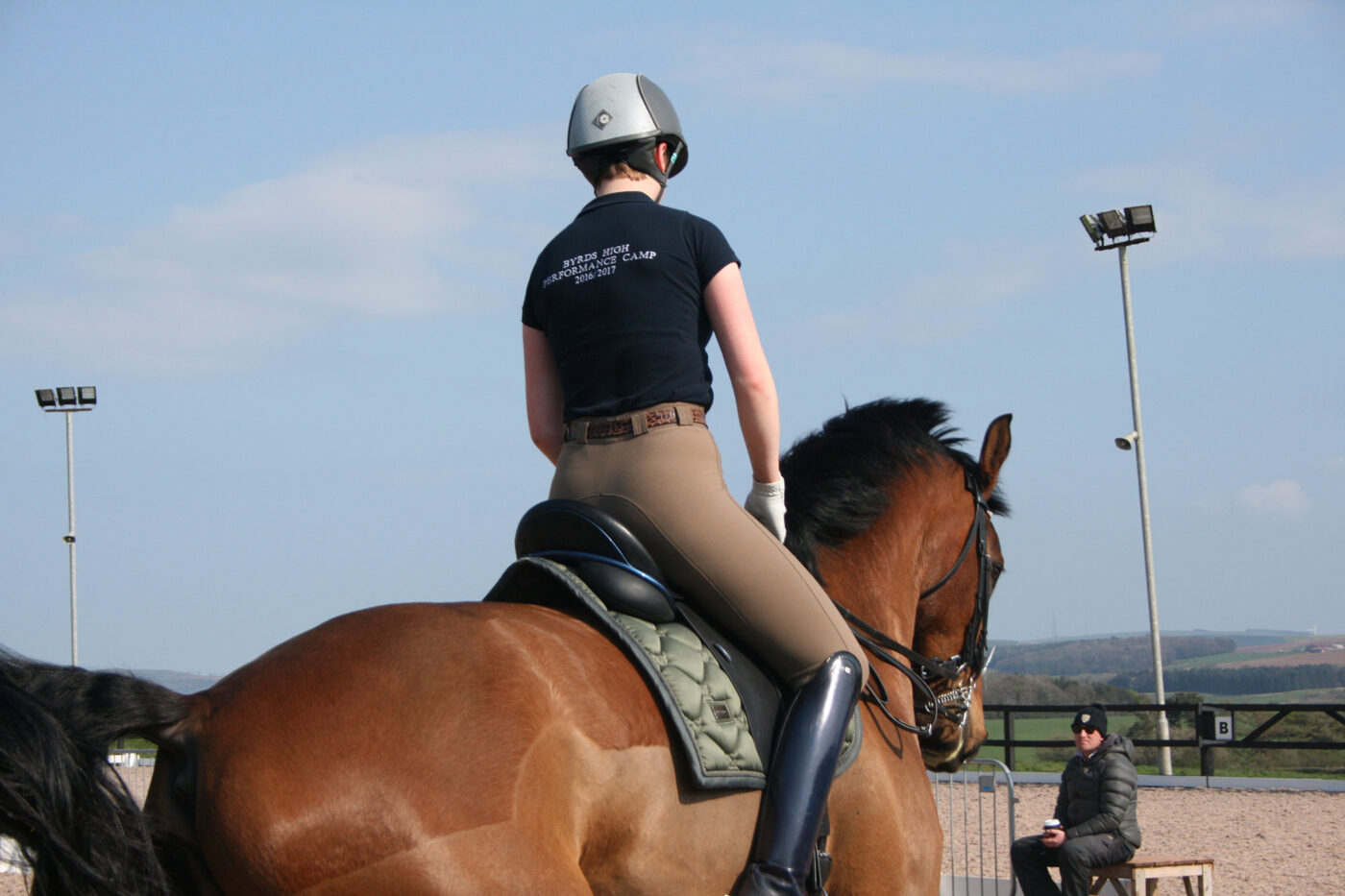 Arlo can now look forward to a quiet two weeks, as my exams begin and my eighteenth birthday celebrations buy him a day or two off… but everyone knows you can't keep me out of the saddle for much longer than that, at risk of your life!
Last weekend saw a big lesson for me. We ventured out both weekend days for four tests. Saturday saw two elementaries, and out of curiosity, I decided to ride the first in a snaffle. We would have broken 70% if Arlo hadn't decided the photographer was going to eat him alive, and got 69.8%. The second test was also a major success completing our qualification. Sunday saw us do two medium tests, a low and a high. The lower medium test went amazingly, with his half-passes feeling possibly the best yet, but in the warm-up for the second test, I started asking for more and more. Being the absolute sweetheart he is, he gave it to me, but he was not strong enough to hold it in the arena. As a result, he tucked behind the vertical and became very tense in the trot work and simple changes. He responded well to my reassurances, but we still did not get the percentage we are capable of. I feel very guilty for pushing him too far, and this is made even worse by the fact he kept on giving me more and more, but we now know where the line is.
We are going to pop the double bridle in the cupboard for a little while and compete as well as train in the snaffle. We communicate better in it. Both of us are cautious of the double; he knows he has two bits in his mouth and backs off, and I am so nervous of hurting him that I don't really hold him in it.
We have set ambitious goals for the summer, with the mind-set of 'you don't know if you don't try.' We are aiming to be selected for BD Youth Home International at Elementary. Whilst we are competing medium, we would rather hold our own at a lower level as 65% is an average for medium at local level at this point in time. Home International will be great for him, so good accuracy, behaviour and fun are our top aims. After all, fun is why we do this. Fun is why I get up at 6am to run before school so I can be fit for Arlo, along with all the other sacrifices that us equestrians come to think nothing of. We aim to make our advanced medium national level debut at Sheepgate U25's, as it just gives us a little more time to maximise our potential. Riding a centre line in a tailcoat is the ultimate 2019 goal, and we are doing everything in our power to get there, but we are also mindful that there are many uncontrollables in these circumstances, and we must accept them when they come our way, and use them as lessons, not failures. At the end of the day, failures are only failures when we don't learn from them, because when we learn from them, they become lessons.