Important Parties for Sparkle and Stan
---
It's been a busy few weeks here. We have had a visit from Dengie nutritionist Claire and northern sales manager Jo, who looked at all the horses' diets and weighed them all on the weighbridge. All the young horses behaved impeccably. Sparkle, however, found it very exciting and dragged me all over the place! It's great that Dengie offer such a service – to have access to nutritional advice makes such a difference to the horses and also makes sure you're not feeding them anything they don't need (saving you money!). I would recommend anyone wanting some advice to get in touch with Dengie and get them to visit! As well as the Dengie visit, the horses have had their teeth done, saddles checked, feet done and seen the physio – all routine things that I get done throughout the year!
I have been out and about eventing too! Last week was Richmond Horse Trials, my most local event. It's a lovely event, but something always seems to go wrong for me there! In past years I have lost shoes, had the event abandoned etc., but luckily nothing drastic happened this year and Sparkle was on good form. He was a tad excited in the dressage, but jumped a fab round in the showjumping and was brilliant across the country, which set him up nicely for his first international event of the year at Floors Castle! He was in the CIC** and actually performed the best test he has done (and managed to contain his excitement in the walk…no squealing or bucking!!). One judge agreed with me, but the other judge wasn't so keen and there was a 20 mark difference between them! He was middle of the road after dressage.
The showjumping was the following morning and Sparkle had an unfortunate two down. One was my fault as I held him too much to a jump running downhill and the other one was unlucky, as he spooked at someone sat on a straw bale on the approach to the treble and he just dropped his back leg over the first part. He still feels a hundred times better in this phase than he ever has, so I'm sure he will just get better and better! The cross-country was massively beefed up compared to previous years and as a result was causing lots of problems throughout the day. I set off and Sparkle was jumping brilliantly. It wasn't until near the end of the course that I realised I had been having such a nice time enjoying him pinging the jumps that I was going rather slowly! We jumped a lovely clear but had plenty of time faults. Next time, I need to stop patting him and thinking what a clever pony he is and actually kick on!!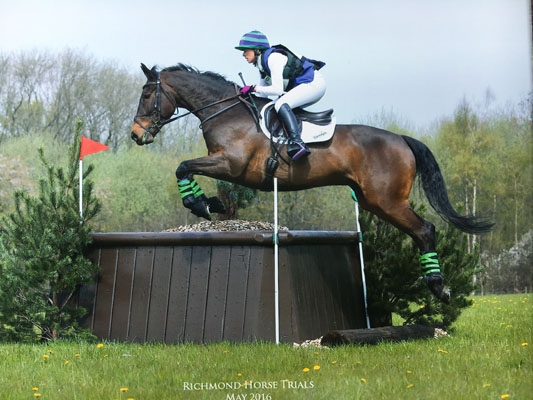 I also had Stan at Floors. He was entered in his first big boy party (and had a sleep over!!), the BYEH Four Year Old class! I must say, when I walked the course I was more worried about how I was going to get over them than I was when I walked the CIC**! It was by far the biggest course of jumps Stan had ever seen – combine this with the cross-country and the eventing showjumping running next to the young horse arena and there was plenty to spook at. Stan, however, was fantastic! He did a really sweet test and coped really well with the jumping. The confirmation judge really liked him (despite the fact he is little and fat!!) and he ended up being placed 6th. I was very proud of him!
Next week, I have a dressage outing, more BYEH classes with Skip and Stan, Bishop Burton Horse Trials with Sparks, trips to the gallops, jumping lessons and lots of teaching. No rest for the wicked!!!