Introducing Matilda
---
Hello and welcome to my first Dengie blog post. I am thrilled to be joining the prestigious Dengie stable as a Brand Ambassador!
Last weekend I was at a BYRDS Camp in Perthshire. It was a great camp and Gari and I learned loads from working with Hannah Moody over the two days. It was also a great opportunity for me to meet with Tracey Hammond the nutritionist from Dengie and Ryann Walker the Senior Sales Manager for Scotland. Tracey and Ryann were at the camp offering riders nutritional support for their horses and the opportunity to have their horses weighed on their portable weighbridge. I'm happy to report back that Tracey was pleased with Gari's weight and condition, but did make the recommendation to change gradually from Dengie Alfa-A Original to Alfa-A Molasses Free to provide Gari with slightly more energy as his workload increases. This will be fed in three feeds alongside his Dengie Alfa-A Balancer. One feed in the morning, another at night and a scoop of Alfa-A Molasses Free before exercise to act as a buffer.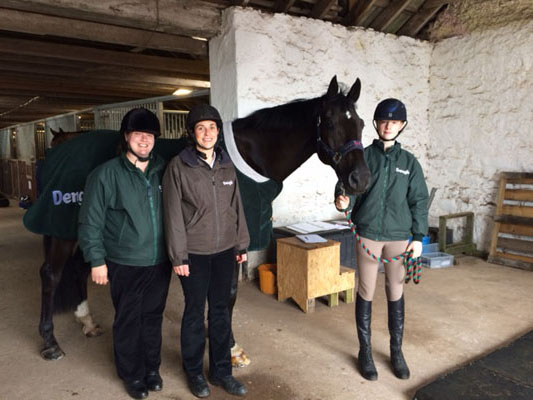 On the Saturday evening, Tracey gave a brilliant talk explaining the horse's digestive system and the benefits of a fibre based diet with help from 'Harry the Gut' – a lifesize model of the horses digestive system! We also had an amazing talk from a local physiotherapist who talked through muscle structures with us.
Gari and I are now busy training for the Scottish BYRDS Inter Regional Team travelling to Richmond Equestrian Centre in North Yorkshire for the competition on 25th and 26th June.
I'll let you know how I get on.