Last Minute Calls
---
It's been incredibly busy of late, I felt like we haven't stopped! Mum and I started the month off with a trip to Canada as I was taking part in the West Coast Dressage Convention in Vancouver, organised by SH Productions.
We had a couple of days after we landed before the convention started to do some touristy things! We spent the first day walking around downtown Vancouver and seeing the sights. We enjoyed lunch in the Top of Vancouver revolving restaurant, where the restaurant slowly revolves around the skyline while you eat. We saw some amazing views! We then went to Stanley Park for the afternoon and had a trip around the park, seeing some incredible things like the Totum Poles. The following morning we visited the art gallery. It was an interesting experience but I am very obviously not in any way artistic! It was then down to business as we went to the venue for the convention, Thunderbird, so I could meet the horse I was going to be riding for my demonstration. He was Geronimo, otherwise known as Gerry, a 5-year-old by UB40 who is one of Alyssa Pitts rides. Alyssa is based in the US but is a member of the Piaffe family and trains with Charlotte, so I was in good hands.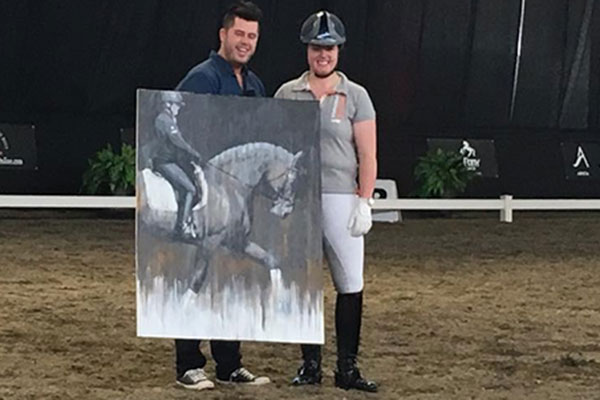 My demo wasn't until the Sunday so I got to enjoy watching Adelinde Cornelissen teach on the Saturday. It's always interesting watching other people's training methods and I learnt some new techniques. I was quite pleased, albeit a little nervous, when it was my turn for the demo. Gerry was a complete pro and everyone seemed to enjoy my demo. I was presented with a gorgeous painting of Robin at the end as a thank you – it's stunning. We had an amazing time, the only down side was we weren't there long enough to see everything, so maybe we will go back at some point!
We did manage to find time to complete Finn's (Headmore Diffinity) summer regional qualifications with a win in the Elementary at Priory, so that's one down!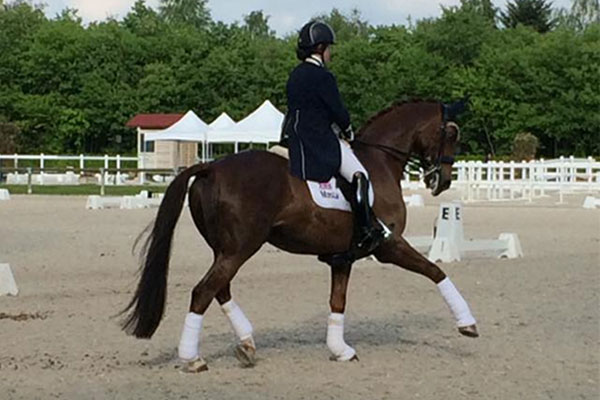 We then had a very last minute call up to compete at Compiegne with Del (Headmore Delegate). We received the phone call on the Monday morning and had to leave on the Tuesday! It involved some quick organising but we made it! I was thrilled with Del in the Grand Prix. Our first tests have been a bit below par this year so I was thrilled to finish 8th out of 45 in a very strong class. It was a bit surreal waiting for the prize giving whilst chatting away to Carl Hester, Patrik Kittel and Adelinde Cornelisson!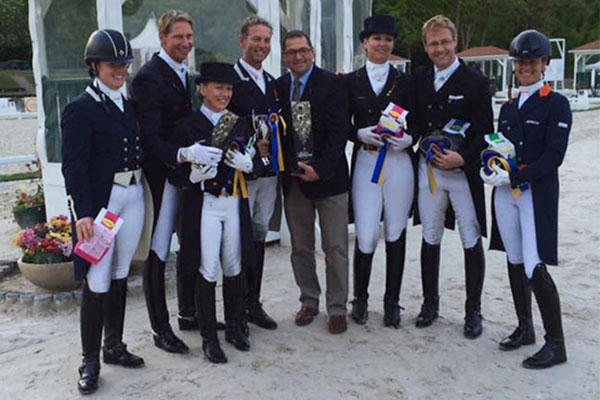 The special was not so good. Unfortunately they were running a little late, which we weren't aware of, so Del just went a little bit over the top and we had mistakes in the second part of the test. Overall I was very pleased with the work we had out there, especially after the last minute call up!
We finished off a rather busy month with a trip up to Somerford for the Premier League. It turned out to be a rather disappointing trip as Del had too much tension which led to mistakes and kept our score down. Bracks (Headmore Boadicia) felt amazing in the warm up but went a bit over the top in the ring, so I decided to retire her as she was worried and she's such a genuine horse. But that's horses and we will train and prepare for Wellington Premier League next week!