Learning at the Inter Regionals
---
Gari (Watch Me!) and I took part in the BYRDS (British Young Rider Dressage Scheme) Inter Regionals last weekend at Richmond Equestrian Centre in North Yorkshire. This was our first time competing in this style of competition. The scoring is very different to our normal dressage competitions and you are marked as a rider and not a combination.
Unfortunately there were no triumphs for us this weekend but no disasters either, plus we learnt a lot. The Scottish team were fantastic to go away with and we really worked well together.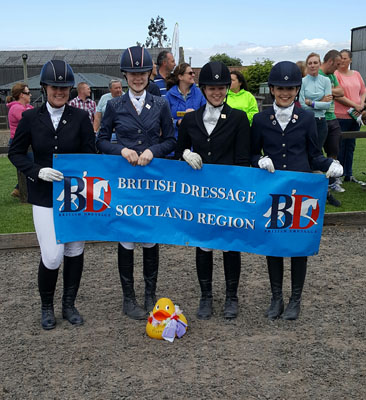 We are now in Harrogate with our trainer, Cathy for a week of intestive work before heading home. Gari has also started his new diet of Dengie Alfa-A Molasses Free and is hoovering it up! Dengie nutritionist, Tracey Hammond must be Gari's new best friend as he is loving the extra feed before riding! When we first did it he looked at us as if to say "Really? For me?". I have to say it smells wonderful!