Leo goes to BYRDS Inter-Regionals
---
Leo and I competed at the BYRDS Inter-regionals in sunny North Yorkshire. These are rider tests that are marked somewhat differently to normal tests, as the marking is based on the rider not the dressage, however suffice to say in my experience there can be some rather quirky judging at times, so you do have to be rather relaxed about it as sometimes scores and placing do not reflect everyone's view on great riding skills. But as always we are there to enjoy the experience and learn what we can, and there is always some really valuable judge feedback to take on board too.
This year was no exception – there were three classes for the 31B squad level riders selected across the UK which we had to complete. I am very proud to tell you that Leo and I won the first class. In the other tests we had mixed results with one judge giving me 95% and one giving me 75% for the same test. That said I was not disappointed as this was certainly Leo's biggest show to date and I was delighted with how he behaved and handled the atmosphere. It was great to also have one of my trainers and fellow Dengie ambassador Hannah Esberger-Hancock present for the weekend who kindly warmed me up for my tests.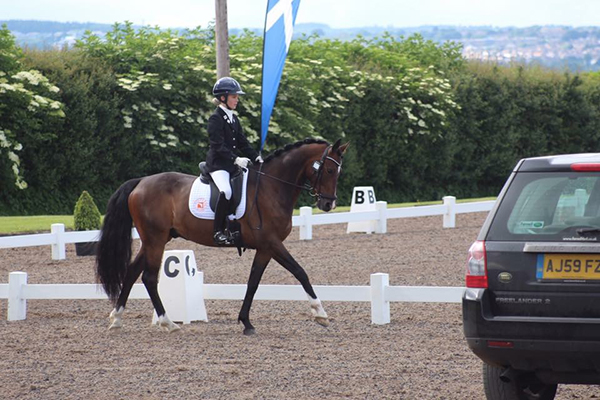 The following week Claire Akers – Dengie Performance Horse Nutritionist came to visit and weigh Leo. Claire was delighted that Leo has put some additional weight on and he really loves the new addition of Dengie Alfa-Beet in his meals and he looks fantastic on it!
I have also been working with my show jumping coach, Kirsty Hardstaff on some new pole work exercises for Leo to help him strengthen and improve the balance within his paces. We had a brilliant time, learnt lots and Leo thoroughly enjoyed doing something very different. I have attached some video footage of the training – I hope you enjoy!
Last but not least its been an exiting month as the new edition of Equestrian Life Magazine has just been published and Leo & I felt very honoured to have our own article published and to have even made our first ever front cover!
For a number of reasons we have made the decision to not go forward for selection for this years BYRDS Home International. We will be sorry to miss such a great show, but we wish all our friends who will be competing the best of luck. Next up for Leo and Ronnie is the Sheepgate show at the end of the month, where Leo will be stepping up into the Medium classes. Then early in August we have Leo's first experience of competing at the British Dressage Regional's, I'm really looking forward to that.