Lessons Learnt And Early Birthday Presents
---
It has been crazy here for the past few weeks, with school exams starting next week and trying to find time to revise around Gari!
We had a good time down south at Morris Equestrian Centre for the winter dressage regionals. I tried too hard in our Regionals tests and as a result overrode our tests, (lesson learned there!) but Gari still tried as always, so we finished fourth in the medium silver and third in the medium silver freestyle.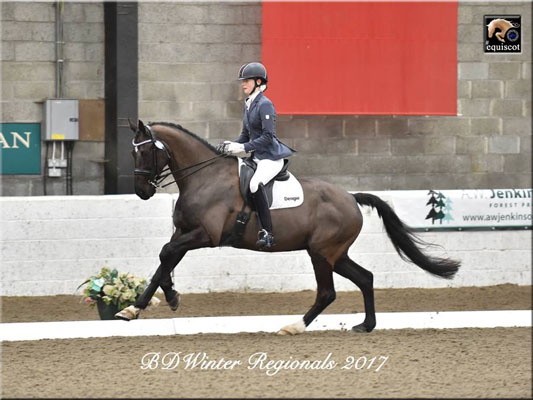 However, our start to the year was to be disrupted by something no one could help; Gari had a tooth that had to come out sooner rather than later. He was sent off to our amazing equine vets, Ardene House in Aberdeen, and while it was undeniably nice to have a little longer in bed before school, it was a worrying time. After a week of an amazing vet's patience, persistence and caution, his tooth finally came out. It was a close call as it was very diseased, but he is now much better and as good as new.
As a slightly early birthday present, mum and dad had managed to get a place with the legendary Tom Hunt and Debby Lush in a recent dressage to music clinic. To say I was excited about this is a complete understatement! Debby Lush helped me improve the floor plan I had previously written having watched the nationals and getting loads of ideas on live stream. Tom Hunt was amazing, with loads of ideas for our advanced medium music. It was undoubtedly the best birthday present and I am very excited to start competing it in the future.
We did our first advanced medium tests last weekend, and despite the changes not being great on the day, we still got nearly 70% in our first advanced medium test from a very fair and well respected Scottish judge. The two tests we rode also qualified us for The Area Festival Preliminary Rounds, Sheepgate U25's and the Scottish Championships. What a horse!
Even with exams demanding all my energy and time (obviously after Gari!) I am very excited for this year with Gari, and training in the hope that it will be even more successful than the last.