New Addition to the Team
---
Sadly straight after my last blog, Leo started suffering with a virus and the vets advised to give him 3 weeks off work. It meant that we missed both the Dressage Under 21's training camp and the Sheepgate Championships, but the good news is he is now well again and back in full work. Leo has qualified for the British Dressage Championships at both novice and elementary level and we are soon to enter him in his first medium classes which is really exciting too.
Other great news, Leo and I have been selected to represent the Northern region at the BYRDS Inter-Regional Championship's in Yorkshire later this month. Even more scary than this Leo and I have been nominated by our fellow riders to be our Team Captains, so the pressure is really on! Its a big ask for Leo as he will have never seen the venue before or been in such a busy atmosphere as this major championships but I am sure we will both learn lots together and have a great time whatever happens.
Once again Leo has been challenging the Dengie nutritionist team as he was not holding quite as much weight as we would all like, and yet he was literally bouncing with energy. After discussions with Dengie Performance we have now added some Dengie Alfa Beet into his diet and we are also trialling him on Dengie's Digestive Health Plus supplement to ensure his gut is operating as efficiently as it can…I will keep you updated with how these new additions go.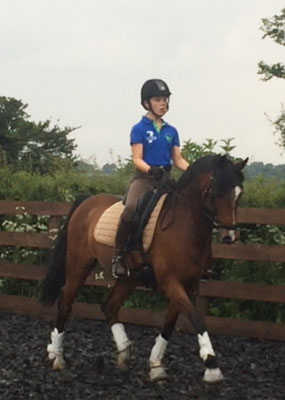 I also would like to introduce you all a new addition to our team, Ronnie. For the last two years, Ronnie was on the BD Pony Progress Squad with his owner Harriet Walker-Smith, who has now kindly asked me to take over his training and competing whilst she focuses on her GCSE exams and a lengthy overseas volunteer trip. Despite his brilliant achievements in terms of squads with Harriet, Ronnie is actually very young, and so I am lucky that he has had a fantastic education for me to now build on. Ronnie has not been in competitive work for 9 months, so we are going to build him up gradually and aim to get him back out at Pony FEI level for the Sheepgate Under 25 Championships in August. Dengie are coming along to see him soon so we can amend his diet, as unlike Leo he looks like he may put on too much weight if we don't balance his workload with his feed and his grass intake.
I look forward to updating you all after the Inter-Regionals…wish us luck!