A New Year, a new partnership for Matilda
---
I hope you all had a wonderful Christmas and New Year. Arlo certainly did! He loved his Christmas presents which included a 'roast dinner' i.e. all the fruit and veg I can find in the house mixed in with his usual Dengie bucket feed, and a Lickit. Arlo loved his Lickit, very much indeed, and despite positioning it where he couldn't pin it up against the wall, still manged to destroy it in a record sub 24hrs, having got it all up his face like a toddler with a chocolate bar!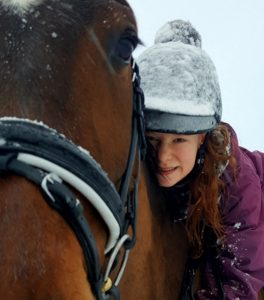 Arlo and I have been busy getting to know each other. We competed in a few competitions at novice level, simply to see how he behaved away from home, and our tests showed a huge improvement over the three consecutive weekends in his focus and suppleness. Since then we have been training at home, when the weather allows.
Arlo arrived from Holland a 'gangly teenager' as he lost quite a bit of condition between when we went to see him and when he arrived home. I am pleased to say however, that to everyone's joy, his Dengie fibre diet is always licked off his bowl and he is beginning to slowly muscle up, which will certainly help when we begin our summer campaign.
We have started work with a new trainer on a regular basis, this is the first time I have brought on a younger horse and felt as though I needed someone who was able to work with me more often. I am pleased to say that she got the measure of Arlo very quickly! Mum's eyes on the ground are still my "mirrors" and we both enjoy working with Arlo at home, mum is great at lunging too. Arlo is a fast learner, and when in the right mindset, he gives 100%; whatever we throw at him, he picks it up quickly, but not so quickly that I'm not exhausted at the end of our sessions! The same goes for scenarios on the ground. When mucking out, he likes to" help me" empty the wheelbarrow… in the stable, and has also discovered how to empty his water bucket for me, but he hasn't figured where the drain is – so it is now in a tyre and chained to the wall where he can no longer ruin half his bed!
Christmas Eve saw mum and I hack out together, this was Arlo's first hack and he just loved it. Mum's horse Larry (who also loves his Dengie only diet) is a brilliant hacking buddy and "protected" him when needed, which I am happy to say he needed a lot less than I thought he might. I like to hack my horses out as a reward and down-time at least once a week; it's also a great way of letting them see the big-wide-world.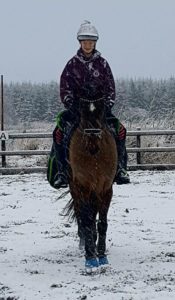 Since then we've been struggling with the weather up here in North East Scotland, the snow goes quickly but it's the ice that's the problem, although we are luckier than most as our yard has a brilliant outdoor school that rarely seems to freeze, it's the getting from the stable to the arena that is the hard part, as it is with everyone I'm sure!
We all love Arlo to pieces he's a real character and I am very excited about our training and competing this year.