No Rest for the Wicked
---
They say there is no rest for the wicked and we certainly seem to be all go at the moment! We started off a busy May with a return to France to compete in Saumur.
We arrived at the beginning of the week to beautiful sunshine and both Del (Headmore Delegate) and Socs (Tantoni Sir Soccrates) sailed through the trot up. By the time we got to competing however, the rain had arrived and the weather was pretty miserable! Socs was first to compete in the PSG and I rode for a safe clear round as the arena was very wet, to finish 2nd with over 70%.
For the rest of the show they moved our classes indoors as the arenas were flooded, which was a shame for Del and Socs as they are better outside, but the weather can't be helped. In the Inter I, Socs and I really went for the win but unfortunately had a few mistakes. Nevertheless we still finished a respectable 4th and therefore qualified for the Freestyle. Del also had his Grand Prix indoors and I was thrilled with how he coped as close indoor arenas are not his favourite! He really tried for me and, although we had a few mistakes and I was disappointed with the score, I was very pleased with him!
In the Inter I Freestyle, Socs was fantastic and gave me his all for a lovely test. We finished a close 2nd with over 72%, but we had a lot of comments from spectators saying that they thought we should have won, which was lovely to hear! Del then finished off the show with 7th place in the Grand Prix special so overall, despite the conditions, we had a good show! It says a lot, however, when you are looking forward to getting back to the UK to escape the rain!
We had a short break when we got home before we headed to Royal Windsor Horse Show, where Del was competing in the International Grand Prix and Socs had been invited to compete in the Advanced Medium Freestyle. I had a little warmup ride before I got on Socs, as I had a ride on Robocob on the Dengie Stand, which was a good laugh! Socs then gave me the most incredible ride in the main arena, to win the class with over 76%! The prize giving proved a bit much for him however, but overall he was a superstar!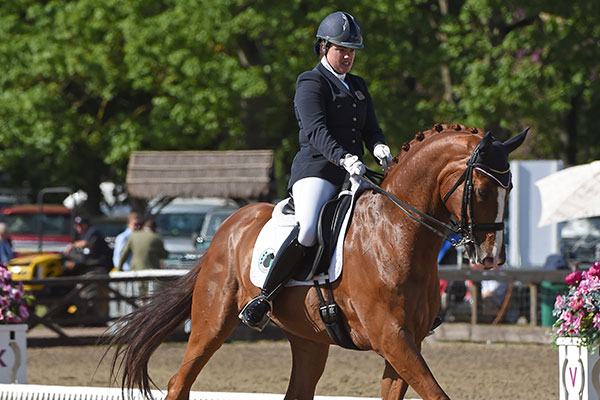 It was then Del's turn in the Grand Prix. He produced a safe clear round and, although I was a bit disappointed to not quite make the 70% barrier, I was thrilled to finish 4th and third best Brit in a very strong class.  The following day we had the Grand Prix freestyle. I was slightly apprehensive as we hadn't yet had a chance to get Del a new freestyle test as he didn't like his current music, and I was then drawn after Carl Hester due to our good result from the Grand Prix! Once again Del tried really hard for me and, although we had a few mistakes, we still finished a respectable 6th with nearly 70%. Another very good show!
We have hit the ground running again, check back for more updates soon!