Pony Prime Squad Training
---
Leo and I had a really great weekend attending the Pony Prime Squad training at the Unicorn Equestrian Trust.
There were 11 pony and rider combinations invited for the training – some were long-term friends who I have competed against and trained with over previous years, and others were individuals who I had not spent much time with before – so it was really great to get to know them. We had all travelled from all over the country, from Cornwall to Wales and from the North West to the South West, so we did literally represent most of the BD regions.
My trainer Darryl Thickett is also the Pony Prime Squad trainer, so it's great that he knows both Leo and I so well. We mainly focused our work on developing the lift and suspension in our trot work. This is something that Leo will really needs to compete at an International level and it is something whereby we need to go backwards in our trot work to help educate him and teach him before he can understand what is needed and be able to do it. My mum says it's a bit like a golf swing, when you change anything it has to get worse to enable it to then get better. Leo is starting to understand it, but it is going to take many months of training for him to be able to retain the impulsion with balance for a whole test. So it's an objective that I am setting us for the whole of 2017, as I do think it could take up to 12 months for us to really get where we need to be.
On the positive of the 11 ponies at the prime squad, 9 of them are already proven International ponies, so spending lots of my spare time watching them in their lessons helped me understand what I am looking and was really helpful. The other thing we worked on was getting balanced transitions into and then maintaining a rhythmical medium walk – something Leo struggles with. He is always way too excited for what seems to be coming next rather than be able to relax and enjoy his walk – again I think this will be another long term onjective that will take time to come together.
Leo had a review with the Team GB vet where he was measured and trotted up. All of the hours of practising with him at home and getting used to the measuring stick paid off as he behaved beautifully.
I had a session with the Team GB physiotherapist, who assessed my core strength and gave me some exercises to help release my left side of my neck which is currently a little tight and is affecting the relaxation of my shoulders when I ride.
It was great that Dengie also attended the weekend talking to the riders about the importance of fibre in our competition horse and ponies diets. I hadn't realised that up to 60% of competition ponies can get ulcers, so fibre is vitally important. Leo is fed a diet that is 100% Dengie feeds so I know he is getting lots and lots of fibre.
During the weekend I spent lots of time just sitting and watching the other riders have their lessons, the whole weekend was a great opportunity to learn masses and I must thank the Team GB Pony Selectors for inviting Leo and I along to such a great training event.
So what else is new, well Tiff has been to stay with me whilst his owner Claudia was away on holiday. It was so lovely to have him back home, we worked on his simple changes and his collected canter as these were items that Claudia felt he needed to work on.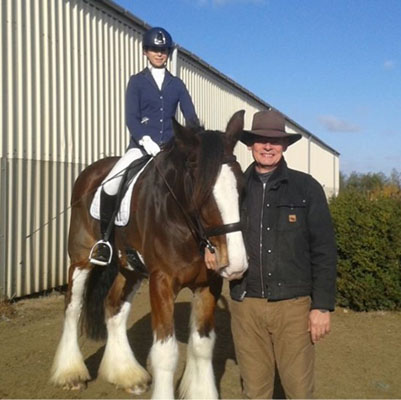 Leo and I went to Keysoe to compete for the weekend and to meet up with one of my friends. We had a great time and we were lucky enough that Leo and I got to meet, chat to and spend time with the TV star Martin Clunes. Martin was there to watch his young 18.3hh 6-year-old Clydesdale, Bruce compete in the BD Draught Horse Dressage Championships – he was just stunning to watch. Apparently Bruce is being aimed at competing in the Celebrity Dressage at the 2017 Windsor Horse Show , and if this weekend was anything to go by he will be hard to beat – he was such a gentle giant. The other great news from Keysoe was that two of the GB Pony Selectors were present and watched our tests and their feedback around our progress was excellent, so it's great to feel that although it's a journey made up of lots of small steps we are slowly moving in the right direction.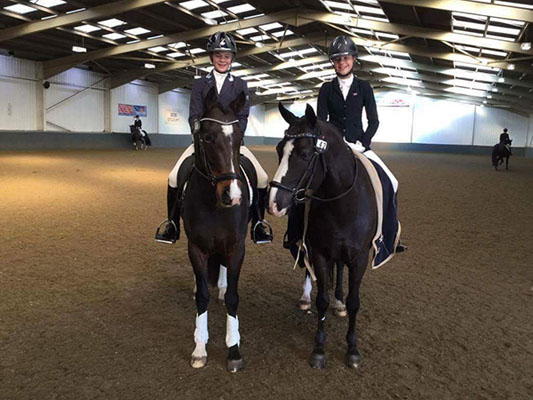 For the next few weeks up until Christmas we are not going to be competing as all of Leo's regional qualifications are done, so we are going to spend the time training with Darryl and looking to keep improving the trot work …wish us luck!