Pony Selectors and Area Festival
---
I was lucky enough to be invited by the British Dressage Pony Selectors to attend their annual pony viewing day with both Tiff and Amigo. There were around 40 pony and rider combinations who attended and we were each paired up to ride for a 30 minute lesson with either Darryl Thickett, the Pony Prime squad trainer or Dan Sheriff the Pony Progress Squad trainer. The viewing day took place at Vale View Equestrian Centre, where the marquee had been lined in purple satin in preparation for the following weekends Petplan Area Festival, so you can imagine the ponies all had lots to look at.
The squads are selected riders and ponies who are then offered training weekends throughout the winter, and they are split into two, the Prime squad and a development group known as Progress Squad.
All the lessons were watched by the Pony selectors, and following the sessions we received feedback forms, which are really helpful to aid our future training and highlights specific areas that both the riders and ponies need to work on. I was lucky enough to be offered a space on the Pony Progress Squad training weekends with Tiffin. Amigo at only 6 years of age also did brilliantly to make the Progess Squad reserve list, so hopefully he may also get some training at some point.
It was a great experience, and I am really looking forward to our first training weekend in October. Next week Tiff and I have the Petplan Area Festival at Medium Restricted …so keep those fingers crossed 🙂
The following weekend Tiff and I had the Petplan Area Festival, where we were competing at Medium restricted level. I arrived at the field to find that Tiffin resembled more of a mud monster than a dressage pony, he had been having a ball in the field. Suffice to say he almost had to have a full bath, which he took great delight in destroying when going back out in the field later, as he immediately got down and rolled again!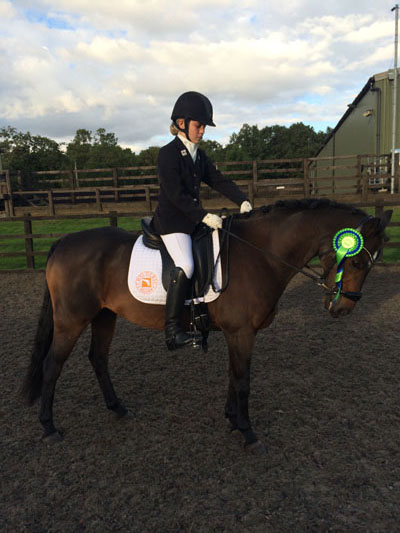 Tiff worked in really well, and coped with the decorated arena very well. We made some small errors in our trot work and had a small spook at one of the large flower arrangements, but his canter work was great. I was very pleased with him as we had been working on his canter half passes in training and he did them brilliantly. The scores came up and despite a class of over 20, we were in second place on 66%, only 3% behind the winner. At Medium level, it is only the first placed rider that qualifies for the National Championships, so we now have to wait until next spring to see if we are awarded a wild card…keep those fingers crossed for us.