Positive Vibes for Olivia Whitelaw
---
We've had a really positive couple of weeks.
I'm really pleased to report that Leo has now started walking out, least that's what the vets are calling it, he seems to think walking in hand is very dull – why walk when you can piaffe whilst impersonating a fire breathing dragon?? The positive of this is that we are certainly not seeing any impression of him being in any pain and the post surgery swelling is reducing.
Another piece of very exciting news…meet 8-year-old Albi (also known as Dumbledore D). Albi has come to stay and train with me so that I can help him continue his Pony FEI education whilst his owner Molly Smockum Owen gets to focus on her exams and her stunning Advanced Medium horse Uti.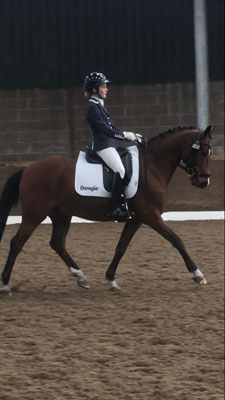 I first met Albi two years ago as he and Molly were also on the British Dressage Pony Progress squad with me in 2015/16, an amazing achievement by Molly as Albi at that point was only just 6-years-old. Albi arrived with me at Easter and in preparation for the forthcoming Premier Leagues I thought it would be good to go out somewhere local and see how he handles being at a show and somewhere new. Well what a star he was! He behaved himself impeccably and promptly went and won both medium classes with both scores over 70% Great preparation and confidence for us both.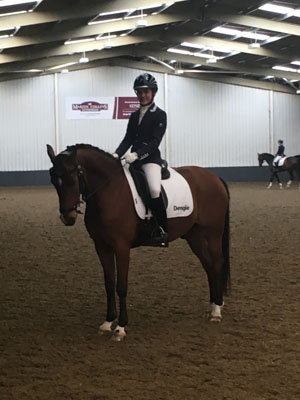 Next week I am really looking forward to having Dengie Performance Horse Nutritionist Claire Akers visit, who will help assess the box rest dietary changes we have made for Leo, whilst in parallel taking a look at Albi too.
Molly took her horse Uti out yesterday and gained some huge scores at advanced medium, so we are hoping that the Smockum Owen luck stays with us again for third time lucky this week, so do keep everything crossed for Albi and I at the Keysoe Premier League this weekend.