Prepping for exams and bigger competitions
---
It has certainly been a busy few weeks with us up here! Arlo, as ever, is being a total darling with his inquisitive personality and great work ethic. A couple of weekends ago, we went out competing to complete our Areas Festival Preliminary Round qualification at elementary and medium. The two medium tests were my first on Arlo and the arena was quite spooky, so we had a few costly mistakes that reflected in our marks, but thankfully we still got the scores. Now that we are qualified for the Area Festival (which sadly falls right in the middle of my exams!), we are now returning to mostly training at home. While Arlo isn't putting a hoof wrong, all those months out of the saddle last year have left me rusty; in more ways than one (sack the rider!). My big focuses now are my position and my preparation; easier said than done, but I'm always up for a good challenge!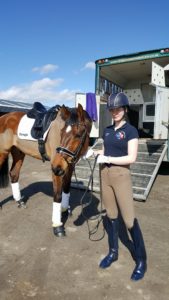 On Monday we attended British Dressage Youth Squadding. We have been placed on the B+ squad; as Arlo is not quite strong enough for A. I was so pleased with his behaviour; we usually train in a double bridle at home, but Squadding is always in a snaffle, but he was as good as gold!
Arlo, thanks to everyone's support; is really starting to look like a dressage horse now; he is muscling up, has a fantastic shine on his coat and is able to hold tricky movements, such as collection, for a little longer. He still hasn't lost his cheeky attitude, and on one morning, amazed us, as not only had he removed his water bucket from the tractor tyre, he had unclipped, yet not broken, the chain that tied one handle to the wall! We still have no idea how he did it. The water bucket, which we have had for years, is now destroyed, thanks to our very own yard clown, so hopefully this one will last longer! He still loves to put Alfalfa in my hair before school, play with the forks and brooms and, of course, leave a lovely big Alfalfa-y kiss on my school uniform. Thankfully, my friends know about Arlo's amusing tendencies and just laugh with me, despite desperate attempts to go to school not looking like I slept in the hay barn!
The notorious exams are less than a month away now, so if I'm not riding, I've got my head in one past paper or another. For now though, I am enjoying the Easter holidays to re-charge, ready for exams and the start of the bigger competitions to hit me together. I'm super excited! As always, I am thankful to all my supporters, but the biggest thank you always goes to mum and dad, who drive in all weathers, at all times of year, to help me achieve my dream with Arlo.