Review of the Year
---
I was sitting thinking about this last year of competition and it's been epic. We started the year with our first medium test and freestyle to music and have ended it with 5 national titles, a selection to join the BYRDS High Performance Camps over winter and qualification completed for the winter regionals at medium level.
In the summer we attended the Pony Club Championships where we won the Open Freestyle to Music and were placed second in the Elite Dressage competition as the pilot (me!) had a moment. It was a superb atmosphere and other members from my local club, Deeside, were also in attendance.
Following this we travelled to Lincolnshire to the Sheepgate U25 Championships. This is one of my favourite competitions, a week-long of U25 action. Gari and I had qualified for the Elementary and Medium championships. The weather was baking and this fair-skinned girl from Scotland is not used to heat like that! However it was mind-over-matter and we got on with the job. Gari felt amazing, I had been getting up at 6am for a couple of weeks before we headed south to ride him twice a day and it really paid off. We came home crowned the 2016 U25 Elementary Champions and we were also on the podium in second place for the U25 Medium Championship! Both classes were packed with so much talent and amazing horses and ponies. We also entered other classes such as Freestyle to Music and won those as well at medium level. So all in all, the 9 days of competing we were on the podium five times. I couldn't have been prouder of Gari. I have to thank my support crew, mum and dad who got us there and my amazing Auntie who attends all the competitions she can – she does the most amazing sports massages – very much appreciated when I do so much riding!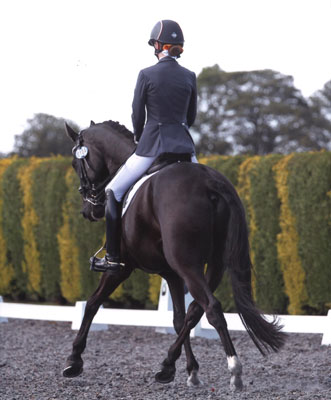 We arrived home and it was straight back to school – in Scotland we go back mid August so I had missed 8 days of school. My school have been wonderful and are really supportive of my sport and commitments, but I have my end of the deal to uphold and work has to be handed-in too! Gari then had a wonderful two weeks holiday and it was wonderful to turn him out without any rugs in glorious weather, he just chilled and "let his mane down" for his holiday, but typical Gari after about 10 days he was looking to get back to work. He's so funny, you can read him like a human some days!
Gari came back into work and after a few days hacking and getting back into work mode, we returned to our advanced medium work, which went on hold six weeks before the summer competing, just in case he got confused with counter canter and flying changes! We are both learning these and I could just have easily given the wrong signal, so it was fairer on him to take a break.
In early November we received some exciting news, we were one of 28 combinations chosen from across the UK to attend the BYRDS High Performance Camps over winter. This is huge news for us and I am so excited and thrilled to see what we can learn and improve on at these weekends. There are three weekends over winter which are designed to sit between regional training and the GB BYRDS squads.
I have just got back from the British Dressage Convention where I learned so much from amazing trainers such as Gareth Hughes, Ferdi Eilberg, Stephen Clarke and Paul Hayler to name just a few. There was so much to learn, it was my first time there and I would definitely go again.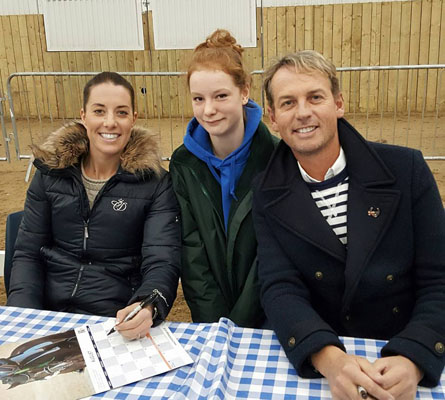 So we are now keeping up our training over winter with help from my brilliant trainers – it is truly wonderful when you find trainers who get how you tick and understand your goals. We have so much help available to us. Gari is looking superb coming into winter and he feels good, I am loving how he looks on his total Dengie diet of Alfa-A Original and Performance+ Balancer.
Hopefully that has brought you up to date with where we are and what 2016 has been like for us. Thank you to everyone who has supported us this year from our sponsors Dengie, who are always there on the end of the phone, my trainers, farrier, physio, fitness and of course of mum and dad.