Roller-coaster ride that is horses
---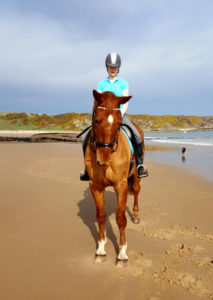 Well it's been rather quiet round here recently, but the roller-coaster ride that is horses hasn't stopped! Due to exams, the first half of May was very quiet, but all exams went very well, and it is only one more month until results day. June saw me take Larry (Mum's horse) to Pony Club Senior Camp in preparation for my B Test. We had an amazing time, and Larry took amazing care of me over fences, as I am most definitely a dressage diva who likes to pop the occasional fence or two. Swapping horses was very amusing as, being the only dressage rider amongst tetrathletes, eventers and show-jumpers, my way of riding was slightly different. Larry, who is 18.2hh, was quite daunting for many when they first got on him, but he looked after them so well, to the point that he had his own fan club by the end of camp.
I recently undertook my B test Horse & Pony Care Test, which I passed! Rather ironically, when I looked at my feedback sheet, my strongest sections were feeding and travelling, despite them not asking me a single question on fibre! It's still a good sign though, especially after the exceptionally detailed breakdown of everything in Arlo's diet by Tracy! However, as is typical of Pony Club, or so I found, I was given linseed in seeded form and bran, both of which are relatively old-fashioned, to which I mentioned that linseed could be bought micronized from the shop!
Sadly you can't have ups without downs, and the downs have been hitting us hard recently. I believe in being totally honest and open; it can be hard but it happens to everyone, and I should try and portray reality as much as I can. So here we go.
It is fair to say that the 'honeymoon period' with Arlo is over. Not long after my last blog, Arlo started playing up. To begin with he was just swishing his tail, backing up and throwing his head around, but this slowly became worse to the point that he was kicking out and spinning. When he did this quite dramatically in a lesson, the trainer mentioned ulcers. So we treated him and put him on a gut balancer, but we needed to scope him just to make sure. So off we went to the vets to have him scoped. The abnormalities were so minor that they were graded 0, but we wouldn't be surprised if he did have them and they were treated before the scope. One problem down, the vet started performing all sorts of lameness checks, which all seemed horribly familiar after Gari, but he was, thankfully, totally sound.
The vet only found some sensitivity in his back. He suggested having physio and saddle checked (which we do every six months regardless) before taking further action. When his physio came, she found the same sensitivity and more tightness in one side than the other. An hour later, the saddler arrived and located the problem straight away as well. The saddle, to put it politely, didn't fit at all, and had caused minor asymmetry in his muscle development. Thankfully mum's old jumping saddle (yes, proud daughter moment, mum has jumped in the past!) fits him which means I can ride at least. The problems are not solved, so we are having teeth checked, but he is a 'teenager' and we do believe that there are some behavioural problems going on possibly caused by my signals not being exact enough, but we must eliminate the prospect of pain before we face this head on.
He is a lot happier now and I cannot thank Dengie and especially Tracy enough who was always at the end of the phone in recent months. I think I can see the light at the end of the tunnel, but I know that many more hardships are to come; such is the nature of having horses! The good sessions are amazing, the bad ones are getting better and better, and once again I'm starting to get that amazing feeling that we have a great future together, we just had to take a small detour on our road to success.
Now the difficult part to write is out of the way, back to the future. I have been given the opportunity of spending most of my summer holidays at my long-term trainer's yard, Cathy Burrell, as one of her grooms has broken a bone in her foot. As I wish to take a Gap Year on a professional dressage yard, I am sure this opportunity will provide me with great experience. I am expecting to be exhausted, with riding and a long day of chores, but I'm still looking forward to it! The yard has plenty to keep me occupied with livery and competition horses. They also have a dog day care centre, so I will be in my element amongst horses and dogs. I don't know whether I'm crazy or a little stupid (probably both!) but Cathy has a wonderful habit of working me hard, but getting some exciting results. This year is going to be relatively quiet on the competing front; we are aiming for a couple of bigger competitions, but I am willing to give myself and Arlo the time we need. He's 7, I'm 17; time is on our side and even when everything gets tipped upside down, we will continue to both reach for the stars, even if it's going to take longer to capture the moon.