Sad Farewells and New Experiences
---
Well it has been a completely crazy few days. Tiff and I went to Keysoe High Profile Show and did our last tests together, as you can imagine it was an emotional weekend and mum burst into tears as we did our final halt on the centre line! Suffice to say I was delighted with him, it was one of those days where the scores did not reflect how i felt it had gone, but that's dressage. I was still pleased as our score averaged at 66%. Leo came along as well for the experience, and for us to ensure he had learnt that at Keysoe he has to stay in the arena! He was ridden by my trainer in the Elementary classes, and to my delight he promptly won one and came second in the other – such a good boy!
Tuesday dawned, a sad but happy day, as Tiff departed to his new home with the lovely Davis family in Essex, we couldn't wish for a more loving home for him. Claudia is already building a great relationship with him and I am sure they will be giving me a real run for my money. As you can see from the picture of him with Claudia below, his winter Dengie diet and in particular the Performance+ Balancer is keeping him in really great condition.
On wednesday I had a tutor review day, so I popped over to Grimsby to have a ride on the lovely Cyden Amigo, ready for the stallion open day on Saturday. The open day went really well and Amigo was a star.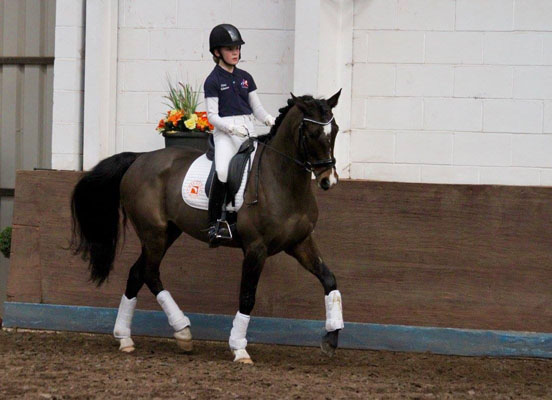 I was honoured to be asked by Darryl Thickett, the Team GB Pony Trainer, to be his pony demonstration rider at his 'Masterclass Dressage Demonstration' on Sunday. Leo found the whole experience of performing in front of a large audience of 160 members of the public, and what felt like almost as many flower arrangements highly exciting! We managed to channel his energy into developing his trot work further, please see the short video below, his suspension is really coming on, I am delighted with his progress. It was a really great day, thanks must go to Darryl my trainer for giving Leo and I such a wonderful experience and to the Dengie team who fully supported the day and came along with Dengie goody bags for all the attendees.
This Easter Leo and I are off to Sheepgate Equestrian, a really great venue for their Easter show. Leo has never been before and it will be another great learning experience for him as all the competition arenas are outside – being outside is something we really need to work with him on. Then on Tuesday we are off to our local Pony Club's Dengie Winter League Area competition, sadly we can not compete in the Winter League as it is only for Pony Club Members, but we thought we would go along and take part in one of the other classes. We are really proud of being part of the Dengie stable, and again its a great learning experience for Leo.
Have a really great Easter and lets hope the sun shines!