Snowed-in, Inspiration by the Bucket Load & Dengie Grass Pellets save the day!
---
Gari (Watch Me!) and I recently travelled to Solihull Riding Club for the last BYRDS High Performance Camp. Sadly we missed the second one as we were snowed in – the life of rural Scottish living! After a long journey over Thursday and Friday, we had two amazing days with training, test riding, sports psychology and performance planning. We had two very productive sessions with Harry Payne and we worked on many different movements with him, refining the quality of them. We also rode the FEI Junior Team Test and scored two percent higher than December. I was really pleased with this as it is a great sign of how hard we have worked in all weathers, not excluding the start of a storm on the Wednesday night after school without a coat, when I left it in the kitchen all day! My performance planning and sports psychology sessions were very productive and have given me plenty to work on, Moira Lafferty is truly inspirational when it comes to getting your mind "in-gear" for competing and even training at home.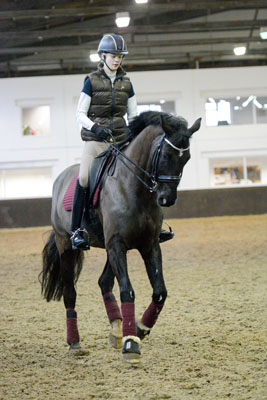 We also heard recently that we had won the Open Dressage Trophy for our local Pony Club Branch, Deeside. I really enjoy my club and have some great friends there who are so supportive of Gari and I. It's sad to think that as we now move into competing at Advanced Medium, if we get points we can no longer compete at Area level for our club in dressage, I will really miss that. I am studying for my B Test later this summer though so we are still involved and we will get to a few rallies I hope.
We are now focused on training for the Scottish Winter Regionals at Morris Equestrian Centre next week and I am very excited as it is one of my favourite competitions, and I love catching up with everyone after Christmas etc.
It's been all go up here as the last few weeks have been about my school prelim exams (mum calls them mock exams "in old money"), I was pleased with the results. The grades were good and showed my teachers that I do work hard at my schoolwork, even if it is in the lorry at times when away training and competing. Our mid-term break was last week and coupled with the end of the prelims, I had a couple of weeks to really enjoy every spare minute with Gari before final exams, in summer, demand more attention. He and I love our weekly Sunday hack up here in the rural countryside just relaxing and enjoying some down time together and it was sunny too – Bonus!. I always think it is vital that Gari is a happy athlete so daily turnout, these relaxing Sunday hacks and the occasional pole work session all help to keep his routine varied and interesting for him, henceforth allowing him to enjoy his life as a horse, and get very muddy in the field!
He's looking good but I was a little worried as he was a bit off his feed, but a call to the Dengie nutrition team for some advice and he seems to be back on track. Travelling does take it out of them but I do keep a close eye on what he's eating and drinking. Recently mum bought him a bag of Dengie Grass Pellets as a treat and he has these as a handful when being turned-out/caught every day – he adores them! They were handy when he appeared not to be eating much with the travelling as he will always eat a small scoop of these with succulents. I love the new packaging too, the bags are really colourful and sturdy.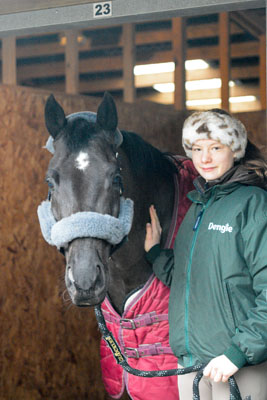 Well it's three days of school before we set off to the British Dressage Winter Regionals. We are stopping on the way for a last minute session with Harry Payne, who will be in Aberdeenshire, last minute advice will be very welcome. I am extremely excited to see if our hard work over winter has paid off this week. As always, I am grateful to my parents, trainers, support team, and school who are so supportive of me, they always wish my beautiful partner and I the best. We'll let you know in a few weeks how the regionals go.