Super Weekend at Sheepgate
---
Leo and I are just back from a really great weekend at Sheepgate Equestrian. On a positive note, he's really starting to settle and relax at show environments – we still have way too much tightness and tension at times and curbing his enthusiasm is a constant balancing act, but we are slowly but surely improving in our consistency, which makes me feel we are slowly moving in the right direction.
We had a challenging time in a test on the Friday, as it had been raining and many of the arena boards had been splashed and so were showing black marks. Leo was petrified and eventually I retired, having decided that to continue was going to create more of an issue than spending some time quietly with him with splashed arena boards, to help him understand that they are not monsters.
Saturday morning dawned and I was the only rider for the arena walk as it was pouring with rain. We finally managed to persuade Leo that every mark was not going to eat him alive and popped him back in his stable for a few hours off before the competition.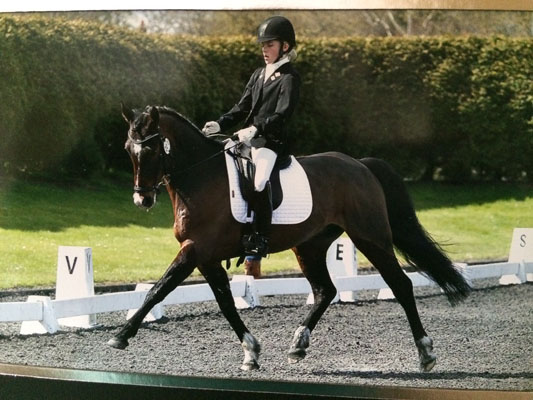 The competition began and I am pleased to tell you that Leo gained his novice regionals qualification in just three classes, scoring 74.8%, 73% and 69%, which resulted in two first places and a second place. We even got a 9 for our medium trot – I'm so, so pleased with him, especially considering that the Friday class had been challenging for him mentally, he's only six and this is only his sixth show.
We now have a quiet month as my sponsors Childeric UK have been to refit Leo's saddle and some adjustments are needed (the joys of a youngster's ever changing shape!), so we plan on taking things quietly for the next few weeks whilst we make the necessary tweaks and changes until we are sure everything is where it needs to be. Leo will no doubt love having a few days off in the field – let's hope the sunshine continues! He looks fantastic on his new diet from Dengie too. Then, it's back training hard as the Sheepgate Tack & Togs Championship is not too far away and I'm really looking forward to that.
Next weekend I have horse power of a different type, as I am going for a car driving lesson with the 'Young Driver' team at Stoneleigh Park. Should be fun!!