Thanks Partner – a tribute to Gari!
---
This year has been a tough one for me. You may remember that in March Gari had a tooth out and a few weeks off. Sadly not long after this it came to light that Gari was intermittently lame in one of his hind legs. There were many trips to vets and a final referral to The Dick Vet in Edinburgh in August and extensive tests and scans showed that he had a degenerative illness and the decision that all we owners dread had to be made to allow him to be put to sleep. I was with him to the very end to say goodbye and thank him for all he had taught me and the incredible times we had enjoyed together.
Since then things have been slowly but surely improving. I now have a new dancing partner who has been with us for nearly two weeks. His name is Arlo.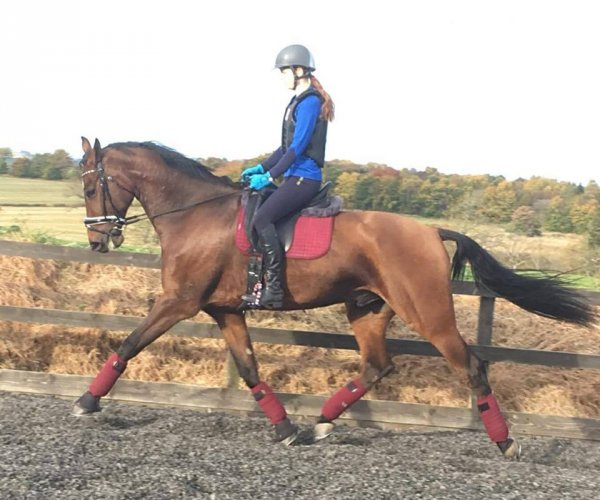 He is a 6-year-old KWPN gelding and is 17.1hh. We have started training at home and are beginning to become more accustomed to each other. He has a great attitude to work so we are very hopeful for our future together. Scotland is a bit of a shock to him but he is adjusting well to the weather, outdoor arena, that weird green stuff in the field (which it turns out is edible – shocker!), and these super scary white balls of wool that move around (sheep are taking a little adjusting to)! Arlo has a very kind nature which is fantstic as a strong relationship between horse and rider is so important to us. We are hoping to start competing at novice level so we can have some fun without the pressure of more advanced movements. We are looking forward to the next years together, but of course, I would not have this incredible dancing partner without everything Gari gave me, and for that, I am always grateful to him.
RIP Gari – Thanks Partner x