Trying Times for Olivia and Leo
---
Sorry to have not updated you for a while but it's been a pretty challenging few weeks as the Leo pony rollercoaster continues!!
A few days after Myerscough Leo's swelling on his hock returned. He appeared happy and sound but with a swelling we couldn't explain, so various vet checks followed and with simply brilliant support from the Team GB Pony Squad Vet Rob Oulton we found ourselves at Newmarket Equine Hospital (NEH) seeing one of the worlds leading hock specialists vets Ian Wright and his team.
The tests established that Leo's antics on the day before Addington had created a trauma injury that required surgery, there was no other option for his welfare if in the longer term Leo was to be able to heal properly. This led to a very scary few days as we worried about the operation and whilst he went through the various preparations required. On a positive note I can now report surgery went really well and the vets believe there is no reason Leo should not make a full recovery. We are aiming to be back out competing PFEI towards September.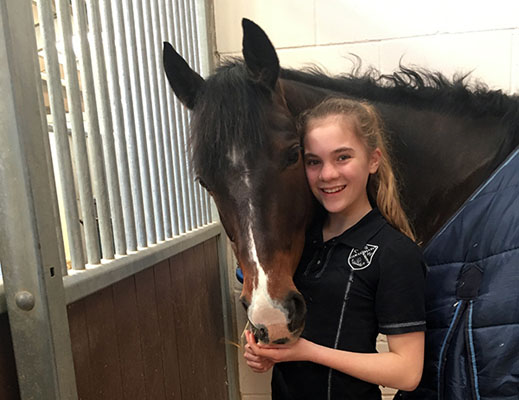 The NEH team were fantastic, they ordered in extra Dengie food to ensure Leo's diet could be maintained and then did their best not to roll their eyes as we turned up for a visit complete with a sack of his favourite Dengie Grass Pellets and his Stable play treat ball. Leo was super happy, the Dengie Grass Pellets are his favourite food ever!!
As you can see from the pictures he is happily up and about, he is fully weight bearing and is and wandering around enjoying his bed of 9 bales of shavings!
The Dengie nutrition team have been so helpful to us in now designing a new feeding plan to keep Leo calm through the box rest period, it's going to be challenging balancing his needs as he comes back into work in May and June whilst not over feeding his energy levels given he is still restricted to lots of box rest. I will keep you all updated as to Leo's progress and his diet changes as we move forward.
While I am unable to ride Leo I am extremely lucky to be offered by Hannah Esberger-Hancock one of my trainers and also another Dengie rider, to ride some of her talented young dressage ponies.
It was great to ride Potter again and Hannah also very kindly let me ride another one of her young ponies called Harry. She has a bit of a theme going on as you can see from their names, Harry and Potter!
Harry is very talented and behaved impeccably for me. I am so grateful to Hannah for letting me ride her lovely ponies, it is really beneficial to me riding other ponies as it really allows you to learn and develop your riding.