When It All Comes Together
---
In my last blog I spoke about my 'mojo' coming back, and how I hoped that Arlo would behave at the BD Youth Home International. Well, I wasn't wrong; not only did he behave, he was on fire, the 'party trot' came out for every test, and we even had a small audience of admirers by the second day of Team Tests! I think I better start at the beginning, which was nearly two weeks previously…
We were leaving the North East of Scotland for the far and distant land of England on the 17th of July, and as I knew it would be a long time before I would see home, I made my Dad take me up one last Munro (a Scottish mountain over 3000ft, of which there are 285). We saved this for the 16th July, and chose a beautiful rural one in The Glen of Dee. We biked through our 12km approach through one of the most scenic parts of the Cairngorms and began our climb. The top was almost clear, with only a little haze due to the glorious weather, and we had the whole mountain to ourselves, it was the perfect last day in Scotland, so thank you Dad for keeping your promise!
The 17th July saw an early start, and we needed to take both cars as well as the lorry as I was to be staying in England for a year, the lorry was staying with me until after Sheepgate U25's and mum and dad needed transport back hence another car. This all meant I was doing my first motorway drive. I am proud to say that I managed the full 10 hours to Richmond EC (new record time!) perfectly fine, although I was a little nervous travelling down the A90 at first, but settled into it well. Arlo travelled well which was a welcome relief to the three of us as this was his first long trip since he arrived in October 2017 from Holland.
I was competing in the Northern Area Regionals as I would not be in Scotland for ours. I had allowed an extra day before the Regionals for Arlo to rest after his long journey, I stretched him off, and he felt very good, but he was very excitable. After our little episode at the Pony Club Champs last year where our confidence was at an all-time-low and I ate mud, I became a little nervous that we might see a repeat as he was full of himself, but Mum was right beside me and kept my head in the game and we put that ghost to bed for good. I had been working very hard on his and my fitness and we were ready for 13 days of adventure. I felt we were on the up so I held Arlo's hand and he held mine.
Day One of the Regionals brought the Medium Silver. After a morning of watching the PSG and Inter I classes with Mum,  I got to catch up a little with and watch my fellow Team Dengie rider Hannah Esberger-Shepherd. I was in a fantastic frame of mind; I was going to enjoy every stride, I've always enjoyed competing at Richmond Equestrian Centre. We achieved 66.4%, even with a major mistake where I was too quick to tell Arlo off when he was behind my aid (learning curve for me). However, we finished in 8th place in a strong class so that made my day. His lateral work felt so good and he kept his mind in the game.
Day Two brought the Elementary Silver competition and my fellow Scotland U25 rider Carla Milne was also in the class. Carla and I were second and third on in the class, meaning we got the chance to set the bar where we wanted it. Carla rode a lovely test, and so did Arlo and I. I was so pleased with it although a touch behind my leg, we rode a mistake-free test to achieve 68.33%, and a mere one mark behind Carla. This put us into 5th place, despite two judges having me in 4th, but that is the way it works and Arlo will never know the difference. The best part had to be that Arlo trusted me in a strange and spooky environment and gave me everything he had. It felt good to have two Scottish U25's in the top ten.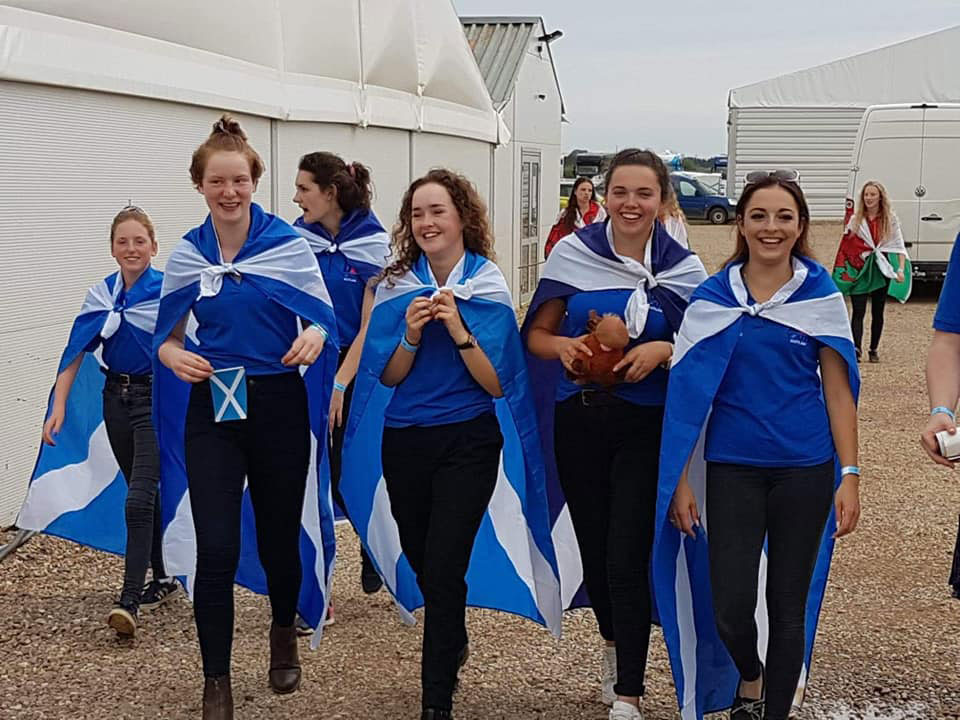 BD Youth Home International was 5 days away, so to save travelling 10 hours back home only to travel 12 hours back south a few days later, we stayed with a good friends near Ripon. We were warmly welcomed onto the yard at Bogs Hall and had a super isolated stable and paddock in a lovely setting where Arlo got a mini holiday of hacking and stretching, and I acclimatised to the heat and let my hair down. One of the things I love about Arlo's Dengie diet is that I don't have to worry about 'upping or lowering' feed all the time as it is fibre based. My absolute favourite product though (and he adores them) is the Dengie Grass Pellets as they are fed very wet so they really help with hydration and with apples and carrots in them he is a happy 'pony'. Arlo got an hour or two of turnout, including immediately after his pre-show bath. My theory was a 'sun-dried pony', Arlo's theory was 'challenge'…thank goodness I put a fly-rug on! We were both well rested, mentally and physically massive thank you to my Northern Region Friend Abi Ingledew and her family.
Thursday, aka the hottest day of the year reaching 38 degrees, was the day we had to travel. After seeing the forecast, we took the decision to shift the itinerary two hours earlier. We safely arrived at Arena UK near Grantham at about 11am, just as it reached the mid 30's. It was so hot, that Arlo was sweating in his stable. We gave him a couple of wash-downs so he had something to evaporate off his skin to cool him without him dehydrating himself again. Mum and Dad also struggled quite a bit, but still managed to get the job done like the legends they are especially as getting to sleep was not easy in those temperatures! I was very grateful for my holiday fitness programme, where my 35 day gym/pool programme for the run up to travelling south payed off greatly. For that period, I was averaging 3 to 4 workouts a day with riding. I was aware it was hot, but I drank electrolytes in my water and slapped on the sun-cream (I am a redhead and there are three stages of tanning, white, red or charcoal). We were the first from the Scottish Squad to arrive, which meant we could set up a gazebo and help when everyone else arrived.
When Friday dawned it was a little cooler, but was still comfortably in the late 20's. Arlo still felt good, but I wasn't going to push for too much, as this was primarily to let him see the arena, and we still had four tests to ride over the next two days. It turns out that he likes to show off more than we gave him credit for. When I said 'This is an opportunity for you to relax and familiarise yourself ', Arlo replied 'Let's psyche the hell out of them!' We achieved a personal best of over 73% in the warm-up test to win the class by over 4%, with a beautiful comment from the judge, who wrote 'a pleasure to judge'!! Thank you to that judge – comments like this, when you are bringing on a horse mean a lot.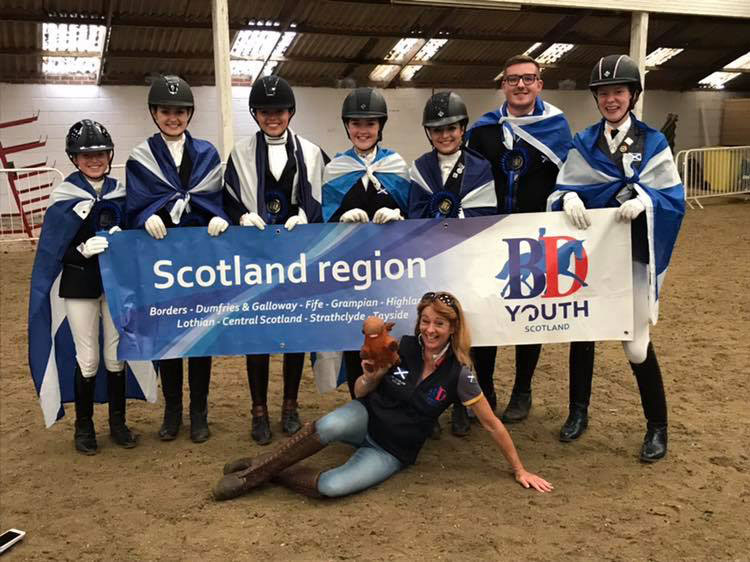 That afternoon, all the Scottish Squad horses sailed through the trot-up, despite Arlo growing to 19hh and dancing at the end of the reins! The opening ceremony was brilliant and wow, do the Northern Region know how to host a Home International! Everyone was on good form and the laughter flowed and the squad bonding (of our two teams) was working its magic (we have two brilliant BD Youth Ambassadors in Scotland and they are so supportive), the whole region was looking forward to the next two days. In the back of my mind though I would be lying if I didn't say I was ecstatic about my win in the warm-up class, but also worried that Arlo and I had peaked on the wrong day.
I spent time with my Dad, who teaches psychology in the work-place on the side of his key role, discussing and preparing for Saturday. My psychology is a carbon copy of his, so briefing, debriefing and preparing my Game-Frame with him works very well. After an intensive couple of hours planning my mind-set, we derived the key phrase 'Ride the Blueprint.' I was worrying about uncontrollables such as other riders' performances, so he helped me shut everything else out, including the competitive nature of the competition so that I could stay in the 'First Zone' of focus for my test. After we had discussed my underlying fears that I had to win for the team and banished them, we started preparing the blueprint for Saturday's Team Test, and rehearsing it. We used old test sheets of the test I was riding and videos, my training notes and videos from my trainer Jennifer Johnston-Harman and our knowledge of Arlo's current frame of mind and performance. We broke down every movement to plan how I was going to ride every aspect of the test.
Saturday saw the three of us work like a super-team. We were efficient and Mum and Dad ensured I only needed to focus on getting me and Arlo ready. Dad and I ran through our blueprint again and refreshed our key psychology points, giving me a feeling of order and preparation. Arlo felt so ace in the warm-up, offering me everything, yet I was careful to save it for the arena. At present, he can hold an uphill frame well for about 10 solid minutes, so I had to make sure there was fuel in the tank for the test. When I dropped my whip before entering the arena area, he fell slightly behind my leg, but he stayed focused and was still keen to show off! We turned down the centre line, and it was like he said; 'Hmm that last horse was good, but I'm going to show them how it's really done Mum.' And he did. We danced and flowed our way into the lead on 72% where we stayed. The other three team members of the Scottish Macbeth Team also pulled seriously strong scores to put Scotland Macbeth Team in the lead overnight.
Saturday afternoon also brought a dream I had waited two years longer than we should have for (due to losing a horse); riding a centre line in tails. The test was not what it could have been; Arlo forgot how to change and do a walk pirouettes or perhaps I forgot how to ask correctly (!) but his lateral work felt so good. What went well, went very well. Mum joked afterwards that I like giving the judges an opportunity to use the full range of marks, and this test ranged from a 4 to an 8. But we must remember, this was only our 5th Advanced Medium test together, so not too bad!
Being overnight leaders is tough psychologically, you have to put it aside and plan the ride for the next test. Dad spent time with me intensively debriefing the day's performance, both physically and mentally. It was obvious that Arlo was at peak, and ready to strut his stuff, so I just had to ride my blueprint and shut everything out. I imagined I was riding in my trainer Jennifer Johnston-Harman's arena and I had her in my head, a tool that I don't normally use but really helped me banish any worries good on Sunday. We stayed up and socialised for a little bit, but my head was in the game, and I was keen to get a good night's sleep. Sleep is the cornerstone to my performance and I knew I would never forgive myself if I didn't prepare every little detail. So I caught 40 winks.
Much like Saturday, Sunday brought endless rain, so my dedication to training in all weathers paid off once again. It was like Arlo knew he was on his game, and he came out of his stable with an expression that said 'Veni Vidi Vici', not in arrogance, but in confidence. Any nerves dissolved as our minds merged in the warm-up. I felt like I could have ridden a Grand Prix! For the second Team Test, we were in what I believed to be the spookiest arena, but this was banished and as I went in Arlo brought out his most supple, most together 'party trot' and floated down the long side like he was Valegro himself. The bell went. We knew we could do it if we just communicated well – and we did. Beautiful extensions, supple leg-yields, accurate transitions, and most importantly, very bold medium canters (I could almost see my trainer clapping)! We finished on 70% to take the class again. I had won the Individual Elementary honours, but the Team Trophy was still to play for. Fellow team-mate Carmen Gammie and the pro that is Champagne Bubbles strutted their stuff to beat all the big horses on 72%, and the other two team members, Rose Foley and Eilidh Roberts pulled off high scores to widen the gap between us and the South West Donald Ducks who were strong chasers. We had won the BD Youth Home International for 2019. It felt amazing!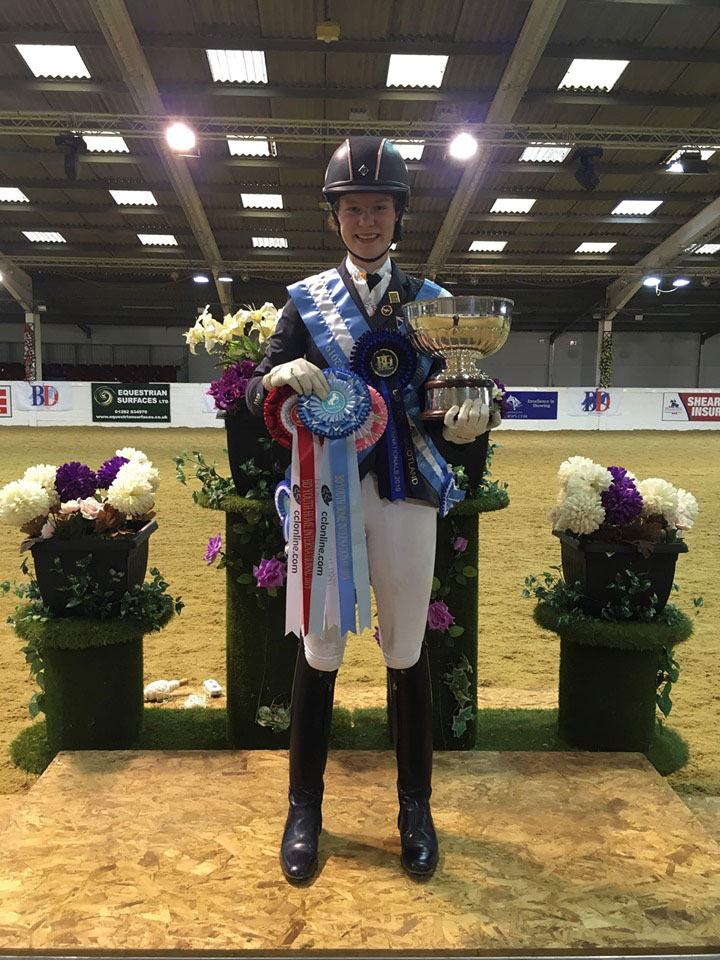 Yet for me, there was one more test; the Junior Individual. So I put on my tails and walked into the warm up with my head held high, we had never competed this test. The leveller came right here in this test though – Arlo felt amazing, everything apart from the walk pirouettes was neatly executed. Before I went in I heard the bell ring for the previous competitor who had made an error, instead of staying in my game, I started to doubt if I knew the test so I asked mum to see it again, no, I had learned it correctly. I learned a valuable lesson here though, don't doubt yourself when you know you know it as I forgot it not once, but twice! Across three judges, this pulled us from a very respectable 65% to 62%. That number doesn't speak to me though, we rode it, and Arlo pulled it out of the bag once more. We finished 5th in the Junior Test, but he doesn't know that, all he knows is that his Mum is proud of him.
As if winning wasn't enough, we did not travel home, but to Redditch. We have known for a while, but we wanted to arrive before we announced it; but I have secured a year's placement with Eilberg Dressage and I have just completed my first week. I am absolutely exhausted, but I love every single minute. Let us hope that my next blog will say the same, if not better, about my time here with Arlo.
The exam results are in from school for my Advanced Highers as well and I am really pleased with those. You can do well at your academics and your sport, people told me that one would suffer whilst at school, it didn't but that was because I was determined to put qualifications in the Bank of My Future. I have a place waiting at Aberdeen University for after my Gap Year so I will see what this year brings. Thanks have to go to The Dengie Team who stood beside me when I lost Gari and kept their faith in me. To my school, The Gordon School, Huntly, who over the past six years have done anything they can to ensure I can compete and to Jennifer Johnston-Harman, my trainer of the last 2 years who has taught me to believe in myself and given me back confidence in my ability and moved me onto 'bigger biscuits'.
And thus, I stood on top of the podium, both as an individual and with my amazing team-mates, and now I have started working with one of the most respected names in the dressage world. Arlo is turning into a performer, and we are turning into a formidable team (when our minds meet!).
Mum and Dad, your support is endless, and I owe every rosette and prize to you. Arlo, I love you more every day, not because you are winning for me, but because we almost speak the same language some days now. I know neither of us are machines, and we have many more challenges to come, but let us face them side by side. Dare I say it, but watch this space! We will ride with the same ethos at Sheepgate U25's; not riding for the glory, prizes or scores, but for the love of the sport and the joy I get from putting my foot in the stirrup.