Winter Regionals
---
This year started really strong for us! Arlo is looking fantastic thanks to his Dengie diet and months of hard work. The local competitions provided a promising insight into what's to come from Arlo yet. We were so excited for the regionals, especially after missing them last year.
Fortunately we escaped the really bad weather on the way down, Storm Ciara was definitely coming, but wasn't quite here yet. We gave Arlo a leg stretch and he was really well behaved and had travelled well. As can be expected of Arlo, there were a lot of dragon noises in the warm up arena as he jogged/passaged the whole way around! We find it amusing now; he always seems to be this big ferocious warmblood in the arena walk, but then pulls it out the bag when he needs to.
Our first test was the Medium Silver Championship. The test started amazingly, with Arlo producing some of his best work, but sadly, some tension, which was affecting almost everyone that day, resulted in some costly errors to pull us down to 6th place. Despite these errors, I was still really happy with how he had worked. Later that day we had the Medium Silver Freestyle championship, and this test was significantly better, save for one counter canter where Arlo went, 'Look mum! I can do flying changes!' We finished third in another strong class and thus made it to the mounted prize giving. Arlo face was comical when we started tacking him up for the prize giving, but suddenly perked up when he realised all he had to do was look pretty for 5 minutes.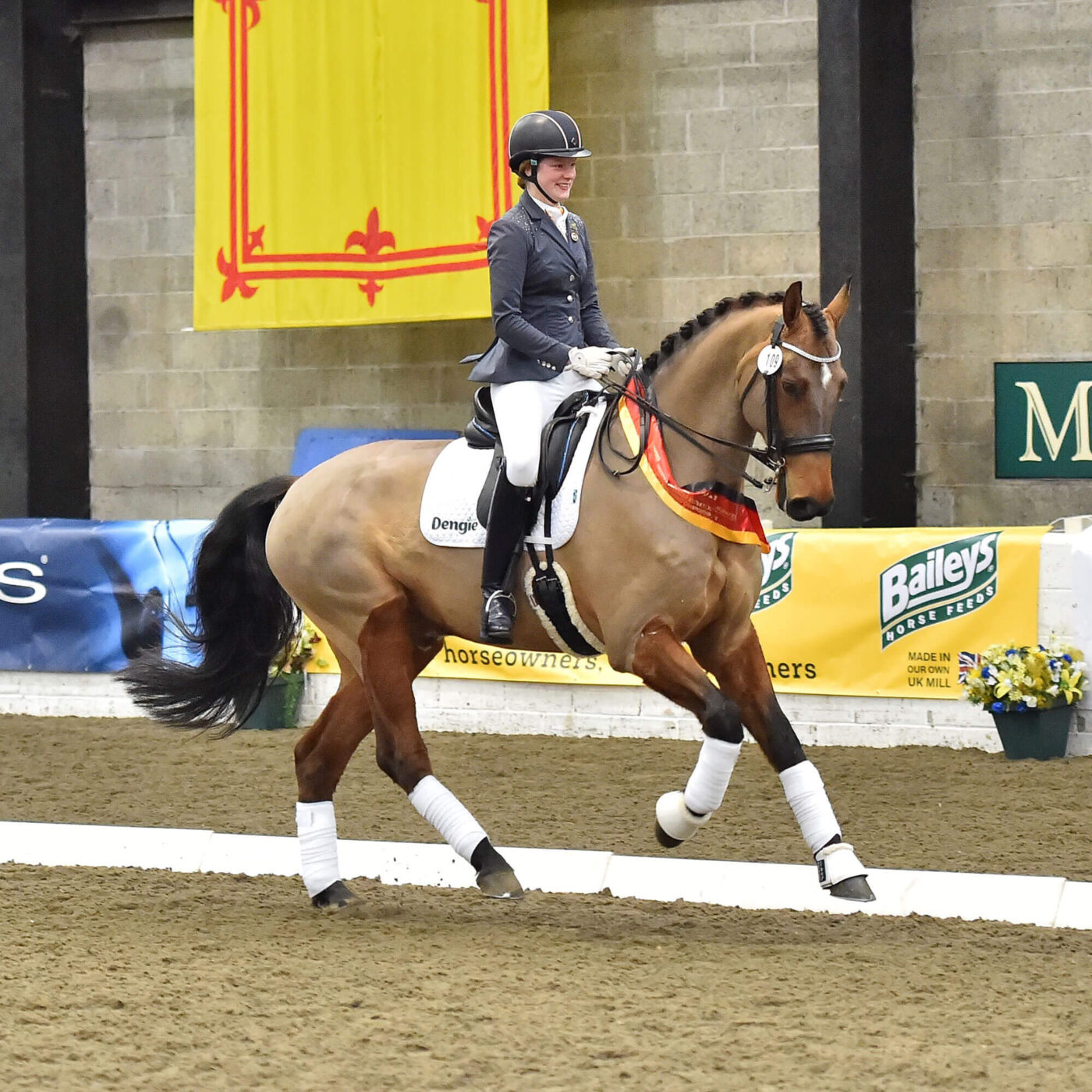 The second day brought our third and final test of the winter regionals which was the Advanced Medium Silver Freestyle. This was our regional debut at Advanced Medium, so I had no expectations going in, especially as I was in good company. Arlo felt great the whole way round and he was definitely more consistent than the previous day. We finished just shy of 70% with one minor error where I didn't set up our last flying change and took Arlo by surprise a little bit! I believed I would come third in the class behind two much more established horses, but I was pleasantly surprised to find out we had won! I was so excited as this was the class I least expected to finish first in! I was so happy I was going to Hartpury for the winter nationals four years after I qualified with Gari, and at the next level up too!
Of course the competition is won or lost, far away from the whiteboards or audience, and I am so grateful to the team of people who helped me achieve this, most notably my parents, my trainer Jennifer Johnston and of course Dengie! I am very excited for what the future has in store for us.