Well hasn't the world changed?! In February, the word 'Coronavirus' was nothing more than a scary word or a looming nightmare. Now the world has a new face. Like many, I am immensely grateful to our NHS workers, some of whom I know personally, for their incredible work, sacrifice and – in some cases – sheer bravery. But let's not dwell on what we all know already… because lockdown brought with it many silver linings. As we watched the world change from the comfort of our local area, we too had time to reflect and be reminded about so many parts of life which we brushed aside in the whirlwind of the world as it was.
My world was no different to many in the respect that my life changed in the flick of a switch, even though I respect everyone's experience of 2020 has been unique. Almost immediately after my last blog, my beloved dancing partner Arlo went lame. Whilst his injury has some similarities to Gari's, we were quick enough to catch and diagnose it. We also have time and good fortune on our side too this time. So we dived in head first rehabilitating Arlo, but ligaments are annoying little things; bones and muscles like to cooperate, ligaments like to take their time! However, this is more frustrating for Arlo than it is for me. His welfare is always my primary concern, but Arlo has a work ethic to die for and he is really missing his work. He watches me ride other horses with a look of pure jealousy, as if to say 'Who on EARTH do you think you're riding mum?!' We are optimistic for a successful recovery, but we are all mindful of the fact that Arlo's future still hangs in the balance.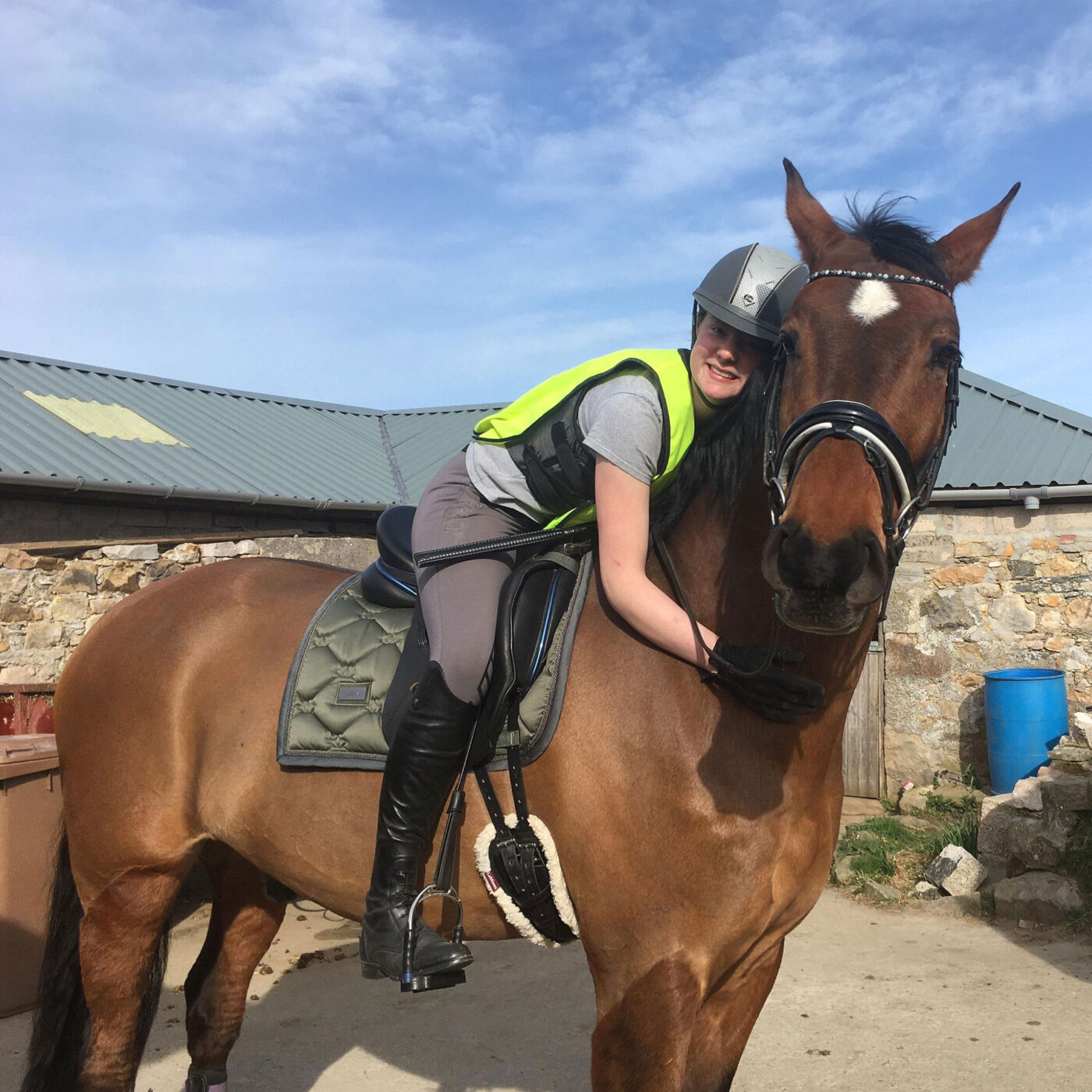 So whilst I was unable to ride, Britain started to get hungry. Very hungry. I have worked at my local Asda store since before the pandemic, but I went from happily working a steady part-time job to almost moving in! To begin with, we still finished at 1am as we are contracted to. Then 0100hrs slipped to 0230hrs, then 0400hrs, and before I knew it, I was working full 12 hour night shifts, coming home and going to bed at nine o'clock in the morning, rising at four in the afternoon and scooting off too work again after visiting the horses and grabbing some breakfast! Some days I wasn't fortunate to have that much sleep, but we pulled through. It was mad but it gave me the structure that many craved during those mad months. My mum was an unsung hero throughout that, doing the horses more often than not in the mornings, so I could continue to help keep the nation fed.
Lockdown wasn't all eat-sleep-work-repeat though. I found myself with time to focus on myself a little. I spent more and more time running and cycling, to the point where I started –voluntarily- rising at the sharp hour of 4am (on days off of course!) for some intense running and cycling. It's ironic how in a mad world, doing crazy things makes you feel sane. I got to go running with my dad and remembered what his face looked like too! With him always leaving early for work and me always leaving late, it wasn't uncommon to go a few of days without seeing each other every week!
When restrictions started lifting it was a welcome relief to many. I had started to forget what people looked like and couldn't wait to do some socially distanced sunbathing in a friend's back garden. But more than that, it meant that we could put some more oomph into Arlo's rehab now that a visit to the vet was back on the cards. He has now finished his course of veterinary treatment, so we are just playing the waiting game now.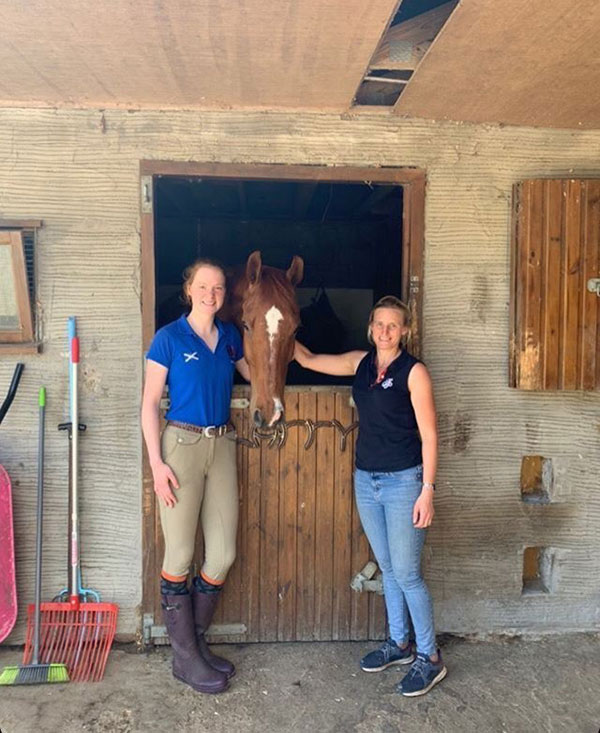 The lifting lockdown also gave us a new opportunity. Through my trainer, we found a new horse for me. He is an ex-eventer and his owner is hoping that I can give him a second career. Floyd is rather different from Arlo; he's the 'pony' of the family at ~16.1hh but is a year older than Arlo, making him 10. It took a good few weeks for us to 'click' and get the measure of each other, but we're quite the team already now. He's got a work ethic similar to Arlo's and he picks up on new ideas quickly. He's also a lot more inquisitive than Arlo, I think this is mainly from where we haven't known each other that long. He arrived a lean, mean eventing machine, so the transition to a dressage career has been a big step for him. He's learning to use his body in ways he never has before and is learning that canter has more than one gear… who knew?!
Floyd is a sweet boy through and through and I'm very excited about what the future may hold for us, but I just want to enjoy working with him for now. We are learning a lot from each other and having so much fun in the process. His Dengie diet is already showing through; helping him to build healthy muscle mass without all that fizz, keeping his warmblood head nice and level. There's so much power in there, I just need to learn how to harness it correctly. With our lorry being off the road, it's nice to enjoy that pressure and deadline free environment that I didn't have with Arlo (due to him being off) earlier in the year. Whilst I enjoyed working with the lovely Caribe during this period before other commitments made this difficult, there's nothing quite the same as jumping onto your 'top' horse and having a laugh is there?
This month I'll be starting my adventures at Aberdeen University for four years, so that will help keep me out of mischief. I'm going in head first by trying to keep the horses going simultaneously. This is no small feat by any standards and it goes without saying it is impossible without a support network. Aberdeen is the closest city to home with a University that offers what I am wanting, but it is still just a little too far to commute every day. I have always been very lucky with how supportive my family is with my horsey and non-horsey goals, and this is no different. There are many exciting and hard-working times ahead, so let's seize it with both hands!
August has been a busy time for me…Coaching Senior BD camp, to and fro to Pony Club camp over two weeks, and then Junior BD camp. Delilah and Joey did so well, 2nd in the D squad with 70% and then Molly achieved 89% with Harry in the C squad. I was so pleased, as it was their first outing together…then we were finally off to the Nationals!
It was a very different Nationals, but the organisation did superbly well. Only one person was allowed per rider, and there were no spectators allowed other than the people there competing. On the day we went we were very lucky with the weather.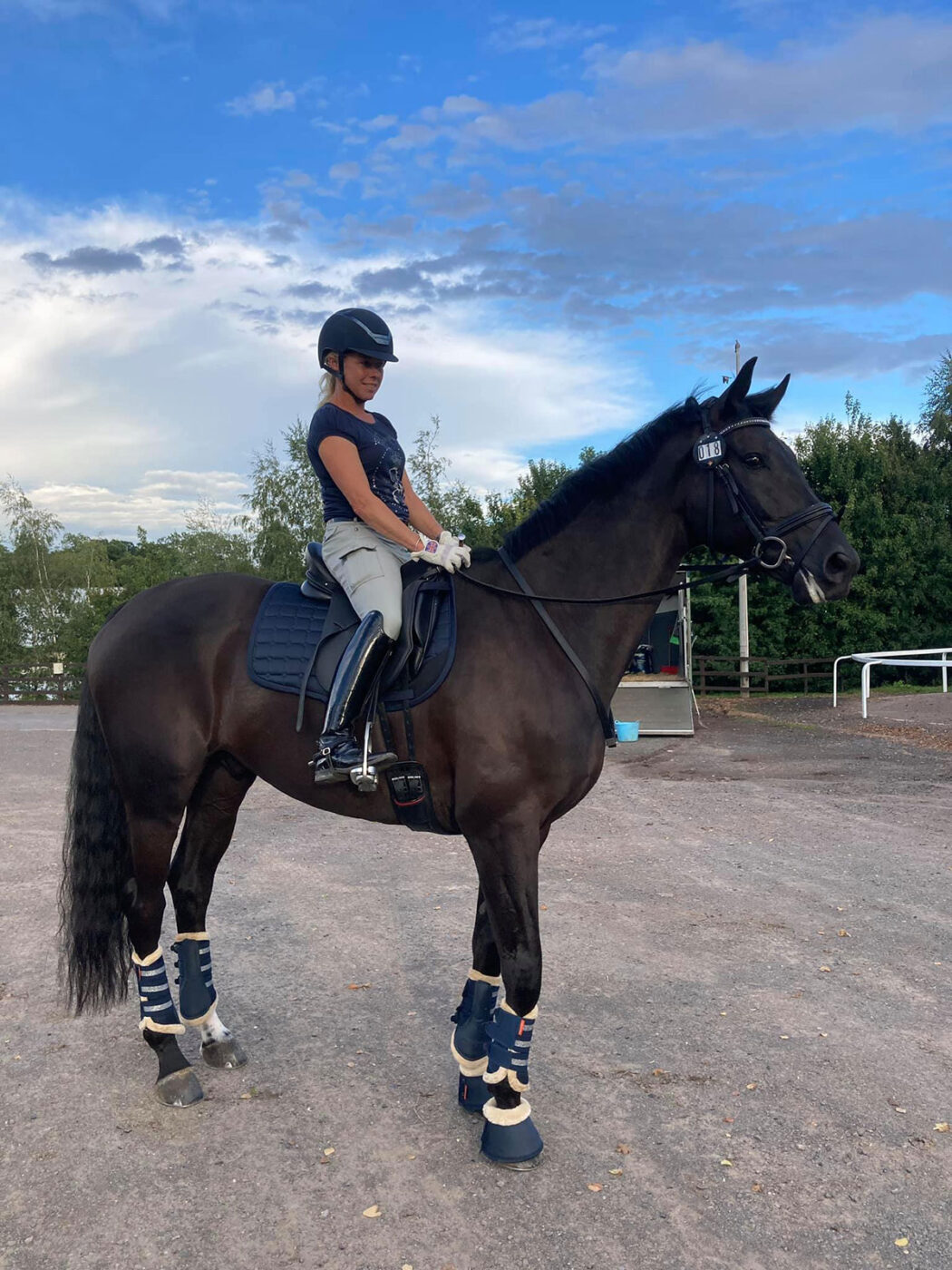 You had to book a slot to exercise with only 6 at a time allowed, and as you could not do arena walks, I decided to try to get a slot in the arena next to the completion arena. So Monday night we headed down to the working in and Iggy had a complete attack of stage fright…waving his legs higher then even he thought he could go!!! Not a great confidence giver, but I was okay with the fact that he has only been out 6 times and everything was so new to him, if I could just get him round and have a good experience! We were last to go (what a draw), he was really very good and never let me down. He just kept with me, ignored the TV cameras and speakers, but sadly 2 of the judges did not like the modern music which was costly as it is times 4. We scored 72.6% coming 9th.
We had a fab response on Facebook with people loving it (as it was live coverage) so that was wonderful. We are off next in Sept to qualify for the 7yr old young horse class which is Advanced Medium – a big jump from novice music, but he is coming on so fast.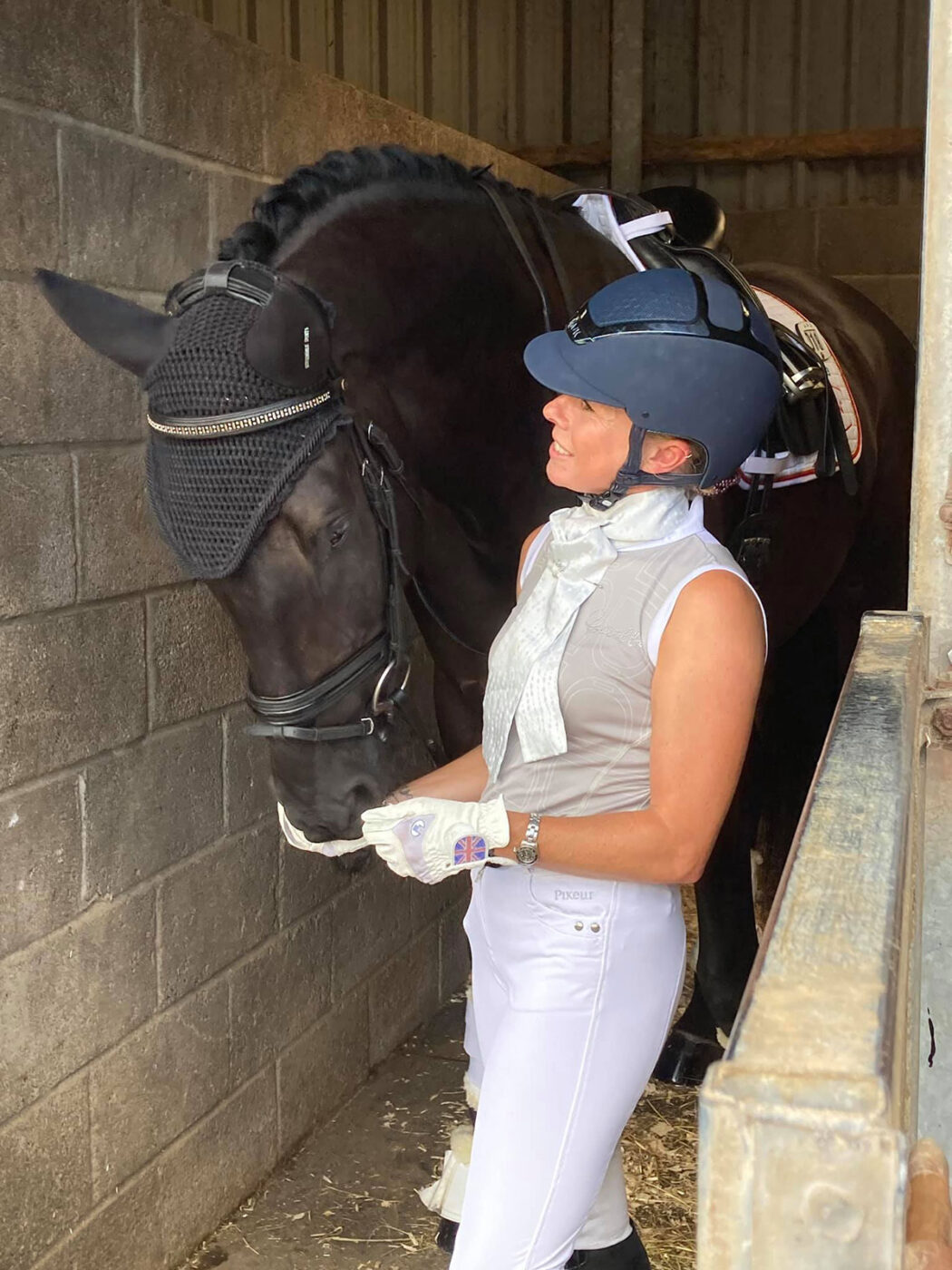 This last month has been a highly educational and successful month. We have finally got back out to some shows and put Lockdown training into practice. Dengie's range of feeds have been essential in supporting Cici's increased workload, meaning she has plenty of sustained, but controllable energy and sufficient hydration in the warmer weather, as she loves her Dengie Alfa-Beet added to Alfa-A Oil and Performance+ Balancer.
Our first show at Pyecombe resulted in Cici feeling raring to go after the long break, consequently leading to 3rd in the 90cm.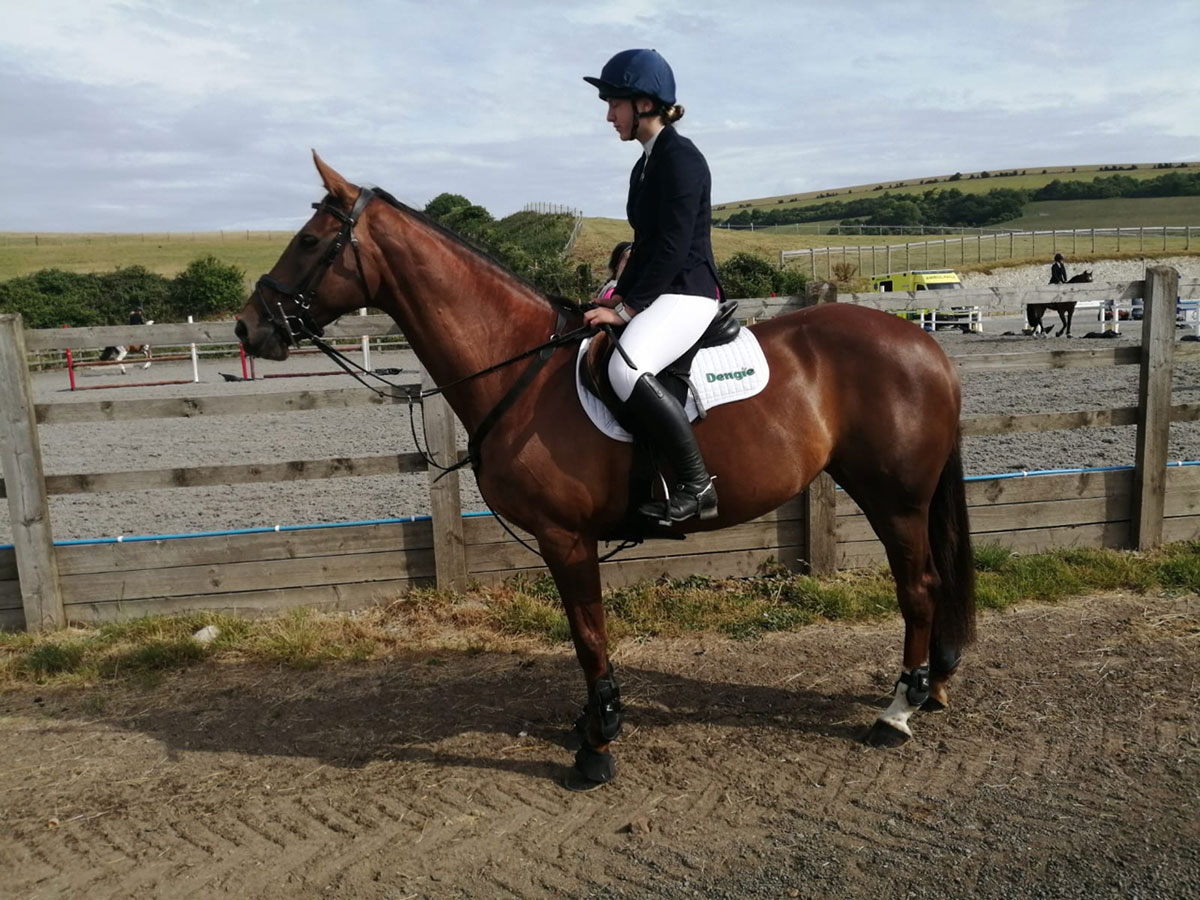 Next, we had our first Cross Country schooling session of the year at Littleton Manor Equestrian Centre, where we were joined by a friend from the pony club on her youngster. It was a very educational session and we focused on accuracy, rhythm and balance.
A few weeks later, another visit to Pyecombe this time for the 1m, where we returned to where we left off before Covid-19, Cici felt great and finished 10th in a huge class.
On to BS, where we attended our first BS show together and Cici exceeded all my expectations with a smooth, rhythmical round to win the British Novice.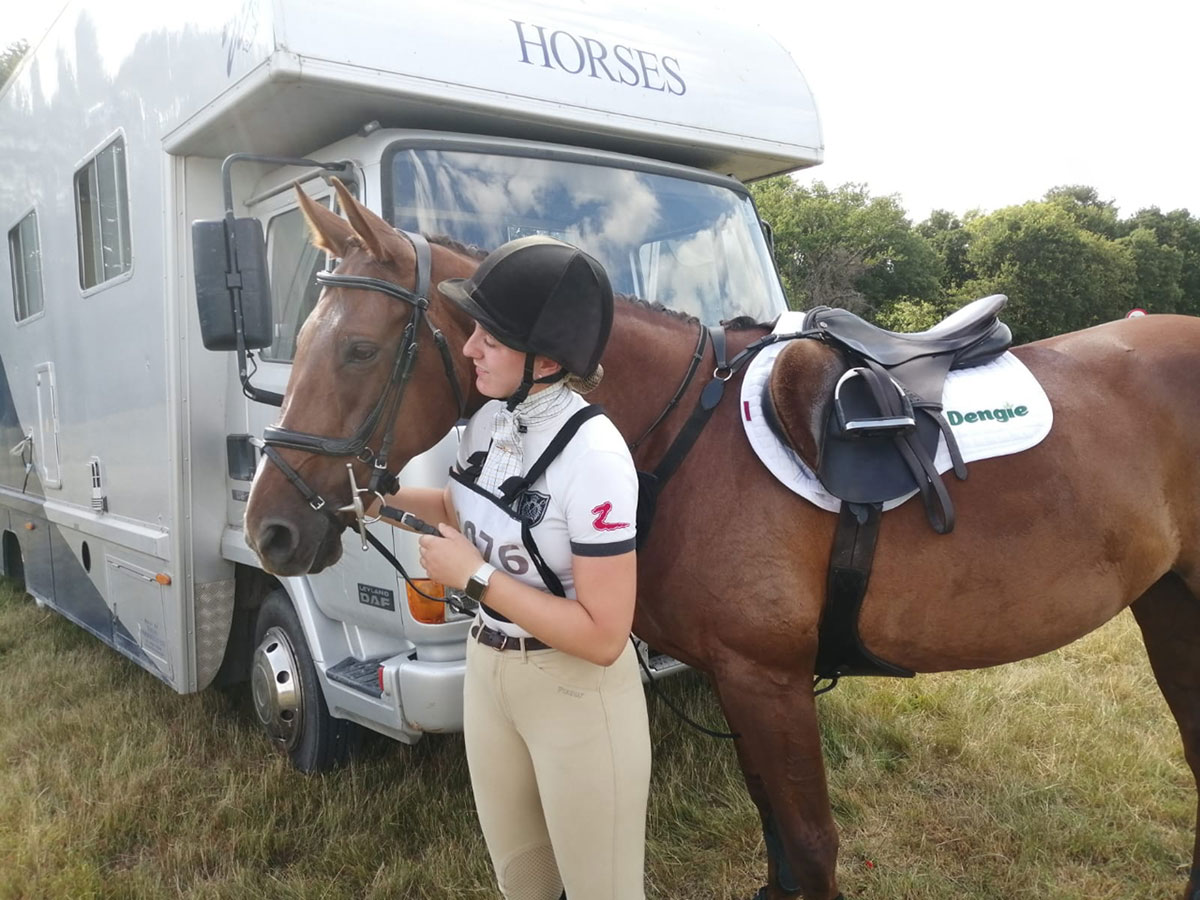 So off to practise Cross Country, this time at Petworth Cross Country schooling course. Where thanks to some timely rain the going was perfect. This Pony Club session was taught by Laura Schroter who focused on balance of paces as we trained to cope with undulating terrain.
Finally we were back out doing what we love best, Eventing! Tweseldown had done an amazing job to accommodate so many entries and I felt very lucky to finally get a run. Despite, some initial excitement in the dressage warm up, Cici settled and produced a calm and accurate test for 32.8. Off to the showjumping, where our practice paid off to produce a smooth clear, and the cross country felt equally polished, finishing with a clear inside the time for 5th place… Well done Cici!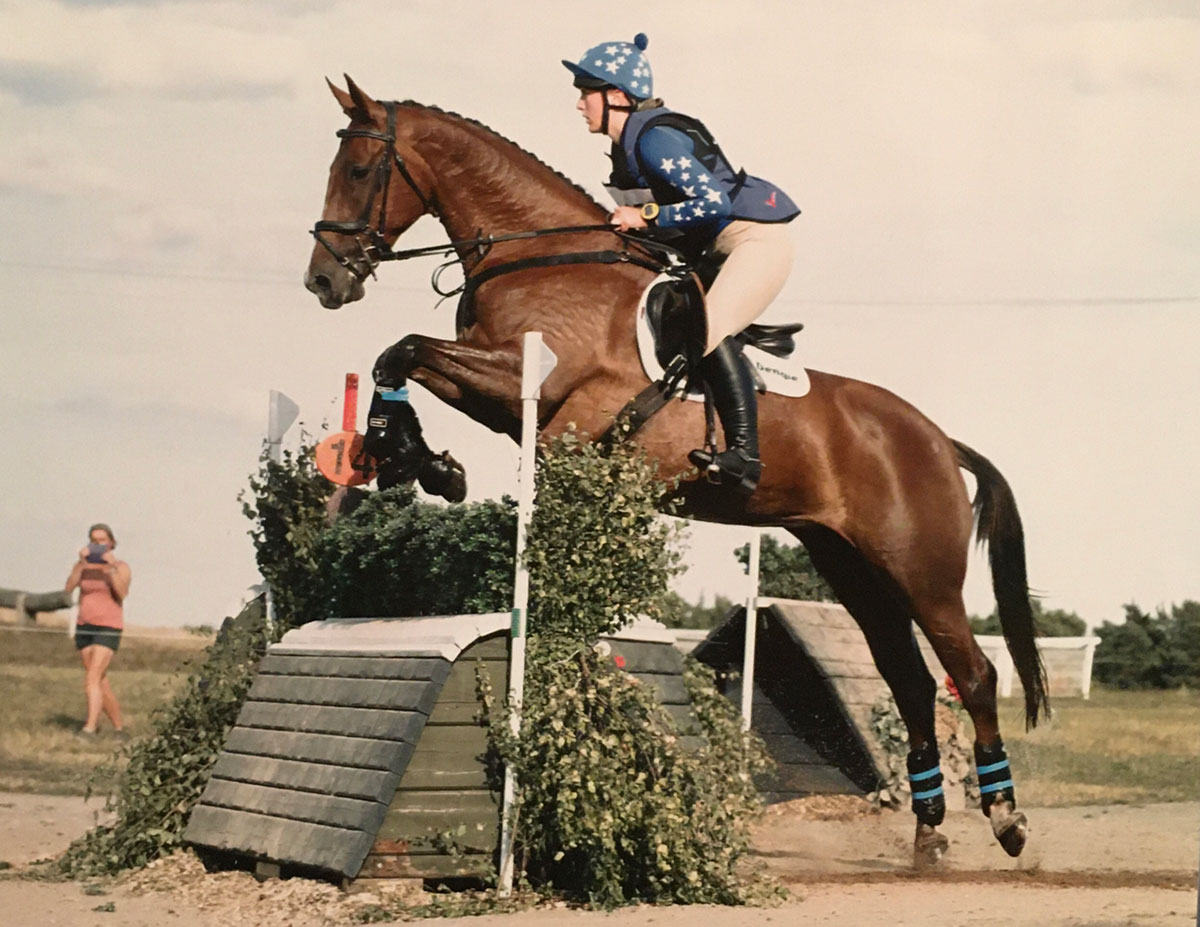 Our last update, comes from the BS area 46 championships at Felbridge Showground, where to my amazement we pulled off another win in the British Novice in a large field.
All of Cici wonderful achievements were topped off by the amazing news that I had been fortunate enough to win an online competition with local company Xtreme Equestrian, who are a family run business based in Coolham. The products I received were an excellent fit and super quality… I will definitely be buying from them soon. How lucky am I!
In my previous blog from March, my preparations for the start of the event season were going well and I was looking forward to my first event…then Coronavirus happened and everything stopped! It was hard to know what to do with the ponies as they were all fit and ready to go, but we had no idea when things would start back up again. We decided to keep them in work, but only hacking and a bit of dressage schooling and pole work 3-4 times a week, rather than 5 or 6 days a week. We thought that turning fit ponies out into the fields may cause more problems than if we just kept them ticking over with enough work to keep them busy without getting bored. Lockdown was particularly bad timing for us as Felix was about to go to his new home and we had just advertised Chico for sale, so both had to be put on hold.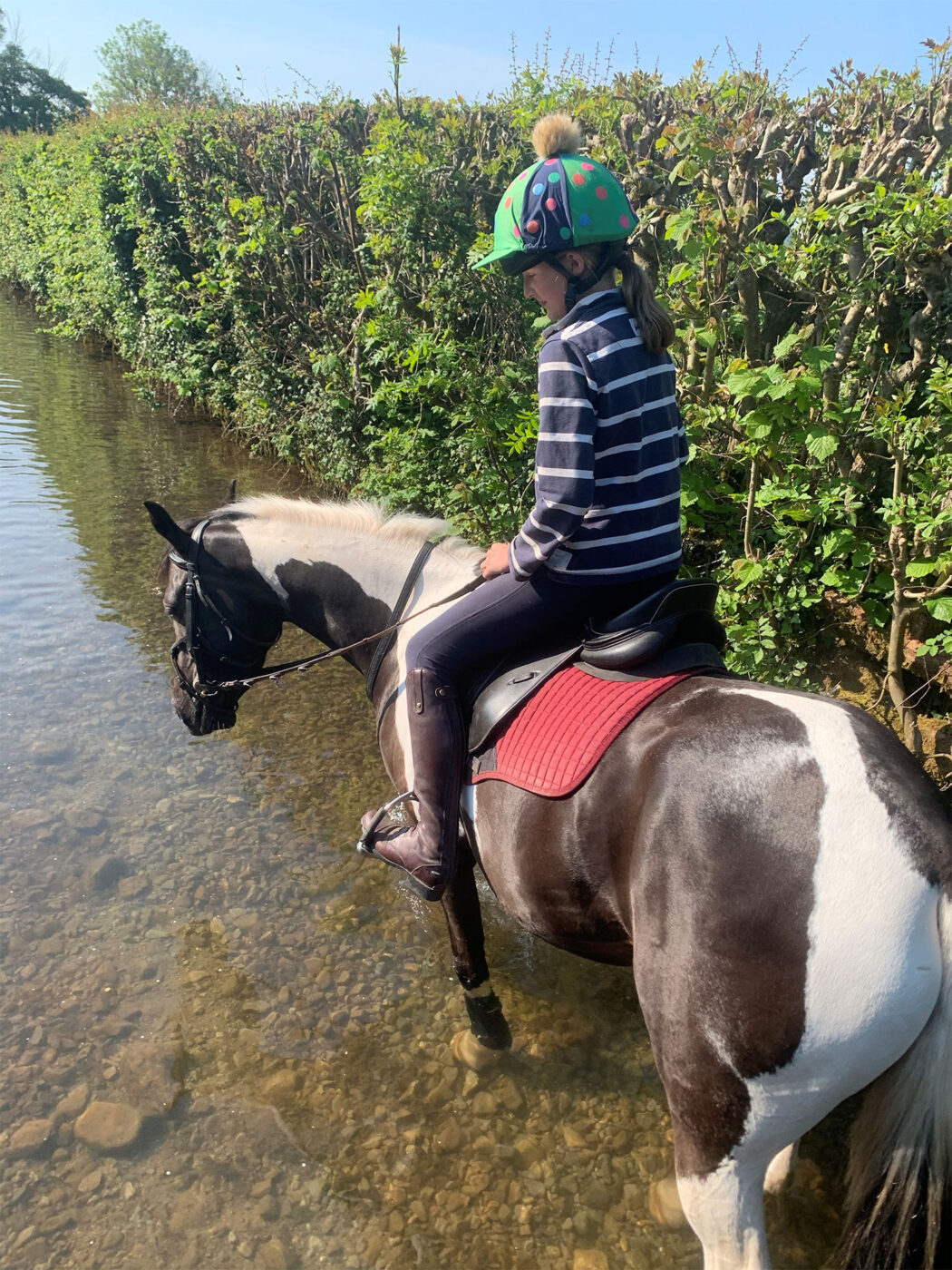 I won't bore you with the details of what I got up to during lockdown, basically I rode the ponies in the morning, did my schoolwork in the afternoons and a bit of baking in-between (millionaire's shortbread is my speciality!). Having the ponies to do meant I didn't get bored at all and there were always jobs to do such as cleaning out the horse box, tidying the tack room and having a sort out of rugs etc, but I was very happy when restrictions were eased and things started to happen again. Felix went off to his new home as soon as it was okay to move him and I am pleased to say that he is very happy and settled. I have been able to go and see him a few times already, as he isn't very far away. Chico has also gone to a new home where he will be produced as a dressage pony. He is also very settled and happy and enjoying his dressage!
It was great when PC rallies started again and we were allowed to start having lessons. I hadn't been XC with Bracken on grass before so I was very excited to be able take her XC schooling and also go to a BEU18 training session and a BE Pony Training session where she was awesome! The first time I took Smartie XC schooling this year he felt like he had grown up a lot over the winter months and felt so much stronger and more confident in himself and more than ready to do his first event.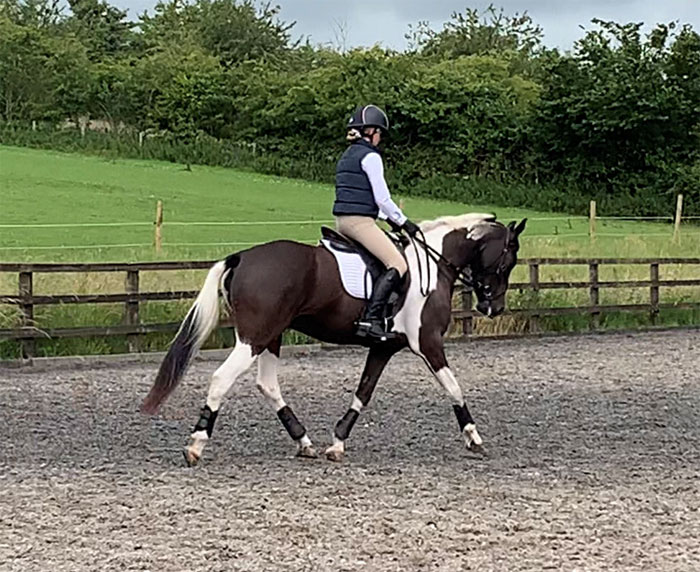 Unfortunately we got balloted from the first few events that we entered, but both ponies got accepted at Launceston; Smartie in the BE80 and Bracken in the BEU18 90 section. It was a very early start and quite a long journey, but I was so excited to finally be back out eventing again! It was my first event with Bracken and I was pretty nervous, but she was amazing! She did a nice dressage test for 30 penalties, then pinged round the showjumping clear and flew round the XC course with just an unfortunate 20 penalties for a stop at the top of the step. I think it was probably a bit of lack of experience from both of us and I now know that with steps she prefers to approach them a bit steadier to have time to see what she is jumping down onto.
Smartie was very excited to be at a competition, he thought he was at a 'pony party' and could hardly contain himself!! He did a very excitable dressage test for 35 penalties, had the last fence down in the showjumping, but flew round the XC clear and inside the time. He was so pleased with himself and so was I!! The next day though he was really tired and spent most of the day sleeping in his stable!
My next event was Dauntsey BE90 with just Bracken this time. It was another very early start with my alarm set for 3.30am!! My aim was to do a sub-30 dressage and a double clear and I'm pleased to say that we achieved this with the added bonus of being placed 7th!! Bracken did a lovely calm dressage test for 29.3 followed by clear show jumping and a fantastic ride XC around the biggest course that I have ridden. I was very very happy with her!! Bracken now has a couple of quiet weeks with a dressage competition and some jumping lessons before we go to West Wilts for her next BE competition. Smartie's next event is another BE80 at Moreton before he steps up to 90 level also at West Wilts. It is so good to be back competing again and even though things are a little different due to the Coronavirus restrictions, I would much rather have it that way than no competing at all.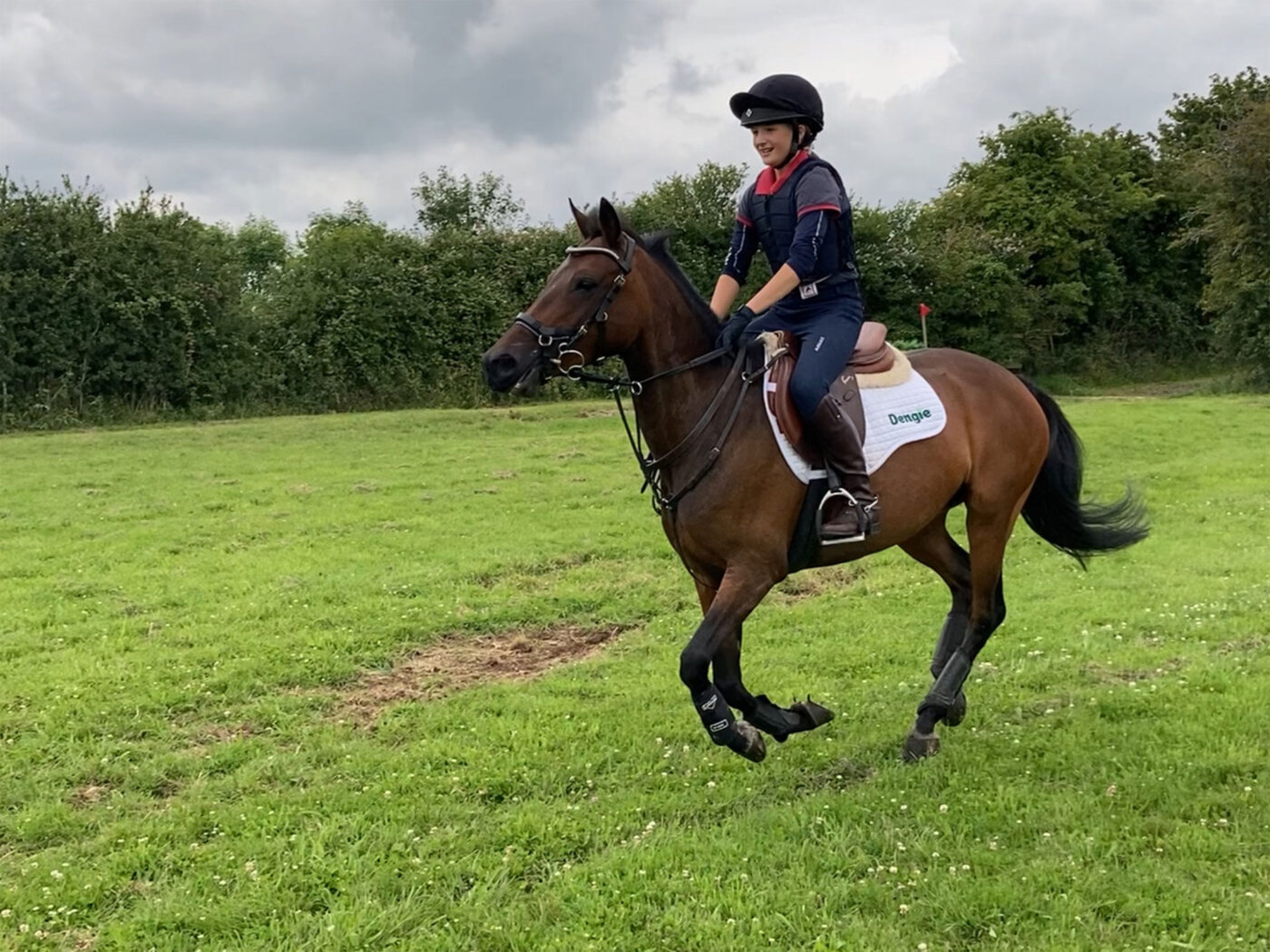 My plan for the rest of the eventing season is to hopefully have some good runs at 90 level with Smartie, and for Bracken to step up to 100 level and get a couple of good runs with her at that level before the end of the season.
During lockdown the ponies were all fed Hi-Fi Molasses Free, as they were only doing light work but now that they are back in full competition work I have increased the energy content of their feed. Bracken is now fed Alfa-A Original with Performance+ Balancer and a small amount of Alfa-Beet to mix it together.
Smartie was also on the Alfa-A Original but he can be a bit fussy, so we switched him onto the Performance Fibre which he absolutely loves. He struggles to maintain his weight and can also be a bit of a worrier, however this diet seems to be providing him with plenty of energy for the work that he is doing, as well as helping him to keep his weight on. Both ponies also get some electrolytes in their feeds as well as apples and carrots.
I have enjoyed having an extended break from school and being able to play with the ponies all day but I am kind of looking forward to starting again in September and getting back to a bit of normality. I think my mum is too!
During lockdown I kept all of my horses in work with lots of hacking, schooling and simple pole and jumping exercises. I also adapted and reduced their feeds accordingly to help prevent any unnecessary weight gain and energy.
Once restrictions started to be eased our first trip out was to a dressage lesson at Becky Moody's with Louis and Lenny. They were both very happy to be back out, especially Louis who had definitely missed his trips out. Our first show jumping lessons were with Chris Bartle at Yorkshire Riding Centre, the horses all went amazingly well in their lessons, a little surprising to say as we hadn't been anywhere jumping yet. At this point with their workloads increasing I re-introduced Alfa-Beet back into their diets and slightly increased the quantities of Alfa-A Oil and Performance+ Balancer.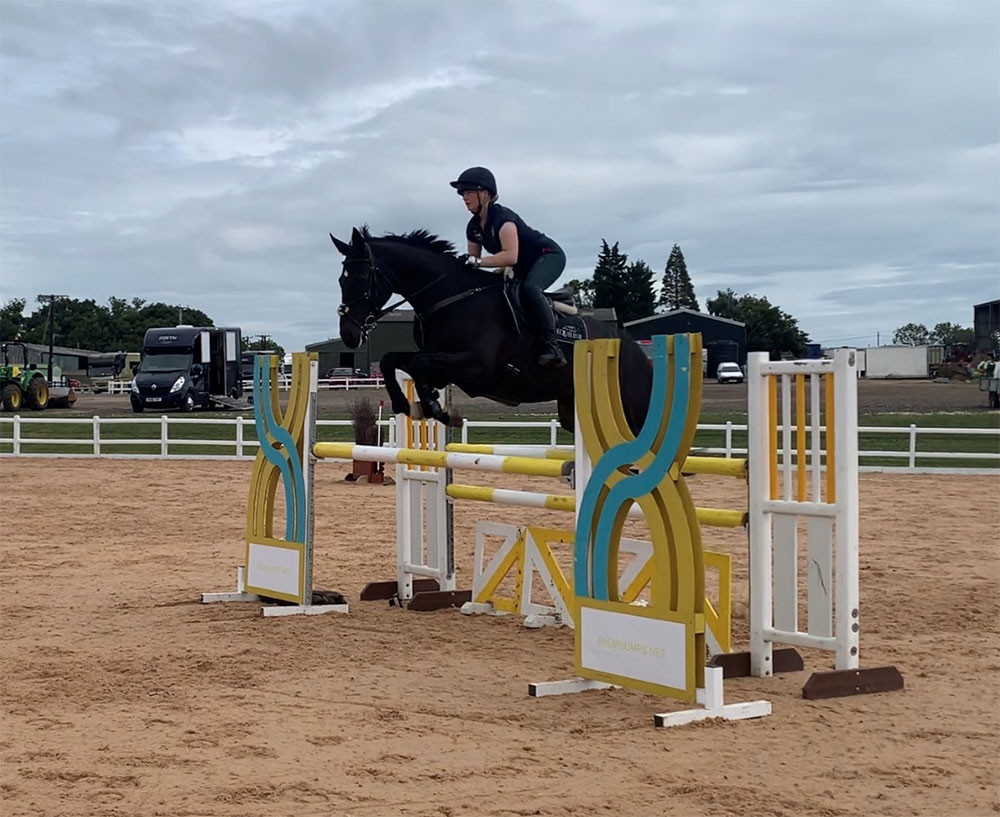 In the middle of June we had a yard visit from Faith at Equine Physio Services, where all the horses had treatment to ensure that they were feeling at their best for the start of the season.
We then continued their training with a jumping lesson with Caroline Moore at Vale View. Lenny and Louis were working at 2*/ Intermediate level and Speedy at 90/100 level. At the end of June I took all three of the boys for fitness training to Sun Hill Gallops and the water treadmill at Bedale. Although at home we have excellent hacking, I started using the water treadmill last year and found a beneficial impact to their fitness levels and stamina for when working towards the higher levels. At the start of July we all went cross country schooling to Somerford Park, it was really good to have them schooling on grass ready for the eventing season to kick off.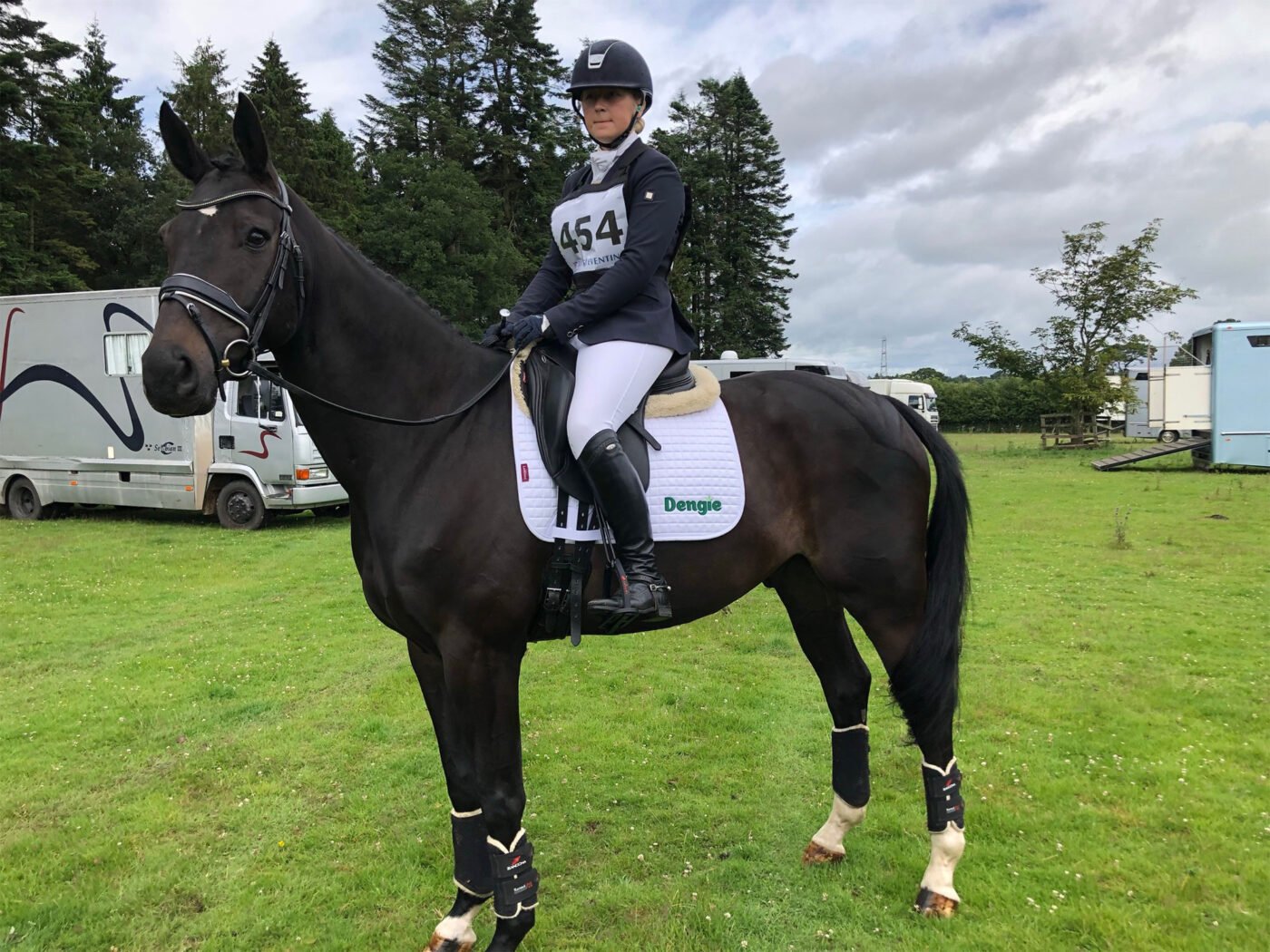 Our first event of the season was at Aske Hall Horse Trials with Speedy in the BE90, where he finished 4th with a 26 dressage followed by a double clear! Not bad for his first event back.
Louis and Lenny's first event was at Warwick Hall Horse Trials where they were both in the Novice. Louis took the win in his section finishing on his dressage score of 24.8! Lenny finished 5th in his section with a 27.8 dressage, a pole down show jumping, but a super clear cross country. Not bad for their first event back either!
The following weekend we went to our local event at Frickley Park Horse Trials where all three boys jumped super double clears. I was very pleased with them all. Louis finished 2nd in his novice section, while Speedy and Lenny just missed out on a top 10 placing, however they all preformed amazingly especially when we were competing against all the pros!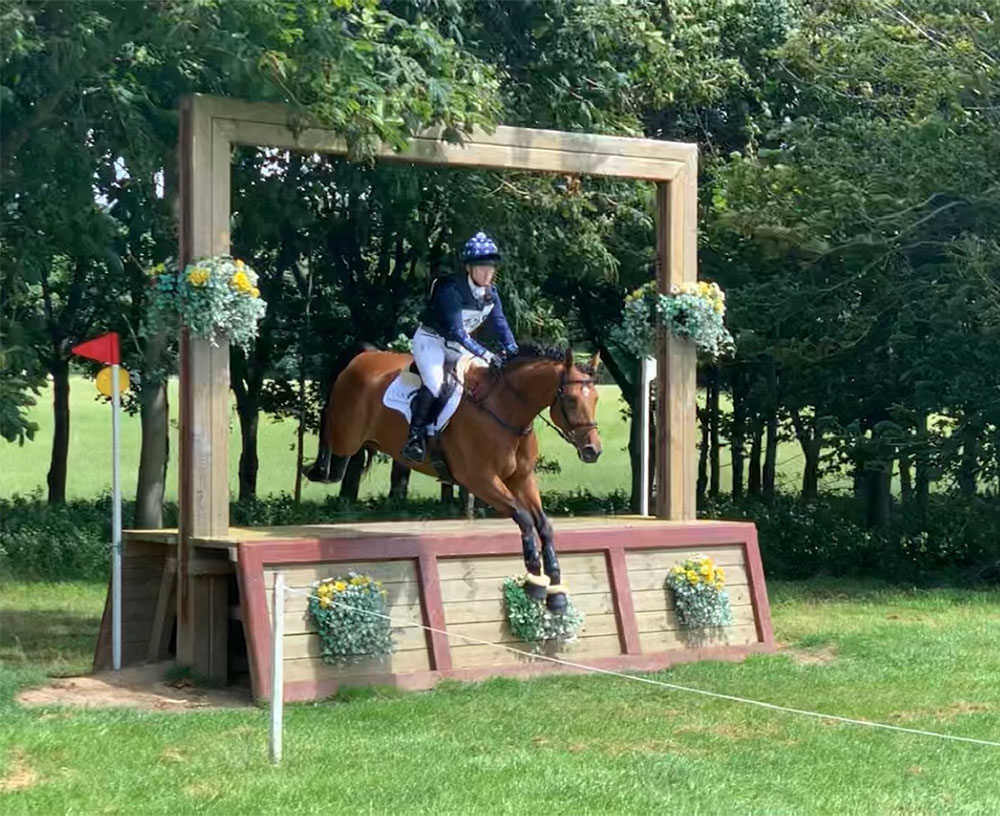 Speedy then had a run at Chomondeley Castle Horse Trials in the BE90 where he finished 3rd, another great confidence run for him. We then had another busy weekend at Norton Disney Horse Trials with both boys in the Novice. Louis finished 2nd again in his section, while Lenny was a bit spooky having two hiccups on the cross county, but I guess it is all part of the sport which has highs and lows. The next day we went to Skipton Horse Trials where Speedy had his first win in the BE90 which I was very pleased about, soon he will be ready to set up to BE100.
I have also started coaching at home again and at my local Pony Club branch alongside training and competing which I thoroughly enjoy. We will next be heading to Burgham International Horse Trials where Lenny and Louis with be competing in the 2* with the aim to step up to Intermediate if everything goes to plan.
My gorgeous ginger boy Lordy is super happy in Germany with Warwick McLean and has the best temperament I could have wished for. He has 3 super paces, although we still aren't the best at steering in canter!! His trainability and attitude to work is fabulous and he tries so hard even when he is unsure. The yard and grooms here in Willich are so lovely and Lordy has received the best treatment from them, making him have a very happy and kind natured horse, which we are delighted with. I can't wait to continue building a partnership with him alongside Warwick who has done such a wonderful job in breaking him in. Warwick has ensured all the basics are secure and correct as a 3 year old, this is so important for the future when we begin building Lordy's movement and strength when he gets older and bigger.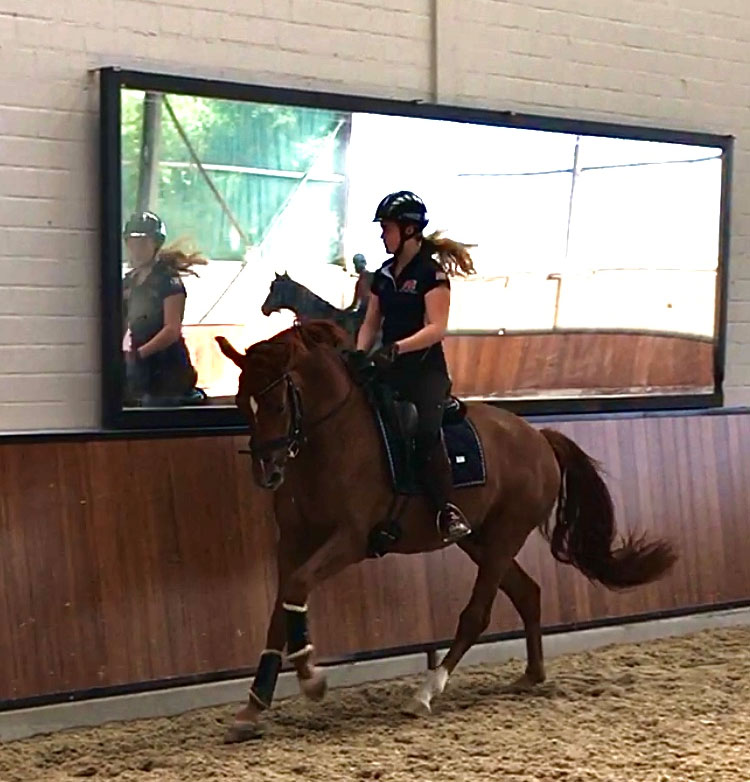 Today we went for a little hack around the paddocks and Lordy absolutely loved it. He is very curious of the world, yet it is like he has an old man's head on a young body as his nature is so honest and sensible. He is also very intelligent and you can see him thinking about what he wants you to do. We went to visit Walther and Katrin Schülter-Boëcker, his wonderful breeders and we also visited Lordy's younger brother (by the stallion Vitalis) who is simply beautiful as well as his older sister who we met this time last year. She has grown lots, which just shows how much developing Lordy still has to do as a baby and as he grows muscle. All of Lordy's brothers and sisters are big broad chestnuts which must be traits in this breedline and being broad is something I love in Lordy for his shoulder movement development as he grows.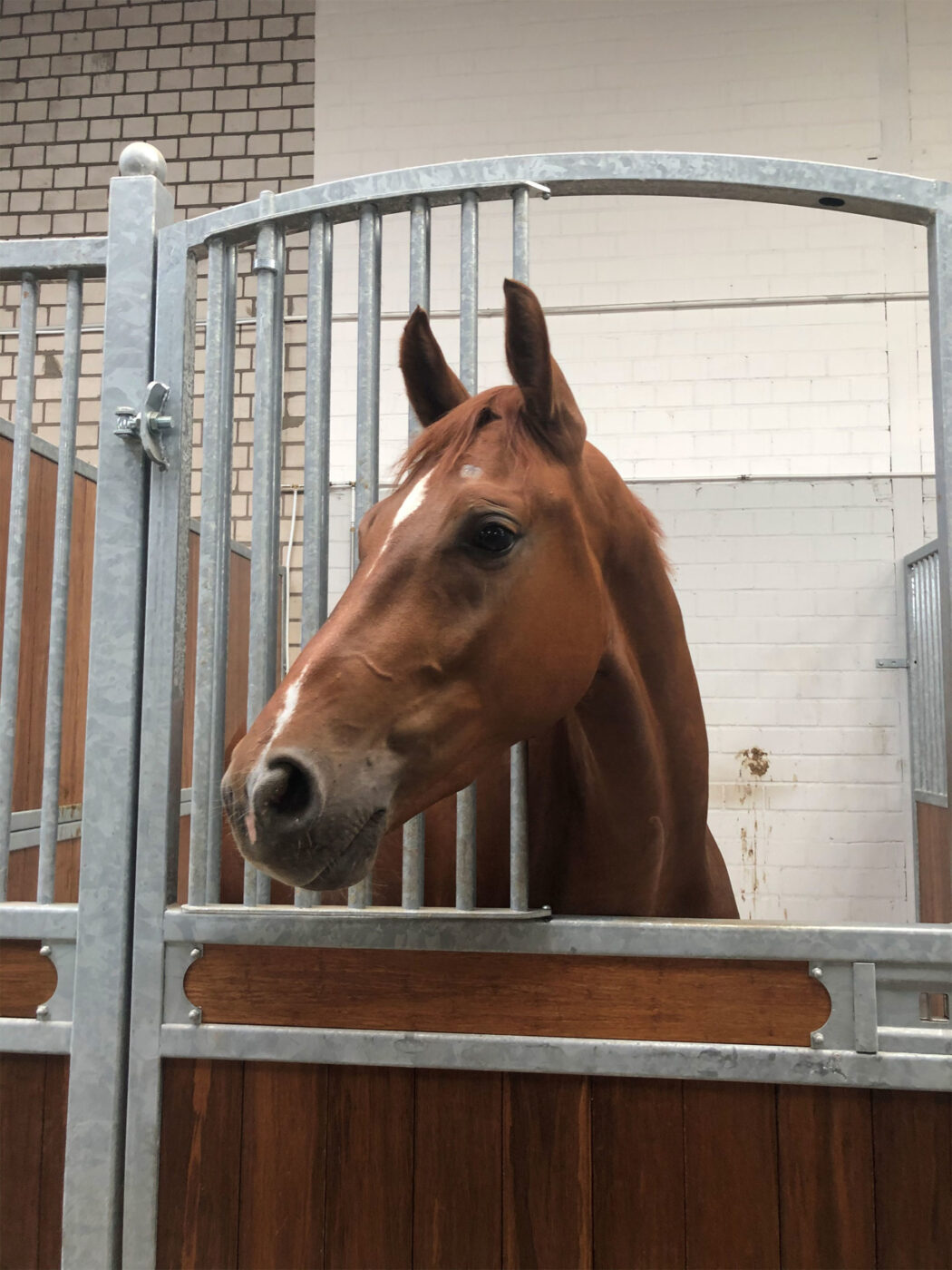 This afternoon I was lucky enough to be able to watch Morten Thompson, Danish Olympic rider and trainer, training some top horses which was very interesting. I was able to learn a lot from his teaching, especially with his specialism with the piaffe and passage movements in Grand Prix. I will ride Lordy one final time before returning to England and spend the rest of the day watching Morten training again. Soon Lordy will be home and he will have a few weeks off to continue growing and developing. We have been advised it is important for him to have some time off after backing to relax and to continue to grow, as it is a lot for their young brains to take in. I am so excited to continue our journey together, slowly bringing him on as a youngster and taking him to lots of new places to continue his education.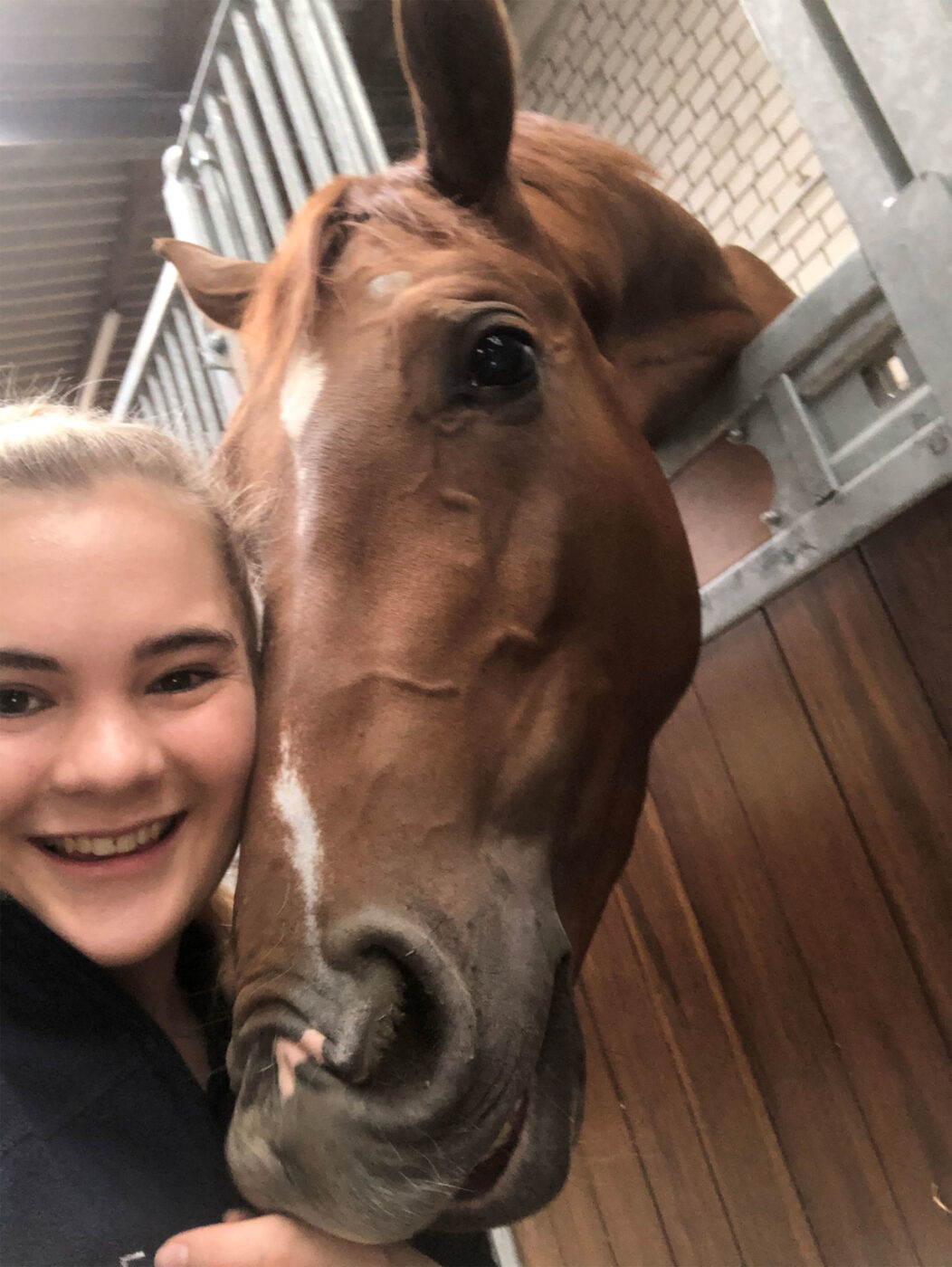 Phew! What an extra-ordinary experience Lockdown has been. As I shared in my last blog it has given us time to catch up on lots of jobs around the yard. We've had time to work on the horses without the pressure of being away at shows in between times, and with the exception of those expected outings and some canter work our training has continued at home with eager anticipation of return to competition.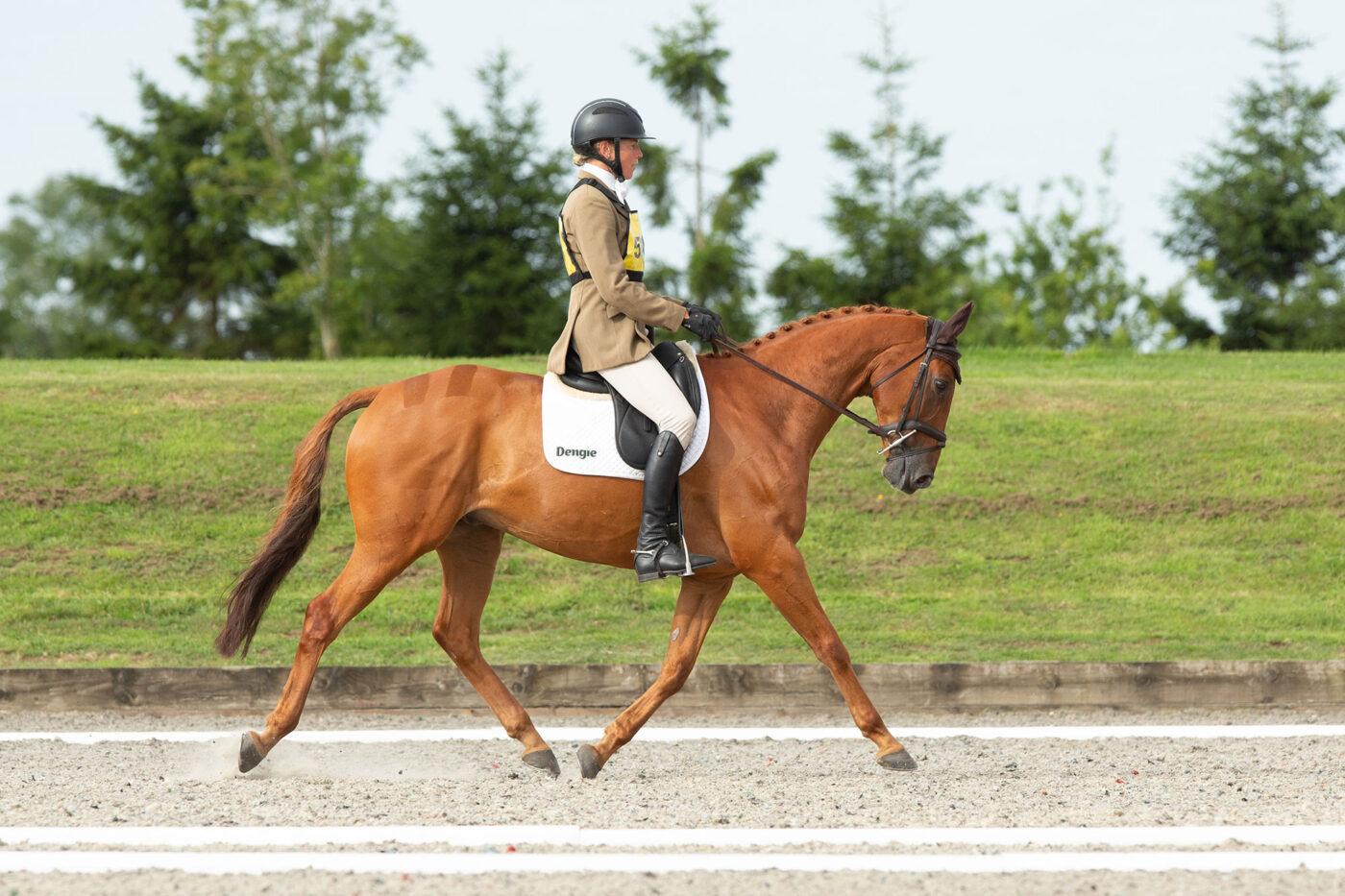 Last weekend marked the first BE event of the season for Sober Up and the second for Vision d'auteuil and Justdunnit.  All 3 did very respectable tests, a couple of rails in the jumping kept them off the leaderboard, but fabulous XC rounds helped me remember why we do this crazy sport! Such a buzz!
The horses are lucky enough to be on very consistent high-fibre diets thanks to Dengie, so importantly we have had to make little or no alterations to their feed program through the ups and downs of 2020. Dengie Alfa-A Original and Performance+ Balancer have provided everything they need to return to competition looking a million dollars and I can't wait for our next busy weekend at Dauntsey on the 1st August.
This last month has been filled with lots of hard work and fun. CiCi's flatwork has improved greatly and we have even managed to have a few journeys to other facilities for lessons when restrictions were eased.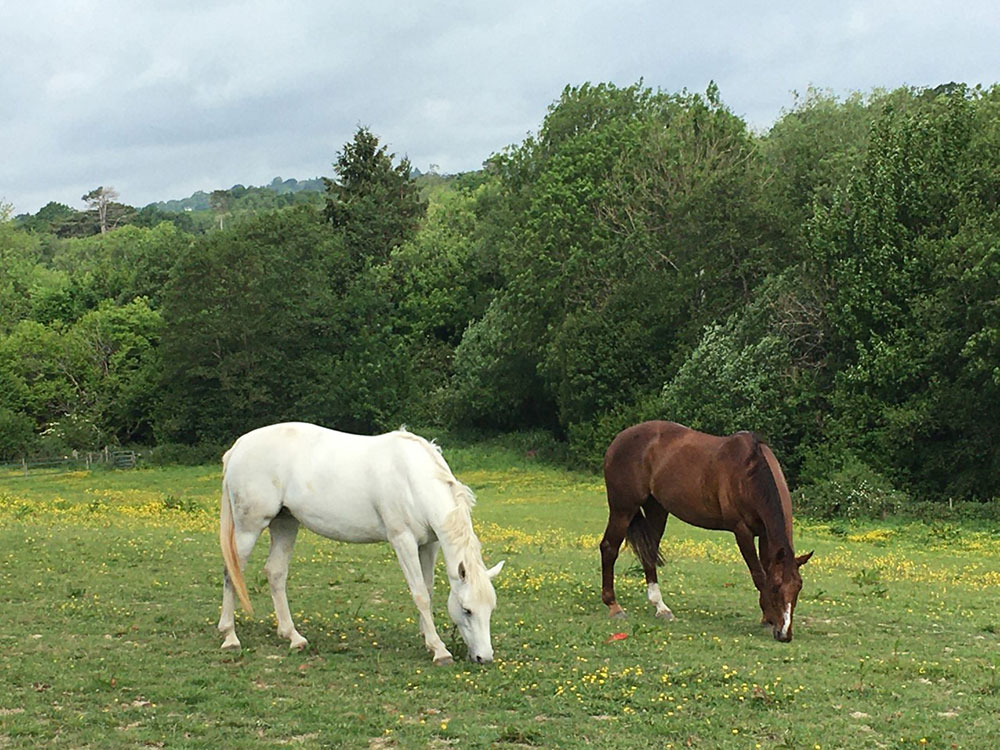 In our flatwork lessons, CiCi and I have greatly improved and her canter has developed a lot. She has begun to sit more and her canter has therefore become more uphill.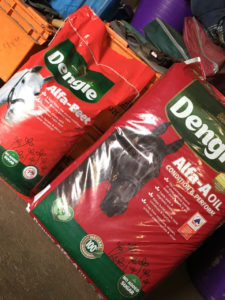 We've spent quite a considerable amount of time during lockdown doing small accuracy and gymnastic jumping exercises. We did these to help CiCi become quicker off the floor and to focus on straightness. We tried jumping across jumps to make sure she locks on to the next fence in preparation for Eventing. We went on a little trip to Kings Hill Equestrian and had a jump round their lovely course. CiCi was very excited to be jumping properly again and was flying. CiCi's energy levels have been perfect thanks to Dengie Performance+ Balancer which CiCi loves she thinks it is highly palatable. After that we went on our first cross country outing since February. We went to Hickstead and hired out their all weather arena which was great. The weather was quite hot and CiCi really enjoyed splash around in the water. She flew all the jumps and clearly had lots of fun! Before loading her up on the lorry she had some Dengie Alfa A Oil and Dengie Alfa-Beet, this is because she isn't very good at drinking and Dengie Alfa-Beet is amazing for getting fluid into horses as it is delicious and encourages them to take in some water therefore maintaining hydration levels.
My highlight of this month has been coming 2nd individually and a team win in a Pony Club Online Dressage Competition. We achieved 70.83% and our team won by a considerable amount due to the fact my other team mates also came 1st and 2nd in their respective sections.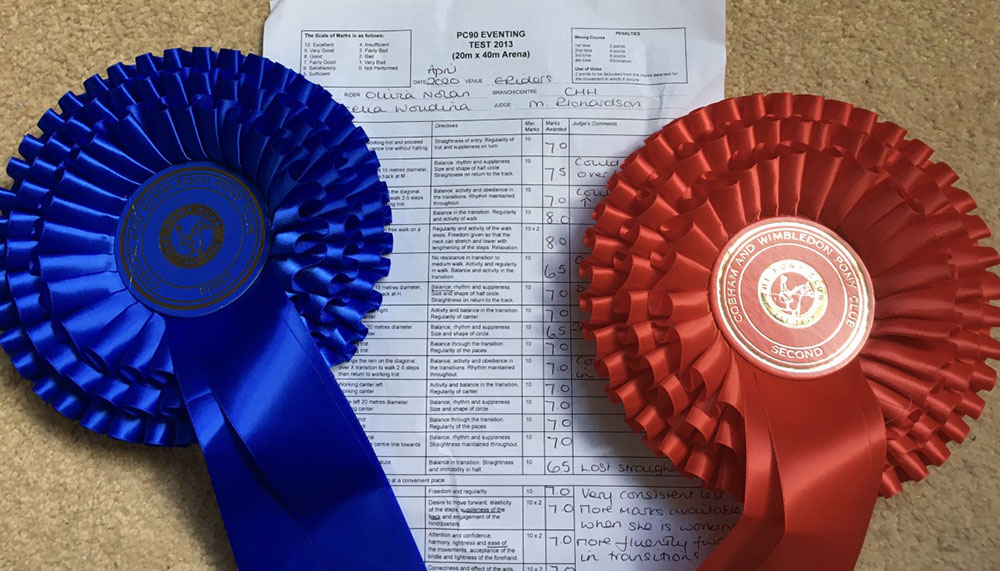 Well, lockdown has been something of an experience for each and every one of us. Something no one could have expected or prepared for. My existing levels of admiration for the NHS, and frontline workers has been sent into over drive. Their courage and resilience an inspiration to us all. My reliance on communication with my family and the Eventing family has been modernised into the zoom world, and I'm relieved I'm not sitting anything more challenging than 2-3 year-old classes in home schooling.
From a work perspective we have had to adapt fast with pre-trainers understandably returning to their trainers almost instantly and not being replaced, leaving several empty boxes. We were lucky enough to have an owner needing our retraining services and four new TBs fresh from racing arrived at the beginning of lockdown to seek their fortunes away from the track. This is one of my favourite challenges and as you can see from the pictures it's a hugely rewarding experience.
This fellow is 8-year-old Chesterman who with a month of lungeing, long reining, hacking, flat work, pole work and jumping has progressed rapidly. He is now ready to jump into water and over some logs, ditches and banks and as soon as we're given the go ahead will now be for sale to pursue his new career.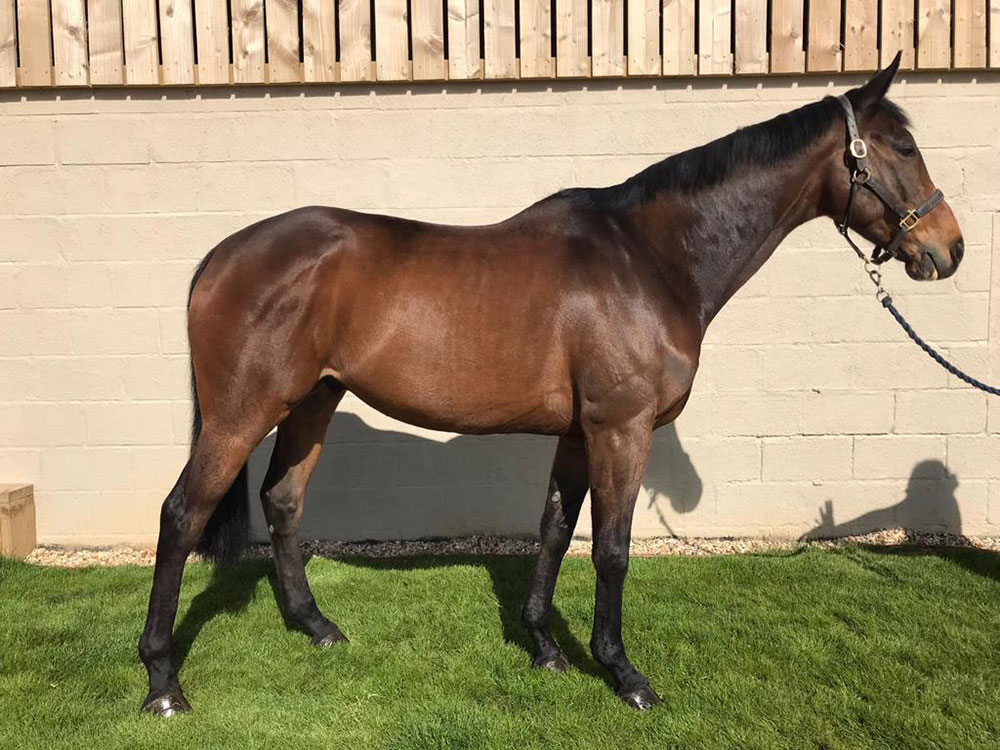 As with all our horses during lockdown a simple high fibre diet of Dengie Alfa-A Original, Performance+ Balancer, haylage and turnout suited him down to the ground. His coat, muscle tone and condition score have all benefited hugely.
With our eventers we chose to give two of the novices a 6 week holiday as they'd been in fairly heavy work and with no competing on the horizon we felt they were ready for a break. They continued to have a handful of balancer each, twice a day for essential vits and mins. They'll return to work on Monday and we'll start to introduce some Alfa-A Original back into to their diet.
The other eventers continued in "January" levels of work. We've been doing variety of lunging, hacking, flat work and pole work 4-5 days a week with plenty of turnout.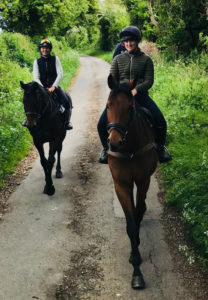 At the start of lockdown I felt a little lost without the structure of the usual hectic competition schedule to adhere to. Most eventers will know what I mean when we refer to 'Aston and Chatsworth week' but none of us would have a clue which date of which month that was in! As time has gone on I've really got into the swing of it. We were lucky enough to be in our snazzy new facilities here at BQES so there have been masses of jobs that we needed an enforced rest to have time to complete…grass seeding, jump painting, mat washing, board re writing, cupboard labelling etc. We have had time to move house onto the yard which is a huge advantage for security, safety and our sanity! It's a breathtakingly beautiful place to be and we as a family are LOVING it here. We have had time to just enjoy riding our lovely horses, improving their way of going, learning new movements and strengthening up. It sounds crazy given that it is my job, but more time to do it in has given me a new perspective.
All in all we have endeavoured to use the negative that is the horrors of a global pandemic as an enforced wake up call, a "reset" to appreciate the positives in our lives. One can't begin to comprehend what the front line has been through, or how differently we may feel if we didn't live in the country that we do. That said, the time to enjoy our surroundings, our precious animals, our loyal and hardworking teams of "lads" helping with our horses hasn't been lost on us. We are so incredibly fortunate in so many ways, I can see that now more clearly than ever.
As we look forward to the chance of returning to cross country, jumping and dressage shows and going to Eventing again, we'll be increasing the canter work, their diets will remain largely unchanged and I hope we can remember and retain the lessons we've learnt during "the extraordinary season of 2020". I'll sign off wishing everyone lots of luck during "re-entry" and just remember we are all well practiced and being resourceful, resilient and optimistic. If we weren't we wouldn't be involved with horses. So as fresh challenges emerge in the coming months use those characteristics to your best advantage and enjoy every moment with your families and horses reunited!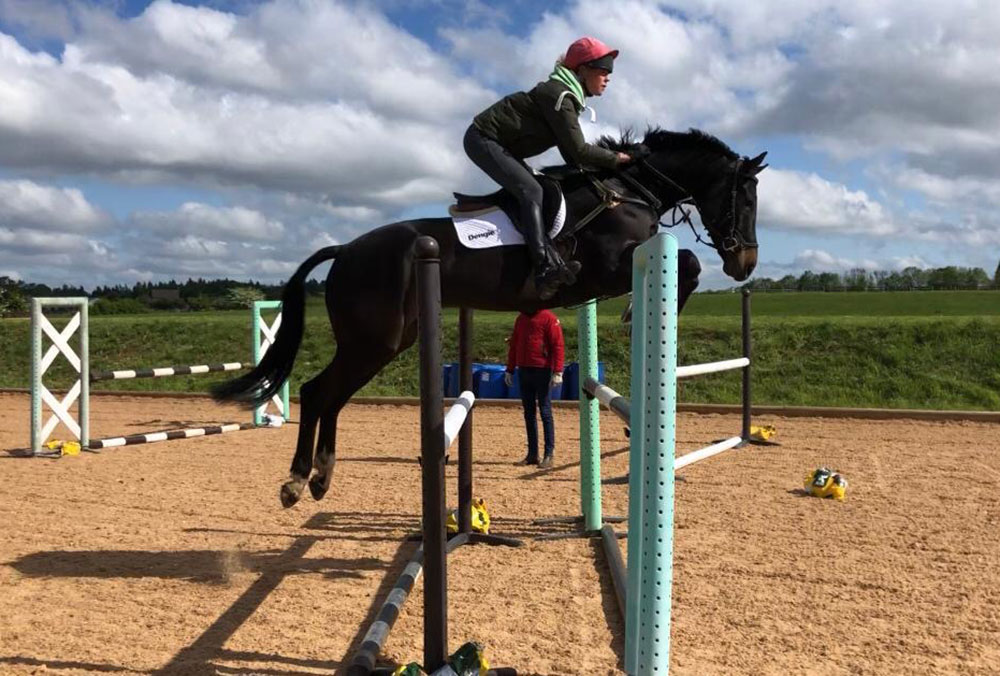 The virus has made us all aware of things we take for granted.  I have so missed teaching my clients and watching their progress and the worry of my family staying healthy, but on the positive side, the weather has been lovely and I have had time to do things I cannot normally do without the stress of time.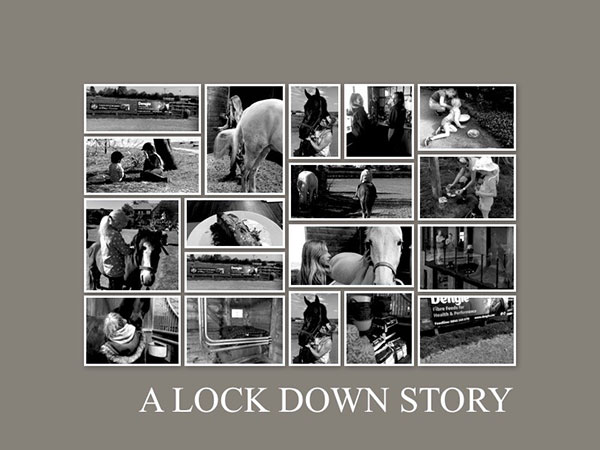 We have been home schooling – a bonus with Molly's home economics is that we have had some lovely meals. At Easter we had a treasure hunt in the field with Delilah..and taught her how to ride her bike.
I've been spring cleaning the yard! The feed room has had a make over, I just need to power wash the feed buckets, which is on today's list. Sorting out all those rugs – ugh.  The staff room we had just done before the lock down, so Amy and Emily can now chat and clean tack in a sparkling staff room.
Outside we have spring cleaned our signs and lorry…the field has been fed, so the horse's extra time in the field is not taking its toll.
I have been showing the girls the art of plaiting and polishing ponies…Molly is already better than me! What I have really enjoyed is I have been able to bath and polish my horses. Iggy is such a joy, he is very cuddly and grateful of your time.  AND I have managed to fetch AJ back from his turn away rest.  He looks wonderful, I can't wait to really start work on him, again I am lucky with his temperament, he is so kind and soft.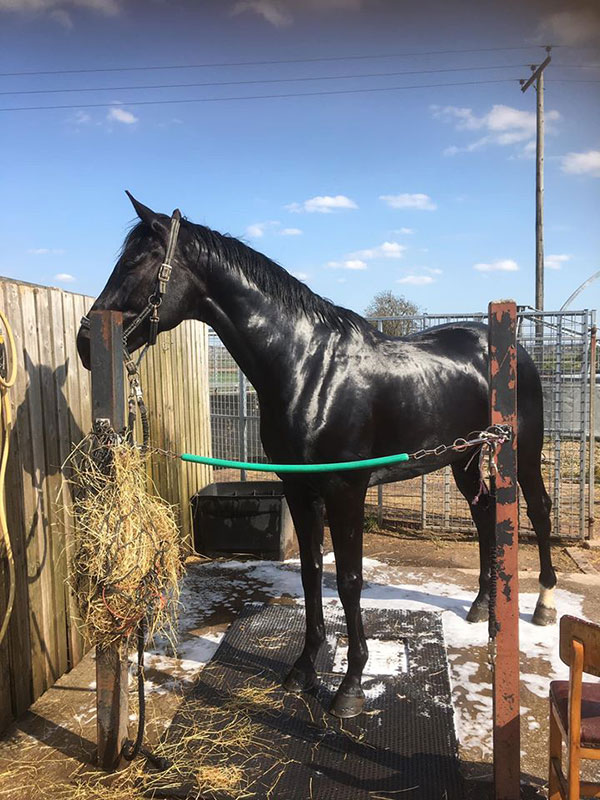 The Pony club did a competition recently of 'Guess Who' from childhood photos of their coaches…here was mine it was great fun!
The exciting news is we have picked a stallion for Flora (Libby's mum) so that is a lovely thing to look forward too.
I hope everyone can stay safe, and that we can all return soon to what we love to do…take care!