This last month has been filled with lots of hard work and fun. CiCi's flatwork has improved greatly and we have even managed to have a few journeys to other facilities for lessons when restrictions were eased.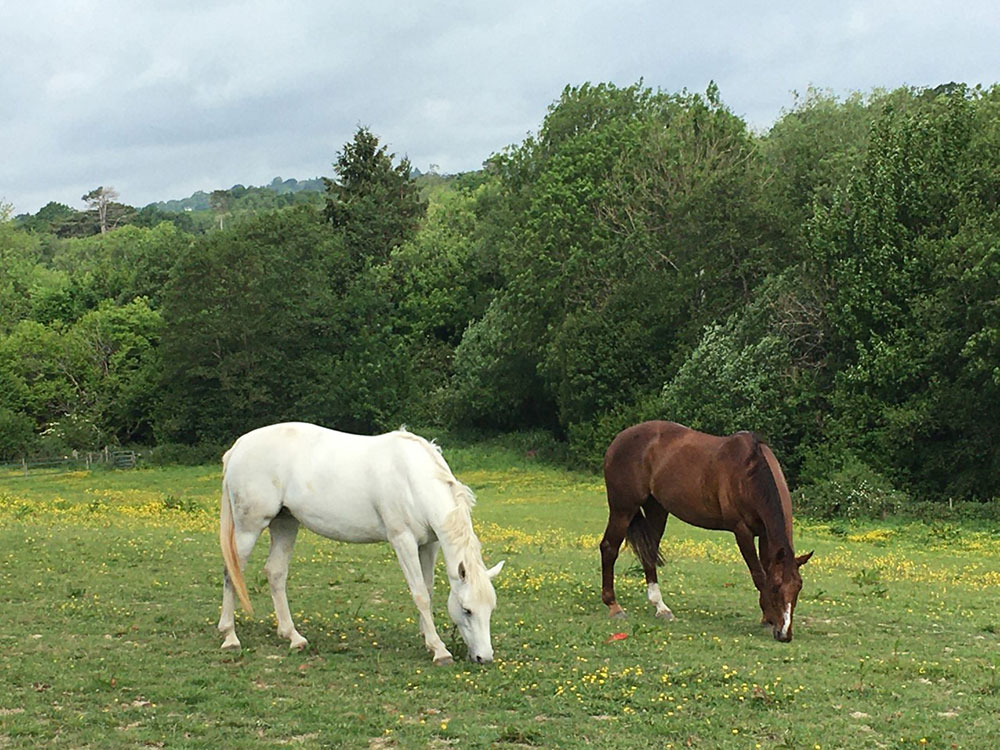 In our flatwork lessons, CiCi and I have greatly improved and her canter has developed a lot. She has begun to sit more and her canter has therefore become more uphill.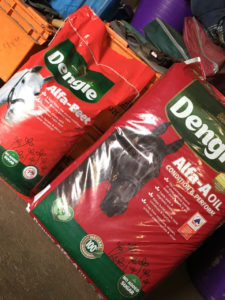 We've spent quite a considerable amount of time during lockdown doing small accuracy and gymnastic jumping exercises. We did these to help CiCi become quicker off the floor and to focus on straightness. We tried jumping across jumps to make sure she locks on to the next fence in preparation for Eventing. We went on a little trip to Kings Hill Equestrian and had a jump round their lovely course. CiCi was very excited to be jumping properly again and was flying. CiCi's energy levels have been perfect thanks to Dengie Performance+ Balancer which CiCi loves she thinks it is highly palatable. After that we went on our first cross country outing since February. We went to Hickstead and hired out their all weather arena which was great. The weather was quite hot and CiCi really enjoyed splash around in the water. She flew all the jumps and clearly had lots of fun! Before loading her up on the lorry she had some Dengie Alfa A Oil and Dengie Alfa-Beet, this is because she isn't very good at drinking and Dengie Alfa-Beet is amazing for getting fluid into horses as it is delicious and encourages them to take in some water therefore maintaining hydration levels.
My highlight of this month has been coming 2nd individually and a team win in a Pony Club Online Dressage Competition. We achieved 70.83% and our team won by a considerable amount due to the fact my other team mates also came 1st and 2nd in their respective sections.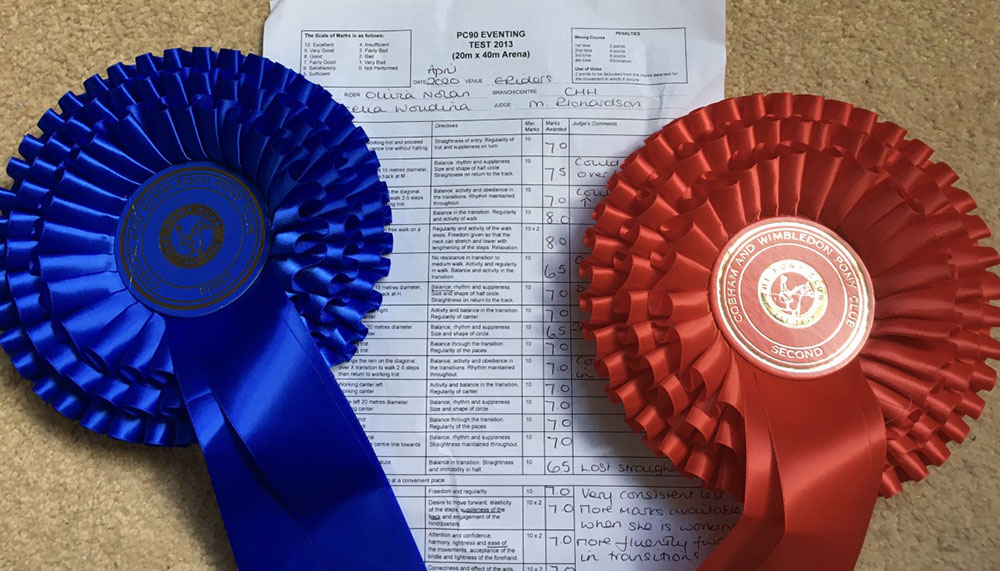 Well, lockdown has been something of an experience for each and every one of us. Something no one could have expected or prepared for. My existing levels of admiration for the NHS, and frontline workers has been sent into over drive. Their courage and resilience an inspiration to us all. My reliance on communication with my family and the Eventing family has been modernised into the zoom world, and I'm relieved I'm not sitting anything more challenging than 2-3 year-old classes in home schooling.
From a work perspective we have had to adapt fast with pre-trainers understandably returning to their trainers almost instantly and not being replaced, leaving several empty boxes. We were lucky enough to have an owner needing our retraining services and four new TBs fresh from racing arrived at the beginning of lockdown to seek their fortunes away from the track. This is one of my favourite challenges and as you can see from the pictures it's a hugely rewarding experience.
This fellow is 8-year-old Chesterman who with a month of lungeing, long reining, hacking, flat work, pole work and jumping has progressed rapidly. He is now ready to jump into water and over some logs, ditches and banks and as soon as we're given the go ahead will now be for sale to pursue his new career.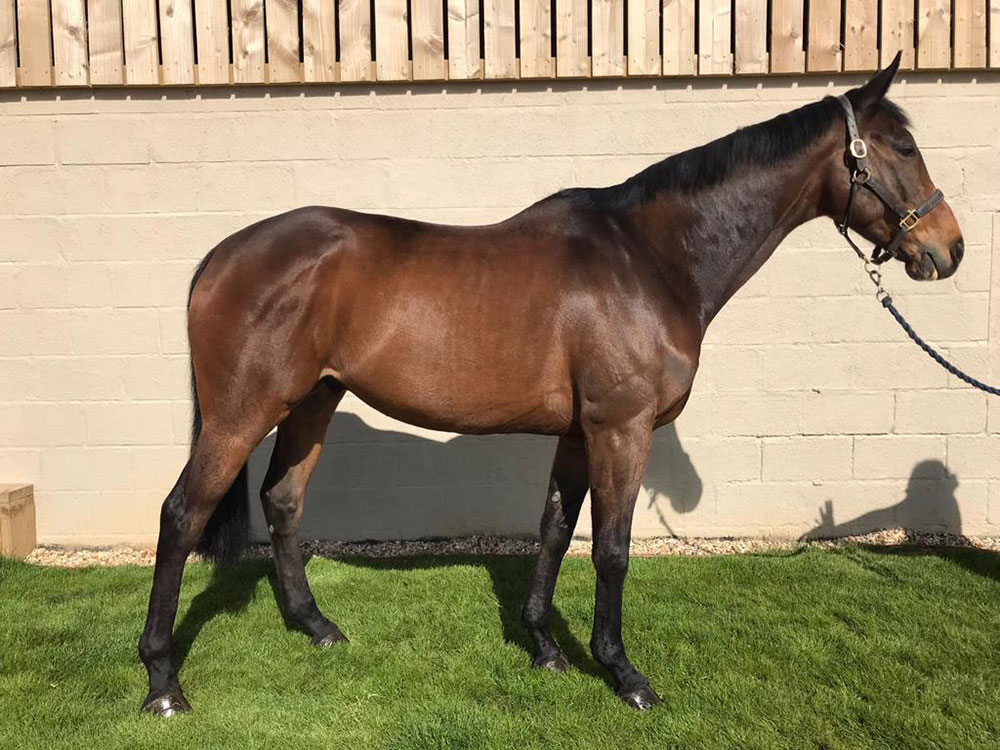 As with all our horses during lockdown a simple high fibre diet of Dengie Alfa-A Original, Performance+ Balancer, haylage and turnout suited him down to the ground. His coat, muscle tone and condition score have all benefited hugely.
With our eventers we chose to give two of the novices a 6 week holiday as they'd been in fairly heavy work and with no competing on the horizon we felt they were ready for a break. They continued to have a handful of balancer each, twice a day for essential vits and mins. They'll return to work on Monday and we'll start to introduce some Alfa-A Original back into to their diet.
The other eventers continued in "January" levels of work. We've been doing variety of lunging, hacking, flat work and pole work 4-5 days a week with plenty of turnout.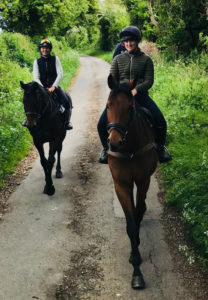 At the start of lockdown I felt a little lost without the structure of the usual hectic competition schedule to adhere to. Most eventers will know what I mean when we refer to 'Aston and Chatsworth week' but none of us would have a clue which date of which month that was in! As time has gone on I've really got into the swing of it. We were lucky enough to be in our snazzy new facilities here at BQES so there have been masses of jobs that we needed an enforced rest to have time to complete…grass seeding, jump painting, mat washing, board re writing, cupboard labelling etc. We have had time to move house onto the yard which is a huge advantage for security, safety and our sanity! It's a breathtakingly beautiful place to be and we as a family are LOVING it here. We have had time to just enjoy riding our lovely horses, improving their way of going, learning new movements and strengthening up. It sounds crazy given that it is my job, but more time to do it in has given me a new perspective.
All in all we have endeavoured to use the negative that is the horrors of a global pandemic as an enforced wake up call, a "reset" to appreciate the positives in our lives. One can't begin to comprehend what the front line has been through, or how differently we may feel if we didn't live in the country that we do. That said, the time to enjoy our surroundings, our precious animals, our loyal and hardworking teams of "lads" helping with our horses hasn't been lost on us. We are so incredibly fortunate in so many ways, I can see that now more clearly than ever.
As we look forward to the chance of returning to cross country, jumping and dressage shows and going to Eventing again, we'll be increasing the canter work, their diets will remain largely unchanged and I hope we can remember and retain the lessons we've learnt during "the extraordinary season of 2020". I'll sign off wishing everyone lots of luck during "re-entry" and just remember we are all well practiced and being resourceful, resilient and optimistic. If we weren't we wouldn't be involved with horses. So as fresh challenges emerge in the coming months use those characteristics to your best advantage and enjoy every moment with your families and horses reunited!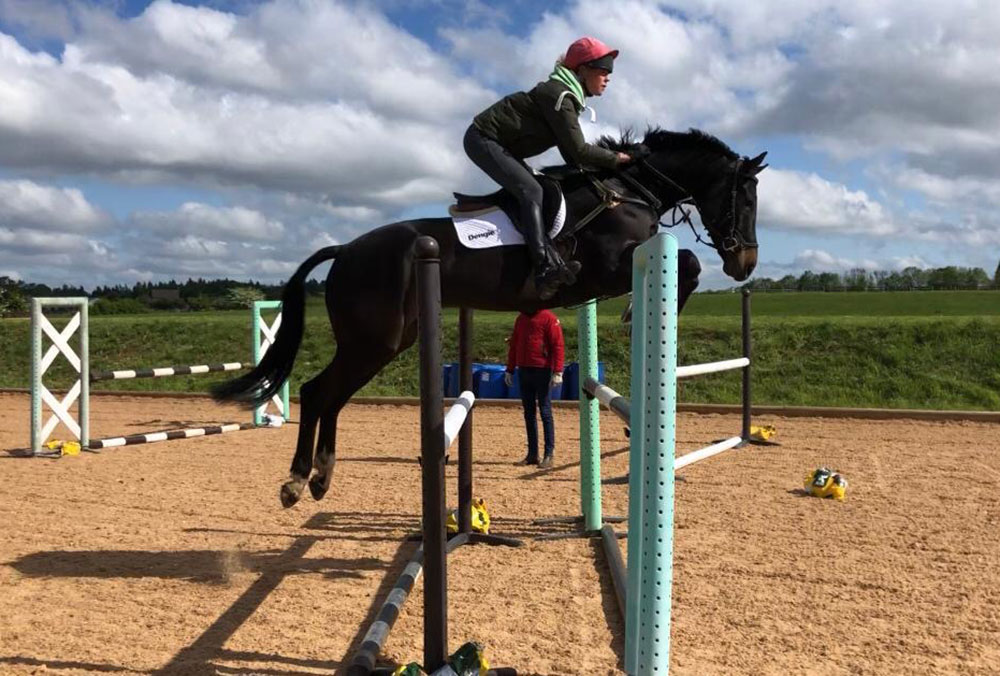 The virus has made us all aware of things we take for granted.  I have so missed teaching my clients and watching their progress and the worry of my family staying healthy, but on the positive side, the weather has been lovely and I have had time to do things I cannot normally do without the stress of time.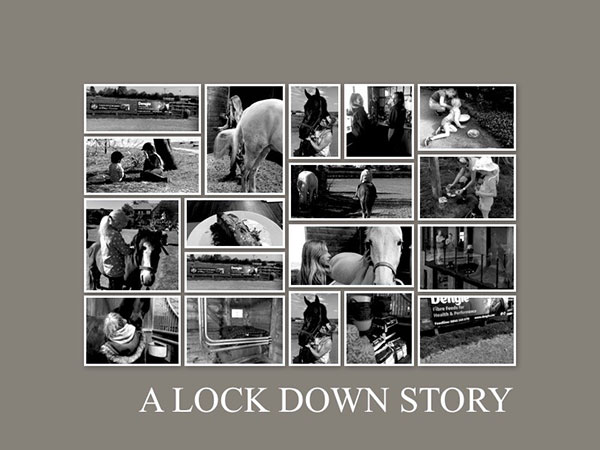 We have been home schooling – a bonus with Molly's home economics is that we have had some lovely meals. At Easter we had a treasure hunt in the field with Delilah..and taught her how to ride her bike.
I've been spring cleaning the yard! The feed room has had a make over, I just need to power wash the feed buckets, which is on today's list. Sorting out all those rugs – ugh.  The staff room we had just done before the lock down, so Amy and Emily can now chat and clean tack in a sparkling staff room.
Outside we have spring cleaned our signs and lorry…the field has been fed, so the horse's extra time in the field is not taking its toll.
I have been showing the girls the art of plaiting and polishing ponies…Molly is already better than me! What I have really enjoyed is I have been able to bath and polish my horses. Iggy is such a joy, he is very cuddly and grateful of your time.  AND I have managed to fetch AJ back from his turn away rest.  He looks wonderful, I can't wait to really start work on him, again I am lucky with his temperament, he is so kind and soft.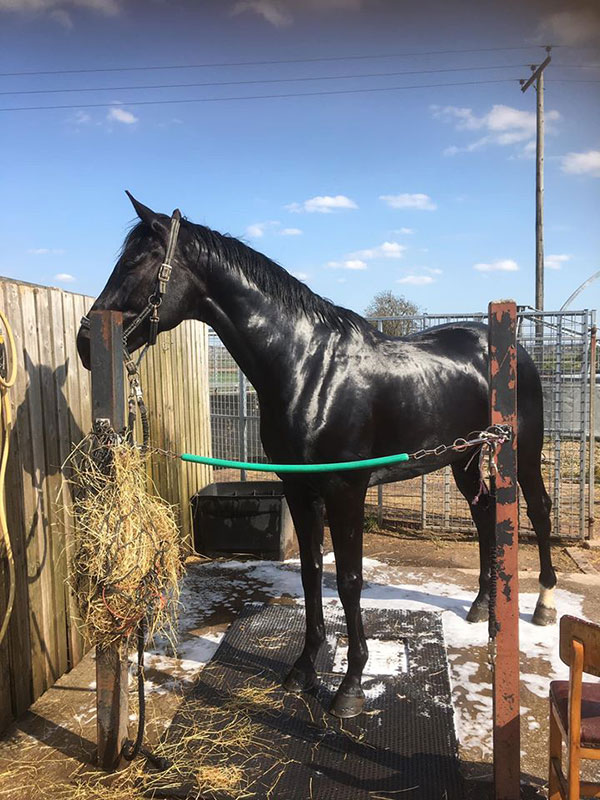 The Pony club did a competition recently of 'Guess Who' from childhood photos of their coaches…here was mine it was great fun!
The exciting news is we have picked a stallion for Flora (Libby's mum) so that is a lovely thing to look forward too.
I hope everyone can stay safe, and that we can all return soon to what we love to do…take care!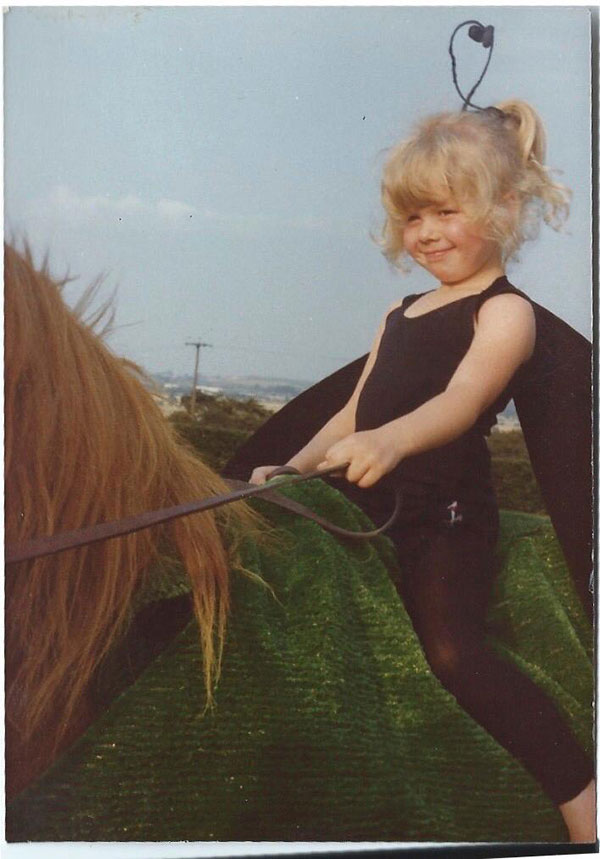 We are living in unprecedented times, but luckily our horses here at Chelwood Equestrian are none the wiser. We have around 50 horses onsite, and luckily most yard managers and staff live onsite, and we have been able to accommodate those who do not, therefore we are able to continue to care for the horses to the highest standard. We are so appreciative of the cooperation of our clients, during this difficult time, but have ensured we keep in contact, and regularly send video and photo updates of their beloved equine partners. Keeping the horses healthy and happy, minimising social contact by locking down the yard, and going through the daily routines in the safest way possible, is our tiny contribution, to ensure the NHS can continue to fight this virus. We continue to thank them. Our WhatsApp groups are also now regularly filled with some entertaining 'lockdown videos' that are circling social media, as I think it is getting a little boring for some!! A friend of mine is now graduating her medical degree early, to enable her to work on the NHS front line as soon as possible, and in the interim is volunteering in a hospital. In her words – it is 'annoying that I can't start properly working sooner'. How lucky are we to have people like this entering our NHS to care for us all, particularly in a time such as this – thank you all!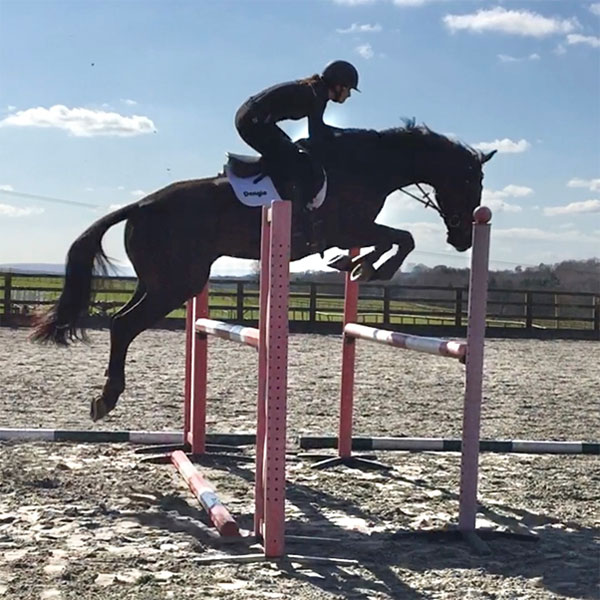 In my own little world, things have been going relatively smoothly, and Robin was feeling more than ready for the season. Though this has now been delayed, it has been nice to have some time to focus on the basics, and just spend some time together. We have so enjoyed hacking around the hills around the farm now the fields are dry enough, to help further strengthen him. We are so lucky. He was attending High Weald Horse Hydro once a week pre-lockdown, so I am ensuring I focus on strengthening work to try to make-up for this loss in his work, though I can't wait for him to go back as it was so beneficial for him.
I have had some really helpful nutritional advice from Dengie Performance Horse Nutritionist Claire Akers, as we move into the spring/summer months. Our horses will soon be moving from their winter to summer fields, and will then be able to go out at night. We have found that the horses can get very loose droppings when we make this move. I will therefore be giving the horses Dengie Digestive Health Plus supplement during this time to ensure gut health and hopefully resolve this issue going forwards. Claire also recommended introducing the new pasture slowly to allow the gut bacterial population to adjust to the change in grass quality. On the other hand we also discussed additions to diet when there is a lack of grazing. It has been so difficult to turn out over the winter with the crazy amount of rain (who would have thought it now..!) and Robin has a delightful habit of pulling shoes despite experimentation with many over-reach boot combinations. Furthermore towards the end of summer, the grazing can sometimes become more sparse. Claire suggesting using Dengie Grass Pellets in small amounts in treat balls and scattered in the field to encourage them to forage for their food, whilst soaking the pellets if feeding in larger amounts. I think this will make a great addition to our horses diets.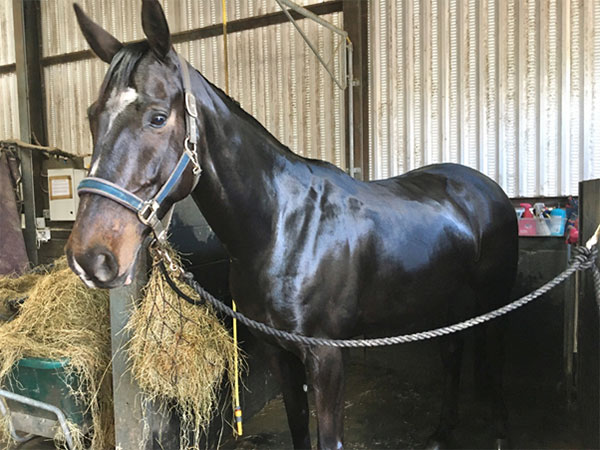 Robin is fed Dengie Alfa-A Oil before work to prevent acid splash in his stomach, to minimise the risk of gastric ulcer formation. I also wet the chaff before feeding particularly in the summer as Robin sometimes refuses to drink. At events he will tend to not drink all day, and then try to gulp a huge bucket of water all at once when we return home at the end of the day. He also particularly struggles in the heat due to his dark colour. Claire suggesting feeding Dengie Alfa-Beet at events between phases, to encourage Robin to take on more water, which I can also add electrolytes too. I think this will really help Robin, as I have also felt that sometimes it has taken him a few days to recover from an event on a hot day, which is a concern as we work towards long format events in the future. I hope this dietary addition will help him to remain hydrated, and therefore reduce recovery time. I look forward to having Claire visit Chelwood Equestrian later this year, to provide further nutritional assessments for our horses, so they can continue to look and perform at their best.
I hope you have found some of this nutritional advice helpful, and that you are all staying healthy and safe with your horses. I would highly recommend contacting Dengie yourself if you have any questions regarding your horses feeding regime, for friendly and helpful advice.
March was both quite a fun and successful month. CiCi is feeling better than ever and everything felt like it finally was coming together.
Me and CiCi headed up to Aston-Le-Walls for the 90cm Riding Club Junior Arena Eventing Finals. She jumped an amazing double clear just finishing with 1.6 too fast time faults being 4.8 seconds inside the optimum time, to finish 9th individually and help my team, Horsham and District Riding Club to win… it was a great day filled with fun with some of my best friends. What was even better, we featured in Horse and Hound magazine with a small interview that took place between the team manager and the interviewer.
A week later I had a fantastic dressage lesson. CiCi felt great and was feeling ready for what was supposed to be our first event of the season at Munstead. We worked on riding her up into my hand as she tends to become a little on her forehand and is now capable of working in a more advanced way.
Soon after we went on a trip to Climping Beach, where we thoroughly enjoyed jumping tide breakers and a leisurely canter up the beach. She had only been to the beach once before, where she was slightly concerned about the waves coming towards her, however, she had improved drastically.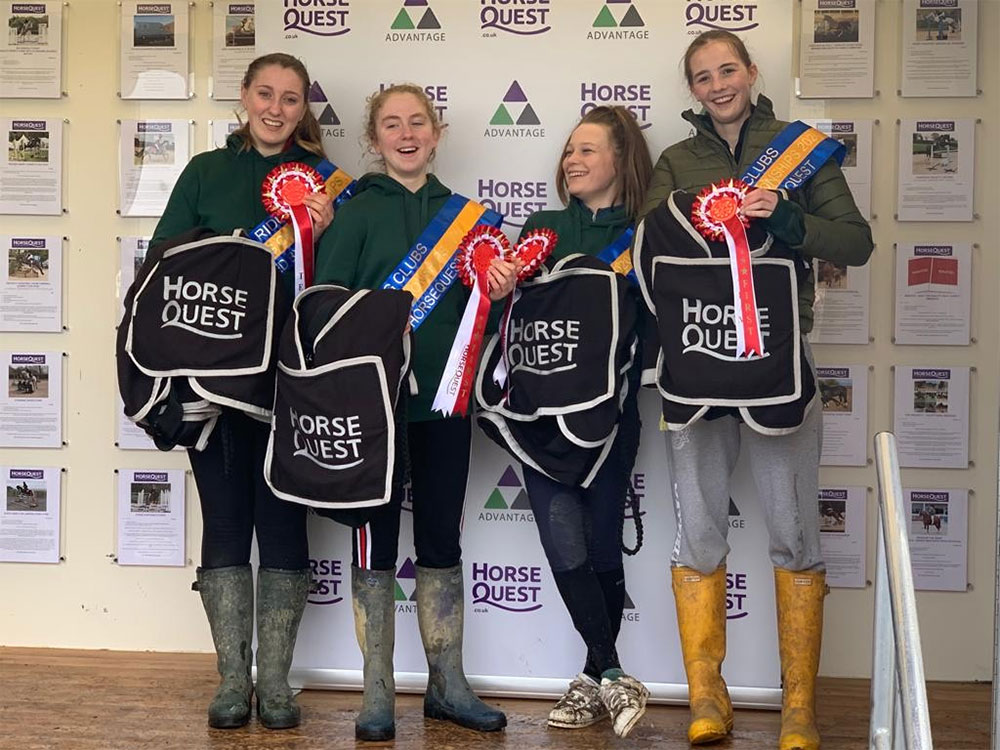 The sad news came soon after with British Eventing understandably putting a stop to all events. So ever since we have been avoiding jumping, but doing some gymnastics exercise and focusing on our flatwork. We have spent the majority of our rides enjoying the amazing views whilst hacking around the farm.
Cici's feeding regime is working well and her condition and stamina have improved. She loves Dengie Alfa-beet and now that the weather is warming up it is an excellent way to keep her hydrated.
Well, we are four weeks in now to a very different world, let's all hope a temporary one, but I sadly believe we may be facing restrictions for a while. So what is life like at Shoestring HQ?
Both Mum and I work for Cornwall Council and are now based working from home. My job has changed enormously as generally, I have been a visiting officer going to Commercial premises and undertaking various health and safety enforcement and advice visits. All visits have stopped except in emergency situations and predominantly much of my job simply can't be done. I am therefore part of the team enforcing the new Coronavirus regulations and for Cornwall a big part of this is ensuring that appropriate holiday businesses are closed in line with the regulations. Over the last week, the Council have had over 600 emails concerned that holiday properties are operating and I have been part of the team following this up.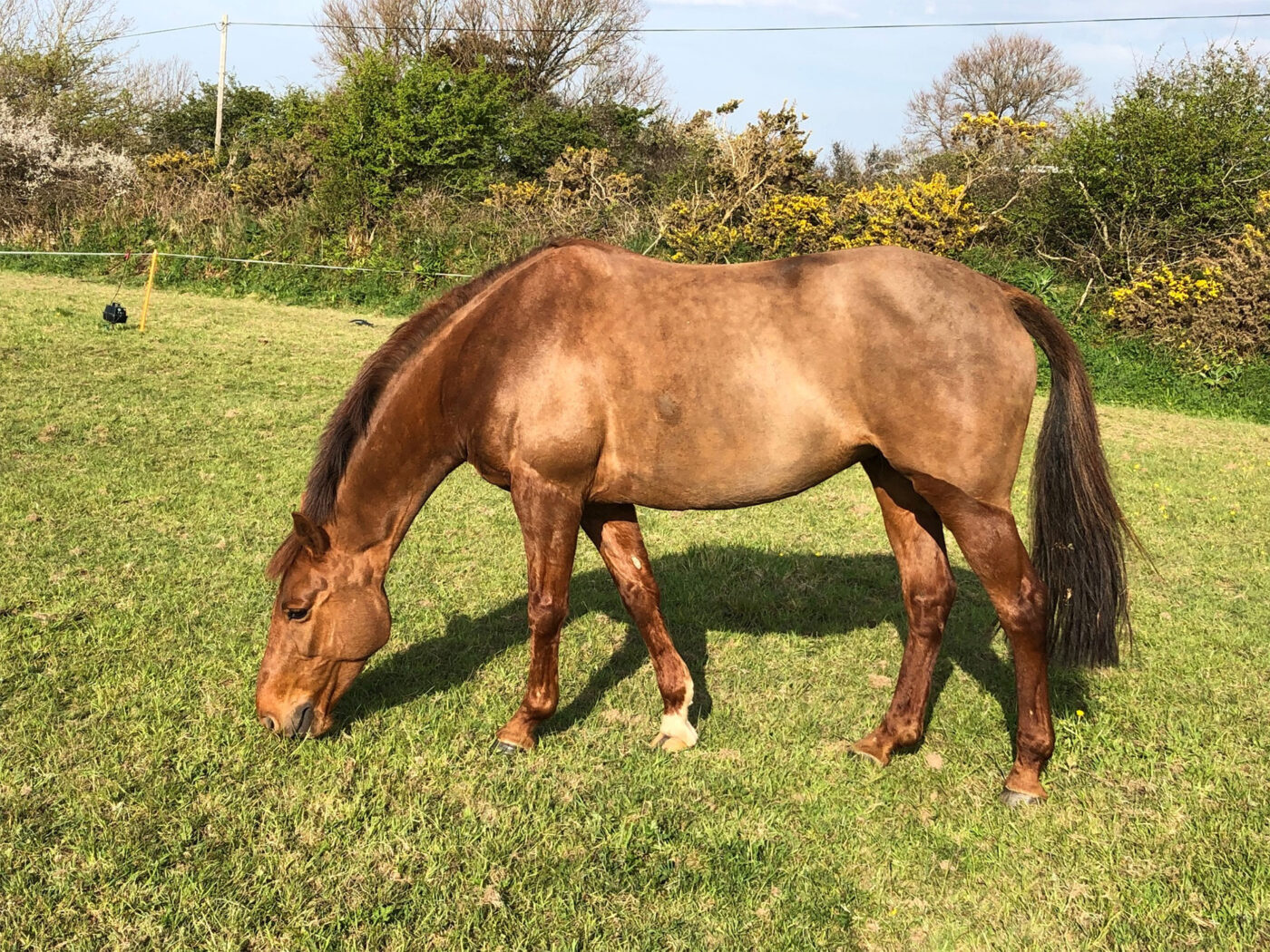 Horse wise the horses are not at home, the yard is 10 miles door to door, but I am the sole occupant of my yard so I cannot delegate the horses to anyone else. I travel twice a day to see them and luckily see no one else pretty much, we have ensured we are isolated as much as possible. I have cut the girl's work totally back and at the moment they are being ridden every other day, this will give me the opportunity to either pick them up or if circumstances dictate give them a holiday. With no school and the ground drying out this has really limited what I can do.
The first thing I stocked up on was my Dengie feed and the horses have enough for several months. Saying that when we met up with the Dengie team in January both were slightly above the perfect weight, I hate to think how they would be assessed now. With minimal work and the grass coming though, they are both looking more ready for the show season than an eventing one.
Ellie eats very little anyway so it has been impossible to reduce her bucket feed, but Fliss has had her Alfa-A ration halved and having a powder vitamins and min supplement from Dengie instead of the balancer. She is finding this lockdown all rather boring!
We have had some fun times on Facebook if anyone wants to follow Shoestring Eventing. Quiz night on Friday, positive post on Thursday and then some Q&A's as well as some eventing chat: https://www.facebook.com/shoestringeventing/
My name is Sarah Gormley, I am 18 years old and a member of the BD Youth Foundation Academy and I'm delighted to have been selected for the National Academy.
My horse is called Illusion IV (Alfie), he is a 6 year old, 17.2hh KWPN by Don Tango B x Jetset-D, whom I have owned for nearly 2 years. He's a big horse who has taken a while to mature so we only started competing in April 2019. Together we have progressed from novice to medium, have qualified for the BD Winter Regional Championship / BD Winter Championships and Petplan Area Festivals. Currently our week consists of dressage training four times a week, two days hacking or pole work and then one day off, however, Alfie will have a light day before a competition day. Before a show, Alfie will get washed the night before, especially in winter with all the mud, then plaited in the morning before we set off. He's still quite inexperienced and can be a bit nervous at shows, so we make sure he has plenty of time to warm up and get comfortable with his surroundings. In the Novice Winter Regionals we was a little disobedient but came home with 68+% and 6th place, but I know we can do much better. Our competition aims for 2020 are to qualify for the BD Summer Nationals at Medium and compete at the BD Youth Home International.
Alfie is a very good doer so is currently fed Dengie Alfa-A Original with a high spec balancer, linseed oil alongside ad-lib hay. At the BD National Academy he weighed in at 610kg and has a BCS of 3 which is ideal. Dengie Performance Horse Nutritionist, Claire Akers, advised on adding electrolytes to Alfie's diet, especially as (hopefully) the weather gets warmer. The advice given to me and the other academy members has made a big difference, keeping it simple and thinking fibre first ensures that Alfie is fit, healthy and ready to perform.
Alfie's confidence is improving with every outing, his revised diet is also helping him physically and mentally with the demands of training and competing. We had only our second go at a Medium test last weekend and gained 69+% and a second place; I'm so excited for the coming season!
Well this is a blog I didn't expect to have to write…eventing is off!!! All the horses are on great form and have been busy galloping, xc schooling, jumping, hacking, doing dressage and had the new water treadmill sessions in preparation for their season to start next week! I'm still waiting to hear if the dressage nationals will run  as Candy had qualified for the Medium Gold, but I can't see it happening.  It's obviously gutting for the whole eventing community, riders and organisers, but the cancellation of all events is the most sensible thing to do in this crazy situation – people's health is far more important than us crazy eventers getting to gallop over fences.
It's obviously going to affect the whole horse community, hopefully just in terms of loss of competition and earnings, rather than lives. Currently I'm keeping all the horses in work as normal, but will back off the galloping for the time being. I'm hoping the extra time and training will mean they will all come out and do sub 20 dressage tests and jump double clear, winning every event they are entered in when we can get competing again – one can dream!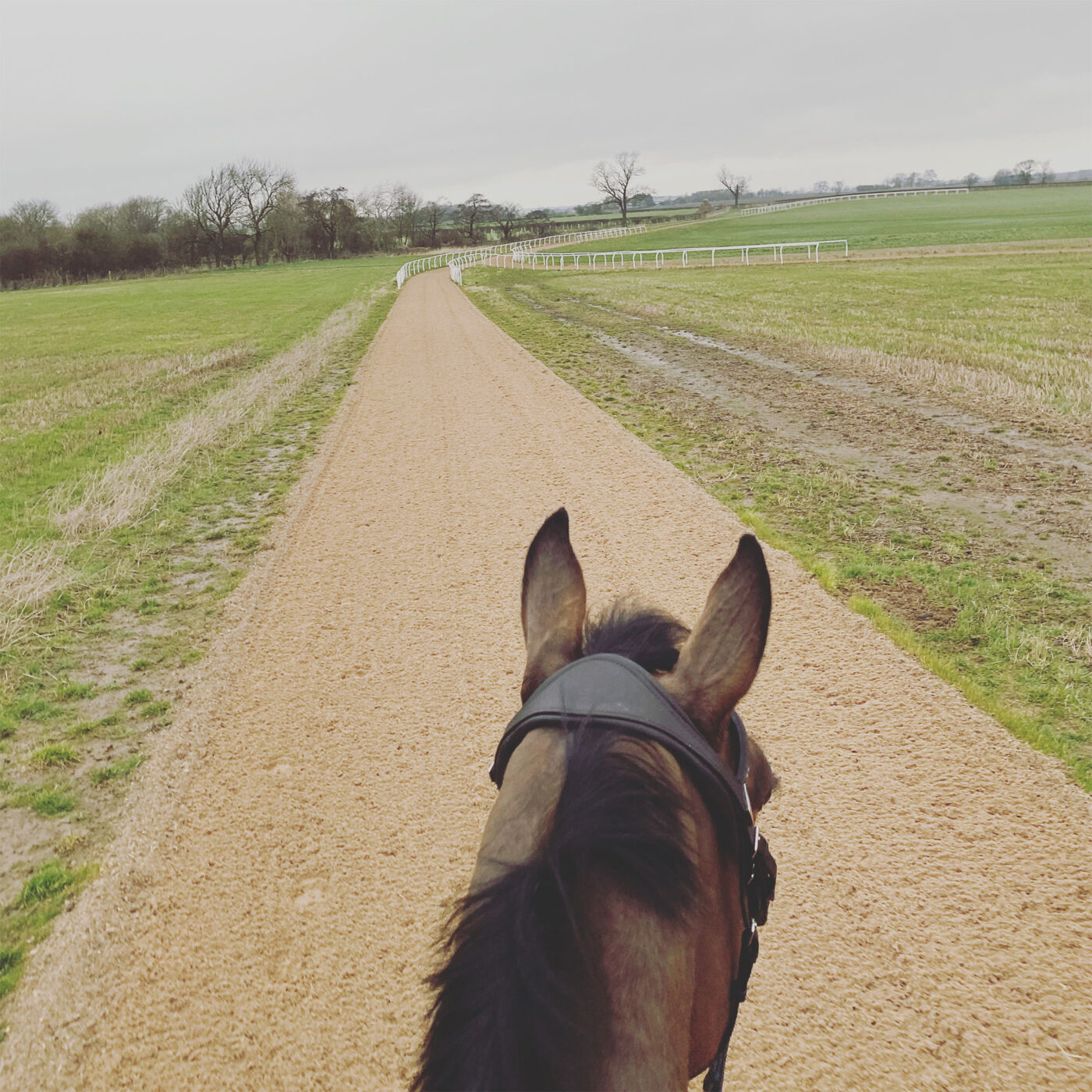 Luckily the horses are all on fibre-based diets (Dengie Alfa-A Oil or Healthy Tummy, Alfa-Beet and Performance+ Balancer) so their diets don't really need to be adjusted to the lack of competitions! I will film some training videos over the next few weeks to share with you all, so you have ideas of exercises to play with at home while no competitions are on!
A month after our fabulous training day with Dengie we have really cracked on with training. Even with all the storms we have been out to competitions most weekends.
Cici has felt better than ever recently now she has her new feed plan, her coat looks shinier, she feels full of energy and is now in prime condition for our first event of the season in three weeks.
A week after the amazing training day I had lots of fun at the Crawley and Horsham Hunt relay in a team of three with two of my close friends. Cici was very patient as we had to stop for a water station and walk over a bridge – the team ended up 4th out of 20+.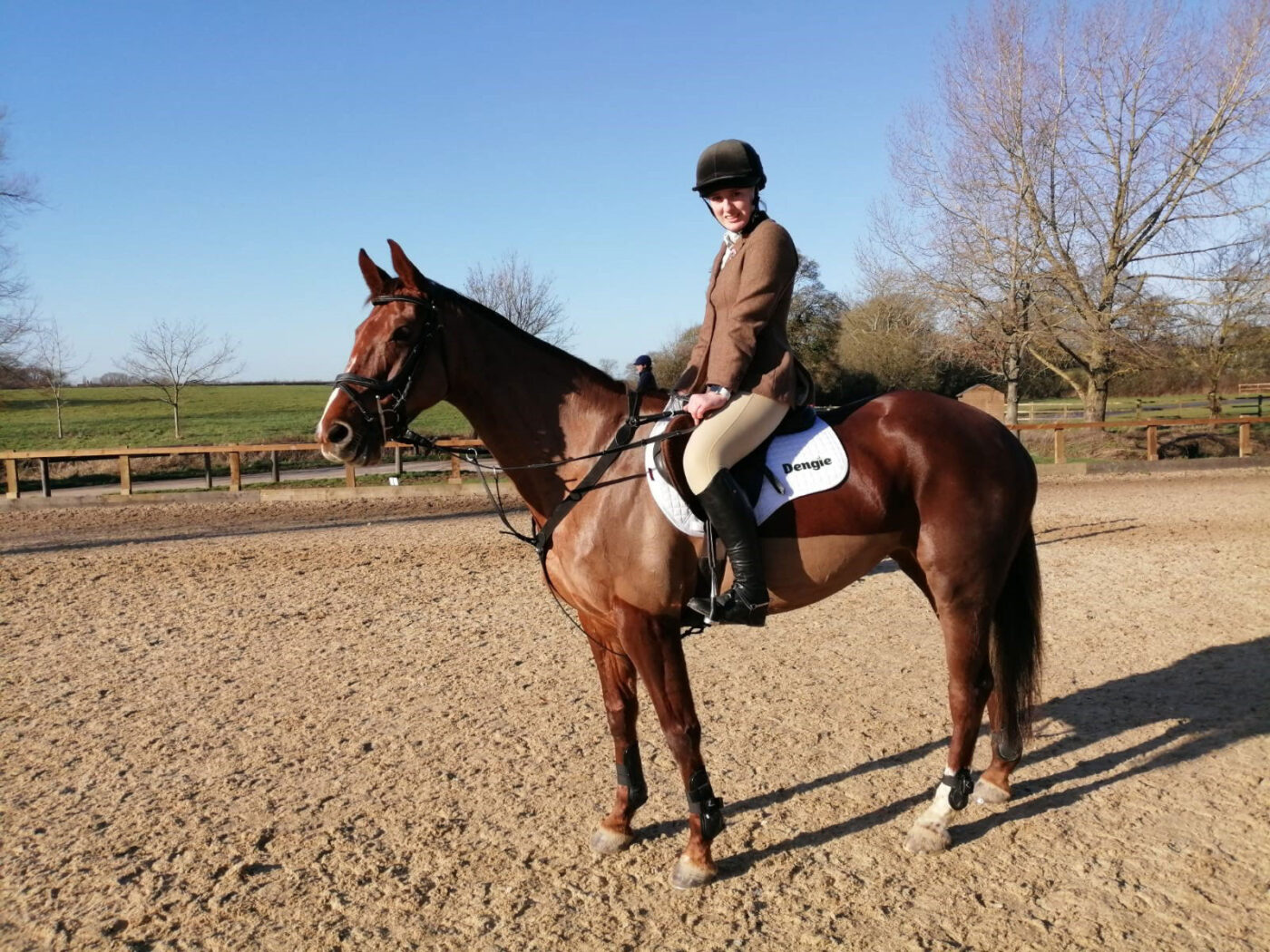 The next weekend Cici was a star at Coomblands Equestrian when we did the NSEA 90cm for team 2nd and the 1m for team 5th. She was outstanding!
Then Storm Ciara and Dennis struck cancelling plans for the next two weekends, so we dodged the rain and did some training at home practising the tips given by Lucy Jackson. The main focus was on skinnies and keeping my canter around corners.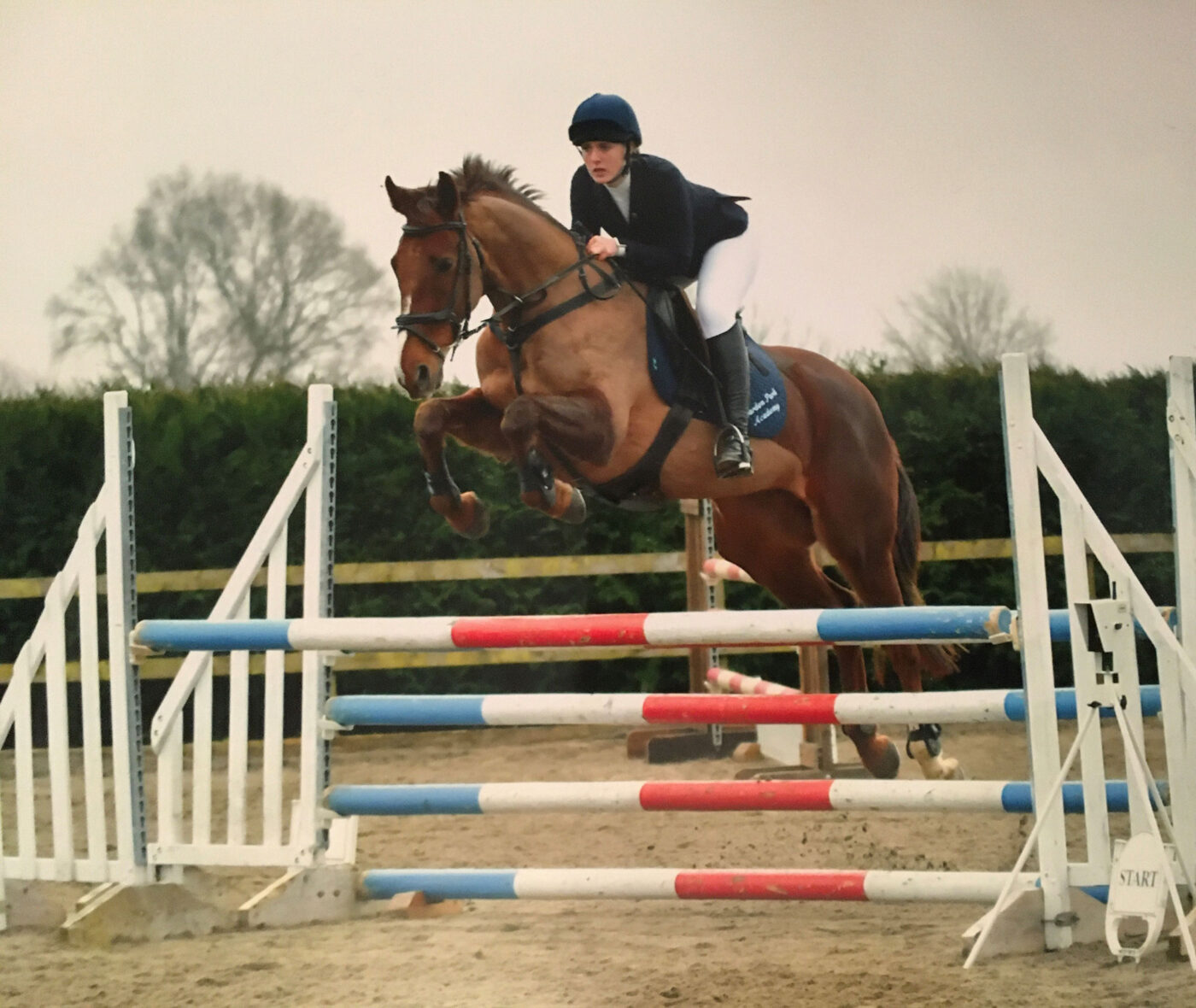 Meanwhile, during my half-term I participated in a Pony Club Showjumping competition with the team coming 4th in 1m. We then had a visit to the fab new all-weather cross country course at Hickstead with BE accredited coach Tracy Brown, where we continued with Lucy's key training points of rhythm and straightness, which Cici thoroughly enjoyed.
After that we spent the day at Petley Wood for the South East Eventers League 1m Arena Eventing Finals. Cici jumped a great clear, with all our practice of skinnies paying off. She aced the dyke, steps and fences on the curve. We finished 12th in a very competitive field, I was so proud of her. The next weekend we went to Pyecombe for the 1m Arena Eventing Finals and she finished 8th with a confident round.
Her stamina has definitely improved with her new diet plan designed by Claire. Her weight has also improved due to the Grass Pellets and Meadow Grass with Herbs so she is now eventing ready.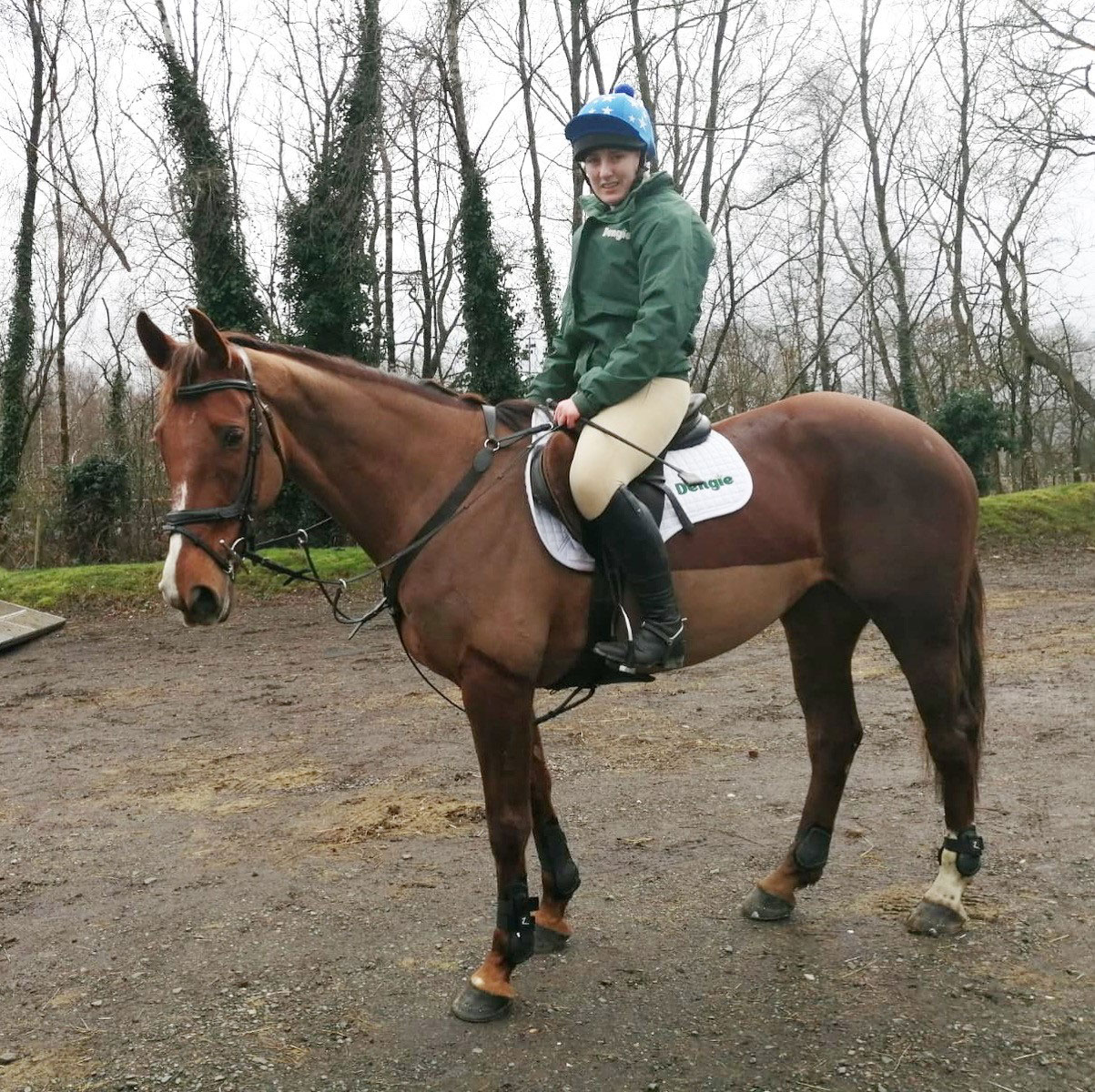 This year started really strong for us! Arlo is looking fantastic thanks to his Dengie diet and months of hard work. The local competitions provided a promising insight into what's to come from Arlo yet. We were so excited for the regionals, especially after missing them last year.
Fortunately we escaped the really bad weather on the way down, Storm Ciara was definitely coming, but wasn't quite here yet. We gave Arlo a leg stretch and he was really well behaved and had travelled well. As can be expected of Arlo, there were a lot of dragon noises in the warm up arena as he jogged/passaged the whole way around! We find it amusing now; he always seems to be this big ferocious warmblood in the arena walk, but then pulls it out the bag when he needs to.
Our first test was the Medium Silver Championship. The test started amazingly, with Arlo producing some of his best work, but sadly, some tension, which was affecting almost everyone that day, resulted in some costly errors to pull us down to 6th place. Despite these errors, I was still really happy with how he had worked. Later that day we had the Medium Silver Freestyle championship, and this test was significantly better, save for one counter canter where Arlo went, 'Look mum! I can do flying changes!' We finished third in another strong class and thus made it to the mounted prize giving. Arlo face was comical when we started tacking him up for the prize giving, but suddenly perked up when he realised all he had to do was look pretty for 5 minutes.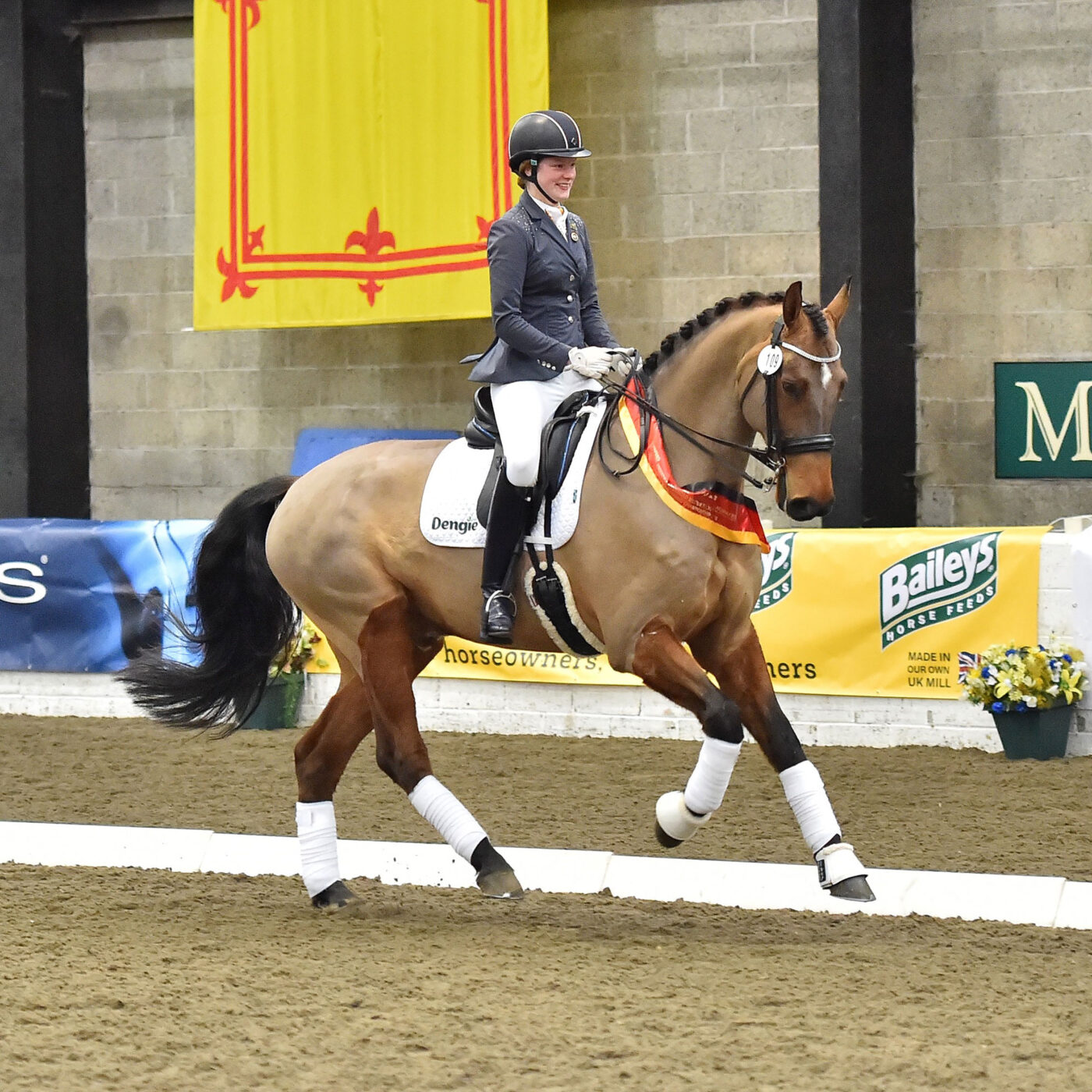 The second day brought our third and final test of the winter regionals which was the Advanced Medium Silver Freestyle. This was our regional debut at Advanced Medium, so I had no expectations going in, especially as I was in good company. Arlo felt great the whole way round and he was definitely more consistent than the previous day. We finished just shy of 70% with one minor error where I didn't set up our last flying change and took Arlo by surprise a little bit! I believed I would come third in the class behind two much more established horses, but I was pleasantly surprised to find out we had won! I was so excited as this was the class I least expected to finish first in! I was so happy I was going to Hartpury for the winter nationals four years after I qualified with Gari, and at the next level up too!
Of course the competition is won or lost, far away from the whiteboards or audience, and I am so grateful to the team of people who helped me achieve this, most notably my parents, my trainer Jennifer Johnston and of course Dengie! I am very excited for what the future has in store for us.