In my last blog I spoke about my 'mojo' coming back, and how I hoped that Arlo would behave at the BD Youth Home International. Well, I wasn't wrong; not only did he behave, he was on fire, the 'party trot' came out for every test, and we even had a small audience of admirers by the second day of Team Tests! I think I better start at the beginning, which was nearly two weeks previously…
We were leaving the North East of Scotland for the far and distant land of England on the 17th of July, and as I knew it would be a long time before I would see home, I made my Dad take me up one last Munro (a Scottish mountain over 3000ft, of which there are 285). We saved this for the 16th July, and chose a beautiful rural one in The Glen of Dee. We biked through our 12km approach through one of the most scenic parts of the Cairngorms and began our climb. The top was almost clear, with only a little haze due to the glorious weather, and we had the whole mountain to ourselves, it was the perfect last day in Scotland, so thank you Dad for keeping your promise!
The 17th July saw an early start, and we needed to take both cars as well as the lorry as I was to be staying in England for a year, the lorry was staying with me until after Sheepgate U25's and mum and dad needed transport back hence another car. This all meant I was doing my first motorway drive. I am proud to say that I managed the full 10 hours to Richmond EC (new record time!) perfectly fine, although I was a little nervous travelling down the A90 at first, but settled into it well. Arlo travelled well which was a welcome relief to the three of us as this was his first long trip since he arrived in October 2017 from Holland.
I was competing in the Northern Area Regionals as I would not be in Scotland for ours. I had allowed an extra day before the Regionals for Arlo to rest after his long journey, I stretched him off, and he felt very good, but he was very excitable. After our little episode at the Pony Club Champs last year where our confidence was at an all-time-low and I ate mud, I became a little nervous that we might see a repeat as he was full of himself, but Mum was right beside me and kept my head in the game and we put that ghost to bed for good. I had been working very hard on his and my fitness and we were ready for 13 days of adventure. I felt we were on the up so I held Arlo's hand and he held mine.
Day One of the Regionals brought the Medium Silver. After a morning of watching the PSG and Inter I classes with Mum,  I got to catch up a little with and watch my fellow Team Dengie rider Hannah Esberger-Shepherd. I was in a fantastic frame of mind; I was going to enjoy every stride, I've always enjoyed competing at Richmond Equestrian Centre. We achieved 66.4%, even with a major mistake where I was too quick to tell Arlo off when he was behind my aid (learning curve for me). However, we finished in 8th place in a strong class so that made my day. His lateral work felt so good and he kept his mind in the game.
Day Two brought the Elementary Silver competition and my fellow Scotland U25 rider Carla Milne was also in the class. Carla and I were second and third on in the class, meaning we got the chance to set the bar where we wanted it. Carla rode a lovely test, and so did Arlo and I. I was so pleased with it although a touch behind my leg, we rode a mistake-free test to achieve 68.33%, and a mere one mark behind Carla. This put us into 5th place, despite two judges having me in 4th, but that is the way it works and Arlo will never know the difference. The best part had to be that Arlo trusted me in a strange and spooky environment and gave me everything he had. It felt good to have two Scottish U25's in the top ten.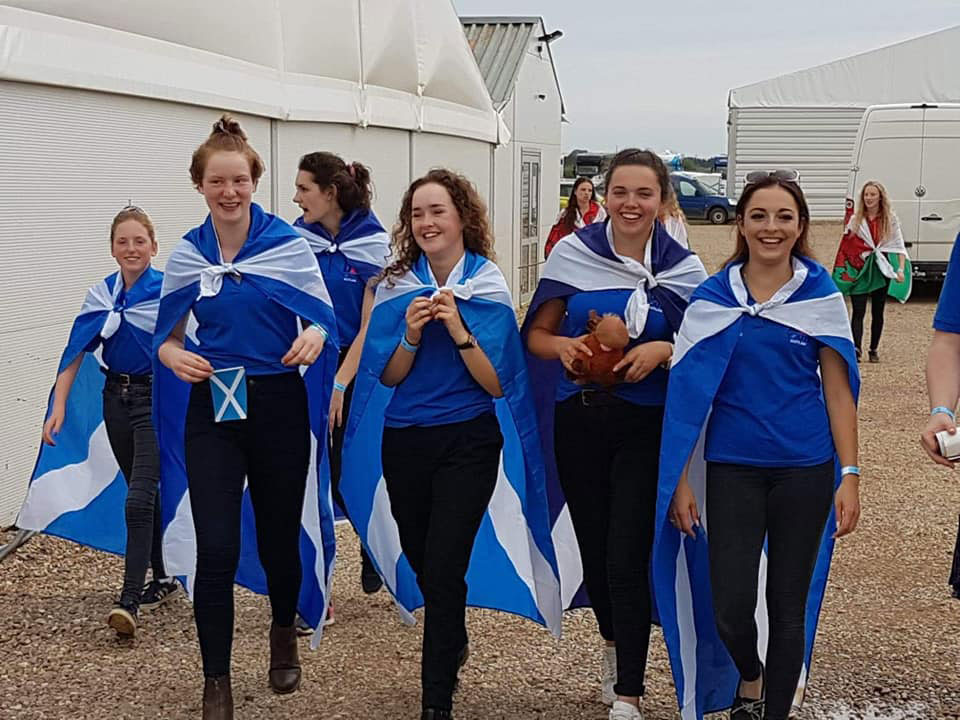 BD Youth Home International was 5 days away, so to save travelling 10 hours back home only to travel 12 hours back south a few days later, we stayed with a good friends near Ripon. We were warmly welcomed onto the yard at Bogs Hall and had a super isolated stable and paddock in a lovely setting where Arlo got a mini holiday of hacking and stretching, and I acclimatised to the heat and let my hair down. One of the things I love about Arlo's Dengie diet is that I don't have to worry about 'upping or lowering' feed all the time as it is fibre based. My absolute favourite product though (and he adores them) is the Dengie Grass Pellets as they are fed very wet so they really help with hydration and with apples and carrots in them he is a happy 'pony'. Arlo got an hour or two of turnout, including immediately after his pre-show bath. My theory was a 'sun-dried pony', Arlo's theory was 'challenge'…thank goodness I put a fly-rug on! We were both well rested, mentally and physically massive thank you to my Northern Region Friend Abi Ingledew and her family.
Thursday, aka the hottest day of the year reaching 38 degrees, was the day we had to travel. After seeing the forecast, we took the decision to shift the itinerary two hours earlier. We safely arrived at Arena UK near Grantham at about 11am, just as it reached the mid 30's. It was so hot, that Arlo was sweating in his stable. We gave him a couple of wash-downs so he had something to evaporate off his skin to cool him without him dehydrating himself again. Mum and Dad also struggled quite a bit, but still managed to get the job done like the legends they are especially as getting to sleep was not easy in those temperatures! I was very grateful for my holiday fitness programme, where my 35 day gym/pool programme for the run up to travelling south payed off greatly. For that period, I was averaging 3 to 4 workouts a day with riding. I was aware it was hot, but I drank electrolytes in my water and slapped on the sun-cream (I am a redhead and there are three stages of tanning, white, red or charcoal). We were the first from the Scottish Squad to arrive, which meant we could set up a gazebo and help when everyone else arrived.
When Friday dawned it was a little cooler, but was still comfortably in the late 20's. Arlo still felt good, but I wasn't going to push for too much, as this was primarily to let him see the arena, and we still had four tests to ride over the next two days. It turns out that he likes to show off more than we gave him credit for. When I said 'This is an opportunity for you to relax and familiarise yourself ', Arlo replied 'Let's psyche the hell out of them!' We achieved a personal best of over 73% in the warm-up test to win the class by over 4%, with a beautiful comment from the judge, who wrote 'a pleasure to judge'!! Thank you to that judge – comments like this, when you are bringing on a horse mean a lot.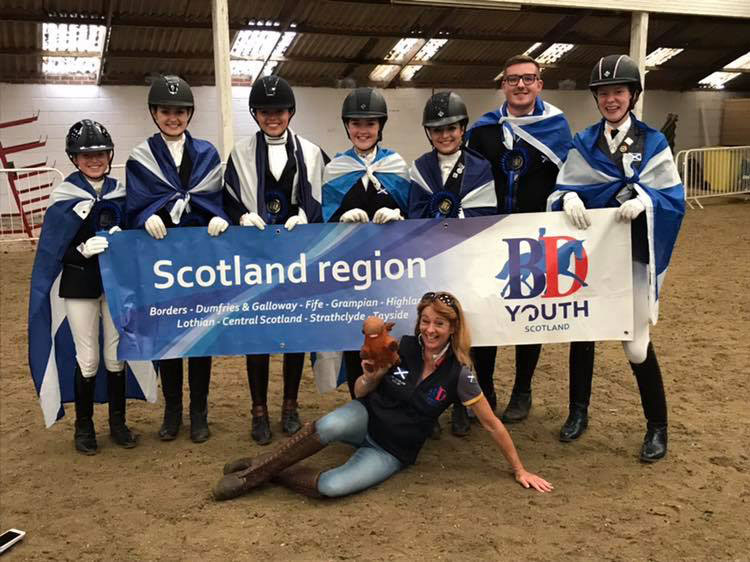 That afternoon, all the Scottish Squad horses sailed through the trot-up, despite Arlo growing to 19hh and dancing at the end of the reins! The opening ceremony was brilliant and wow, do the Northern Region know how to host a Home International! Everyone was on good form and the laughter flowed and the squad bonding (of our two teams) was working its magic (we have two brilliant BD Youth Ambassadors in Scotland and they are so supportive), the whole region was looking forward to the next two days. In the back of my mind though I would be lying if I didn't say I was ecstatic about my win in the warm-up class, but also worried that Arlo and I had peaked on the wrong day.
I spent time with my Dad, who teaches psychology in the work-place on the side of his key role, discussing and preparing for Saturday. My psychology is a carbon copy of his, so briefing, debriefing and preparing my Game-Frame with him works very well. After an intensive couple of hours planning my mind-set, we derived the key phrase 'Ride the Blueprint.' I was worrying about uncontrollables such as other riders' performances, so he helped me shut everything else out, including the competitive nature of the competition so that I could stay in the 'First Zone' of focus for my test. After we had discussed my underlying fears that I had to win for the team and banished them, we started preparing the blueprint for Saturday's Team Test, and rehearsing it. We used old test sheets of the test I was riding and videos, my training notes and videos from my trainer Jennifer Johnston-Harman and our knowledge of Arlo's current frame of mind and performance. We broke down every movement to plan how I was going to ride every aspect of the test.
Saturday saw the three of us work like a super-team. We were efficient and Mum and Dad ensured I only needed to focus on getting me and Arlo ready. Dad and I ran through our blueprint again and refreshed our key psychology points, giving me a feeling of order and preparation. Arlo felt so ace in the warm-up, offering me everything, yet I was careful to save it for the arena. At present, he can hold an uphill frame well for about 10 solid minutes, so I had to make sure there was fuel in the tank for the test. When I dropped my whip before entering the arena area, he fell slightly behind my leg, but he stayed focused and was still keen to show off! We turned down the centre line, and it was like he said; 'Hmm that last horse was good, but I'm going to show them how it's really done Mum.' And he did. We danced and flowed our way into the lead on 72% where we stayed. The other three team members of the Scottish Macbeth Team also pulled seriously strong scores to put Scotland Macbeth Team in the lead overnight.
Saturday afternoon also brought a dream I had waited two years longer than we should have for (due to losing a horse); riding a centre line in tails. The test was not what it could have been; Arlo forgot how to change and do a walk pirouettes or perhaps I forgot how to ask correctly (!) but his lateral work felt so good. What went well, went very well. Mum joked afterwards that I like giving the judges an opportunity to use the full range of marks, and this test ranged from a 4 to an 8. But we must remember, this was only our 5th Advanced Medium test together, so not too bad!
Being overnight leaders is tough psychologically, you have to put it aside and plan the ride for the next test. Dad spent time with me intensively debriefing the day's performance, both physically and mentally. It was obvious that Arlo was at peak, and ready to strut his stuff, so I just had to ride my blueprint and shut everything out. I imagined I was riding in my trainer Jennifer Johnston-Harman's arena and I had her in my head, a tool that I don't normally use but really helped me banish any worries good on Sunday. We stayed up and socialised for a little bit, but my head was in the game, and I was keen to get a good night's sleep. Sleep is the cornerstone to my performance and I knew I would never forgive myself if I didn't prepare every little detail. So I caught 40 winks.
Much like Saturday, Sunday brought endless rain, so my dedication to training in all weathers paid off once again. It was like Arlo knew he was on his game, and he came out of his stable with an expression that said 'Veni Vidi Vici', not in arrogance, but in confidence. Any nerves dissolved as our minds merged in the warm-up. I felt like I could have ridden a Grand Prix! For the second Team Test, we were in what I believed to be the spookiest arena, but this was banished and as I went in Arlo brought out his most supple, most together 'party trot' and floated down the long side like he was Valegro himself. The bell went. We knew we could do it if we just communicated well – and we did. Beautiful extensions, supple leg-yields, accurate transitions, and most importantly, very bold medium canters (I could almost see my trainer clapping)! We finished on 70% to take the class again. I had won the Individual Elementary honours, but the Team Trophy was still to play for. Fellow team-mate Carmen Gammie and the pro that is Champagne Bubbles strutted their stuff to beat all the big horses on 72%, and the other two team members, Rose Foley and Eilidh Roberts pulled off high scores to widen the gap between us and the South West Donald Ducks who were strong chasers. We had won the BD Youth Home International for 2019. It felt amazing!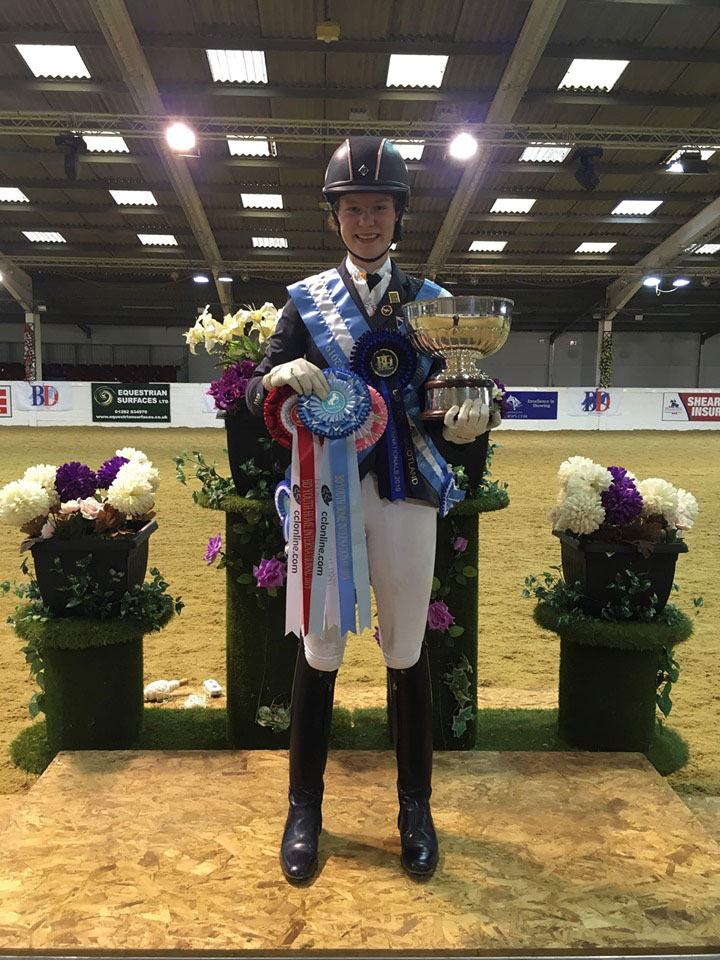 Yet for me, there was one more test; the Junior Individual. So I put on my tails and walked into the warm up with my head held high, we had never competed this test. The leveller came right here in this test though – Arlo felt amazing, everything apart from the walk pirouettes was neatly executed. Before I went in I heard the bell ring for the previous competitor who had made an error, instead of staying in my game, I started to doubt if I knew the test so I asked mum to see it again, no, I had learned it correctly. I learned a valuable lesson here though, don't doubt yourself when you know you know it as I forgot it not once, but twice! Across three judges, this pulled us from a very respectable 65% to 62%. That number doesn't speak to me though, we rode it, and Arlo pulled it out of the bag once more. We finished 5th in the Junior Test, but he doesn't know that, all he knows is that his Mum is proud of him.
As if winning wasn't enough, we did not travel home, but to Redditch. We have known for a while, but we wanted to arrive before we announced it; but I have secured a year's placement with Eilberg Dressage and I have just completed my first week. I am absolutely exhausted, but I love every single minute. Let us hope that my next blog will say the same, if not better, about my time here with Arlo.
The exam results are in from school for my Advanced Highers as well and I am really pleased with those. You can do well at your academics and your sport, people told me that one would suffer whilst at school, it didn't but that was because I was determined to put qualifications in the Bank of My Future. I have a place waiting at Aberdeen University for after my Gap Year so I will see what this year brings. Thanks have to go to The Dengie Team who stood beside me when I lost Gari and kept their faith in me. To my school, The Gordon School, Huntly, who over the past six years have done anything they can to ensure I can compete and to Jennifer Johnston-Harman, my trainer of the last 2 years who has taught me to believe in myself and given me back confidence in my ability and moved me onto 'bigger biscuits'.
And thus, I stood on top of the podium, both as an individual and with my amazing team-mates, and now I have started working with one of the most respected names in the dressage world. Arlo is turning into a performer, and we are turning into a formidable team (when our minds meet!).
Mum and Dad, your support is endless, and I owe every rosette and prize to you. Arlo, I love you more every day, not because you are winning for me, but because we almost speak the same language some days now. I know neither of us are machines, and we have many more challenges to come, but let us face them side by side. Dare I say it, but watch this space! We will ride with the same ethos at Sheepgate U25's; not riding for the glory, prizes or scores, but for the love of the sport and the joy I get from putting my foot in the stirrup.
After I finally finished my GCSEs on June 17th we started packing for our first abroad international to Exloo in the Netherlands.
We began our trip to Dover and had a stop over at Parkers on the way, where we met with Maddy Frewin who was also going to compete in Exloo. Leo was very happy to spend some time in a field which is one of his favourite things and stretch his legs before we got the 2am ferry which was a cooler time of day to travel as it was so hot. Leo coped really well on the long journey and as we struggle to get him to drink whilst travelling, we gave him soaked Dengie Grass Pellets – the perfect mash to keep him hydrated. Leo isn't the tidiest eater so the lorry was soon covered in green slop! When we arrived I gave Leo a walk in-hand and he had a good rest in his stable. The venue was lovely and was right next to a golf course so he had something new to watch. Trot up was first and Leo looked super shiny and healthy thanks to his Dengie fibre feed and later we had the arena familiarisation. As there were 35 combinations in the pony class, the arenas were very busy. In the team test I was so pleased as Leo really tried for me and produced some great work to get a solid score against such strong competition from the Dutch riders. In the individual test I rode Leo forward with more power to try and score higher marks which we did, but having 2 mistakes is so costly at internationals so we ended up with a very similar score to the day before. Even though we didn't make it through to the freestyle I was so proud of Leo's attitude at his first international abroad and the improvements in our scores and the quality of our work throughout the competition. We then began our journey home and this time stopped over at a lovely little yard in France near the Calais ferry so Leo could have a rest. It was a lovely surprise to meet Caitlin Clancy there who was on her overnight stop on the way to the CDIP in Leudelange, so Leo got to have a nice rest with his GB buddy Jacob.
We soon arrived home and Leo had a little break in the field before we started our training for Hickstead CDIP at the end of July.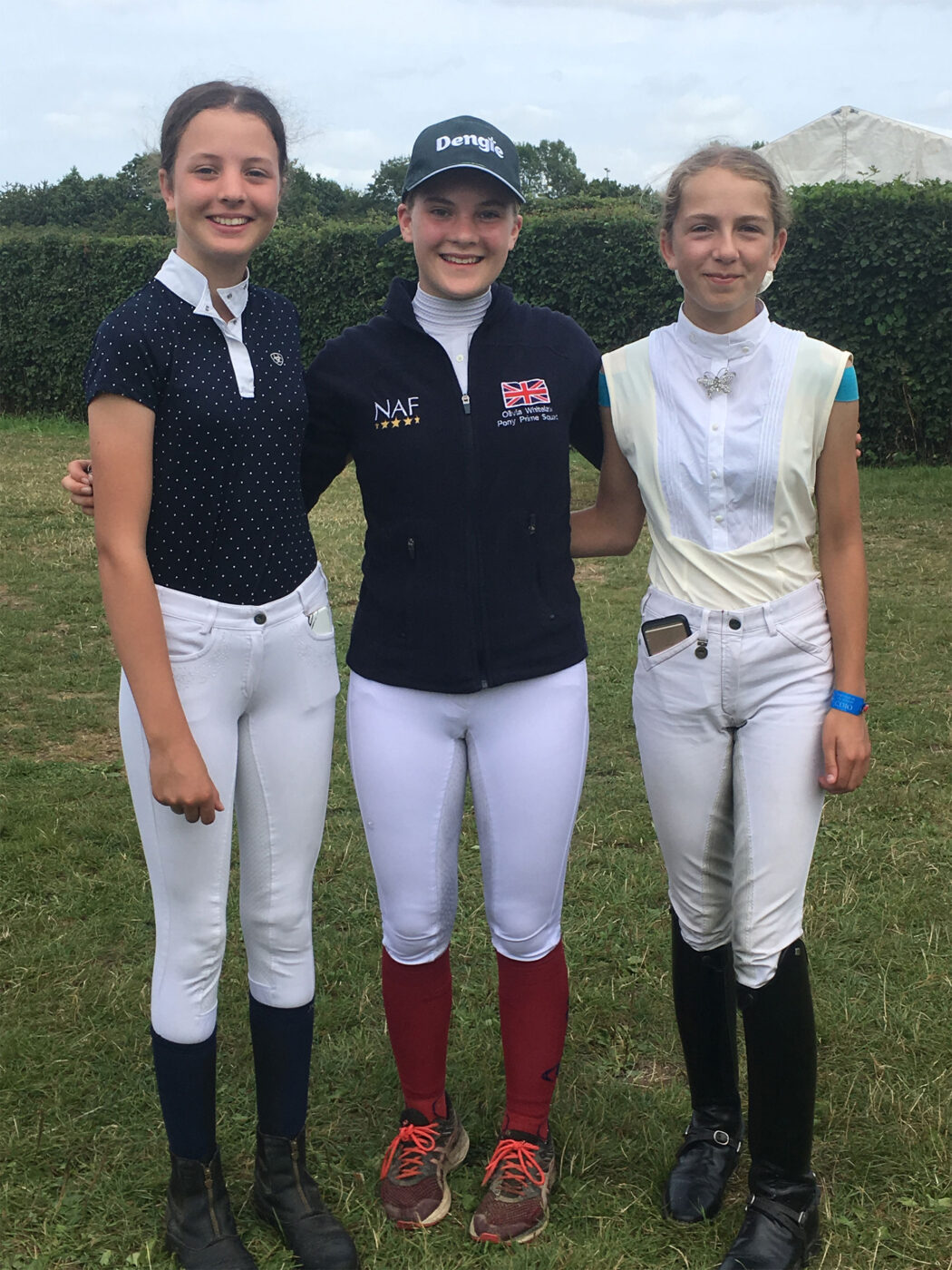 It was soon time for our next adventure to Hickstead CDIP which I was very excited about as so many of our friends were going to be there. Leo was a good boy for trot up as well as the arena familiarisation and in the heat he was so glad to have fans on his stable to keep him cool. He was stabled opposite a fellow dutch pony so I think he enjoyed his company! On the team test day we didn't have the best test as Leo was spooked by someone ruffling their nappy bags, losing his focus and relaxation towards the end of our test. What would have been a great test sheet was soon accompanied by three movements being scored 2's which with three judges was very expensive, so we didn't have the best score! Next was the individual test and I was so pleased with the quality of work we produced in the arena and even with a few small mistakes we scored 69.14% to win!!
Prizegivings are Leo's favourite, but unfortunately it wasn't mounted so he had to listen to the national anthem from his stable whilst I ran around the arena as our lap of honour which was fun even though I may have looked a little crazy! As we were walking to the stables I saw Carl Hester by the warm-up arena so I had an even greater prize which was to have a chat with my idol who was also very pleased with our result. That evening was amazing as Caitlin and I sat by the main arena and got to watch the Grand Prix horses in their arena familiarisation and I have to say I rather fell in love with Laura Tomlinson's black stallion Capri Sonne Junior, who was simply stunning to watch. We were on last for the freestyle – I absolutely love our music from Julie at Equivisions and was ready to have some fun with Leo. I was really pleased with our test in the international arena and to achieve an international personal best in the freestyle of 71.60% was amazing. To win the freestyle as well as the individual test was incredible and Leo was even happier as this time it was mounted prize giving so he got to have a canter round in his rug and was very intrigued with the prizes in the bag he had won. This was the best end to our pony career together and I am so so proud of everything Leo and I have achieved.
Next we will be travelling to Sheepgate U25's Championships to support everyone and then I receive my GCSE results on the 22nd August, so we have an exciting couple of weeks ahead.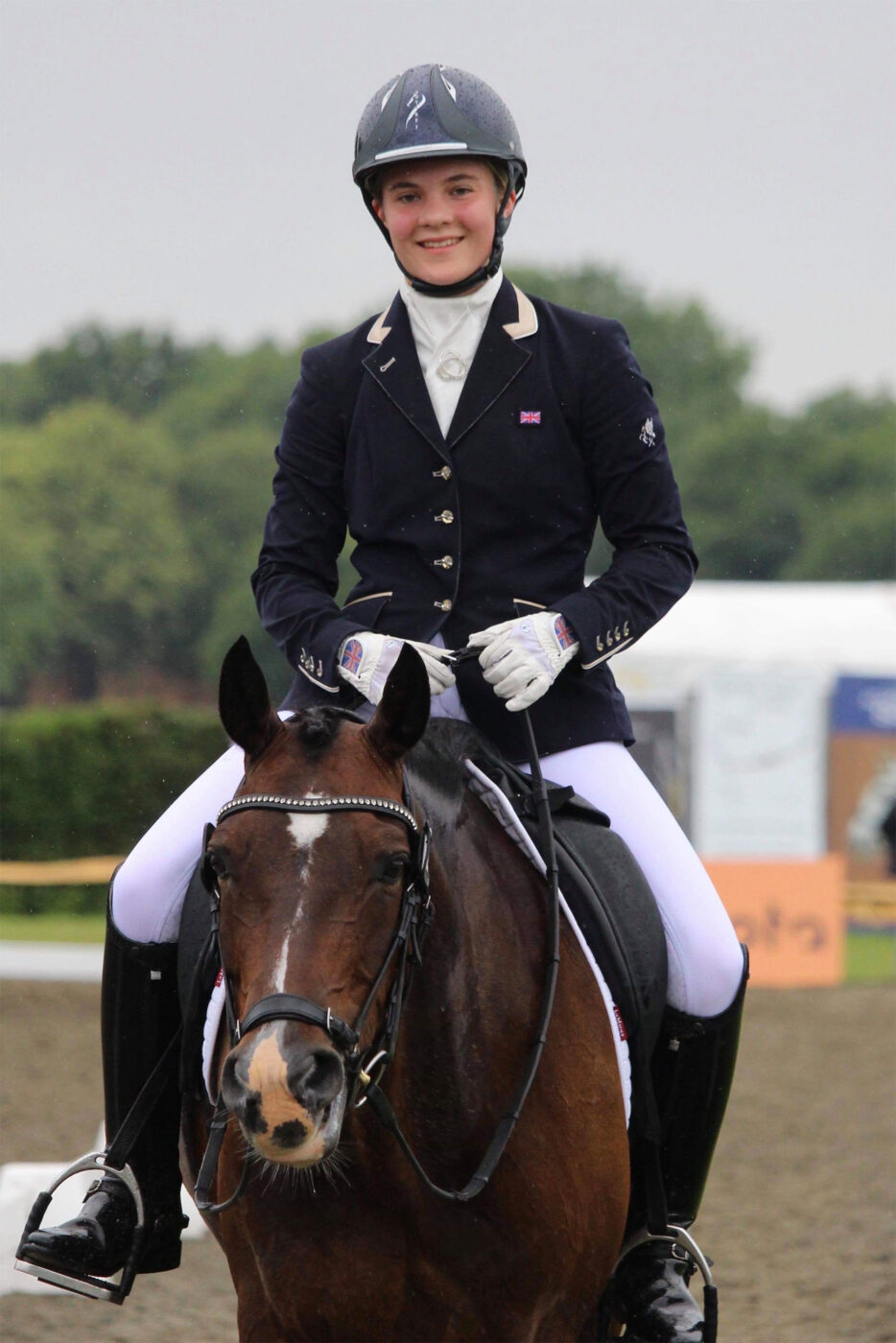 It has been a rewarding summer so far, despite a couple of ups and downs. After Kelsall I had a weird sort of frustration and lack of motivation. I was looking at the season ahead in a different, slightly less optimistic way, which Mum figured out was because we'd hit a bit of a plateau. We have been training Corey for nearly 10 years, with improvements sometimes coming easy and sometimes slower, but we've always been moving up towards the goal of being solid at novice. Finally, we are feeling pretty solid at novice, and so the gains feel more marginal. It was harder to motivate myself for these little 'wins', but once I'd recognised what was the situation, and remembered how long I've wanted to be here, it feels pretty good. The next couple of months have shown me just how solid we are too.
Our plans to have an easy run round the BE100 Open at Bradwall to practice letting him jump out of his rhythm more were sadly scuppered when poor Bradwall was deluged – its hard to believe everything was so wet not that long ago! We rerouted to do some showjumping instead and after a good round in the 1.10m, had our first try at the 1.15m. What a difference 5cm makes! At 1.10m I'm confident and starting to refine my technique. At 1.15m I felt ragged and incompetent and it was all I could do to get round. I came out the ring feeling like my dream of doing an international competition was ridiculous since I couldn't jump 1.15m without turning into a jelly and riding like one too. We know Corey can do it though so obviously its me that needs more practice!
Next was Llanymynech; an event I really enjoy and where I've had some good results over the years. I must admit feeling quite gutted when I saw pictures of the Chatsworth track, looking like Cobs and I could have smashed it, but I decided my guardian angel must have their reasons… Clearly not dressage related reasons though; Corey was tense and despite calming down somewhat in the warm up we made quite a few uncharacteristic mistakes. However the day got better; with minimal nerves we kept all the rails up in the show jumping and then I rode for, and got, the rhythmical cross country round we'd planned for Bradwall. We put in such a fluent performance in fact that we were inside the time for the first time ever at novice and achieved a lifetime best of 4th place! 3 points!!
At this point I'll take the opportunity to apologise to anyone that follows my blog for the slow updates. I should have been blogging about my result at Llanymynech earlier, singing it from the rooftops in fact… all I can say is that my optimism for time and energy after a day at work was quickly proved wrong and anyone with tips on how to fit a job, two children and a horse into a single day please write to me! I've already got Al cooking my meals and have given up on the idea of a tidy house so maybe I've no hope!
After a great flatwork tune up with Paul Hughes we had another crack at the 1.15m BS at Cheshire Horse Show – this time feeling less terrified and having just 1 pole down; good progress. Then on to Brand Hall; which is the opposite of Llanymynech in that it holds quite a few demons for me (see blogs from 2016 and 2017 for proof!) that I was determined to scare off. We went for a "clear round" in the dressage and got a consistent test with virtually no errors. A confident round in the jumping for just one pole was good for a track that was causing many issues. The cross country excited me; it had questions and was challenging many people but I knew we could get round and enjoy it. For the first time ever I felt like I used to when I competed Danny – that we might not go clear but we could still complete and have fun. Well, we had an absolute ball. Corey misread the skinny into a wood at 8, stopping at the very last minute, but having been shown there were no gremlins behind it, he came back and jumped it confidently second time of asking. We cleared the corner at 9 and kicked on to jump the rest of the course without problems. It might sound counter-intuitive but I was over the moon. To be able to walk a really technical track without worrying I might get eliminated, to have a problem but get past it so quickly and to finish having so much fun feels like a massive milestone. I definitely feel like we have now "made it" at novice and that we are back to doing what we love most, eventing for the sheer fun of it.
Our latest run was at the Pony Club's area qualifier round Somerford. They never make it an easy track there and I was hoping that it would both challenge me and give me the confidence to enter Somerford's International class. Corey has started to struggle with tension in warm ups so we used this dressage as a practice for different ways of releasing his neck. He was so relaxed throughout his test that Mum cried (admittedly not that unusual).
He had one down in the jumping, and although it wasn't as fluent as I'd hoped, there were a lot of things I did well and we're moving in the right direction. We started the cross country a bit out of sync from each other but soon reconnected. He was convinced that I was taking him the wrong way because the course didn't quite follow the normal BE route, yet he was jumping and trying his heart out. It was exactly how I think cross country should be; maybe not foot perfect but rhythmical and 'making it happen'. The biggest question for me came at the water 3 from home; a hanging log dropping in to the pond, which was the toughest water jump I'd ever faced. You'll all know Corey well enough by now that of course he didn't even blink and I couldn't help but laugh as we pushed for the finish!
So, after 10 years of training, very little blood but a lot of sweat and bucketfuls of tears, we have decided we are ready. The tailcoat is coming out the wardrobe, the FEI registration is done and Corey is taking me to my first international competition in over a decade. Nicki showed that Cobs is capable of getting a place at an international, and I won't exactly be forgetting that possibility, but my overarching goal is to enjoy it. My colleagues think it very funny that this 'international' competition is 20 minutes down the road, but I doubt Harry Meade thinks Badminton is any less of an achievement just because he can hack there. I got frustrated two weeks ago that I don't have time to school out all the imperfections, but that did me a favour. I'm not going to make everything perfect but I can (hopefully) make everything fun.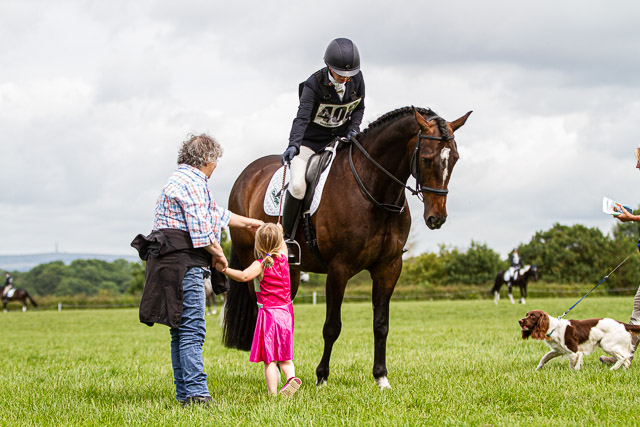 Well what a week we had at Bramham Horse Trials. The event boasts a stunning park, immaculate organisation and a very friendly atmosphere.  We enjoyed a really super week of remembering exactly why we participate in this sport! All the best ingredients seemed to be there.
Stinky's dressage was a fraction disappointing. Such is his maturity now in the dressage he didn't need as much practising as I did before his test! So a touch flat and a couple of little mistakes left us on 33.
Thanks to the heavy rain on Friday and an enormous amount of preparation by the Bramham team, the going for Saturday's 10m42s cross country was perfect. Ian Stark challenges bravery and accuracy and accuracy and bravery!!! The problems were scattered all around the course with very little let up, coupled with steep undulations making it a very senior test indeed. I set out allowing Stinky to find his feet being his first run at this level. After he hopped and popped his way confidently through the challenging combinations at 6, 8 & 10/11 I thought it was worth upping the pace to try for that elusive double clear in the time. He answered my every call and came home bang on the optimum! What a buzz! I've definitely never had a horse as fit or finish as full of running around a track like that. His Dengie fibre diet of Alfa-A Oil and Performance+ Balancer clearly suit him as he looks a picture of health and felt a million dollars from start to finish.
Di Boddy always builds a challenging and technical showjumping track and Bramham was no exception. Thankfully despite clears proving hard to achieve and a tight optimum time, The Greenlees family's little brown pony skipped around and became one of only 3 horses from the 80 starters to finish on his dressage score!!! I'm still almost expecting to wake up and find that I was dreaming. My clever sister Sophie Lane produced Stinky from an unbroken 4-year-old to the Burghley Young Event Horse finals, and was instrumental in securing me the ride on our little star. I'm so fortunate that The Greenlees have had the patience to allow him to develop at his own pace, which will hopefully now pay dividends as we look forward to Blenheim and then Badminton, Bramham having secured his 2020 Olympic qualifications. So many people and so many factors go into a happy and successful three day event, it's almost impossible to list them all. Suffice to say THANK YOU one and all, and may this be another step on an exciting journey towards the pinnacle of any equestrian's dream…The Olympic Games.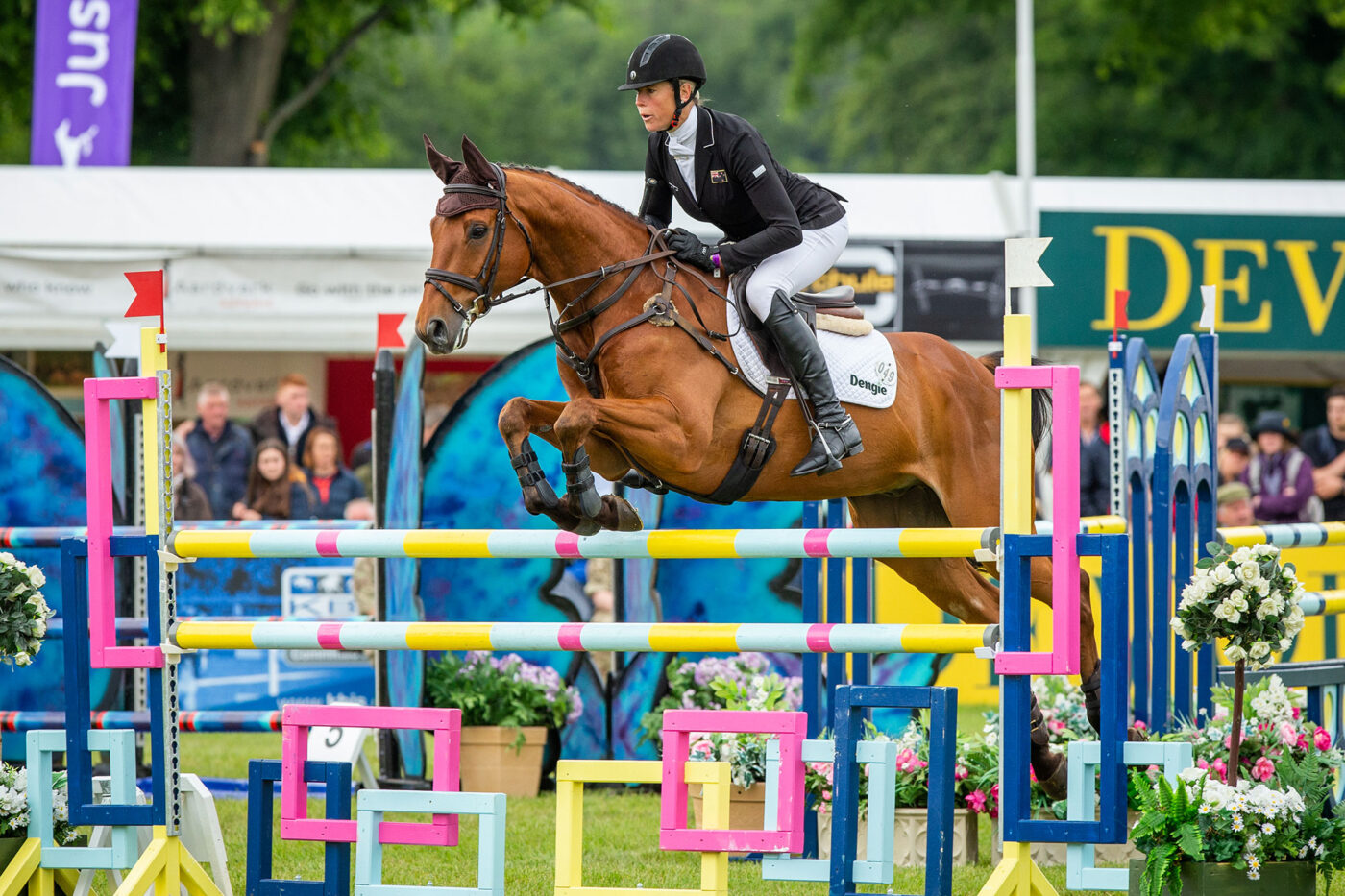 Last time I blogged I was preparing for The Pony Club Dengie Winter Championships with Felix going to do the Intermediate Dressage. To be honest we really wanted to get to the Novice Championships as that is the level we are happy and confident at. The Intermediate test was always going to be a challenge for us, but we gave it our best shot!! I was so excited to be going to Addington Equestrian for the Championships and this time we were going to stay there the night before, which made it even more exciting.
It was quite a long journey to Addington, but Felix travelled well, arriving relaxed and happy. Mum took him out for a leg stretch and some grass whilst I got his stable ready. I then took him for a quick ride and to have a look at the arenas before giving him his tea and putting him to bed. I woke up really early the next morning as I was so excited. Fortunately Felix had managed to keep himself pretty clean over night so all he needed was a leg and tail wash and to be plaited up, then he was ready to go. I went to watch a few of the the other competitors in the Intermediate class before it was my turn…they were amazing and suddenly I felt really nervous!! The other competitors all seemed much older and riding big dressage type horses – Felix and I seemed really small and ordinary in comparison, I'd never felt this nervous before!! Felix warmed up really nicely and went in and did an obedient test, but it wasn't our best and I was a bit disappointed. It was a great experience and now I know what to aim for next year.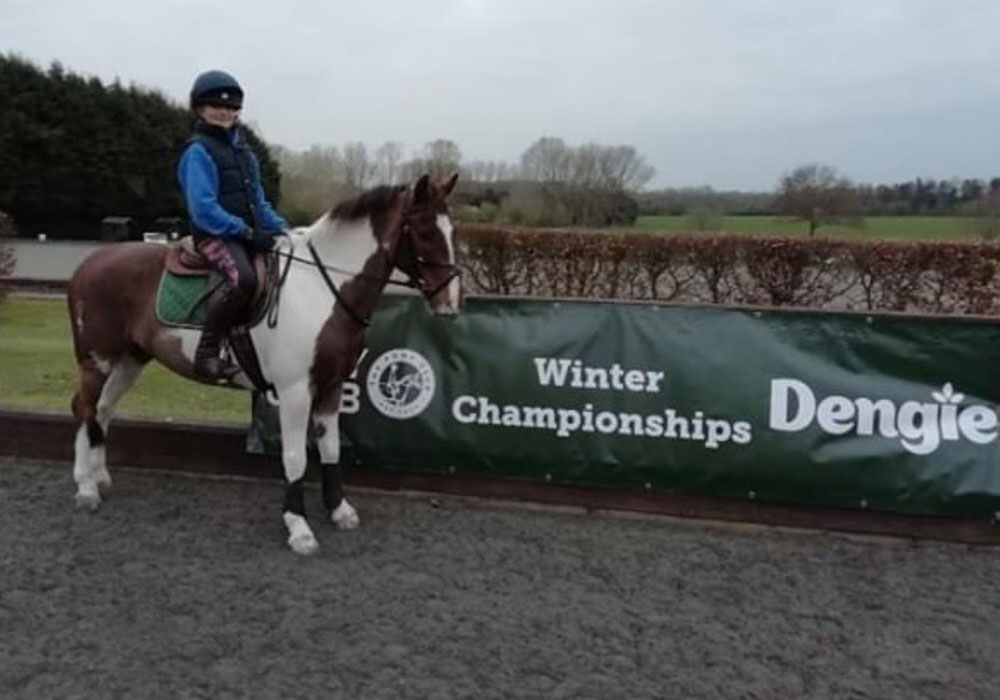 With The Pony Club Dengie Winter Championships completed for this year it was time to focus on the eventing season ahead. This was going to be my first season doing some BE events as I am now old enough. My first event was at Port Eliot in Cornwall. We had been warned that the course was very hilly so I had been doing my canter work in a field on a hill. Mum had measured out a distance and I had been practicing going at the right speed as Felix tends to be a bit slow if he can!! The day of the event was really windy and we did wonder if it might be cancelled, but it wasn't so off we went. Felix did a lovely dressage test for 28.5, a clear SJ and was clear XC with 9 times penalties (Dad thought we would get at least 15 time penalties as the course was so hilly!!) so we finished 8th in our first BE competition!! I was so pleased with Felix!
Our next BE event was Millfield. Felix did another nice dressage test, had one SJ down and did a lovely clear XC and we finished just outside the top 10 in 13th. We then went to Pontispool, it was a bit of a stressful day as we broke down on the way there and I wasn't sure we were going to make it, but we got there just in time for my dressage test, phew!! Felix was as consistent as ever in his dressage and scored 32 which put us in 4th place. He did a lovely clear SJ round and was clear XC, but the ground was really hard so I didn't push him and we got 9 time penalties which dropped us down to 11th place, but I was still super pleased with him! Now Felix is concentrating on The Pony Club Area Competitions. I am hoping that we will be picked for the Novice dressage team and the 80cm Eventing team – fingers crossed!!
Chico isn't quite as reliable as Felix! He is either really good or really bad, but we have been having more good days than bad days! Our first 'practice' competition was a combined training where he did a tense but accurate dressage test and a nice clear SJ round, so we felt ready to go out and do a little one day event. We went to a small Pony Club One Day Event (ODE) where Chico did an amazing test and scored 24 with some 9's and a 10! We had one fence down in the SJ because he was going a bit quick and then had a stop on the XC, but overall he behaved really well and didn't have any tantrums which was really good. Thinking we were on a roll of good behaviour we went to another one day event, but Chico had other ideas. He did a nice dressage test, but after jumping 3 fences of the SJ course he decided he had had enough and had a tantrum in the corner of the arena so we had to retire. Back to Square One!! Since then we have been working on how to deal with his tantrums and riding him differently between fences. He is very very strong and forward going, but doesn't like to be told how to get to a fence and if he thinks he isn't being allowed to do it his way he gets angry!! Anyway, in between the one day events he has been out and done some BD competitions and has managed to qualify for an Area Festival at Prelim level so it's not all bad!!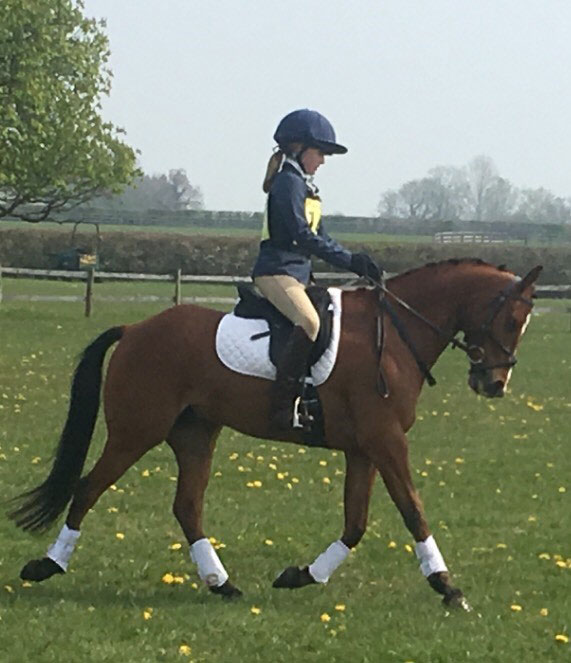 Smartie has just been hacking and schooling, he is only just 5-years-old so there is no rush for him to go out competing yet. His canter is still quite unbalanced but it is improving all the time. He is quite an anxious pony so we want to build his confidence and trust by keeping things simple and making sure all his experiences are good and happy ones. I'm hoping that I will get him to a dressage competition in the next few weeks to do a walk and trot test.
So that's all for now…..hopefully next time I blog Felix will have been to the Pony Club Area competitions, Smartie will have had an outing to a dressage competition and Chico will be back in the good books.
The Eventing season is now well and truly underway and we are currently building up to Bramham Horse Trials next week with Candy (OBOS Impressive). Having done a good dressage test bar two silly blips and a fab showjumping round under the conditions I decided to withdrawn from the XC at Chatsworth due to the ground. It's a hard call when you only have one horse at the level, but my main priority is to make sure I can keep her going for as many years as possible and sometimes you have to make the decision to look after them no matter how much you want to run!! Luckily I had already entered Bishop Burton as a back up in case anything went wrong at Chatsworth….she did a lovely test and jumped well and to say she was keen to go XC was an understatement (having not run for 7 weeks!!). We had to have a few reminders as to who was meant to be in control and therefore added 12 time faults to our dressage to finish 9th in a competitive OI section. She has had a flat session with Chris Bartle this week and we are going for a quick tune up over some jumps next Tuesday and then we are off to Bramham!!!
The young horses have had a few runs…some good…some not so good! My mum always says Eventing is a game of snakes and ladders…one minute your on the ladder up and everything is going well and the next minute it all goes wrong and your back on the bottom trying to work out what happened and if you should give up and get an office job! Luckily those days don't happen too often, but Warwick Hall was one of those events! Snip had his first run of the year and was foot perfect until the XC where the sand on take off was just all too much and he thought it was sinking sand, we had to check a few times before he got going. However the next weekend at Bishop Burton he was a super star and finished on his dressage score to come 3rd! So my advice to anyone is that if you have a bad day get back on, work hard and next time out it will be better (hopefully!).
I have to say the horses are all look amazing and I can really only put it down to their feed (well maybe a bit of work too, but mainly feed!) and I want to say a huge thank you to Dengie for helping with their diets and for supporting me again…and it was a fab surprise to find myself and Candy on the Dengie stand at Badminton Horse Trials earlier this month!!!
So something of a whirlwind week with a very happy ending! We ran three horses Intermediate at Aston on Wednesday for one ribbon and two others had happy outings. I then whizzed up to Royal Windsor to support Harry in the musical drive that evening and spent a very enjoyable morning on Thursday watching all the action unfold. Friday I ran four novices and Emelia took Willy and we came home with 5 double clears and 4 ribbons. So leaving a happy gang at home Evie, Emelia, Superstition and I set off for Chatsworth on Saturday. My main aim was big arena exposure to see how our Bramham preperation was going. It would seem that "going well" was the answer. Despite taking a minute or two to adapt to the very soggy going in the main arena, Superstition produced some of his best competitive work to date. I was initially disappointed with my score of 31 but watching the replay the jockey rode two poor halts and two poor pirouettes, so they proved expensive!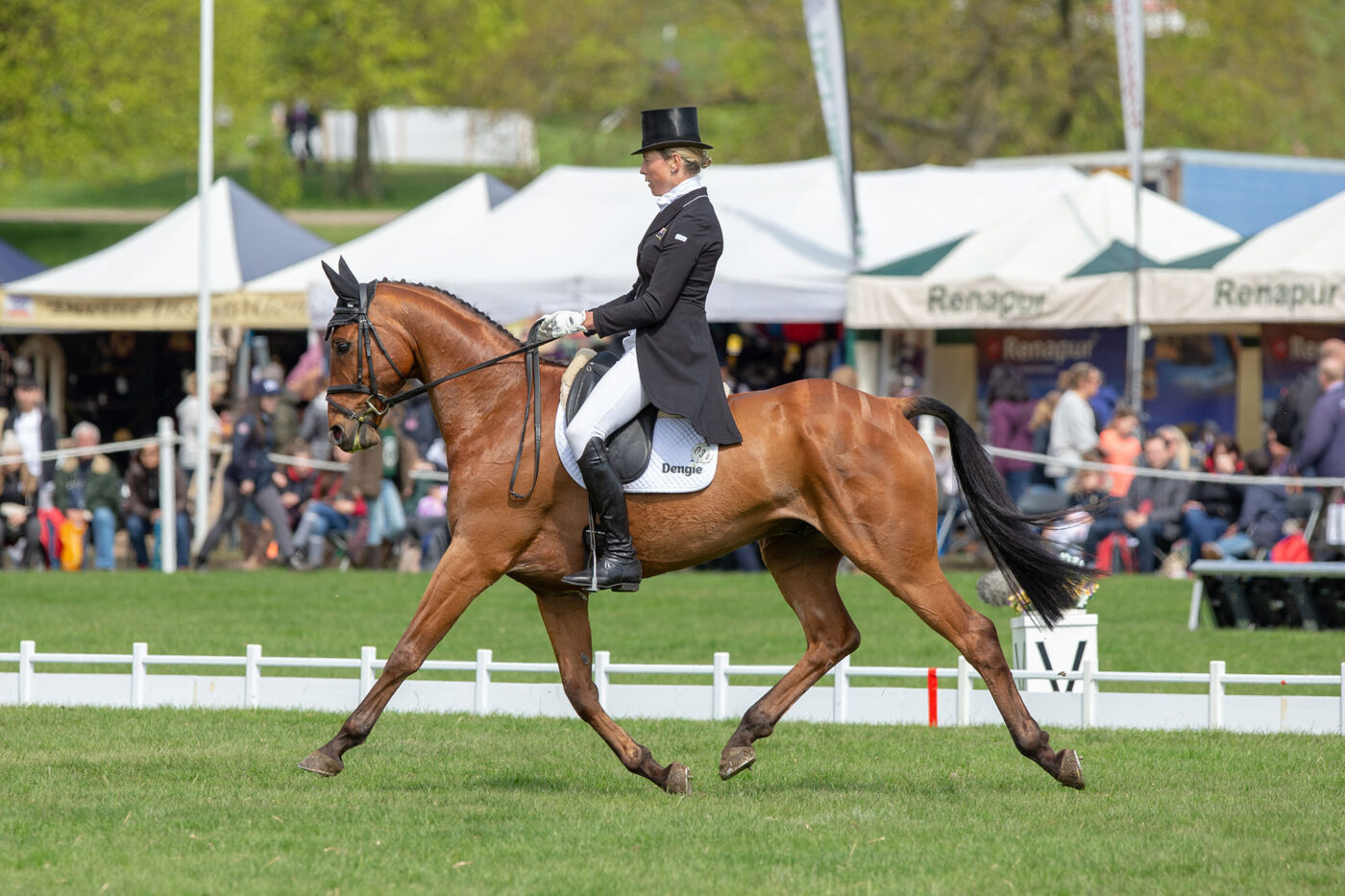 Show jumping on Sunday was as usual at Chatsworth causing plenty of trouble. I think the close proximity of the fences to the spectators, plus the skinny poles and on this occasion variable going all posed different challenges. Stinky nailed it I have to say and gave me maximum effort for a great clear round. This drew us from 11th after dressage to 4th after SJ. The XC is always decent at Chatsworth and the effect of running reverse order, against the clock where every second counts adds extra pressure. Indeed 5 out of 25 starters took uncharacteristic tumbles. I am not known for my speed, but had a wonderful round on an incredibly talented 10 year-old at just his second 4*. Retrospectively I could have saved a second or two here without him feeling the pressure, but overall I was absolutely delighted with his performance to come 3rd in an incredibly competitive first leg of the Event Rider Masters.
I was so proud to be on a podium and even more deserving was the ever supportive Gillian Greenlees who has been a part of our family for 12 long years owning various 4 legged friends! Thank you so much to the ERM organisation and Chatsworth for such a great show and for making a class like this happen, massively appreciated by us all in particular my darling Dad who wasn't well enough to be with us in person and loved the coverage! Onwards to Bramham!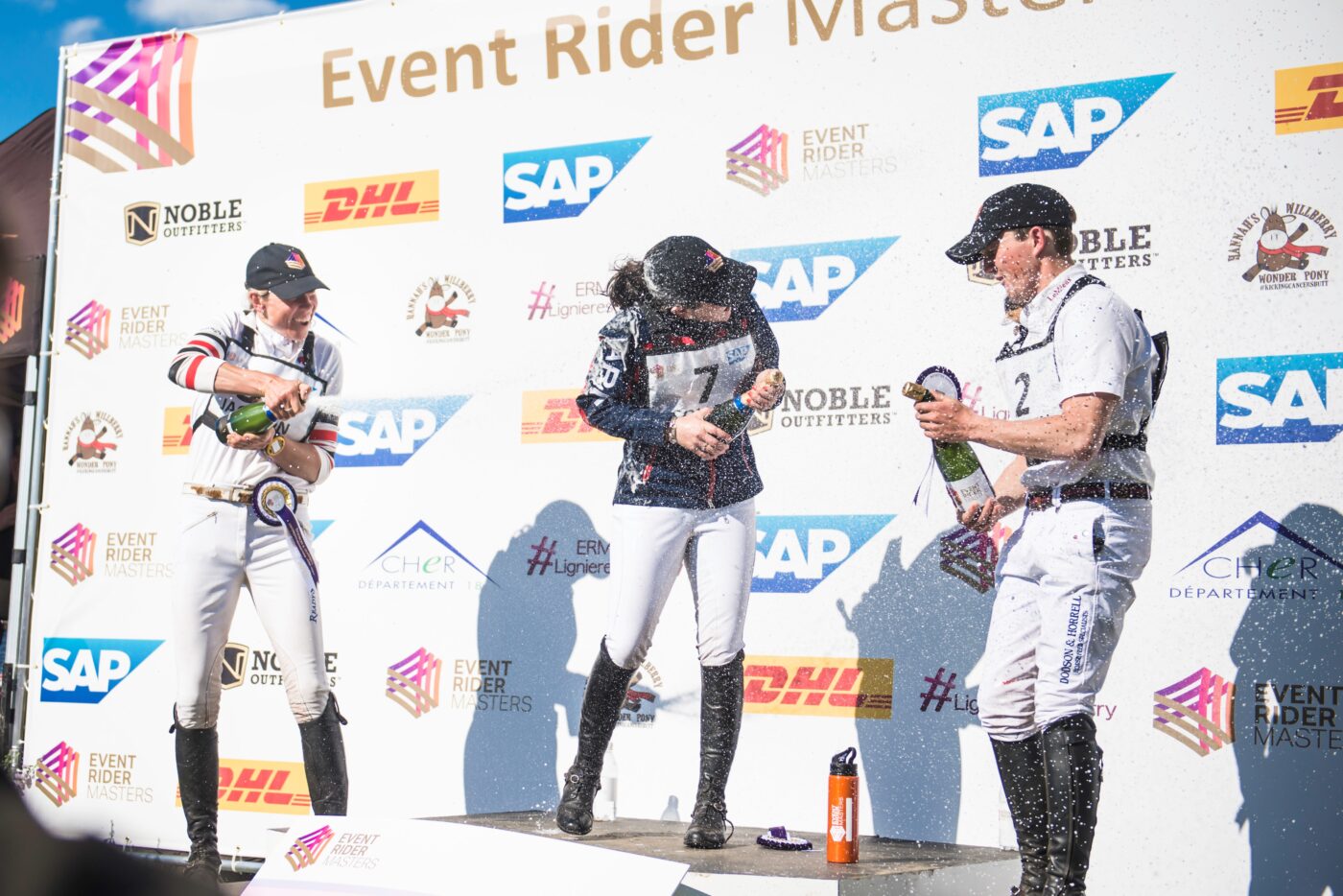 Larry won yesterday with over 70% to complete his qualification for the Elementary – so he is off to the British Dressage regionals for the novice and elementary. We had been working on the halts as Larry always left a leg…and he was such a good boy and gave me two great halts!! I now plan on taking Iggy out and seeing if we can get him qualified for the novice before the summer closes, but if not we will concentrate on the winters. Iggy is going really well and I am trying to consolidate his work for the 6-year-old semi finals. Knock Out is just lovely – we are working on the scales of training and he is improving every day, I'm looking forward to the 4-year-old semis with him.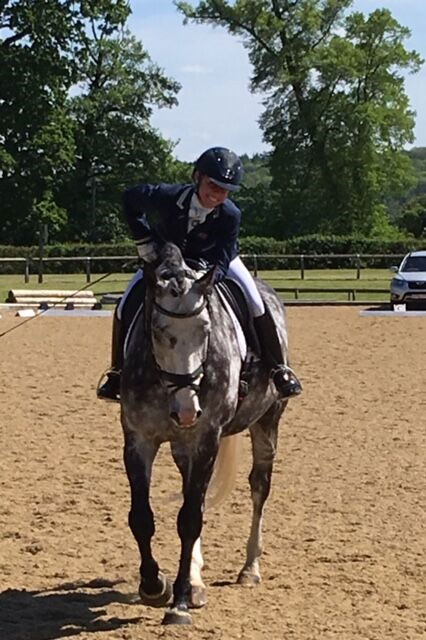 We have also been celebrating Molly's fantastic news, along with Milton she has been selected to represent the North at the Inter-regional Championships at C Squad. I'm so pleased for her, she has done amazing stepping up from under 12's, working hard on such a young pony. I would like to thank all our sponsors especially Albion who made Molly the most beautiful Dressage saddle which I can honestly say has helped her riding and position no end. Also congratulations to Ruby Hewitt who got picked for the C plus squad with our pony Harry, she has done amazing to get picked having only been doing dressage for such a short time.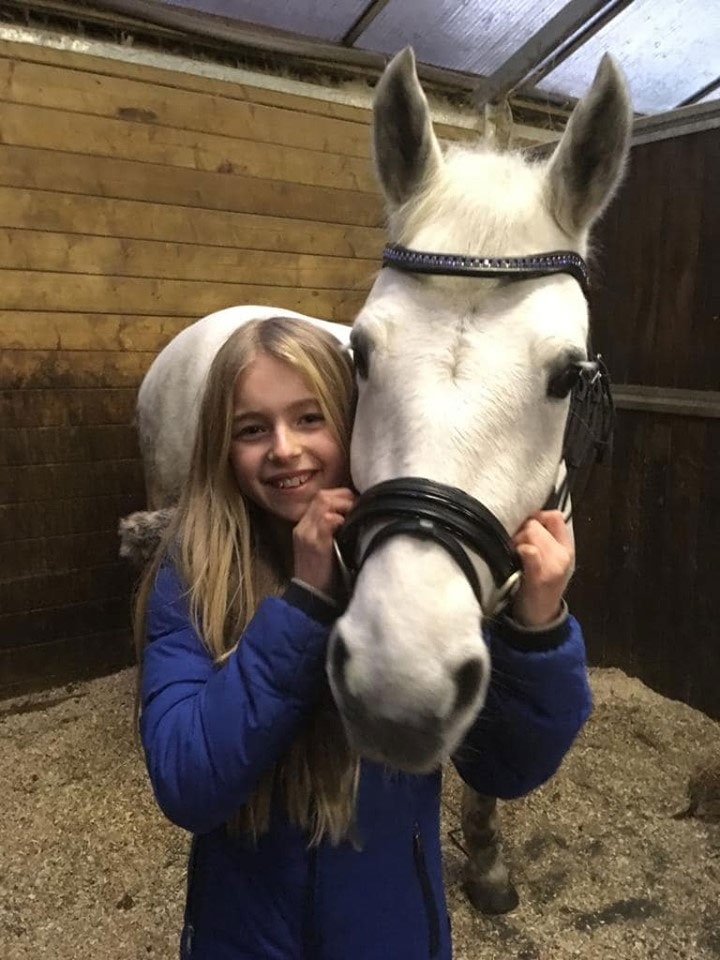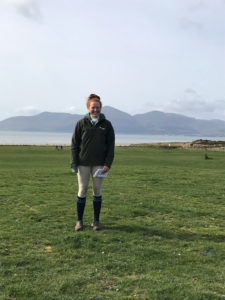 I have had 3 fantastic events here in Ireland with Googie. Our first event was an Intermediate at Tyrella. The night before my mum arrived into Dublin airport where I picked her up from. We then had an leisurely wake up at 5am, followed by a 3 hour journey. We arrived to the most picturesque setting as the event takes place right on the beach. It took us about 10 minutes to drive 200 metres because my mum kept wanting to take pictures!!!
Warming up for dressage (9am ish) Googie was so calm! I'm always slightly worried when she is so relaxed, I always say "she must be ill". She is really enjoying her work and loves the way that Sam trains so is blossoming into the horse I know she can be. We did a good test, but as ever there are lots of bits to be improved.
'Eventing Ireland' only holds the event on one day, so to fit everyone in onto the only day of the event the Intermediate competitors have to run cross country before showjumping. VERY strange!! Also in Ireland for some reason it is so much lighter than the UK so people are still happily jumping at 6/7pm.
Anyway so after my dressage we quickly walked the cross country and then tacked up to go (for 11am). The course seemed pretty straight forward with a few tricky questions and some interspaces towards the sea! But Googie sailed round in the time. We then went paddling into the sea 🙂 What a fantastic way to cool off a horses legs after cross country.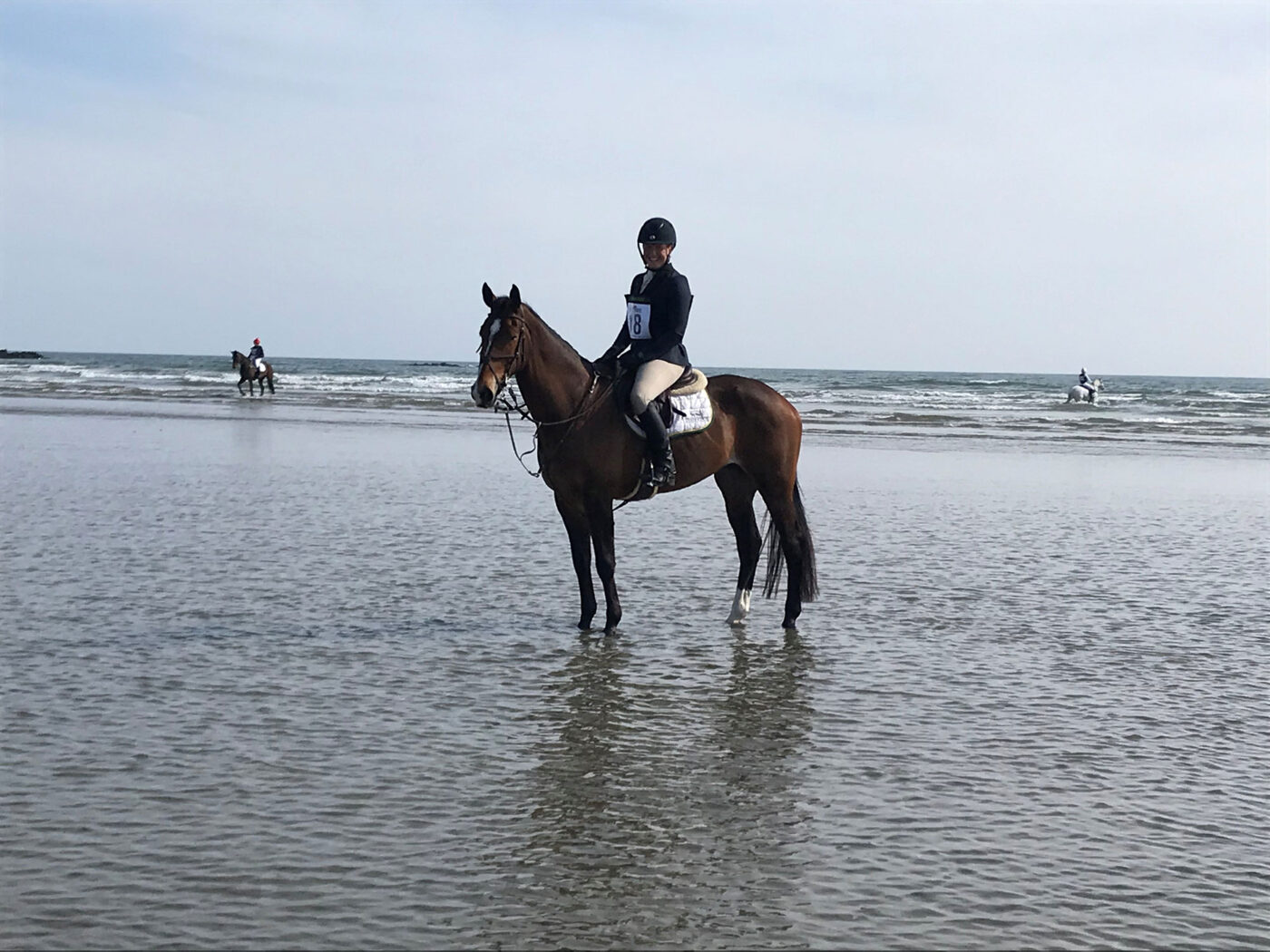 Although it was strange having cross country before show jumping it was rather nice as we did the big wash off and messy bit in the middle of the day and weren't in a rush to chuck everything in the lorry all dirty. Googie washed off and legs iced she then had a graze before going back onto the lorry for a couple of hours before the showjumping began (1.30pm ish).
Warming up for showjumping Googie felt pretty lazy and I had this awful feeling that she would stop! (my worst nightmare). I only jumped a handful of jumps in the warm up, which were two jumps in the middle of a field and in the corner was the ring which was roped off but it just seemed 'very irish' in the way it was done. I tried to razz her up and then I went in. There was no need to do too much razzing! As soon as she saw the showjumps she knew her job. She did the most beautiful clear round and finished 6th.
Two weeks later we went back for Tyrella 2 which was equally successful and Googie pulled off another FOD (Finished On Dressage) for 3rd. These were two fantastic runs in preparation for her first CCI4*S at Ballindenisk.
My next blog will be all about Ballindenisk and how Ziggy did in his first event!!
Wow! We have had a great start to 2019. Arlo is just going from strength to strength! His lateral work is unrecognisable compared to sixth months ago and sometimes when in a test, I think, 'That felt just like it did when I was nailing it with Gari'. It turns out that blood, sweat and tears do pay off, as I was starting to doubt this mid-summer last year. I spent the majority of my Christmas Holidays putting together my first 'homemade' freestyle floorplan and music when I should have been revising (I've got my priorities straight!) and we have taken it out three times. As of yet, we have not scored below 70% with it, and our straight test scores are in hot pursuit of these marks at Elementary level.
We were all excited for the regionals, and I felt truly ready, but it was not meant to be. Driving down the A90 (which is proving a cursed road for us) a small car decided it was fair game for our fully-loaded 7.5 tonne lorry, and drove straight up the back of us, with enough force to push us 5mph over the limiter! Thankfully, humans, horses and dogs alike remained totally unharmed, but we ended up turning around. ARGH!
I found myself saying one of my key mantras; you are destined for bigger things. It's not arrogance, but so many times I have been within touching distance of a goal only to have it snatched away at the last conceivable moment. That phrase has helped me out of a few horrible slumps, and it pulled me out of this one. So while poor Arlo escaped with only an extended journey, the lorry was rushed off to 'A&E'. I am sometimes sceptical of social media (the lack of honesty about hard times on a lot of pages can make me believe I'm not good enough), so I went 'cold turkey' on it for the regionals. I love seeing my friends succeed, but it was hard not being with them for the second year running.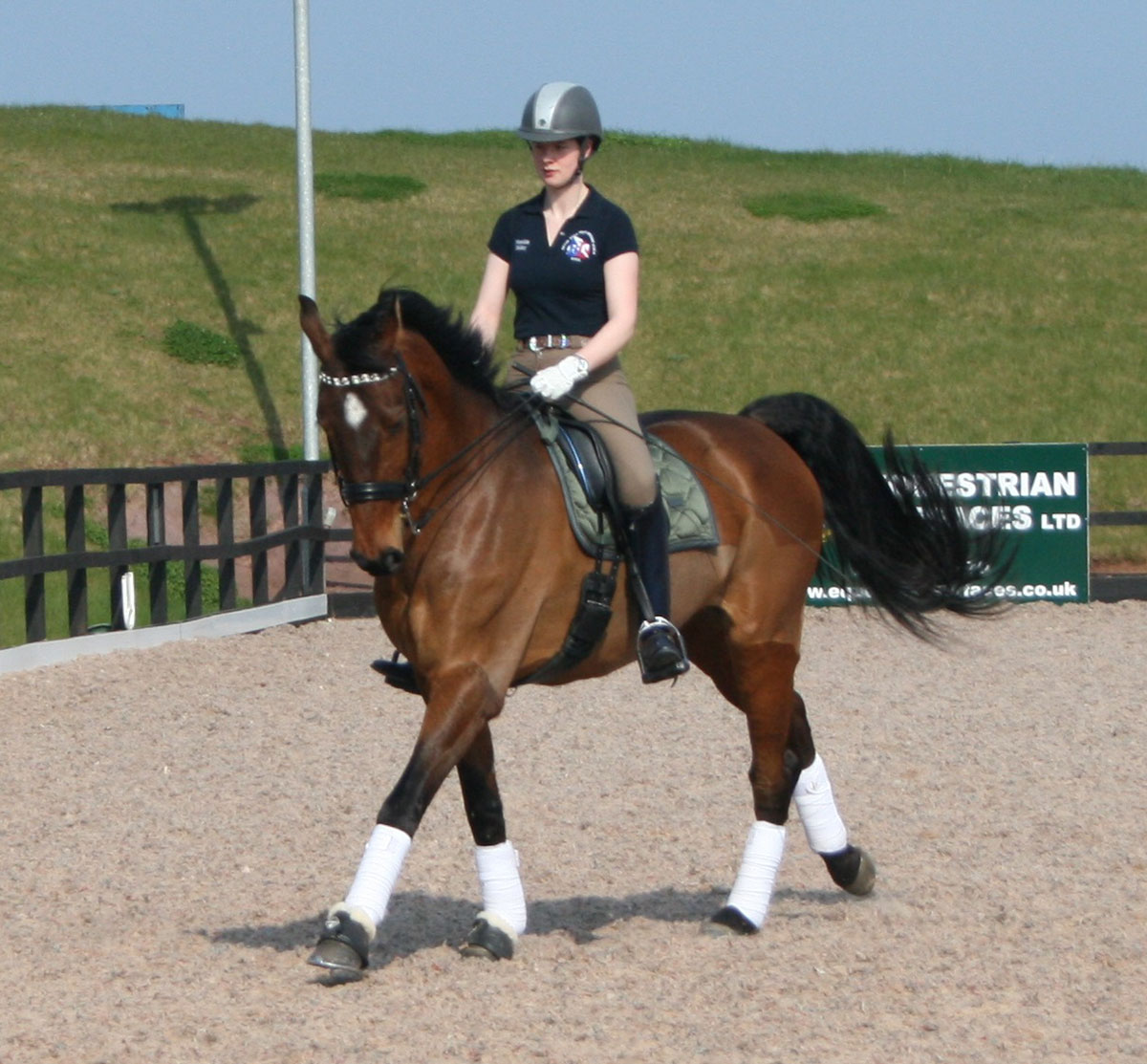 Despite mechanical difficulties and annoying drivers, I feel like I am getting my mojo back. I have now finished school and need only return for my exams now. I only have three exams, four papers, this year, and I am fairly confident, but at least I have an unconditional offer in the bag for university, meaning the only pressure is that which I put on myself. My coursework is fairly strong so now I'm in the final sprint. The only downside to Advanced Highers is the length of the papers, with my History being 3 hours and 45 minutes long, I just hope I can still write at the end of it! Thankfully Physics and English are shorter, but not by much. I feel weird leaving school; I know I am well and truly ready to leave school behind, but it has been routine for 13 years, that's around 85% of my life. After exams, I only have prom; yes that means high heels and dresses… hmm, we'll see!
Arlo is really keeping me going right now. I'm supposed to be studying as I write this, but I can't get horses out of my head! Sometimes it's easier to let it take over, for a little while anyway. We recently attended BD Scotland Youth Camp at Rockrose Equestrian and it was very weird to be one of the oldest riders now. I had my first lesson on canter pirouettes and tempi changes throughout which I was grinning from ear to ear and Arlo's face just says I'm such a good boy, and my mummy loves me! Big shout out to all the organisers, it was very enjoyable. The final day saw us compete and attempt our first medium test in a year. Trust us to favour the deep end as we chose the hardest medium test and rode in front of a List 1 judge! We still managed to achieve a respectable 65% in challenging weather conditions and it's fair to say I am very happy with that result and Arlo is happy with how many sweeties he got for it. The little monkey then proceeded to be a fire-breathing dragon for our last test, so it was a good thing the judge liked forward-going horses and we still pulled off 72%. The other major achievement of the weekend was re-riding the A-Squad test, and pulling off a significantly higher score than a few months ago.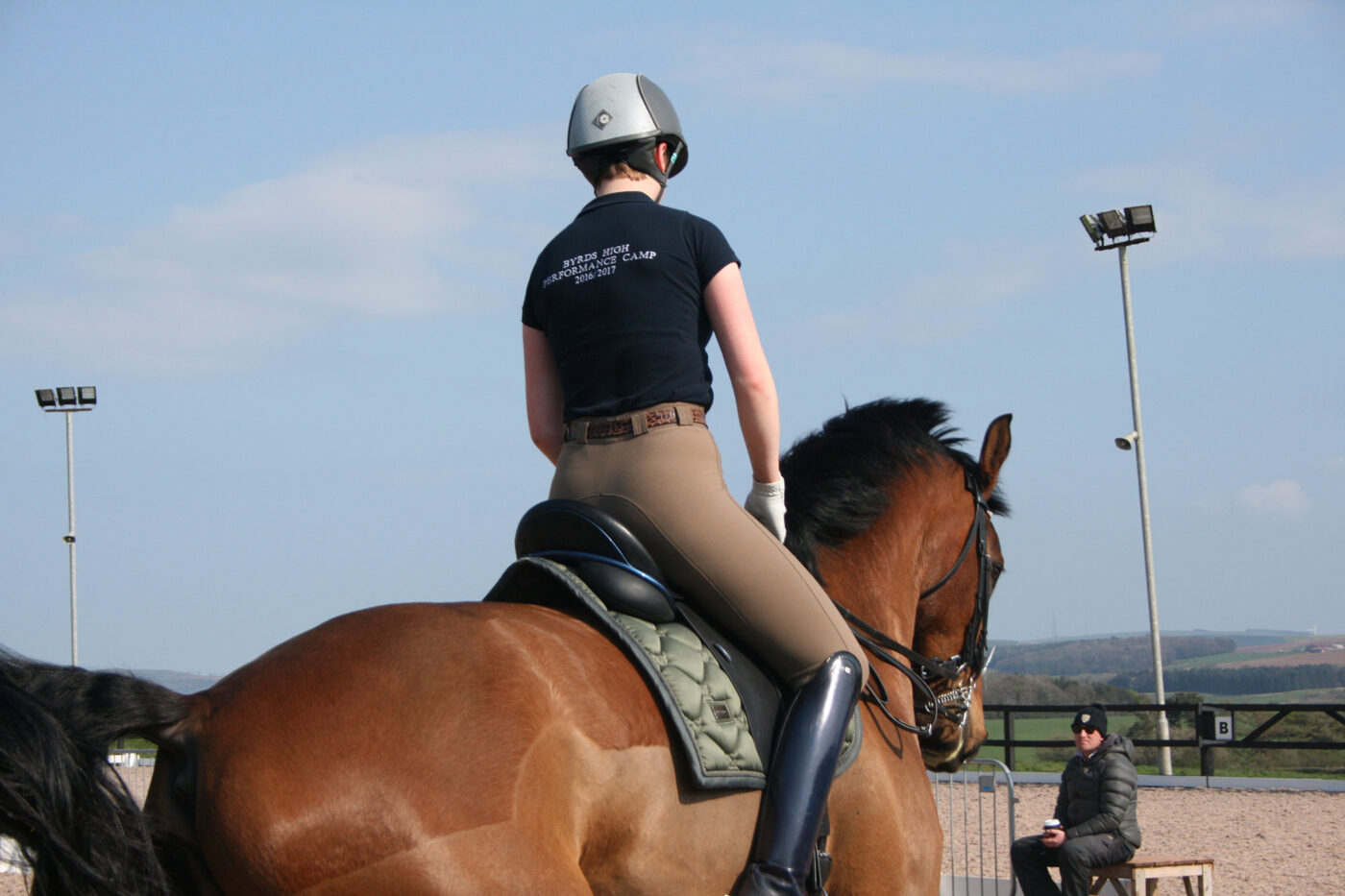 Arlo can now look forward to a quiet two weeks, as my exams begin and my eighteenth birthday celebrations buy him a day or two off… but everyone knows you can't keep me out of the saddle for much longer than that, at risk of your life!
Last weekend saw a big lesson for me. We ventured out both weekend days for four tests. Saturday saw two elementaries, and out of curiosity, I decided to ride the first in a snaffle. We would have broken 70% if Arlo hadn't decided the photographer was going to eat him alive, and got 69.8%. The second test was also a major success completing our qualification. Sunday saw us do two medium tests, a low and a high. The lower medium test went amazingly, with his half-passes feeling possibly the best yet, but in the warm-up for the second test, I started asking for more and more. Being the absolute sweetheart he is, he gave it to me, but he was not strong enough to hold it in the arena. As a result, he tucked behind the vertical and became very tense in the trot work and simple changes. He responded well to my reassurances, but we still did not get the percentage we are capable of. I feel very guilty for pushing him too far, and this is made even worse by the fact he kept on giving me more and more, but we now know where the line is.
We are going to pop the double bridle in the cupboard for a little while and compete as well as train in the snaffle. We communicate better in it. Both of us are cautious of the double; he knows he has two bits in his mouth and backs off, and I am so nervous of hurting him that I don't really hold him in it.
We have set ambitious goals for the summer, with the mind-set of 'you don't know if you don't try.' We are aiming to be selected for BD Youth Home International at Elementary. Whilst we are competing medium, we would rather hold our own at a lower level as 65% is an average for medium at local level at this point in time. Home International will be great for him, so good accuracy, behaviour and fun are our top aims. After all, fun is why we do this. Fun is why I get up at 6am to run before school so I can be fit for Arlo, along with all the other sacrifices that us equestrians come to think nothing of. We aim to make our advanced medium national level debut at Sheepgate U25's, as it just gives us a little more time to maximise our potential. Riding a centre line in a tailcoat is the ultimate 2019 goal, and we are doing everything in our power to get there, but we are also mindful that there are many uncontrollables in these circumstances, and we must accept them when they come our way, and use them as lessons, not failures. At the end of the day, failures are only failures when we don't learn from them, because when we learn from them, they become lessons.