Well this is a blog I didn't expect to have to write…eventing is off!!! All the horses are on great form and have been busy galloping, xc schooling, jumping, hacking, doing dressage and had the new water treadmill sessions in preparation for their season to start next week! I'm still waiting to hear if the dressage nationals will run  as Candy had qualified for the Medium Gold, but I can't see it happening.  It's obviously gutting for the whole eventing community, riders and organisers, but the cancellation of all events is the most sensible thing to do in this crazy situation – people's health is far more important than us crazy eventers getting to gallop over fences.
It's obviously going to affect the whole horse community, hopefully just in terms of loss of competition and earnings, rather than lives. Currently I'm keeping all the horses in work as normal, but will back off the galloping for the time being. I'm hoping the extra time and training will mean they will all come out and do sub 20 dressage tests and jump double clear, winning every event they are entered in when we can get competing again – one can dream!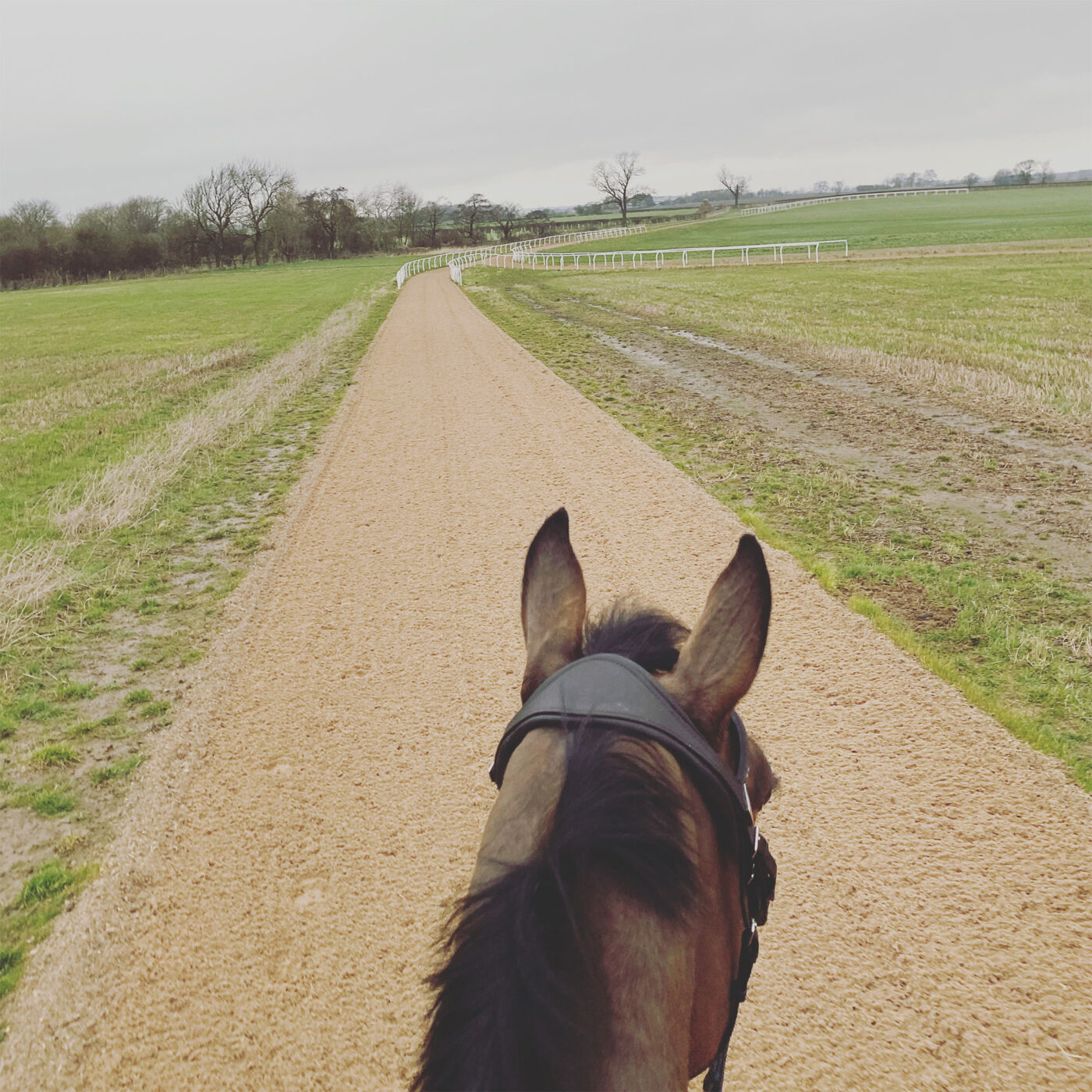 Luckily the horses are all on fibre-based diets (Dengie Alfa-A Oil or Healthy Tummy, Alfa-Beet and Performance+ Balancer) so their diets don't really need to be adjusted to the lack of competitions! I will film some training videos over the next few weeks to share with you all, so you have ideas of exercises to play with at home while no competitions are on!
A month after our fabulous training day with Dengie we have really cracked on with training. Even with all the storms we have been out to competitions most weekends.
Cici has felt better than ever recently now she has her new feed plan, her coat looks shinier, she feels full of energy and is now in prime condition for our first event of the season in three weeks.
A week after the amazing training day I had lots of fun at the Crawley and Horsham Hunt relay in a team of three with two of my close friends. Cici was very patient as we had to stop for a water station and walk over a bridge – the team ended up 4th out of 20+.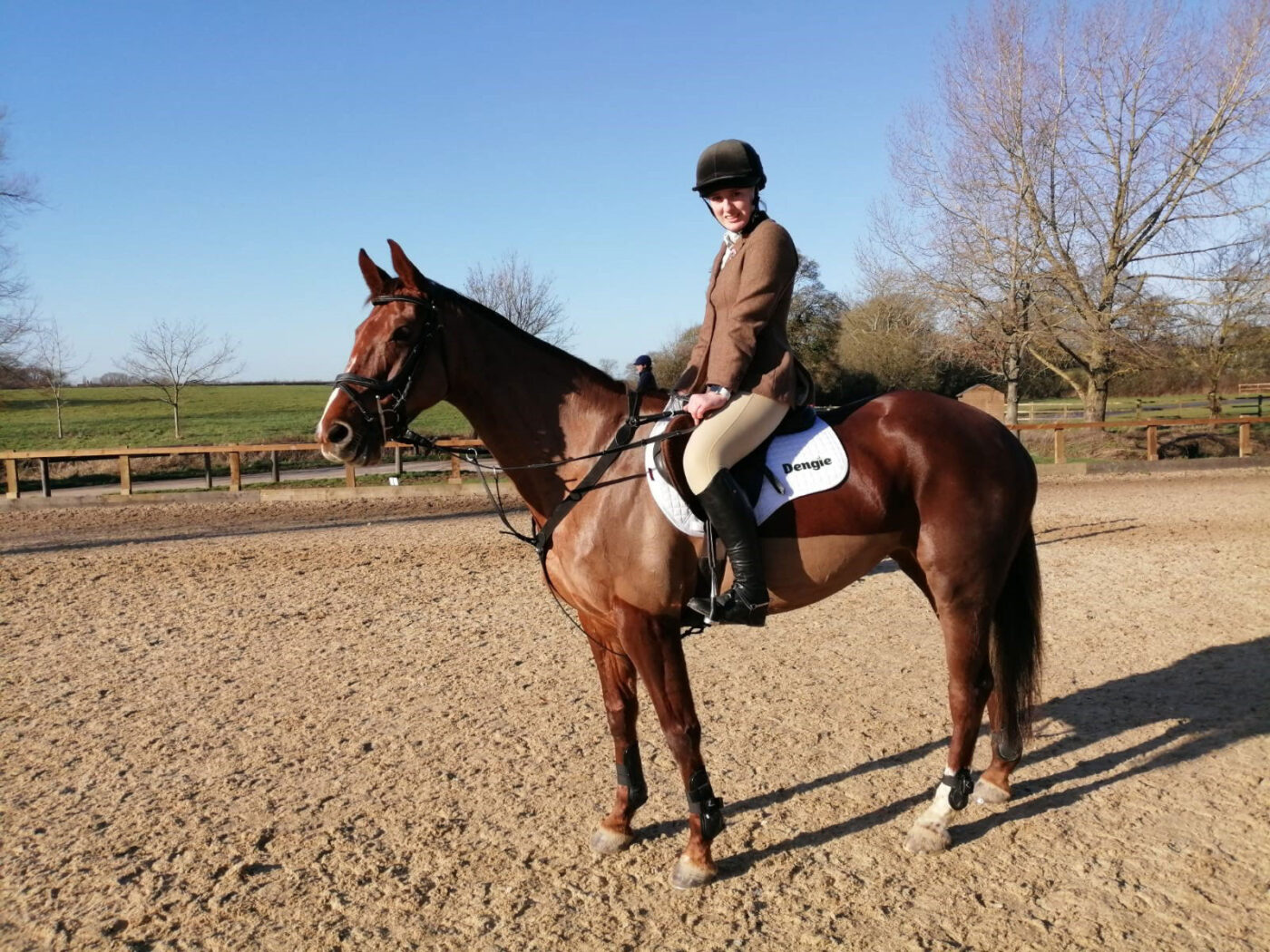 The next weekend Cici was a star at Coomblands Equestrian when we did the NSEA 90cm for team 2nd and the 1m for team 5th. She was outstanding!
Then Storm Ciara and Dennis struck cancelling plans for the next two weekends, so we dodged the rain and did some training at home practising the tips given by Lucy Jackson. The main focus was on skinnies and keeping my canter around corners.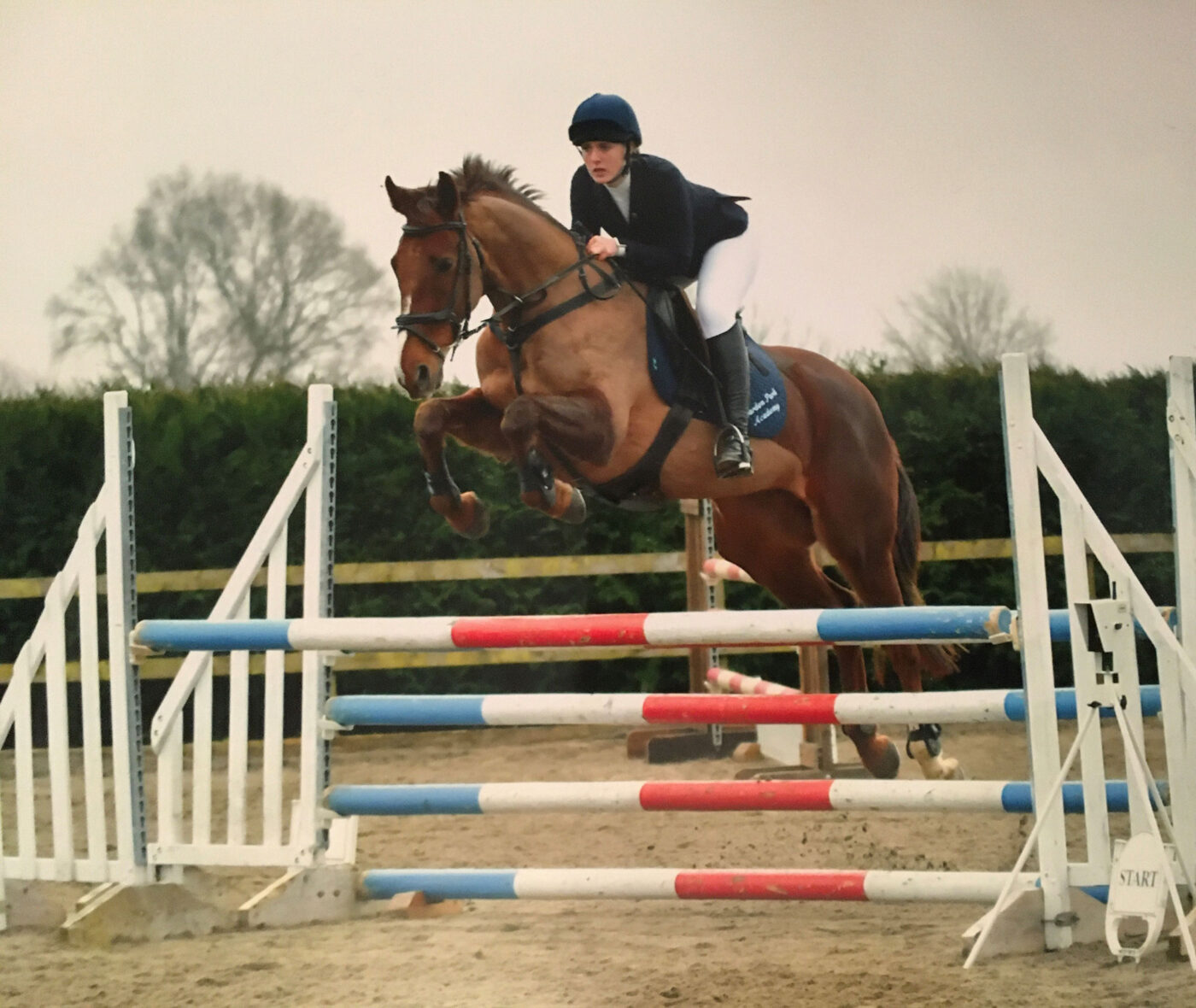 Meanwhile, during my half-term I participated in a Pony Club Showjumping competition with the team coming 4th in 1m. We then had a visit to the fab new all-weather cross country course at Hickstead with BE accredited coach Tracy Brown, where we continued with Lucy's key training points of rhythm and straightness, which Cici thoroughly enjoyed.
After that we spent the day at Petley Wood for the South East Eventers League 1m Arena Eventing Finals. Cici jumped a great clear, with all our practice of skinnies paying off. She aced the dyke, steps and fences on the curve. We finished 12th in a very competitive field, I was so proud of her. The next weekend we went to Pyecombe for the 1m Arena Eventing Finals and she finished 8th with a confident round.
Her stamina has definitely improved with her new diet plan designed by Claire. Her weight has also improved due to the Grass Pellets and Meadow Grass with Herbs so she is now eventing ready.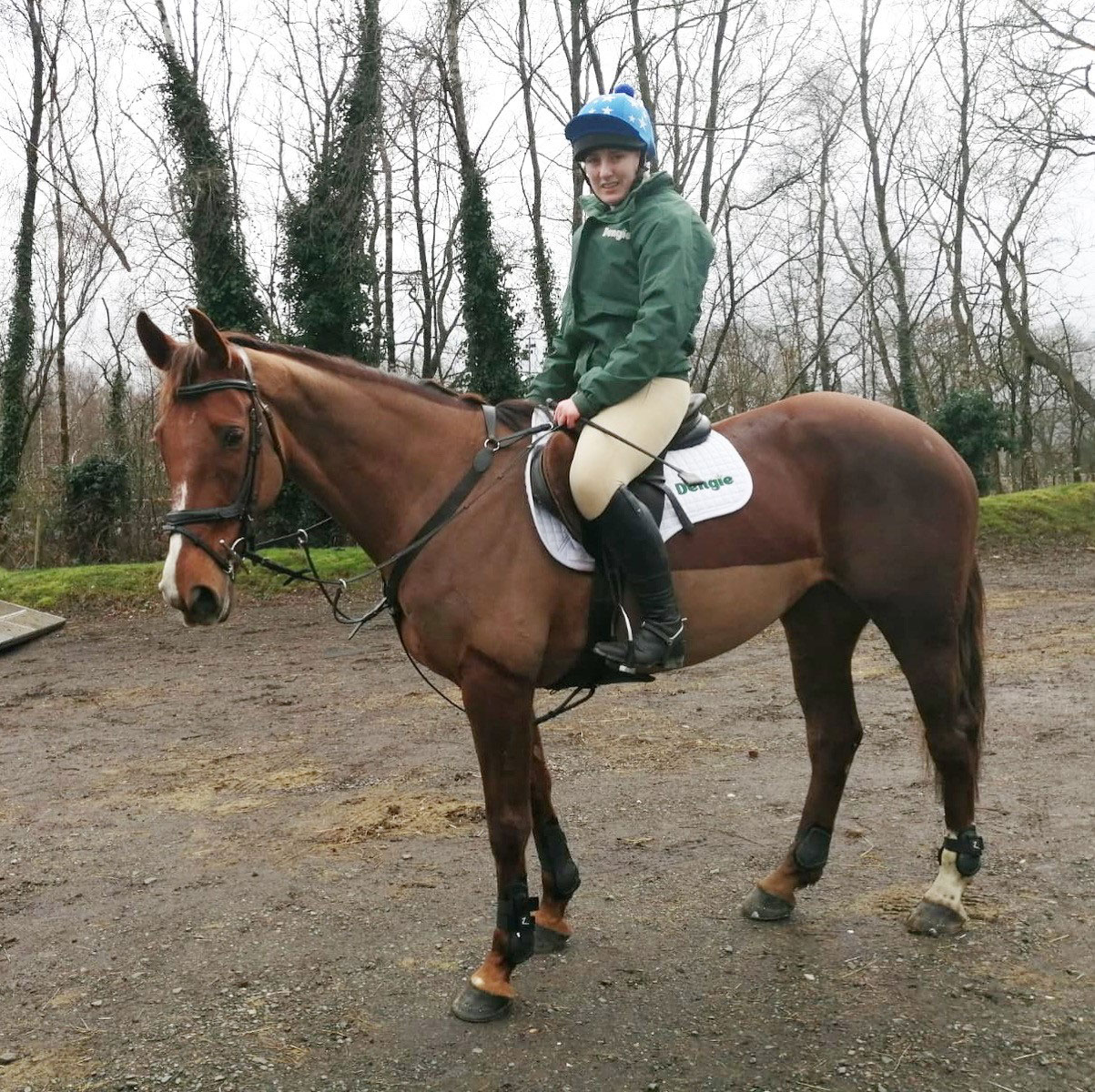 This year started really strong for us! Arlo is looking fantastic thanks to his Dengie diet and months of hard work. The local competitions provided a promising insight into what's to come from Arlo yet. We were so excited for the regionals, especially after missing them last year.
Fortunately we escaped the really bad weather on the way down, Storm Ciara was definitely coming, but wasn't quite here yet. We gave Arlo a leg stretch and he was really well behaved and had travelled well. As can be expected of Arlo, there were a lot of dragon noises in the warm up arena as he jogged/passaged the whole way around! We find it amusing now; he always seems to be this big ferocious warmblood in the arena walk, but then pulls it out the bag when he needs to.
Our first test was the Medium Silver Championship. The test started amazingly, with Arlo producing some of his best work, but sadly, some tension, which was affecting almost everyone that day, resulted in some costly errors to pull us down to 6th place. Despite these errors, I was still really happy with how he had worked. Later that day we had the Medium Silver Freestyle championship, and this test was significantly better, save for one counter canter where Arlo went, 'Look mum! I can do flying changes!' We finished third in another strong class and thus made it to the mounted prize giving. Arlo face was comical when we started tacking him up for the prize giving, but suddenly perked up when he realised all he had to do was look pretty for 5 minutes.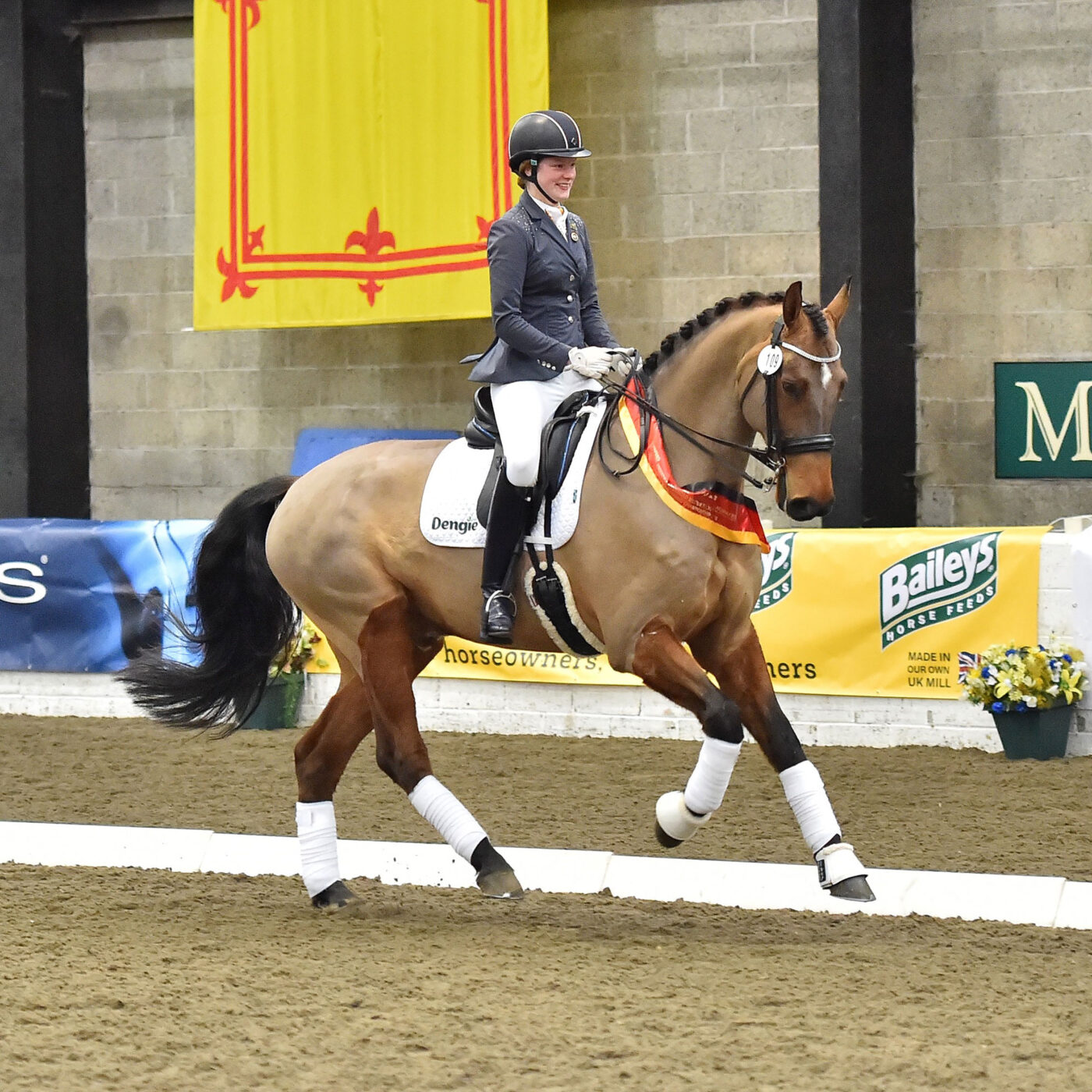 The second day brought our third and final test of the winter regionals which was the Advanced Medium Silver Freestyle. This was our regional debut at Advanced Medium, so I had no expectations going in, especially as I was in good company. Arlo felt great the whole way round and he was definitely more consistent than the previous day. We finished just shy of 70% with one minor error where I didn't set up our last flying change and took Arlo by surprise a little bit! I believed I would come third in the class behind two much more established horses, but I was pleasantly surprised to find out we had won! I was so excited as this was the class I least expected to finish first in! I was so happy I was going to Hartpury for the winter nationals four years after I qualified with Gari, and at the next level up too!
Of course the competition is won or lost, far away from the whiteboards or audience, and I am so grateful to the team of people who helped me achieve this, most notably my parents, my trainer Jennifer Johnston and of course Dengie! I am very excited for what the future has in store for us.
Last time I blogged the ponies had just gone out on a 6 week break in the field and I was spending time getting to know Bracken, a 14.1 mare that I have been asked to event this year. The 3 boys came back into work at the beginning of December…..they were very hairy and extremely muddy, but pleased to get some attention and keen to get back into work. The first couple of weeks was spent just hacking round the lanes mainly walking and trotting, then at the start of my school Christmas holidays they were all clipped and the more serious event preparation work began!
Smartie really benefited from having some time off in the field, he came in looking and feeling much stronger and more confident. He has always been a bit of a worrier and he has a tendency to loose weight when he gets stressed so it was great to see that he had really filled out. We were keen not to lose any of the weight that he had gained whilst out on his break so he went straight back onto the Alfa-A Oil, with Dengie Performance+ Balancer and Alfa-Beet plus as much hay as he could eat!! Felix has a tendency to go a bit overweight when he is not in work, but he actually didn't look too bad at all after the break so he went onto his 'in-work' diet of Alfa-A Molasses Free with the Performance+ Balancer mixed with a small amount of Alfa-Beet. Chico also looked in good condition after his break so he also went onto the same feed as Felix. Bracken has been on a fitness regime since she came to us as she had most of last year off out in a field but the weight has been coming off her and she is now on the same feed as Felix and looking really well. It was great to have a visit from Andrea, our Dengie Area Manager who came and weighed and condition scored the ponies not long after they came back into work. It's good to have an accurate measure of their weight and to know that we are feeding them the best diets.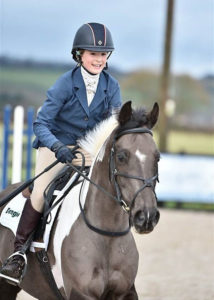 During the Christmas holidays I was able to start schooling the ponies. We went to some Pony Club rallies, and then at the start of the New Year I took Felix, Smartie and Bracken to a BE Arena Eventing competition at Bicton. It felt great to be back out competing! Felix and Smartie did the 80cm class and both flew round (a bit too fast – both got a few time penalties, oops!) and unfortunately both knocked the joker fence down. I then did my first 90cm class with Bracken, she felt amazing and we finished right on the optimum time but unfortunately had the joker fence down…..again!! Although we didn't come home with any rosettes all 3 ponies were looking and feeling really well and it made me very excited for the eventing season.
We have since been out to a few more dressage and show-jumping competitions. I have done my first dressage competition with Bracken and also jumped round my first 100cm Show-Jump course (we went clear and it was amazing except that i missed out a fence!!).
Keeping 4 ponies exercised during these winter months has been hard, my mum helps out by riding and leading the ponies from her horse and she also rides Bracken and Smartie if needs be. The ponies all get turned out for 4 or 5 hours everyday whilst I'm at school so it doesn't matter if they don't get ridden everyday, but we try to work them at least 4 days a week. Now the evenings are getting lighter though it is already so much easier! I did have lots planned for the ponies during half-term week but the awful wet and stormy weather meant that nearly everything was cancelled. Bracken and I did go to a Riding Club SJ competition where we finished 4th in the 90cm with 2 lovely clear rounds. We also did the 100cm class and jumped clear in the first round and just had one pole down in the second round where some of the fences were 1.05 and 1.10m! I'm so excited about this pony, she has wings!!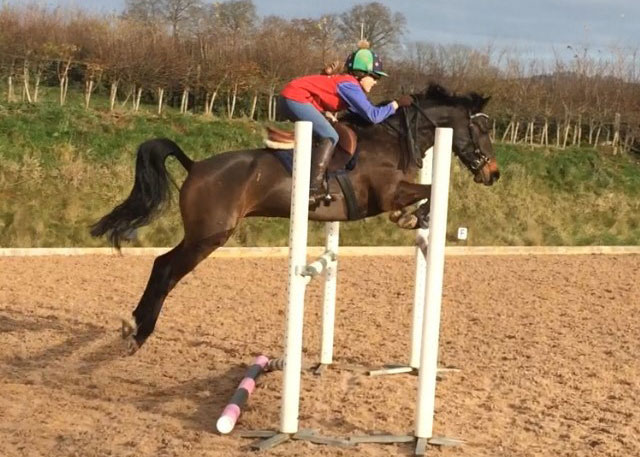 Chico is now looking for a new home as a dressage pony, we had hoped that after a break he might have changed his attitude to jumping but after a couple of good schooling outings he then went back to his old ways of napping between fences. He is obviously much happier just doing dressage so he will now be for sale as a dressage pony. Felix will soon also be off to a new home too, I have had the most amazing 4 years with him and he will always be the most special pony to me, but sadly I have now outgrown him so he is off to help another little rider start their eventing journey!
So, as I write this it is raining again and already some events due to happen this weekend have been cancelled. Hopefully, by the beginning of April when my Eventing season is due to start the weather will have improved dramatically and the next time I blog the event season will be in full swing!! I can't wait to get out of the start box with Bracken and Smartie!
A month after our fantastic training day with Dengie I hoped I would be blogging to tell you how we had kicked on with training and were eagerly anticipating the season ahead. With storm Ciara and storm Dennis causing disruption eventing seems a long way off!
Surviving becomes the main aim and keeping the girls ticking over so they are at least fit enough to kick on when the weather changes. The lack of a school really does hit hard when the weather is like this and I can only dream of the luxury of one with a roof on.
To be fair we haven't had a total disaster the girls have been ridden 4 or 5 times a week, plenty of hill work and different terrain, huge amount of water and bog practice and thankfully they are looking and feeling fantastic. Ellie's change of diet to reduce the calories has been an easy transition, but I have to say she is still looking rather too well.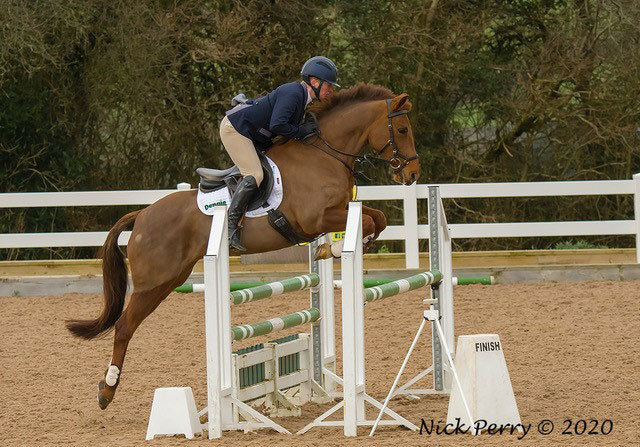 We did get out last weekend to Chard Equestrian a fabulous facility in Somerset for some BS jumping. It was supposed to be a 3-day show, but the third day was lost to the weather. Both girls jumped some brilliant rounds and it gave us an opportunity to try some different bits. I was delighted to come 4th in a strong Newcomers class with Fliss on the second day after just missing out on a placing in the 1.05.
We were also able to put into practice the great training from Hannah Esberger-Hancock with a dressage competition. I was delighted to come away with 2 wins and a second place, although as is often the case, the stunning work Ellie showed outside was not replicated in the arena when she was looking a few excuses to add the odd freestyle element. She doesn't get that flying changes aren't needed at Elementary.
Fingers crossed for the weather to remember dry days and our eventing season will start at Cirencester in March, we then hope to go to Portman, Bicton and Withington which should be a great introduction to the season with a variety of courses to get into the swing of things.
So the build-up to the start of the eventing season is well underway…four weeks and counting! To say I'm starting to get excited is an understatement, especially with missing so much of last year due to illness.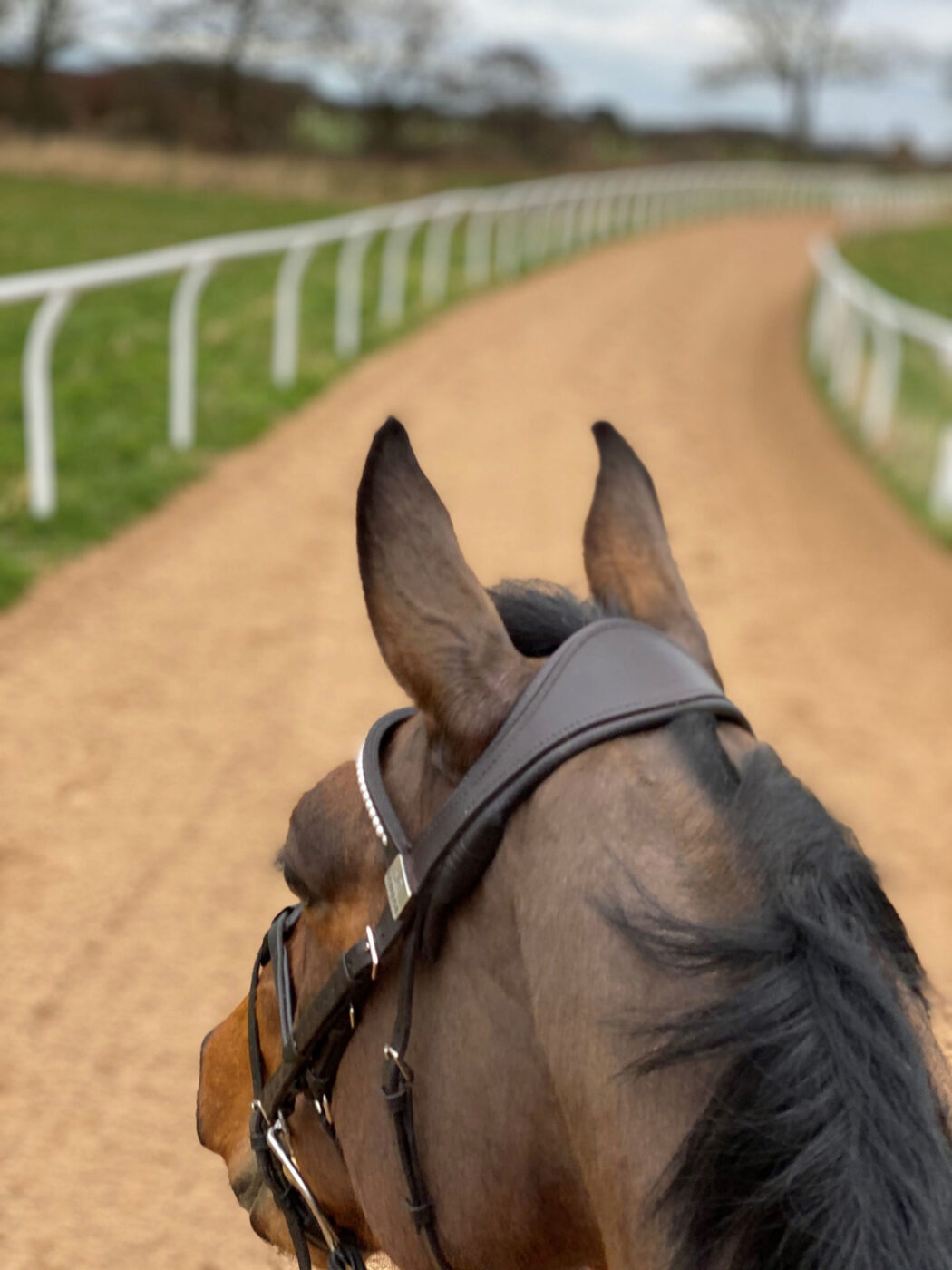 All the horses have been in work all winter as they didn't have a hard season and therefore didn't really require any time off! We have had a slightly different approach to the winter in that I have kept XC schooling over the winter with the aim to keep their eye in and keep them interested in their work over the long months. I have also introduced some work on the water treadmill which hopefully will be a great help in terms of a low impact way to increase fitness. The horses have to work really quite hard on it without the strain that galloping can put on them and it makes them really use the muscles over their back, so all-in-all it's a positive addition to their other work.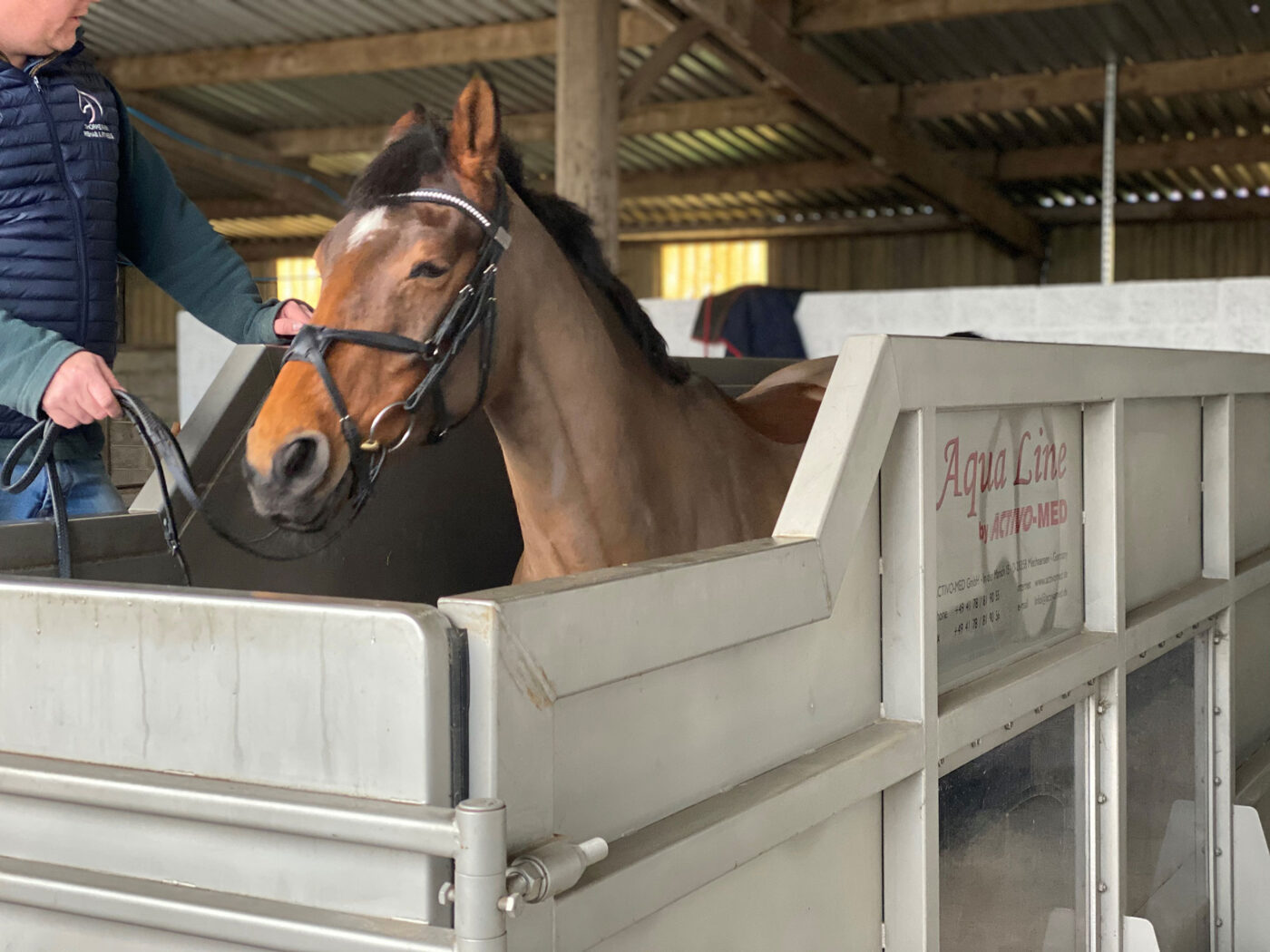 The last few weeks has also seen the start of canter work on the gallops which is always one of my favourite parts of the fitness plan! Alongside all the fitness work we have started sessions again with Chris Bartle who's knowledgeable eye is invaluable to helping myself and the horses improve and fine tune for the season.
Last Friday was the first major competition of the season and it was the British Dressage Winter Regionals at Morris Equestrian in Scotland. Candy was on great form and was placed 2nd in the Medium Gold with a whooping 70.41% and then 3rd in the Advanced Medium Gold where sadly a few costly blips meant we were not placed higher, but for an event horse to hold her own with the pure dressage horses is really cool and I'm so proud of her! Hopefully the Eventing season will go as well!
The horses are all looking fab on their Dengie Diets and it was great to have a visit from Dengie Performance Horse Nutritionist, Claire Akers prior to the Regionals!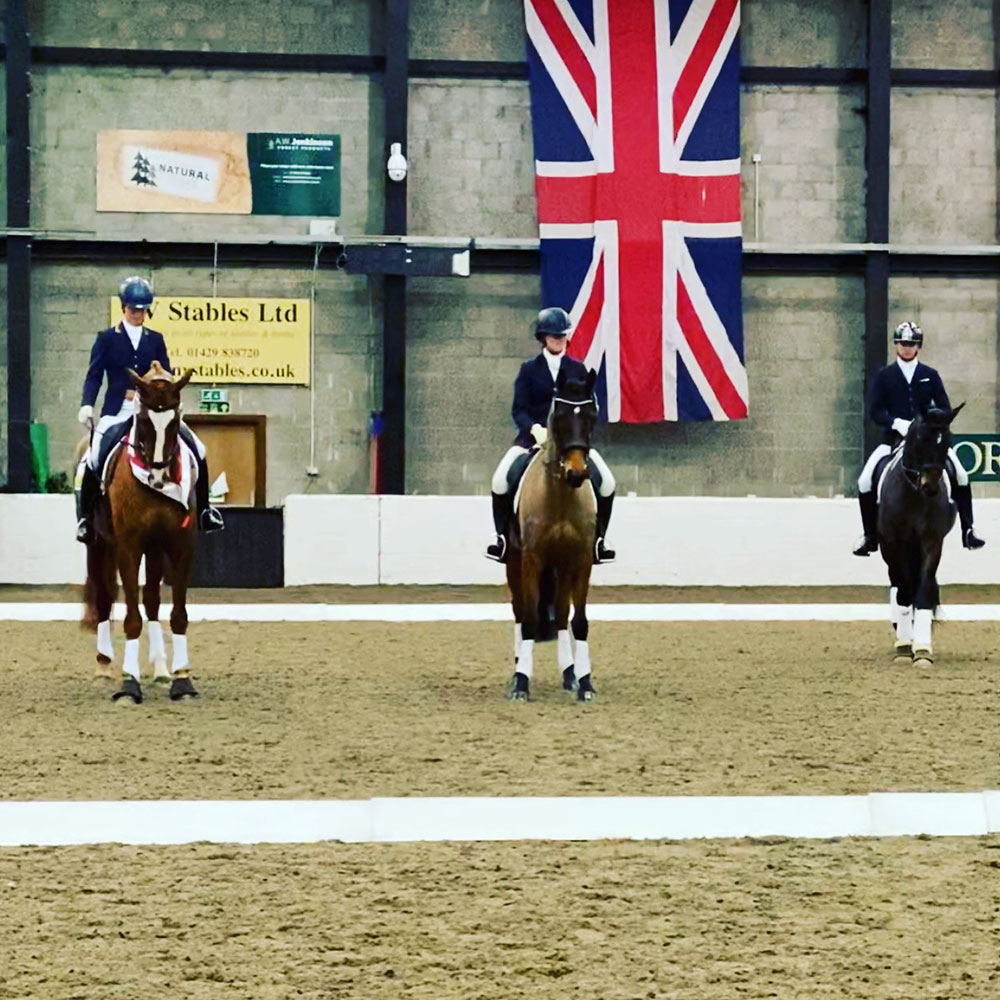 After an early start, I was very excited to travel to Vale View Equestrian Centre for training with Hannah Esberger-Hancock and Lucy Jackson, as part of the Dengie and Horse&Rider Training Bursary.

Robin travelled brilliantly and settled well. In our flatwork session with Hannah we worked on Robin becoming more active behind by including turn on the forehand and leg-yield into our work. He is easily bored and distracted so this was a great way to keep him interested in his work. He improved greatly during this session and also began to feel more settled in the new environment.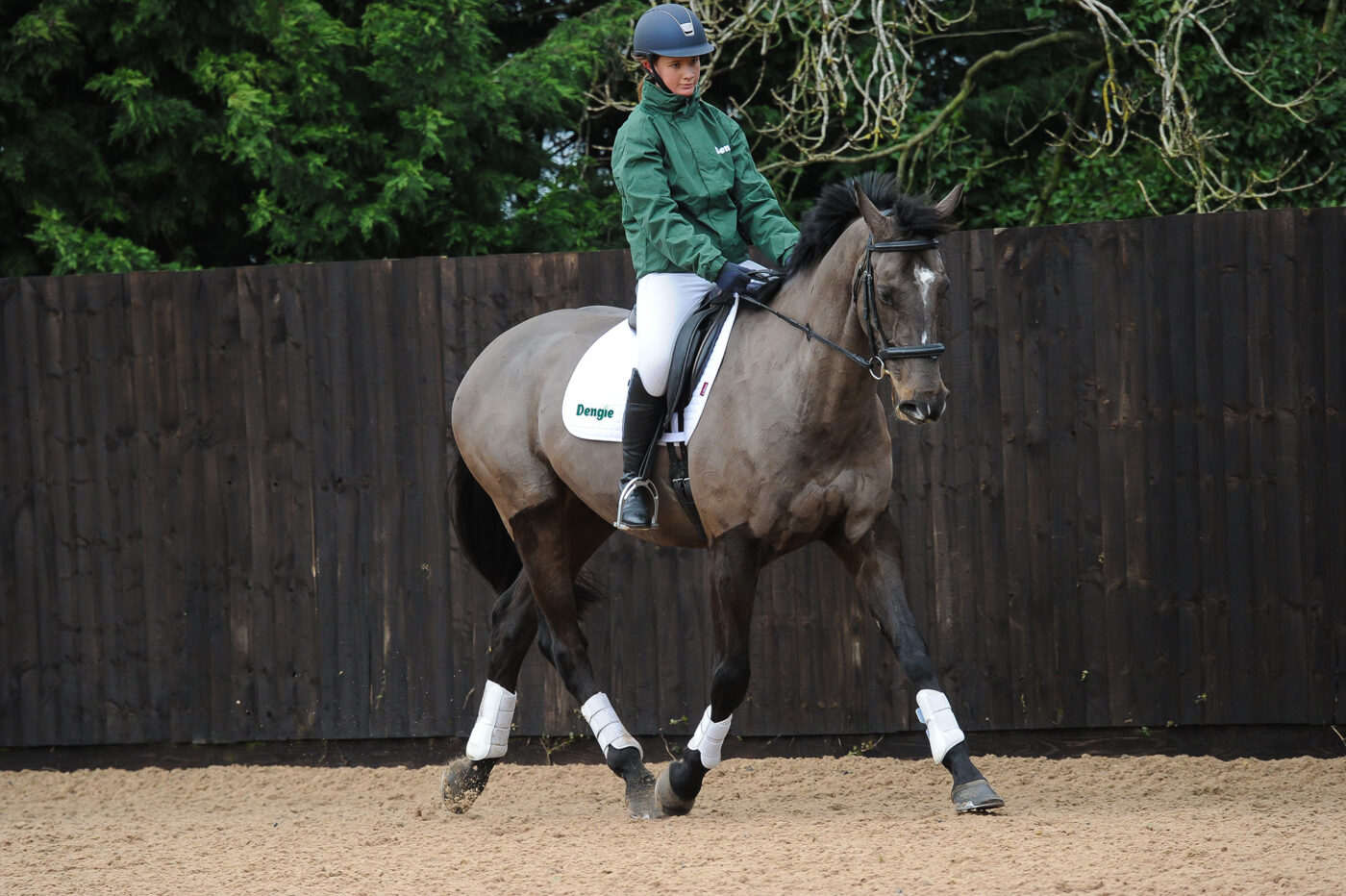 We then had a quick change to the arena XC session with Lucy, to beat the incoming storm. It was absolutely brilliant to have the facilities at Vale View for Robin's first XC school of the year. Robin felt brilliant, and Lucy was so helpful by keeping everything she was saying very simple. She reminded us to be really conscious of our position to ensure we stay safe and in balance. Robin is a big long horse who still struggles with balance and straightness at times, so it is very important for me to ensure I am in the best balance possible to help him with this. Hopefully he hasn't much more growing to do!

In the nutritional assessment, Claire was really pleased with Robin's condition and surprised at how little he was fed. We ensure our horses have plenty of forage and grass so their feeds can be smaller, containing the essential vitamins, minerals and protein to ensure muscle development and general health and condition. Claire suggested we move Robin on to Alfa-A Molasses Free, which I think will be a useful change to his diet and is recommended for competition horses.
The training day was highly beneficial and a great outing to start the year. We will take on board what we have gained from this , and now look forward to the coming season with some exciting goals ahead! 
The training opportunity came at a brilliant time in preparation for the 2020 event season. I thoroughly enjoyed the day, most of all the cross country session as this is the phase I love the most. Both sessions helped Lenny and I progress. The dressage session with Hannah Easberger-Hancock helped improve Lenny's lateral work, where we focused mainly on exercises to develop his half pass which hopefully will allow us the pick up higher marks.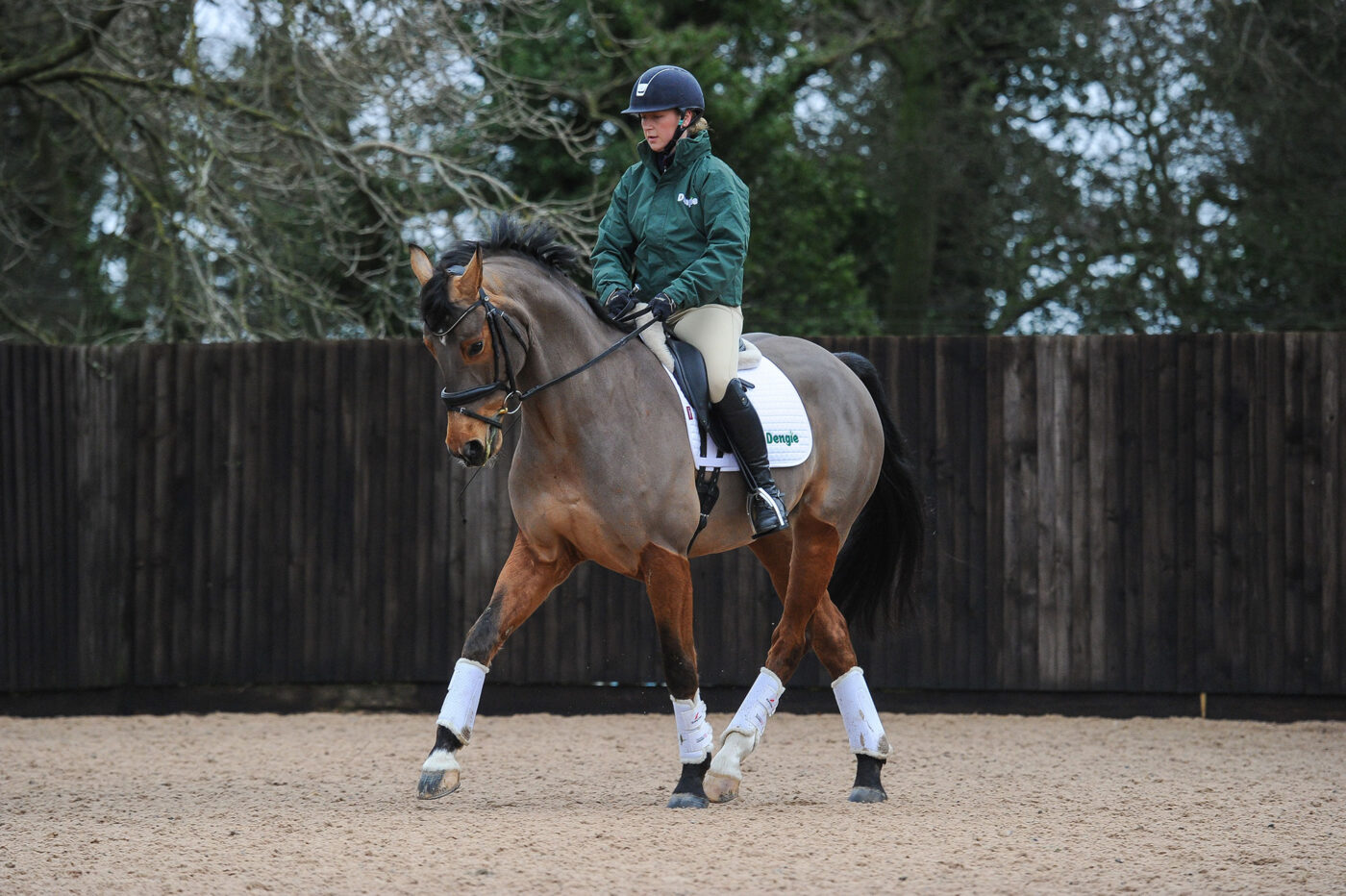 In the cross country lesson with Lucy Jackson we focused on maintaining his rhythm while practising technical lines, which I feel where good preparation to help me achieve my aims for this season.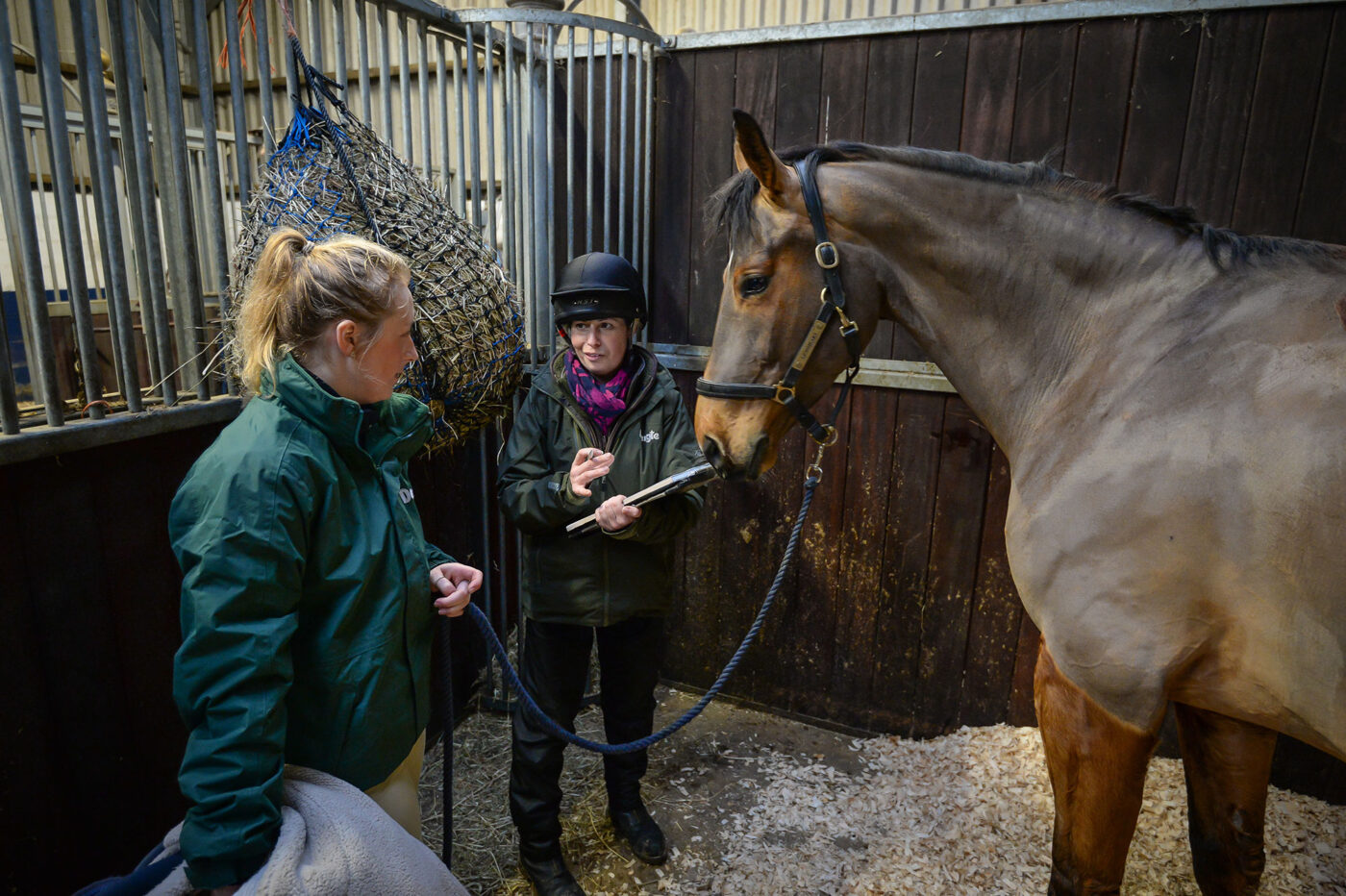 The nutritional advice from Dengie's Performance Horse Nutritionist, Claire Akers was helpful in ensuring Lenny's diet is the best it can be, to help him perform at his best. I found it particularly interesting to weigh Lenny again using the weigh bridge as Claire had previously visited me at my yard in summer last year and we found Lenny was slightly over weight. By changing his diet to Dengie we have being able to manage his weight and his gastric ulcers which I believe has allowed his performance to improve.
This season I hope that Lenny and I will successfully move up to intermediate/3*level and we are aiming for Thoresby Park Horse Trials as our first international event where we will be competing in the 2*.
When we pulled into Vale View the weather was anything but welcoming however, nothing could dampen my spirits as I was so excited! It was wonderful that a cosy bed and welcoming stable were ready for Cici and everyone was so helpful in settling her in. Sarah-Jane had arrived just before us after a mammoth trek from Cornwall, so our four hour journey didn't seem so bad! After checking on Cici for a final time, it was an early bed time to be ready for the excitement of the following day.
We were up bright and early so that Cici could tuck into her breakfast and I met the team from Dengie and Horse and Rider Magazine. Next, Cici and I tried on the smart outfits that Dengie had kindly gifted us, how dapper we both looked! Soon it was time to tack up and set off to the school for our dressage lesson with Hannah Esberger-Hancock. She watched Alana and I warm up and gave us both advice on how to get our horses focused. After introducing a number of exercises: leg yielding on a circle, practising three quarter lines and honing our transitions, we then concentrated on putting these in to practice, where I had to ensure that I got better connections between hand and leg and improved her bend.
I gained lots of great tips for practising at home and Cici felt so much better. After a cool down, we popped Cici back in her stable for a well deserved break and a feed.
After a well deserved rest, Cici was tacked up again from our Cross Country session with Lucy Jackson. There was an amazing array of fences, so both me and Cici were really excited for this. After warming up under Lucy's eagle eye, we headed out to the Cross Country.
We tried lots of different combinations that worked on straightness, rhythm, impulsion and accuracy. Lucy increased my awareness of influencing Cici through my upper body and always looking up, putting this simple yet essential points into practice instantly improved Cici jump, she felt amazing!
Back to the stables to tend to Cici and give her another small feed, before we nipped off for a quick and tasty lunch.
Finally, a thoroughly informative session with Dengie Performance Nutritionist, Claire Akers. Firstly, she weighed Cici on the weigh bridge, the clever girl walked straight on! She was weighed at 504kg and Claire gave her a condition score of lower 3 out of 5. Afterwards Claire questioned me about her current diet, and she informed me that I could double the amount of Dengie Alfa-A Oil she was presently receiving. She also suggested that we change her current cubes for the Dengie Performance+ Balancer, as she thought Cici may be lacking vitamins. Further advice was to add Dengie Alfa-Beet to aid weight gain and condition. Lastly, Claire advised that to increase her forage intake whilst she was away at shows, it was worth trying Dengie Meadow Grass and Grass Pellets too. This was all extremely valuable advice and we are seeing an improvement in Cici's condition already.
I can't thank Dengie and Horse and Rider enough for the amazing opportunity and I am really looking forward to using the exercises recommended to prepare for the start of the eventing season.
Liv
When you have a round trip of over 600 miles and 16 hours driving from the tip of Cornwall to Leicestershire, you hope the day is worth it. All I can say is a huge "thank you" to Dengie who organised a fabulous day with great instructors, super facilities and lots learnt. It was worth the journey and some!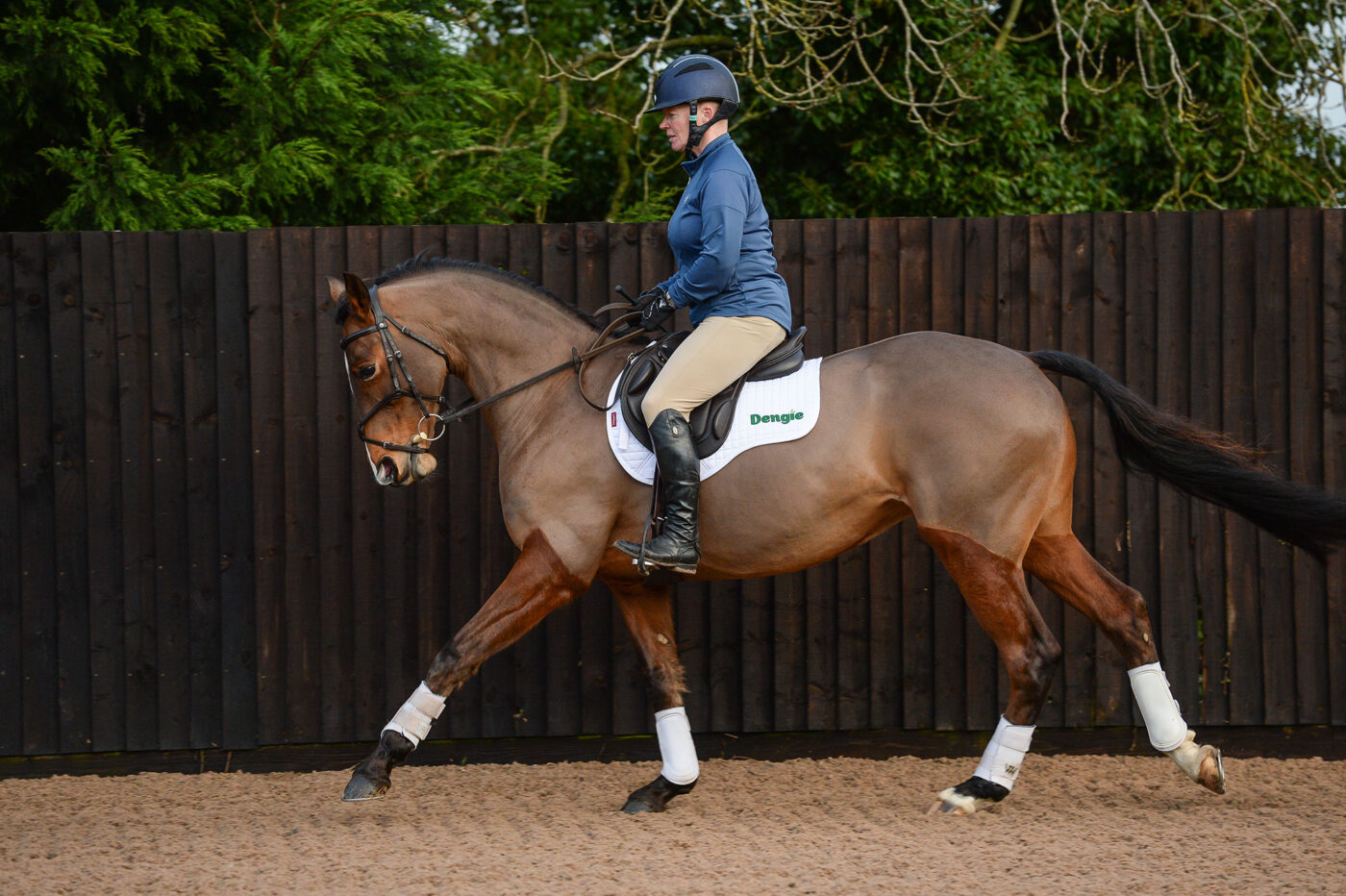 I was very fortunate to be able to take both my mares, Ellie the project pony (project in terms of meant to have been sold after a couple of months and still with me 4 years later) and Fliss who are competing at BE100 and Novice respectively.
The day was based at Vale View Equestrian a most amazing facility with a variety of indoor and outdoor arenas as well as a super arena XC course. The day started with lessons with Hannah Esberger-Hancock, she was brilliant really pushing both horses and helping advance their way of going. Plenty of tips to take away and pointers to work on; straightness with Fliss, collection with Ellie and for me controlling my dodgy right hand using a half bridge.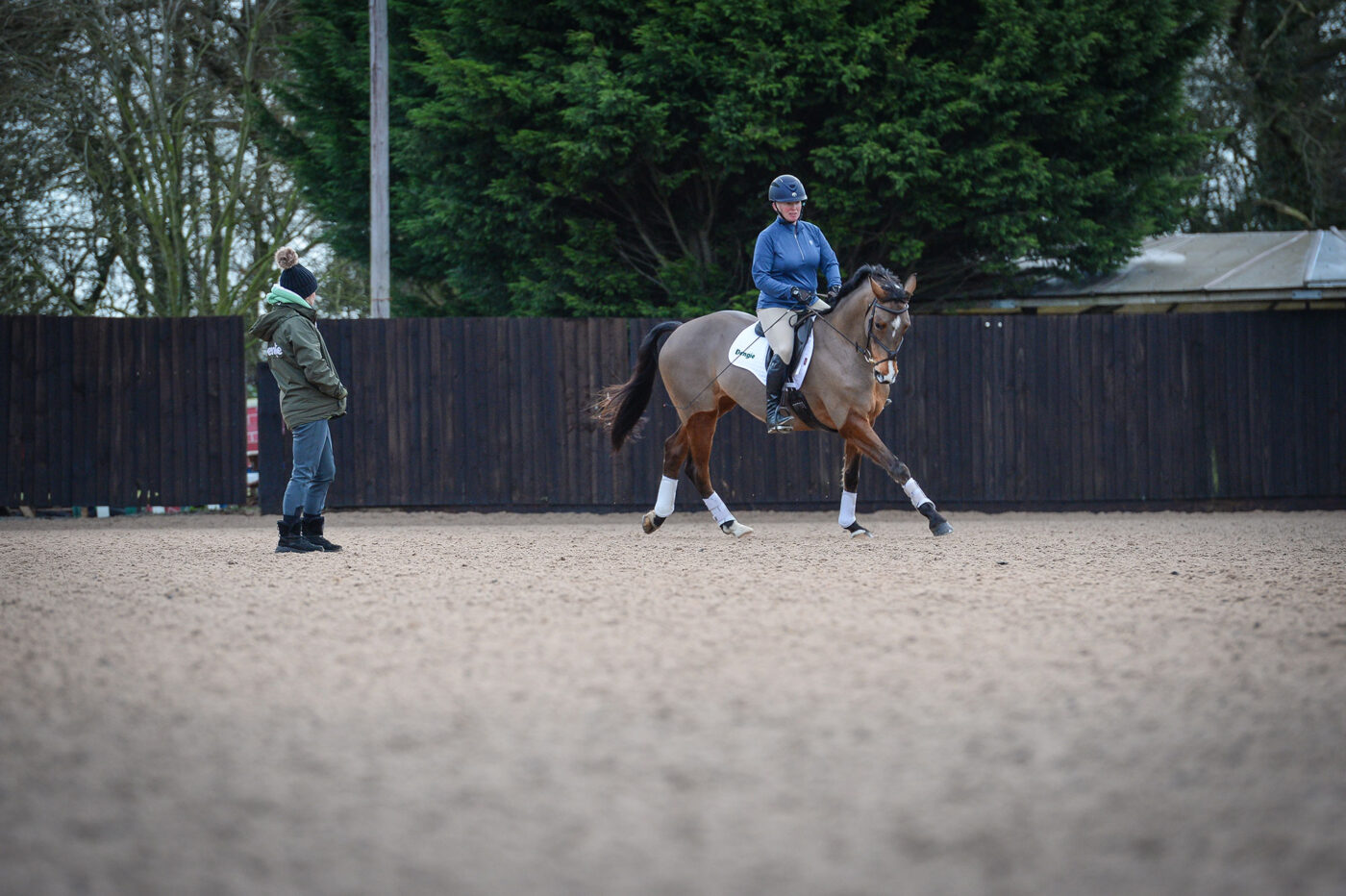 The weather was turning, but Lucy Jackson gave us super sessions using the arena cross country. Again both girls really enjoyed this and it was great to get an early xc session under our belt. Lucy was able to identify some key points with both, Ellie the importance of my warm up and having her in front of the leg before I start and with Fliss making sure my focus was on the next fence and my eyes looked where I was going.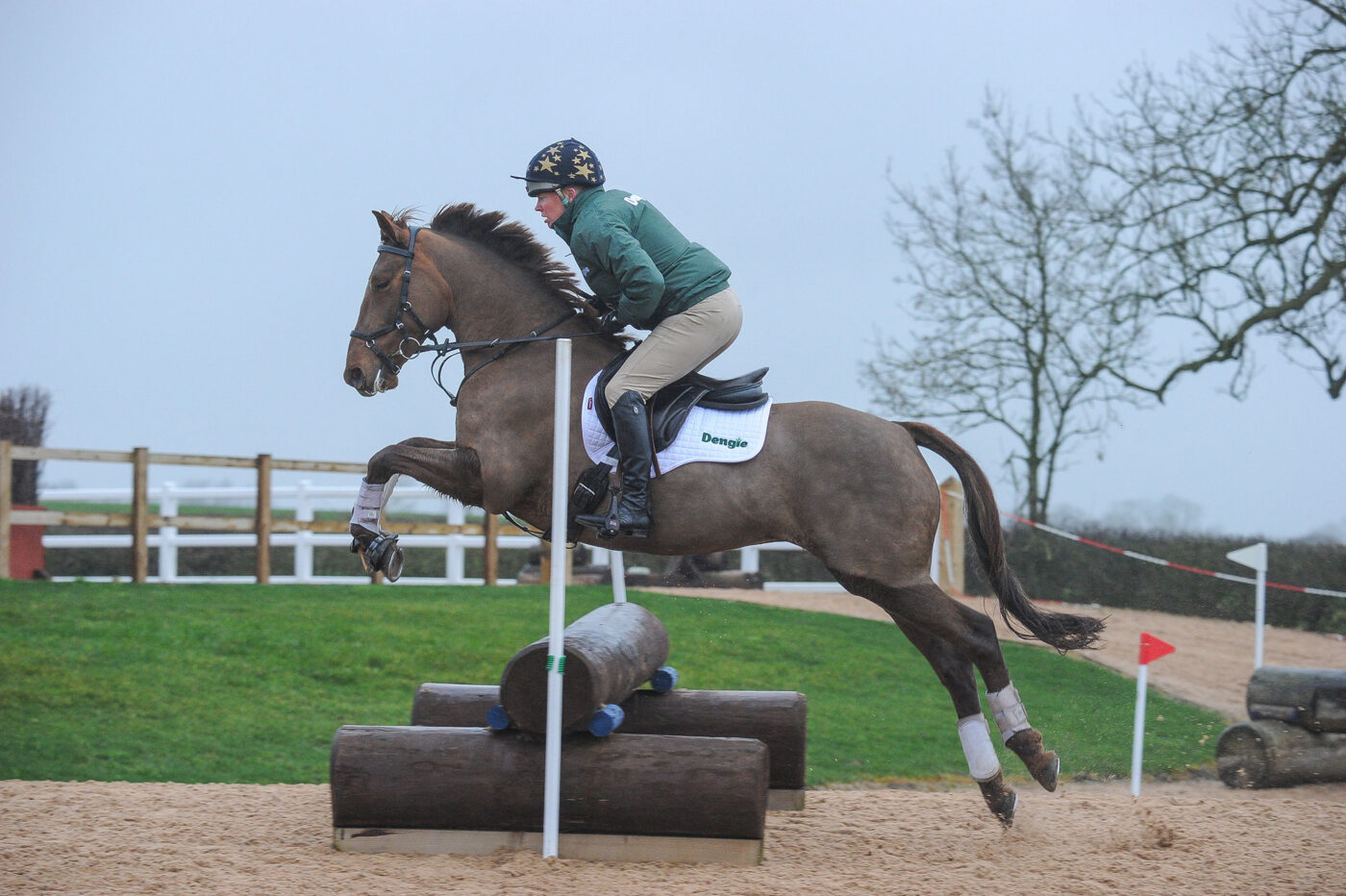 Finally we had the feed assessments with Performance Horse Nutritionist, Claire Akers. Ellie had put on a massive 30kg since her last weigh in and it was agreed she needed to lose a few of these. She is a particularly good doer so it was great we were able to find a diet of Alfa-A Lite and Performance Vits & Mins that gave her all the vitamins and minerals she needed, less the calories. Fliss was pretty good weight wise and condition, so just a few minor tweaks needed.
All in all a fabulous day and as an eventer I was very surprised that it was the dressage sessions I enjoyed most. I just learnt so much and that warm feeling when your horses show you that they are ready to move to the next level.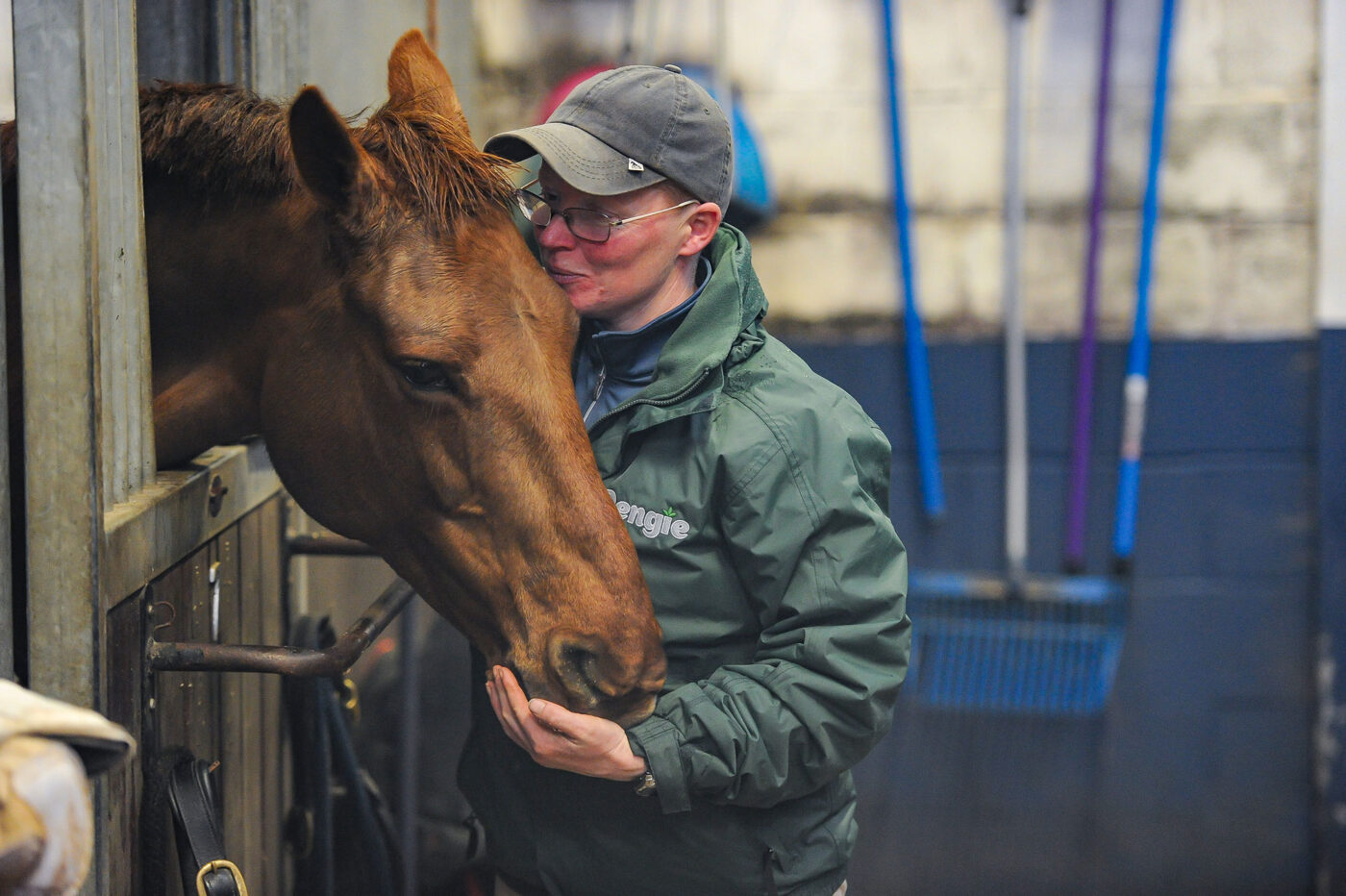 We now continue training where possible and building up for the start of the season in March. I struggle a bit at this time of year with no school and the fields too wet to use to get enough work in but this day showed me they are both further forward than I expected. I'm really excited to get out now and actually put the training into practice. We are aiming with Fliss for the new event at Cirencester to be our first.
Sarah-Jane Brown