It has been a very busy summer with the ponies…The Pony Club Championships, C+ test, training camps and lots of eventing!
The first exciting thing to happen was the arrival of a new ride for me. Petal joined the team at the start of August, kind of a bit unexpected as I already had 3 ponies to ride! However, Petal is an experienced Pony Trial pony and as my parents had been looking for a while for a more experienced pony to help me make the step up to novice level, before I took the younger ponies up to that level, she was too good to turn down! I was so excited and couldn't wait to get going with her! The plan was to spend the summer holidays getting to know her and going to some dressage and show jumping competitions before maybe doing our first event at the end of the season. However, we bonded really quickly and got on well together so things happened a bit faster, which I will tell you about a bit later on in this blog.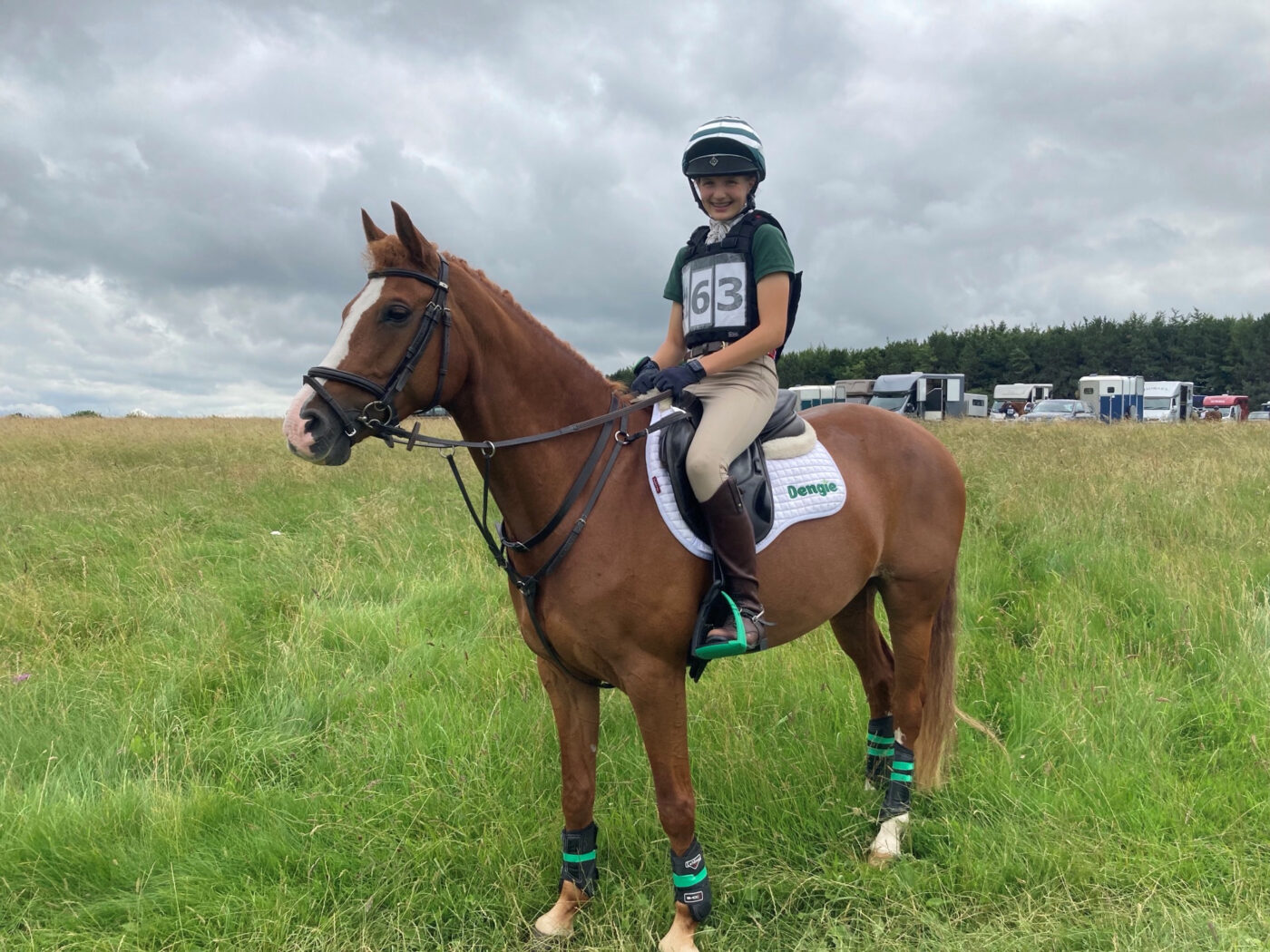 First up was The Pony Club Championships! It was so exciting to be going to the champs for the first time. Luna was in the novice dressage and show jumping teams. We travelled up the day before and stabled over-night so this was going to be Luna's first experience of staying away from home. Unfortunately the temporary stables did not suit Luna as the stable doors were grilled up to the top! This made her quite stressed initially and meant we had to check on her quite a few times during the evening, but by the morning she had settled down and was much calmer.  Dressage was first and despite Luna's lack of sleep the night before she did a very nice test to score 72% and finish just outside the top 10 in our section and help the team to 15th place out of about 30 teams.
The novice team show jumping competition was in the afternoon, all team members jump 2 rounds over different courses and then any teams that are tied for scores go forward to a jump off. Luna was fab and jumped 2 lovely clear rounds, and with good rounds from the other team members we finished in 5th place out of 52 teams which meant we got to go to the prize giving!! It was then time to head back home for 24 hours before going back to the champs with Bracken for the Individuals Intermediate Show Jumping. We had decided not to stable the night before and just take Bracken up for the day which did mean an early alarm call! The course in the first round was pretty big and probably one of the biggest tracks that Bracken and I had jumped, but she did a lovely clear round so I was very happy. We then had a 4-hour wait before the second round where the course was even bigger. Bracken didn't feel as 'springy' as she did in the first round and we had 2 fences down, but I was still really pleased with her and we finished in 24th out of 48.  It would have been amazing to have got into the jump off, but I was still really happy with how we had done and it was just brilliant to have made it to The Pony Club Championships with both Bracken and Luna – I couldn't have asked any more of them.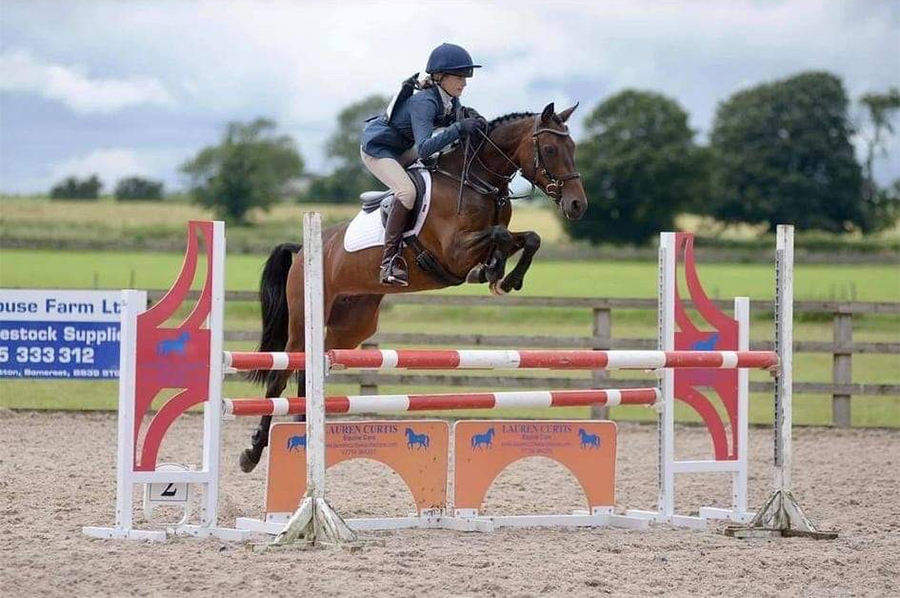 After the champs I had a few days away at Somerford Park on a Pony Training camp. I took Bracken and Petal and had an amazing time!  Somerford is a fantastic training venue and it was a really good opportunity to get to know Petal and after a couple of days of intensive training I felt that Petal and I were ready to go and do our first event together.  I also had some really good training sessions with Bracken and really felt like our dressage improved over the few days.
So having got on really well with Petal at camp we went to our first event, a BE100 at Sapey! It was a really good day and we came 4th with a good dressage and double clear, it was also quite a learning experience as Petal certainly knows how she likes to do things at a competition and she makes it quite clear that she doesn't like any waiting around, particularly before the cross-country. However, I now felt like I was getting a good bond with Petal so we entered to do 3 more BE100 runs to get the MERS needed to step up to Novice level with the aim of doing a Novice or PT before the end of the season. Our next 3 events went really well with double clears at all of them and 2 top 10 placings, so I felt I was ready to step up to the next level. Going to my first Pony Trial was so exciting as well as a bit scary, but I felt really confident doing it with Petal.  We had to go all the way to Norton Disney and because it was a 5-hour journey we went up the night before, so that Petal could have a good nights sleep. I walked the course the night before with my Dad and then did a course walk with Jonquil, the Pony Team trainer on the morning of the competition. It was a big track but I was actually more worried about the show-jumping than the XC. Our dressage went really well, we scored 28.8! It was probably the best test that I have done with Petal and it was my first test at that level.  On to the show-jumping and the course was causing lots of problems, but I need not have worried as Petal was awesome and jumped a foot-perfect clear round to put us in 2nd place after dressage and show-jumping. Cross-country was absolutely amazing too despite having an annoying run-out early on the course, I think I probably didn't have Petal quite collected enough coming into a double of brushes resulting in the run-out. After that we upped our game and completed without any more problems and the rest of the round felt amazing. Despite the run-out I was so thrilled to have completed my first Pony Trial and to finish just outside the top 10! I wanted to go and do it all over again but as that was Petals last event of the season I will have to wait for the 2022 season. Petal is now enjoying a holiday out in the field with her bestie Bracken.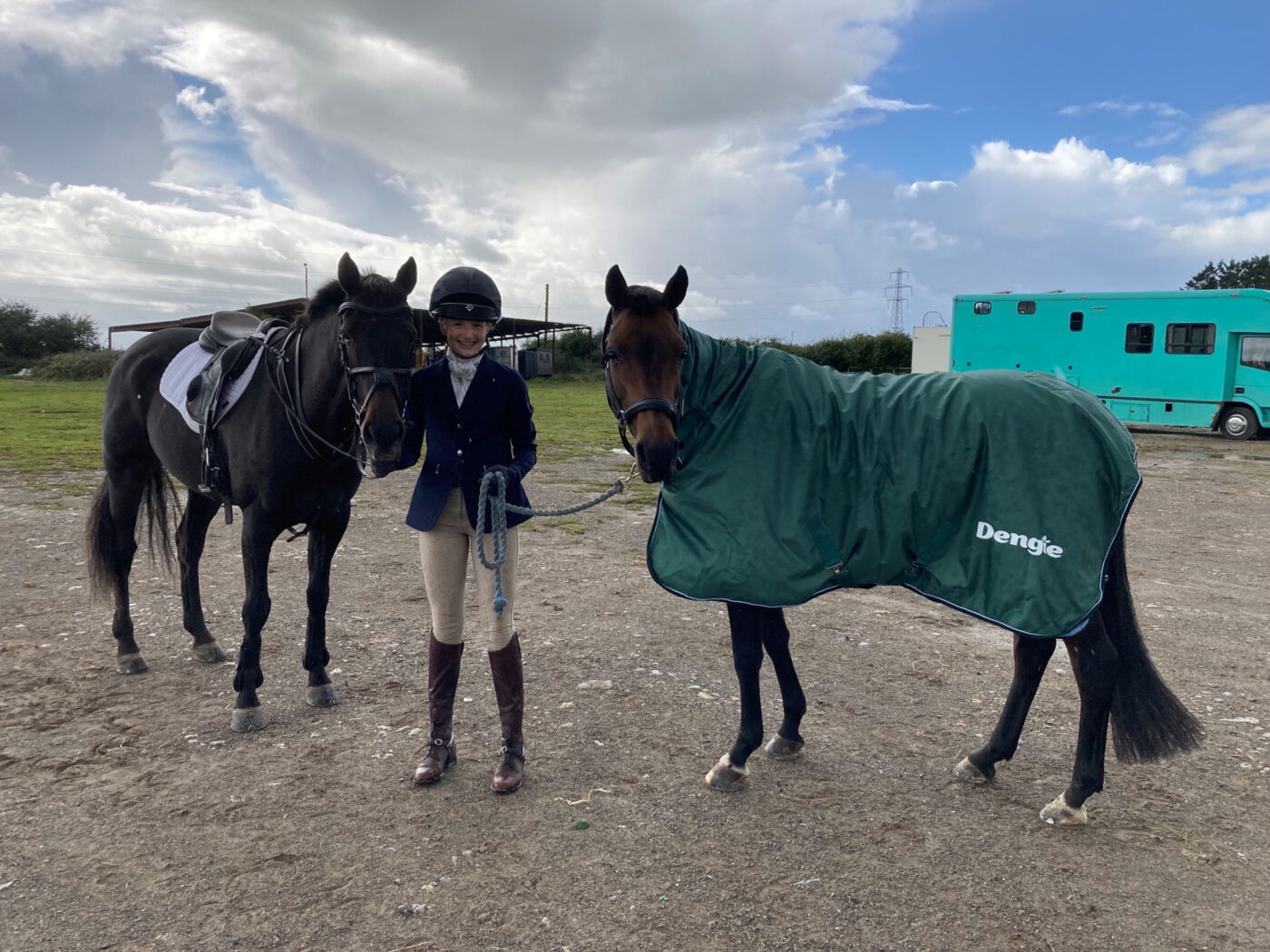 In the meantime Luna had also stepped up to 100 level and had 2 really good runs at West Wilts and Moreton Morrell jumping double clears at both.  She absolutely loves the cross country and her confidence has really come on although this has meant that she has been getting quite strong! At our last event of the season at Broadway I decided to pull her up early on the XC as I felt she was getting a bit too strong to safely tackle some of the combination fences. Our winter training will now be focused on teaching her to wait and listen, as well as trying some new bits, but for now she is enjoying a break out in the field.
Bracken also had a few more runs at 100 level where her dressage marks were much improved, she was also show jumping really well, but we just had an unfortunate run outs on the XC. She is now enjoying a well – deserved winter break.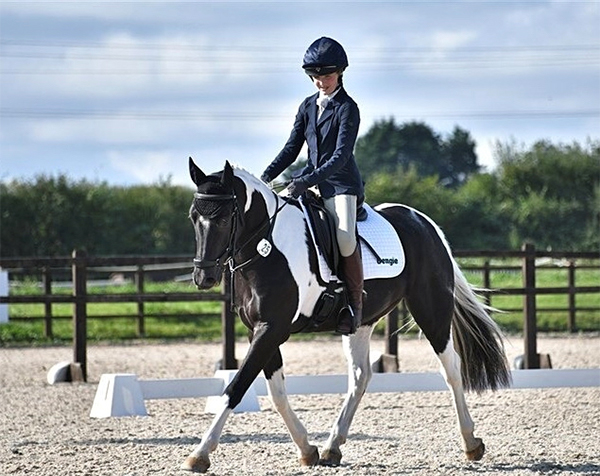 Smartie had a break during the summer so after a few weeks of walking and hacking to get him fit again the focus for him was dressage, dressage and more dressage, in the hope that he would calm down about riding in the white boards. It seemed to work as he scored consistently in the 70's at 6 dressage tests in 3 outings! So then we had to test out his new calmer attitude to dressage at a BE event….unfortunately the excitement at being back at event was too much for Smartie and although he warmed up really nicely he couldn't resist throwing in a few bucks in his test! He then went onto jump a double clear and finished just outside the top 10.  Smartie will be doing lots of dressage this winter as well as show jumping and Arena Eventing to get him confident at 100 level. He has started jumping courses at 100 already and is getting more confident at that level, he has just done his first 100 AE and came 2nd!!
So that wraps up my 2021 Eventing season! The ponies have all finished fit and well, and their Dengie fibre feeds have kept them looking and feeling great. I can't wait for the 2022 season although after a very busy summer with 4 ponies I am enjoying having a slightly quieter time for a few weeks now!
Ps. I passed my C+ test!!
Recently we have been taking Lordy out to lots of new places and venues to build up his experience of going away whilst still applying the same training methods and routines for him to progress in his development. This is so important as a youngster to gain this experience, but equally to be able to gain better focus and concentration each time we go away so that the consistency of what we have developed at home follows into the work and training we do when we go away.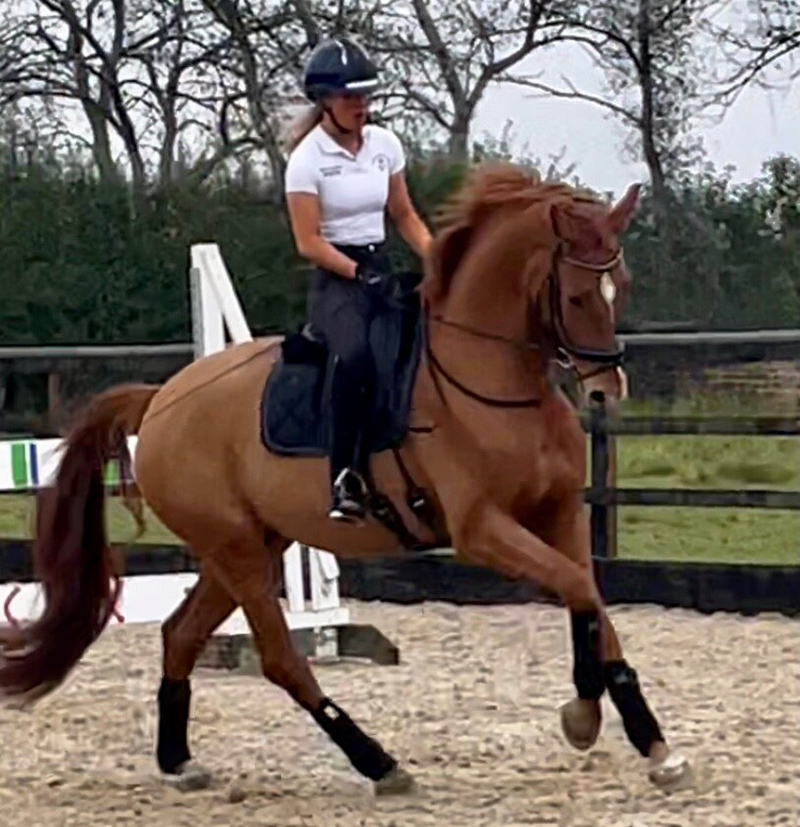 Last weekend we had a great lesson with Andrew Fletcher really working on his straightness and progressing what we have now gained with his suppleness and bend to now moving this onto straight lines. This has been a test for Lordy as it makes it more difficult for him and combined with transitions along the straight sides it forces him to push from the inside hind leg out of halts so that he uses his body correctly. This is now what we will be working on for the next few weeks to gradually build up and strengthen the power of his hind legs in a positive way.
Whilst we have been stepping up the intensity of the work Lordy is doing, I also believe it is very important for him to be rewarded and have time to relax to, therefore the day after most lessons he will go on a long hack and canter around all the fields as this also will help the maturing of his mind and give him time to relax. It is so important to me that Lords always has a good experience when riding and training, and so that he does not always think riding is going to be hard work, which is why we hack every week so that he looks forward to riding and it is a positive experience for him.
He also was clipped this week for the first time which he was super well behaved for, he just went to sleep! It really showed how well he is looking and feeling on his Dengie fibre diet as his coat has such a glow and he has the perfect containable energy for training and developing. I am so so pleased with him at the minute and how well he takes to work with such a good attitude and how much he wants to please.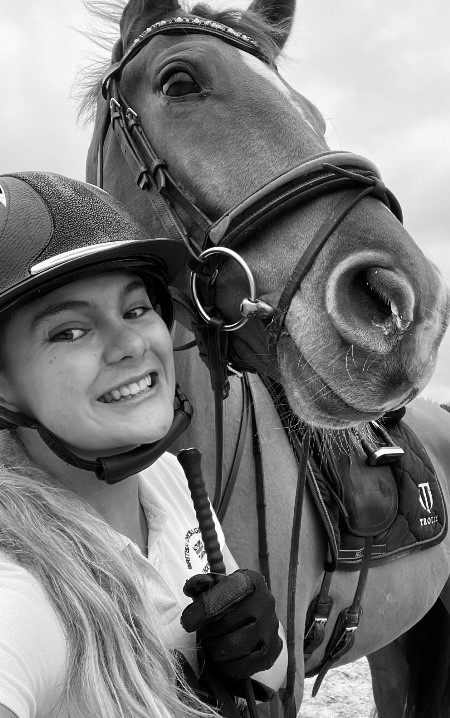 The team went to Chard mid-August for a 3 day show. Day one Lambo jumped the 6-year-old Grand Prix at 1.20m in the first round – it was a step up for him, but I felt he was ready. I changed his bit to only have one rein the week before, so this was a new feeling for both of us! It did lead to a mis-communication in the collecting ring, which lead to me testing out the landing on the surface at Chard (I can confirm it is very soft!). However he wasn't phased and went in to jump one of only a handful of clear rounds. Unfortunately, it wasn't our class and we had the first fence in the jump off trying to pull off a turn back to fence two! He made up for it by jumping double clear and coming 2nd in the Newcomers on the 2nd day, then didn't jump the on the last day due to a rub from his overreach boots- he is a sensitive boy!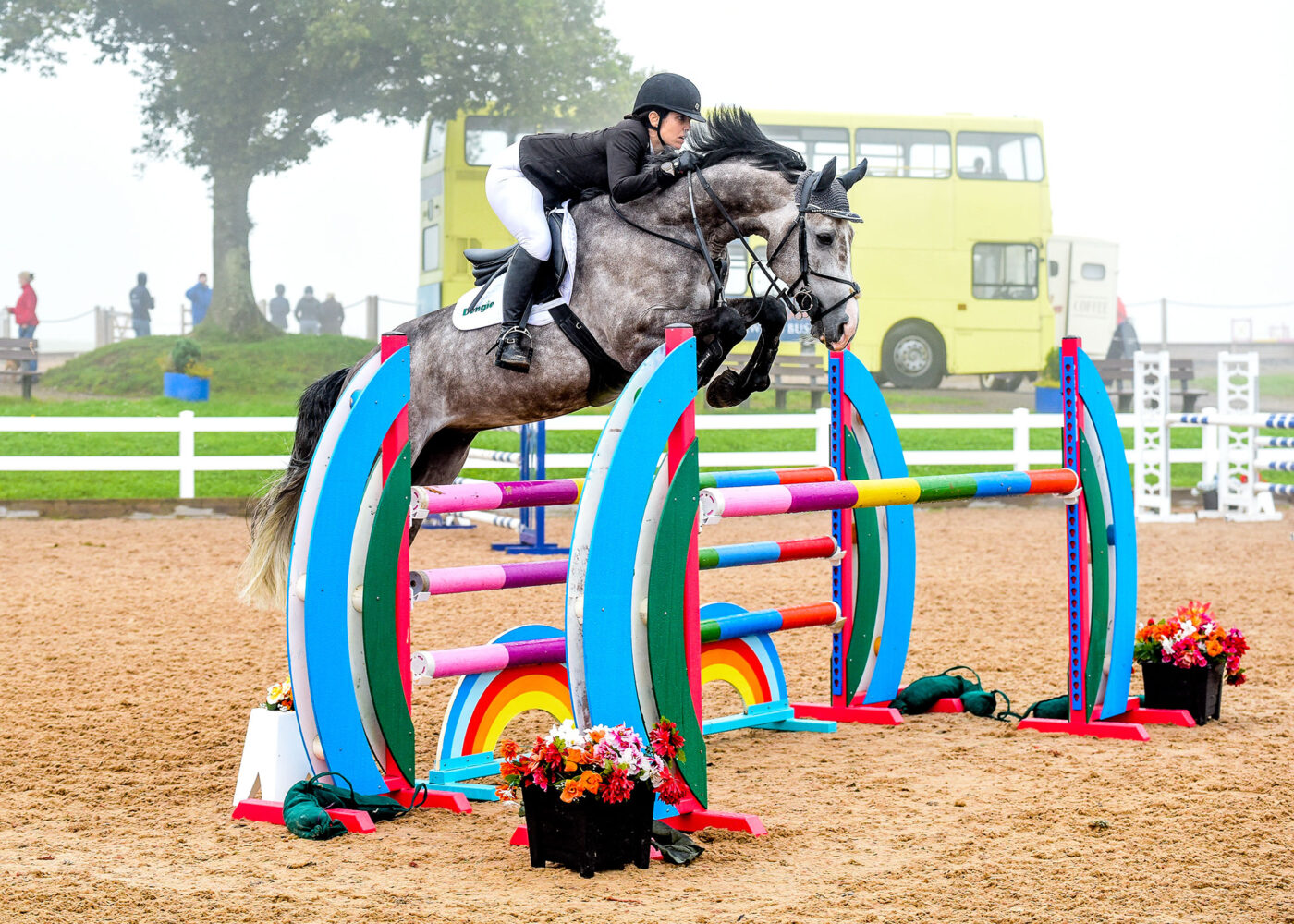 Baby Scrappy jumped super all show, coming 3rd and jumping double clear on the first day in the discovery, getting her last double clear in discovery for next year's seconds rounds on the second day and winning her class, then just knocking one fence in the 5-year-old Grand Prix on the last day.
Connie was the star of the show for not touching a fence all three days! Jumping her last double clear in foxhunter for next year, coming 5th in the 1.20m open on the first day, jumping double clear coming 4th in the foxhunter on day 2, and finishing in the 1.30/1.40m open jumping a lovely double clear. She also went to Rectory Farm last week for a jump before her 2nd round this week and jumped a lovely double clear coming 4th in the 1.30/1.40m open qualifying for next years Scope Championship.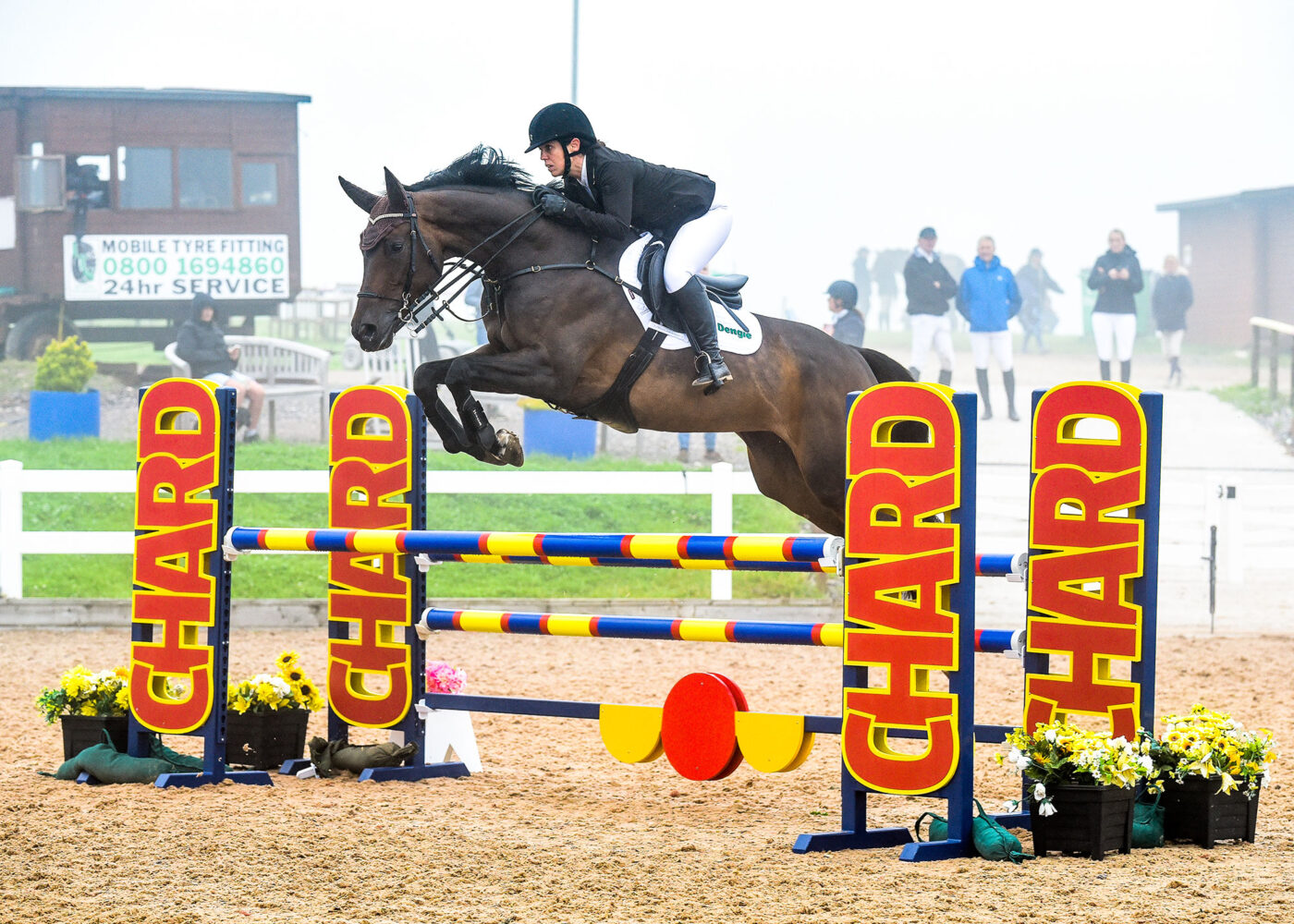 We went to Wales and West to contest the 2nd round Newcomers, but unfortunately just had one silly fence! Lambo also went here and jumped double clear coming 5th in the newcomers on the first day and qualifying for next years 2nd rounds and then the fastest time, but a silly fence in the first phase on day 2!
I am taking Gibbs out to his first arena hire and then will plan some shows in with him. He is progressing well and his attention span is improving, although not consistently yet! He has lost some of the weight he was carrying and is looking really well. Scrappy is planned to go to Rectory Farm next week, then we have Bury Farm planned for mid-September with a few local day shows in between.
I can't believe it is August already! Since the event season started back in April the weeks have just flown by and so much has happened, so be prepared, this is going to be a long one!! The first bit of excitement was the arrival of our foal Coco. Unfortunately I missed the birth as it happened very quickly in the middle of the night and my mum didn't have time to come and wake me up before it was all over. It all went very smoothly though and we now have another beautiful filly foal by Timolin.
My first event of the season was Portman where I just took Smartie to do a BE90. It was quite an eventful start to the day as we had to leave at 4.30am in the morning and the lorry wouldn't start!! We had to quickly unpack the lorry and load everything into the car and take Smartie in the trailer. It was also a really cold, frosty morning, the temperature was minus 4 degrees – not the kind of weather you expect to go Eventing in!!  Anyway, for his first event of the season Smartie did a reasonable dressage test and a double clear to finish in 14th place so I was very pleased with him.  I then took both ponies to Larkhill. It was another very early start and another very frosty morning, but at least this time the lorry started!! Bracken did one of her best ever tests with a score of 23.5 followed by a lovely double clear to win her section, and Smartie did a nice although slightly tense test followed by one pole down in the show-jumping and a clear cross country round to finish in 10th. So all together it was a very good day!
Broadway was our next outing and this time it poured with rain all day!! Bracken was doing the BE100 and she was an absolute star in very testing conditions. Her dressage test wasn't the best, but her jumping rounds made up for it! She jumped one of the few clears in the show jumping round a big track that was very deep and muddy and was causing plenty of problems. We then did a steady clear XC round as the ground was extremely wet and slippery but I was so pleased with how she coped in the awful conditions. Smartie was in the BE90…..he did his worst tests ever!! He seemed to spend much of it on his front legs with his back legs in the air! I wasn't very happy with him, but he was very pleased with his performance! I did forgive him though when he then went on to jump a double clear in difficult conditions.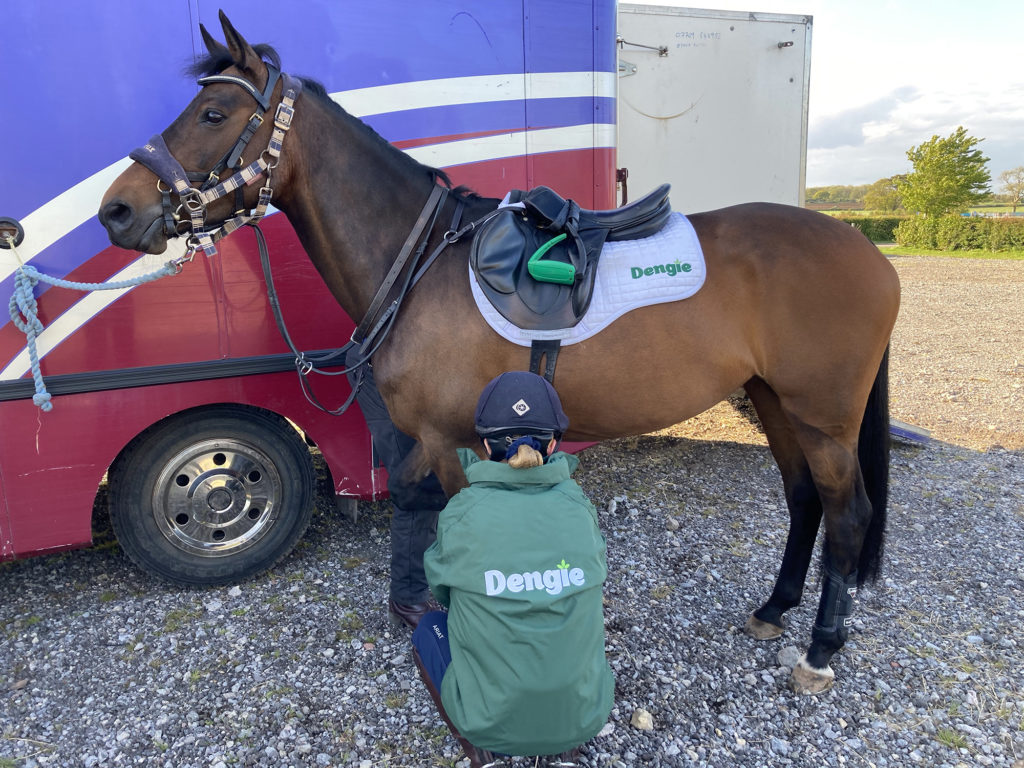 Our next outing was Tweseldown. Both Bracken and Smartie were entered, but Smartie pulled a shoe off earlier in the week and had a bruised sole so we decided to withdraw him, so Bracken went on her own.  It was another very wet day and the going on the XC was very soggy and deep in places. Bracken did a nice dressage test and jumped clear in the SJ, but I retired her on the cross-country course as she wasn't enjoying the ground conditions. The next few weeks through June were busy with PC training for Area competitions and I had also got a new pony to ride called Luna so I was spending time getting to know her.  The PC Area Dressage competition was our next outing, I took Luna in the Novice Dressage team competition and Bracken to do the Intermediate as an individual. Both did really good tests and I was really happy to be placed on both of them, Bracken scored 69% and came 7th, Luna scored 72% and came second and our Novice team won the Novice Area Qualifier and qualified for the PC Championships!! Our team have been trying to qualify for 4 years so it was soo exciting to have finally done it!!
Chillington Hall Area Festival was my next Eventing competition. Bracken and Smartie had qualified for the BE90 Festival Championship so it was very exciting to be taking both of them.  The dressage test was in a long arena with full white boards and flowers……it definitely had a championship feel about it, although this wasn't in my favour as both ponies were a bit tense and excitable resulting in not very good scores.  On to the show-jumping, and Smartie was still feeling the excitement of the occasion resulting in 2 poles down but Bracken was foot perfect and jumped a lovely clear round.  The cross-country course was championship length and was the longest course either of them would have ever jumped round so I was really pleased that they both jumped clear and inside the time, and Bracken finished in 9th place in a very competitive open section!  We decided to give Smartie a bit of a break after Chillington as he is still quite young so he went out in the field for 6 weeks and this gave me a chance to spend a bit more time getting to know Luna who I was hoping to take to the PC Area Eventing competition.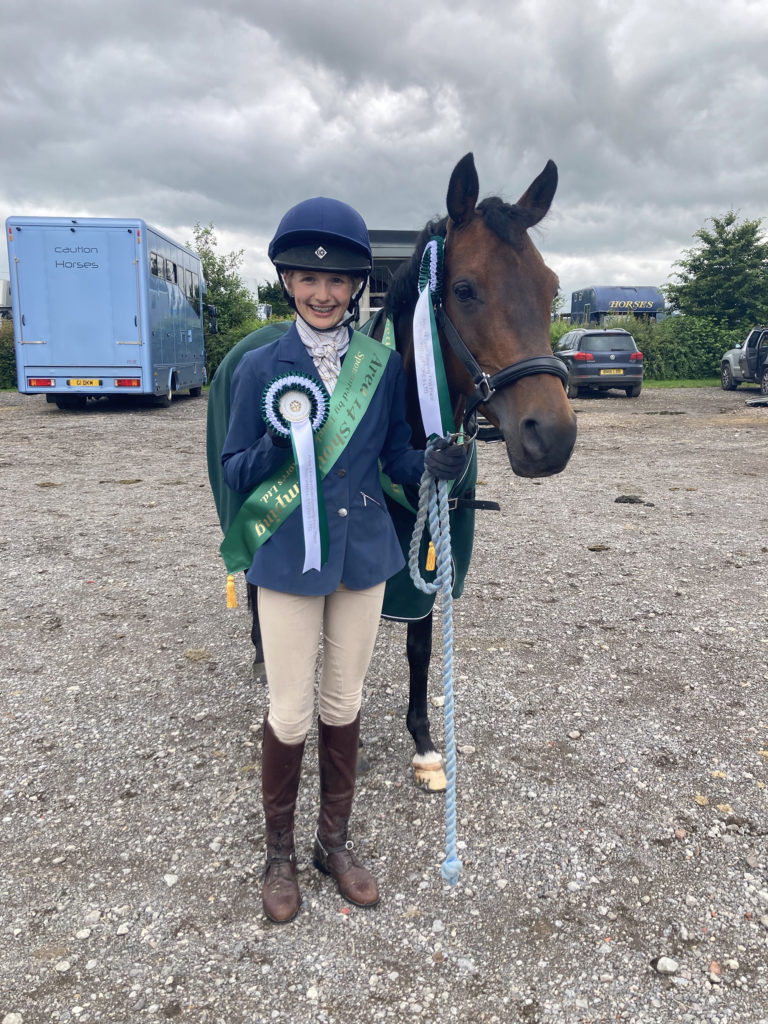 Brackens next event was at Offchurch Bury where she did a good dressage followed by clear rounds in the show-jumping and cross-country to finish in 5th place, our first top 10 placing at 100 level!! I was so pleased with her as she felt really with me in all 3 phases which we sometimes find hard to achieve on the same day!
The following weekend was the PC Area Show-Jumping with Luna competing in the Novice Team competition and Bracken as an individual in the Intermediate class.  Luna jumped 3 lovely clear rounds and to help our team to qualify for the championships in 2nd place! Bracken then jumped 3 amazing clear rounds in the Intermediate competition to take first place and qualify for the Championships!! I was so incredibly proud of her as she was the smallest in the competition and the courses were the biggest that we have ever jumped round, Dengie certainly gave her wings!! So now I had qualified for the PC Championships in both dressage and show-jumping, could I do a hat-trick and qualify for the Eventing as well?
I had decided to only take one pony to the Area Eventing competition and that was going to be Luna so that I could be in the Novice Team with my friends.  We started off with a good dressage mark of 28 which I was really pleased with and then a clear show-jumping round put us in a good position in our section and the team  was in a good position too as all 3 other team members had done good dressage tests and show-jumped clear.  The cross-country course was big and technical with quite a few tricky combinations, and it was a really hot day which just added to the challenge!  Luna set off full of enthusiasm and was jumping really well and confidently but 3 fences from home at an island fence in the middle of the water she had an unfortunate stop giving us 20 penalties, but second time of asking she jumped it and finished the course well.  Although it was disappointing I was actually really pleased with Luna as she is relatively inexperienced at cross-country and she had jumped really well through some tricky questions. Unfortunately all our team members had problems on the course which meant we were out of the placings and therefore we wouldn't be going to the champs to do the Eventing but we had all had a good time and learnt a lot. It was also the start of the summer holidays which means more time for riding!!
My next pony outing was in the BE100 at Calmsden with Bracken. She warmed up for the dressage like she was Gio and I almost felt like I was Charlotte Dujardin, but then we went in to do our test and Bracken brought me right back down to earth by pretending she was a Llama!!  We scored 34.8 which actually was a lot better than I thought we would get. In the show-jumping it was my turn to let Bracken down, I pushed her too much going into the double and we had the first element down…..Brackens first show-jumping fault for over a year, I was gutted! Anyway, I set out on the cross-country determined that we weren't going to have any mistakes and fortunately we went clear with just a few time penalties to leave us in 10th place.
So that brings me up to August with exciting things like the PC Championships to tell you about and some other big news…..but you will have to wait for my next blog to hear all about it!
June has been a busy month for the team, although Lambo has a had an easier end to the month!
It started with a 3 day stay away show at Chard Equestrian in Somerset where I took Lambo and Connie. Lambo jumped double clear on the first and last day only having the final fence on day 2 which was my fault! He picked up two 3rd placings and given the 100's of entries in the classes and that he has just stepped up to Newcomers (1.10m in first round 1.20 in jump off) I was over the moon with him. Connie jumped more double clears and picked up a 4th in the Newcomers on day two – she managed to cut her leg in the stable on day 1, but thankfully nothing serious so was able to carry on! Finishing with our best round to this date in the Foxhunter on the last day, jumping a lovely double clear and picking up a lower placing. I was really happy with her progress and excited for the start of our 2nd rounds.
Mid June the Chiropractor visited all and he was amazed to see how well they all three horses are. He did mention I need to add some more bulk to Connie, so after emailing Dengie's Performance Horse Nutritionist, Claire Akers I have added some Meadow Grass with Herbs & Oil to both Connie and Lambo's rations.
I then took Scrappy on her own to Rectory Farm for a little jump round, where she stepped up to the Discovery jumping a super double clear coming 2nd! She is turning into a real speed demon!
Next I took Connie to Wellington for a jump around the Newcomers before her first 2nd round, she jumped a beautiful double clear coming 4th, only half a second slower than the winner! It would appear half a second was sent to haunt me this week as Connie jumped a beautiful clear round in the Newcomers 2nd round on the following day, but I was half a second over the time allowed, meaning we incurred 1 time fault!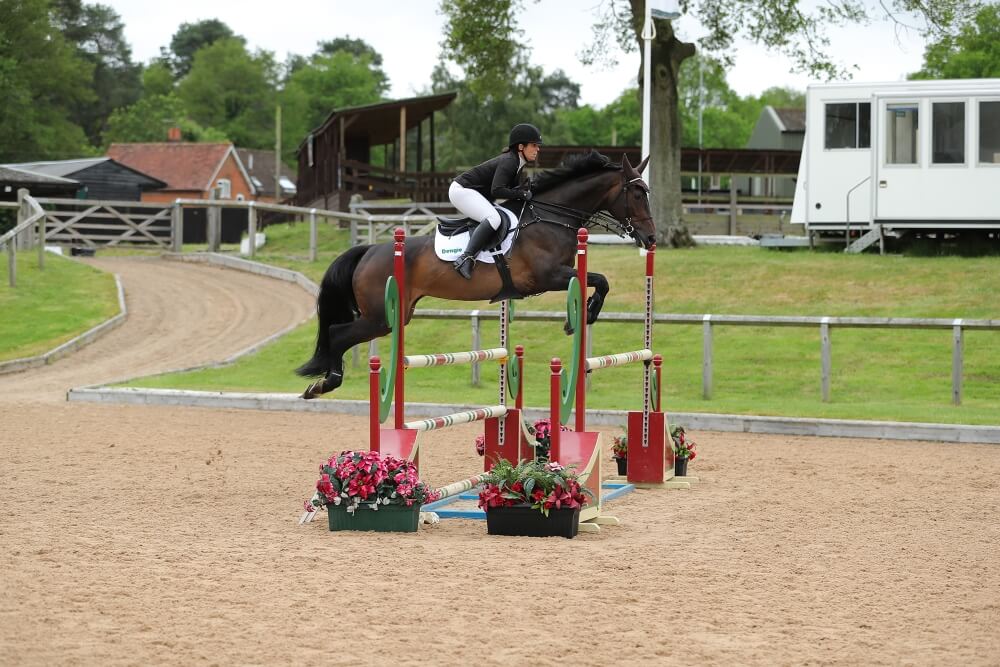 At the weekend just gone I held my first clinic at Blackwater Equestrian which went really well and I plan to run another at the end of July. Then on Sunday I had my first open day with Connie's syndicate at the yard and did a little demo of both Connie and Scrappy. Lambo came up with splints on both his front legs hence why he has had an easy finish to this month. We believe they were caused by kicking the door, typical boy! I haven't treated them as I am in no rush for them to settle, he is getting some R&R and iced legs daily instead. I am hoping to bring him back in to work this week and have him ready for the summer tour at Bicton which starts next week. Although he hasn't been unsound, I do have the future in mind for him so just want to make sure we let them settle first.
Our plans moving forward are to head to Bicton next week for a week and a half where Lambo and Scrappy are in their relative ages classes and Connie is contesting HOYS in the Newcomers second round and Grade C. Then Connie will also go to Hartpury to contest the Grade C for HOYS at the end of the month.
The last month has been something of a whirlwind. The culmination of a busy spring for our super team of horses saw the three babies all jump clear around a very challenging Keysoe.
Fadeline placed 10th at her first 3* at Tweseldown. Another tough Eric Winter course which "Fern" flew around.
Super double clears at Houghton for Calcourt Quantum in the 3* and Dassett Showman in the 2*
It's very rare that 3/3 phases at an event let alone an international go according to plan so for all 3 to ace their FEI shows was a real boost.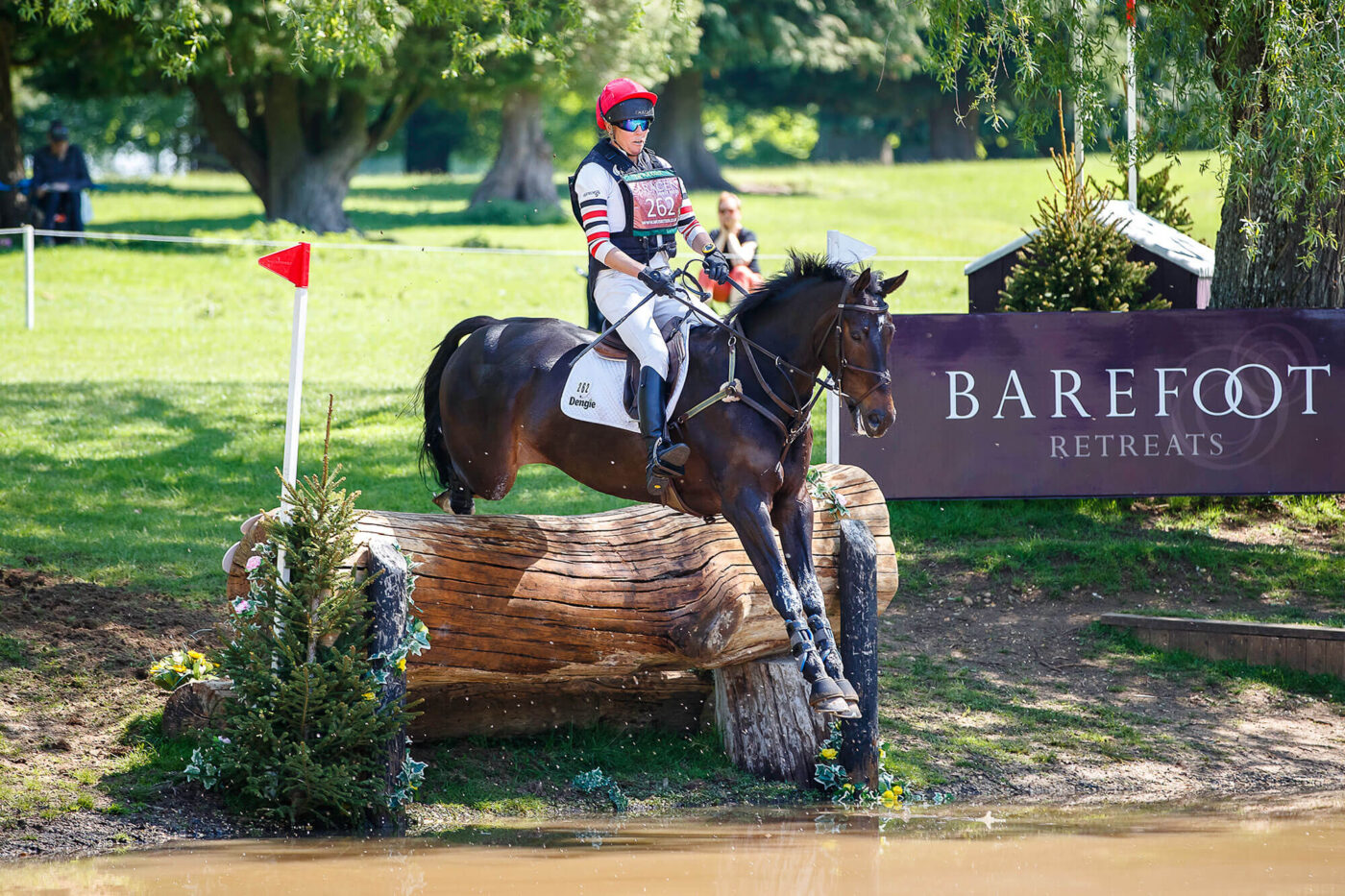 We waved sad goodbyes to Hilton Cooley and 5yo Margo Landolt and wish them huge success and happiness in their new homes.
An eagerly anticipated week off for me included a trip to Mull, Jura and Islay. Home via my father in laws birthday and a day at Royal Ascot! So very spoiling indeed!
Back to real life with Robert Snaddon lessons on Tuesday, then 5 babies in the UA Cotswold Cup at Gt Tew tomorrow and on to Farley next week with the "grown ups".
Finn, Hannah, Justine, Suzie, Mum and Muzi have done an impeccable job on the horses in my absence and we are all excited to see what the summer holds.
Training Bursary Blog: Sarah-Jane Brown Part 6
It has been a difficult year for so many people who have been deeply affected by the COVID pandemic. Job wise as an Environmental Health professional I have been heavily involved ensuring businesses are compliant with COVID regulations by helping and supporting them to get it right, as well as taking appropriate enforcement action for those that blatantly ignore the rules. I am now a webinar expert having co-written and delivered 50 in the last year around COVID topics.
Horse wise we did virtually nothing last year, the highlight was our Dengie training day in January and then we never got to BE event. We did a little show jumping and dressage, but nothing that significant. Sadly my little pocket rocket Ellie developed a bone cyst in her pedal bone, which later in the year required an operation. This was not immediately successful and as I write this she is being dropped off to stud and we will see how she is in 18months. Certainly the way she is moving round the field is encouraging.
I only have Fliss up and riding currently, although I hope to have my 5-year-old homebred back in work soon. Poor Fliss feels therefore she is overworked, saying that she is looking rather well and certainly thriving on her Dengie diet.
In April it was great to finally get out and we started with some dressage. She has improved hugely over the winter and I was looking forward to showing this off. We went to Bicton Arena where the competition was fierce and sadly brought up the rear in one class and were lower middling in the other. Aren't horses great levellers? She went just a bit tight and tense on me and was sure there was some jumping somewhere! Two days later we were out again at Tall Trees and a much improved performance gave us a double dressage win!
We jumped at Pendarves for a BS show and had double clears and placings in the 1.10 and 1.15. Then the following week after missing the entire 2020 season we finally got out eventing. With the firm ground I was pleased we had chosen Bicton who make such great efforts to get the ground as good as possible for the competitors. We dropped down to BE100 open and this time she did a nice test for a 30. Show jumping wasn't an issue and we were clear, although a big spook at 2 could have been costly. Cross country was a decent test for the level and ideal for us before we stepped back up to Novice. She flew round for 0.4 of penalty to finish 6th so a really good start.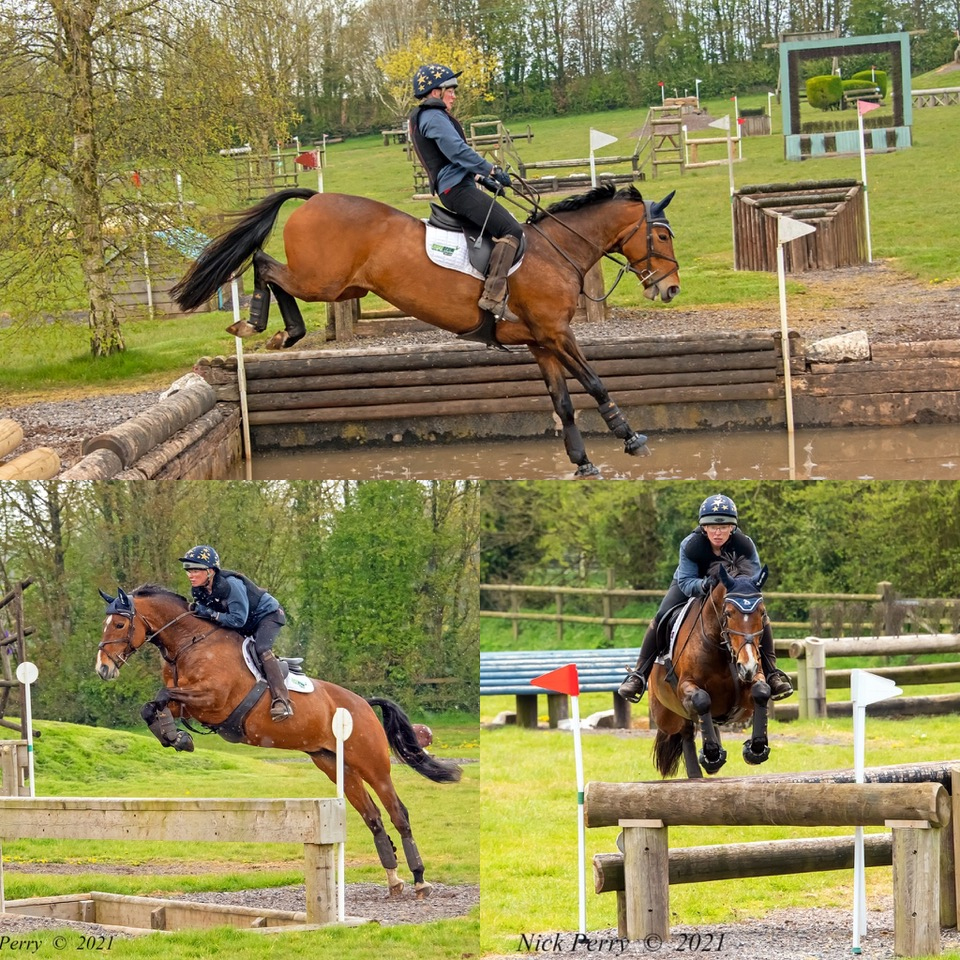 Aston was the first Novice since 2019, the day before we had a quick tune up with Owen Moore and arrived at Aston raring to go. I walked the course and it was actually less technical than the 100 at Bicton, although asked some questions, particularly the big jump in the water.
Dressage was on the surface and I thought her test was nice enough and was disappointed to be well down with a mark of 35.3. Watching the test back it was deserved, she just dropped behind the bridle making her very tight in front and her paces were a bit choppy in consequence. I know we can work on this I just have to find the key to relax her and let her lengthen her frame.
Show jumping was unusually for Aston on grass, the ring was quite undulating with the going a bit sticky. Even though Fliss is such a good show jumper, I was a bit worried about this phase as some were having cricket scores with the going and she hasn't jumped in ground quite like it. I shouldn't have worried she coped fine and jumped a super clear round.
Cross country I was determined to implement some of the gems I picked up from Sarah Thorne at Rosamund Green a few weeks ago and really went out to get her in front my leg and taking on the fences and moving away. Yes I still added the odd stride where maybe I didn't need to, but it was far better and Fliss loved the more forward way of going. This perhaps showed with her coming back inside the time to add nothing to her dressage score. You will see her on the video going through the first water, the second she jumped in well and just slightly stumbled on landing, but picked up and jumped the brush well out. She gave me a super ride from start to finish.
We finished on our dressage score for 8th place.
Fliss now has an unbelievable record, which I am careful not to get too hung up about, she has done 10 BE in total including 5 novices and been double clear in every one. Whether or not we extend the streak, to do the first 10 double clear is some feat!
It's so exciting to be able to finally plan, and I'm hoping that we can go to Hartpury 2 star this year eventing, as well as mix in some show jumping. I'm also looking forward to having Kensa to work with and hope she has some of her mothers talent (Sarnita took me to Advanced).
We have been so incredibly lucky to be included on the Elite Pathway events. This is the third in the series and I am delighted with the improvement in both these two horses.
Calcourt Quantum is a new ride for me while Alice Pearson is on maternity leave! We are beginning to gel as a partnership and we look forward to Weston Park.
Fadeline is new at this intermediate level and we have relished the opportunity for three steady runs in relatively quick succession.
Both their dressage scores have steadily improved with each outing, at Aston they both showjumped well for four faults each and completed the day with really happy smooth confident cross country rounds without breaking any land speed records!
Fern will look to aim for a three star short later this spring and Mickey hope to run advanced mid May all being well.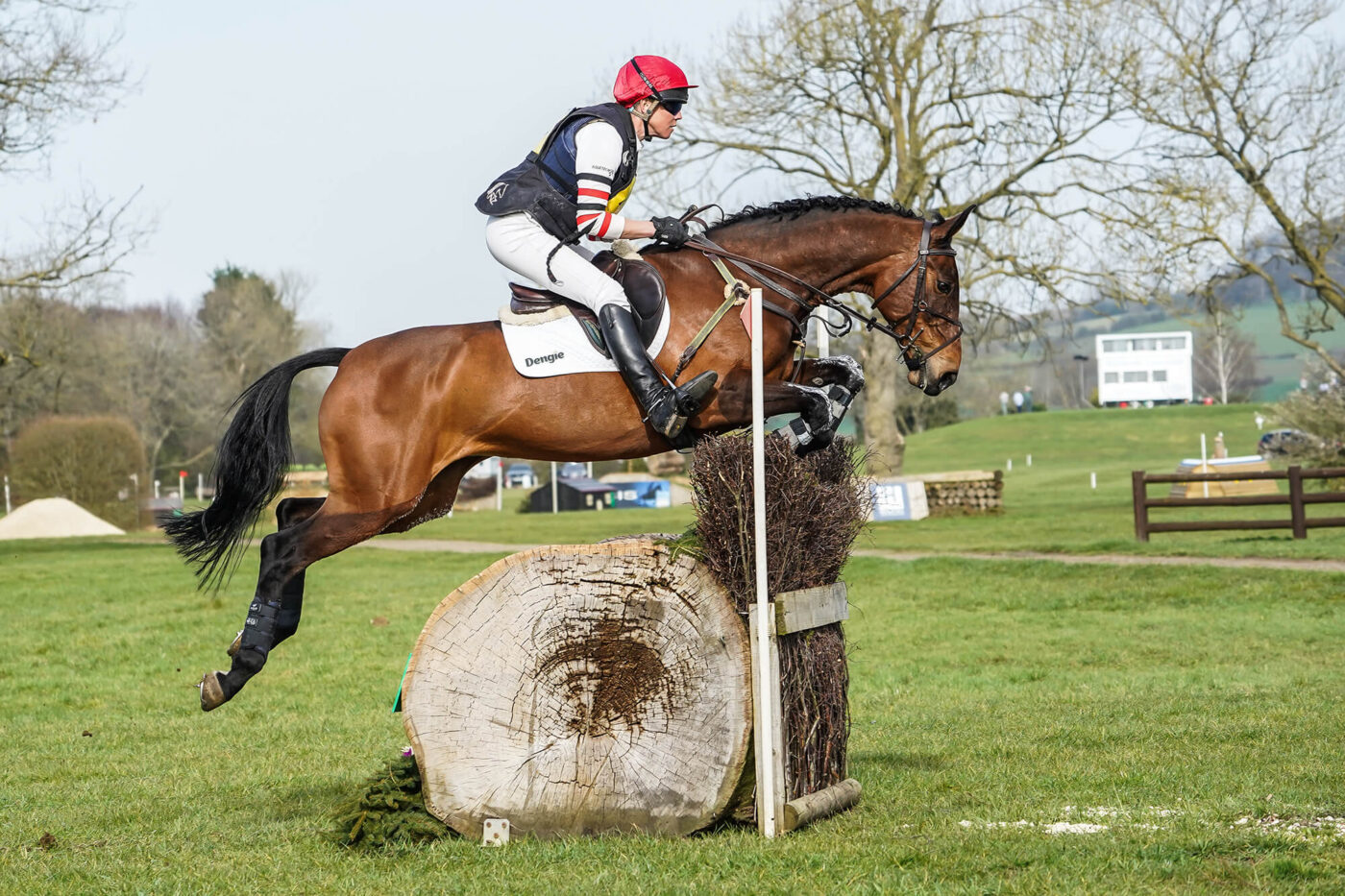 It's hard to comprehend being out and about again so I am making sure I enjoy each and every step of the 2021 season as it unfolds and not risk disappointment by planning too far ahead of myself!
So with only a few weeks to go until we are allowed out of "lockdown" with the horses we can all start to get a little bit excited, especially as we no longer have snow and ice!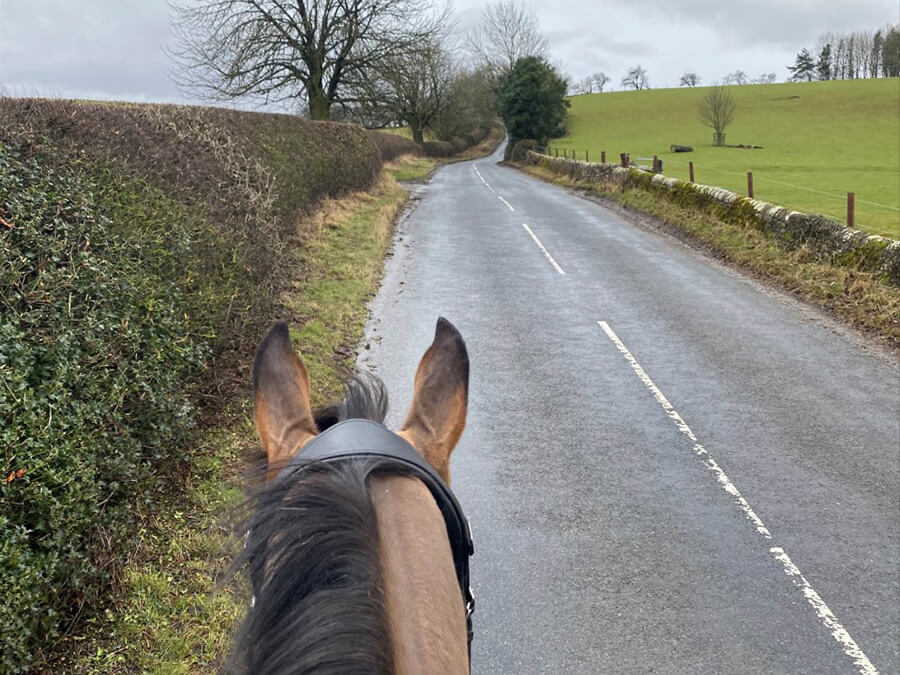 As soon as March 29th hits I have sessions with Chris Bartle and Susie Gibson booked in to get the horses primed for a start to the season in the middle of April! Unfortunately my plan of going to Bramham with Candy hasn't worked out due to them cancelling the event, so plan B is to aim for a 4 star in July/ August and finish the year off at Blenheim!
Popeye will aim for a 2 star mid-season and we will then decide if he's ready to move up a level. Snip and Nomore will aim for a 2 star by the end of the year hopefully. Callie will make his British Eventing debut in May / June and Heidi will aim to do a few of the 4-year-old Nexgen and BYEH classes if they run this year.
I also have BD regionals to aim for with Candy and Snip  in June (which should have been in January). Despite the uncertainty over events running or not, we still have lots to look forward to and work towards! I can't wait to get back out Eventing! I have to say the horses are all look amazing at the minute, especially Candy who is always hard to keep weight on – I think the lack of Eventing last year actually did her a favour in some ways! The Dengie diet of Alfa-A Oil or Healthy Tummy, with Performance+ Balancer has been great over the winter!
I can't wait to be able to blog again, with actual updates from real shows!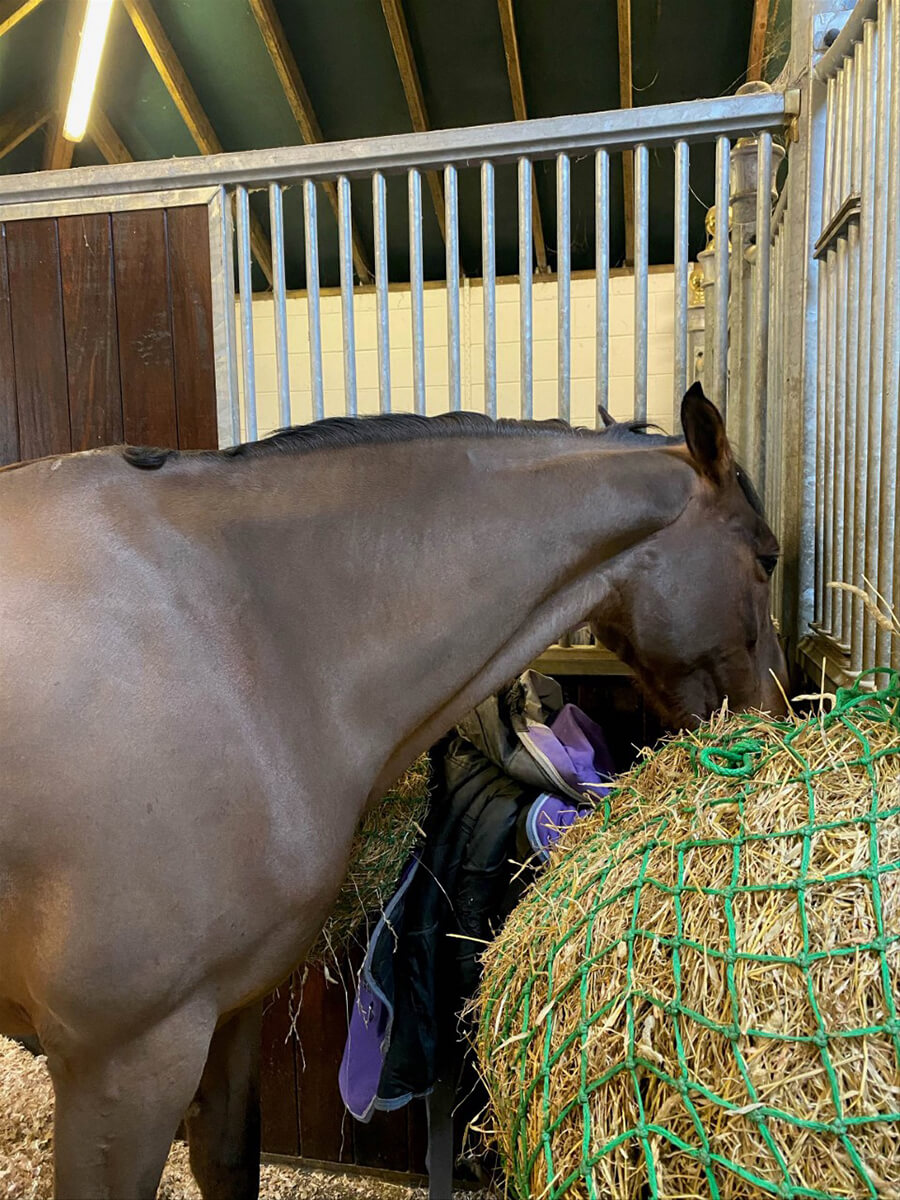 The ponies have been back in work since the beginning of December after their break out in the field. For the first few weeks they were just hacking out, gradually building up the distance and the trot work. Then from the beginning of January I started to introduce some light schooling sessions a few times a week and then a little bit of pole work and jumping. Both ponies are now quite fit and will be more than ready for the event season when it does get started!
As sadly there have been no competitions, I thought I would tell you how I have been spending lockdown #3, fitting in doing the ponies with online school lessons and what a typical day looks like for me.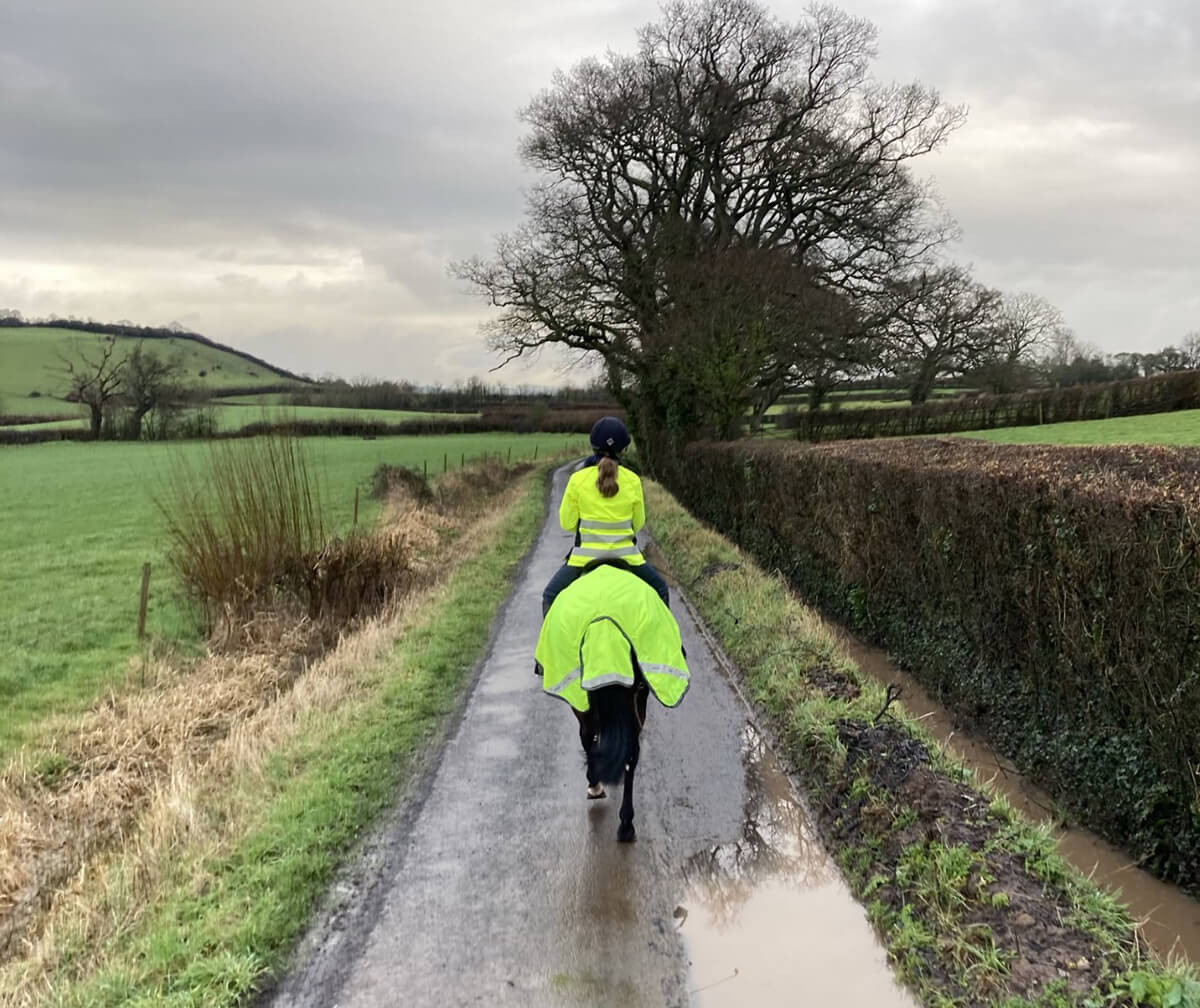 My alarm goes off at 6.15am and I am usually out on the yard by 6.30am. I'm very lucky that I am able to keep my ponies at home – they are literally outside the back door!! The first job is to do feeds, there are 8 feeds to make-up in total – my 2 ponies, my mums 2 horses, a broodmare and 3 youngsters. They are all fed Dengie diets. Annie, the broodmare, and the 3 youngsters have Alfa-A Original, Alfa-Beet and Performance + Balancer. The 2 good-doers on the yard, Bracken and Jonny, have Dengie Hi Fi Molasses Free with Performance+ Balancer. Smartie tends to drop weight quite easily so he is fed Dengie Alfa-A Molasses Free with Alfa-Beet and Performance+ Balancer, and Cougar, our oldest horse at 23 years, loves Dengie Performance Fibre with Alfa-Beet and Performance+ Balancer. They also all have some salt added to their feeds, the horses get 1 tablespoon per day and the ponies get 1 dessert spoon per day.
Once they have all had their breakfasts, they get a small haynet of haylage whilst they are mucked out. My mum and I share the mucking out between us and then when it's done we go for a run with our dog.
After running I have my breakfast and then get ready to start online lessons at 8.45am. My mum then goes back out to the yard and gives the horses their morning haynets and turns out some of the horses. During the winter the youngsters stay in a big barn and the other horses and ponies get turned out for a few hours each day either in the morning or afternoon depending on when they are going to be ridden. I then usually try and ride one of the ponies at lunchtime, either a schooling sessions or a 45 minute hack. At lunchtime I also skip out and do lunch haynets before having my lunch ready to start afternoon lessons.
My school day finishes at 3.20pm and I then ride the other pony that didn't get ridden at lunchtime. We then do evening feeds between 5.30 and 6pm before mucking out and topping up hay. Most of them get ad-lib hay except for Bracken and Jonny who have to have theirs rationed and soaked to reduce the sugar levels! The others all have steamed hay. I like to give the yard a good sweep and tidy-up before I finish so I'm usually back inside by 7pm. My mum will then go back out later before she goes to bed to do late checks and top them all up with more hay.
Recently we have had some really cold freezing weather so we have also been offering the horses warm water several times a day to make sure they don't get dehydrated. Some of them really love it, especially the youngsters who get very excited when they see the yellow water bucket. For the ones who are less keen we put an apple in the water to encourage them to play with the water. Adding salt to their feeds also encourages them to drink.
I am now very much looking forward to some dry and warmer weather, so that the ponies and horses can all go out more. I am also very excited for the start of Eventing!! Hopefully next time I blog I will have some events to report on and things will be starting to get back to normal.