I thought I would take the opportunity to look back as well as forward to the year ahead. I certainly don't think 2020 was anything like I imagined this time last year. The biggie has been COVID-19 which has affected us all in many ways and obviously curtailed what we have been able to do with the horses. For me it meant no eventing, with being based in West Cornwall the uncertainty of what would happen, the travel, the limited training opportunities and the need to stay away frequently, alongside the pressure of the job made eventing for me impractical.
My job has changed both in role and intensity, my normal role was a Health and Safety Inspector dealing with accidents, workplace inspections and safety concerns. A job I was confident in and fitted nicely around the equine plans. I am now helping lead a team tackling the COVID-19 response in the Council. This involves primarily working with businesses to advise on what COVID-19 safety measures they should be undertaking, responding to complaints and ensuring, where practical and needed, we enforce on those businesses not complying with the rules in terms of COVID-19 secure measures or being open when they shouldn't be.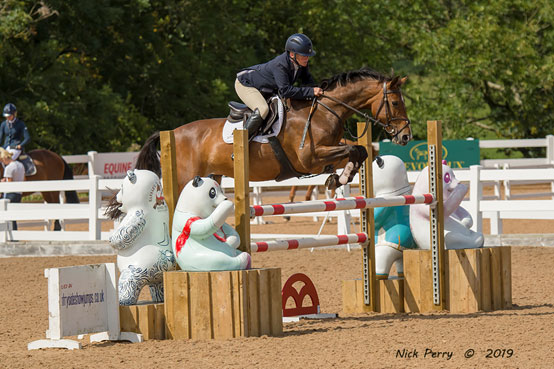 The horses for the little they have done have gone well. In 2020 British Showjumping, Fliss jumped 12 classes and had 9 double clears and 9 placings, including a super double clear in the Foxhunter at Pendarves. For Ellie it was a different story, only jumping 3 classes, but winning her last one before injury came to the fore.
We have also really moved to the dark side and not only registered for British Dressage, but had a dabble with Dressage to Music qualifying for the national BRC dressage championships and not disgracing ourselves at Elementary level. Fliss also gained 14 points in 3 classes and a huge 72% in her music at the close of the year. Certainly for the moment it looks like dressage will be the most accessible to continue with under the tighter COVID-19 restrictions in the short term.
There has been some great training. I was lucky at the beginning of the year to have some great sessions with Hannah Esberger-Hancock and Lucy Jackson at Vale View, through becoming a Dengie Ambassador; that was an inspiring start to the year (that never was). I have continued to travel to Owen Moore at Lyneham Heath who has really helped us develop and continue my regular flatwork training with sponsor Stef Eardley, who had some good news of her own this year when she became the new Para Podium Potential Pathway Mentor Coach for British Equestrian.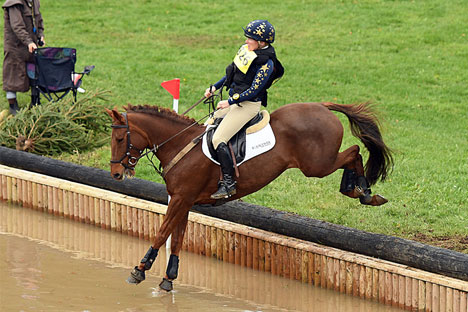 Sadly Ellie developed a strange intermittent lameness – one day she was fine (usually the day the vet came) and a few days later crippled. We eventually diagnosed a bone cyst which needed an operation to place a screw in the foot that took place in October. We have worked hard to bring her back into work, but sadly things have just not settled down and the decision has been made to give her 18 months off and review again. This does give her an opportunity for a change of career and in April she will be off to stud, where she is being loaned to a friend to have a foal. Much as I would like to breed one myself, I don't have the time or facilities to do it myself.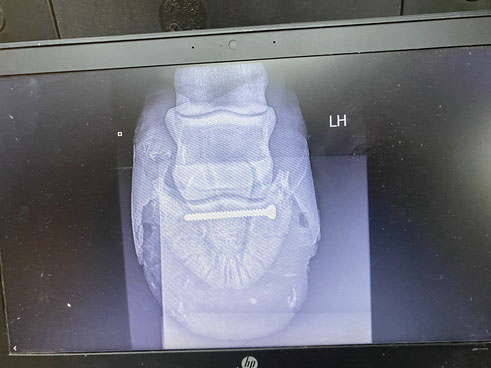 Ellie has always been special to me, my 14.2hh pocket rocket that has helped me through a confidence crisis and been a real over achiever. The first time I jumped her and she crabbed sideways through a few fences I wondered what I had bought. Yet she has won two BE100s, jumped clear round adult Newcomers and won points at Elementary. I do hope she can come back to work and maybe teach a deserving child the ropes.
My only homebred to date Kensa was 4 in 2020 and huge thanks to Mel Hennah for doing a super job backing her. She was still quite weak, so has been turned away until 2021 when hopefully she will come back into work and start her ridden career for proper.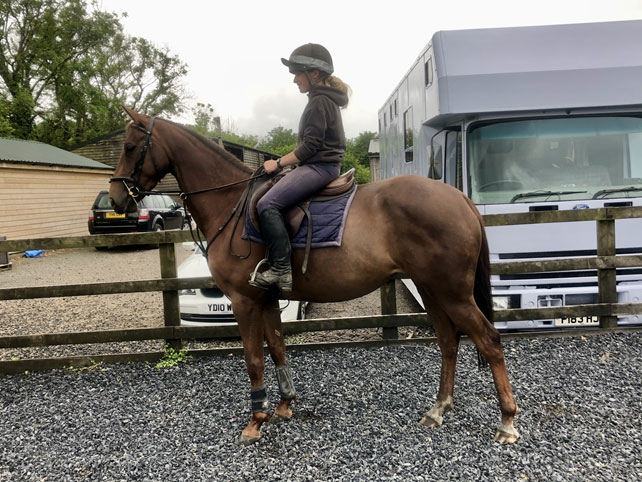 The other huge change has been a change in location. We have always struggled with the travel element of the horse sport, being based only 25 miles from Lands End. While we explored some big ideas of relocating to Scotland, instead we made a slightly smaller hop from one end of the County to another. We are now based on the Devon/Cornwall border 50 miles closer to most places. At the moment we are in temporary accommodation and I have the unknown luxury of having the horses outside the door, not only that but I have the use of a school which is an amazing facility that I have not had access to before on-site. We are currently waiting for the proposed purchase of a property at Lawhitton (nr Launceston) to complete and move in, hopefully in another month.
So time to look ahead, I have already mentioned that Kensa will be joining me in the Spring/Summer. Realistically I feel COVID-19 will be around for the first part of this year and guidance is still not to travel out of your area. Training to get ready for the season will be difficult, so we will probably tick over with dressage and show jumping once lockdown is lifted and wait for the way ahead to become a little clearer. As horses are not my living it is easier for me to make this decision and I am very aware of the implications of spreading such a nasty virus. When so many people are struggling and lives have been lost it seems selfish to be so frustrated that we can't do more, particularly with Fliss missing a couple of what should be her peak years, and I am nearer 50 than 40.
Fingers crossed the COVID-19 vaccinations kick in quickly, people generally remember the 'Hands, Face, Space' message and that we can get back to doing what we love best soon.
Huge thanks to all my sponsors and supporters, I feel I haven't really given them the exposure and time I would have liked this year and really appreciate them continuing to work with me going forwards.
Wow what a year 2020 was  – I thought I would round up the events of this difficult and frustrating year. However, through it all my horses haven't failed to make me smile, what would we do without them?
Last year started with a bang with me discovering that I had been awarded the amazing bursary with Dengie. What a dream it was to go up to ValeView for the amazing training day with Hannah and Lucy.
Moving on to post lockdown…I had a great time in August passing my Pony Club B test, thorough knowledge of feeding helped here, thanks Dengie! B+ here we come.
Next we had an amazing run at Borde Hill where we flew round the course making it feel a piece of cake; for a double clear inside the time in the BE90.
A week later, it was the NSEA Eventers Challenge Championship; CiCi jumped a fantastic round to help the team come 5th.
Later on that day we had our first 105cm Show Jumping class where CiCi blew me away, exceeding all my expectations only to have an unfortunate 4 faults round a tricky course. Our team finished on 4 faults but WON, qualifying for the Winter Championships – they were unfortunately cancelled.
On to September, Hunter trial season. It was great fun doing the pairs with my friend on her other horse Rosie, o weekend at East Byshee and the next at Rackham, second both weekends. I also had CiCi at Rackham for our first 100 cross country and she jumped round clear, but were having so much fun we forgot it was optimum time so we were a tad fast.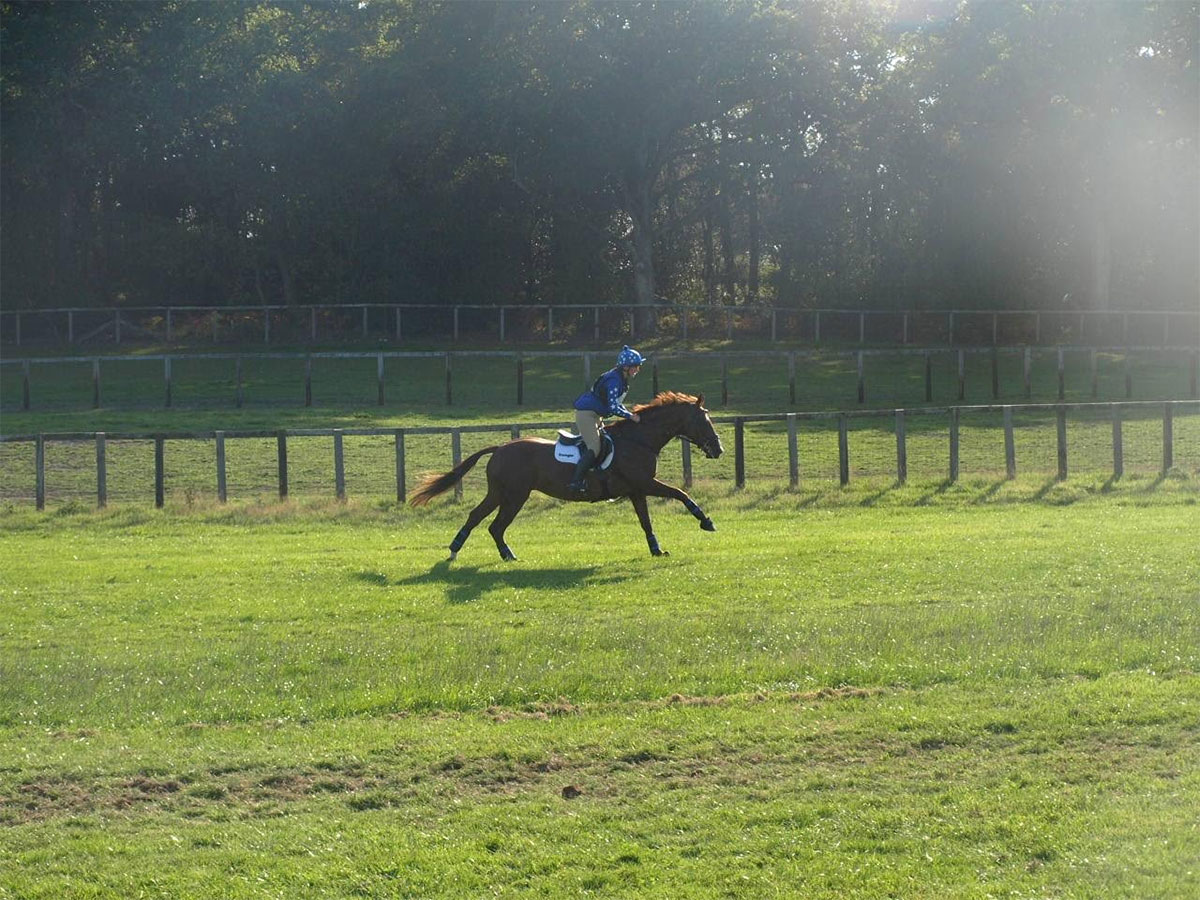 Later on in September was our last BE run of the season at Munstead for our first BE100. She was amazing and produced a sweet test followed by a double clear inside the time, I was so proud of her.
Finally October, which brought my birthday, I was very lucky to sneak in a fab beach ride with some friends before lockdown arrived. We had the most amazing time, the beach is definitely one of my favourite places to ride.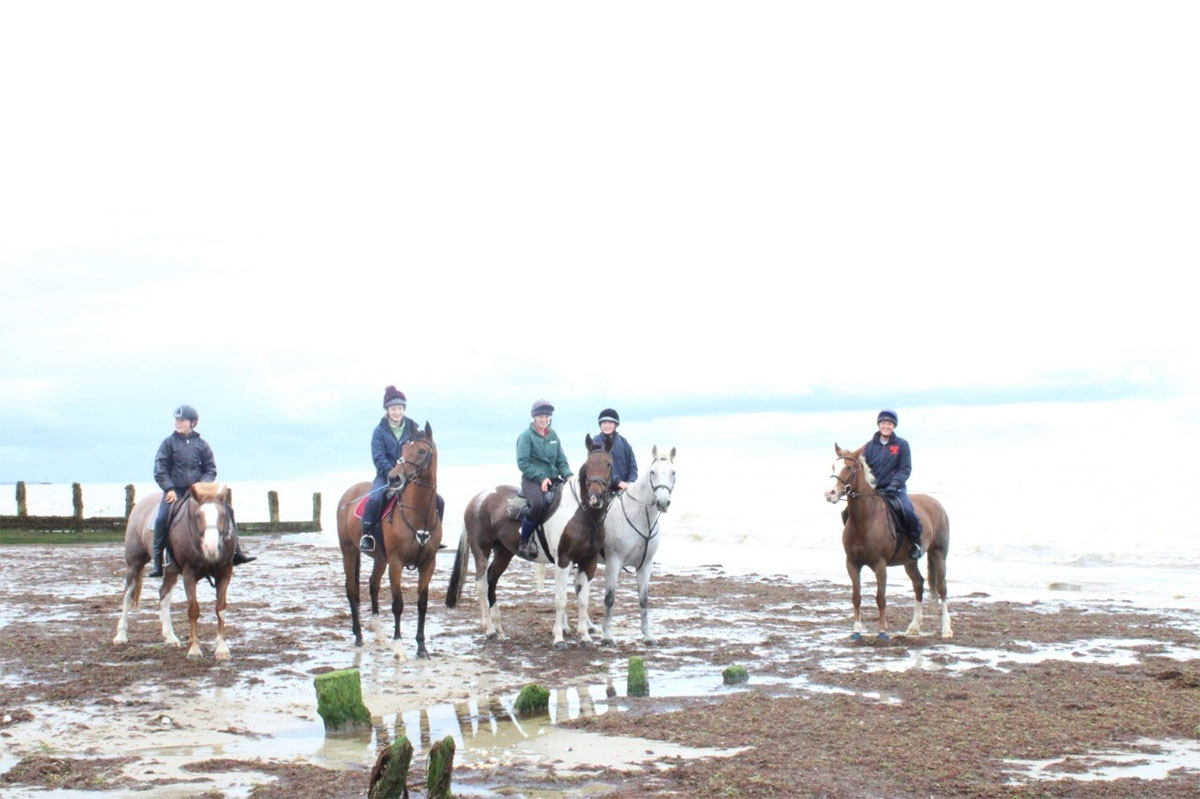 Then lockdown hit, CiCi had her winter break a little early, and thanks to Dengie's feed teams help, we dropped her feed quantity and changed her to Dengie Healthy Tummy and Alfa-Beet whilst she wasn't working.
During Cici's break, I had the pleasure of taking one of Kings Hill Equestrians young horses to a Pony Club rally, which was a great experience. Then due to a friend self isolating, I had the pleasure of riding her lovely horse Roy, who taught me loads as he is the polar opposite of CiCi to ride.
In December, I finally ticked something off my bucket list… Side Saddle. Wow what a completely different experience and how difficult!
CiCi has maintained her condition this winter thanks to her Dengie diet. What an amazing year it's been.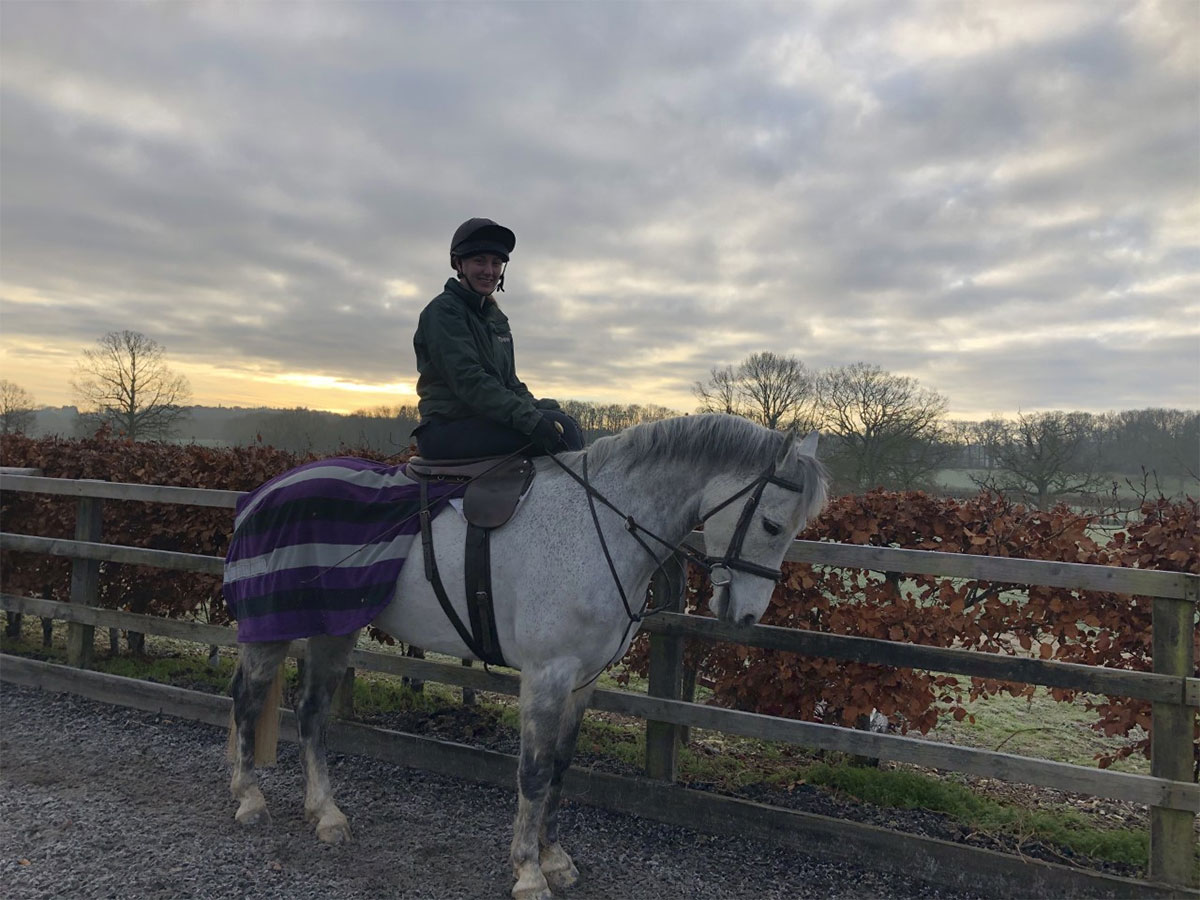 If you sit and watch the trot up at Burghley or Badminton, it is quite clear that event horses come in all shapes and sizes. The perfect event horse is an amalgamation of many things, with the common denominator being that they all have the heart of a lion. We speak to Samantha Hobbs (CCI4* Event Rider) and ask her what she looks for when buying a young horse to event.
What to look for when buying a young horse to event
People's preferences are personal, but if given the brief to go and find a young horse that I would be excited to produce for the upper levels, temperament and trainability would be top of my list. The horse has got to have something in them which makes them want to be a doer.
I prefer a horse with a good amount of TB in their breeding, for stamina and speed and it makes them light enough in their confirmation to help with soundness. Mixed with some proper jumping blood; a horse with plenty of scope will get himself out of trouble far easier than one that is lacking!
Choosing between an unbacked or backed horse
I love getting a just backed horse (as long as they've been backed properly) I don't want to be a crash test dummy anymore and the guys that break in well are truly fantastic horse people. The horse is then happy and accepting of a rider, but are ultimately a blank canvas. It is far harder to retrain a horse when they've been taught incorrectly and for me, there is no greater feeling than producing a horse yourself. The satisfaction of building a proper bond with a horse and producing them right from the start means you are involved in every bit of their journey.
How to start a young horse's event training
The super young horse in the photo below (owned by Mrs Sheenagh Mudford) was broken in at the start of his 4th year and produced to sell at an Irish auction. We loved his free, easy movement and seemingly relaxed outlook on life. He is light on his feet and has a desire to jump. We were aware that his education may have been slightly fast tracked to prepare him for the auction and therefore we have taken time to go back to basics.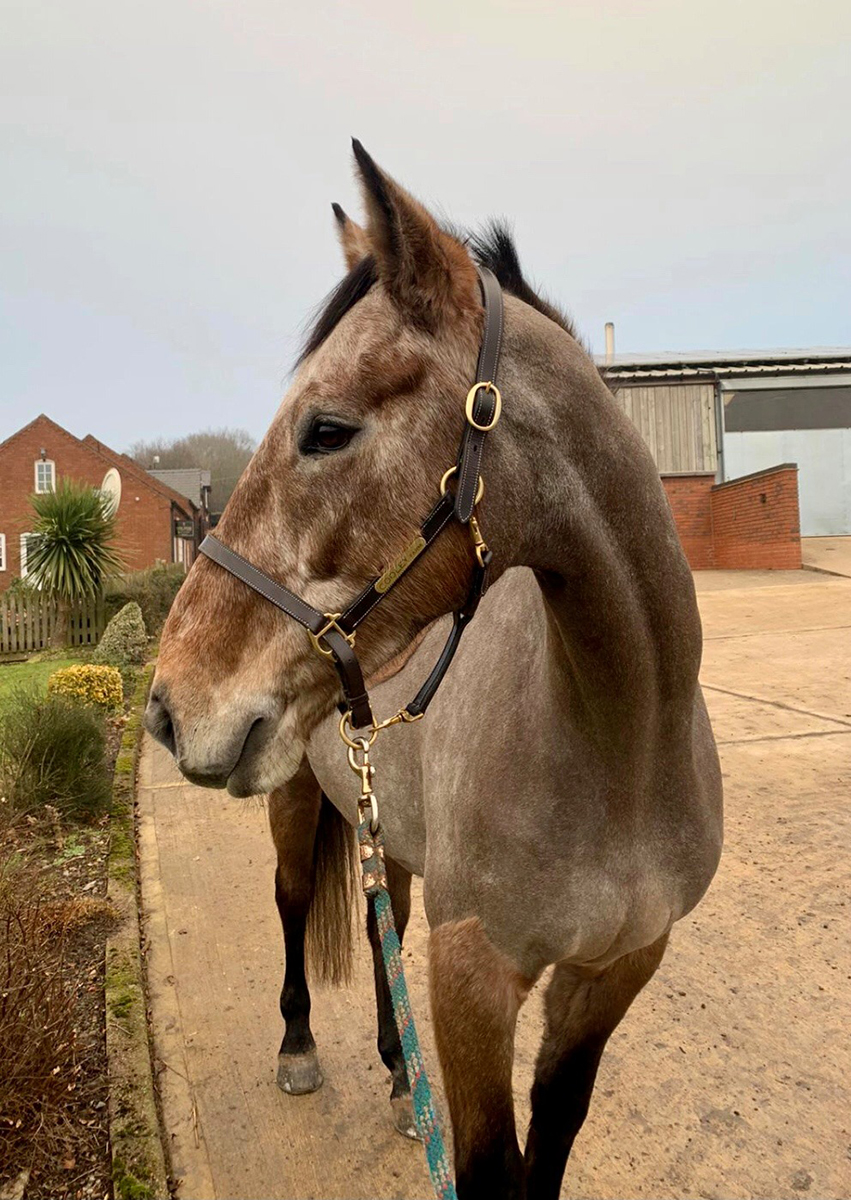 At the moment, his week is varied and not too intense – he is only 4 after all! He will hack a couple of times, have a lunge and do some gymnastic work in the school. Most days he will do some pole work of some kind, either at the end of a hack or end of a lunge/schooling session. I really feel it helps to improve hoof/brain co-ordination and help develop his core. He will often do 2 days of work, followed by a day off or some walking in-hand in a rope training aid to help with correct posture incorporating poles.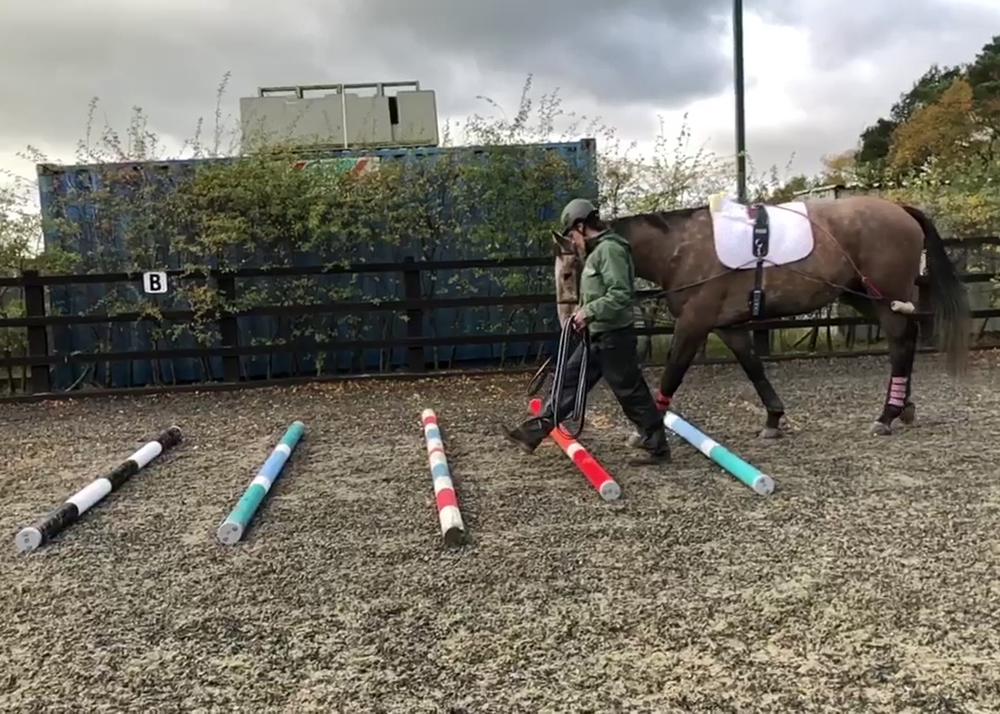 I'm very fortunate to be based at a wonderful yard with hundreds of acres of off-road hacking, there are lots of hills and basic XC jumps. Toby will hack out a few times a week – mostly walking up and down the undulations, interspersed with short stints of trot. When the ground dries out a bit, I will start playing over small logs and up and down the steps – all in a relaxed, no pressure way. I want him to enjoy his work.
Just before Christmas I hired an arena which was unfamiliar to him and helped me assess where he is in his education, how much he is affected by being somewhere different and what I need to do with him at the start of this year. He had a couple of weeks off over Christmas and into the New Year. I'm a great believer in doing blocks of work and then giving them a mini break- a great opportunity for them to begin to understand what is being asked of them, chance to work it out and then get confident doing it, followed by a chance to rest their minds as well as their bodies.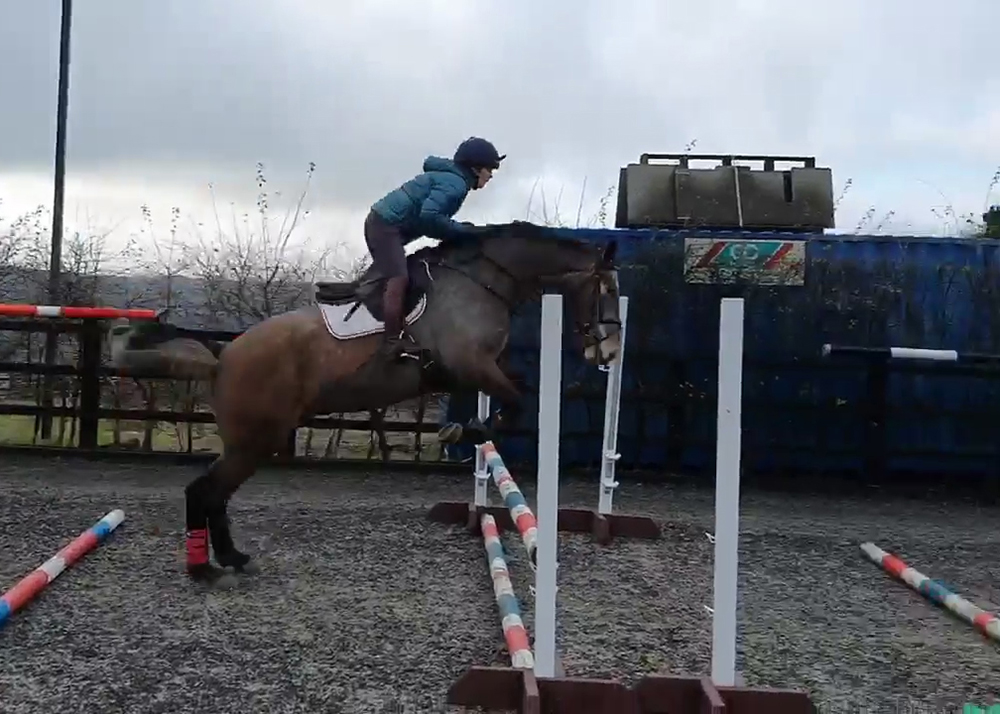 The aim for this horse this year will be to successfully contest the Burghley Young Event Horse classes/NextGen series and the British Eventing 5yo classes. To prepare for this there will be Show Jumping and XC schooling outings, followed by unaffiliated Dressage and Show Jumping competitions to get him used to working alongside other horses in a collecting ring whilst still remaining focused on the job in hand. The BYEH classes act as a great combined training events – a fantastic stepping stone to contesting their first events late spring/early summer.
Nutrition is key for the Performance Horse
Different horses need different amounts of preparation and exposure, but one thing I insist on for all of my horses is plenty of time out in the field and a good, balanced diet. The Dengie Nutrition team have been fantastic in helping me compile the perfect rations for the different horses on my yard, which have kept them looking and feeling fantastic.
This lad enjoys a diet of Dengie Alfa-A Oil, Alfa-Beet and Performance+ Balancer, split over 3 feeds throughout the day. It provides him with high quality fibre to help promote top line and slow-release energy – enough for the job in hand with no unrequired extra moves!
As well as talent, good training and remaining injury free, a lot of luck is needed to succeed in the wonderful sport of Eventing, but giving your young horse a solid all-round education and a balanced, quality diet is a great place to start.
For further information or friendly feeding advice, contact the Dengie Nutrition Team on 01621 841188 or click here to complete our Feed Advice Form.
Globally, soil represents a reservoir of carbon twice as high as that of the atmosphere. Good healthy soil also aids yields without the need for as many artificial inputs. For plants, their connection with the soil is through their roots and we thought we would share some fascinating facts about roots, soil and plants!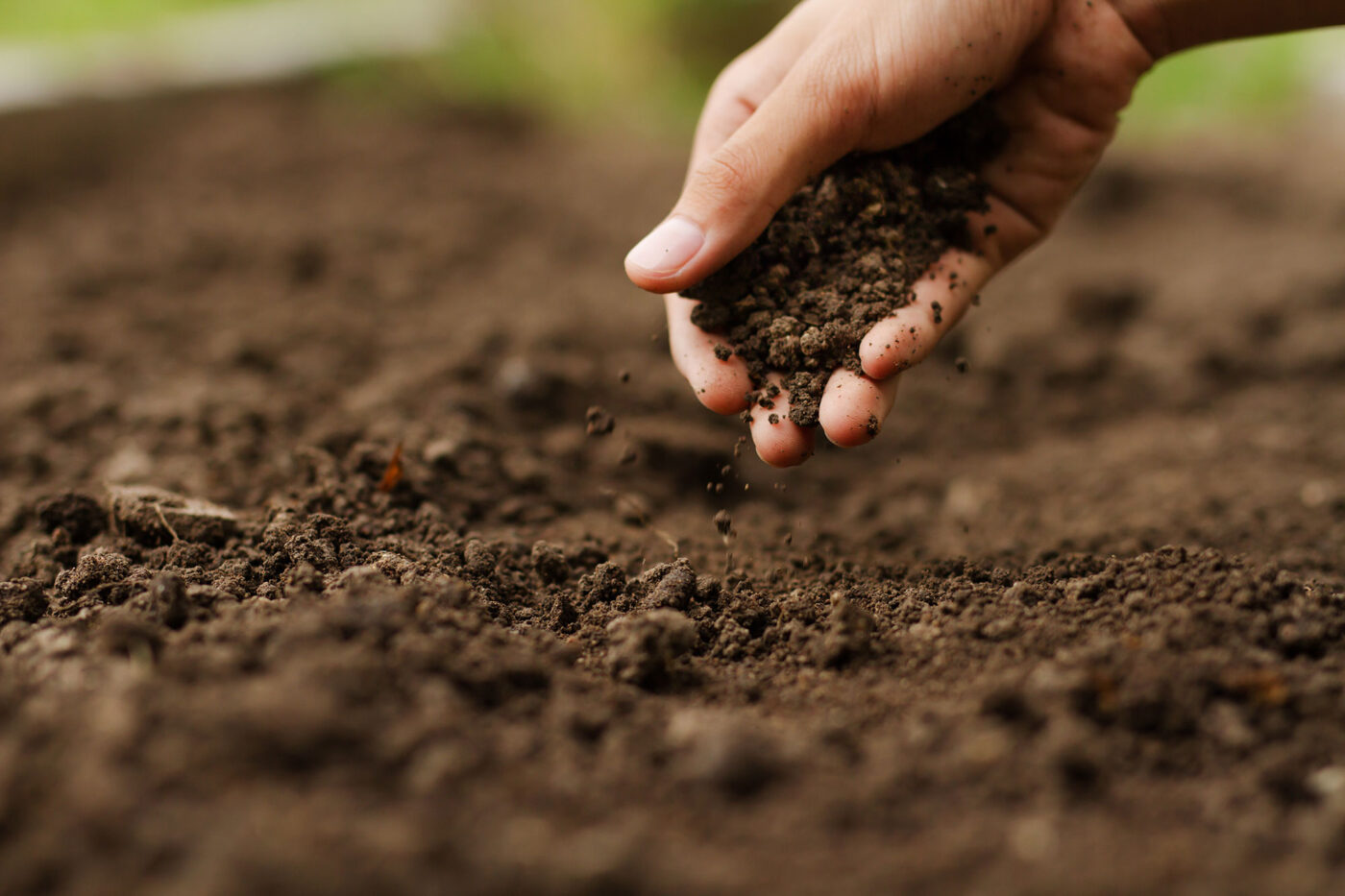 Trees and shrubs have the deepest rooting depths with an average of 7metres. Some tropical trees can grow roots to between 20 and 50 metres! Grass and cereals have roots of about 2-2.5m – Some of these differences relate simply to how long the plants are in the ground for – cereals tend to be annuals and so don't get long to put down roots whereas trees may be decades old. Apple trees have been shown to extend their roots by about 1 metre per year
Alfalfa also has really deep roots – in some case they reach 4 or 5 metres. This is what makes it drought tolerant but they also help to put organic matter back into the soil and help to stop it from becoming compacted.
Certain minerals are more abundant further down the soil layers. Calcium is one mineral that has higher levels below 1m which may explain why alfalfa is so abundant in calcium – its roots are able to reach parts that other plants can't.
Why would we want more plants with deeper roots?
If we get hotter and drier conditions due to climate change, plants with deeper roots will be better able to cope with these conditions so there is less risk of crop failures. There is some suggestion that is yet to be proven, that deeper roots may enhance carbon input into deeper soils which may help carbon capture.
Another benefit of alfalfa in addition to its deep roots is the fact that it is a legume. This means it has a symbiotic relationship with soil-dwelling bacteria. The bacteria take nitrogen from the air in the soil and feed this nitrogen to the legumes; in exchange the plant provides carbohydrates to the bacteria.
Just as in our digestive systems, a healthy population of bacteria in the soil helps it to remain healthy and productive. The bacteria are an important part of the nutrient recycling process taking organic matter and decomposing it into its structural parts. We see the benefits of growing alfalfa in our yield data.
Dengie is based in Essex but we work closely with another farming estate in Lincolnshire too which is where our second production site is based. Their records show that over the last 40 years, the only areas on the estate that have shown improved yields of cereals are where the alfalfa is grown in rotation. We attribute this to the benefits alfalfa has on the bacteria and levels of nutrients in the soil.
Additional environmental benefits of alfalfa include the fact that it is in the ground for 3 to 4 years and so there is no-tilling of the soil for that time which helps to keep carbon locked up
Alfalfa is a bushy plant and when established it helps to smother some weeds. As important is our harvest cycle – because we start cutting in April and May we take weeds out before they can seed and become further established. As weeds like blackgrass become resistant to herbicides, this physical management of the crops becomes ever more important.
The last time I blogged the event season had finally started and although I had been balloted from the first few events I had entered both ponies managed a run at Launceston and Bracken had also had a run at Dauntsey.
Our next event was the BE80 at Moreton with Smartie. It was a swelteringly hot day and our times were in the afternoon during the heat of the day! I much prefer morning times as I like to get up and get going! Anyway, Smartie did a much improved dressage test to score 27 (I think he felt it was just too hot to throw in any extra moves!!), a lovely clear show-jumping round and then he flew round the cross-country although we did pick up a few time penalties for going too fast (whoops!!) to finish in 7th place. He felt so happy and confident at this level that we decided he was now ready to step up and do a 90.
My next event was at West Wilts with both ponies this time. Bracken was doing the Open U18 BE90 and Smartie was doing his first 90. The weather could not have been more different from Moreton, it was wet, windy and cold!! Bracken was one of the first to go in the U18 section and she did a good dressage test, followed by clear rounds in the show-jumping and cross-country. She didn't seem to be bothered by the awful weather and made the XC feel easy, confirming our thoughts that she was ready to step up to 100 level. By the time Smartie came to do his dressage test the weather had got worse (if that was possible!?) and the ground had become quite muddy and slippery. He did a good dressage test, a clear round in the show-jumping and then flew round a very muddy cross-country course to finish clear and inside the time despite losing a shoe, to finish 9th! I was so happy with him for his first attempt at 90 level and in such difficult conditions.
So then it was back to Launceston again for mine and Brackens first go at BE100!! I was quite nervous but knew that Bracks was ready for it. We didn't do the best dressage test, but my focus was on the jumping! The show-jumping course was big and quite spooky and Bracks went a bit green at the start so I really had to pick her up and ride her. She responded well and ended up jumping a lovely clear round. Then it was onto the XC which looked huge, and the ground had got quite deep and muddy in places causing a fair few problems. I was really nervous but once we were out of the start box and over the first few fences I knew that Bracks was up for it and I started to really enjoy it. I was so pleased to go clear with just some time faults, Bracks had given me such a fantastic ride round a course which was the biggest and toughest either of us had ever done!
Next up was our local event at Pontispool. Smartie was doing the 90 and Bracks in the 100. Both ponies performed well with Bracken doing a double clear and Smartie just had a pole in the show-jumping, but both finished in the top 20 in their sections. Smartie then had 2 more runs at Bricky and Bovington before the end of the season. He has been growing in confidence with every event and at Bricky he did a lovely dressage test for 28 and despite having a pole down in the show-jumping he flew round a long and tricky cross-country to finish clear and inside the time for 5th place! We then went to Bovington the following weekend where he ended the season with a fab double clear and another top 10 placing!!
Bracken was due to have her last run of the season at Calmsden but she picked up a slight injury after Pontispool so we decided not to run her again as she had done 2 great runs at her first 100 events. I am so excited for next season with Bracken when hopefully we will step up to Novice level and do some Pony Trials. We will be working hard on our dressage over the winter months as that is our weakest phase – Bracks won't be too pleased to hear that, dressage isn't her favourite phase!
Smartie finished the season off with a couple of days intensive training at a Pony Trials camp. It was a very wet few days but I really enjoyed it and we had some great instruction as well as making some new friends. It was a great learning experience for Smartie too and he was a super boy throughout.
So now the ponies are on a break from work. They all get turned out for 3 or 4 weeks which means I have a break from mucking-out and it's an opportunity to re-paint the stables and give the yard a good clean and tidy, but I do miss riding them!
Although it hasn't been a normal event season I am so grateful that I did get the opportunity to do some competitions and I couldn't be happier with the ponies. Both of them stepped up a level and performed really well giving me great confidence for next season. They have looked and felt fantastic thanks to their Dengie diets and I am so grateful to Dengie Horse Feeds for all their support. Roll on next season (hopefully coronavirus free!!)!!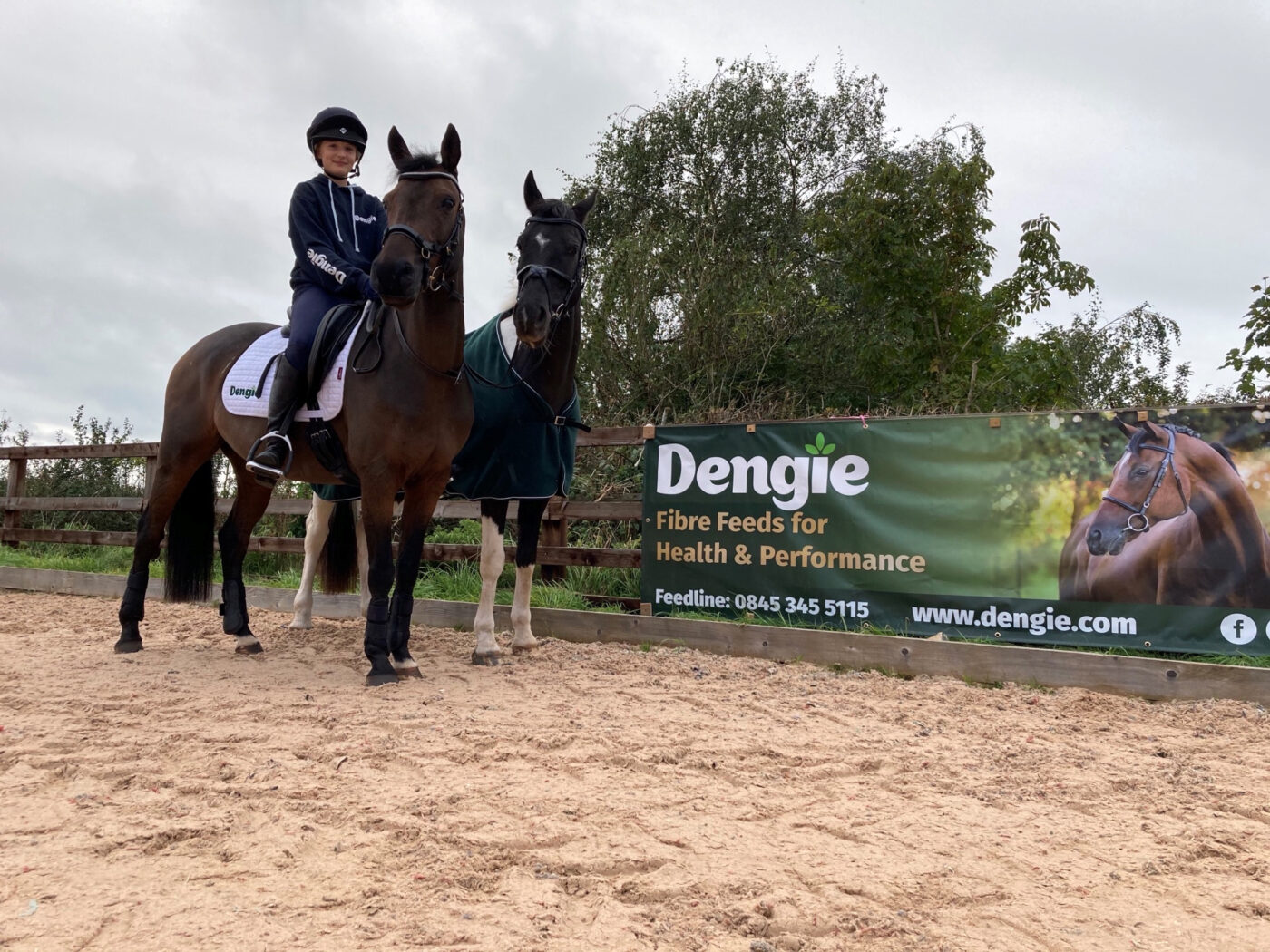 What a blast the British Dressage Young Horse Championships were, if slightly soggy from all the rain! I'm so proud of Iggy to have qualified and this was only his tenth time out, he travelled well and we arrived in plenty of time as I wasn't in until 7:30pm.
We plaited and spruced him up, we gave him his Dengie tea to settle him, of Performance Fibre and Performance+ Balancer; I got ready and then half-an-hour later we were off to warm-up. I'd planned to have a 55 minute warm-up, to have a walk, relax and let him take in the new surroundings. However, Iggy had other plans and wanted to get to work!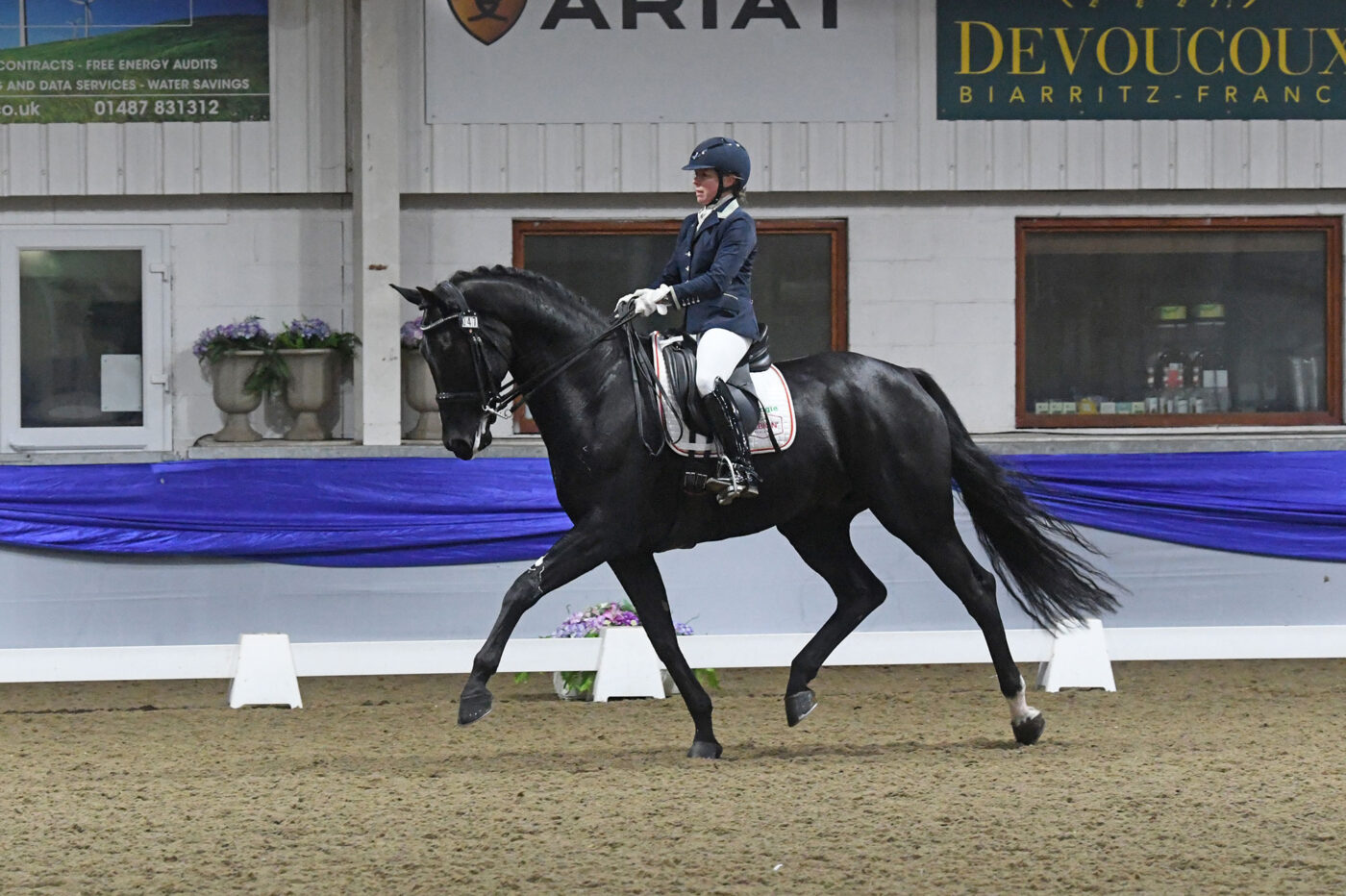 He tried so hard in the test, it's only his second ever Advanced Medium, and understandably was a little tense due to the big show surroundings, therefore we didn't manage to achieve the way of going we usually do at home. However, we both did our best for where we're currently at with our training for a not-too-shabby 67% and tenth place, despite the tension, whilst also receiving some glowing comments from the judges.
We're out later this week trying to qualify for the BD Winter Regionals at Advanced Medium, once we've achieved that all important qualification, we'll focus on training over the winter months and hope to come out at PSG Premier Leagues in the spring. I'm so excited for our future together!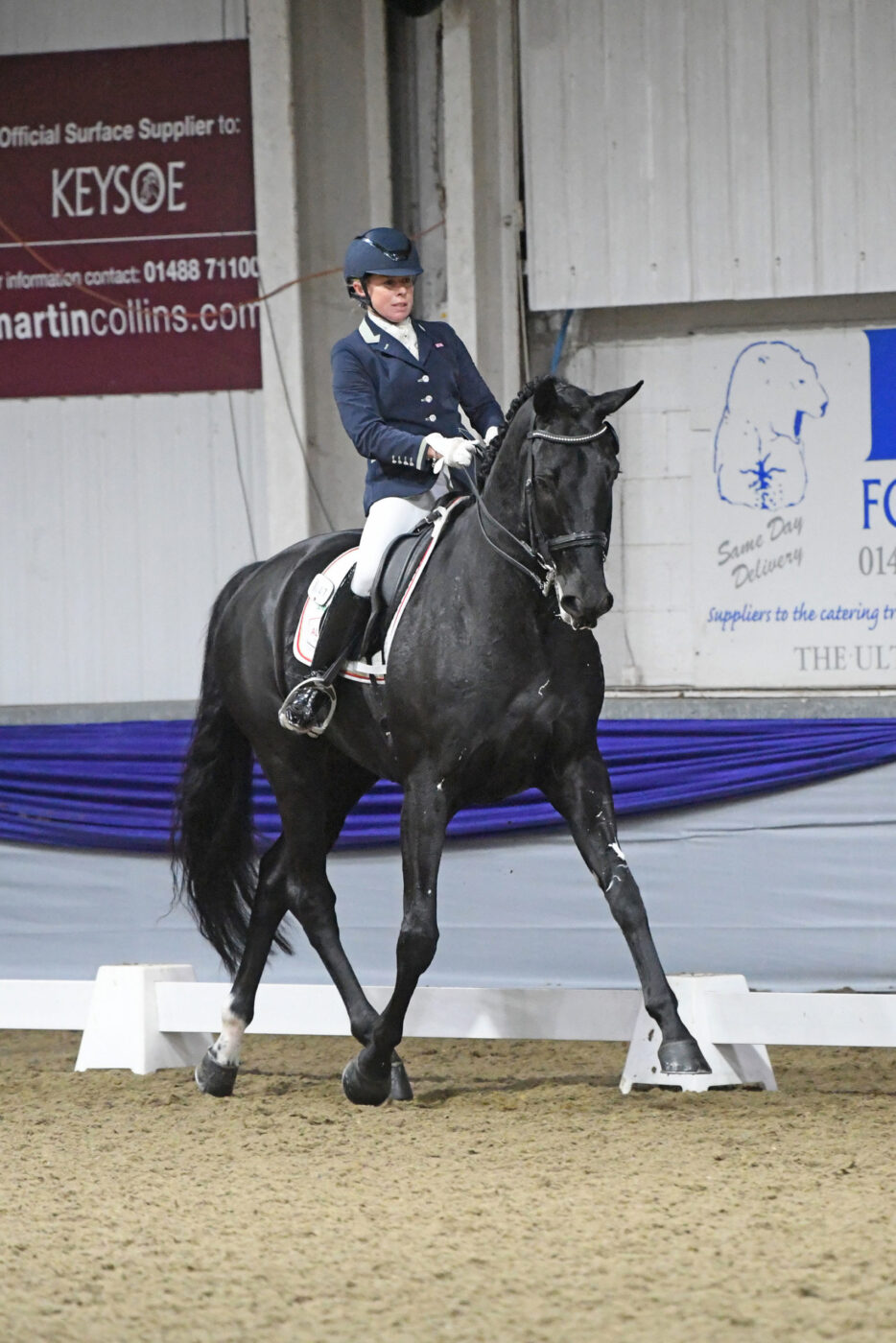 This isn't the blog I expected to write, but I am sure very few of us expected 2020 to turn out as it has! I had a fantastic training day with Dengie in January at Vale View and felt really excited for the season ahead with both girls in their prime and ready for an exciting progressive season.
To date the January training day has been the horsey highlight of the year. Lockdown happened with entries in at Cirencester, Portman and Bicton and both girls primed and ready to go. They were both let down over lockdown, while my work life went mad. I work in Environmental Health which meant I was a key worker involved in policing the COVID business rules. We tackled holiday accommodation that was still operating, ensured businesses that should be shut were closed and those that were open were operating safely and to current legislation. My working days were intense and long and even to date have continued to be busy.
Although the eventing season got going again we have not been out, nor are we likely to get out this year. Based in Cornwall I haven't been keen to travel long distances and with balloting so unpredictable it hasn't seemed feasible to get them up and going. We had decided to start Ellie back up again as she is established at 100, but she produced a sick note and is now having an enforced holiday. Fliss meanwhile decided to have saddle issues to add to the problems and although we have found a new saddle, by the time it arrived there was little point getting her up and running for a couple of events.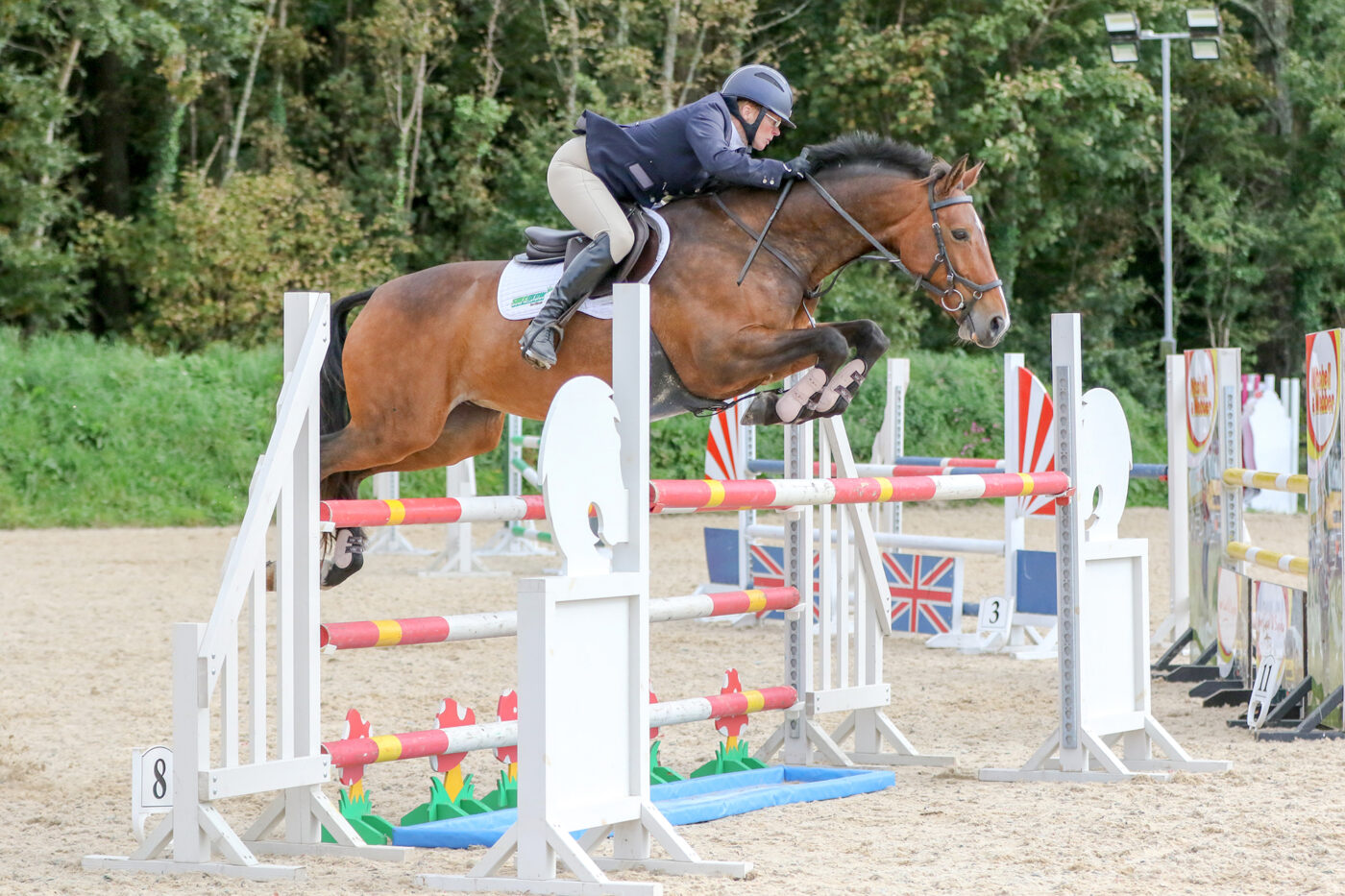 We haven't been totally idle though, to date we have based ourselves and competed solely in Cornwall. Ellie went out and won her first BS class back with a speedy round in the metre open as well as some success at dressage. Fliss has jumped some cracking Newcomers rounds for several placings and wins. We also decided to try something a bit different and have a go at dressage to music. Ellie is quite established at Elementary and with a riding club qualifier we decided to give it a go. I am not musical or a great dressage fan, but actually it was great fun – sadly Ellie wasn't right on the day so Fliss had to step in despite the test or music not being designed for her!
She was a bit fresh on the day, but she tried hard until nearly at the end where she let rip with an enormous buck. However we were delighted that the good bits were still good enough for the win and qualification for the final at Addington in early October.
So on the Ellie front we have had some worrying news. She was swinging between fit and well and chronically lame. Typically on the two visits from the vet she was fine but eventually she was diagnosed with a bone cyst in her pedal bone. This needs surgery to insert a screw and the prognosis is hopeful, but not guaranteed. We are currently getting all the vet information together for the insurance to assess. She will need to go to B&W if the procedure is given the go ahead.
At the moment we are planning our big trip away for the year, little did I think it would be to Addington for the Dressage to Music finals! We are at least planning a few jumping days either side with some lessons with Owen Moore and hopefully some BS at Cherwell.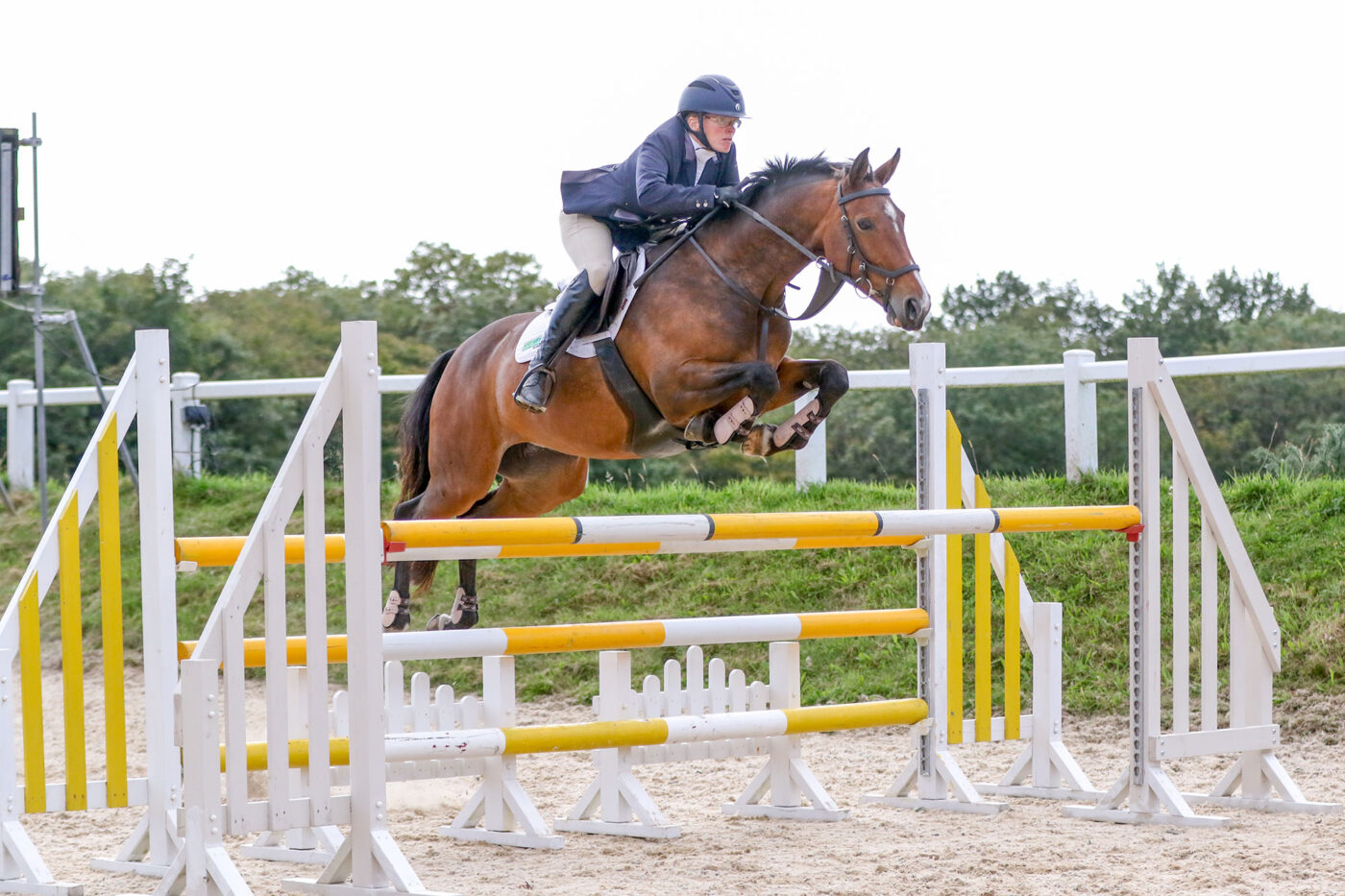 As you can see Fliss is looking really well and it has been great to have the flexibility in the Dengie diet to adjust to the different workloads. Ellie is now on Dengie Hi-Fi Lite with salt and her Vitamins and Minerals to make sure she has all she needs to heal and recover without piling on the pounds. Ellie lives on thin air and a period not being worked will be challenging to keep her looking trim!
I am so disappointed that I have not been able to represent Dengie as I hoped this year but hugely appreciate their help and support. Even if it is not the eventing reports there will be plenty to report later in the year!
Well hasn't the world changed?! In February, the word 'Coronavirus' was nothing more than a scary word or a looming nightmare. Now the world has a new face. Like many, I am immensely grateful to our NHS workers, some of whom I know personally, for their incredible work, sacrifice and – in some cases – sheer bravery. But let's not dwell on what we all know already… because lockdown brought with it many silver linings. As we watched the world change from the comfort of our local area, we too had time to reflect and be reminded about so many parts of life which we brushed aside in the whirlwind of the world as it was.
My world was no different to many in the respect that my life changed in the flick of a switch, even though I respect everyone's experience of 2020 has been unique. Almost immediately after my last blog, my beloved dancing partner Arlo went lame. Whilst his injury has some similarities to Gari's, we were quick enough to catch and diagnose it. We also have time and good fortune on our side too this time. So we dived in head first rehabilitating Arlo, but ligaments are annoying little things; bones and muscles like to cooperate, ligaments like to take their time! However, this is more frustrating for Arlo than it is for me. His welfare is always my primary concern, but Arlo has a work ethic to die for and he is really missing his work. He watches me ride other horses with a look of pure jealousy, as if to say 'Who on EARTH do you think you're riding mum?!' We are optimistic for a successful recovery, but we are all mindful of the fact that Arlo's future still hangs in the balance.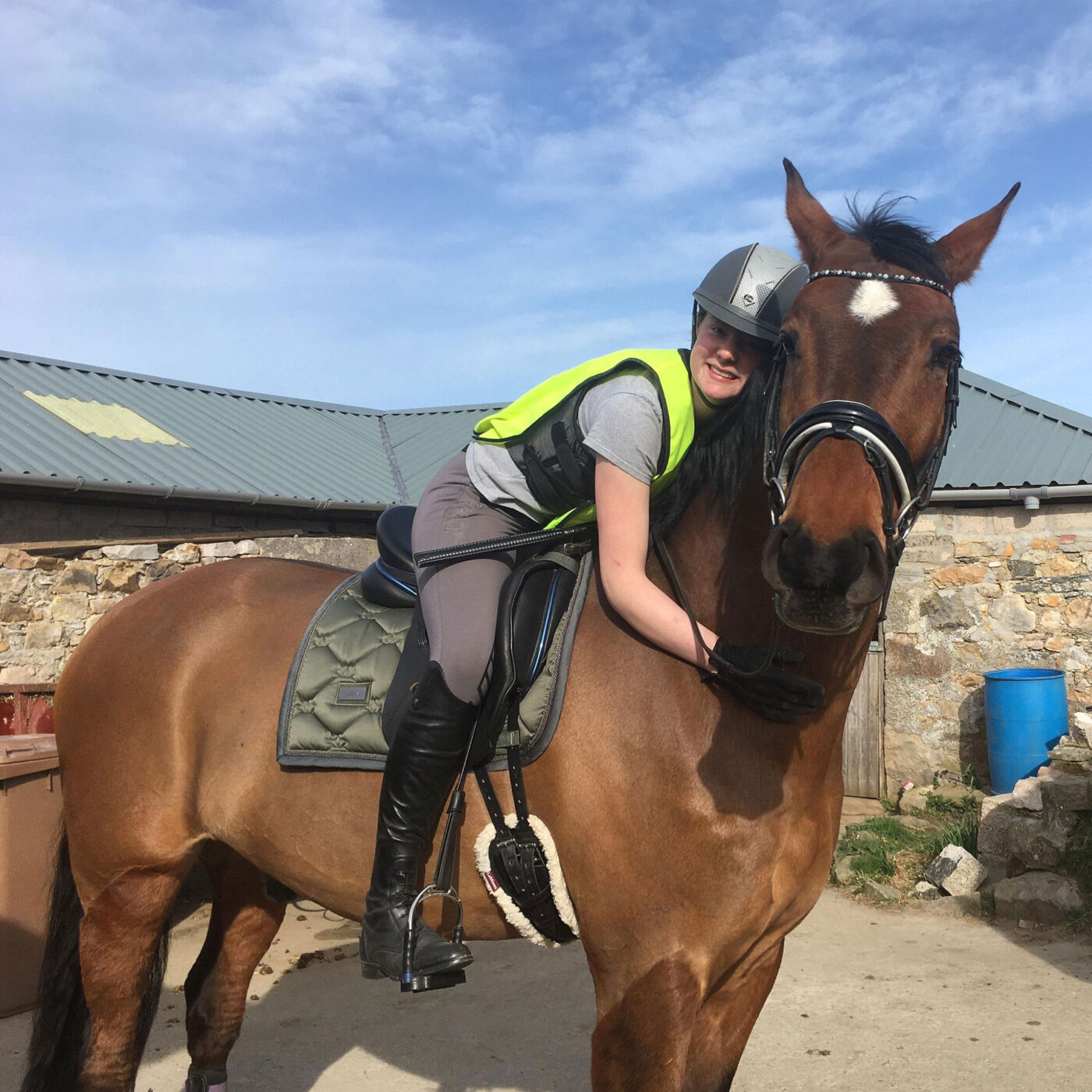 So whilst I was unable to ride, Britain started to get hungry. Very hungry. I have worked at my local Asda store since before the pandemic, but I went from happily working a steady part-time job to almost moving in! To begin with, we still finished at 1am as we are contracted to. Then 0100hrs slipped to 0230hrs, then 0400hrs, and before I knew it, I was working full 12 hour night shifts, coming home and going to bed at nine o'clock in the morning, rising at four in the afternoon and scooting off too work again after visiting the horses and grabbing some breakfast! Some days I wasn't fortunate to have that much sleep, but we pulled through. It was mad but it gave me the structure that many craved during those mad months. My mum was an unsung hero throughout that, doing the horses more often than not in the mornings, so I could continue to help keep the nation fed.
Lockdown wasn't all eat-sleep-work-repeat though. I found myself with time to focus on myself a little. I spent more and more time running and cycling, to the point where I started –voluntarily- rising at the sharp hour of 4am (on days off of course!) for some intense running and cycling. It's ironic how in a mad world, doing crazy things makes you feel sane. I got to go running with my dad and remembered what his face looked like too! With him always leaving early for work and me always leaving late, it wasn't uncommon to go a few of days without seeing each other every week!
When restrictions started lifting it was a welcome relief to many. I had started to forget what people looked like and couldn't wait to do some socially distanced sunbathing in a friend's back garden. But more than that, it meant that we could put some more oomph into Arlo's rehab now that a visit to the vet was back on the cards. He has now finished his course of veterinary treatment, so we are just playing the waiting game now.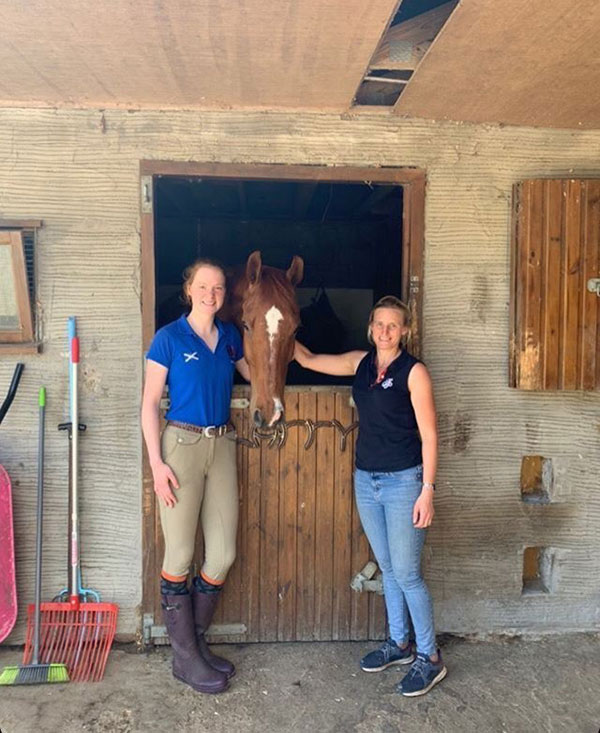 The lifting lockdown also gave us a new opportunity. Through my trainer, we found a new horse for me. He is an ex-eventer and his owner is hoping that I can give him a second career. Floyd is rather different from Arlo; he's the 'pony' of the family at ~16.1hh but is a year older than Arlo, making him 10. It took a good few weeks for us to 'click' and get the measure of each other, but we're quite the team already now. He's got a work ethic similar to Arlo's and he picks up on new ideas quickly. He's also a lot more inquisitive than Arlo, I think this is mainly from where we haven't known each other that long. He arrived a lean, mean eventing machine, so the transition to a dressage career has been a big step for him. He's learning to use his body in ways he never has before and is learning that canter has more than one gear… who knew?!
Floyd is a sweet boy through and through and I'm very excited about what the future may hold for us, but I just want to enjoy working with him for now. We are learning a lot from each other and having so much fun in the process. His Dengie diet is already showing through; helping him to build healthy muscle mass without all that fizz, keeping his warmblood head nice and level. There's so much power in there, I just need to learn how to harness it correctly. With our lorry being off the road, it's nice to enjoy that pressure and deadline free environment that I didn't have with Arlo (due to him being off) earlier in the year. Whilst I enjoyed working with the lovely Caribe during this period before other commitments made this difficult, there's nothing quite the same as jumping onto your 'top' horse and having a laugh is there?
This month I'll be starting my adventures at Aberdeen University for four years, so that will help keep me out of mischief. I'm going in head first by trying to keep the horses going simultaneously. This is no small feat by any standards and it goes without saying it is impossible without a support network. Aberdeen is the closest city to home with a University that offers what I am wanting, but it is still just a little too far to commute every day. I have always been very lucky with how supportive my family is with my horsey and non-horsey goals, and this is no different. There are many exciting and hard-working times ahead, so let's seize it with both hands!
August has been a busy time for me…Coaching Senior BD camp, to and fro to Pony Club camp over two weeks, and then Junior BD camp. Delilah and Joey did so well, 2nd in the D squad with 70% and then Molly achieved 89% with Harry in the C squad. I was so pleased, as it was their first outing together…then we were finally off to the Nationals!
It was a very different Nationals, but the organisation did superbly well. Only one person was allowed per rider, and there were no spectators allowed other than the people there competing. On the day we went we were very lucky with the weather.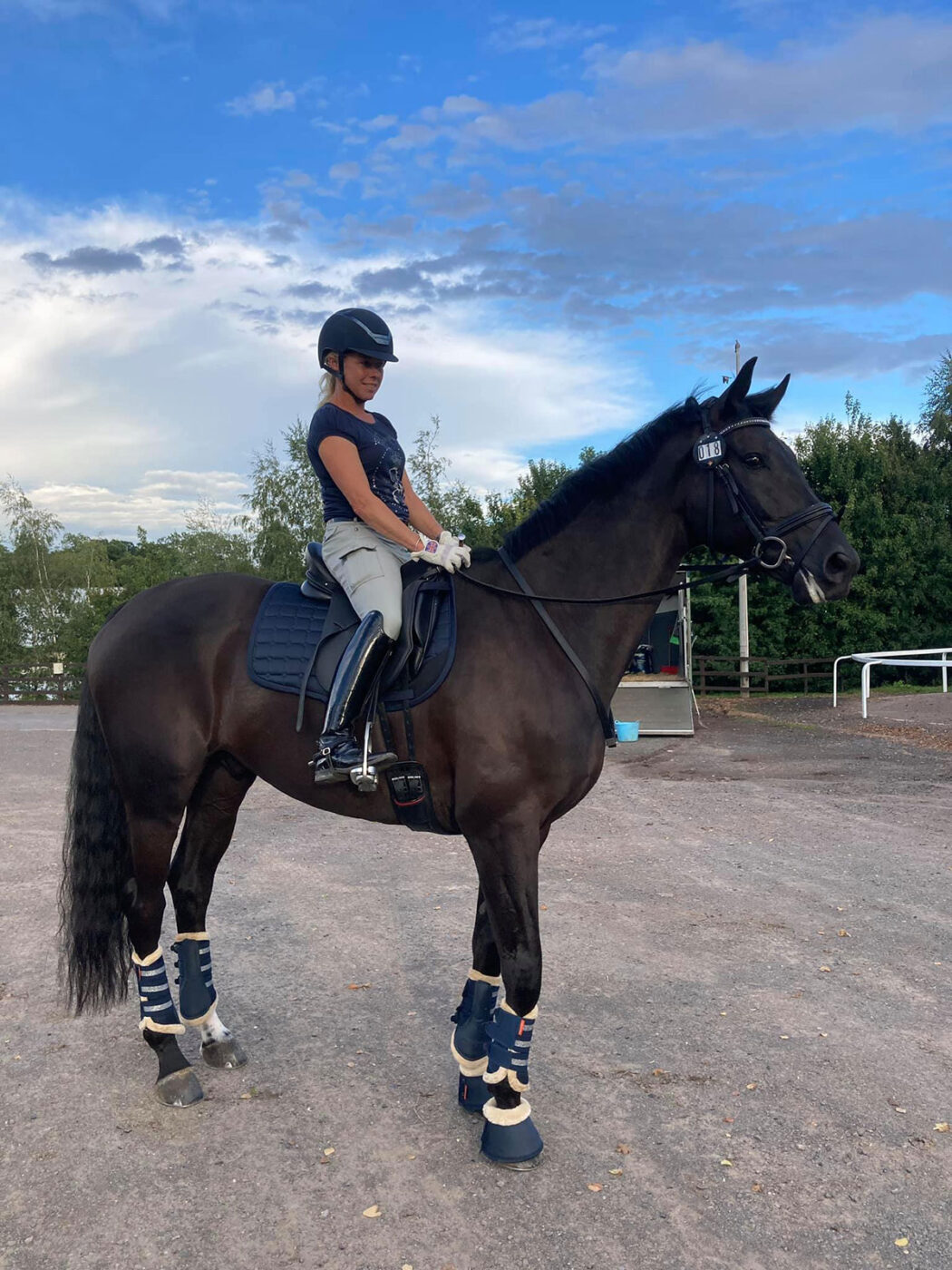 You had to book a slot to exercise with only 6 at a time allowed, and as you could not do arena walks, I decided to try to get a slot in the arena next to the completion arena. So Monday night we headed down to the working in and Iggy had a complete attack of stage fright…waving his legs higher then even he thought he could go!!! Not a great confidence giver, but I was okay with the fact that he has only been out 6 times and everything was so new to him, if I could just get him round and have a good experience! We were last to go (what a draw), he was really very good and never let me down. He just kept with me, ignored the TV cameras and speakers, but sadly 2 of the judges did not like the modern music which was costly as it is times 4. We scored 72.6% coming 9th.
We had a fab response on Facebook with people loving it (as it was live coverage) so that was wonderful. We are off next in Sept to qualify for the 7yr old young horse class which is Advanced Medium – a big jump from novice music, but he is coming on so fast.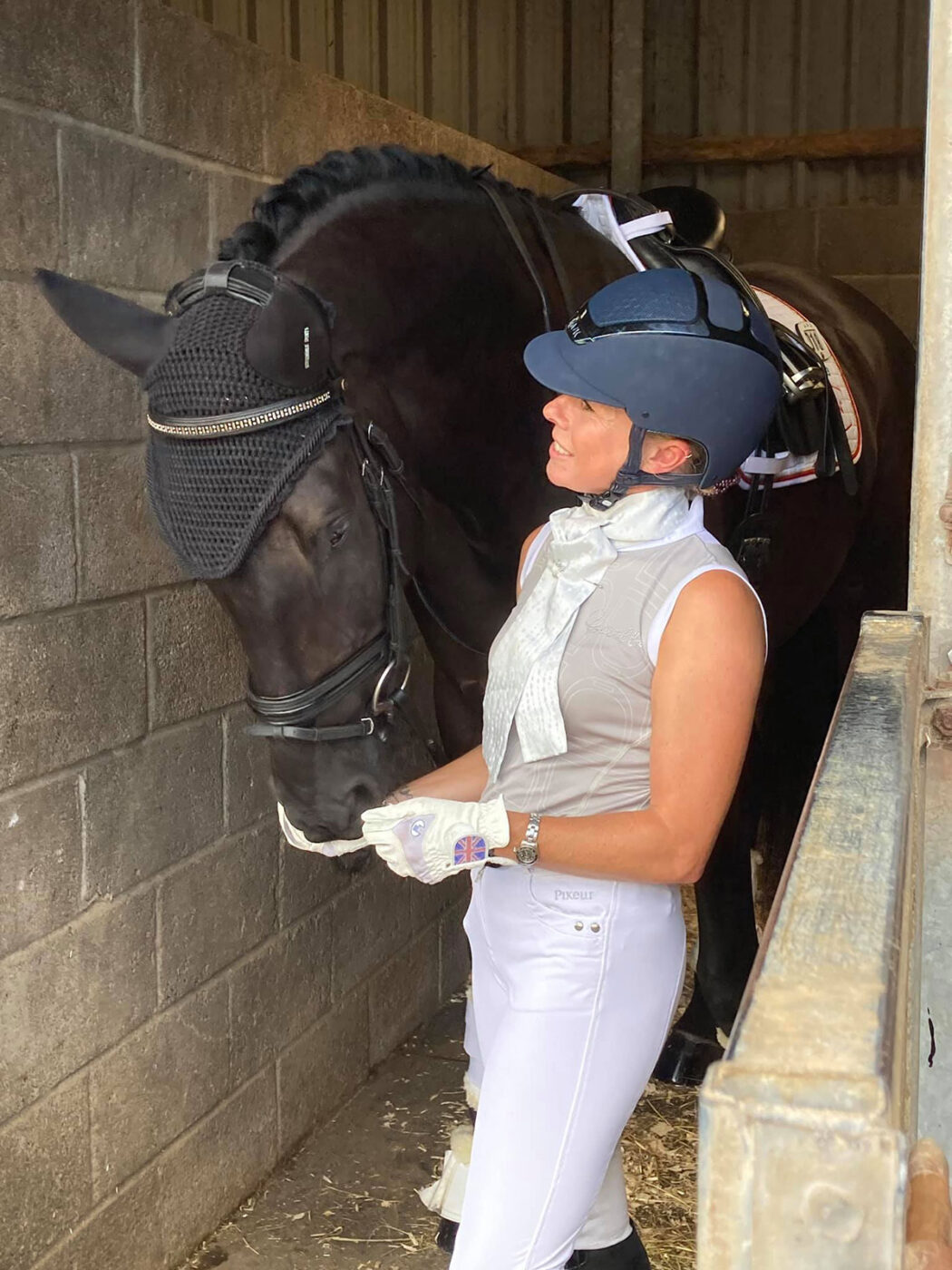 This last month has been a highly educational and successful month. We have finally got back out to some shows and put Lockdown training into practice. Dengie's range of feeds have been essential in supporting Cici's increased workload, meaning she has plenty of sustained, but controllable energy and sufficient hydration in the warmer weather, as she loves her Dengie Alfa-Beet added to Alfa-A Oil and Performance+ Balancer.
Our first show at Pyecombe resulted in Cici feeling raring to go after the long break, consequently leading to 3rd in the 90cm.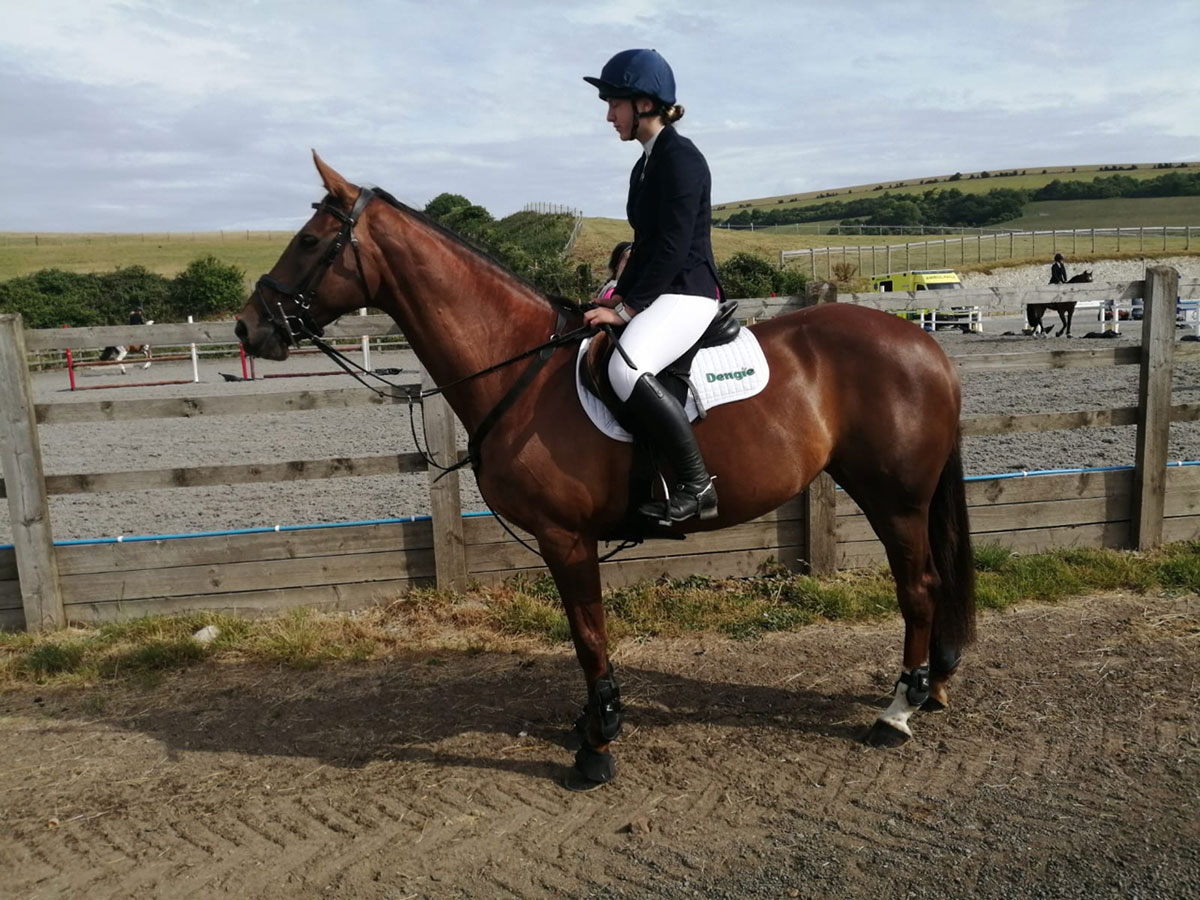 Next, we had our first Cross Country schooling session of the year at Littleton Manor Equestrian Centre, where we were joined by a friend from the pony club on her youngster. It was a very educational session and we focused on accuracy, rhythm and balance.
A few weeks later, another visit to Pyecombe this time for the 1m, where we returned to where we left off before Covid-19, Cici felt great and finished 10th in a huge class.
On to BS, where we attended our first BS show together and Cici exceeded all my expectations with a smooth, rhythmical round to win the British Novice.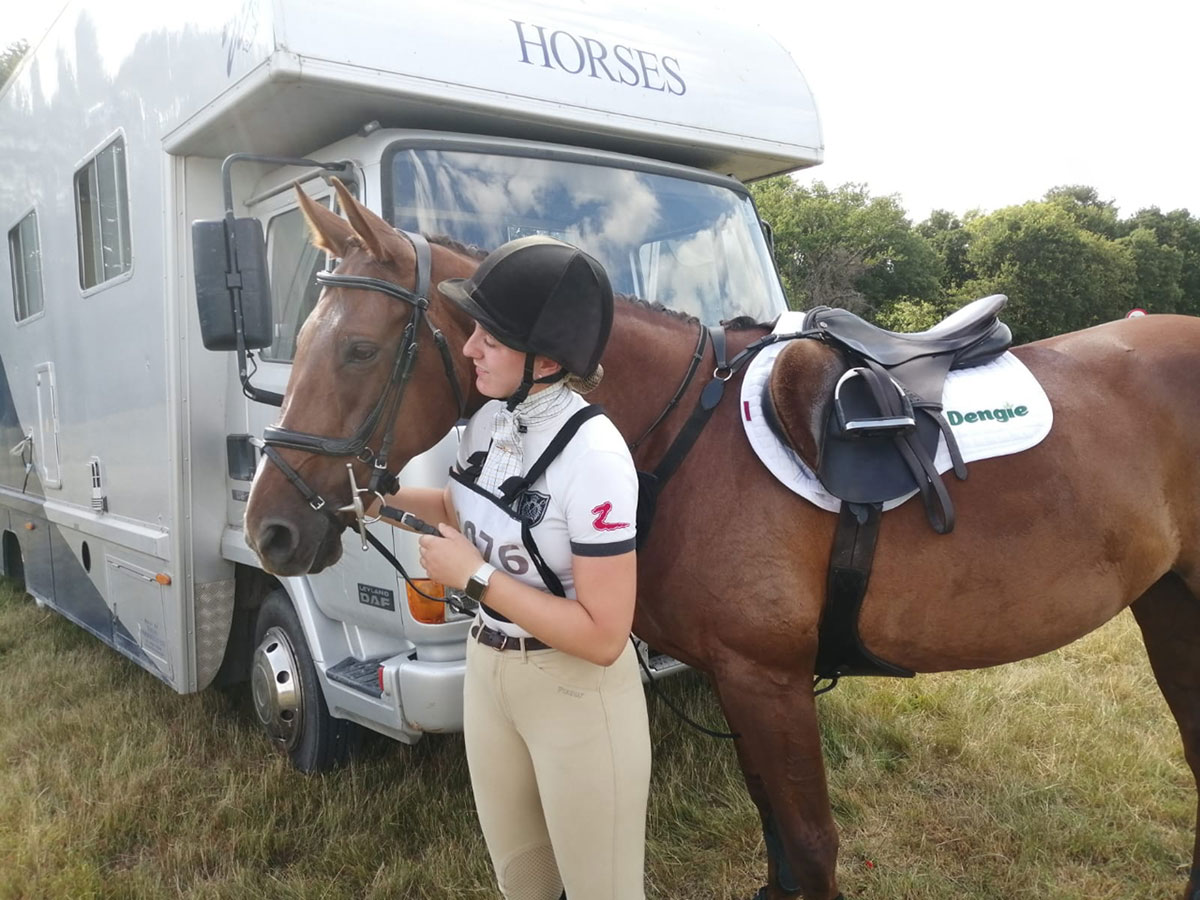 So off to practise Cross Country, this time at Petworth Cross Country schooling course. Where thanks to some timely rain the going was perfect. This Pony Club session was taught by Laura Schroter who focused on balance of paces as we trained to cope with undulating terrain.
Finally we were back out doing what we love best, Eventing! Tweseldown had done an amazing job to accommodate so many entries and I felt very lucky to finally get a run. Despite, some initial excitement in the dressage warm up, Cici settled and produced a calm and accurate test for 32.8. Off to the showjumping, where our practice paid off to produce a smooth clear, and the cross country felt equally polished, finishing with a clear inside the time for 5th place… Well done Cici!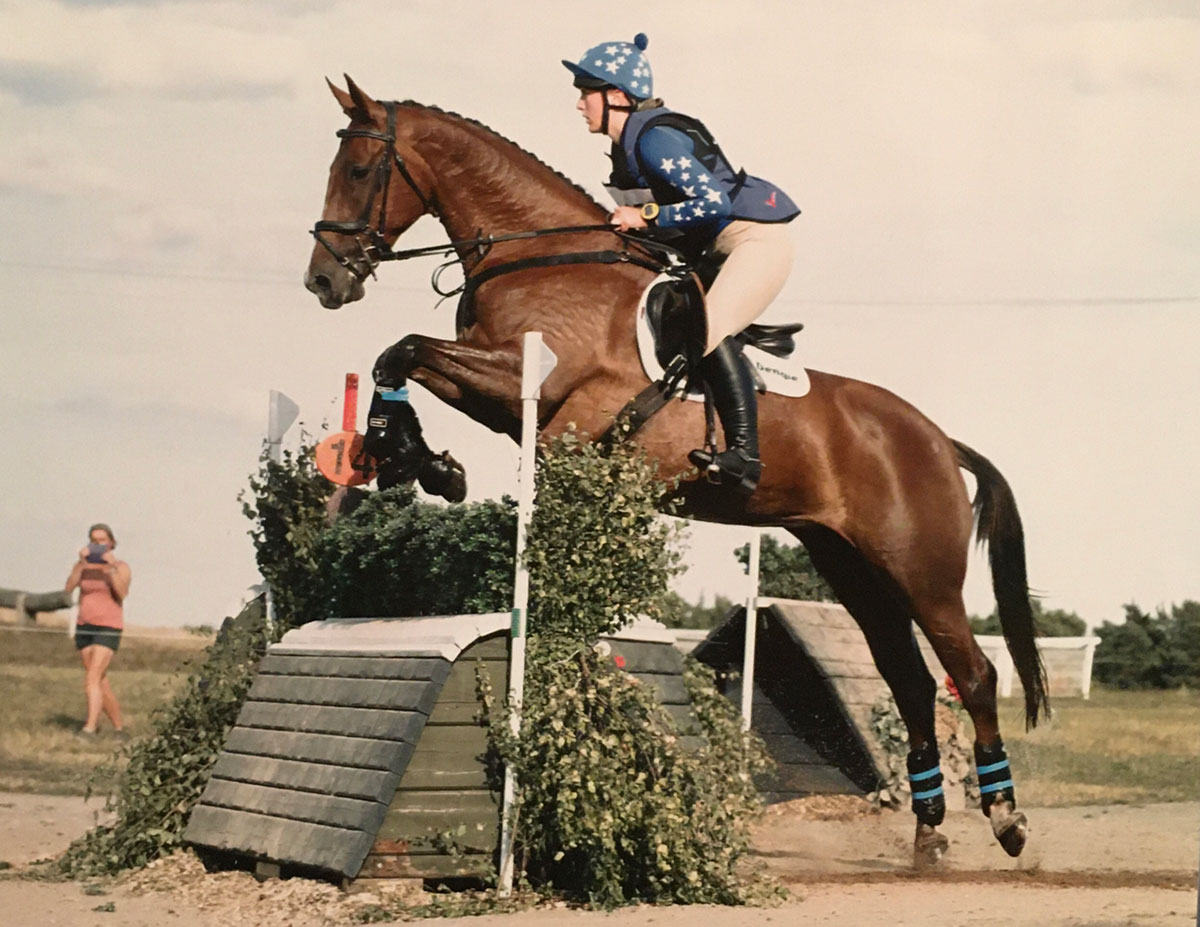 Our last update, comes from the BS area 46 championships at Felbridge Showground, where to my amazement we pulled off another win in the British Novice in a large field.
All of Cici wonderful achievements were topped off by the amazing news that I had been fortunate enough to win an online competition with local company Xtreme Equestrian, who are a family run business based in Coolham. The products I received were an excellent fit and super quality… I will definitely be buying from them soon. How lucky am I!