We had a fairly quite start to June as my ankle took its time to heal! It was very frustrating to miss out on the next 2nd round at Wellington in June. We ventured out to Badgeworth arena at the end of June to jump a couple of classes. Lambos attention span isn't great when he has had a break and true to form, we had a little mistake in each both classes for a four faultisis day! We then went to Chard the weekend after for their 3-day show. We jumped the 1.05m Speed Class coming 4th and then also jumped the Newcomers for one pole down, but he had improved quite a bit from the weekend before just in time for the 1.05m/1.10m Grand Prix on the Sunday. We arrived a little late on the Sunday and had a very rushed first round, but managed to scrape a clear round! We then decided to go all out for the win as there was a rug up for grabs and I have been dying to win a rug for ages! Lambo was super and completely on form and won the class!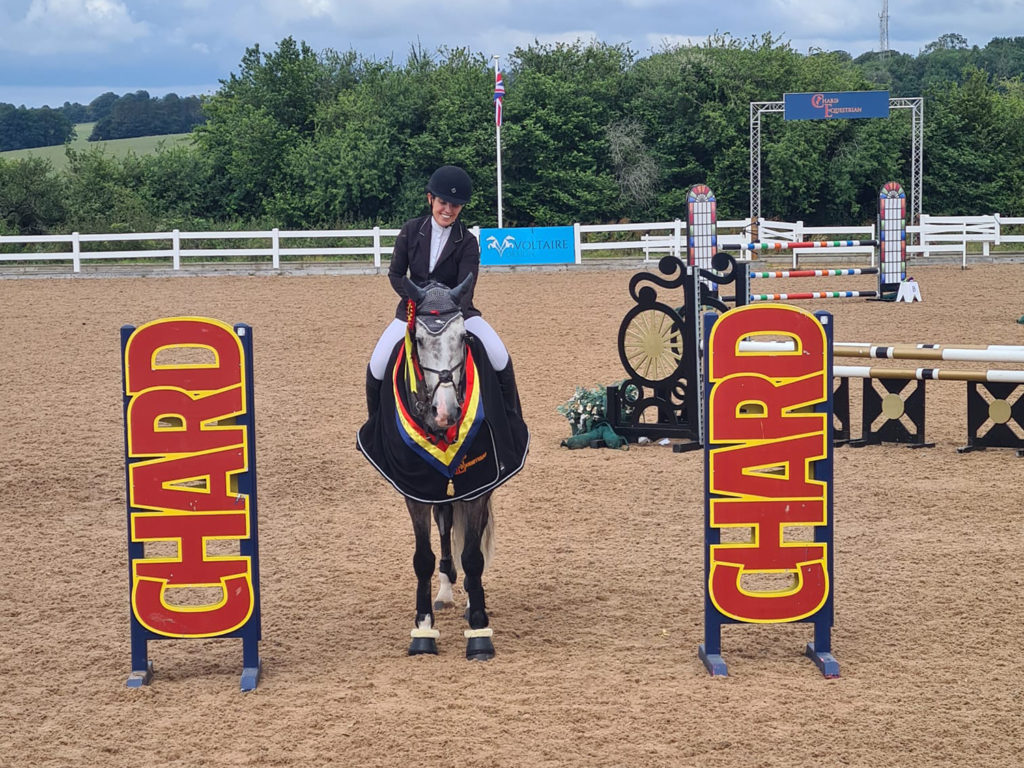 He has also shown what a handy pony he can be this month letting me take the rubbish out on our way out for a hack and even offering to lead Scrappy in from the walker!!
I gave Lambo the weekend off after his win as I believe he had earned it before heading to the PONY Mag Big Day. I had no idea how Lambo was going to react performing in front of such a large crowd, but he handled it like a total pro. I was very glad to have some extra Alfa-Beet with me as the temperatures have been crazy of late, so I was safe in the knowledge he was well hydrated. Because of the high temperatures forecast for the Sunday I made the decision to tackle the 4-hour drive back over night. I'm fortunate to have a fan in my lorry, but I just wanted to be safe and secure in the knowledge it wasn't too hot to travel him, or risk getting stuck in traffic where everyone is heading to the beach!
We have Chard planned again for the end of the month, and I might just make it there with Scrappy too! She had a mystery illness where she had strange lumps come up all over her, we seemed to get that under control then she got a big leg, thankfully we scanned it and there was no damage so she had just banged herself in the stable! She is now back in work and we will see if we can have her ready for Chard at the end of the month, however it might just be one weekend too soon.
We went out to Chard at the start of May with Lambo and Connie, both jumped good rounds; Lambo picked up a place in the Newcomers and Connie just missed out in the Open. Ready for Wales we headed off with these two for the Newcomers and Fox Second rounds. The Newcomers track was very strong, it had to be with 160 in the class!! Connie had a couple of poles down and I debated whether to jump Lambo as he had never seen a track like that, but I decided it was worth it for his experience, so we had a jump round for 3 poles down and I was actually really happy with him. He jumped his first open water in the ring and made it look easy.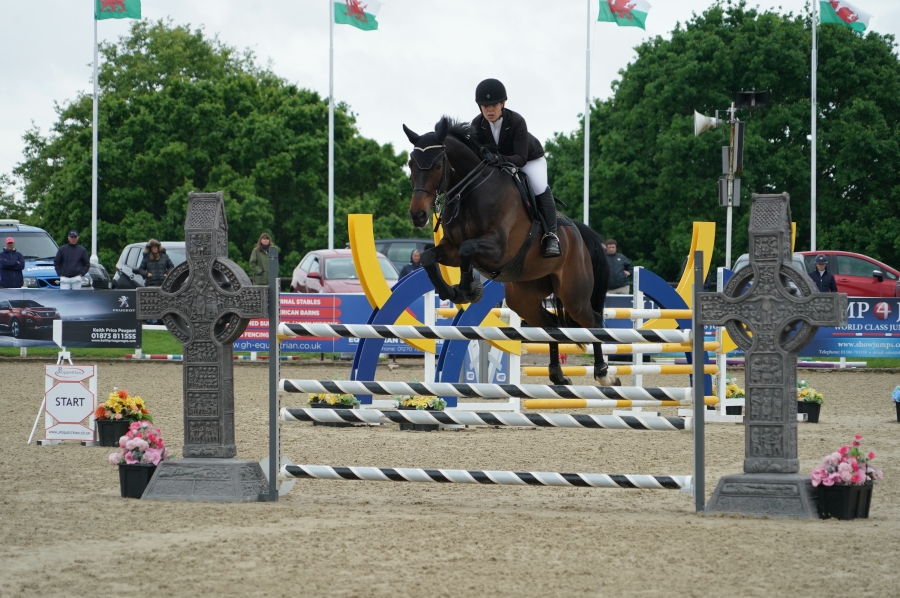 However, on day 2 Lambo was up first of my two and in the collecting ring he decided another horse was a little too close and spun round to go the other way. I stayed on board, but in the turn all my weight went into the left ankle and I heard a crack with instant pain (never a good thing). Long story short I ruptured a ligament in my ankle, so that was the end of the show for me.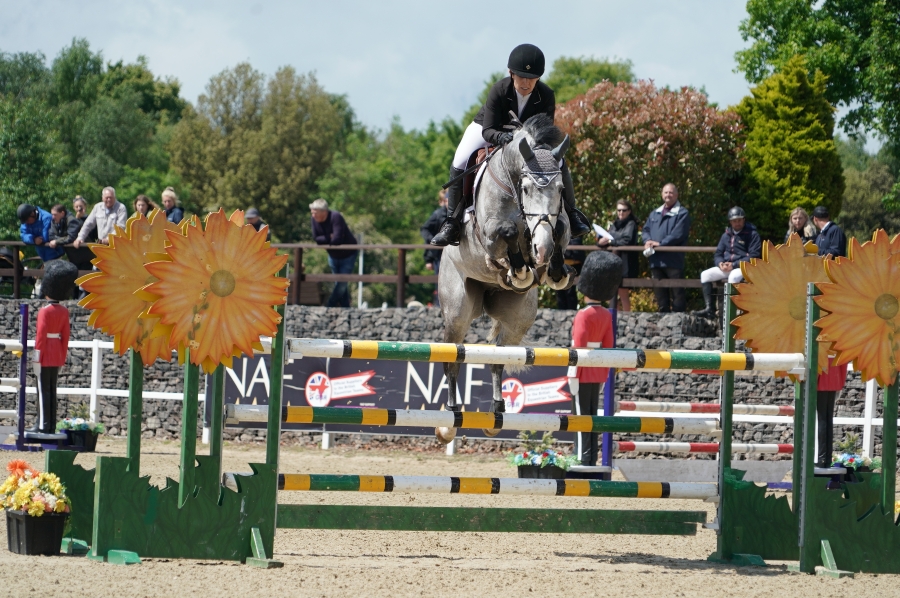 We haven't done any shows since then, but we are planning an outing next weekend, so all being well hopefully I would have just missed out on a month of shows. Its not ideal as it does mean I miss Wellington this weekend, but unfortunately these things happen.
In other news, Connie left to go to her new home after Wales and is busy settling in with them now. Scrappy is finally coming right after one heals we seem to be getting another problem at the moment. Babe is progressing well and will be up for sale in the coming weeks.
We started March at Chard with Lambo and Scrappy. Scrappy jumped a super double clear in her first class and would have won, but there wasn't enough competitors in the class to award prizes! In the second class the mist really set in and I don't think she could see a fence until the last minute and got a shock, so it resulted in a circle for us. Lambo had his first show in 6 months and came out as fresh as was expected! He jumped a lovely double clear just having a silly spook at the photographer on the way round.
Then Connie and I set off for PONY magazine's Big Day Out at Arena UK where we gave a jumping demonstration to around 700 people! I was very proud of Connie as she has never done anything like that before and behaved like a total pro! When we arrived home, our new fence and been delivered which was very exciting!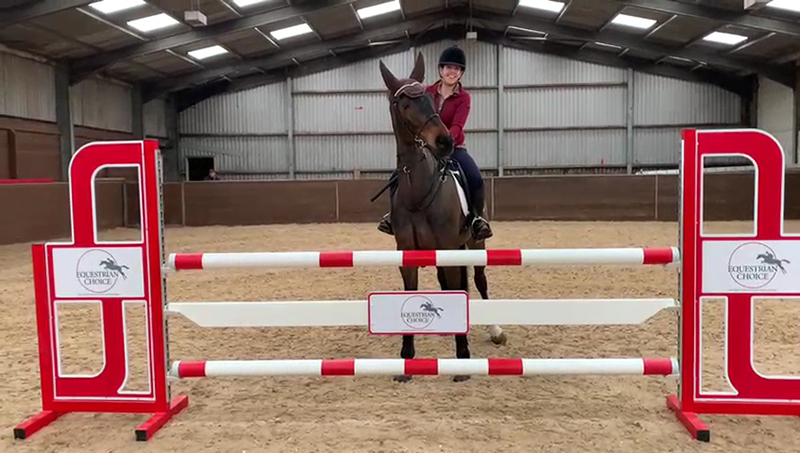 After this I finally got struck down by Covid-19 and the horses missed the next show planned, although I was glad to get it before the Blue Chip Championships this week. However Connie and Scrappy had other ideas! Scrappy managed to be silly in the field and get a sore back, but she is back in work and should be ok to jump again this coming weekend. Connie managed to injure herself in the stable and after a vet visit it was decided the best thing to do would be to miss the Championships this week. I was devastated, but these things do happen and that's horses for you. They don't know what shows are coming up and how much it means to us! With just Lambo in the running for the show I've decided to give it a miss and rather concentrate on the ones here at home.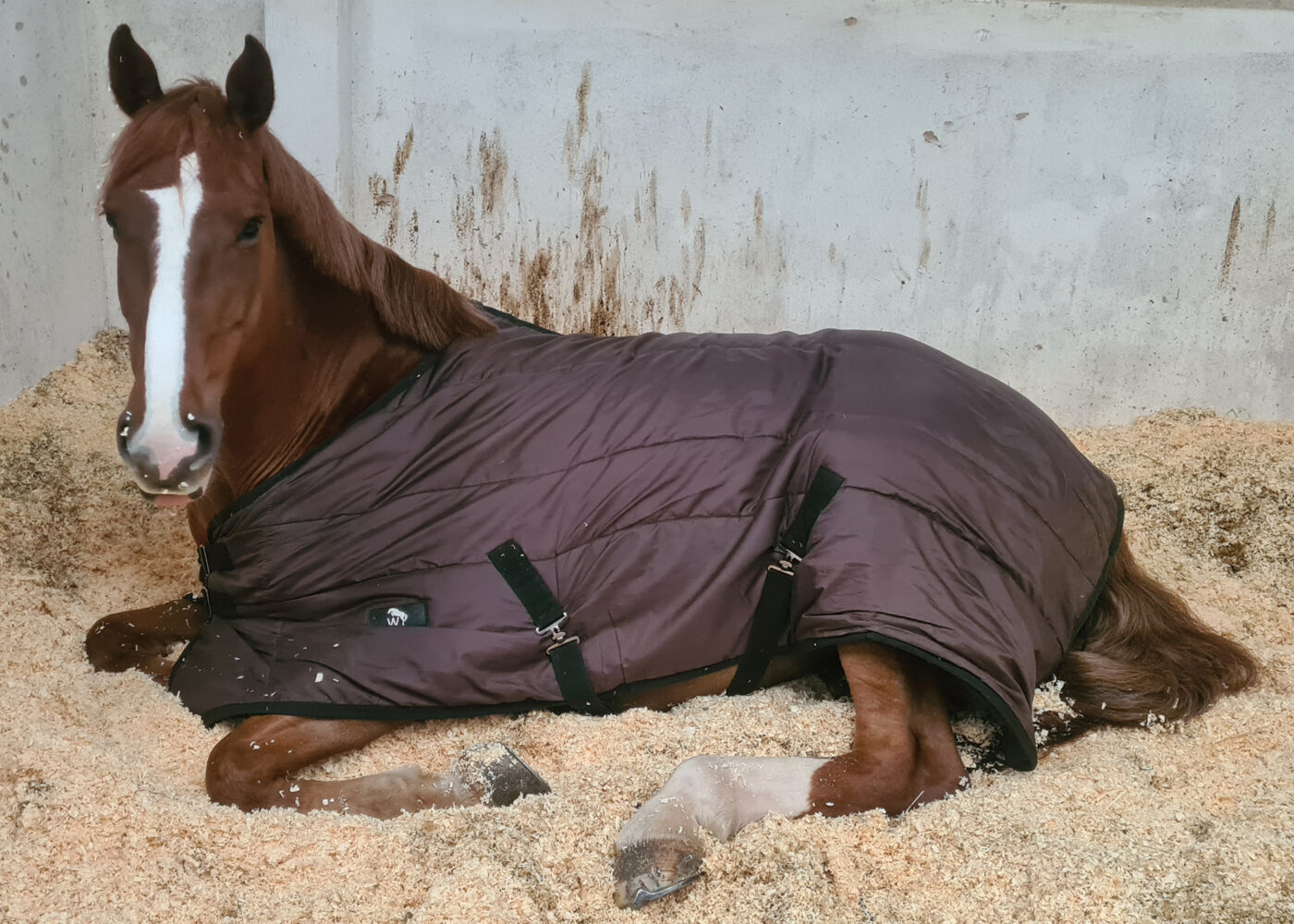 So my revised plan for April is a local show this weekend coming and the weekend after, as well as a visit to Chard mid-week before heading to the international at Wales and West with Connie and Scrappy at the end of the month. Babe is coming on really well, going on her first hack this month and I am planning on starting her jump training soon! The outdoor school is finally getting a surface and the first truck of 18 loads has arrived!
The team have had a quiet February as I was away for the first week celebrating my birthday. We still made it out to a few shows with Scrappy contending the Blue chip Diamond Qualifier at the Grange and although she had a fence in the jump-off finishing as a fast four faults and coming 7th she qualified for the final in April! Connie went out for two days at Bicton arena and although jumping super she managed to have a couple of fences both days.
Lambo is back in full work and enjoyed his first show back last week, just spooking at a photographer half-way round meant we turned a circle, other than that he jumped a super round all be it a little too keen! Scrappy also went to this show winning the 90cm open and just having a little confusion about where she was going in the discovery jump-off meant a circle here too!
Babe is taking a little bit of a break at this point as we are unsure if she is pregnant! The vet visited last week and could hear some suspicious noises so we have had bloods done and should have a definitive answer any day now.
We have been doing plenty of hacking and using the Devon hills to our advantage! We also did some Spring cleaning trying to get ahead of ourselves and wishing Spring was already here, below is a picture of Lambo trying to help!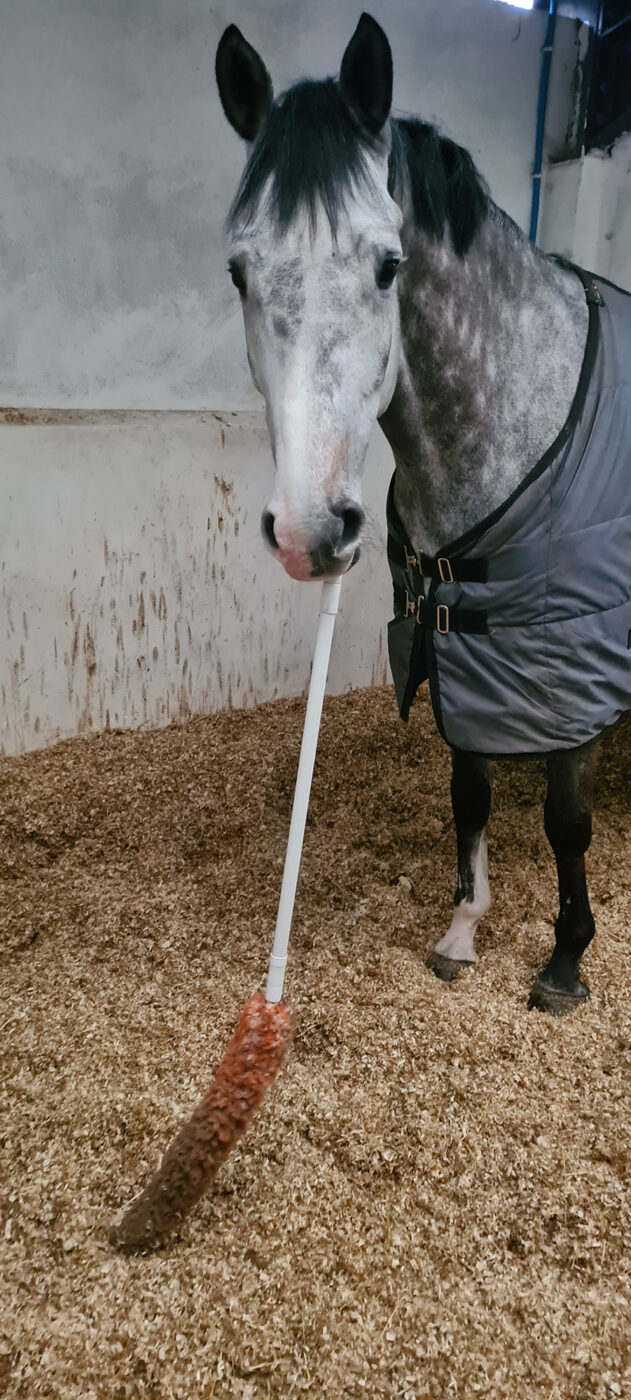 It was great to see Dengie Performance Horse Nutritionist, Claire Akers at the end of February and also great to see the horses are all maintaining a good weight. We have quite a lot planned for March starting with Hartpury this weekend, then we are going up to Arena UK to perform in the PONY mag Big Day out demo which we are all really excited about! Then we will finish up the shows this month with another visit to Chard.
It's not long until the Blue Chip Championships and I am looking forward to contesting the 3 finals with Connie. I am unsure if I will contend the final with Scrappy as the schedule doesn't really work in our favour. But I do plan to take all three up to compete over the 3 days.
We all had a great New Year here in our new Devon home. The first show of the year was with Connie at Chard on the 5th January where she jumped a lovely double clear in the Foxhunter, although she was jumping about 30cm bigger than every fence!  I was glad to be in my sticky bum breeches that day!
Connie then went back the week after to jump another double clear in the Blue Chip B&C Qualifier, coming 5th and qualifying for another final, we now have 3 to contend in April!
At the end of January we took both Connie and Scrappy to 4 days of jumping at Olney. Connie jumped a super double clear coming 4th on the first day, then just the last fence on the second day. On the 3rd day Connie woke up with a rash, which put an end to her jumping at the show. Scrappy was the star of the show making the most of her time in the ring jumping double clear 3 out of 4 days, winning her first class, coming 2nd on day 2, winning again on day 3 and just touching a pole on day 4! She was over the moon to be back out at a stay away show and made the most of it!!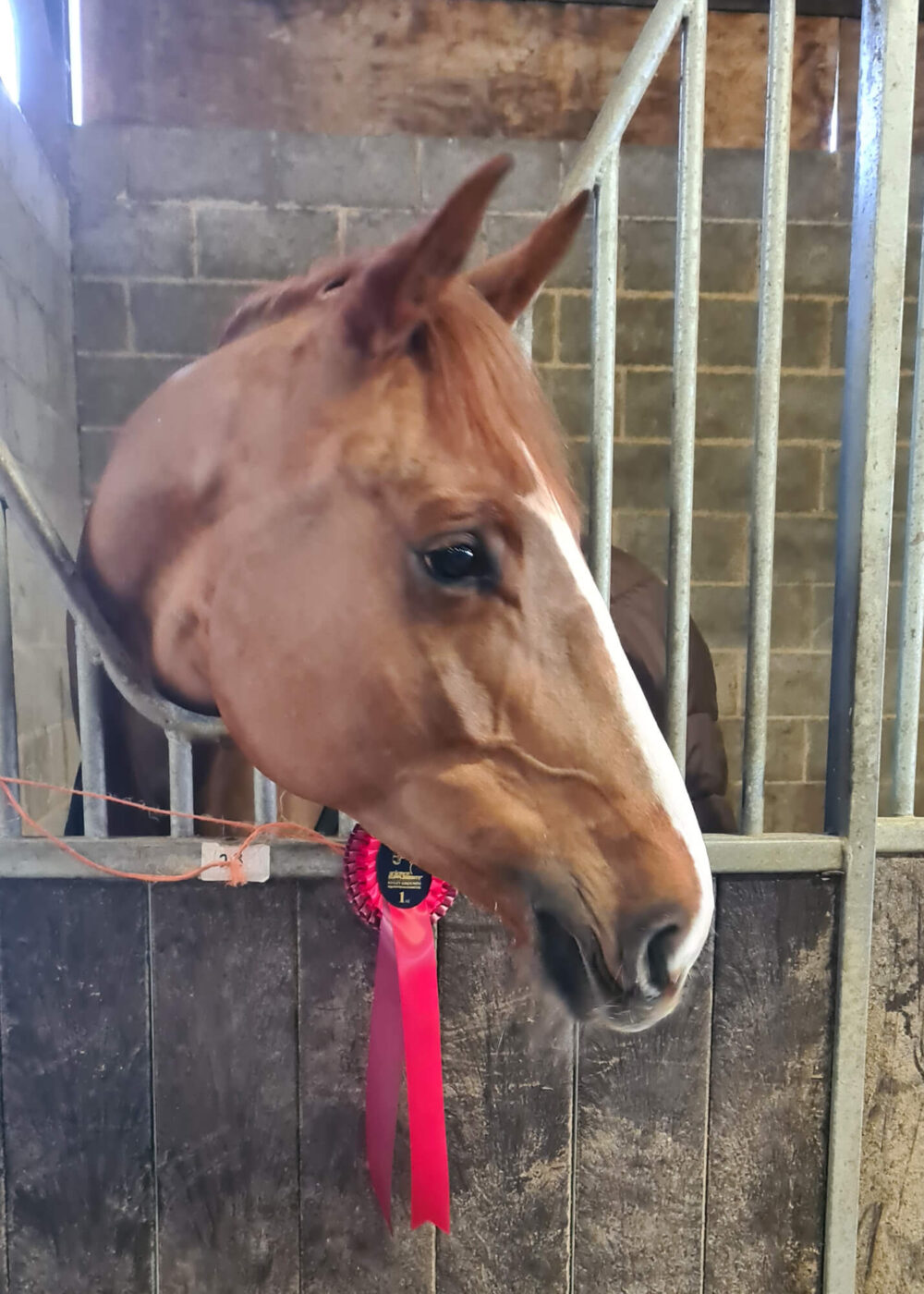 Lambo is now back in full work and I'm planning on taking him to a show towards the end of this month with him. We had a new addition to the team, Babe who is an unbroken 5 year old, now 6 that I have taken on to produce and sell. She is doing great and turning out to be one of the sweetest horses I have ever started.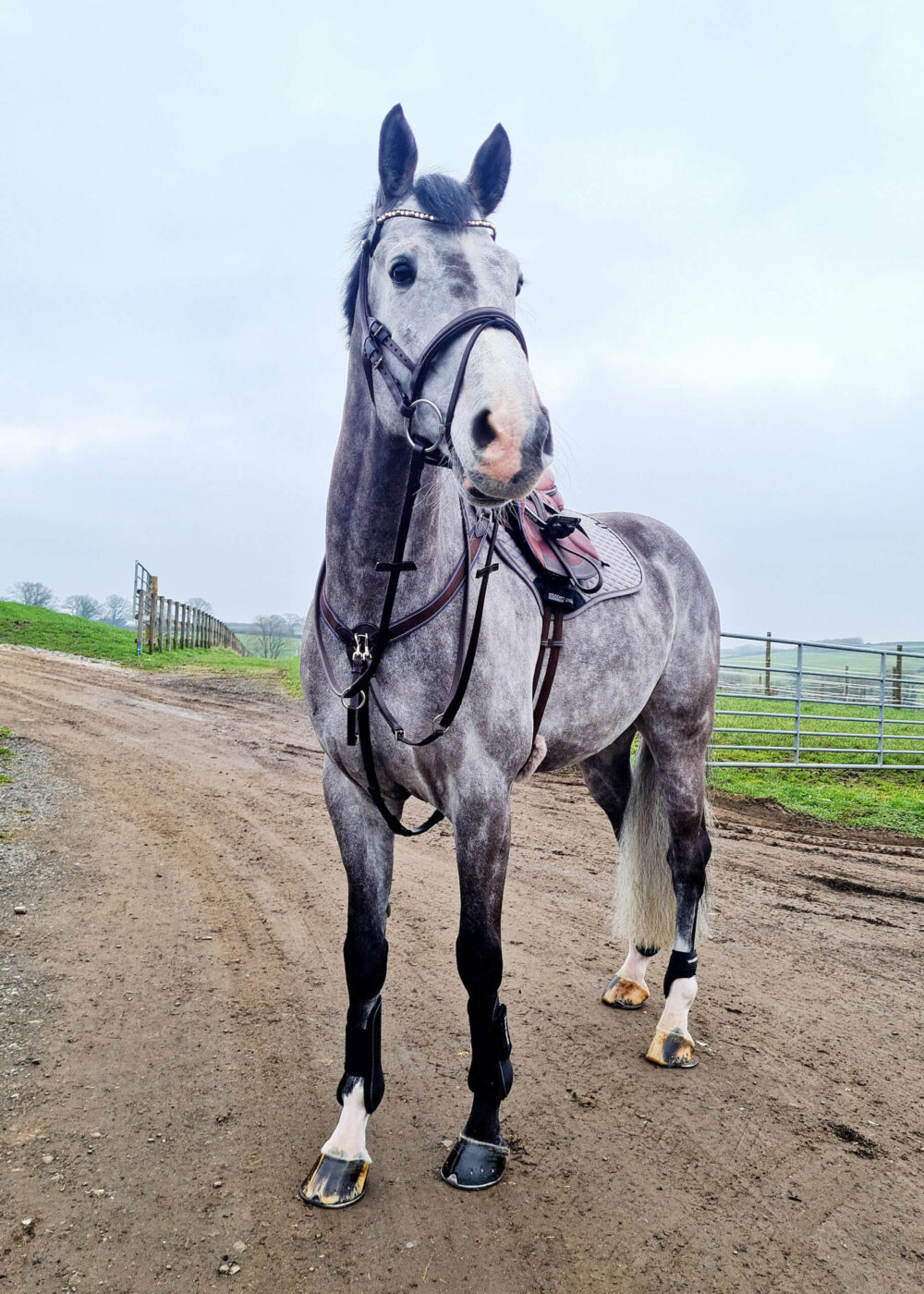 In other good news, Connie seems more settled in her new home and is back tucking into her Dengie dinners and gaining weight! On the weigh tape she has gained 20kg! It will be interesting to see how much she has actually gained when Claire visits next week!
Over Christmas Lordy and I had a lovely trip to the Unicorn Centre for 3 days of training.  This was his first overnight stay away from home which is so good for him to experience at an early age, as exposure to this and new environments is so valuable in gaining maturity for a young horse.
We travelled up on the Friday and gave him a nice stretch when we arrived which he was so good for, we have developed his low work for so long he really enjoys it now and it is so beneficial for him. He settled in well, and as he had the end stable he was thoroughly intrigued as to what everyone was doing and saying hello to everyone with his friendly face. The next day we had a training session in the morning with my friend Maddy just working on getting the basics solid, working him round and over the back but allowing his neck forward. The next day we reiterated this message to Lordy in training; it is so important that young horses have the basics correct as when he grows bigger and stronger the harder movements will come so much more easily to him.
Another focus of the training was to get him to react straight away whether that was turning on a square or in a transition. For a young horse this really improves reactivity and focus as it means they do not have the opportunity to be naughty as they must constantly be listening to you, almost in a sense waiting for what you are about to ask. It's all about keeping their minds busy when they are young, so the focus has to be on you as the rider. A good way to picture it is that as the rider you are the leader of your horse, like in the wild. Horses have one leader of their herd and that must always be you. In that way you will gain the respect and trust to improve your relationship with your horse. In my training with Lordy this has been so valuable as by always ensuring you are the boss and the rules of training are clear and fair, the respect will be there for you to get the most out of training and development with your horse.
We also did our first ever test together which was Novice 30. I was so proud of him, although not perfect I would never expect it to be for our first go. He tried so hard for me and stayed very willing, listening to me the whole time. It was so nice to get our first test under our belts and for him to behave so well, I couldn't be happier with him. That Sunday Lordy also had another new rather different experience as we had to do a quadrille and dress up as a snowflake with flashing lights. He behaved so well; I was very proud of him. Navigating my partners grinch costume was quite amusing and Lordy did find it very strange when he saw it in the mirror of the arena, nevertheless he couldn't have behaved better for me and such experience was so valuable in his education.
We have lots of training and lessons coming up in the weeks to come, I will keep you all updated!
Recently Lordy and I have been on a few adventures to help his confidence develop in being in new unknown environments, but still carrying on with the same routines and training methods as at home.
We were lucky enough to be asked by Lara Edwards to be part of her recent demonstration at Oakridge arena. This was such a brilliant opportunity for myself and Lordy as a partnership as it meant he really had to trust me in front of microphones, Christmas decorations and an audience of around 50 as he had a lot to take in that he was not used to at home. Although he was hot to start with, he soon relaxed and I was very proud of how he handled the atmosphere and took it all in his stride.
For young horses gaining this type of experience is so valuable as they have so much to take in and learn from it, as well as further developing trust in their rider which is so important, especially for young horses when they are nervous they have their rider to trust and tell them everything is okay.
Over the next few weeks we have more training with Andrew Fletcher to continue strengthening Lordy, in particular our focus at the minute is straightness and really making Lordy work properly over his back making the correct muscles build and become stronger. We have a upcoming visit from Claire Akers, the Performance Horse Nutritionist at Dengie to help us shape his diet for winter, he is very full on at the minute – a combination of feeling super well and being stabled more and in overnight too.
We also have a British Dressage Under 21's Christmas Camp this weekend. This will be Lordy's first stay away from home, so it will be interesting to see how he handles this, although I am not sure as to how Lordy will feel about being dressed up as a snowflake!
It has been a very busy summer with the ponies…The Pony Club Championships, C+ test, training camps and lots of eventing!
The first exciting thing to happen was the arrival of a new ride for me. Petal joined the team at the start of August, kind of a bit unexpected as I already had 3 ponies to ride! However, Petal is an experienced Pony Trial pony and as my parents had been looking for a while for a more experienced pony to help me make the step up to novice level, before I took the younger ponies up to that level, she was too good to turn down! I was so excited and couldn't wait to get going with her! The plan was to spend the summer holidays getting to know her and going to some dressage and show jumping competitions before maybe doing our first event at the end of the season. However, we bonded really quickly and got on well together so things happened a bit faster, which I will tell you about a bit later on in this blog.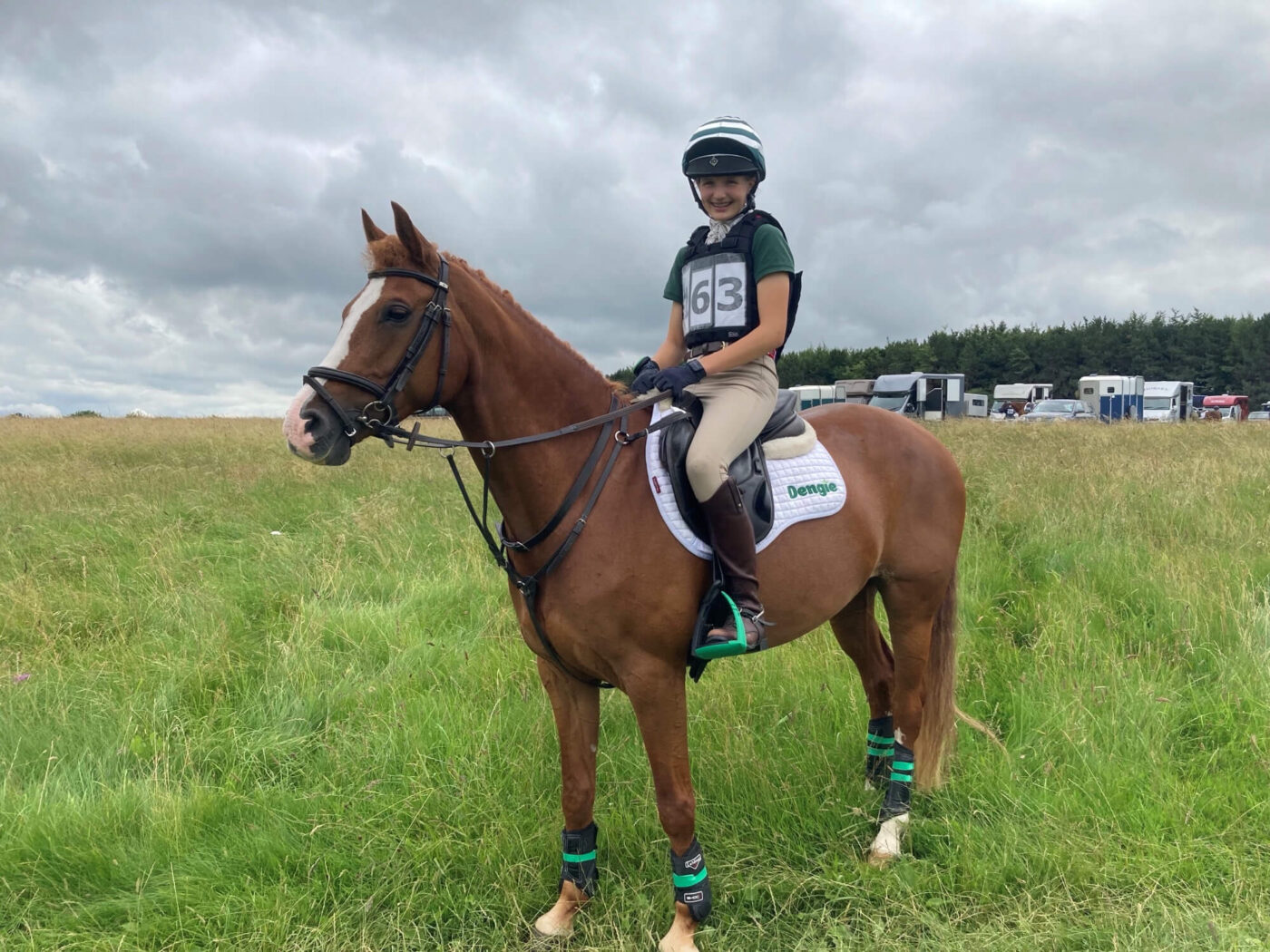 First up was The Pony Club Championships! It was so exciting to be going to the champs for the first time. Luna was in the novice dressage and show jumping teams. We travelled up the day before and stabled over-night so this was going to be Luna's first experience of staying away from home. Unfortunately the temporary stables did not suit Luna as the stable doors were grilled up to the top! This made her quite stressed initially and meant we had to check on her quite a few times during the evening, but by the morning she had settled down and was much calmer.  Dressage was first and despite Luna's lack of sleep the night before she did a very nice test to score 72% and finish just outside the top 10 in our section and help the team to 15th place out of about 30 teams.
The novice team show jumping competition was in the afternoon, all team members jump 2 rounds over different courses and then any teams that are tied for scores go forward to a jump off. Luna was fab and jumped 2 lovely clear rounds, and with good rounds from the other team members we finished in 5th place out of 52 teams which meant we got to go to the prize giving!! It was then time to head back home for 24 hours before going back to the champs with Bracken for the Individuals Intermediate Show Jumping. We had decided not to stable the night before and just take Bracken up for the day which did mean an early alarm call! The course in the first round was pretty big and probably one of the biggest tracks that Bracken and I had jumped, but she did a lovely clear round so I was very happy. We then had a 4-hour wait before the second round where the course was even bigger. Bracken didn't feel as 'springy' as she did in the first round and we had 2 fences down, but I was still really pleased with her and we finished in 24th out of 48.  It would have been amazing to have got into the jump off, but I was still really happy with how we had done and it was just brilliant to have made it to The Pony Club Championships with both Bracken and Luna – I couldn't have asked any more of them.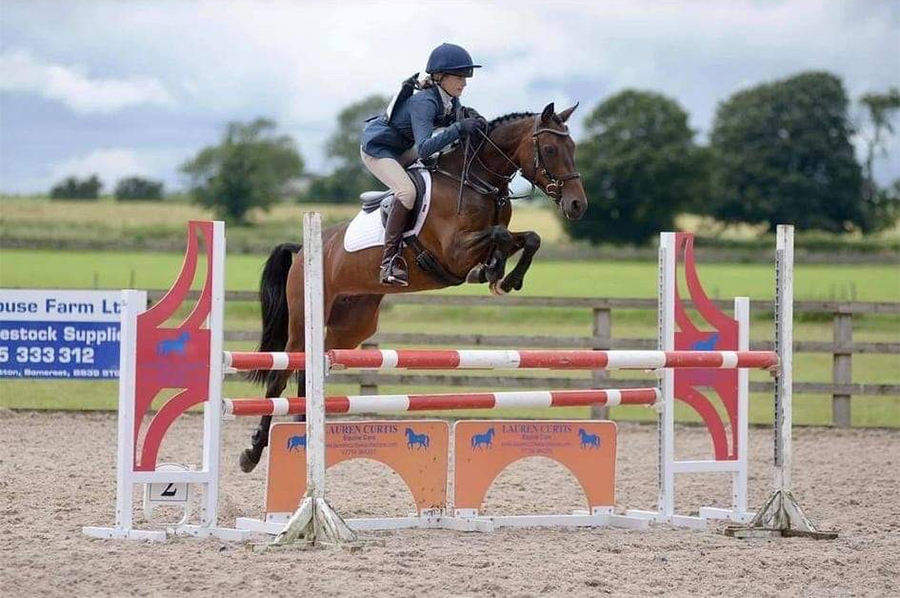 After the champs I had a few days away at Somerford Park on a Pony Training camp. I took Bracken and Petal and had an amazing time!  Somerford is a fantastic training venue and it was a really good opportunity to get to know Petal and after a couple of days of intensive training I felt that Petal and I were ready to go and do our first event together.  I also had some really good training sessions with Bracken and really felt like our dressage improved over the few days.
So having got on really well with Petal at camp we went to our first event, a BE100 at Sapey! It was a really good day and we came 4th with a good dressage and double clear, it was also quite a learning experience as Petal certainly knows how she likes to do things at a competition and she makes it quite clear that she doesn't like any waiting around, particularly before the cross-country. However, I now felt like I was getting a good bond with Petal so we entered to do 3 more BE100 runs to get the MERS needed to step up to Novice level with the aim of doing a Novice or PT before the end of the season. Our next 3 events went really well with double clears at all of them and 2 top 10 placings, so I felt I was ready to step up to the next level. Going to my first Pony Trial was so exciting as well as a bit scary, but I felt really confident doing it with Petal.  We had to go all the way to Norton Disney and because it was a 5-hour journey we went up the night before, so that Petal could have a good nights sleep. I walked the course the night before with my Dad and then did a course walk with Jonquil, the Pony Team trainer on the morning of the competition. It was a big track but I was actually more worried about the show-jumping than the XC. Our dressage went really well, we scored 28.8! It was probably the best test that I have done with Petal and it was my first test at that level.  On to the show-jumping and the course was causing lots of problems, but I need not have worried as Petal was awesome and jumped a foot-perfect clear round to put us in 2nd place after dressage and show-jumping. Cross-country was absolutely amazing too despite having an annoying run-out early on the course, I think I probably didn't have Petal quite collected enough coming into a double of brushes resulting in the run-out. After that we upped our game and completed without any more problems and the rest of the round felt amazing. Despite the run-out I was so thrilled to have completed my first Pony Trial and to finish just outside the top 10! I wanted to go and do it all over again but as that was Petals last event of the season I will have to wait for the 2022 season. Petal is now enjoying a holiday out in the field with her bestie Bracken.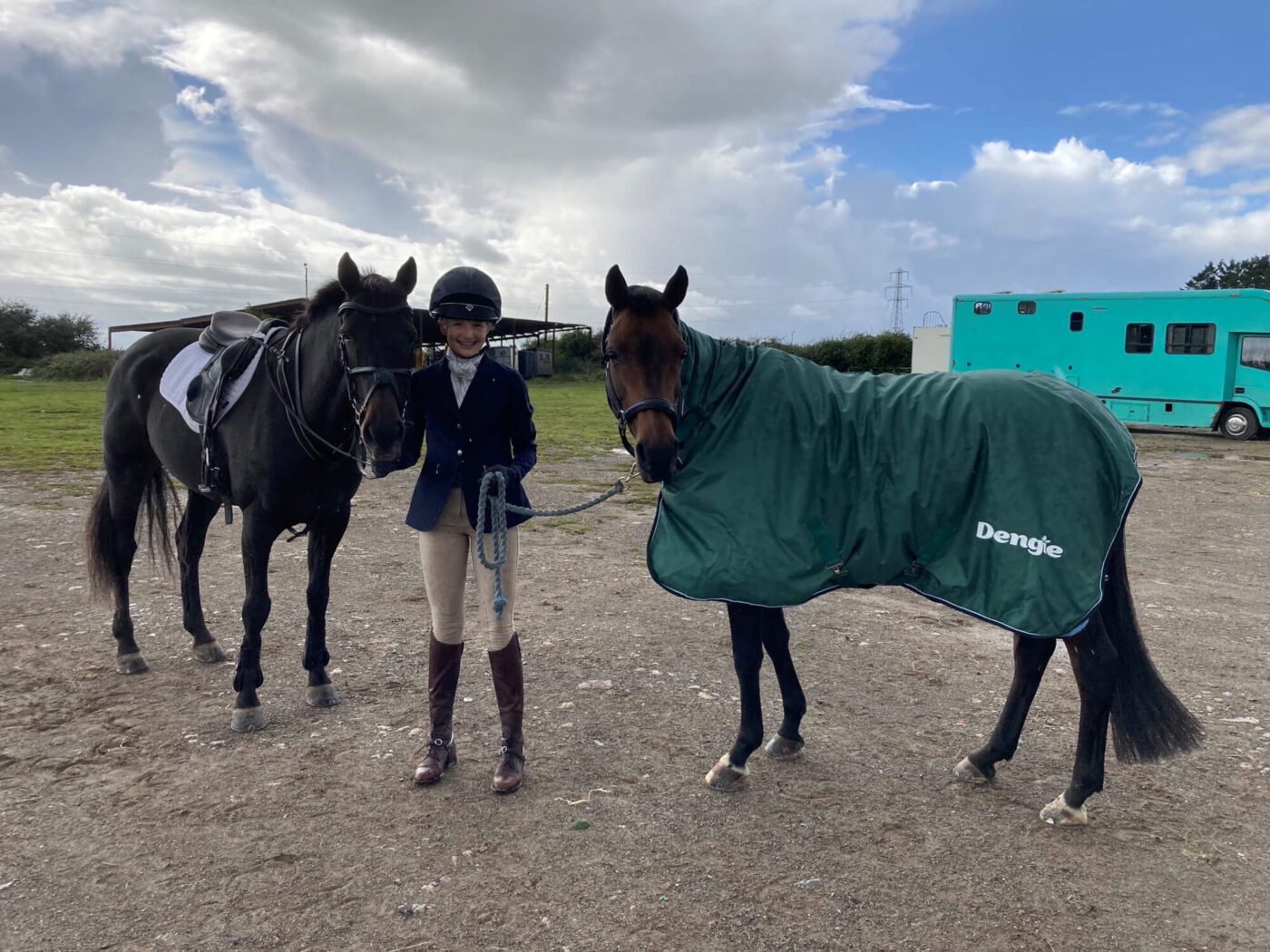 In the meantime Luna had also stepped up to 100 level and had 2 really good runs at West Wilts and Moreton Morrell jumping double clears at both.  She absolutely loves the cross country and her confidence has really come on although this has meant that she has been getting quite strong! At our last event of the season at Broadway I decided to pull her up early on the XC as I felt she was getting a bit too strong to safely tackle some of the combination fences. Our winter training will now be focused on teaching her to wait and listen, as well as trying some new bits, but for now she is enjoying a break out in the field.
Bracken also had a few more runs at 100 level where her dressage marks were much improved, she was also show jumping really well, but we just had an unfortunate run outs on the XC. She is now enjoying a well – deserved winter break.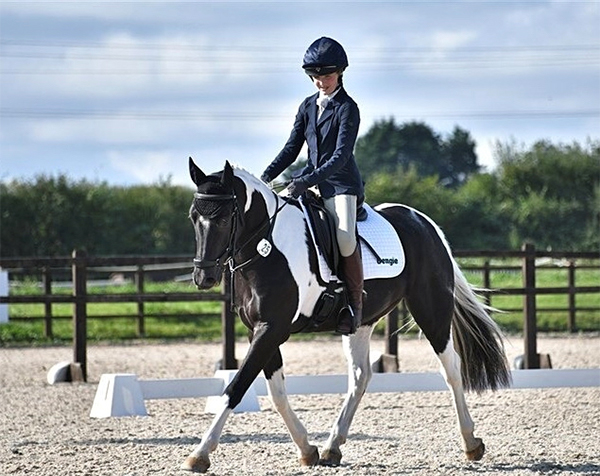 Smartie had a break during the summer so after a few weeks of walking and hacking to get him fit again the focus for him was dressage, dressage and more dressage, in the hope that he would calm down about riding in the white boards. It seemed to work as he scored consistently in the 70's at 6 dressage tests in 3 outings! So then we had to test out his new calmer attitude to dressage at a BE event….unfortunately the excitement at being back at event was too much for Smartie and although he warmed up really nicely he couldn't resist throwing in a few bucks in his test! He then went onto jump a double clear and finished just outside the top 10.  Smartie will be doing lots of dressage this winter as well as show jumping and Arena Eventing to get him confident at 100 level. He has started jumping courses at 100 already and is getting more confident at that level, he has just done his first 100 AE and came 2nd!!
So that wraps up my 2021 Eventing season! The ponies have all finished fit and well, and their Dengie fibre feeds have kept them looking and feeling great. I can't wait for the 2022 season although after a very busy summer with 4 ponies I am enjoying having a slightly quieter time for a few weeks now!
Ps. I passed my C+ test!!
Recently we have been taking Lordy out to lots of new places and venues to build up his experience of going away whilst still applying the same training methods and routines for him to progress in his development. This is so important as a youngster to gain this experience, but equally to be able to gain better focus and concentration each time we go away so that the consistency of what we have developed at home follows into the work and training we do when we go away.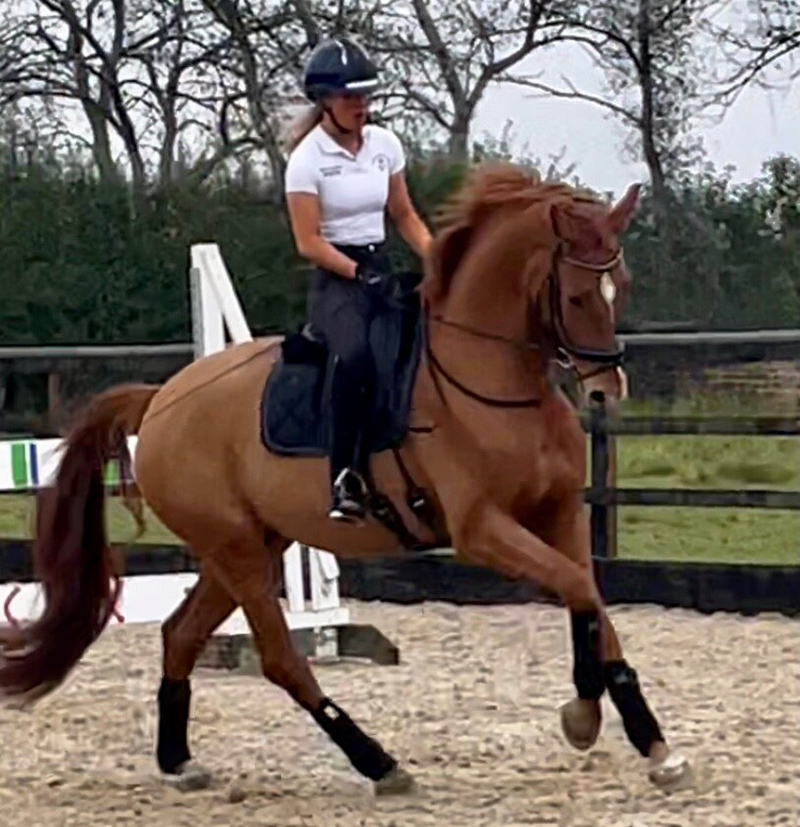 Last weekend we had a great lesson with Andrew Fletcher really working on his straightness and progressing what we have now gained with his suppleness and bend to now moving this onto straight lines. This has been a test for Lordy as it makes it more difficult for him and combined with transitions along the straight sides it forces him to push from the inside hind leg out of halts so that he uses his body correctly. This is now what we will be working on for the next few weeks to gradually build up and strengthen the power of his hind legs in a positive way.
Whilst we have been stepping up the intensity of the work Lordy is doing, I also believe it is very important for him to be rewarded and have time to relax to, therefore the day after most lessons he will go on a long hack and canter around all the fields as this also will help the maturing of his mind and give him time to relax. It is so important to me that Lords always has a good experience when riding and training, and so that he does not always think riding is going to be hard work, which is why we hack every week so that he looks forward to riding and it is a positive experience for him.
He also was clipped this week for the first time which he was super well behaved for, he just went to sleep! It really showed how well he is looking and feeling on his Dengie fibre diet as his coat has such a glow and he has the perfect containable energy for training and developing. I am so so pleased with him at the minute and how well he takes to work with such a good attitude and how much he wants to please.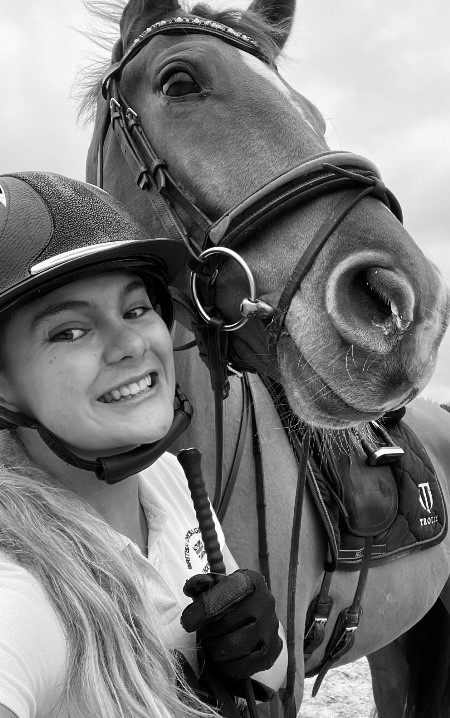 The team went to Chard mid-August for a 3 day show. Day one Lambo jumped the 6-year-old Grand Prix at 1.20m in the first round – it was a step up for him, but I felt he was ready. I changed his bit to only have one rein the week before, so this was a new feeling for both of us! It did lead to a mis-communication in the collecting ring, which lead to me testing out the landing on the surface at Chard (I can confirm it is very soft!). However he wasn't phased and went in to jump one of only a handful of clear rounds. Unfortunately, it wasn't our class and we had the first fence in the jump off trying to pull off a turn back to fence two! He made up for it by jumping double clear and coming 2nd in the Newcomers on the 2nd day, then didn't jump the on the last day due to a rub from his overreach boots- he is a sensitive boy!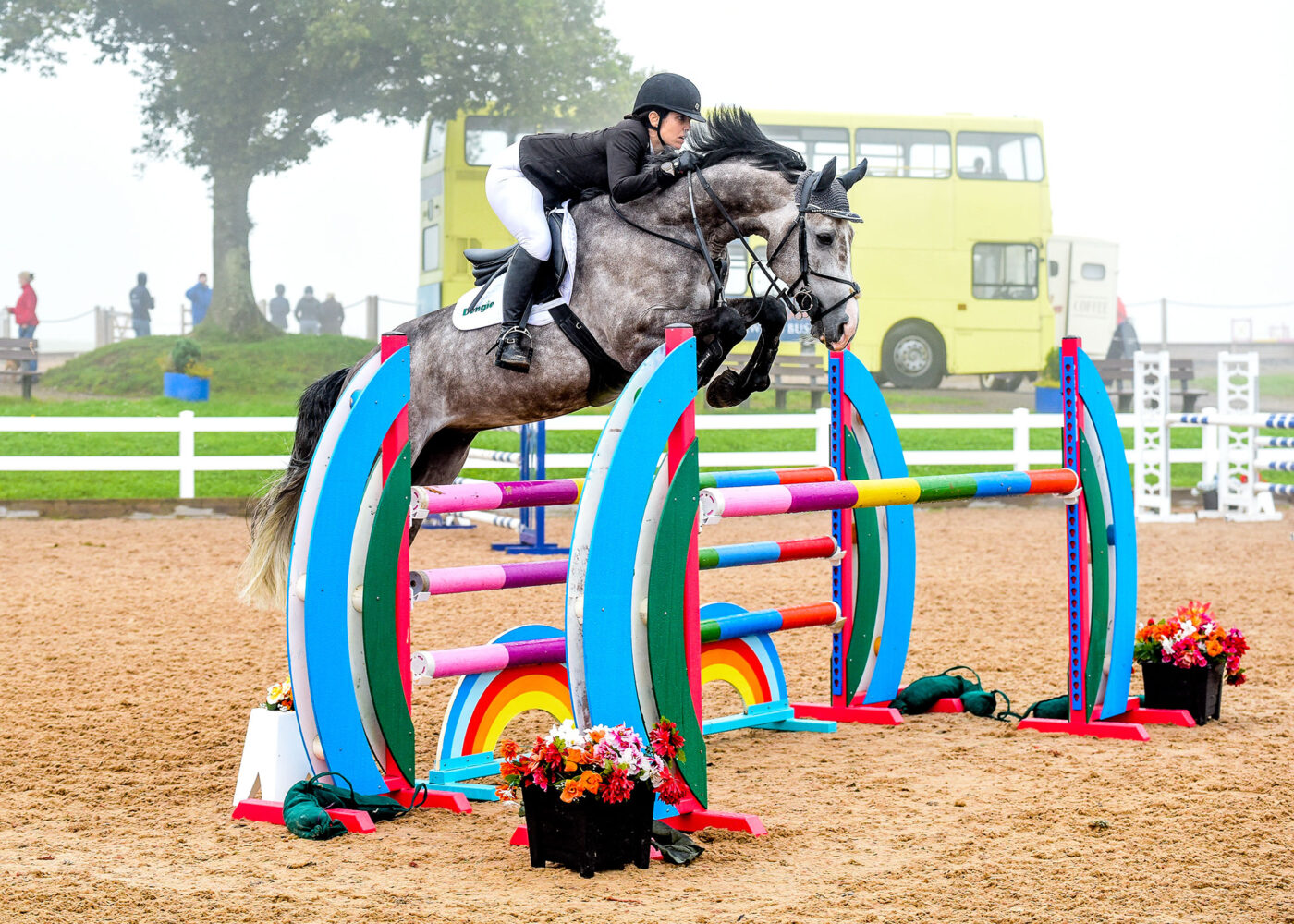 Baby Scrappy jumped super all show, coming 3rd and jumping double clear on the first day in the discovery, getting her last double clear in discovery for next year's seconds rounds on the second day and winning her class, then just knocking one fence in the 5-year-old Grand Prix on the last day.
Connie was the star of the show for not touching a fence all three days! Jumping her last double clear in foxhunter for next year, coming 5th in the 1.20m open on the first day, jumping double clear coming 4th in the foxhunter on day 2, and finishing in the 1.30/1.40m open jumping a lovely double clear. She also went to Rectory Farm last week for a jump before her 2nd round this week and jumped a lovely double clear coming 4th in the 1.30/1.40m open qualifying for next years Scope Championship.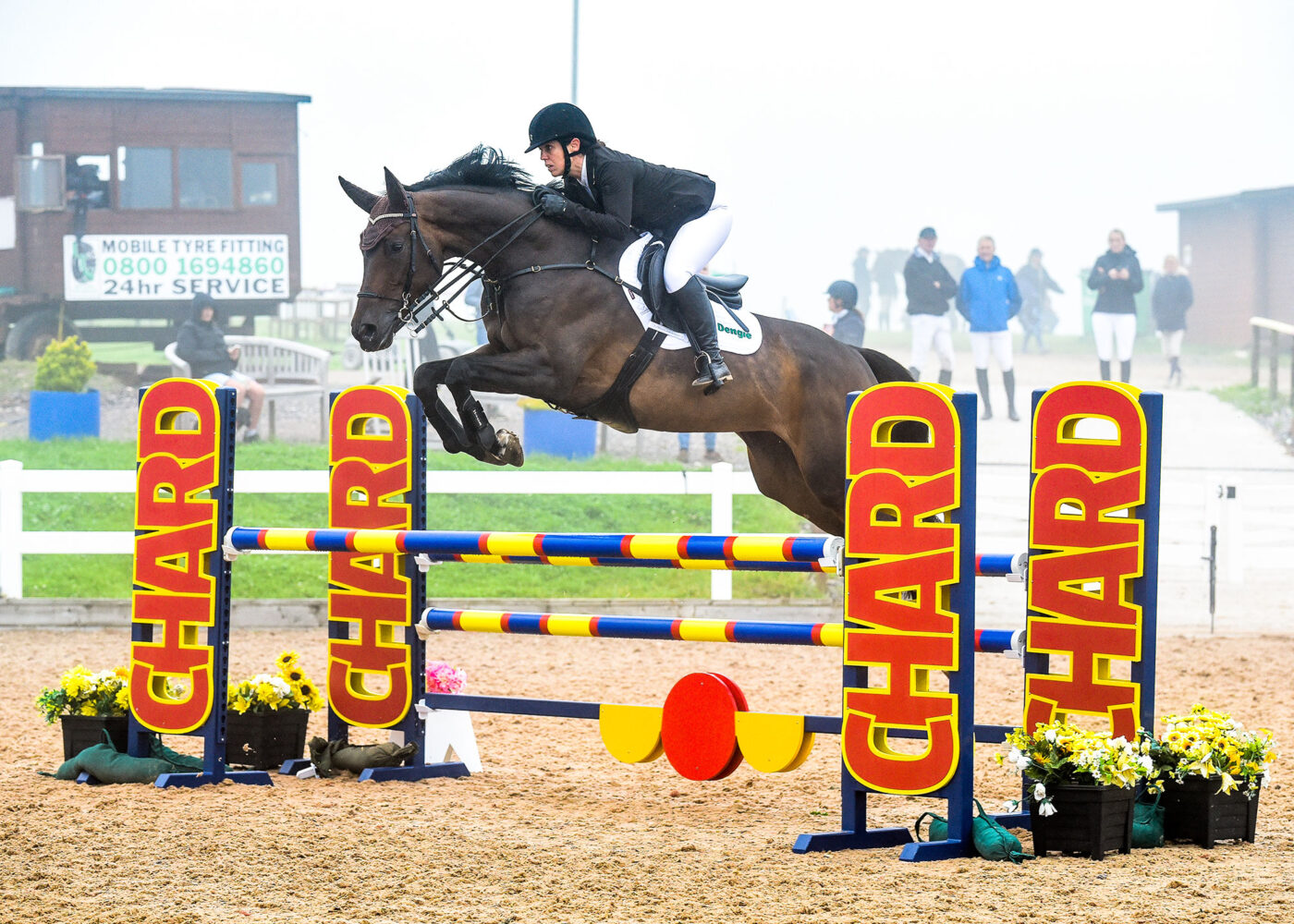 We went to Wales and West to contest the 2nd round Newcomers, but unfortunately just had one silly fence! Lambo also went here and jumped double clear coming 5th in the newcomers on the first day and qualifying for next years 2nd rounds and then the fastest time, but a silly fence in the first phase on day 2!
I am taking Gibbs out to his first arena hire and then will plan some shows in with him. He is progressing well and his attention span is improving, although not consistently yet! He has lost some of the weight he was carrying and is looking really well. Scrappy is planned to go to Rectory Farm next week, then we have Bury Farm planned for mid-September with a few local day shows in between.