Sustainability and environmental issues are hot topics in the news and businesses and individuals are increasingly being asked to operate more sustainably. Things like recycling, sourcing renewable energy and increasing energy efficiencies are key priority areas and are even more pertinent now with the vast increases in energy prices seen in recent months.
Dengie are no exception and we are working towards the Investors in the Environment Bronze award to formalise actions and achievements. This award will demonstrate to our suppliers, customers and local and wider communities that we are working towards a greener future for the business.
We have been tracking our resource use for the past two years and are now able to report the impacts of changes we have made so far. Our use of resources is often impacted by factors such as the weather, which is clearly beyond our control, but by measuring and recording our energy use, we can better quantify the impact to the business and whether possible solutions will bring a sufficient return on the investment needed.
Key Results
A 5.5% reduction in electricity used in 2021/22 compared to 2020/21 – achieved by using energy efficient light bulbs, maintaining equipment to operate as efficiently as possible, turning plant, lights, air conditioning, computers off when not in use. As a point of interest, Dengie moved over to a zero carbon electricity supply in October 2021, which will help reduce our impact on the environment.
An 8.7% reduction in fuel achieved by driving efficiently, not idling engines unnecessarily and maintaining the vehicles to operate as efficiently as possible.
3.5% reduction in waste feed produced
Carbon footprint reduction if gas use not included was 10.5%
Unfortunately, the wetter harvest conditions meant that gas usage was higher in 2021. New initiatives have been put in place for harvest 2022 which should help us to address this key area.
Plastic packaging waste increased significantly in 2021/22 and work is underway to identify why this has occurred and what can be done to address the issue.
For further information on our Corporate Responsibility Commitment and to read our Environmental Management Plan Policy click here.
We would like to introduce our newest members of the Dengie Sales Team. Jessica Toombs and Rebecca Opie join us as Area Sales Managers for the East and South-East of England.
Jessica will be looking after the East of England and her 5 years of retail sales experience combined with her equine knowledge will stand her in good stead in her new role at Dengie. She currently owns Romeo, a 7 yr old Gypsy Cob who she has had since a 2yr old and has just started competing in dressage and show jumping.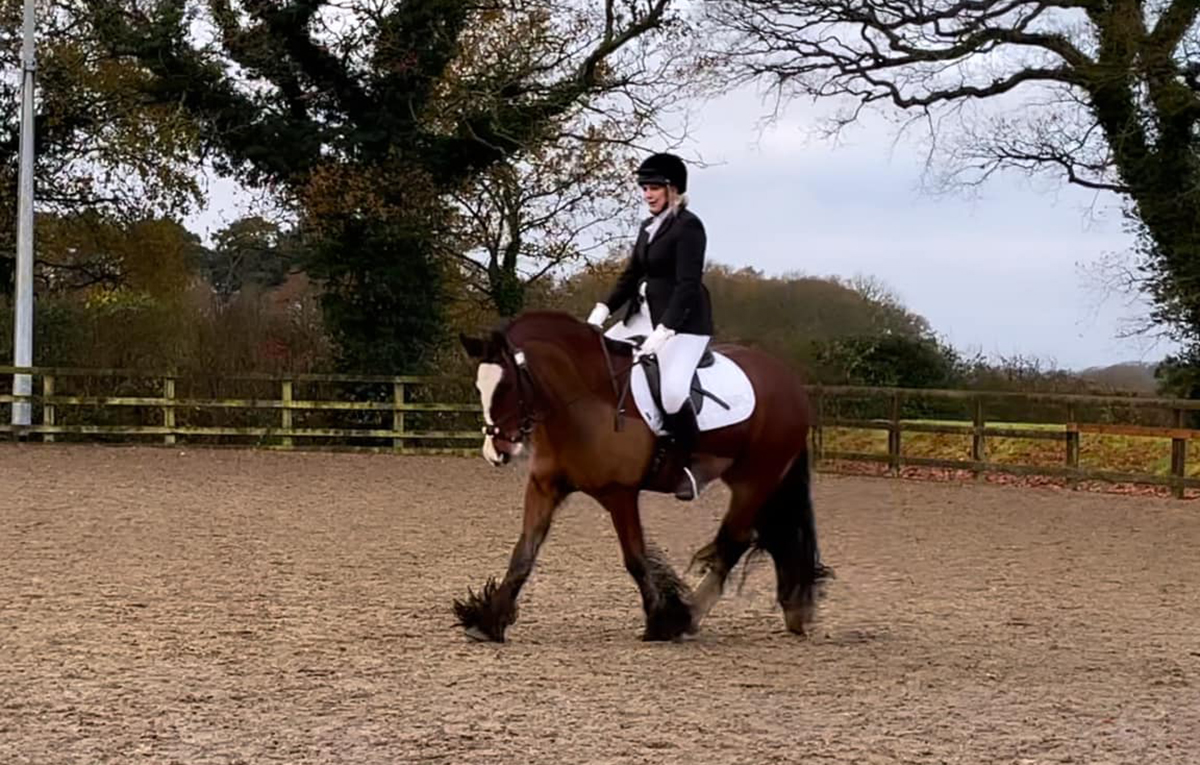 Rebecca has worked in the equine industry for the past 4 years after graduating from Nottingham Trent University with a Masters in Equine Health and Welfare. She will be looking after the SOuth-East region. Rebecca owns Bobby, a 16.2hh ISH gelding and takes part in Riding Club activites. In her spare time she helps out at her partner's family farm looking after their herd of Kent Romney Sheep.
"Dengie are thrilled to have both Jessica and Rebecca on board. They bring a wealth of knowledge and expertise from their previous positions and personal horse experience and will be a great asset to our team." says Laura Dolphin, National Sales Manager.
To celebrate the Queen's Platinum Jubilee everyone across the UK is being encouraged to plant a tree. The Queen's Green Canopy aims to create a network of individual trees, avenues and woodlands in honour of The Queen's service and the legacy she has built. Back in November we partnered with Langthorns Plantery, a fellow Royal Warrant Holder based in Essex, giving our customers the opportunity to win a tree. The winners of the Dengie 'Win a Tree for the Jubilee' competition were announced in National Tree Week (27th November- 5th December 2021) and the winners were invited to pick from a range of trees supplied by Langthorns Plantery.
One of the lucky winners was Mrs Denley, a teacher at Burton End Primary School in Haverhill, Suffolk. Mrs Denley chose a Robina x Margaretta Pink Cascade to plant at the primary school and accepted the tree on behalf of the school alongside Mrs Riley and students Harper, Sophie, Olivia and David. The school really embrace the importance of nature and plants, running both gardening and eco clubs for the pupils.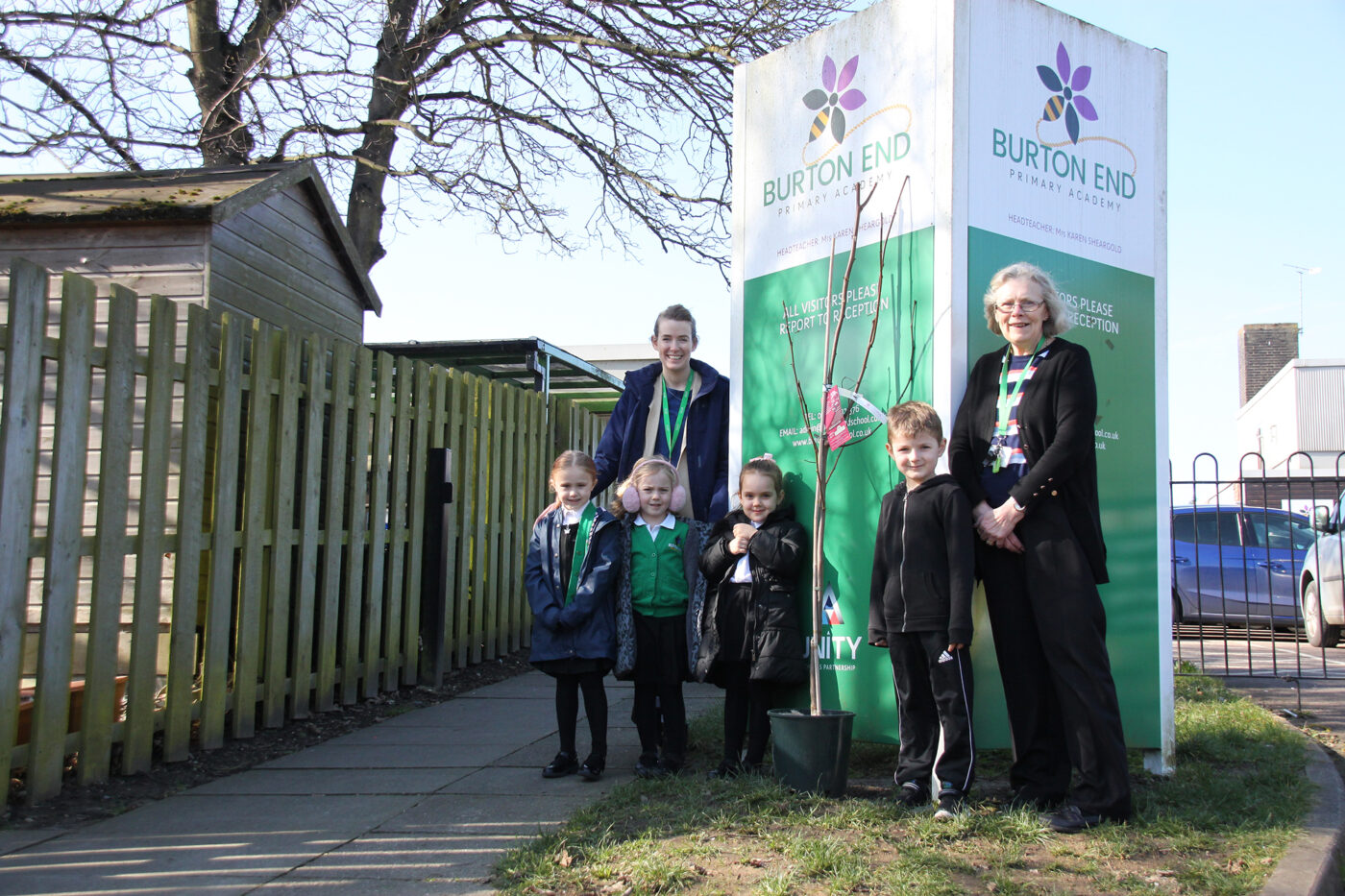 Elizabeth Wright from Dudley was also one of the lucky winners. Elizabeth chose a Malus Jelly King Crab Apple which she has planted in her garden.
Another tree was won by Gerald Lewsey, Chairman of the St Lawrence Parish Council in Essex. Gerald chose an Acer Cappadocicum to plant at the Jubilee Field in St Lawrence in front of the Village Hall. The children from Diddydots Nursery were on hand to help plant the tree and will be helping to take care of it.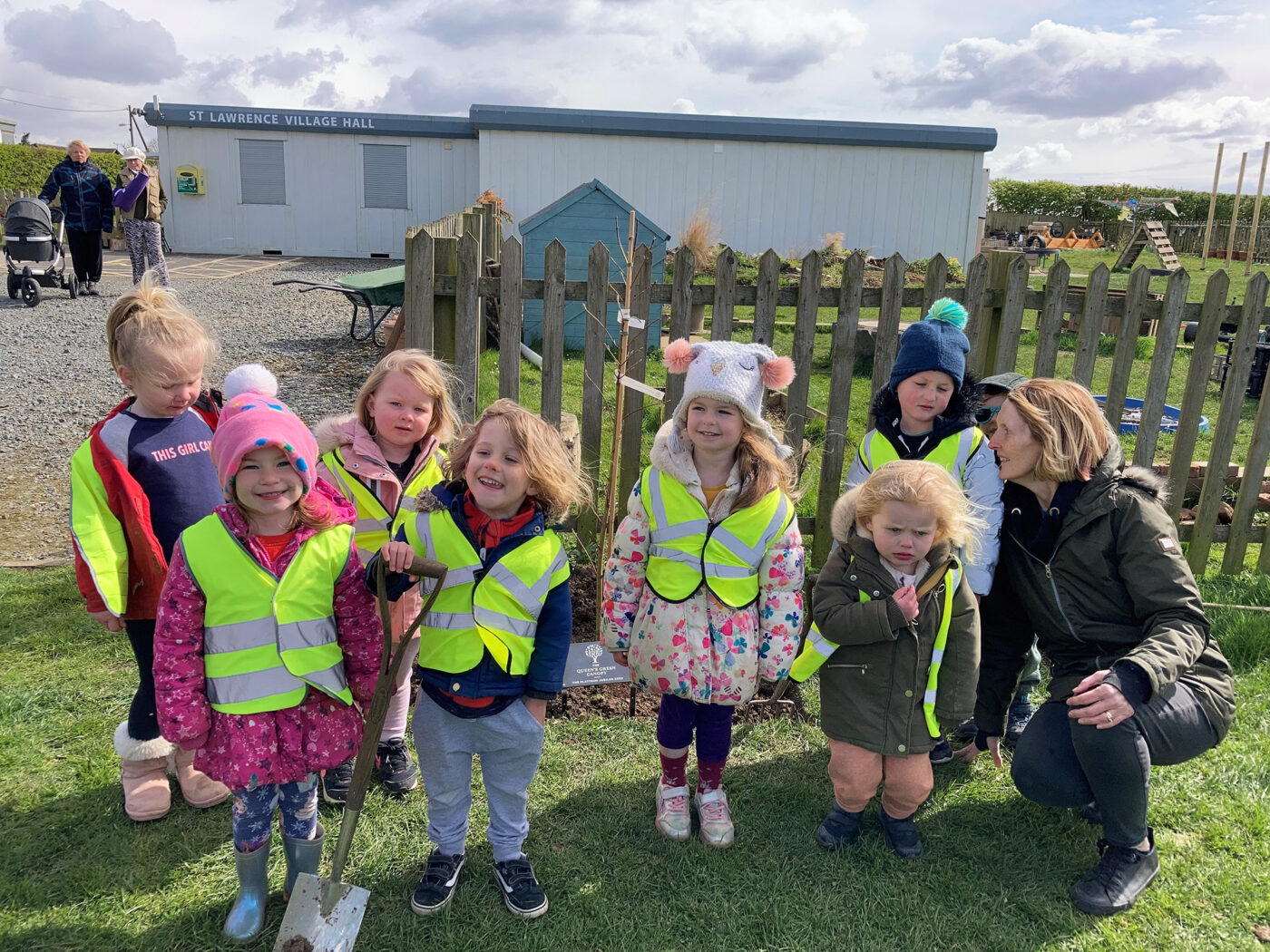 As part of the The Queen's Green Canopy we've encouraged all of the winners to upload the location of their trees to the  map. You will also find the Amelanchier Lamarchkii tree that Dengie's Technical Manager Katie Williams and Edward Cannon from Langthorns planted at Dengie's Head Office to kick off the campaign.
Whilst many of us are aware of some of the risk factors, we don't always appreciate everything that can increase the risk of our horses getting laminitis. The Dengie Laminitis Risk Calculator has been designed to raise awareness of some of the lesser-known risk factors of laminitis and to draw people's attention to the cumulative effect of a number of different risks. "It's often a "perfect storm" of events that combine to result in the horse coming down with laminitis and by completing our quick questionnaire, we hope it will help to make horse owners stop and think about what they can change in the management of their horse" explains Katie Williams M.Sc.(Dist) R Nutr, Technical & Product Development Manager at Dengie.
We are sure the laminitis risk calculator will be thought provoking and of course, not every horse is going to fit perfectly into the categories highlighted. A bit of pragmatism and honesty helps when scoring your own horse.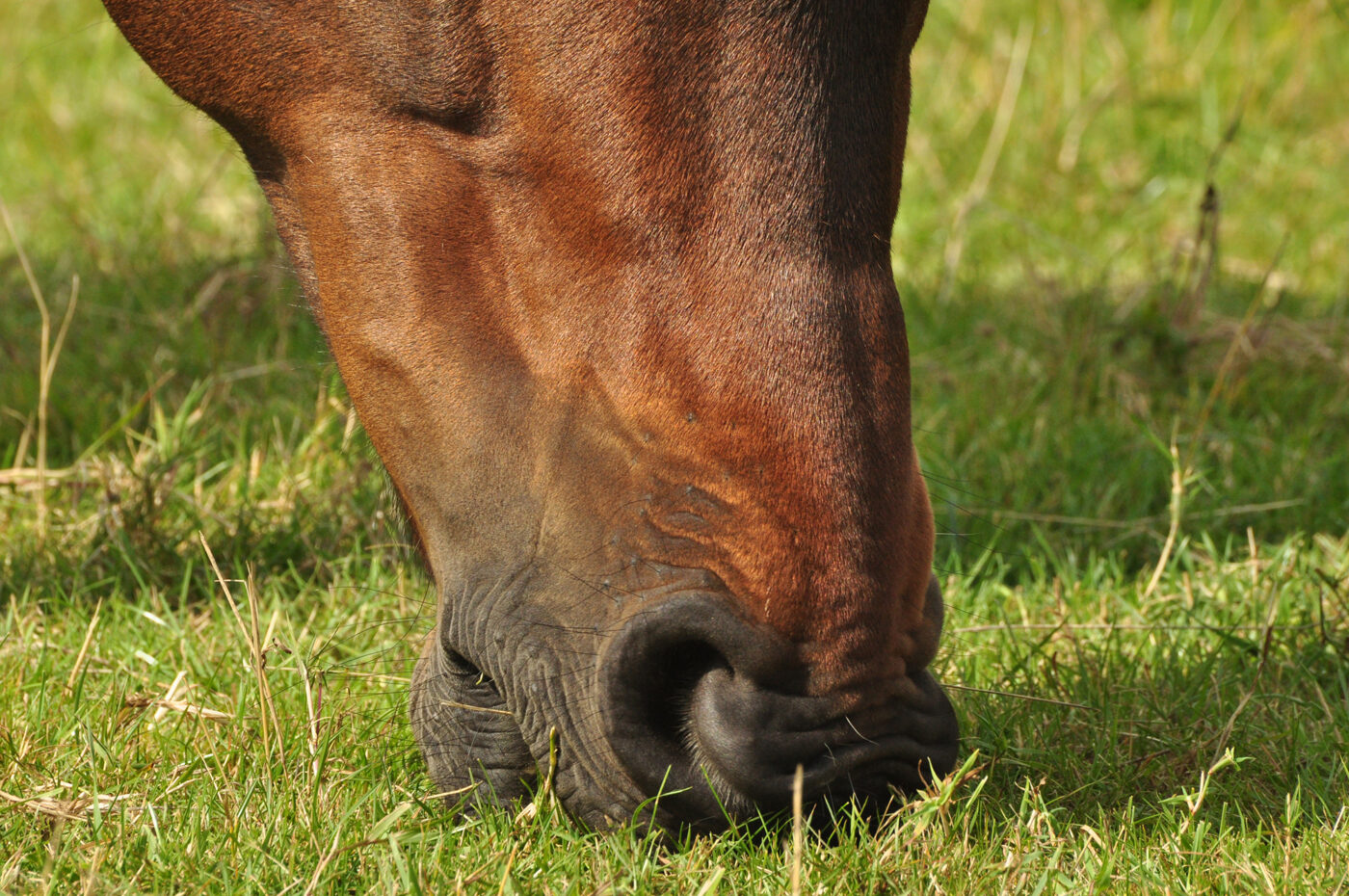 The launch of our handy new web-tool coincides with us teaming up with VetPartners to raise awareness of equine obesity. The Healthy Weight, Healthy Horse campaign will highlight the dangers of being overweight and runs from the 1st March. The campaign will include providing support and management advice for owners of overweight horses to help get them back into shape with a series of talks and weigh-in clinics.
If you would like personalised help and advice call the Dengie Feedline on 01621 841188 or fill out a feed advice form. For further information on the latest advice about laminitis click here.
Equine Obesity – what's the problem?
Simply read through the article and answer the following questions
Whilst there is still much to be learnt about the relationship between obesity and disease risk, it is generally accepted that being overweight predisposes an animal to disease. In the case of the horse, laminitis is one of the most serious repercussions of obesity but it isn't just horses where levels of obesity are high and appear to be rising. Studies investigating obesity in pets as well as humans are reporting worrying levels of obesity, but what is behind this trend?
How would you describe your horse's bodyweight
In the spring of 2021, Dengie carried out an on-line survey about weight management in horses and over 650 people responded. We asked horse owners to tell us how they would describe their horse's bodyweight and 44% described their horse or pony as overweight which reflects levels found in other studies including the European College of Equine Internal Medicine consensus statement on EMS*. Studies show that owners tend to underestimate their horse's condition, particularly when compared to a professional's assessment ** and so we thought it would be interesting to know how confident horse owners felt about their ability to assess their horse's body condition status.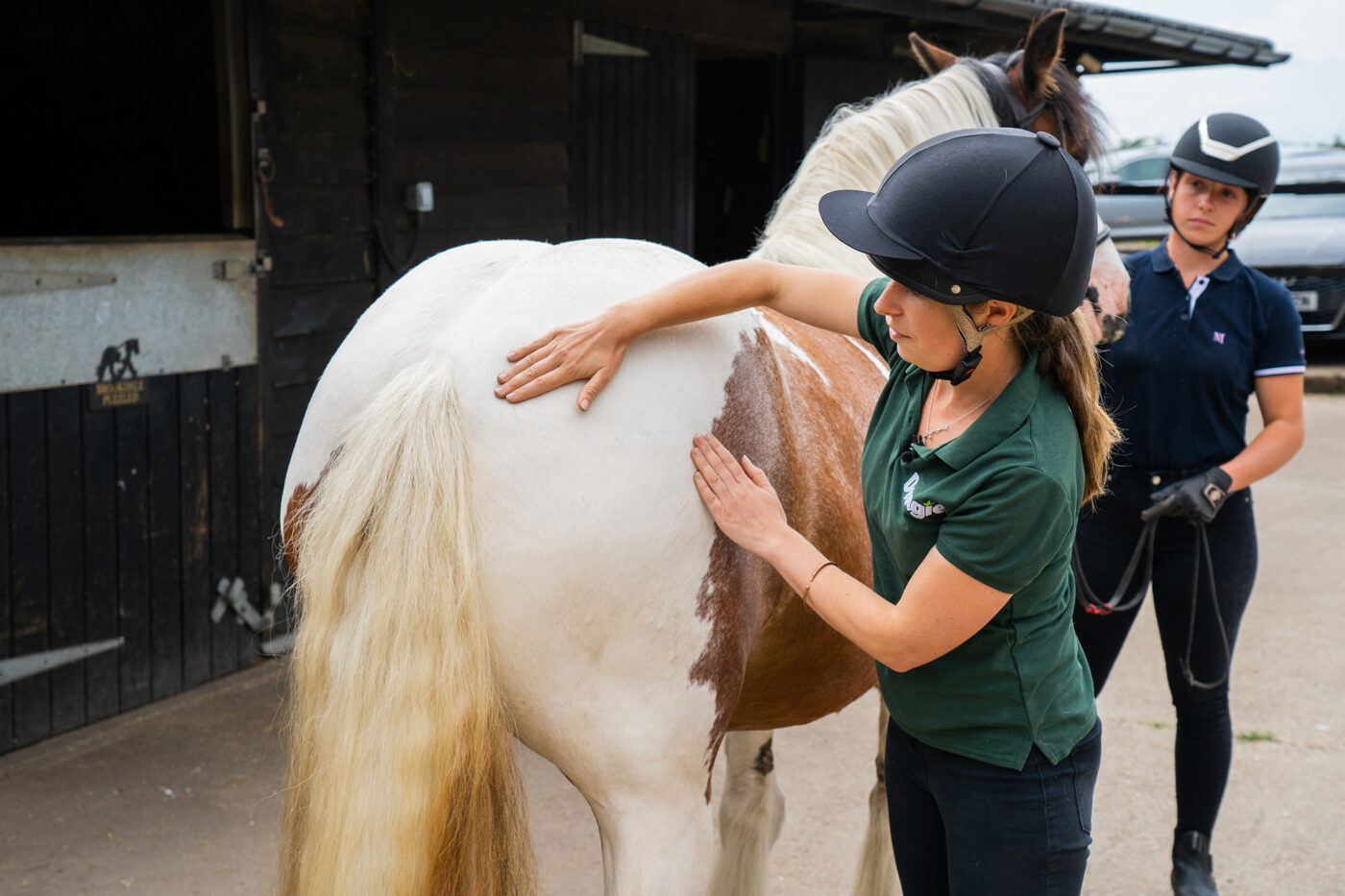 Half of respondents said they were completely confident that they could tell if their horse was overweight and 46% described themselves as fairly confident. 2% said they weren't very confident and one person was honest enough to say they had no idea. Obviously a survey doesn't allow us to explore whether the relatively high levels of confidence were misplaced or not, but if horse owners are able to tell if their horses are overweight, something else is contributing to the high levels of obesity.
We asked horse owners to share the issues and challenges they have trying to keep their horses at a healthy weight. Not being able to exercise either because of injury or old age was a significant problem for many. This is an area worthy of further investigation as even very light exercise, such as walking in hand, may have potential benefits for issues such as insulin dysregulation and that level of exercise may be possible with more horses than is currently thought.
Trying to feed enough to avoid ulcers without weight gain
The biggest issue reported though, was trying to feed enough to avoid ulcers without resulting in too much weight piling on. Understandably, horse owners are increasingly worried about ulcers and it is known that long periods with insufficient pasture or forage is a risk factor but how do we find the balance between providing enough but not too much?
Around 20% of horse owners mentioned that they can't limit access to pasture and a third of respondents said they didn't want to stable for longer. The use of muzzles was also not an option for about a third of horse owners too, either because they didn't like the idea of using one or they felt it wasn't safe to do so with their horse or pony. It is an interesting dilemma; as horse owners we want our horses to be out in the paddock because we feel it is where they should be and yet it can present a risk to our horse's health. One respondent highlighted this with the comment "the grass is lethal at the moment" and many indicated they find owning a good doer particularly stressful. As a nation of animal lovers, we are rightly appalled when an animal is malnourished or starved but we generally don't consider letting an animal become obese to be quite as despicable. Perhaps it's because we can empathise with how hard it is to keep weight off when food is often how we express our love and affection for our family and pets?
If we do limit our horse's access to grass what do we replace it with?
Grass hay or haylage can still be too much for some good doers, especially if fed ad lib and so we have to restrict the amount we feed.
Achieving consensus and a clear directive on the minimal dry matter intake for maintaining optimal digestive health has been confused by different studies which can be open to interpretation and differ in the timeframe the advice is recommended for.  The work of Dugdale et al (2010) is regularly cited as they restricted intake to 1% of bodyweight in dry matter which achieved significant weight loss without adverse effects on the welfare of the horse. However, the criteria used to measure welfare related to behaviour and the time that ponies spent in three major behavioural categories (eating, resting and play). There is no reference in this study to the incidence of gastric ulcers for example. The study lasted 12 weeks and there have been no studies that investigated the effects of longer-term reductions in forage intake.
The frequency with which ulcers is being diagnosed is increasing and this may account for why the recommendations for minimal dry matter intake tend to increase in more recent studies. Morgan et al (2016) state they initially recommended 1.5% of bodyweight in fresh weight of hay but adjusted if necessary depending on response and Rendle et al (2020) cite 1.5% Dry Matter which is the level most equine nutritionists would work to for the long term management of good doers. The veterinary perspective of some of these studies may be to restrict intake in the acute scenario to deal with significant obesity, hyperinsulinaemia and acute laminitis but this is often getting lost in interpretation and communication. Clarity of communications both within the veterinary profession and to horse owners is an area that can be improved.
Can you feed straw to horses?
The general principle is that the lower calorie forage, the more can be fed which is why straw should not be dismissed. Straw often gets "bad press" in the context of gastric ulcers as one study by researchers in Denmark, found that a horse eating straw as the sole or predominant forage source was 4.5 times more likely to have gastric ulcers. What often gets lost when people read this research is the proportion of straw in the ration. In the UK, straw is rarely fed as the sole forage source to horses and, recognising that straw can be useful as a low-calorie forage source for good doers, a follow up study has been published investigating the safety of feeding 50% wheat straw. The research found no increased risk of ulcers from using 50% straw to replace haylage in the ration.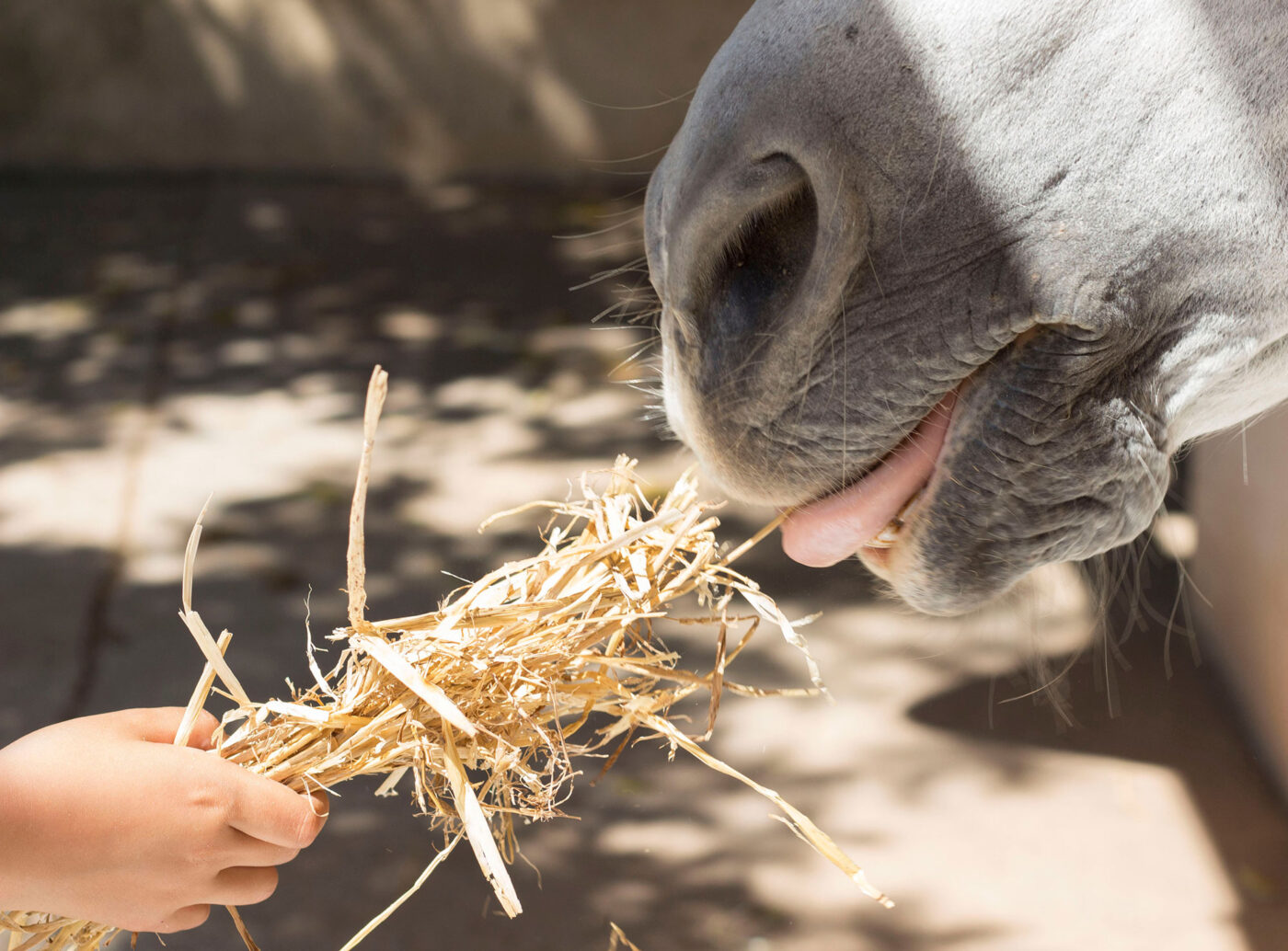 The recent study by Jansson et al (2021) used 50% wheat straw to replace haylage with no ill effects. The rate of consumption of straw mixed with haylage was slower than when fed haylage alone with the resulting effect being a lower plasma insulin response. Straw has a much lower water soluble carbohydrate (WSC) content than grass forages so a lower insulin response would be expected but when the rate of intake was slowest in the evening, the researchers found no significant increase at all in insulin levels. This suggests that using low WSC forages and slowing the rate of intake are both important strategies in managing horses with insulin dysregulation (ID) or the potential to develop ID due to being overweight or obese.
Some simple calculations show that if straw replaces 1/3 of the weight of an average hay, a reduction in energy intake of 16% is achieved. Obviously replacing half the haylage ration will achieve an even greater reduction. However, long chopped straw isn't for everyone. If a horse has a history of impaction colic or has poor teeth, long chopped straw is not suitable and its hygienic quality can vary, so sourcing the right quality can be tricky. Some horses won't eat straw, even if there is nothing else on offer. Whilst it might seem wasteful, mixing straw in with other forages can mean it still serves a purpose as it slows the horse down when eating as they have to sort the straw out from the other forage. The significance of rate of consumption of forages is a key area that requires more research but the results of the Jansson et al (2021) study provide an indication that slowing the rate of intake could have significant benefits for reducing insulinaemic responses.
Monitoring your horse's weight
Spotting if your horse is starting to gain weight early is key to nipping the problem in the bud.
There is so much advice available it can sometimes be overwhelming trying to work out where to start. We've tried to simplify the advice so you know what you should be aiming for and how often you should be doing things. Many of you will already be doing more than what the following guide suggests which is great, but the aim is to give everyone a realistic starting point on which to build if time, resources and circumstances allow.
Weigh tape – every 2 weeks
Use the same weigh tape each time you assess your horse
Make sure your horse is stood square on a flat surface when taking a measurement
Use the weigh tape at the same time of day
Track weight changes on a graph so you can spot changes early
Weight loss of 0.5-1% of bodyweight weekly is realistic. This equals 2.5-5kgs a week for a 500kg horse or 0.5 to 0.75kgs a day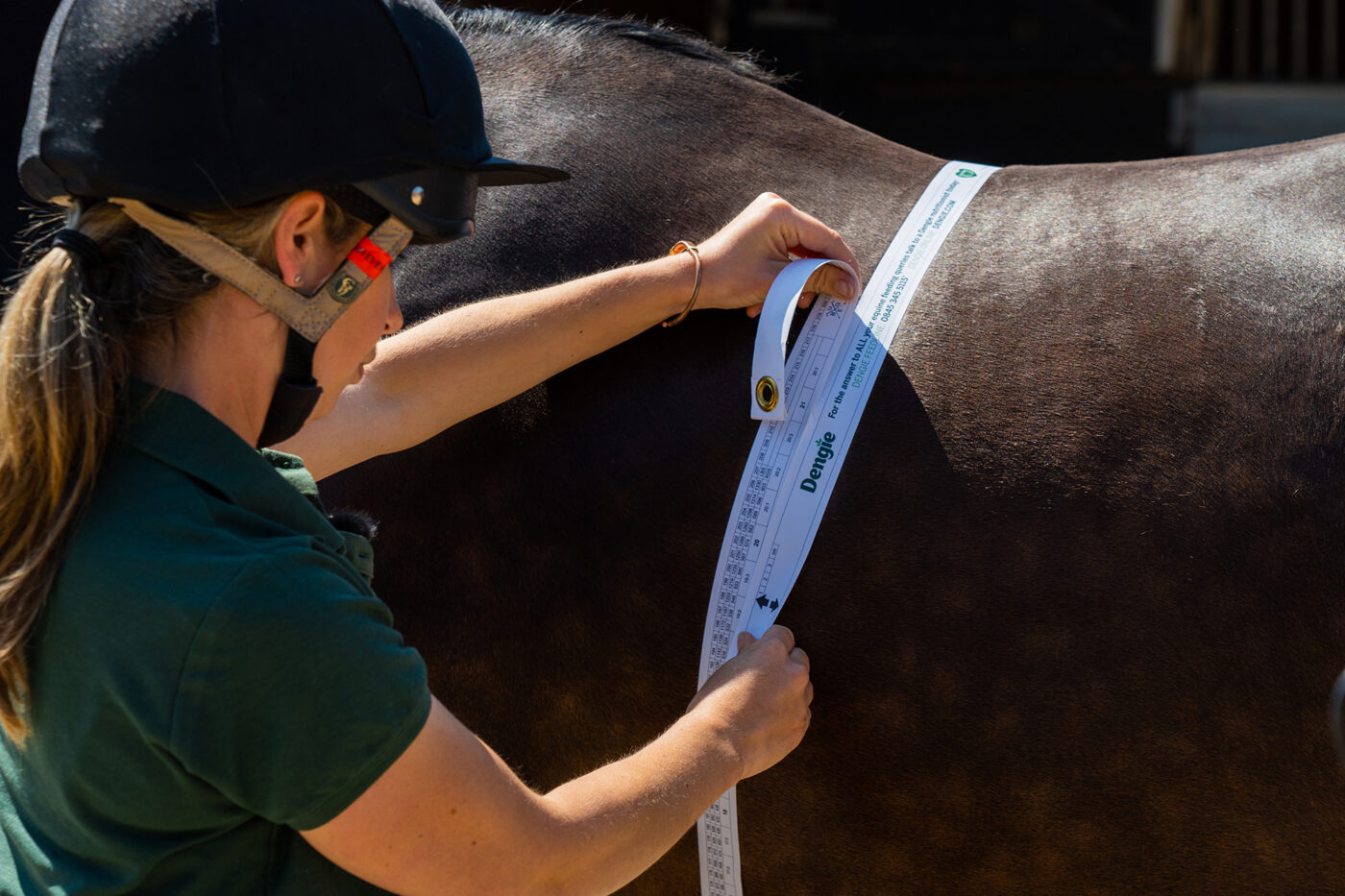 Fat Score – at least every month – it is likely to take a month for a score to change by half a point on the 5 point scale if a realistic rate of weight loss is achieved
Choose a scale (0-5 or 1-9)
Score your horse in the key areas where fat is stored and then calculate an average
Use a pictorial guide to help you
Why not work with a friend and score each other's horses to see how you compare?
For an average horse it is estimated that to change ½ a condition score (0-5 scale) requires weight losses of 20-30kg.
Test Your Nutritional Knowledge - Equine Obesity
*Terms & Conditions: This competition will close at 11.59pm on 31st March 2022. One entry per person. One lucky winner will be selected from the correct entries and be notified via email within 7 days of the competition closing. No cash alternative available. Entrants must be aged 18 or over. Open to UK mainland residents only. Click here for full terms & conditions
References
*Durham et al (2019) Journal of Veterinary Internal Medicine.
ECEIM consensus statement on equine metabolic syndrome – Durham – 2019 – Journal of Veterinary Internal Medicine – Wiley Online Library
** Morrison et al (2017) Journal of Equine Veterinary Medicine
Perceptions of Obesity and Management Practices in a UK Population of Leisure-Horse Owners and Managers – ScienceDirect
Dugdale et al (2010) Equine Veterinary Journal
Morgan et al (2016) Equine Veterinary Journal
Rendle et al (2020) Vet Times Equine
Jansson et al (2021) Animals
We have teamed up with VetPartners to tackle the issue of equine obesity and highlight the dangers of overweight horses.
According to VetPartners, its equine vets are seeing more overweight horses and ponies than ever and we have also reported that calls from our feedline relating to overweight or obese horses have tripled over a five-year period.
Throughout the campaign, VetPartners' equine and mixed practices and ourselves will be sharing the message that a healthy weight means a healthier horse, and will be offering advice to help owners accurately assess and monitor their horse or pony's condition. We will also be providing support for owners of overweight horses to help get them back in shape safely.
Each VetPartners practice is nominating a vet or equine nurse to champion the campaign, and owners can sign up to receive a free guide to equine weight management that contains tips on feeding and exercise plus guides to fat scoring, weigh-taping and weight loss. We will also be holding online and face-to-face events for horse owners and equine weight clinics across the UK.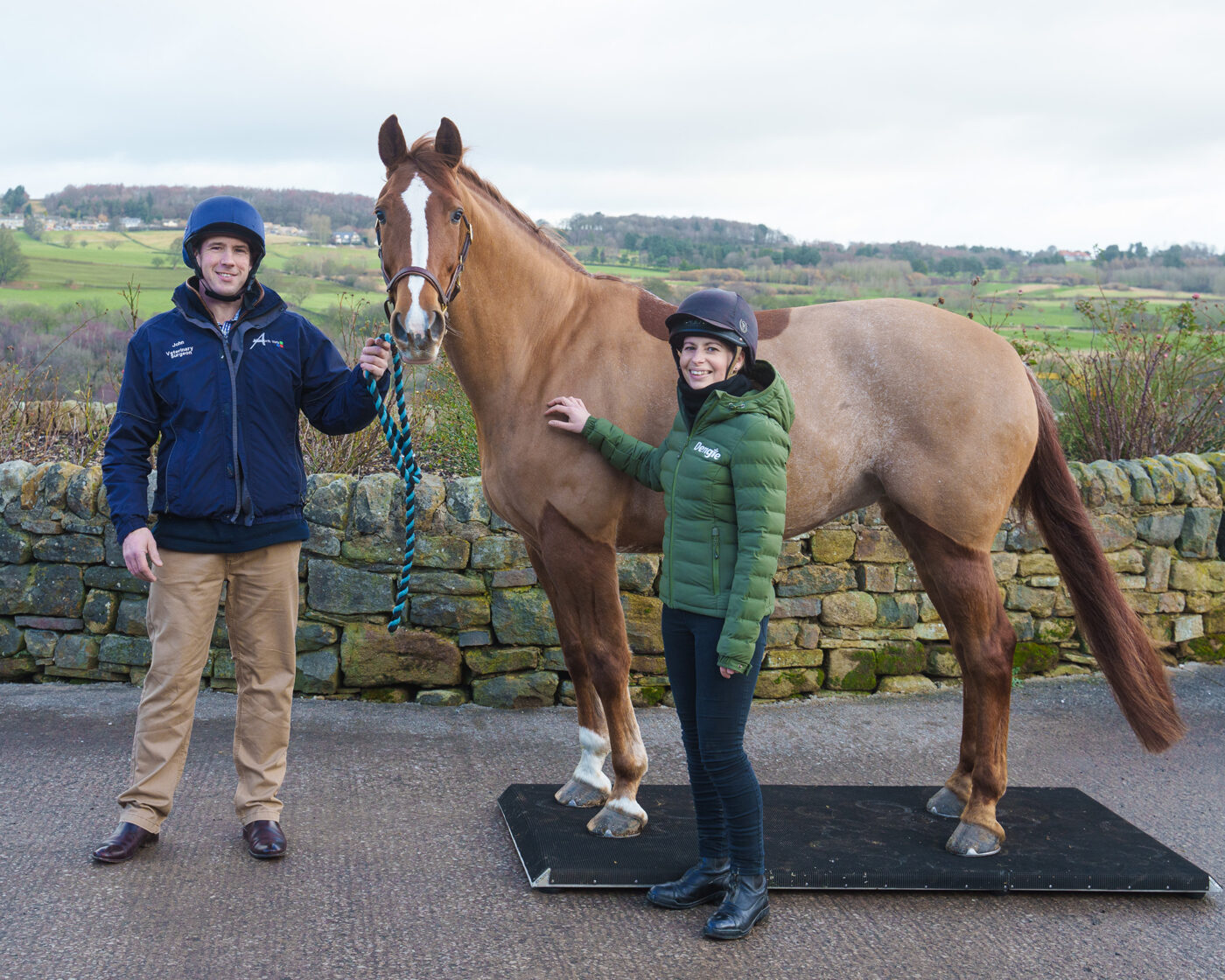 VetPartners' equine business development manager John Millar said equine obesity has become a serious welfare concern.
He said: "If a horse or pony is overweight it can cause significant health issues. It can predispose them to laminitis and EMS and puts extra strain on the heart, joints, tendons and muscles, increasing the risk of injury.
"We are approaching the highest risk time period for obesity, when spring grass will be coming through, and it's concerning that a lot of equines are coming out of winter already overweight. We are urging owners to take a close look at their horse's condition and if they are carrying too much weight to take action now.
"We are here to help them achieve this, and it's our aim to keep the equine population as healthy as possible. We can help owners identify if their horse is overweight and work with them to create a suitable diet and management routine."
Katie Williams, product and technical development manager at Dengie, hopes the campaign will help more people recognise when horses are overweight.
She said: "Equine obesity is considered to be one of the UK's most serious equine welfare concerns and the consequences are metabolic irregularities which predisposes horses to laminitis. Sadly, it is often the case that laminitis has to occur before owners take action to promote weight loss.
"One of the key challenges is that not all horse owners are able to tell if their horse is overweight and this is why it is so important that they have support from vets and nutritionists. They can then take appropriate action to promote weight loss rather than treating and managing a case of laminitis."
Among the VetPartners' veterinary practices supporting the campaign are Liphook Equine Hospital in Hampshire and Rossdales Veterinary Surgeons in Newmarket.
Jamie Prutton, a vet at Liphook Equine Hospital, said: "Equine obesity continues to be a significant problem and at Liphook we see a number of obese patients every week. As an eminently controllable situation we hope that by supporting the weight loss campaign we, as a group, can provide the tools and support owners need to promote weight loss in their horses."
Rossdales' vet Lucy Grieve added: "Members of the equestrian industry are really starting to take stock of equine obesity and what a serious welfare issue it is. To see Vet Partners invested in increasing owner awareness and encouraging engagement with vets on the subject, is really pleasing and inspiring. We hope this helps owners see this tricky subject as something we should all be talking about."
For further information or advice on feeding an overweight horse call our Feedline on 01621 841188 or complete our Feed Advice Form.
An exciting opportunity has arisen for a sales professional to work within the Dengie Sales Team in the East of England.
The role is predominantly key account management and developing retailer's awareness of the Dengie portfolio through training.
In addition you will be required to visit yards to discuss feed rations as well as holding yard clinics using a portable weighbridge, attending shows and open days/evenings.  The position will involve some weekend/evening work and staying away from home when necessary.
The successful candidate will have:
A proven track record within a field sales environment
Be a confident influencer
Target driven, with a strong equestrian background
A degree in Equine Science or Equine with Nutrition modules would be a distinct advantage.
Candidates need to be flexible and self-reliant.  Full product training will be given.  In order to efficiently service the area, applicants must reside within the territory to be covered, and must have a clean full driving licence. The area covers Suffolk, Norfolk, Cambs, Lincs, Northants, Leics, Notts and Derbyshire.
Some days will be required working from/visiting the Head Office in Essex, otherwise working on the road from home.
To join our fun and well regarded team, please forward a covering letter and CV detailing current salary level to – [email protected]
Closing Date: Monday, February 28th 2022
Whilst most horse owners are aware of some of the risk factors associated with gastric ulcers, we don't always appreciate everything that can increase the risk. Our handy new web-tool is designed to raise awareness of some of the lesser known risk factors of gastric ulcers and to draw people's attention to how the cumulative effect of a number of different risks can increase the horse's likeliness of developing them.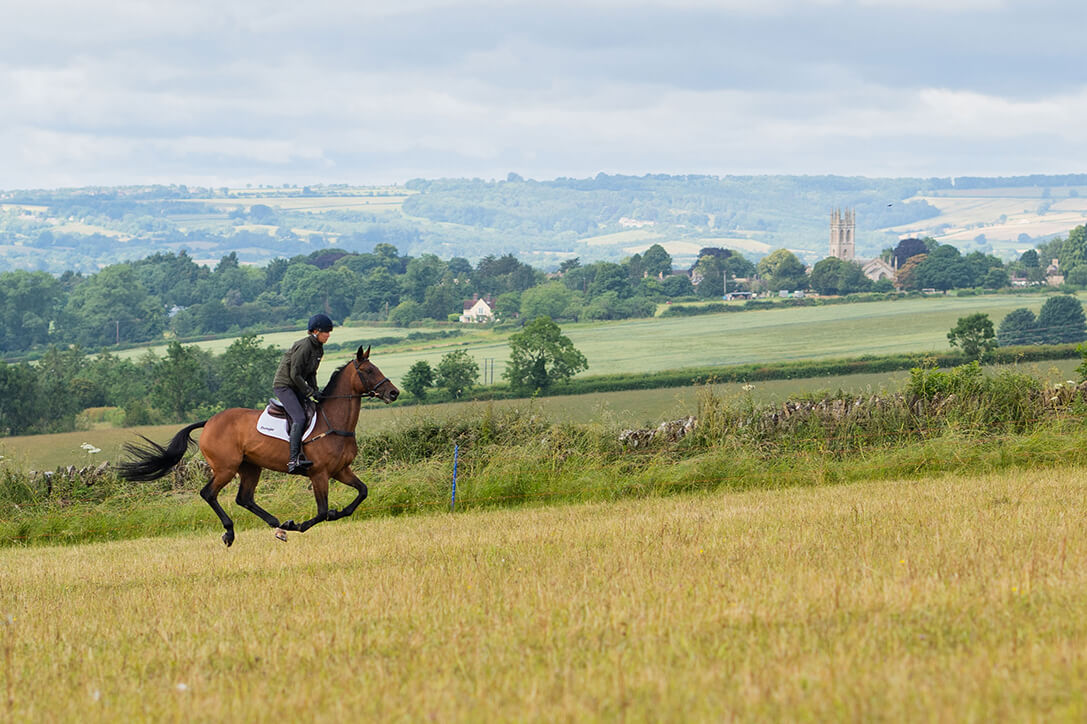 "It's often a combination of events that result in a clinical condition such as gastric ulcers, but by completing this quick questionnaire, we hope it will help to make horse owners stop and think about some of the things they can change in the management of their horse" explains Katie Williams M.Sc.(Dist) R Nutr, Technical & Product Development Manager at Dengie.
We have built our Ulcer Risk Calculator on a version produced in the USA and subsequently researched by an Italian research group who published a paper to test the accuracy of the survey. The Italian research group found the calculator to be useful in predicting the horse's risk of developing gastric ulcers. When horses were scoped for ulcers after their owners had completed the survey of those that were identified as high risk, 94% did have ulcers and of those that came out as low risk in the survey, only 14% had ulcers. (Busechian, 2021). Evaluation of a questionnaire to detect the risk of developing ESGD or EGGD in horses – PubMed (nih.gov)
The intention of our new Ulcer Risk Calculator is to raise awareness of some of the risk factors that contribute to the development of ulcers. If you would like further information on the latest advice about gastric ulcers click here. For personalised help and advice call the Dengie Feedline on 01621 841188 or fill out a feed advice form.
Simply read through the article and answer the following questions
As the start of the competition season approaches, it is a good time to reflect on the role fibre plays in the diet of the performance horse. Whatever level you compete at, and no matter how hard you are working your horse, fibre should be the foundation of the ration.
Fibre for Energy
Often undervalued as an energy source, fibre can provide a significant amount of energy for the working horse. The amount of energy supplied depends on the digestibility of the fibre, which is influenced by plant type, environmental conditions and most significantly maturity at harvest. The more mature a plant, the less digestible it will be and therefore the less energy it will provide. Straw is a particularly low energy fibre for this reason making it fantastic for good do-ers, but not as useful for the performance horse that has a higher energy requirement.
Combining high quality fibre such as alfalfa with energy dense oil such as in Dengie Alfa-A Oil, provides as much energy as a competition mix/cube at around 12.5 MJ/Kg DE, but with much lower levels of starch. Fibre and oil are both slow-release energy sources and so are particularly useful for stamina and condition without the fizz.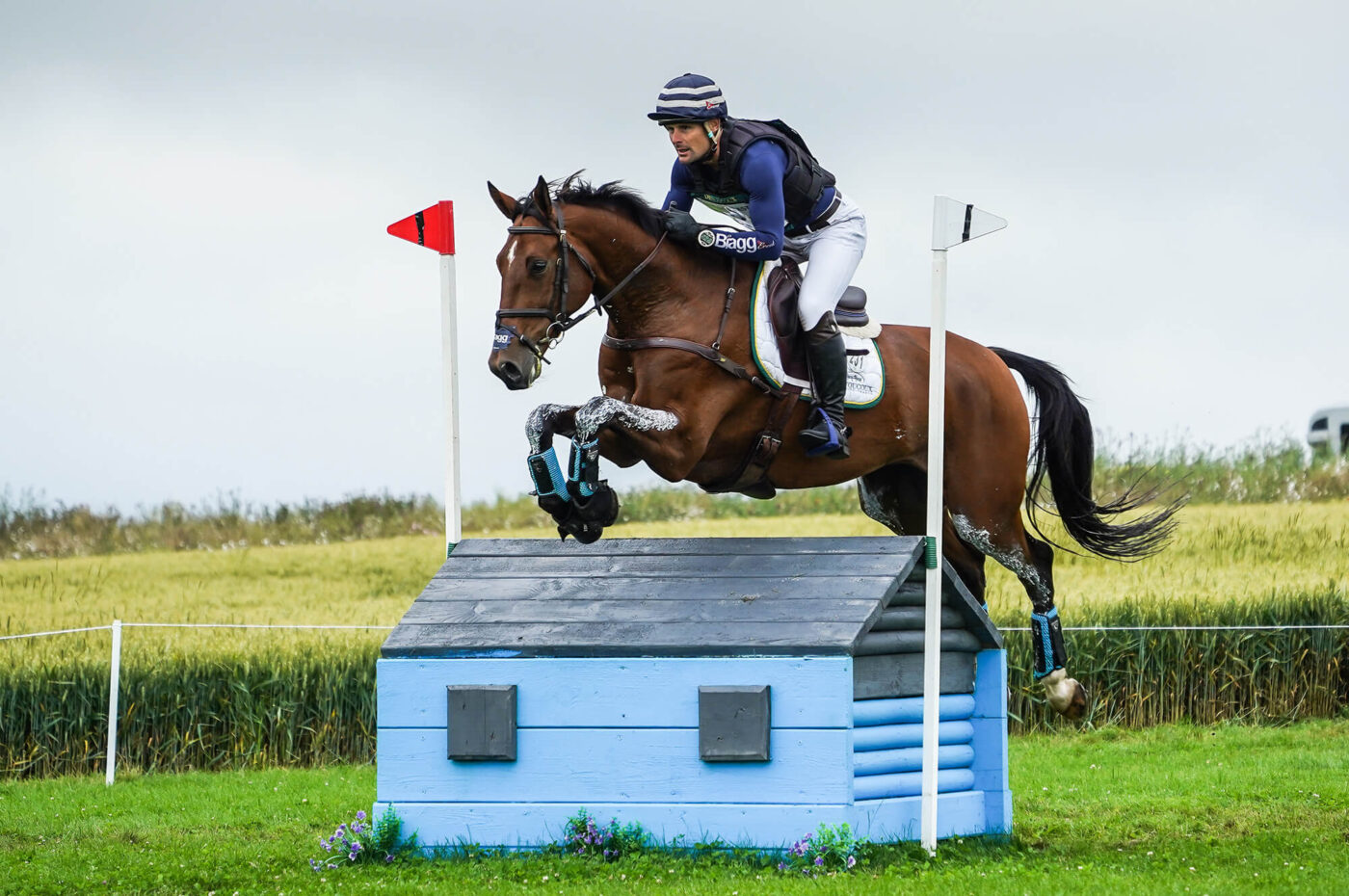 Fibre for Digestive Health
It is well documented that fibre is vital for the digestive health of the horse. Low fibre diets, combined with higher starch rations are linked to loose droppings, an increased risk of colic and gastric ulcers. When it comes to ulcers not all fibre is the same and research has shown that alfalfa is a superior buffer to acidity in the digestive tract compared to grass based forages. This is because alfalfa is naturally abundant in calcium. Feeding a double handful of a chopped alfalfa-based fibre feed in the 20-25 minutes before you ride is recommended to help prevent 'acid splash' in the non-glandular region of your horse's stomach. The fibre makes sure the stomach isn't empty and suppresses the movement of the acidic contents when the horse moves.
Competing away from home can often mean a change of diet either because there is little or no opportunity to graze or because it is necessary to change to the forage provided at the showground. Getting your horse established on a partial hay replacer ration before you go is one way of avoiding a total diet change. Grass used in chopped fibre feeds is harvested when the grass plants are young and therefore more digestible. This means they have a higher nutritional value than grass hay and so are great for supporting the increased demands of travelling and competing.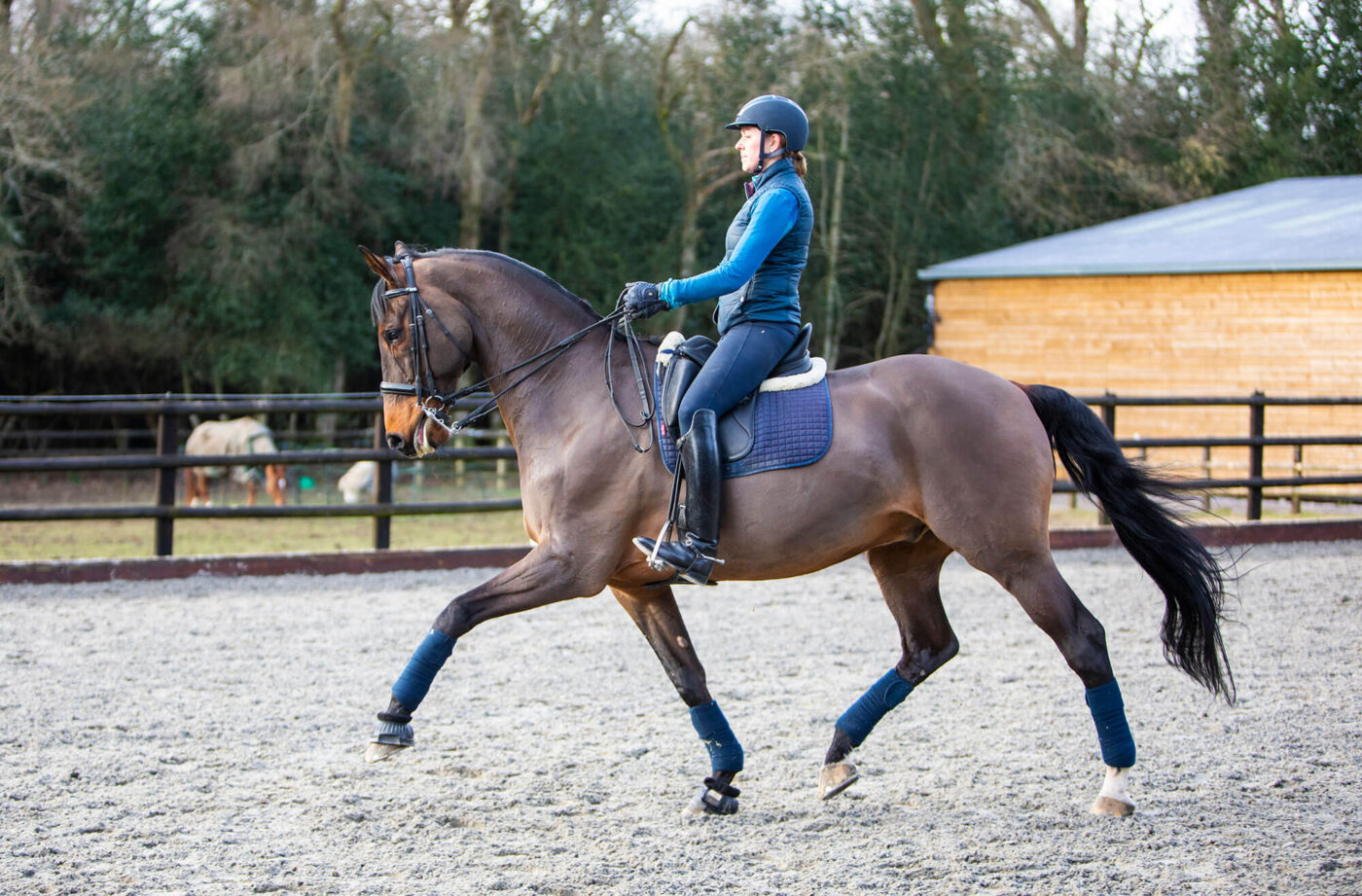 Fibre to Supply Protein
Protein is vital for growth, renewal and repair and when it comes to the competition horse this translates to strength and top line muscle condition. It is important to understand that nutrition isn't the only piece of the puzzle and you will also need to focus on fitness and training to build your horse's muscle tone too. Having sufficient protein in the diet is important for building muscle and it's not just the amount of protein, but the quality as well, that matters. Protein is made up of building blocks called amino acids. Some of these must come from the diet and these are called essential amino acids and described as "quality" protein. Of these, lysine is particularly important as it is a limiting amino acid – if the horse has insufficient lysine then protein synthesis and therefore muscle development would be limited.
Your horse will obtain protein from a variety of sources in the diet including grass, forage and the bucket feed. Some ingredients such as alfalfa are particularly abundant sources of protein. Alfalfa typically supplies 1.8x more lysine than average hay, making it a valuable addition to the ration to help promote muscle development.
Fibre to Aid Hydration
Hydration is key for health and performance. Both water and electrolytes are required to keep your horse hydrated and an electrolyte supplement should be a daily addition to the ration throughout training, travel and competition. Using a fibre mash such as Dengie Alfa-Beet, which combines alfalfa and unmolassed sugar beet, can be helpful for two reasons. Firstly, as a soaked feed, Alfa-Beet carries water into the digestive tract and, as it is so highly digestible, releases it readily to aid hydration. Secondly, as Alfa-Beet is a very palatable fibre mash it is useful for masking the taste of electrolytes or water when travelling and competing away from home. Dengie Pure Grass Pellets can also be used as a tasty mash to add electrolytes to as well.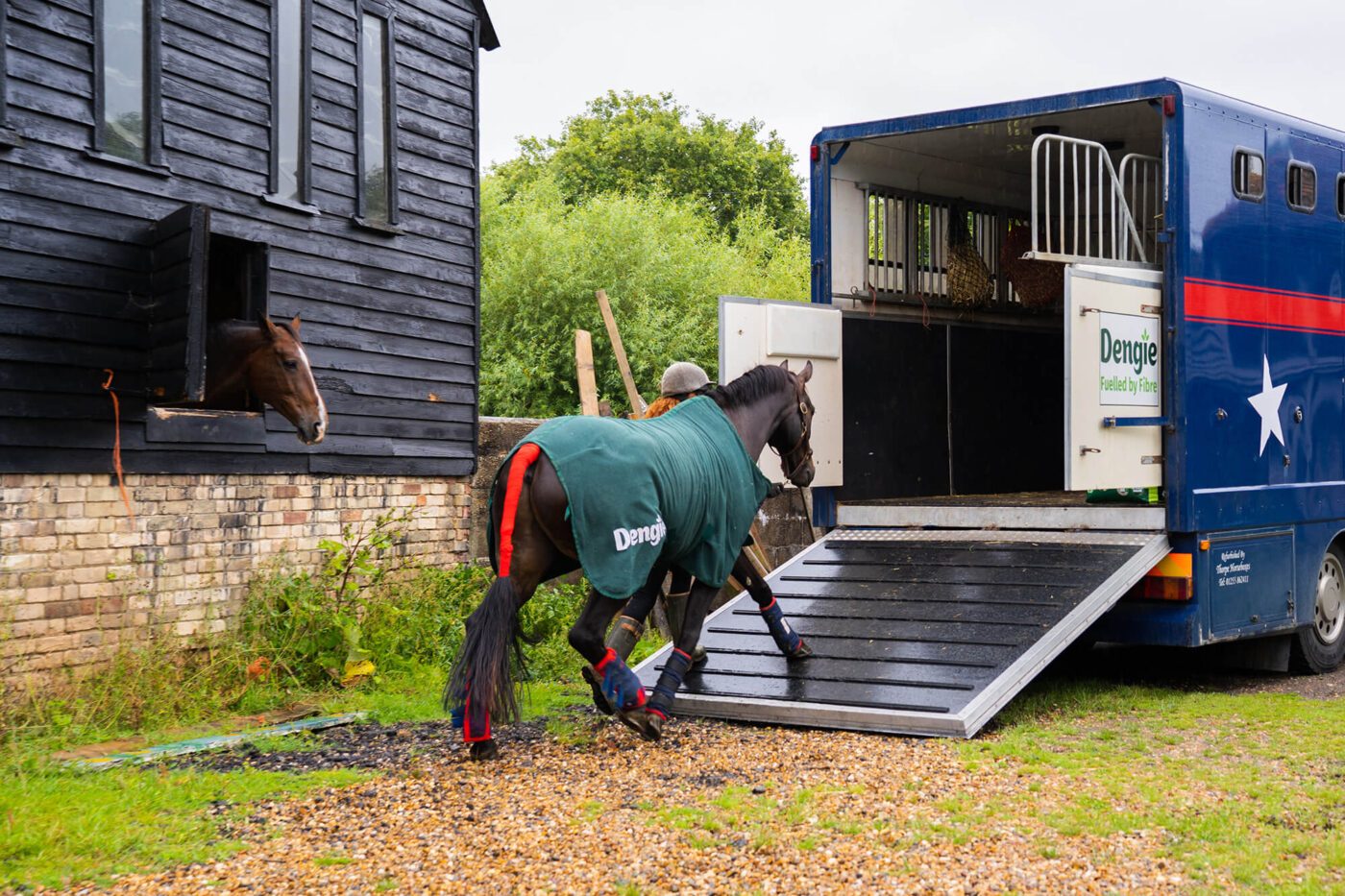 Fibre and Respiratory Health
Stabling and travelling horses in confined spaces potentially increases their exposure to respirable particles which can be detrimental to respiratory health. Respirable particles include mould, amongst other things, and even hay and straw that look and smell ok to us can still contain a significant mould count and have the potential to do harm.
Dengie Performance Fibre combines precision dried grasses and alfalfa with a light molasses and oil coating with added spearmint oil. As both the grasses and alfalfa are precision dried, Performance Fibre provides an exceptionally clean fibre source for the performance horse and can also be used as a partial forage replacer. Performance Fibre is a highly palatable fibre feed which is useful for helping to tempt the fussy feeder which can be a particular problem in the fit horse, regularly travelling away from home.
Test Your Nutritional Knowledge - Competing on Fibre
Simply answer the following questions to be in with a chance of winning £30 of Dengie Feed Vouchers*
*Terms & Conditions: This competition will close at 11.59pm on 28th February 2022. One entry per person. One lucky winner will be selected from the correct entries and be notified via email within 7 days of the competition closing. No cash alternative available. Entrants must be aged 18 or over. Open to UK mainland residents only. Click here for full terms & conditions
High quality fibre feeds such as Dengie Alfa-A Original and Hi-Fi Lite can be a great alternative to cereal-based rations for health reasons but, as they also count towards your horse's fibre intake, they are the best horse feed for the money. It has been widely publicised that costs are rising rapidly across the agricultural sector and further afield; wood for pallets, plastic for packaging, fuel for machinery and fertiliser for growing crops are just some examples of areas where increasing costs will inevitably affect the price of the finished product. This has made using a chopped fibre as the bucket feed even more financially attractive and the best horse feed for the money.
Alfa-A Original
Alfa-A Original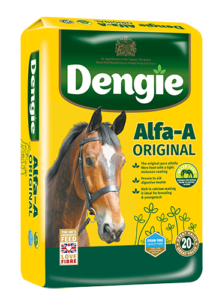 is great value for money at only 30p per scoop*and with 50 Stubbs scoops in each 20kg bag it is great for your horse and your pocket. At 10MJ/kg, Alfa-A Original has a comparable energy level to a typical Cool Mix or Cube but is significantly lower in starch at only 2%. Feeding chopped fibre will provide your horse with more chews, increasing saliva production helping to buffer acidity in the digestive tract as well as keeping the horse occupied for longer.
Alfa-A Original is based on alfalfa which will provide your horse with naturally occurring vitamins and minerals, good levels of calcium, and quality protein. It has also been precision-dried to provide a consistently clean source of fibre.
How to use Dengie Alfa-A Original
Buster is a 16.2 Sports Horse who is in regular work and competes in all riding club activities. He has ad lib hay, daily turnout and is fed two scoops of Alfa-A Original and 500g of Dengie Performance+ Balancer which is split over two meals per day. This ration costs his owner Susan £1.69 per day* and provides Buster with a fully balanced diet as well as slow-release energy to support the work he is in.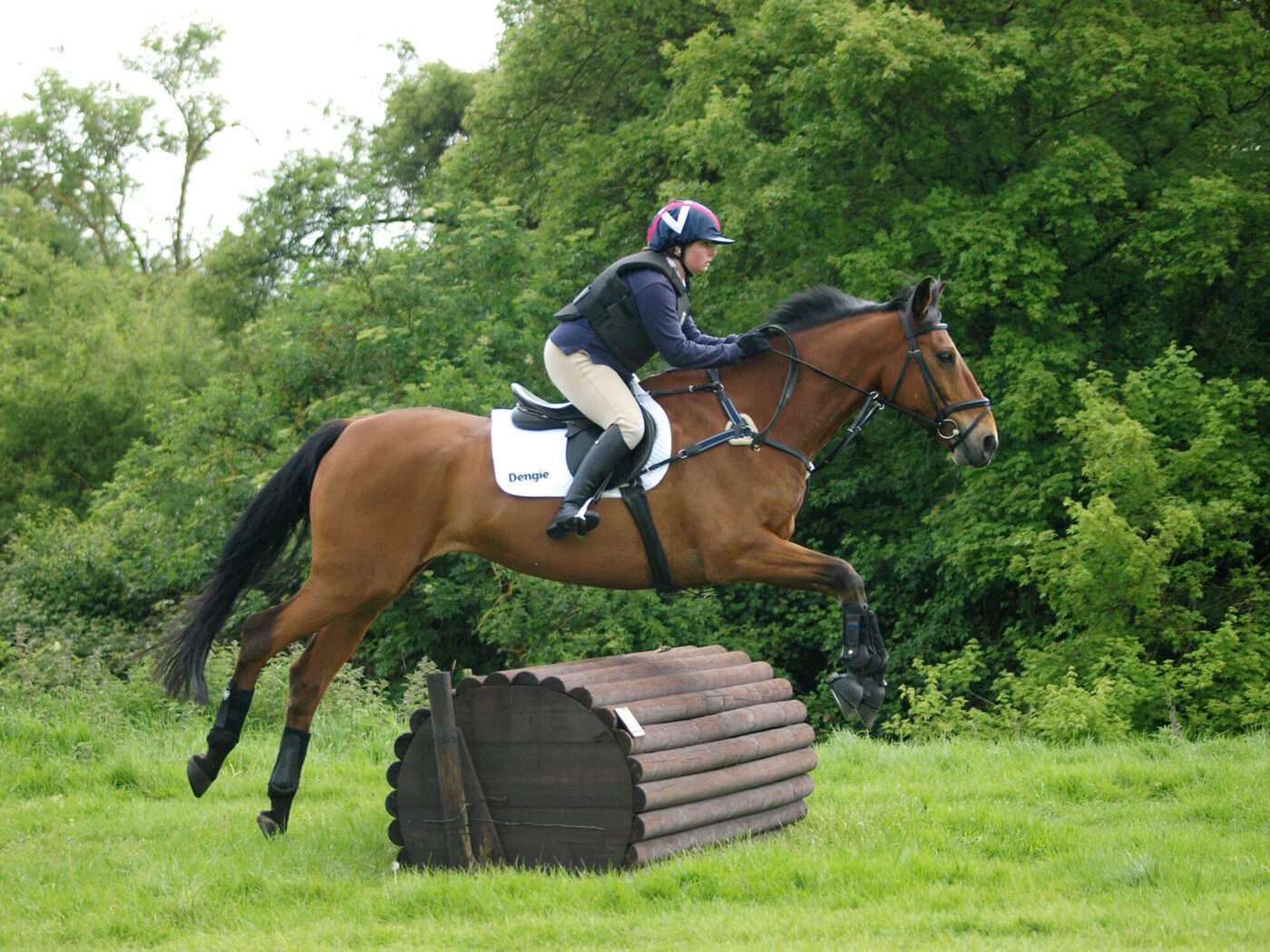 Hi-Fi Lite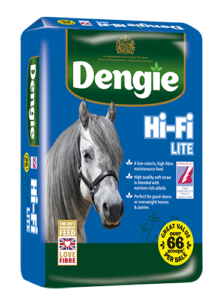 For good doers and overweight individuals, is a great low-calorie option. Nutritious alfalfa is blended with high-quality oat straw which helps to reduce the calorie level. Hi-Fi Lite is lower in sugar (7%) and calories (7.5MJ/kg) compared to an average hay making it ideal for horses and ponies on a diet, those that need to watch their waistlines and can be used as a partial hay replacer too.
Hi-Fi Lite offers great value for money with 66 scoops per 20kg bale and costing just 21p per scoop*, it offers fantastic nutrition at an affordable price.
How to use Dengie Hi-Fi Lite
Sparky is a 12hh Welsh cross who is prone to laminitis and is a very good doer. Sparky has soaked hay and restricted turnout to help manage his weight. His owner Sarah feeds him 1 scoop of Hi-Fi Lite and 30g of Dengie's Leisure Vits & Mins. The total ration costs her only 41p per day* and would be lower in calories than feeding the recommended amount of a balancer while still ensuring Sparky is getting all the vitamins and minerals he needs. It is also low in sugar and starch so a very suitable ration for Sparky with his history of laminitis.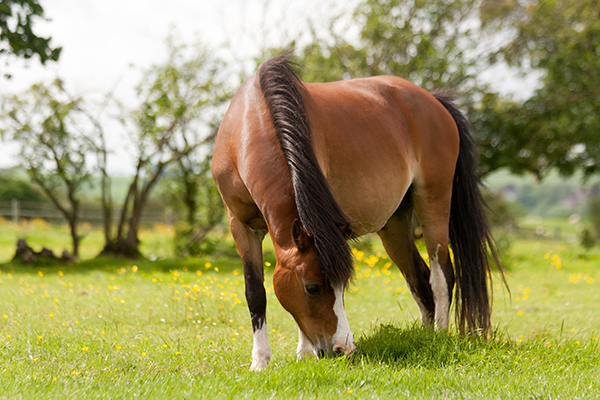 Vitamin And Mineral Supplements
Using a balancer or vitamin and mineral supplement alongside your fibre feed can often work out more cost effective than a typical mix or cube. Although the initial cost may be higher, balancers and supplements have a much more concentrated feeding rate and so will last longer than feeding the recommended amount of a complete feed.
Speak to a qualified nutritionist for further advice on the best horse feed for the money and for help in streamlining your horse or pony's diet. Removing any unnecessary extras could help you save money, whilst still ensuring that they're receiving everything they need. Call the Dengie Feedline on 01621 841188 or complete our Feed Advice Form.
*Prices are based on SRP January 2022.