Efficiency Drive Reduces Concentrate Use and Boosts Herd Health
---
A combination of a change in breed and a focus on rumen health are delivering significant efficiency improvement on one Lancashire unit with reduced feed use and improved fertility combined with an improved lifestyle.
Dan White farms in partnership with his parents Michael and Margaret at Wedacre Farm, just outside Gisburn. The 500 acre all grass farm is 500' above sea level and is home to a 520 cow flying herd. Milk is sold on a Sainsbury liquid contract.
The all year round calving herd is housed all year. Prior to 2001 the herd used to graze but during the Foot and Mouth outbreak they were advised to house the herd which then numbered 280 cows, and they have been housed full time ever since.
A new unit was built in 2007 to house an expanded herd and at the same time they decided to focus on milk production and driving the return from investment in dairying. The unit includes a 50 point rotary parlour and cubicles bedded with mattresses and oat husks. To support the focus on milk production the decision was made to stop rearing replacements and to move to a flying herd.
The herd had expanded to 350 cows but Dan was unhappy with the performance from the Holstein herd. "While yields were around 9,600 litres we were having problems with lameness, LDAs and an extending calving pattern. So we decided to look at changing the genetics, looking for a more durable cow, in part driven by the requirements of our contract."
They initially purchased 10 Danish Reds and 20 Fleckviehs in 2011 and were really pleased with the Danish Reds.
"The cows have a high health status in Denmark and we saw benefits in reduced lameness and cell counts. They were also really easy to manage and just seemed to suit the system."
Since then they have been sourcing Danish Reds from Denmark using an agent and there are now only 150 Holsteins in the 520 head herd, and this number is declining year on year. Last year they bought in 150 heifers to act as replacements and to increase herd size and another 100 heifers will calve in this year.
The heifer come in –calf to Danish Red and any heifer calves are now contract reared and will come back into the herd. All cows are bred to Belgian Blues with calves sold off the farm as soon as the passports are back. Calves are in high demand due to the compact frame.
Feeding System Assessed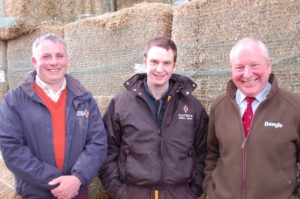 Although the cows were settling well into the system, Dan felt they should be milking better and wanted to improve fertility.  Feeding was a semi TMR based on grass silage and blend with an 18% compound fed through the parlour to yield. Cows are housed in one milking group. Eighteen months ago Dan asked David Thornton and Chris Martindale to assess the feeding.
"Looking at the system the biggest concern was forage intakes because concentrate had been increased to try and drive yields but all this was doing was disrupting rumen health," Chris Martindale explains. "We decided we needed to get back to basics with the Danish Reds."
The decision was taken to reduce the parlour concentrate being fed by 3kg/day over a six week period. The quality of the concentrates was adjusted, increasing the proportion of bypass protein, adding prairie meal to increase the supply of limiting amino acids and maize to increase energy. The protein percent in the blend was reduced from 23% to 20.5% but with more bypass protein.
Forage intakes increased as concentrates were trimmed back, Cows were healthier very quickly and they saw an average milk response of 4 litres/cow over the first couple of months.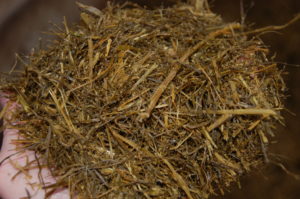 While the farm makes around 8,000 tonnes of grass silage from three cuts, it was decided that a second forage was required to boost forage intakes. The farm is not suited to growing maize or wholecrop so it was decided to try Rumiplus dried lucerne from Dengie Crops.
A 17-18% protein feed, the lucerne is chopped to 3-5cm, making it ideal as a source of structural fibre. It is supplied as a bale which incorporates pellets of the leafier material. The lucerne was added to the TMR at 2.5kg/cow and concentrate rates were cut back further.
"The results were significant," Mr Martindale continues. "We were able to push forage DMI from 7.5kg/day to 11.5kg/day which had a huge effect on rumen health. The protein in the lucerne allowed us to reduce the protein content of the blend."
Dry cow management is kept very simple with far offs receiving 3kgs of straw plus silage and 50gms of a bespoke dry cow mineral. Close up cows get ad lib silage and 100gms of dry cow minerals. Mr Martindale says they have found this is the best way to transition Danish Reds and that they get no milk fevers or retained cleansings and calving problems are unheard of.
Big Concentrate Savings
"Overall we have saved 1000kg concentrates per cow while feed rate per litre has fallen from 0.45kg/l to 0.33kg/l and milk from forage has increased by 2000 litres per cow. Adding the dried lucerne has also improved the physical presentation of the diet and by stimulating cudding, has increased natural rumen buffering."
Average yield per cow has fallen back and the herd is now averaging 9,200 litres at 4.3% fat and 3.4% protein but Dan White is confident this will come back.
"We have around 40% heifers in the herd and as they come back in as second calvers we expect yield to increase again. We are also seeing big improvements in fertility which will reduce calving interval and is already pushing up average daily yield."
The herd is bred using Genus ABS RMS and heat detection rate is currently 64% and 21 day pregnancy rate is running at 22%.  Calving interval has reduced to 392 days and is falling.
The Danish Reds are proving easier to get back in calf and Dan comments that of 100 heifers entering the herd last year, 98% will calve down again within a year.
Mr Martindale believes that the addition of Rumiplus will have had an impact on fertility. "It is naturally high in β-carotene which is proven to increase bulling behaviour which will have contributed to higher heat detection rates and we are expected 120 fresh calvers in a six week block."
Dan White is convinced the changes to the breed and the diet will allow him to increase the return on investment in the new unit.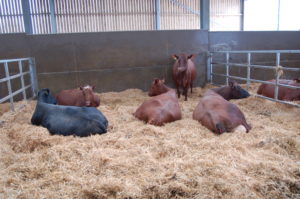 "We are starting to see a much simpler, easily managed system. We focus on lifetime yield and cost of production and want them to be in balance. We do not push heifers and are happy to get 7500-8200 litres with them calving down again close to 365 days. The latest second calvers are coming in at over 40 litres with the top one doing over 55 litres. Culling rate has dropped from 40% to 24% and we are seeing far fewer health problems. We are IBR, TB and BVD free and hope to be Johnes free soon to.
"Cell counts are now avearging160, we have far fewer difficult calving and the better fertility means the vet is a less frequent visitor. The cows are more content and keener to come into the parlour and the milk output is more consistent and predictable.
"All of these mean we are getting our lives back. With the Holsteins we were never away from the cows but now management is easier and we certainly don't get paid enough as a dairy farmer to get stressed out.
"Interestingly I have never paid more per tonne for feed, but I have never had a smaller monthly feed bill.  By getting rumen health right, increasing forage intakes and focussing on the quality of feed we have been able to reduce a major cost with no long term impact on performance," Dan concludes.