Five Key Benefits of Healthy Hooves Molasses Free
---
Dengie Healthy Hooves Molasses Free is the ideal low-calorie fibre feed to promote healthy hoof growth in horses and ponies.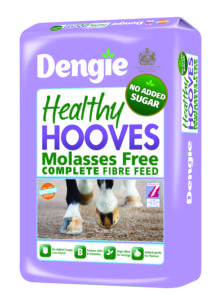 Five key benefits of Healthy Hooves Molasses Free
Nutritionally Balanced – Includes essential vitamins and minerals to provide your horse or pony with a balanced diet and to promote healthy hooves*
Lowest combined starch and sugar of any complete fibre feed – with just 2.5% sugar and 1.5% starch Healthy Hooves Molasses Free is naturally low in sugar and starch and is free from molasses.
Includes Oil – a rapeseed oil coating provides not just a showring shine, but also slow release energy
Biotin – when fed at the recommended quantity Dengie Healthy Hooves Molasses Free provides a 500kg horse with 15mg of biotin per day
Low in calories but high in fibre, Dengie Healthy Hooves Molasses Free is perfect for leisure horses and ponies or those who maintain their weight well.
*when the recommended quantities are fed (500g per 100kg bodyweight)
How to fed Healthy Hooves Molasses Free to your horse or pony
Healthy Hooves Molasses Free is designed to be fed as the sole bucket feed alongside your horse's normal hay/haylage ration. It is important the it is fed at the recommended quantities in order to provide the levels of nutrients your horse or pony requires; feeding less may affect condition or performance. If using less than recommended quantities, a broad spectrum vitamin and mineral supplement should be used alongside.
Looking for a higher calorie alternative – try Healthy Tummy
If your horse is in hard work or needs help to maintain condition, try Dengie Healthy Tummy. A nutritionally balanced fibre feed combining chopped and pelleted alfalfa with a rapeseed oil coating and herbal blend. It contains the same amount of biotin as Healthy Hooves Molasses Free with the addition of ADM Protexin in-feed formula.