Have a Healthy Autumn
---
Although laminitis is potentially a problem at any time of year, autumn often sees a seasonal spike in the incidence rates and so extra vigilance is required. As 90% of laminitis cases are thought to be due to an underlying endocrine disorder, it is important to work with your vet to try and determine whether your horse might be suffering from such a condition, such as Equine Metabolic Syndrome (EMS) or Pituitary Pars Intermedia Dysfunction (PPID, also known as Cushing's).
If your horse is prone to laminitis, there are two main pieces of advice that are given – maintain your horse at a healthy weight and restrict his intake of sugar and starch.
Managing Bodyweight
In the autumn months, mild, wet weather means that there is still plenty of grass growth. Abundant grass means that there is more for your horse to eat and the potential for weight gain if grazing is unrestricted. Keeping your horse at a healthy bodyweight, ideally 3 out of 5 on a body condition scoring scale, is important as obesity is known to exacerbate insulin resistance and this in turn is thought to be the link to increased laminitis risk.
If your horse is sound, make the most of the remaining lighter evenings and good weather to maintain a regular exercise regime. Research has shown that weight loss combined with increased exercise helps to improve insulin sensitivity.
Managing NSC Intake
Plentiful autumn grass not only supplies excessive calories, but results in the consumption of higher levels of non-structural carbohydrates (NSC), which is the sum of water soluble carbohydrates (sugar) and starch added together. Horses with underlying insulin resistance have an abnormal response to NSC intake, increasing laminitis risk and, as such, grazing will need to be restricted or eliminated at this time of year to reduce the risk. Current recommendations are to replace grazing with feeds and forage that contain less than 10-12% NSC.
Feeding for Healthy Hooves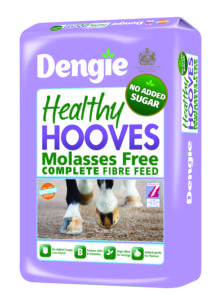 For laminitis-prone horses and ponies that are good do-ers, or those that need to lose weight, Healthy Hooves Molasses Free can be incorporated as part of a restricted diet. Healthy Hooves Molasses Free provides only 2.5% sugar and 1.5% starch. To encourage weight loss, horses should be restricted to a total intake of 1.5% of their bodyweight daily – for a 500kg horse, this could be made up of 2.5kg of Healthy Hooves Molasses Free, to provide a balanced ration, in addition to 5kg of hay. This quantity should be divided into as many small meals through the day as possible, leaving a larger quantity overnight to avoid long periods without anything to eat. Hay can be double or triple netted to help slow the rate of intake.
Healthy Hooves Molasses Free is a nutritionally complete, low calorie fibre feed with garlic for great palatability and pellets for added interest. Approved by The Laminitis Trust, Healthy Hooves Molasses Free contains a broad-spectrum of vitamins and minerals and so when fed at the recommended feeding rate of 500g (or one large round scoop) per 100kg of your horse's bodyweight, no additional feeds or supplements are required. Healthy Hooves Molasses Free provides 6mg/kg biotin, which at the recommended feeding rate provides a level that research has shown helps to promote healthy hoof horn.
For more information about feeding a horse or prone to laminitis, or if you would like to know more about Healthy Hooves Molasses Free, contact our friendly Feedline team on 01621 841188 or chat live to the nutrition team using our live chat system.