What is PPID?
---
Pituitary Pars Intermedia Dysfunction (PPID, also known as Cushing's Disease) is a degenerative endocrine disorder that disrupts the control of hormones produced in the pituitary gland.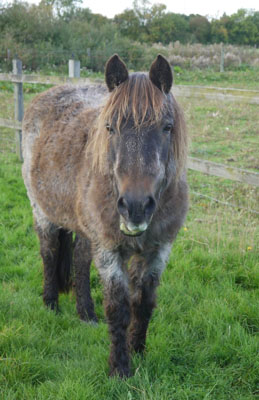 PPID symptoms include:
longer, thicker coat that fails to shed in the spring
a pot-bellied appearance
excessive urination and drinking
an increased susceptibility to laminitis
What causes PPID?
Hormonal control is lost due to gradual degeneration of neurons (nerves) in the hypothalamus, which then releases insufficient amounts of dopamine
Dopamine controls hormonal secretion in the part of the pituitary called the pars intermedia, which in turn is responsible for the secretion of the hormones ACTH and cortisol
Dopamine acts as the signal to stop hormone secretion and without it there are higher circulating levels of these hormones, resulting in some of the common symptoms seen
There is no cure for PPID but veterinary medicine is available to help manage the clinical signs
Nutritional Management of PPID
PPID equines are at an increased risk of laminitis and so dietary advice is similar to that given for laminitis prone horses and ponies
Monitor bodyweight and aim to keep at a healthy weight
A balanced diet is very important as horses with PPID may have a compromised immunity and poor skin condition, which may be supported with a good balanced diet
Other age associated issues may also need to be considered when selecting an appropriate ration such as any dental issues
Other Top Tips
Veteran horses with PPID have trouble with thermoregulation meaning that they can become very warm or cold easily. For those with thick coats, clip excess hair and rug as required may make them more comfortable.
PPID horses may become increasingly fussy with feed going off things they have otherwise enjoyed for a long time. Try offering a selection of different feeds to encourage them to eat.
Suitable Products for horses diagnosed with PPID
For part of a weight loss programme
Hi-Fi Lite
Hi-Fi Molasses Free
For part of a weight maintenance programme
Hi-Fi Molasses Free
Healthy Hooves
Healthy Hooves Molasses Free
Alfa-A Lite
Alfalfa Pellets
For part of a weight gain programme
Alfa-A Molasses Free
Alfa-A Oil
Healthy Tummy
Alfa-Beet
Dengie's 'Healthy' range of fibre feeds are fully balanced fibre products and as such, when fed at the full recommended quantity, no additional supplementation is required.
Dengie Vits & Mins and balancers are suitable for laminitis-prone horses and ponies and can be used to balance the ration.
For dentally challenged PPID horses, Dengie Hi-Fi Senior may be used as a part/total hay replacer ration as it is soft and easy to chew.
For further information or friendly feeding advice, email the Dengie nutrition team or chat live with a nutritionist online.
Case study – Chewy
Chewy is a 26-year-old, 14.hh Connemara cross, who had his first bout of laminitis when he was nine. He suffered recurrent bouts through 2010 and 2011, which lead to testing and diagnosing of EMS and PPID. His owner, Rebecca, spoke to a member of the Dengie nutrition team, who weighed Chewy using a portable weighbridge – Chewy weighed 468kg and he was very overweight.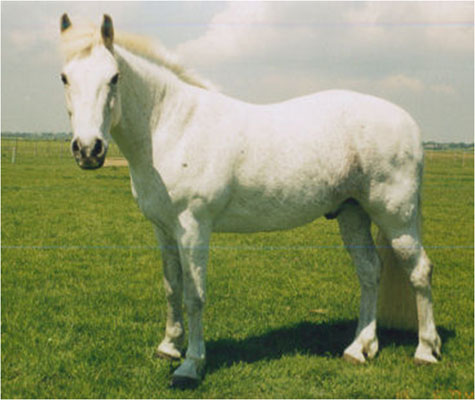 Recommend Diet
Feed – 1kg of Hi-Fi Lite, split over three feeds a day
Forage – 5kg of hay, divided between 1kg post-lunch and 4kg at night
Grazing – Five hours of turnout from 7:30am to 12:30pm, wearing a grazing muzzle during the spring and/or autumn abundance of grass.
"This diet is great for Chewy," says Rebecca. "It helps him to maintain a healthy weight and gives him the energy required for his happy-hacking retirement."
To read Chewy's story in full click here