Competition Preparation by Libby Gill
---
Earlier in the year, three lucky Horse&Rider readers won a 12-month training bursary from Dengie. As part of their prize, they won lessons with Dengie ambassadors, Hannah Esberger-Hancock and Lucy Jackson. Their horses were also given a nutritional consultation with Dengie's Performance Horse Nutritionist, Claire Akers. We catch up with one of the lucky winners, Libby Gill on how her competition preparation has gone with Sherbert, her 12-year-old, TB X Welsh Section D gelding.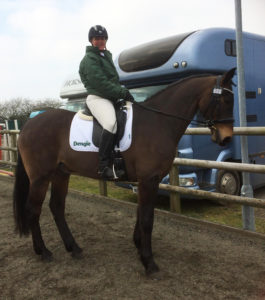 So the competition prep for the Petplan Championships in April isn't going quite to plan!
I managed to have a few dressage training sessions in January and February and got to our first show of the year. As we hadn't been to a show for a few months I decided just to do the one class. He took it all in his stride and behaved brilliantly and even though we didn't get in the top placings I was very pleased with how he went. We have been working on getting Sherb to carry himself more and not lean on me and this is going well but with lots more to work on
Then the Beast form the East struck!! It is very rare for Cornwall to get snow at all and when we do, everything seems to come to a standstill!! Someone also crashed into my car so I had no towing vehicle for a couple of weeks which put a halt to training and shows!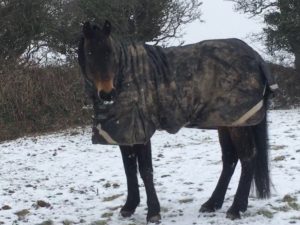 With the evenings very gradually getting lighter, I have managed to fit in a couple of short hacks after work this week and I am really looking forward to the clocks changing, lighter evenings and hopefully some dry weather!
Being fuelled by fibre really suits Sherbert and his temperament and he is looking and feeling great on his Dengie diet